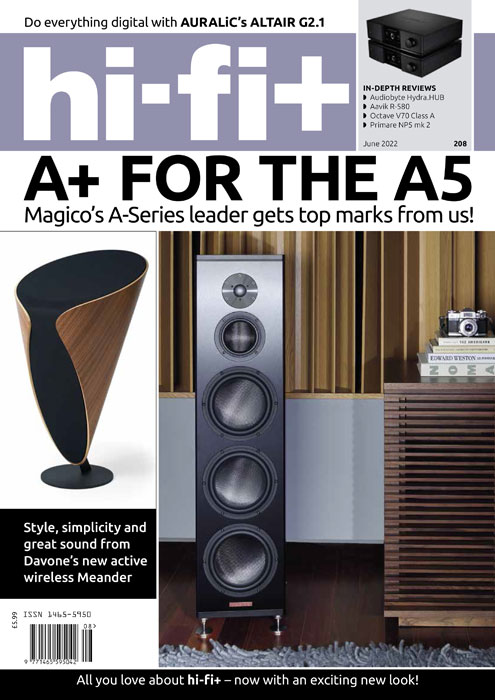 Hi-fi+ is a magazine that is serious about hi-fi. Our articles are intended to help you get the best from your system, rather than simply telling you to buy another one. Our reviews only cover product that we think is worthwhile. You can read more about that by looking at our reviews policy, but lets just say that our attitude to equipment is rather different, and we hope, much more informative. We haven't forgotten that hi-fi is supposed to be fun!
Comment
3 Editorial: We Welcome Back... The World
After a bit of show hiatus, the audio world formally opens up.
Editorial By Alan Sircom
7 Incoming! Your views on all things audio.
11 AXPONA 2022 the first major audio show in over two years finally hits Chicago.
85 Meet Your Dealer Ian Barnett of Vinyl Groove Audio.
Equipment Reviews
23 Magico A5 floorstanding loudspeaker
31 AURALiC ALTAIR G2.1 streaming DAC preamplifier
41 Aavik Acoustics R-580 phono stage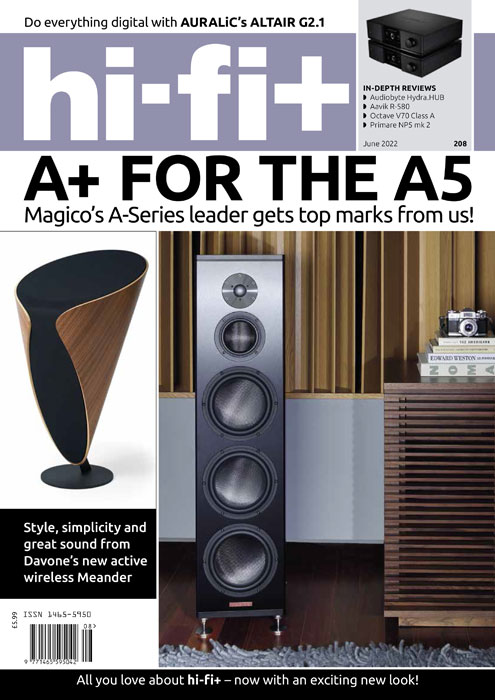 49 Primare NP5 Prisma Mk2 network bridge/streamer
55 Audiobyte Hydra.HUB digital audio transport
61 Clearaudio Professional Power 24V power supply for Clearaudio's Innovation turntable
67 Davone Meander all in one system
73 Octave V70 Class A integrated amplifier
79 Coherence Systems ADD-Powr Sorcer X4 power conditioner
83 MCRU The First power cord
Music
94 A Beginner's Guide to... Kosmische Musik
Often known by as 'Krautrock', German music of
the early 1970s was full of innovation and wonder,
and is more than just Kraftwerk!
102 Music Interview songwriter Michael Head
109 Music Interview composer Max Cooper
117 Music Reviews Contemporary, classical and audiophile music
Plus
120 Back issues
127 Advertiser index
128 Next Issue Find out what's happening next time!

Subscribe To Hi-Fi+ Magazine
Click here to subscribe to hi-fi+ magazine.
Previous Issues
2022
Issue 203 204 205 206 207 208
2021
Issue 191 192 193 194 195 196 197 198 199 200 201 202
2020
Issue 179 180 181 182 183 184 185 186 187 188 189 190
2019
Issue 167 168 169 170 171 172 173 174 175 176 177 178
2018
Issue 155 156 157 158 159 160 161 162 163 164 165 166
2017
Issue 143 144 145 146 147 148 149 150 151 152 153 154
2016
Issue 131 132 133 134 135 136 137 138 139 140 141 142
2015
Issue 119 120 121 122 123 124 125 126 127 128 129 130
2014
Issue 107 108 109 110 111 112 113 114 115 116 117 118
2013
Issue 95 96 97 98 99 100 101 102 103 104 105 106
2012
Issue 85 86 87 88 89 90 91 92 93 94
2011
Issue 77 78 79 80 81 82 83 84
2009
Issue 63 64 65 66 67 68 69