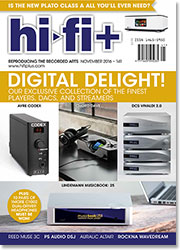 Hi-fi+ is a magazine that is serious about hi-fi. Our articles are intended to help you get the best from your system, rather than simply telling you to buy another one. Our reviews only cover product that we think is worthwhile. You can read more about that by looking at our reviews policy, but lets just say that our attitude to equipment is rather different, and we hope, much more informative. We haven't forgotten that hi-fi is supposed to be fun!
Comment
3 I Give Up! About Modern DACs...
Editorial By Alan Sircom
4 Incomng!
Your views on all things audio
8 National Audio Show 2016
Has the show near Silverstone finally broken down?
18 Meet Your Maker
David Steven of dCS
99 Revolution!
1960s counter-culture comes to the V&A!
105 Meet Your Dealer
Midland Audio Exchange
Equipment+
12 dCS VIVALDI 2.0
Four-box digital replay system
20 Chord Electronics Dave
DAC and headphone amplifier
26 AURALiC Altair
Wireless streaming DAC
35 Lindemann MuicBook:25
Digital player
41 Ayre Acoustics CodeX
DAC/headphone amplifier
47 Convert Tech Plato Class A
Digital media player
53 PS Audio Directstream JR DSD
Digital-to-analogue converter 
59 Rockna Wavedream
Digital-to-analogue converter
67 MrSpeakers Ether FLow
Open-back planar magnetic headphones
73 German Physiks Borderland IV
Floorstanding loudspeaker
79 Reed Muse 3C And 3P
Turntable and tonearm
85 Ophidian Prophet P1
Standmount loudspeaker
93 Tellurium Q Silver Diamond
Loudspeaker and interconnect cables
95 Torus Power TOT AVR
Isolating power transformer
Music
113 Contemporary And Audiophile Music
+
72 Competition
Win! One of 10 pairs of 1More C1002 Dual Driver earphones worth £89.99!
117 Advertiser Index
120 Next Month
Find out what's happening next month!
Subscribe!
Click here to subscribe to hi-fi+
Previous Issues
2016
Issue 131 132 133 134 135 136 137 138 139 140 141
2015
Issue 119 120 121 122 123 124 125 126 127 128 129 130
2014
Issue 107 108 109 110 111 112 113 114 115 116 117 118
2013
Issue 95 96 97 98 99 100 101 102 103 104 105 106
2012
Issue 85 86 87 88 89 90 91 92 93 94
2011
Issue 77 78 79 80 81 82 83 84
2009
Issue 63 64 65 66 67 68 69