Hi-Fi World is an independently owned and run specialist hi-fi magazine, started by Noel Keywood, a highly respected technical journalist of thirty five years standing. Dedicated to equipment of all types, the emphasis is on 'affordable audiophile' kit which doesn't have to be expensive, but has to perform. Our readership is worldwide and diverse in nature, but all share a passion for music and the desire to hear it as enjoyably as possible. Run by enthusiasts for enthusiasts, our commitment shows in everything from the rigorous technical measurements we undertake on almost every product reviewed to the weird and wonderful editorial mix. No product is too small or obscure; old and new, budget or high end, if it's great then Hi-Fi World will say so!
Regulars
3 Editorial: Many Great Articles And Reviews Within This Issue
Hi-Fi World's May 2022 issue features high-fidelity in futuristic form.
Editorial BY Noel Keywood
7 News
Words from the world...
25 Competition
Your chance to win a Blue Aura 1 receiver worth £399.
38 Subscriptions
Ensure your copy every month and save money too!
26 Mail
Six pages of your views, wonderful as always...
Loudspeakers
32 Q Acoustics M20 HD Active Speakers
A small, affordable active loudspeaker that offers hi-res quality.
Noel Keywood takes a close look.
58 Monopulse Model S A Active Loudspeakers
A large, complex, 'net connected loudspeaker with massive ability at low (direct) price.
Reviewed by noel Keywood
Digital
10 Teac UD-701n Network Player / DAC
Specialist network player/DAC/preamp from Teac, aimed at aficionados.
Digital sound with bite.
Noel Keywood listens closely.
19 Pro-Ject CD Box S3 CD Player
Martin Pipe checks out a budget CD player from Pro-Ject.
66 FiiO M17 Digital Audio Player
Portable digital players don't usually come like this.
Noel Keywood explains why.
Amplification
40 NAD C 399 Hybrid Digital DAC / Amplifier
A digital amplifier of massive ability and distinctive sound.
Noel Keywood listens.
Olde Worlde
46 Gramdeck
Martin Pipe looks at a tape recorder that was driven by a record player.
Extraordinary.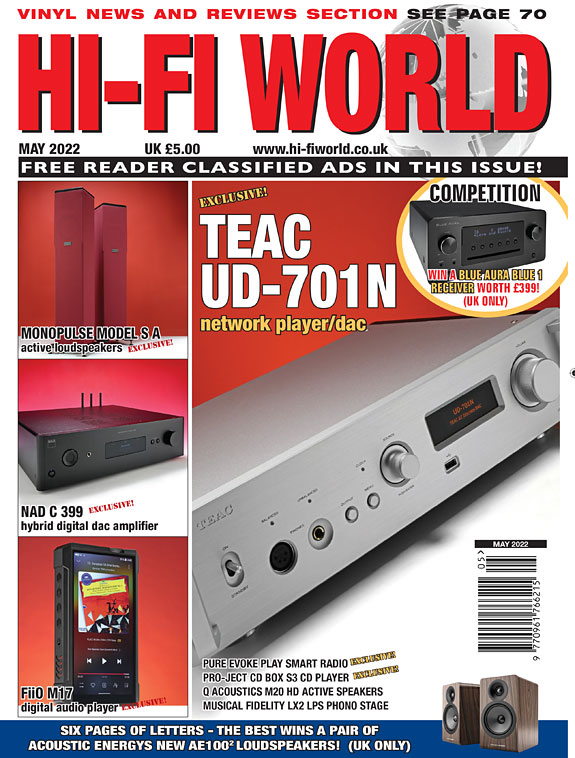 Vinyl
70 News
All the latest and greatest vinyl releases for you, from the pen of Paul Rigby.
72 Musical Fidelity LX2 LPS
A small budget mm/mc phono stage for vinyl enthusiasts.
John Pickford checks it out.
77 Audiophile Books
Changing genres – three books reviewed by Paul Rigby: the Britpop Bible, Marillion and Kathy Valentine's memoir.
82 Classic Cuts
Andy Bey, experience and judgment, reviewed by Paul Rigby.
And More...
64 Audiophile Vinyl
Paul Rigby rounds up the latest audiophile vinyl releases.
51, 53, 55, And 57 Opinion
The team get to grips with matters music, hi-fi and life!
78 Dial-A-Dealer
A comprehensive guide to UK hi-fi retailers.
79 Classifieds
Second-hand bargains.
80 Next Month
What we hope to bring you in the next sizzling issue...
81 Advertisers' Index
82 Classic Cuts
Andy Bey, Experience and Judgement,
Reviewed by Paul Rigby.

Subscribe!
Click here to subscribe to Hi-Fi World.
Previous Issues
2022
January February March April May
2021
January February March April May June July
August September October November December
2020
January February March April May
August September October November December
2019
January February March April May June July
August September October November December
2018
January February March April May June July
August September October November December
2017
January February March April May June July
August September October November December
2016
January February March April May June July
August September October November December
2015
January February March April May June July
August September October November December
2014
January February March April May June July
August September October November December
2013
January February March April May June July
August September October November December
2012
January February March April May June July
August September October November December
2011
January February March April May June July
August September October November December
2010
January February March April May June July
August September October November December
2009
August September October November December