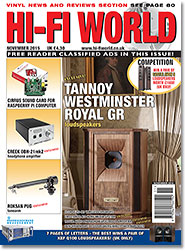 Hi-Fi World is an independently owned and run specialist hi-fi magazine, started by Noel Keywood, a highly respected technical journalist of thirty five years standing. Dedicated to equipment of all types, the emphasis is on 'affordable audiophile' kit which doesn't have to be expensive, but has to perform. Our readership is worldwide and diverse in nature, but all share a passion for music and the desire to hear it as enjoyably as possible. Run by enthusiasts for enthusiasts, our commitment shows in everything from the rigorous technical measurements we undertake on almost every product reviewed to the weird and wonderful editorial mix. No product is too small or obscure; old and new, budget or high end, if it's great then Hi-Fi World will say so!
3 In This Month's Issue...
Tannoy Westminsters, Raspberry Pi And More!
Article By Noel Keywood
7 News
Words from the world...
31 Competition
Your chance to win a pair of Castle Avon 5 loudspeakers worth £1600.
32 Subscriptions
Ensure your copy every month and save money too!
34 Mail
Seven pages of your views, wonderful as always...
64 Audiophile Vinyl
Paul Rigby rounds up the latest audiophile vinyl releases.
Loudspeakers
10 Tannoy Westminster Royal GR
Noel Keywood is blown away by the power of Tannoy's massive Westminster Royal GR horn-loaded loudspeakers.
28 XTZ Master Series M2
A new £1400 standmount from Sweden is among the best he's heard, says Jon Myles.
53 Ggmm M3-Freedom (WS-301) Wireless Speaker System
Jon Myles listens in to a luxurious, leather covered wireless loudspeaker package.
77 Eclipse TD-M1 Wireless Speakers
Eclipse's distinctive-looking desktop wireless speaker system is put through its paces by Jon Myles
Systems
20 Benchmark AHB2 Amplifier And SSM1 Loudspeakers
Benchmark's latest amplifier/loudspeaker package makes a big impression on martin pipe.
42 Entotem Plato Music System
A one-box solution to recording your vinyl, storing music and streaming files could just be a glimpse of the future, reckons Jon Myles.
Amplifiers
16 Rogue Audio Pharaoh
Valves and Class D amplification are combined in us firm rogue audio's new integrated amplifier. Jon Myles takes a listen.
48 Creek OBH-21MK2 Headphone Amplifier
Jon Myles plugs his cans into Creek's new headphone amplifier – to great effect.
Digital
24 Astell&Kern Junior Digital Music Player
Noel Keywood takes to the road with Astell&Kern's lowest priced portable digital music player.
55 Cirrus Logic Audio Card For Raspberry Pi
Douglas Keywood and Noel Keywood look at the Raspberry Pi budget educational computer – and a new audio card for it.
Feature
85 Sound Spiral
Paul Rigby gets to grip with a new multi-speaker sound installation.
Cables
75 Atlas Ascent / Mavros Ultra Digital Cables
Jon Myles listens to two new digital cables from Scottish manufacturer atlas.
Olde Worlde
91 Quad Radio
Martin Pipe looks at the rise – and subsequent fall – of quadraphonic radio.
Vinyl
80 News
All the latest and greatest vinyl releases for you, from the pen of Paul Rigby.
82 Roksan Pug Tonearm
Paul Rigby enjoys Roksan's latest mid-priced tonearm.
Headphones/earphones
47 KEF M400
Martin Pipe tries KEF's latest over-ear headphones...
51 Noble Savant
...While Jon Myles dons Noble Audio's new £400 savant in-ear monitors.
And More...
67, 69, 71, And 73 Opinion
The team get to grips with matters music, hi-fi and life!
86 World Standard Tests
How we perform all the tests, and what they mean.
88 Dial-A-Dealer
A comprehensive guide to UK hi-fi retailers.
95 Classifieds
Second-hand bargains
96 Next Month
What we hope to bring you in the next sizzling issue...
97 Advertisers' Index
98 Classic Cuts
Paul Rigby looks back at the legacy of guitarist Bill Nelson's practically wired album.
Subscribe!
Click here to subscribe to Hi-Fi World
Previous Issues
2015
January February March April May June July August September October November
2014
January February March April May June July August September October November December
2013
January February March April May June July August September October November December
2012
January February March April May June July August September October November December
2011
January February March April May June July August September October November December
2010
January February March April May June July August September October November December
2009
August September October November December