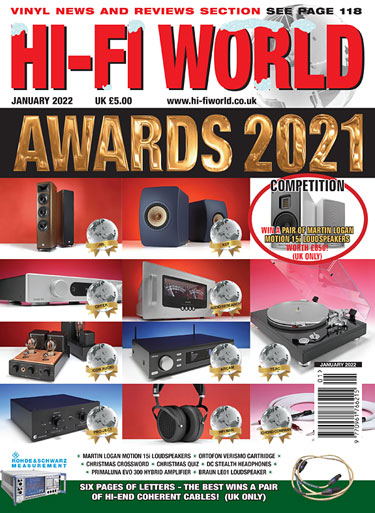 Hi-Fi World is an independently owned and run specialist hi-fi magazine, started by Noel Keywood, a highly respected technical journalist of thirty five years standing. Dedicated to equipment of all types, the emphasis is on 'affordable audiophile' kit which doesn't have to be expensive, but has to perform. Our readership is worldwide and diverse in nature, but all share a passion for music and the desire to hear it as enjoyably as possible. Run by enthusiasts for enthusiasts, our commitment shows in everything from the rigorous technical measurements we undertake on almost every product reviewed to the weird and wonderful editorial mix. No product is too small or obscure; old and new, budget or high end, if it's great then Hi-Fi World will say so!
Regulars
3 Hi-Fi World's Annual Award Issue
The year of 2021 brought some great products,
Editorial By Noel Keywood
7 News
Words from the world...
70 Mail
Six pages of your views, with related two page mini-feature explaining open baffle dipole subwoofers.
Amplification
76 PrimaLuna EVO300 Hybrid Amplifier
A large, heavy hybrid combining FET power amplifier with valve preamp. Noel Keywood is impressed.
Soundbites
107 Chord Anni Desktop Amplifier
Chris Frankland checks out a new headphone amplifier from Chord Electronics.
95 Olde World
Martin Pipe looks at Philips N4520 open-reel tape recorder, once part of their late-1970s Black Tulip range.
Loudspeakers
81 Braun LE01 Speaker
Martin Pipe listens to a stylish small 'speaker from Braun.
115 Martin Logan Motion 15i
Noel Keywood checks out a recent update of Martin Logan's bookshelf 15 to new 15i status. So what's new?
Features
11 Hi-Fi World Awards 2021
The products that impressed us most in 2021. Find out about the best you can buy in our easy-to-read summary.
23 Award Reviews
The original reviews of our selection of 2021's best products.
Holiday Fun
86 Christmas Wish List
Our expert contributors on what they would like to see in their Christmas stockings. Ideas for the family perhaps?
113 Christmas Crossword
A nice, easy crossword from us this year we think, designed to let you relax on Christmas Day!
Vinyl
118 News
All the latest and greatest vinyl releases for you, from the pen of Paul Rigby.
121 Ortofon Verismo Cartridge
A top moving coil cartridge with diamond cantilever. Noel Keywood listens carefully.
125 Audiophile Books
Three books this month: Wembley or Bust, Bowie Odyssey, God is in the Radio, all reviewed by Paul Rigby.
Headphones
108 Dan Clark Stealth Headphones
Martin Pipe listens to a pair of super-quality headphones from Dan Clark.
And More...
84 Subscription
Ensure your copy every month and save money too!
93 Competition
Your chance to win a pair of Martin Logan 15i loudspeakers worth £850.
99, 101, 103, And 105 Opinion
The team get to grips with matters music, hi-fi and life!
110 Audiophile Vinyl
Paul Rigby rounds up the latest audiophile vinyl releases.
126 Dial-A-Dealer
A comprehensive guide to UK hi-fi retailers.
127 Classifieds
Second-hand bargains.
128 Next Month
What we hope to bring you in the next sizzling issue...
129 Advertisers' Index
130 Classic Cuts
The Doors L.A. Woman, a comprehensive new box set reviewed by Paul Rigby.

Subscribe!
Click here to subscribe to Hi-Fi World.
Previous Issues
2022
January
2021
January February March April May June July
August September October November December
2020
January February March April May
August September October November December
2019
January February March April May June July
August September October November December
2018
January February March April May June July
August September October November December
2017
January February March April May June July
August September October November December
2016
January February March April May June July
August September October November December
2015
January February March April May June July
August September October November December
2014
January February March April May June July
August September October November December
2013
January February March April May June July
August September October November December
2012
January February March April May June July
August September October November December
2011
January February March April May June July
August September October November December
2010
January February March April May June July
August September October November December
2009
August September October November December