December 2022
Enjoy the Music.com's Great Holiday Gift Guide 2022
Support premium audio companies this holiday season.
Article By Enjoy the Music.com Staff
Welcome one and all to Enjoy the Music's extraordinary 17th annual Great Audiophile Gift recommendations! We all love gifts, yet getting something special for a passionate music lover can be quite challenging! Our annual Great Audiophile Gift wish list brings you some truly spectacular ideas for music lovers. There are so many wonderful products we can recommend to our longstanding loyal readership. All recommended gifts this year are reasonably priced to be kind to your wallet. We have gifts that will make your vinyl junkie smile, plus a few surprises along the way!
Everyone here at Enjoy the Music.com wishes you and yours a prosperous, joyous, and healthy holiday season. And now, on with our Great Audiophile Gift 2022 suggestions we know you'll love!
Free Cartridge Protractor And Speed Discs!
There's no place like home. Home is where my turntable is and everyone should have a two point protractor and speed strobe discs. For the cartridge alignment tool, the trick is to have the cartridge mounted so that the needle aligns perfectly on BOTH dots without moving the protractor. What you may need to do is mount the cartridge a bit loose and slightly move it forward or back and see how it aligns on both points. You know you have it perfect when both points are perfect without moving the protractor. It takes time and patience to get it just right, but the results are worth it! As an added bonus for you, Enjoy the Music.com also offers a free Excel file two page spreadsheet with one page for Löfgren "A" alignment and one page for Löfgren "B" alignment, plus you can calculate your own custom alignment points too!
---> Get your free Enjoy the Music.com cartridge protractor and speed discs.
Roon Nucleus+ Core Unit And XLCR Power Supply Review
Roon: A Short Story
Martin Colloms has become a Roon convert – Here he charts his path to 'Roonification'; using the company's Nucleus+ Core unit.
Review By Martin Colloms
I'd encountered Roon music playing and cataloguing software on a few occasions, as well as its predecessor, the Sooloos music storage and handling system, with its attractive graphical presentations of tracks, artwork and music cataloguing. Acquired by Meridian some years ago as the heart of its streaming solution, Sooloos was later spun off as a separate company, eventually becoming Roon in 2015. But the heart of the system has remained: an informative, easy to use music management system, based on extended metadata and intelligent cataloguing of content. It has seen several iterations bringing it to the present level of refinement – in fact to a level where I felt that I just had to try it out.
---> Roon Nucleus+ Core Unit & XLCR PS Review.
FiiO BTR7 Portable Bluetooth Headphone Amplifier Review
The shape of things to come.
Review By Paul Schumann
When arriving at the University of Texas at Austin as a freshman, I didn't have a lot of stuff on hand. That's because I flew down from New York and could only listen to music with the Pioneer tape deck I recently purchased and a pair of headphones. While I did have some tapes that were recorded back home, if I wanted to listen to any new music, I would have to buy them as pre-recorded cassette tapes. While enjoying those tapes and their limited sound quality at the time, after a few years they had disintegrated to the point of no return. I never got around to replacing them with vinyl later on, so the albums purchased during that time are closely associated with my freshman year of college. I think what intensified that association was listening to them using headphones, which is a more intimate experience for me. After receiving the FiiO BTR7 Bluetooth Amplifier I was reminded of those times.
---> FiiO BTR7 Portable Bluetooth Headphone Amplifier Review.
Focal Celestee Closed-Back Headphones Review
A wide front row soundstage with little depth.
Review By Gary Alan Barker
It has been a long wait to get a review sample of the Focal Celestee Closed-Back Dynamic Headphone, over a year in fact, due to the extreme popularity of Focal's latest closed-back design, but it has certainly been well worth waiting for. Focal has a long history of designing and manufacturing some of the world's highest-performing loudspeakers and headphones. As a driver designer/manufacturer they have a certain advantage over those who need to outsource their drivers, and it has shown in their delivered product. One constant with Focal headphones going back to the original Spirit is a level of refinement of sound not found in comparably priced headphones, and on this score, the Celestee is no exception. The Focal Celestee Closed-Back Headphones are the latest offering in their closed-back designs, which are unique in that they offer the more open soundstage of open-backed headphones....
---> Focal Celestee Closed-Back Headphones Review.
Audience Hidden Treasure In-Wall AC PowerCable And High Definition Wall Receptacle Review
Like a buried treasure that pays huge dividends in musical enjoyment!
Review By Rick Becker
If you're reading this review, you're either considering the installation of a dedicated line in what is likely your dedicated listening room or perhaps your home theater... or maybe the video rig in your family room if you're seriously into watching TV. Or possibly, you've already installed a line and are wondering if this new Audience cable might be a worthwhile upgrade. In any case, I suspect you're already convinced that "everything matters" in high-end audio, especially cables. Keep reading. Audience is one of the most respected cable manufacturers and my ears perked up when I saw the ad for their new In-Wall AC cable. It's been 20 years since I reviewed Joe Skubinski's JPS Labs Power AC In-Wall cable. He's sold miles of it and "Big Red" has remained my reference dedicated line ever since. What's taken so long for the competition to arise?
---> Audience Hidden Treasure In-Wall AC PowerCable And High Definition Wall Receptacle Review.
Premium Luxury Audio Fall Foliage Tweakfest 2022
Featuring the Bybee Clarifiers and Massif Record Weight / Cable Risers, plus Synergistic Purple Duplex Outlet, MiG 3.0 Footers, and Carbon Tuning Discs.
Review By Rick Becker
Well, audio tweaks are not exactly history-altering inventions like the printing press.... Thus, my annual Tweakfest of small, but significant products, has drifted into fall, just in time for the November issue and foreshadowing the Holiday Gift Guide. The cognoscenti of audio forums have probably christened me a fanboy of Synergistic Research, but I've been continually impressed with the creations from the mind of Ted Denney. His major products are cables and power conditioners, but once he makes a discovery it is frequently spread throughout a multitude of smaller products and occasionally gives birth to a new tweak. I'll cover three such items, plus a few more, in this Fall Foliage Tweakfest.
---> Premium Luxury Audio Fall Foliage Tweakfest 2022.
Schiit Lyr+ Headphone Amplifier / Preamplifierr
Want a super-high-end, super-powerful, tube hybrid headphone amp and preamp combo — but also want the comfort of a pure solid state design? Then Lyr+ is for you! It's the only headamp in the world that goes seamlessly from tube to solid state, using our exclusive Fusion Architecture. Don't want to use a tube? Then don't plug one in. Lyr+ switches seamlessly to its internal solid state gain stage, based on exotic depletion-mode MOSFETs. Want tube gain? Then plug in any 6SN7-type tube, and Lyr+ switches over to 100% tube voltage gain with the MOSFETs completely out of the picture. That's the magic of Fusion Architecture.
---> Schiit Lyr+ Headphone Amplifier / Preamplifier.
Dali Katch G2 Wireless Bluetooth / 3.5mm Input Speaker Review
Early thoughts on the Dali Katch G2 wireless loudspeaker is definitely a surprise for $499. Perhaps one of the biggest of 2022 so far.
Review By Ian White
One never knows when true beauty is going to reveal itself; it can come in many forms and when it is layered over something of real substance — the impact on your soul and life can be profound. The past few years have been hard. A lot of alone time. Music has helped soothed the soul; along with poetry, movies, and the desire for some joy. The $499 (USD) Dali Katch G2 is one of the most joyous and impressive components I've been able to try in many years. Dali is now distributed by Lenbrook Americas and that raises the stakes for this particular portable Bluetooth loudspeaker. Lenbrook is the parent company of NAD, PSB, and Bluesound and delivers far greater access to retail opportunities for this new speaker going forward.
---> Dali Katch G2 Wireless Bluetooth / 3.5mm Input Speaker Review.
Chord Mojo 2 Portable DAC/Headphone Amplifier Review
Priced at $845, the Chord Mojo 2 needs to be spectacular to merit a strong recommendation. Does it deliver? In every way.
Review By W. Jennings
If you are a member of the Head-Fi community, Chord has been part of your life for the past decade with its award-winning, and often groundbreaking products. While many of the British manufacturers' products are very expensive, there are a growing number below $1,000 that merit serious attention from both headphone enthusiasts and music listeners looking to assemble a first-class system for either the home or desktop. Products like the Chord Mojo 2 offer a level of technical sophistication you don't see in very many products in the price range or even above it. Chord Electronics was founded in 1989 and spent its early years making amplifiers for the professional market. Today, they still operate out of their headquarters in Kent, but the product line has expanded to include both home systems and portable gear.
---> Chord Mojo 2 Portable DAC/Headphone Amplifier Review.
A Fabulous Variety Of Furutech Reviewed
Much more than 'just' accessories... and worth every dollar too!
Review By Bob Grossman
The focus of this review is a lineup of Furutech products. It includes interconnects, speaker cables, and power cords assembled with their bulk cable lines, along with the PowerFlux-NCF 18 factory-made power cords, the GTO-D2 NCF(R) Power Distributor, and the GTX DR NCF duplex outlets. The premise of the bulk cables is to offer a more economical approach for the DIY assembly of Furutech cables using their wire designs with Furutech termination plugs of your own selection. Scot Markwell, President of Elite AV Distribution assembled the cables for this review to the lengths needed for my stereo. While every audio system needs cables to connect components and power supplies, it can be a complicated range of choices based on cost, design, and various product lines from the many cable manufacturers in the market today.
---> A Fabulous Variety Of Furutech Reviewed.
Divine Acoustics Kepler Vibration Absorption Feet
From Enjoy the Music.com's very own Robert C. May, he says, "Kepler vibration absorbing footers are a product of Poland's Divine Acoustics. A complex. multi-layered sandwiched construction combining a variety of materials, the product is based on the manufacturer's proprietary CeraGem technology, which uses gemstones as part of a system designed to dampen vibrations by transmitting energy into the footer, dissipating it as heat. Adaptable to a wide range of speakers — either screwed in to replace existing footers or simply resting on supplied pads — the footers can also be used under other components, including CD players, DACs, amplifiers and turntables. The Keplers, which come in sets of 8 for speakers or three for other components, are audibly highly effective in isolating components. Used under my modified Magneplanars, the Kepler's provided noticeably more stable and present imaging, along with tighter, more controlled bass." Pricing is €350 for a set of three and €450 for four (not reviewed).
Great Audiophile Gift Throwback: Highlights From Previous Gifts
Throwback To 2021: Rick Becker's Holiday Gift Guide
Eight special holiday gifts for audiophiles.
Article By Rick Becker
One of my biggest pleasures of the year is to look back at the products I've reviewed or seen at shows and make suggestions for Holiday Gifts for your beloved audiophile. Unfortunately, some of these require special knowledge or data such as the size and value of fuses, so they won't qualify as surprise gifts but I strongly believe they will be treasured nonetheless.
---> Rick Becker's Holiday Gift Guide 2021.
Kimber Kable TONIK Interconnect Cable Review
A truly exceptional budget interconnect cable.
Review By Karl Lozier
Here is Kimber Kable's response to the growing demand for true economy-priced products by fine premium audio companies. It's also déjà vu all over again, as this is the third time in the past few years I've reviewed Kimber products. A year or so ago I had received their power cords from both a couple of weeks apart and long before that the same timing with their top-line interconnects. In this instance, the company has developed a budget-priced loudspeaker cable to match / pair with their new TONIK interconnect. In fact, they preferred the two identical-appearing products to be reviewed together, which I did. The Tonik interconnect cables, like many recent audio developments, is at least partly in response to the popular budget-priced camp and home-theater development.
---> Kimber Kable TONIK Interconnect Cable Review.
Nordost Qv2 AC Line Harmonizer
Nordost, out of Holliston, MA, not Norway, is one of the premier cable manufacturers in the world. They often run comparative demonstrations of their products at audio shows that I've found instructive on several occasions. It was there that I first encountered their Qv2 AC Line Harmonizer. I listened intently with the Qv2 both in and out of the AC power strip, but I could hear little difference. Sometimes it takes a while to pick up on minor differences when you don't know exactly what it is you should or should not be hearing. In my case, it would be years before a friend brought one over for me to try in my system. In the familiar surroundings of my own listening room it was easy to hear the difference it makes.
---> Nordost Qv2 AC Line Harmonizer.
Gingko Audio Acoustic Resonance Clarifier (ARCH)
The unique shape of the patented Gingko Audio ARCH Acoustic Resonance Clarifier and its material construction make it an effective vibration control base for speakers and audio components. The ARCH is constructed from a lossy material that dissipates vibration across the audio frequency spectrum. The many layers of soft and hard maple in the Equipment / Speaker ARCHs, and wood veneer and resin in the Mini-ARCHs are designed to provide the proper optimal loading weight under speakers and audio components. They offer four versions of Equipment / Speaker ARCHs to support from 15 lbs. to 100 lbs. each. The Mini-ARCHs support up to 5 lbs. each.
---> Gingko Audio Acoustic Resonance Clarifier (ARCH).
CHISTO High-End Analog, Digital, And Gear Cleaners
There's so much to love about CHISTO cleaners, and they have a great product for every format to bring more joy of music, plus a gear cleaner too! Their Easy Groove Concentrate (€49.90) concentrate makes a liter of effective vinyl records cleaning solution. It cleans all types of vinyl records from LPs to ancient, but lovely 78rpm shellacs. It's a quick and convenient way to keep your records at its best and prolong the lifespan of your cartridge too!
---> CHISTO High-End Analog, Digital, And Gear Cleaners.
Bottlehead Single Ended eXperimenter's Kit 3.0
Bottlehead's affectionately-named S.E.X. 3.0 Kit ($593 on up) is extremely easy to build and will run any dynamic headphones – even AKG K1000s and Audeze LCD-2s – to great effect. Power output is a generous two watts per channel, so it could also drive highly efficient loudspeakers too! The big update for Version 3.0 is that Bottlehead has changed the tubes used from the now difficult to find 6DN7 to the 6FJ7. The 6FJ7 is the same tube in a different glass envelope designed to fit in a Compactron socket. Same great sound as the 6FJ7, but in a tube that isn't being gobbled up by our competitors who have (finally) caught on to the great sound of the 6DN7.
---> Bottlehead Single Ended eXperimenter's Kit 3.0.

Audience Forte F3 Audiophile Power Cord
Replace your performance-robbing stock power cord today with Audience's Forte F3 audiophile power cord available in 1.25, 1.75 and 2.5 meter lengths. The forte f3 powerChord contain massive 10 AWG conductors, made from 99.9999% pure OFC stranded copper in XLPE (cross linked polyethylene dielectric) with PVC jacket. Audience's Forte F3 sports C688 Olin Brass contacts too. The forte f3 powerChord is a product in keeping with the longstanding reputation of Audience of California for making highest quality power cords for high-end audio. Audience put a great deal of work into the forte f3 powerChord to provide audio enthusiasts with an absolutely unbeatable product below the $500 price point.
---> Audience Forte F3 Audiophile Power Cord.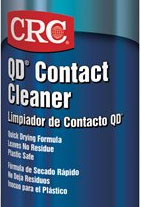 CRC QD Plastic Safe Liquid Contact Cleaner
CRC QD contact cleaner is a unique blend of petroleum-distillates and alcohol which provides a suitable precision cleaner for sensitive electronics. It is a cost effective alternative to all contact cleaners. It Evaporates quickly and leaves no residue and is safe to use on all plastics. Recommended for the cleaning of connectors, tape heads, buss bars and circuits. Effectively removes dirt, dust, light oils and fingerprints from contacts, printed circuit boards, switches and breakers. Plastic safe - allows one product to be used in all applications without risk of costly damage to sensitive modern plastics. Leaves no residue - prevents harmful build-up on equipment and eliminates wiping and rinsing. Fast evaporation and it minimizes downtime too.
---> CRC QD Plastic Safe Liquid Contact Cleaner Review.
Bookmark This Link To Support Us When You Shop At Amazon
We receive a teeny tiny commission from Amazon.
Amazon Specials
Since many of us shop at Amazon, and delivery is very easy, below are a few Great Audiophile Gift 2022 suggestions. Yes we get a teeny tiny small commission from this, yet the below are very carefully chosen gifts / gear we feel you may enjoy.
VU Meter Hi-Fi Vintage Stereo Audiophile T-Shirt
Available in many different colors too.
DrDrhob Vinyl Record Cup / Drink Coasters
They'll look great within your listening room!
48 Pack Acoustic Panels
Studio foam for walls / sound absorption.
Apple AirPods Pro (2nd Generation)
Wireless earbuds with MagSafe charging case.
Sennheiser HD 660 S Headphones
Hi-resolution audiophile open-back headphones
Wharfedale Diamond 225 Monitor
With 1" soft-dome tweeter and 6.5" woven Kevlar bass driver
Edifier Wi-Fi Active Bookshelf 2.0 Speakers
Works with Alexa, Supports AirPlay 2, BT/Optical/RCA... 120 Watts.
Audio Production And Critical Listening:
Technical Ear Training (Audio Engineering Society Presents)
Pro-Ject VT-E BT R (Red) Wireless Turntable Red
Completely factory-adjusted for instant playback and super easy setup.
Retro Style Audiophile T-Shirt
Analog tube amplifier lover's t-shirt available in various colors.
Bookmark This Link To Support Us When You Shop At Amazon
We receive a teeny tiny commission from Amazon.
Happy Holidays To All Our Friends
Without a doubt, this year celebrates our most extensive wish lists! We have many truly spectacular ideas for music lovers. All recommended gifts this year are very reasonably priced too! We have gifts that will make your vinyl junkie smile, tweakers smile in delight, digital goodies for you mobile mavens... plus a few surprises along the way!
Everyone here at Enjoy the Music.com wishes you and yours a prosperous, joyous, and healthy 2022 holiday season. Please support audiophile companies as they support our musical pleasures. As always, in the end what really matters is that you...
Enjoy the Music,

Great Audiophile Gift 2021, 2020, 2019, 2018, 2017, 2016, 2015, 2014, 2013, 2012, 2011, 2010, 2008, 2007, 2006, and 2005.