December 2014


Great Audiophile Gifts For 2014
Gift ideas to give your audiophile this holiday season!
Turn your vinyl record collection into wall art with the RecordWall-It ($7.95 each, with price discounts available if you buy in quantity). This is perhaps the coolest, and very inexpensive, ways to display your vinyl LPs. They easily mount to the wall with the included screw plus you have a fast and easy way to access your fave music too! You can proudly display picture discs since RecordWall-It fits virtually all albums due to each frame having the ability to hold single or double albums. You can show off a double LP by simply placing two frames side by side. RecordWall-It is very decorative and you can arrange frames any way to show off your artistic creativity too. So what are you waiting for? Get your audiophile Record Wall-It for this holiday season and be amazed how for only a few dollars you an make their holiday season a very joyous one.
Carrying this one over from last year due to it being a truly classic gift... When you see this poster, made famous in the Maxell TV commercial, do you immediately think of Wilhelm Richard Wagner's Flight of the Valkyries? The picture Blown Away by Steve Steigman (was $14 last year, and is now around $9 including shipping!) measures 36" x 24" and is printed on thicker, high quality poster paper; not the cheaper and thinner rubbish most posters are mode from nowadays. Blown Away by Steve Steigman is digitally printed on archival photographic paper resulting in vivid, pure B&W colors and in exceptional detail. If your music lover has always wanted a great classic poster then here is perhaps the one to get them this holiday season. Buy it @ Amazon.com.
Ever been frustrated trying to read the input labels on the back of your gear in a rack? The Petzl Tikkina Headlamp ($20) little LED headlamp solves the problem, thus leaving both hands free to tighten down those locking RCA connectors or figuring out which inputs/output is which. Petzl has been a stalwart in this category, but there are other brand out there too of course. They're available in most sporting goods stores. In fact, I've even picked up cheapies at AutoZone one year. I also keep one in the glove compartment of the car on trips. Leaves both hands free to change a tire or change an LP if you listen in the dark. Fancy versions offer different levels of intensity and spread, plus flashing modes if you're into disco.
Bright Star Audio's IsoNode are an extremely cost-effective way to help with vibration isolation. Everyone hates it when unwanted vibration negatively affect their gear, so the IsoNode is an easy way to solve this dilemma. They come in three different sizes depending on your gear's weight and can be easily placed underneath your component. They act as a "both a liquid and a solid for superior vibration control" according to Bright Star Audio. You replace the stock feel with the Isonode footers and then sit back and enjoy the music. Owner Barry has given me a few sets over the years to try and i find them highly effective and very durable. The IsoNode Small ($15/set of 4) handles 30 lbs max per set. The IsoNode Large ($25/set) handle 42 lbs while the IsoNode Extra Large ($50/set) can be used under gear weighing upwards of 60 lbs.
Got headphones and need a high quality affordable stand? Well then look no further than Woo Audio's HPS-T ($69). Available in black or silver, mine is black, they are made from aluminum and are height adjustable to suit every headphone need. For only $10 you get one that handles two sets of headphones. Now that is what i call a real-world bargain Standard features include adjustable height from 11" to 14" high, a 0.75" thick weighted base with a diameter of 6.33". They are easy to put together and no tools are required. You can adjust the height with the simply turn of a large securing knob. Also included are rubber feet for contact surface protection and overall weight is 4 lbs (5 for the one for two sets of headphones). These are very high quality, beautifully finished and love the Woo Audio headphone stand that I've been using here for months. If you have a set of headphones and no stand, then hint-hint nudge-nudge your friends to get you this as a gift.
Audio Additives/AcousTech stylus force gauge ($79), available at a variety of retailers worldwide, has been available for a few years and works great. Before this model appeared, one's choices were limited to much more expensive devices. I own and use one of these babies, and I can honestly say that I can't see any reason to spend any more than this. It accurately measures to the thousandth of a gram, is fully adjustable, and runs on only two AAA batteries. It is available with different model names as it seems as if it is a generic unit sold wholesale to any company that will buy it in bulk. The lack of a logo on the unit does not affect its performance.

Enjoy the Music.com reviewer Tom Lyle says the Sony's BB-SSB1000 bookshelf speakers ($80/pair) are a great deal. Common wisdom states that if one is on a budget the only option one has is to listen to crappy self-powered computer speakers. This is simply not true. One has choices. Some DACs and headphone amplifiers have enough power to drive a small pair of speakers. But it would be a shame not to use more with the Sony BB-SSB1000, and they are good enough to be driven by a surround sound receiver or small integrated amplifier. These Sony speakers sound quite good -- a zillion times better than the average computer speaker. When matched with a subwoofer they might be one of the best sounding entry-level 2.1 systems I've ever heard, which makes their price seem laughably low. The Sony's that are listed here have the advantages of all Sony speakers… Sony manufactures a lot of speakers and sell a lot of speakers. The numbers that they deal with are astronomically greater than most every other company on Earth but a few. If these list for $80, you know the actual street price is even lower (I've regularly seen them for $69). Models from Bose can also be inexpensive, but invariably aren't very neutral sounding, and the Pioneer models I've heard sound just about as good, but these Sony models seem a bit sturdier and will probably last a lifetime.
The Spin-Clean Record Washing System ($80) gets records cleaned far better than those cleaned by hand with the supplied drying cloths. The Spin-Clean cloths are still quite useful for removing the last bit of moisture too. How easy is it? Counting the extra spins on the cleaning step and two cleaning/drying cycles, I can clean an LP in just over three minutes. 3:06 to be exact -- and I was not rushing. This is a great product that every vinyl lover without a record cleaning system must get to truly hear the best from their collection.
DH Labs Silver Sonic D110 AES/EBU digital cable ($99/meter) stands out in the sea of multi-kilobuck audiophile digital cables and stands tall as a top budget champion. At under $100 it manages to use high quality materials including silver-coated Continuous Crystal copper and PTFE Teflon dielectric in a sensible geometry/construction. The Sound is, thankfully, devoid of any artifacts that draw undue attention. It always remaining smooth, clear, nicely-detailed, and sure-footed. No ear-piercing hyper-detail or room-busting overblown bass were noted. With D-110 presenting a broadly balanced sound, it also seems to have no stridency, shout, lumpy frequency balance, or odd soundstaging. Music is nice, with smooth detailed resolution throughout the frequency ranges, yet without any of the veiling present with some cheaply made cables. DH Labs Silver Sonic D110 earns a strong recommendation, especially for the budget-conscious.
Reviewer Wayne Donnelly says that Steinmusic Maestro lacquer ($100) is wondrous resonance-control and he feels it is one of the cheapest ways to refine an already good audio or video system. The lacquer is compounded completely of natural resins. The bottle cap holds a small brush which is good for most applications. It is volatile and dries quickly, and the small bottle will go very far. Wayne used it to paint his VPI JMW 10.5 pickup arm, including the counterweight. His Stein cartridge is already treated with Maestro lacquer, but it is generally very effective on phono cartridges. Wayne also painted the trays of his Modwright/Denon CD player and Oppo DVD player, and painted the undersides of his Millennium M-CD-Mat and Marigo Ultima CD damping discs. Finally, he painted the ground shields of his RCA interconnects. By using two coats in every case, the sonic and visual improvements were dramatic. After all of those treatments most of the bottle was left over, so Wayne passed it on to his colleague and fellow Enjoy the Music.com writer Max Westler. Max followed Wayne's example and tried it on his phono cartridge. In addition Max did the woofers and midrange drivers of his B&W 801 loudspeakers. Max told Wayne that treating the speakers was like getting new and better speakers, and he commented that the effect were transformative. Do yourself a favor and try it.
One of the most incredible books about high-end audio loudspeakers is now available by The Absolute Sound ($130). The 320 page Illustrated History of High-End Audio Volume One: Loudspeakers is a large, hardcover and very high quality book edited by none other than Robert Harley. This is a large book and the photo quality is a must-see! You take a journey though the birth of the high end's most iconic loudspeaker companies and their products. The Illustrated History of High-End Audio Volume One: Loudspeakers is filled with fascinating details, never before seen stories and photos of high fidelity audio loudspeakers. This deluxe hardbound book is nearly the size of an LP cover, is very hefty in overall weight, as one would expect given it spans 320 pages, and is richly illustrated with rare archival photos of the company founders, their workshops, and early products. In addition to in-depth profiles of major manufacturers, TAS included shorter pieces on many other companies that helped shape the high-end industry. In total, it profiles 44 of the high-end audio's most influential loudspeaker manufacturers and should bring a huge smile to virtually every audiophile's face. If you don't yet have this book, get it now! You can see a video with Editor Robert Harley personally describing this book by clicking here.
Denon DL-110 high-output moving coil cartridge (street price less than $150) is an incredible deal for vinyl music lovers. If you know anyone who has recently gotten into vinyl and purchased a decent turntable to spin their small collection of records, most likely their new 'table was packaged with a low-priced moving magnet (MM) cartridge. An upgrade to a moving coil (MC) cartridge that can use the same internal phono preamplifier in the integrated amp or lower priced outboard phono preamp is an upgrade that will likely be much appreciated. OK, this phono cartridge breaks my self-imposed rule of sticking to around $100, but a phono cartridge is a very important part of one's analog set-up (I know... everything is important). Now that your friend or relative (or you!) has had more than a taste of the analog Kool-Aid, it's time to hear what is really in those grooves. Denon is a very trusted brand in phono cartridges, and the Denon DL-110 is a perfect vehicle for traveling to vinyl nirvana on a budget. It is the lowest priced high-output MC cartridge I know of, and even though the list price for this baby is $300, I've seen it priced on some websites for as low as $219. Maybe you can find it for less.
The FiiO Kunlun E-18 ($159) is at the top Enjoy the Music.com reviewer Rick Jensen's holiday gift list. Most audiophiles might not know this tiny unit, yet this portable headphone amplifier is very versatile and can be used as a 96kHz/24-bit USB DAC too. Amp and DAC all in one well-designed case for well under $200. Nice! Many headphone fanatics have paid their compliments to it; affirming that it is a good portable choice for all but the very highest-end headphones. This amp/DAC combo unit converts and amplifies Android output directly. FiiO's Kunlun E-18 amp works with all smartphones, whilst the DAC will accept any USB output. A good battery too and all for only $159.
How could Enjoy the Music.com's Great Audiophile Gift 2014 be complete without a set of headphones? We choose the KEF M500 ($300, yet now for $250 directly from KEF and others). The KEF M500 get our pick due to high build quality and, most important of all, excellent sound quality for the price. KEF's unique multi-directional Smart Hinge makes wearing it very comfy and the aluminum frame provides durability. Unlike many audiophile headphones, real people use their 'phones in many situations and KEF wisely included an integrated in-line microphone for taking calls when using the M500 with your cell phone. The cord also has buttons for remote/mic for use with Apple products. KEF's M500 folds up to be very compact and they fit nicely within the included case. As for the all-important sound quality, even the super duper ultra picky guys at Head-Fi love the M500. Need a set of cans for a friend without breaking the bank, here you go! Um, hello, is this mic on?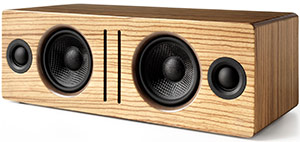 Audioengine's new B2 premium Bluetooth 4.0 speaker ($299) follows the same basic formula as their highly successful A2+ powered monitors, which i use as reference small monitors within my DAW for audio mastering. As a bonus, the B2 adds Bluetooth and puts it all into a small, compact system. The Audioengine B2 has a built-in 24-bit DAC, extended Bluetooth wireless range, and the aptX audio decoder. There is also a 1/8" headphone jack, with cable supplied, so you can physically hookup your PMP (portable media player) such as your cell phone, tablet... and even your old 'n' dusty vintage cassette Walkman! It literally only took me five minutes to unbox, setup on a table, plug in the power, pair my cell phone via Bluetooth and, voilà, music! The midrange/bass drivers are a pair of the 2.75" Kevlar variety while for the uppermost frequencies are smooth-sounding silk soft dome tweeters. The wooden cabinet is hand-built and there are dual front port slots for extended bass response.
The U-Turn Orbit Plus turntable ($299) is a great value for a budding vinyl enthusiast in your family. If you can't seem to swing the $1000 for the awesome VPI Nomad (which includes a phonostage too), then the U-Turn comes with an acrylic platter, unipivot tonearm, and Grado MM cartridge. This turntable will need a phonostage, yet once sorted will stand heads above the feature set of its usually plastic body competition found in mainstream record stores. U-turn's crowd-funded business model is delivering some great bang for your buck for the music lover in your family. The U-turn Orbit is a great turntable with solid base and a fairly quiet AC motor with pulley that handles both 33 and 45 rpm records. It also includes vibration dampening feet so that your music does not also 'jump' when the bass gets thumpin' 'n' pumpin'.
Perhaps the perfect lil' portable Pono Music Player will be to your linking this holiday season? While you can not really buy one in time, unless you pay an outrageous eBay 'fee' to get one, if you buy one now you can expect to wait months to receive it. Still, this small and lightweight digital audio player handles everything from MP3 to true high-resolution music files. The famous singer/song writer/musician Neil Young and Pono go hand-in-hand nowadays with audiophiles as they are finally shipping this triangular-shaped portable music player for tweaking audiophiles, which plays high resolution FLAC, ALAC, WAV, AIFF, AAC (unprotected) and MP3 digital file formats. Pono means righteous in Hawaiian. The Pono Music Store, like HDtracks and others, provide high-resolution 24-bit/192-kHz audio files from leading musical artists. These files for sale are far superior to the heavily compressed format of common MP3 files from Apple and others. Free Lossless Audio Codec (FLAC) is lossless compression of digital audio typically reduced about 50% to 60% of its original size, but then decompressed back to original data size. You hear music more akin to the way the artist intended. FLAC is an open source format. FLAC music files are not available in Apple's iTunes store, but are available at Pono, and many other sites that truly care about quality music. The $400 Pono player includes a DAC and 128 GB of total flash memory with microSD card. At 5" x 2" x 1", it doesn't quite fit easily into a shirt pocket tho.
While being the most expensive gift suggestion within Enjoy the Music.com's Great Audio Gift for 2014, the iFi Audio Micro iDSD ($499) delivers an incredible value for what you get and thus earns our Best of 2014 Award too! It can handle every conceivable digital music file type today and for the foreseeable future for many years to come. You also get a variety of settings for filtering, XBass, 3D Holography, variable amplification output setting, plenty of amplifier power and it can even charge your USB-powered device too! It can also serve as a headphone amplifier and as an external DAC for your high fidelity audio system. The bottom line here is that it will be very hard for any such unit in the years to come to sound better while also providing so many features at this price. Smart bang-for-the-buck audiophiles can stop wasting their hard earned cash with typical DAC-of-the-month products and instead get a device that can keep them happily enjoying the music today and for many years to come. Click here to read the complete review.
Of course in the end what really matters to me is that we all....
Enjoy the Music (So many kids out there, Santa must be a trillionaire...),

Steven R. Rochlin

Flying Through the snow
Can you hear him ho ho ho
He's so full of cheer
Only has to work one day a year

Sees every move you make
Better be good for goodness sake
Leave him cookies and beer
He'll be back to your house first next year

I AM SANTA CLAUS!