Great Audiophile Gift Ideas For The 2020 Holiday Season
Enjoy the Music.com celebrates our 15th annual gift ideas to give your audiophile!
CRC QD Plastic Safe Liquid Contact Cleaner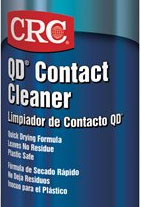 CRC QD contact cleaner is a unique blend of petroleum-distillates and alcohol which provides a suitable precision cleaner for sensitive electronics. It is a cost effective alternative to all contact cleaners. It Evaporates quickly and leaves no residue and is safe to use on all plastics. Recommended for the cleaning of connectors, tape heads, buss bars and circuits. Effectively removes dirt, dust, light oils and fingerprints from contacts, printed circuit boards, switches and breakers. Plastic safe - allows one product to be used in all applications without risk of costly damage to sensitive modern plastics. Leaves no residue - prevents harmful build-up on equipment and eliminates wiping and rinsing. Fast evaporation and it minimizes downtime too.
If the high cost of "audiophile approved" contact cleaner has been keeping you from cleaning your cables and power cords, add CRC Contact Cleaner to your "most wanted" list. At around $8 for a spray can that will last you a handful of years, it's not glamorous, cute or romantic, but it will sound like a major upgrade to your system. You will wish you had cleaned your cables years ago. It's the stuff electronic technicians use and it's available at Harbor Freight and Home Depot — so no excuses! Your son or daughter can buy it for you with their meager allowance. Plus, it fits right into a Christmas stocking without the need for expensive gift wrapping!
Recommended by Enjoy the Music.com's Rick Becker
It cleans and restores great, plus it's available for under $10 a can from Amazon.
---> Back to Great Audiophile Gift 2020 main page.