December 2010


Top 10 Great Audiophile Gifts For 2010
Gift ideas to give your audiophile for the 2010 holiday season!
Article By Steven R. Rochlin
Click here to e-mail reviewer
For the past many years (see 2008 here, 2007 here, 2006 here and 2005 here) Enjoy the Music.com provided audiophiles a way of giving hints to their loved ones of what they wanted for the holiday season. Feel free to print out this article and our previous three, circling the items you most desire. Gift-giving season is upon us and help make your wife/husband/friend's job easier by placing hints for them concerning what you most desire. Enjoy the Music.com is proud to present our fifth annual Great Audiophile Gift suggestions. Prices range from free to a mere $550 for a complete personal listening system.
According to the Wall Street Journal's online resource Market Watch, on November 27, 2010 they wrote: "Online sales for possibly the biggest shopping day of the year jumped nearly 16% from a year ago with average order values up 12% to $190.80 from $170.19, according to a Saturday report from Coremetrics, an IBM unit that tracks online traffic." Being an online dealer/retailer and Web site review magazine has never been better! On that note, it amazes me how many products below are available from online dealers as compared to years past. Below is our top 10 Great Audiophile Gift ideas or this holiday season.
The Spin-Clean Record Washing System ($80) gets records cleaned far better than those cleaned by hand with the supplied drying cloths. The Spin-Clean cloths are still quite useful for removing the last bit of moisture too. How easy is it? Counting the extra spins on the cleaning step and two cleaning/drying cycles, I can clean an LP in just over three minutes. 3:06 to be exact -- and I was not rushing. This is a great product that every vinyl lover without a record cleaning system must get to truly hear the best from their collection. Enjoy the Music.com has reviewed this product, which you can see at this link.

The M2Tech hiFace USB S/PDIF Output interface ($150) is a nifty little device will allow output of up to 24-bit/192kHz S/PDIF from a computer's USB port. The hiFace looks a bit like an oversize USB flash drive with an RCA or BNC connector on the opposite end. Using a USB device allows one to employ a much smaller and easier to cool computer and I ended up with a "nettop" class of machine. This is much like the netbook laptops using an Intel Atom processor and a 2.5-inch hard drive. While Red Book recordings are reproduced in an exemplary fashion, queuing up a 24-bit/96kHz album such as those from HDtracks just lends a naturalness and ease to the music along with more ambiance and other low level detail cues. The HRx releases from Reference Recordings are truly stunning and in my mind define what is possible. Enjoy the Music.com has reviewed this product, which you can see at this link.

When Channel D's Pure Vinyl ($229) was introduced a while back, I read that software developer Channel D's claim to fame was that the signal from the turntable could be fed into the computer without RIAA equalization, and the program would handle equalization duties in the digital domain. Using Pure Vinyl to as a phono stage is as easy as starting the program and putting the stylus in the groove. I fed the output of my cartridge (a Zu Audio DL103 .3mV moving coil) into my outboard step up transformers and from there directly into the computer. Even using the lowly soundcard built into my MacBook, the results were stunning -- some of the quietest, best sounding vinyl playback I have ever heard. For those who want to have their phono stage handle amplification as well as RIAA EQ, the RIAA function in Pure Vinyl can be bypassed. Of course audiophiles can use Pure Vinyl to transfer your vinyl to hard disc/NAS. Pure Vinyl costs far less than the competition and has far more capabilities. As for me, color me impressed. Enjoy the Music.com has reviewed this product, which you can see at this link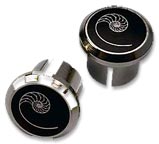 Cardas offers their RCA Signature Series Caps that it over unused female RCA connectors to eliminate EMI and RF noise absorption. They also protect from dust and corrosion. Also available are XLR Signature Series, BNC Signature Series and S-Video Signature Series Caps that fit over unused XLR connectors to eliminate EMI and RF noise absorption and feature the Signature Series Nautilus logo. Users have noticed a quieter noisefloor plus they keep dust and dirt out of your RCA jacks. Call it a dual benefit for your system!
Trends Audio has packed their products to offer a Combo One Hi-Fi System ($550). Using the latest release of Trends PW-10 Power supply unit that supports the award-winning Trends TA-10.2P Class-T and Trends PA-10 Tube Headphone/Pre Amplifier, this combination of products work with a wide variety of source products including CD players, iPods, etc. "It is the time to move Trends Audio products to the main system in the larger listening room, the music lovers will be pleasantly surprised at how much they like Trends Combo One" Said said David Ho, the marketing director of Trends Audio. Enjoy the Music.com has reviewed the Trends Audio UD-10 USB DAC (click here), the TA-10.1 Class-T amplifier (click here), both the uprated and standard edition PA-10 headphone amplifier (click here). The Trends Combo One Hi-Fi system includes the following components:
Trends TA-10.2P Class-T Power Amplifier
Trends PA-10 Tube Headphone/Pre Amplifier
Trends PW-10 PSU
Trends QB-773 Audiophile Audio Cable
Power Cord and Various Cables
Sonex, a longstanding leading company in room acoustic for both audiophiles and professional recording engineer studios, has a new solution for those seeking to complete their room's acoustic control by implementing units mounted on their ceiling. Sonex's new Flowing Whisper Wave ($184 on up) are like a dreamy pattern floating in the air that inspires awe, is very spouse friendly visually and absorbs/controls sound waves. Whisper Waves are made of a 2.5" thickness of the company's fireproof melamine foam and come in cloud white coloring. Suspended from the ceiling with clear monofilament line from the included hanging hardware, they seem to float silently above your space. Whisper Waves are made of our powerful melamine acoustical foam, which dramatically reduces noise levels and eliminates echoes. They're also fireproof, UV resistant, and unaffected by heat and humidity. They're available various sizes that includes 24 x 48 or 48 x 96 inch "clouds" designed to hang parallel to the ceiling or be attached to a wall. The 12 x 48 "ribbons" designed to hang on edge or be attached to a wall. Custom sizes and colors are available. Enjoy the Music.com has reviewed Sonex room acoustic devices, which can be seen by clicking here
Kimber Kable, established in 1979 by inventor and engineer Ray Kimber who actually began his career in the first grade when he built a crystal receiver that he began to tweak, offers the Mini BUS Ag silver USB cables ($75 for 0.5-meter). BUS Ag is for audiophiles who choose to utilize USB data for the music source. This is very common for those who seek out the highest resolution music for critical listening. To address this need for a high-0end audio USB cord, Kimber Kable created high performance USB type cables using silver or silver plated copper. Kimber Kable's Mini BUS Ag cables utilize large gauge pure silver conductors in tandem with large gauge (6.1%) silver-plated copper drain and shield wires. A high performance high-density polyethylene (PE) dielectric is used on the signal conductors to maximize signal integrity. Ferrite noise reduction beads are available separately for extra EMI/RFI protection. All Kimber Kable USB cables feature crimped and soldered shield to shell connection which helps reduce ground resistance variations. There is also a lower price copper version called the Min BUS Cu with virtually all the same features though the main conductor is copper versus silver. Enjoy the Music.com has reviewed the Kimber Kable power cords (click here), their budget-priced TONIK (click here), Kimber Cable QC-Mini AG all silver cable (click here) and Kimber Kable Select Silver KS1030 (click here).
HiFi-Tuning's El Supremo black ceramic fuses are handmade, tip-to-tip of 99% silver combined with 1% 24 karat gold. This is similar to the material used in the highly desired Mundorf Supreme silver/gold capacitors. Mundorf developed for HiFi-Tuning a special silver/gold solder for use in the Supreme fuses. The fuses have also been resonance-optimized to control vibration. According to HiFi-Tuning, "The drawing process for silver (or copper) wire causes micro cracks in the surface of the wire. The cooling process also results in imperfect crystal grid structures. Both of these 'deformities', relative to the ideal of a perfect conductor, result in surface distortion when current flows through the wire. The addition of 24 karat gold fills the micro cracks and the empty spaces between the crystal boundaries to improve transmission properties, while also inhibiting the surface oxidation and tarnishing that will occur over time otherwise." These custom, precious metal fuses are also cryogenically treated using Europe's only cryo system from Cryogenics International USA. Finally, the Supreme fuses are treated with a proprietary quantum level process. Introductory pricing is $50 each for the 0.75" (5x20mm) small size and $75 each for the 1.25" (6.3x32mm) large size. Enjoy the Music.com has reviewed the HiFi-Tuning Noise Destroyer (click here).
APC S10 UPS power conditioner with battery backup from Vanns ($250, with MSRP being $1000) is perhaps one of the best gifts i can recommend. While Yours Truly had planned to pen a review in November 2010, time was not on my side. Purchased an S10 and loved how well my main rig sounded with it, plus it enhanced video from the Pioneer Kuro plasma TV, that i bought a second unit for the office system! The APC S10 not only protects your high-end system from electricity fluxuations and the like, if power goes out you have the battery backup system to do a controlled system shut down safely. The pure sine wave battery backup power prevents interruptions, lost presets, missed DVR recordings and lost media server data when the power goes out. There are various types of filtration built in to the S10 to provide the appropriate filters for various products (amplifiers, preamps, DACs, etc). APC's S10 is a great product and if you have truly big monoblock amplifiers, then perhaps a pair is in order or you can get the APC S15 ($300) that handles more power. Sure there may be better power filters in the $2000+ range, yet for $250 the APC S10 is a real world bargain! Enjoy the Music.com has reviewed the APC S15 power conditioner at this link.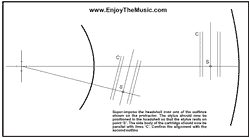 They say the best things in life are free... and who are we to argue? If your audiophile loves music on vinyl, they need to have a special tool to ensure their cartridge is properly aligned. In the past decade or so we have gladly given away tens of thousands of high quality printed cartridge alignment tools! We will not attempt to count the perhaps hundreds of thousands of vinyl lovers who have downloaded our file to print for themselves or used our special Excel program to design their own alignment tool. If you want to give more free tools to your audiophile, Enjoy the Music.com also provides downloadable strobe discs to ensure proper turntable speed! get you free vinyl alignment and speed check tools for free by clicking here.
And that rounds out Enjoy the Music.com's Great Audiophile Gift 2010 ideas. Hopefully you have found something that will bring your audiophile friend or lover joy this holiday season... and all year long. There is something to please virtually every audiophile no matter what their preference or your budget. We here at Enjoy the Music.com wish you and yours a very happy holiday season and a prosperous 2011. Of course in the end what really matters to me is that we all....
Enjoy the Music ("It's the Most Wonderful Time of the Year" with a few writer's embellishments),

Steven R. Rochlin
"It's the most wonderful time of the year
With the vinyl and NAS drive music a-singing and everyone telling you
"Be of good cheer"
It's the most wonderful time of the year.

It's the hap - happiest season of all
With those holiday greetings and music-filled joyous meetings
When friends come to call,
It's the hap - happiest season of all.

There'll be music for playin' and audiophiles grinnin'
Streaming digital tunes for a-playing
Be caroling out in the snow.
There'll be happy tweaking stories and tales of the glories
Of holidays long, long ago.

It's the most wonderful time of the year.
There'll be tapping-toeing, and hearts will be glowing
When your fave music is playing near.
It's the most wonderful time of the year."