December 2006


Great Audiophile Gifts 2006
Excellent gift ideas to give your audiophile for the 2006 holiday season!
Article By Steven R. Rochlin
Click here to e-mail reviewer
Last year (click here) we began our Great Audiophile Gift suggestions, which were received with great enthusiasm from both longstanding readers and their significant others. It may be hard for the non-audiophile to pin down exactly which products their music lover will enjoy. Feel free to print out this article, and/or our 2005 suggestions, and circle the items you most desire. Gift-giving season is upon us and help make your wife/husband/friend's job easier by placing hints for them concerning what you most desire. Enjoy the Music.com® is proud to present our second annual Great Audiophile Gift suggestions. We have arranged them in price from lowest to highest, with some being so inexpensive as to make great stocking stuffers! Some of our suggestions are repeats from the 2005 listing, as these are great gifts no matter what year it may be! And now we present to you our picks of Great Audiophile Gift ideas for the 2006 holiday season.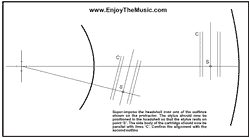 They say the best things in life are free... and who are we to argue? If your audiophile loves music on vinyl, they need to have a special tool to insure their cartridge is properly aligned. In the past decade or so we have gladly given away tens of thousands of high quality printed cartridge alignment tools! We will not attempt to count the many vinyl lovers who have downloaded our file to print themselves, or used our special Excel program to design their own alignment tool. If you want to give more free tools to your audiophile, Enjoy the Music.com also provides downloadable strobe discs to insure proper turntable speed! To learn more about these free tools click here.
Price: Free!
Virtually every audiophile knows about the benefits of resonance dampening. Sadly, some of them fall for those mega-buck Mystic Magic Magnite devices versus using what high-end car audio guys have known about for well over a decade! Dynamic Control of North America manufacturers a product called Dynamat that reduces/controls resonances. Their product line consists of many different versions for various applications. Your audiophile can read my review that dates back to August 1999 by clicking here.
Basically, resonances can reduce the sound reproduction quality of your audiophile's system and Dynamat provides easy to use solutions that can be applied, and removed as the ever-fickle audiophile may want to experiment. Depending on his or her needs, there are various products available. Most people should start with Dynamat Original as they can cut the sheet for whatever application they see fit. It could be inside chassis dampening, loudspeaker drivers' basket dampening, etc. Below are full retail list prices, yet have been able to find discounted pricing with some brief Internet searching.
Dynamat Original Speaker Kit
Kit contains two 10" x 10" pieces
Part Number: # 10115
Price: $14.95
Dynamat Original Door Kit
Part Number: # 10135
Kit contains four 11.5" x 32" pieces
Price: $59.95
Dynamic Control of North America www.dynamat.com
Boston Audio Design's new "Series 2" line of TuneBlocks (price varies) and/or CD Stabilizer will make tweaking fun and beneficial! The TuneBlock line, winner of an Enjoy the Music.com® Best of 2005 Blue Note Award, now sports a sleek round appearance and offers more price and performance options, including a specially-designed footer for use with spiked components. TuneBlock Mini ($79/set of 3) is the entry-level TuneBlock measuring 1.25" in diameter and 0.75" tall. Top of the line is their TuneBlock SE ($299/set of 3) that measure 2.5" in diameter and 1.5" tall with "Special Edition" TuneBlock that more than doubles the mass of the standard TuneBlock. It also includes a larger, cryogenically treated tungsten carbide bearing, and incorporates a recessed base for improved performance. Many other versions are available.
The company's CD Stabilizer ($149) is made from a specialized form of super-fine graphite and CNC machined to tolerances within 0.0005" and may be used with top loading or drawer loading with puck CD transports. Measuring just 1.2mm thick, the mat absorbs mechanical vibration and enhances speed stability. The stabilizer has a 35mm recess around the spindle to accommodate many popular clamping mechanisms.
Boston Audio Design: www.boston-audio.com
Price: varies by product. Starting at $79 on up.
ITOK Media Limited's hi-fi brand Trends Audio mini TA-10 Class-T Amp has received prize from audiophiles worldwide. This unit integrates Class-D digital audio signal processing technique (PWM) with the Class-AB power amplification into a small IC. Trends Audio carefully designed this unit and uses proprietary techniques into the circuit design, components matching, sound tuning and even the case grounding and shielding. Additionally, they applied audiophile electronic components, aluminum case, gold-plated sockets, and high-quality AC power supply. Materials include double-sided PCB, all 1 percent metal film resistors. A fun 'toy' for your audiophile to enjoy all year long!
Trends Audio: www.trendsaudio.com
Price: $110
Audioengine has designed an audiophile quality self-powered monitor loudspeaker for the Apple iPod, Microsoft Zune, portable CD players, and other devices. The Audioengine 5 provides extremely impressive sound for such a diminutive price. Internal amplifications produces 45 Watts per channel (70 peak), overall system frequency response is from 60Hz to 22kHz (+/-1.5dB) and is wrapped in a very solid enclosure made with 1-inch thick MDF. The tweeter is a 20mm silk dome with neodymium magnets while the midrange/woofer is a special 5-inch Kevlar cone unit. Audioengine's 5 includes a variety of inputs, outputs, and cables for use in a variety of configurations.
Full review of can be seen here.
Audioengine: www.audioengineusa.com
Price: $349
DIY Corner
If your audiophile enjoys building his own equipment, below are a few great suggestions he can incorporate in his creations. You probably know finding just the right gift for the DIY'er can be challenging at best, downright mind-boggling at worst! Have no fear as Enjoy the Music.com® has some great gift ideas!
Eichmann Technologies' silver Bullet Plug is a great connector for audiophiles who love to save big money by making their own interconnects! This connector is a great approach to RCA/phono connection, with the only thing needed is your recipient's fave wire and some solder. The Bullet Plug connector is said to provide a faster, cleaner signal of high purity and detail. Why silver? Because it is one of the best conductors of electricity and the Eichmann contact pins are machined from hard drawn 4-nines pure silver rod, and then treated with Caig Preservit 5PL - which leaves a microscopic protective coating to prevent oxidation and enhance conductivity.
Full review of older copper version can be seen here.
Eichmann Technologies: www.eichmanncables.com
Price: $110 for a set of four (makes one complete stereo cable)
Virtually all kit builders make their own unit that control the volume of their system. In fact many regular, non-DIY audiophiles have found they can improve the sound of their music by changing the stock volume control. Danish Audio ConnecT (DACT) manufacturers stepped audio attenuators. Add to that the ease of making a simply passive preamplifier (volume control) and this is a perfect gift for virtually every audiophile! To quote Enjoy the Music.com Steven R. Rochlin, "The DACT CT1 uses extremely accurate surface mount devices (SMD) metal film resistors for 24-step attenuation. SMD devices are used in the military for their extremely high precision... and accurate within 0.05db! Because SMD are very small, the signal's path is about five times smaller than other typical non-SMD units. If there is one thing i have learnt over the years, it is that the shorter the signal path the better." Like the V-Caps, the DACT units are available in various types, but we have listed the part numbers for making a passive preamplifier seen in the link to the review below.
Full review can be seen here.
Danish Audio Connect (DACT): www.dact.com
Price: CT1-10k-2 $140, CT-knob1 $13
And that rounds out Enjoy the Music.com®'s Great Audiophile Gift 2006 ideas. Hopefully you have found something that will bring you joy this holiday season... and all year long. There is something to please virtually every audiophile no matter what their preference... or your budget. We here at Enjoy the Music.com® wish you and yours a very merry holiday season and 2007. Of course in the end what really matters to me is that we all....
Enjoy the Music ("It's the Most Wonderful Time of the Year" with a few writer's embellishments),

Steven R. Rochlin
"It's the most wonderful time of the year
With the vacuum tubes a-singing and everyone telling you
"Be of good cheer"
It's the most wonderful time of the year.

It's the hap - happiest season of all
With those holiday greetings and music-filled joyous meetings
When friends come to call,
It's the hap - happiest season of all.

There'll be vinyl for spinnin' and audiophiles grinnin'
Digital discs for a-playing
Be caroling out in the snow.
There'll be happy tweaking stories and tales of the glories
Of holidays long, long ago.

It's the most wonderful time of the year.
There'll be tapping-toeing, and hearts will be glowing
When your fave music is playing near.
It's the most wonderful time of the year."