HIGH END 2019 Show Report
High End Society Munich Germany
HIGH END 2019 show opened their doors and welcomed exhibitors and visitors from all over the world from May 9th through 12th in Munich, Germany. With exhibitor space already fully booked months in advance, this year's HIGH END show marks it's 38th time and 16th at M.O.C. As during the past 19 years, longer than any other North American magazine, Enjoy the Music.com once again reports on HIGH END in Munich. This internationally renowned exhibition has firmly established itself as a global event over nearly four decades.
HIGH END 2019 Show Report
HIGH END 2019 Bonus Coverage
Assorted Photos And New Gear
Featuring David Chesky, Mr. Van den Hul, VAC, CH Precision, Dan D'Agostino Master Audio Systems, Stromtak, Clarus Cable, Audio Analogue, and many more!
---> Read More

HIGH END 2019 Show Report
The biggest and best hi-fi show in the world rolled into Bavaria again, and Ed Shelly was there to get the spirit of the event.
HIGH END 2019 Show Report By Ed Shelly Of HIFICRITIC Magazine
It's been 15 years since the HIGH END Show relocated from Frankfurt to the MOC Exhibition center in Munich, and rarely have the fortunes of an event been so positively affected by a change of venue. As a space for an audio show, the MOC is extraordinarily effective, combining spacious halls – for booth and stand exhibitors – with dedicated rooms for larger and more ornate systems. Like all such buildings, it isn't perfect sonically – far from it, its mass of glass and concrete being singularly unsympathetic to the business of great audio. Get past this, though, and the sheer breadth of product on show makes this an unmissable event.
---> Read More
HIGH END 2019 Show Top 10 Design Awards
HIGH END 2019 Show Report By Phil Gold
This is my first trip to the Munich show. Just like I used to do for the CES show until 2010, I'm bringing you my design awards. Not necessarily the best sounding or having greatest functionality, maybe not even new components, but the most striking items to catch my eye. Yes, we've seen Dan's Momentum styling before, but this is the Momentum on steroids and it doesn't get more impressive than this. It may indeed be the best sounding amp in Munich, but this was on static display, so I can't judge. Producing 1500 Watts into 8 Ohms, 3000 into 4 Ohms and 6000 into 2 Ohms, weighing 570 lbs. and costing $250,000 a pair, this is what you call a statement product.
---> Read More
HIGH END Munich 2019
The Largest High-End Audio Show On Earth!
Getting there isn't always half the fun...
HIGH END 2019 Show Report By Greg Weaver
This was to be only my second visit to this sprawling, enormous show in Munich, the largest high-end audio show in the world. While my first visit had come in 2017, a massive project at my day job that forbade all members of the management team from taking any time away from our duties from mid-April (just after AXPONA 2019 in the USA) through June of 2018, had prevented my attendance last year.
---> Read More
HIGH END 2019 Reports By Steven R. Rochlin
Gershman Acoustics Speakers, VTL And Nordost
HIGH END 2019 Show Report By Steven R. Rochlin
Here at HIGH END 2019 was one of my favorite high-end audio couples, Ofra and Eli Gershman. Together, they make a dynamic duo as they work together traveling the world with their impressive speakers. Here in Munich they were showcasing the Grand Avant Garde floorstanding loudspeakers ($13,000 per pair). Combining both style and substance with shaped cabinet and vertical grill, am always impressed with both the visuals and voicing of Gershman Acoustics designs.
---> Read More
Crystal Cable / Siltech Scala Speakers And Dream Cables
HIGH END 2019 Show Report By Steven R. Rochlin
Crystal Cable / Siltech came to HIGH END 2019 big with their line of impressive cables and two sets of speakers. Let's first explore the speakers. Siltech's Symphony is a prototype (~$400,000) very large floorstanding speaker. Multiple woofers, midranges and tweeters work together to produce full-frequency sound capable of filling virtually every large listing room with audiophile sound. This large floorstander was on static display as seen above, so never was able to hear the results, yet it looked very impressive!
---> Read More
Furutech NCF Cable Booster-Signal At HIGH END 2019
HIGH END 2019 Show Report By Steven R. Rochlin
If there's one thing we members of the press need to pay more attention too, it is accessories that many manufacturers employ during high-end audio events. Here at HIGH END 2019 in Munich, if one paid close attention, you saw many rooms using Furutech's impressive excellent NCF Cable Booster-Signal. They were so impressive that in late 2017 they earned our Great Audiophile Gift Ideas For The 2017 Holiday Season recommendation.
---> Read More
Nagra HD DAC X, HD PREAMP And HD AMP
HIGH END 2019 Show Report By Steven R. Rochlin
While Phil Gold already awarded Nagra a Best Of HIGH END 2019 Award for their room in Munich, I'd be remiss if there was no coverage by Yours truly. Rene of Nagra was his always-enthusiastic self enjoying music with their complete Nagra Audio hi-fi stereo system within their exhibit room in Munich. Nagra has a world premiere of the company's full Nagra HD set-up with the Nagra HD DAC X D/A converter, HD PREAMP as well as the HD AMP (if you have to ask about price...).
---> Read More
Vitus Audio #Winning At HIGH END 2019
With Their SCD-025 CD/DAC And SIA-030 Int. Amp.
HIGH END 2019 Show Report By Steven R. Rochlin
Vitus Audio, founded in Denmark by music-loving engineer Hans Ole Vitus, believes in uncompromising quality. "Nothing is allowed to interfere with the original sound of the recording; it's all about music." We here at Enjoy the Music.com whole-heartedly agree! High End by Oz in Los Angeles is their newly appointed USA distributor, and together, they have formulated a strategy for re-entering the American market. They plan to include a local service center, secondhand certification, and warranty guidelines as well as general dealer guidelines.
---> Read More
KEF Goes Wireless Multi-Room At HIGH END
HIGH END 2019 Show Report By Steven R. Rochlin
My Muse / wife Heather truly loves the styling of KEF's LS50 Wireless Nocturne Edition ($2499). With ease of use a given, KEF's LS50 is an easy plug-n-play solution. With over 200 Watts of amplification built-in, Wi-Fi and Bluetooth, plus RCA analog and optical TosLink makes these speakers extremely versatile. These speakers share the same award-earning features of KEF's renowned LS50. Wireless features include Tidal and Qobuz streaming, Roon endpoint use, plus multi-room app by KEF means you can setup a few pairs of these throughout your home and control them all easily.
---> Read More
Mark Levinson No 5805 And No 5802 Integrated Amplifiers
HIGH END 2019 Show Report By Steven R. Rochlin
Here at HIGH END 2019 was Mark Levinson once again bringing true reference quality gear with their No 5805 and No 5802 (€9000 and €8000 respectively). The No 5805 brings state-of-the-art features and efficiencies gleaned from decades of engineering. Fully discrete PurePath circuitry, Mark Levinson PrecisionLink II DAC, MainDrive headphone power, and potent dual monaural Class AB amplification are the broad strokes. With the No 5805, there are two XLR balanced and one RCA stereo analog inputs. Digital inputs include USB 2.0, S/PDIF coax, and two TosLink optical.
---> Read More
McIntosh Laboratory @ HIGH END 2019
HIGH END 2019 Show Report By Steven R. Rochlin
As many of you know from reading my previous review of the MC611 amplifier, my Muse / wife Heather loves McIntosh Labs. A much better formal review of McIntosh's MC611 monoblock amplifier is by our Senior Editor Tom Lyle so read that one instead of mine imho. For me, is the incredibly high sound quality combined with a truly incredible 50+ year lifespan these overbuild products easily reach. For Heather, it is those mesmerizing blue meters (and sound quality).
---> Read More
WBT PlasmaProtect For Higher Quality Connection
HIGH END 2019 Show Report By Steven R. Rochlin
During HIGH END 2019 WBT held a very informative press event on Friday afternoon and for a geek like me it was very informative. CEO Wolfgang B. Thörner had a wonderfully prepared speech to accompany their informative video. As many audiophiles know, WBT is one of the industry's leading manufacturer of connectors, which are used by Kimber Kable and many other manufacturers.
---> Read More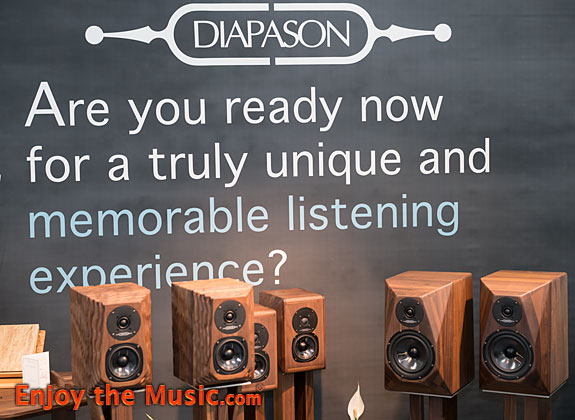 Diapason Adamantes V, Micra III Excel & Autunno
HIGH END 2019 Show Report By Steven R. Rochlin
Coming from Italy is Diapason and their exquisitely styled loudspeakers with real wood cabinets. The company seeks to produce speakers that best convey a flare for design and love of music. Company founder Alessandro Schiavi came together constantly works to attain perfection in acoustic reproduction, and to deliver a musical listening experience capable of resonating with our deepest emotions.
---> Read More
Gryphon Audio Designs Delivers Best Sound
HIGH END 2019 Show Report By Steven R. Rochlin
It is no secret that I love Gryphon Audio, as they produce incredibly well-build products that sound incredible! Just as it was during AXPONA 2019, they were showcasing their new Ethos CD player and DAC (€28,800). Breaking the rules of black boxes, Gryphon Audio gave the Ethos a wonderful sense of style combined with the fun of handling physical media. Am truly in love with the visual presence of this modern CD player / DAC, plus it offers top-shelf performance too!
---> Read More
Silbatone & Western Electric Vintage Hornspeakers
Setting The Tone For Unavailability
Now also image you're a music lover and want the very best. Since you have nearly limitless funding, why not just create your own company? Go ahead and hire the very best designers, and then have them build the world's most esoteric audio gear. This is what Silbatone is all about. Back in 2002 I was perhaps the first to review their C-102 battery powered preamplifier. In May of the same year I reviewed their JI-300B integrated amplifier. While the preamp was absolutely incredible, the integrated did not fare as well and the company made changes to the design since then.
---> Read More
HIGH END 2019 Exhibitors And Visitors Press Release
HIGH END 2019 Show Report By Steven R. Rochlin
At HIGH END 2019, held last weekend in Munch, was incredibly successful as they showcased 551 exhibitors from 42 countries (+3.8% compared to 2018), had 21,180 visitors in total (+6.5%), and 8,208 trade visitors from 72 countries (+8.6%). According to HIGH END, whose motto this year was 'Enjoy The Music'.
---> Read More
Ayon Audio, Lumen White, Stromtank, And Sonitus
HIGH END 2019 Show Report By Steven R. Rochlin
Just as during their debut at AXPONA 2019, Ayon Audio had their sweet looking pure Class A Epsilon Evo Mono vacuum tube amplifiers (€20,000) here at HIGH END 2019. A nice set of KT150 tubes, with very high quality parts and small signal tubes, produce an extraordinarily wide frequency response from 8Hz to 70kHz. Wide bandwidth, Class A power, super clean / transparency... you need to hear these in action to truly appreciate their ability to drive speakers.
---> Read More
Nordost Cable @ HIGH END 2019
By Steven R. Rochlin
During HIGH END 2019 in Munich Nordost gave us a preview of three new products. Valhalla 2 Tonearm Cable +, QPOINT Resonance Synchronizer, and a special sneak peek of their QSOURCE Linear Power Supply. Nordost's Valhalla 2 Tonearm Cable + is $4,999.99 for 1.25 meter length ($625 each additional 0.5 meter), QPOINT is $749.99, and Q source is $2,499.99 (accompanying QSOURCE DC Cable is $259.99 for 1 meter, add $50 for each additional 0.5 meter). In fact Nordost cables were within a variety of systems at HIGH END.
---> Read More
Kharma, David Chesky, Purist Audio Design, Zesto Audio, Tri-Planar And Merrill Williams
HIGH END 2019 Show Coverage By Steven R. Rochlin
HIGH END 2019 in Munich success was far beyond even my wildest expectations. Not only were many people wearing lanyards with ' Enjoy The Music' on them, every single business meeting (and there were many) resulted in major success for all involved. It felt like the stars within this galaxy aligned and were smiling gleefully. Of course with so many business meetings beckoning, it also meant there was no time to visit many of my friends.
---> Read More
Enjoying The Music @ HIGH END 2019
Europe's #1 show is an epic success story!
Editorial By Steven R. Rochlin
As the 19th time attending HIGH END Society's show in Germany, have been proudly smiling as this event has grown to epic proportions! As the only American reporter to have covered this event back then, HIGH END was at the Kempinski Hotel in Neu-Isenburg and product pricing was still in German Deutsche Marks (DM). Over the years, have observed this event grow to the point of needing a larger venue. The 2004 HIGH END show was the first within the now sold out M.O.C.
---> Read More
More Details About HIGH END 2019
Outstanding British singer Steven Wilson is HIGH END's official brand ambassador for this year's event. Steven Wilson is a musical all-round talent par excellence and first became known especially as the founder and creative force behind the progressive rock band Porcupine Tree. In the meantime, he has been pursuing a solo career under his own name and has enjoyed vast success as a solo artist, both in the charts and in concert. Most recently, Wilson delighted his audience in London, selling out three consecutive concerts at the legendary Royal Albert Hall.
HIGH END 2019 show will set new standards and is the most important European rendezvous of the audio industry, both for small manufacturers and global audio brands. This is where they all come together to meet. In addition to the large, leading global players in the industry, however, there are also the smaller audio specialists who display their passion for innovation and find just the right setting at the HIGH END in Munich's MOC. Last year, 530 exhibitors from 41 countries showcased their highlights and innovations in four exhibition halls and two atriums, with 138 prominent conference rooms. It is a feature found nowhere else in the world at a trade fair of this kind.
360° Range Of Products And Services
The exhibition allows a unique insight into the market of the entire international audio industry. The HIGH END offers the whole variety of the audio market – from analog to digital. Proven analog technology is entering into new alliances with digital developments of recent years. Through the dramatic evolution in entertainment electronics, ushered in by digitalization and virtualization, streaming continues to be widely popular.
Vinyl records are of course being offered for sale again. Heavy vinyl discs that users can touch and hold in their hands have been enjoying continuous growth now for years, after all, symbolizing an oasis of peace in a hectic, high-tech world. Here, exhibition visitors can revel in a unique opportunity to discover a wide range of musical gems and to pursue their passion of enjoying music without being in a hurry.
Consumer Electronics For All Age Groups And Any Budget
For large or small pocketbooks, young or older clientele, at the HIGH END, all music and equipment aficionados can find what they are looking for. Naturally also on display are affordable entry-level models for hi-fi novices. The HIGH END offers the full range of audiophile products, whether it be small systems for those just getting started, headphones, turntables and, of course, the ultimate peak of technical perfection.
There is no other place in Europe where the entire range of audio products is presented as impressively and emotionally as HIGH END. The diversity of services in the industry reflects both the big players as well as the many smaller, more specialized and niche providers. Visitors will be immersed in analog high-precision art as well as in the latest digital audio and visual soundscapes. Exquisite analog equipment blends in harmoniously with the latest multimedia equipment. Perfectly processed loudspeakers, traditional tube amplifiers and cult turntables stand side by side with networked audio systems, audio streaming solutions, digital wireless systems and multimedia stations. Visitors can find everything their music-loving heart's desire, regardless of age and lifestyle.
HIGH END 2019 includes many seminars and lectures from leaders within the high-end audio industry. Live music events are also a highlight as bands travel throughout the venue playing music to a welcoming audience. No other show promotes their event as HIGH END provides. Radio and TV commercials and augmented by posters on buses, within the subway and taxi cabs. HIGH END truly is leading the way when it comes to providing one of the world's largest specially audio shows in the world.
Enjoy the Music.com's exclusive, and extensive, HIGH END 2018 coverage from last year can be seen here.
Currency Exchange Rate
On April 30, 2019
€0.89 = $1
$1.12 to €1
Where
MOC Munich
Lilienthalallee 40
80939 Munich, Germany
When
May 9th through 12th, 2019
Thursday 10am to 6pm (open only to trade and press)
Friday 10am to 6pm
Saturday 10am to 6pm
Sunday 10am to 4pm
Price
Trade visitors: Free with pre-registration
Trade visitor ticket without pre-registration: only €25
Trade visitor ticket locally: €40
Public Visitors:
Visitor day ticket Friday or Saturday: €15 / day
Visitor day ticket Sunday: €5 / day
Visitor 3-Day ticket: Friday to Sunday: €25
Day ticket reduced, only in the MOC at Friday and Saturday: €10
Reduced ticket prices for pupils, students, seniors, and persons with disabilities upon presentation of the corresponding pass.
Free entry for children until the age of 14.
Previous HIGH END Munich Show Reports
2000, 2001, 2002, 2003, 2004, 2005, 2006, 2007, 2008, 2009, 2011, 2012, 2013, 2014, 2015, 2016, 2017, and 2018.