Diapason Adamantes V, Micra III Excel & Autunno
HIGH END 2019 Show Report By Steven R. Rochlin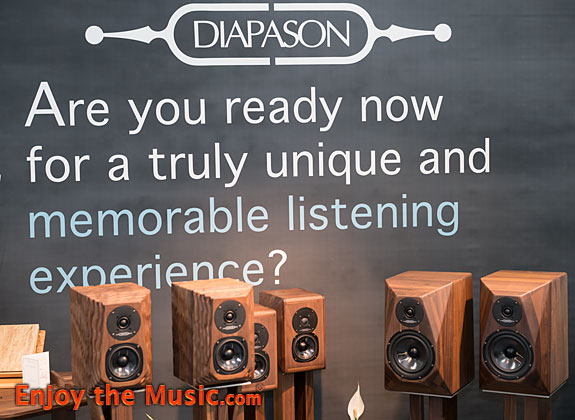 Coming from Italy is Diapason and their exquisitely styled loudspeakers with real wood cabinets. The company seeks to produce speakers that best convey a flare for design and love of music. Company founder Alessandro Schiavi came together constantly works to attain perfection in acoustic reproduction, and to deliver a musical listening experience capable of resonating with our deepest emotions.
Their Diapason Adamantes V combines a 19mm treated silk soft dome with a 170mm direct drive polymetylpentene midrange / woofer driver. While small in size, it still retains a very usable 91dB/W/m sensitivity at 6 Ohms. The front baffle has triangle-like shaping to reduce unwanted reflections that may cause time smearing.
Next up is their quite small Micra III Excel, which sports a 26mm silk soft dome tweeter and 110mm polymetylpentene Diapason direct drive midrange / midwoofer. Efficiency is a bit lower at 88dB/W/m at 6 Ohms. The cabinet is more ox-like than the Adamantes V.
This room was a fast camera click-n-run of sorts as had a business meeting to attend to. One thing I did miss taking a dedicated picture of was Diapason's new Autunno that is hand made with wood hand carved by Antonio Comini. While I do recall seeing it, it simply fit in perfectly with all the other gorgeous hand-crafted Italian audio works of art within their exhibit room. This is one of those moments where I wish there was more time during HIGH END 2019, as four days is simply not enough to go into details of each and every new product here in Munich.
---> Back to main HIGH END 2019 show report page.