Ayon Audio, Lumen White, Stromtank, And Sonitus
HIGH END 2019 Show Report By Steven R. Rochlin
Just as during their debut at AXPONA 2019, Ayon Audio had their sweet looking pure Class A Epsilon Evo Mono vacuum tube amplifiers (€20,000) here at HIGH END 2019. A nice set of KT150 tubes, with very high quality parts and small signal tubes, produce an extraordinarily wide frequency response from 8Hz to 70kHz. Wide bandwidth, Class A power, super clean / transparency... you need to hear these in action to truly appreciate their ability to drive speakers.
Speaking of speakers, instead of the Lumen White Kyara speakers ($49,000) as heard in Chicago, here at HIGH END 2019 in Munich were the beautiful sounding White Light 'Anniversary' speaker (€70,000). By carefully matching amplification to ultra-lavish speakers, you get a one-two knockout punch for epic musical pleasures.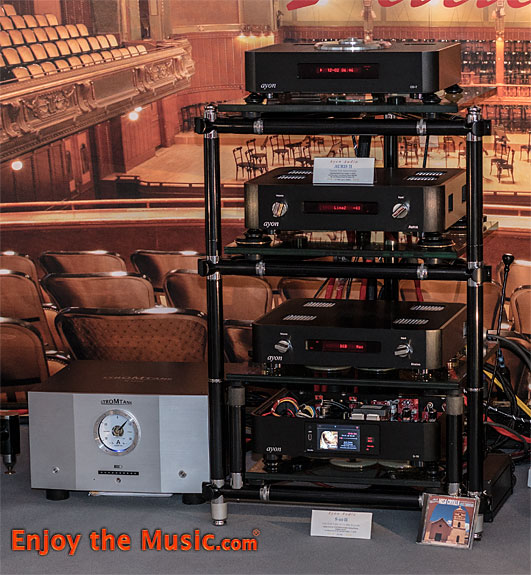 Then there's the front-end, with Ayon Audio's Auris II Signature (€10,000) tube preamplifier. The low output impedance provided by parallel single-ended 6H30 circuit topology and zero negative feedback continues Ayon's high-end pedigree. Line Gain is customer switchable (0dB or +6dB) too. This modular design is user-upgradeable, with additional options including a Signature version and Phono MM/MC-H stage.
Front-end digital duties, brought forth was Ayon Audio's CD-T II Signature transport (€8,000) mated with Ayon Stratos quad differential gain stage Hi-Res DAC (€10,000). There's also a handy Ayon S-10 II Signature network player (€8,500) with an easy to see 5" TFT color display. This makes using it a cinch, while Tidal, Qobuz, UPnP/DLNA , etc are streamed with ease.
It is always interesting to see certain products appear within quite a few exhibits during a show. Ayon Audio went with the excellent Stromtank S-2500 (€20,000) battery power / filter unit, with Sonitus room acoustic treatments from Croatia. This is indeed a very international show!
You add a nice dab of great tunes, stir it up a bit and what do you? My Muse / wife Heather and I truly loved our time, tapping our toes, and smiling as the music flowed forth. And, my friends, that's what it's all about... enjoying the music!
---> Back to main HIGH END 2019 show report page.