AXPONA 2019 Show Report -- Audio Expo North America
AXPONA (Audio Expo North America) 2019 was held from April 12th through 14th at their permanent home at the Renaissance Schaumburg Convention Center. This year is AXPONA's tenth anniversary, marking its largest show to date! This epic event once again showcased more than 185 Listening Rooms, an expanded Expo Hall featuring the ever popular Record Fair, a NEW hall dedicated to Ear Gear Expo, Master Class Theater, robust seminar schedule, and live music nightly.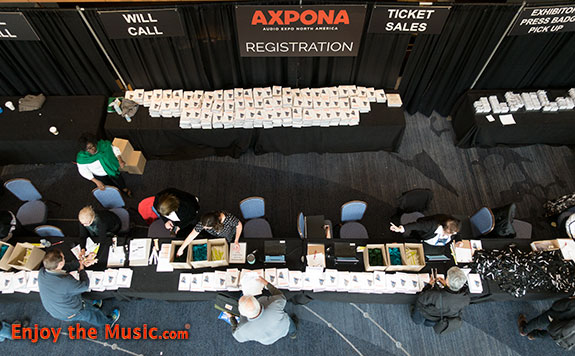 AXPONA 2019 Show Reports
AXPONA 2019: Monstrous Fun in the Windy City
All I can say is, we enjoyed the music!
AXPONA 2019 Show Report By Greg Weaver
What an AMAZING show! GAWD, how can I even begin to describe or define it! This was one of, if not the, best sounding show I've had the pleasure of attending in years. And don't ask me why; they are the same rooms with the same dimensions and furnishings as last year, but, almost universally good sounding results were the norm this year. Let's look at some numbers. According to AXPONA Vice President and Event Director, Liz Miller, who always manages to have time for the members of the press, this show is still growing!
---> Read More
AXPONA Ear Gear Expo 2019 Show Report
Hi-Fi headgear blows through the Windy City.
AXPONA 2019 Show Report By Dave Hanson
The 2019 AXPONA Ear Gear Expo brought a lot of familiar faces for the high-end personal audio community in a quieter listening environment than recent years. After years in the marketplace area, the Ear Gear Expo was moved one room over with a divider wall splitting it off from the market.
---> Read More
AXPONA 2019 Show Report -- Audio Expo North America
AXPONA 2019 Show Coverage By David Schwartz
My first audio show was in 1957. It was a small one held in a New York office building consisting of showrooms. Lacking the bathrooms and closets of hotel rooms, there was no congestion at the showroom doors. That, combined with a horrible tweeter demonstration are the only real memories I have of that show. It was in the early days of high fidelity (mono), woofers and tweeters had to be explained as well as how to hook up a system.
---> Read More
Ron Nagle Photofest! Over 140 Photos From AXPONA!
Photo-phreaks seeking visual delights will be very pleased. Let's all thank Enjoy the Music.com's always-enthusiastic Ron Nagle for these wonderful photos from AXPONA 2019. As always, enjoy the music!
---> Read More
Great Plains Audio At AXPONA 2019
Vintage audio buffs take note as Great Plains Audio was at AXPONA 2019 featuring vintage products and new parts, including an homage to Altec Lansing speakers. Great Plains Audio is a premier repair center for Altec Lansing loudspeakers manufactured before 2005.
---> Read More
Cool Cleveland At AXPONA 2019
The always enthusiastic Thomas Mulready of Cool Cleveland was at AXPONA 2019 doing his brief video interviews of cool people at AXPONA 2019. Since last time he interested me i was smoking a glorious cigarillo, guess he had enough of my personal antics and so ensured there'd be no smoking this time around.
---> Read More
McIntosh Labs At AXPONA 2019
Am sure many of you reading this already are familiar with legendary USA manufacturer McIntosh Labs. Their backlit blue meters are a thing of beauty! In fact my Muse / Wife Heather loves the look of our MC611 monoblock amps (reviewed here) we have within our living room.
---> Read More
Astounding Attendance And Steampunk Satisfaction
AXPONA 2019 Show Report By Creative Director Steven R. Rochlin
For those who missed attending this weekend's show in Schaumburg (Chicago), am sure many voyeurs will enjoy reading AXPONA 2019 show reports online within a variety of print publications. With many members of the press in attendance from all over the globe, IMHO this will be the most reported on audiophile show in the history of the USA.
---> Read More
What To Expect At AXPONA 2019
Excitement is building for the upcoming AXPONA 2019 event in Chicago this weekend. Here are many of the highlights we expect to see, with more details appearing within the many upcoming AXPONA 2019 show reports on Enjoy the Music.com.
---> Read More
AXPONA 2019 Show Coverage By Rick Becker
AXPONA 2019 Show Report Part 1 By Rick Becker
Unlike the Montreal show a month prior, the trip from Rochester to Chicago was uneventful. I simply got up in the morning and drove to Chicago, cutting through Ontario, Canada, to save some miles and tolls. Detouring through downtown Chicago in hopes of getting a glimpse of The Bean in the dark, I ended up winding my way through the west side out to Wheaton where I stayed with the kids and grandkids, a half-hour south of Schaumburg.
---> Read More
AXPONA 2019 Show Report Part 2 By Rick Becker
After a brief lunch of Clif Bar/mixed nuts/Mt. Dew in the serenity of my Tracker, I returned to the 15th floor. Immediately off the elevator I was confronted with yet another grand, make that GRAND, system in the large Club Lounge.
---> Read More
AXPONA 2019 Show Report Part 3 By Rick Becker
The afternoon was wearing on, as the first day started to wind down at about 5pm. Still, I pressed on to the last of the "high floors" at AXPONA. Gated HiFi Distribution was in 1206 at the end of the hall with a relatively straight forward, but expensive system. The Ansuz Acoustics Mainz8 dtc eight-outlet power distribution center goes for $23,000, for example.
---> Read More
AXPONA 2019 Show Report Part 4 By Rick Becker
In Buddhism there are the Four Noble Truths, the first of which is "Life is suffering" (because everything changes). Today's suffering began in the first room when I realized I had left my SD card back at the hotel room in my computer. As I headed for the elevator, I remembered I had tossed a new card into my briefcase, so it was now a matter of finding scissors to cut open the plastic packaging.
---> Read More
AXPONA 2019 Show Report Part 5 By Rick Becker
This first room is a bit of mystery to me. I suspect it was Room 544 which was highlighted as an AXPONA room on the floor plan, but not identified on the page listing the presenters. Room 544 was tucked down a short hall just as you come off the stairway coming down from the 6th Floor, making it easy to miss. I'm glad I didn't!
---> Read More
AXPONA 2019 Show Report Part 6 By Rick Becker
Saturday night was dinner at Buffalo Wild Wings followed by a return to the Hyatt to charge camera batteries. Attending the free concert back at the Renaissance would have been too distracting. I decided to drop down to the bar to cash in my ticket for a free drink and do my homework for the final day of the show. The guy next to me recognized the AXPONA program I brought along and it opened up an hour-long conversation.
---> Read More
AXPONA 2019 Show Report Part 7 By Rick Becker
After finishing the third floor on Sunday morning I retreated to my Tracker in the parking lot for my usual lunch consisting of fine road food washed down with sparkling Mt. Dew from a freshly opened bottle. With snow coming down at a steady pace, I was glad I arrived early enough to get a parking space closer to the door. Starting at the boardrooms by the main hotel entrance, I first encountered Wilson Audio speakers driven by the new large ARC (Audio Research Corporation) REF160M monoblocks ($30k/pr) in the Knowledge Room. This was the first of three rooms in this cluster hosted by Quintessence Audio of Morton Grove, about 15 miles north of downtown Chicago.
---> Read More
Enjoy the Music.com Sponsors AXPONA 2019
Industry Mixer And All Seminars
Enjoy the Music.com, a leader in CE audio equipment reviews, news and show reports, are joining AXPONA in celebrating their ten years of providing high-end audio events within North America by sponsoring their Industry Welcome Mixer and Seminar Room. AXPONA's three-day experience features multiple hotel floors featuring fascinating listening rooms, The Expo Hall's Record Fair, a dedicated Ear Gear Expo, seminars, and live musical performances.
---> Read More.
More About AXPONA 2019
AXPONA (Audio Expo North America) celebrated its 10th anniversary April 12th through 14th at the Renaissance Schaumburg Hotel & Convention Center, marking the biggest show to date with new and exciting features. The 2019 show included an Ear Gear Hall dedicated solely to headphones, a mobile app to help navigate the show, guest speakers at seminars, live music nightly, major international exhibitors, and 100's of product debuts from top manufacturers. Now in its tenth year, AXPONA is the premier, high-end audio show in the United States, which caters to dealers, distributors and manufacturers, as well as music-loving consumers.
Free Food, Drinks, Music And Fun Thursday Night
Enjoy the Music.com is once again honored to be sponsoring the Thursday night media / exhibitor party plus all seminars as we did for Rocky Mountain International Audio Fest 2018 (RMAF). Free food, drinks, music and fun were enjoyed by leading industry review experts, audio engineers, and worldwide distributors. We welcomed everyone within the industry who attended AXPONA's very special Thursday night festivities, all of which is being sponsored by us.
High-End Audio Seminars
In additional to Thursday night's festivities, all AXPONA 2019 seminars were sponsored by Enjoy the Music.com. AXPONA offered three jam packed days of Seminars featuring leaders in the music and audio industries including Paul Reed Smith, founder of PRS Guitars, and Andrew Jones Chief Engineer with ELAC. AXPONA is a powerful source of innovation – a launch pad not only for new products, but for not-to-be-missed educational programming.
Live Music
When the show closes, the party kept going with live music nightly. This year Seth Walker, an American electric blues singer, guitarist, and songwriter, will headline on Friday, April 12th. Walker just released his tenth studio recording, 'Are You Open', which includes bold and infectious songwriting.
Expanded Exhibit Hall Featuring Ear Gear Expo
Due to high demand, there was a dedicated hall for Headphones featuring more than 50exhibitors like ZMF Headphones, FOCAL, HiFiMAN, and Schiit Audio. You could try on and test the latest headphones from open back to wireless options. There was something to fit everyone's taste and budget.
New Exhibitors
AXPONA is known for featuring world-renowned companies and manufacturers, showcasing the most innovative products and services in the high-end audio industry. It is the place where manufacturers and dealers unveil their latest offerings, and this year AXPONA will welcome over 40 NEW exhibitors from around the globe including: Gill Audio, Fyne Audio, Block Audio, MEE Audio, Weiss Engineering, Laufer Teknik, ABYSS Headphones, Grandinote, Tenacious Sound, Klipsch, and SVS.
AXPONA 2019 Ticket Information
Where
The Renaissance Schaumburg Convention Center
1551 N. Thoreau Drive
Schaumburg, IL 60173
When
Friday, April 12 10am-6pm
Saturday, April 13 10am-6pm
Sunday, April 14 10am-4pm
Tickets
1 Day - $20 Early Bird, $25 in advance; $30 onsite
2 Day - $30 Early Bird, $40 in advance; $50 onsite
3 Day - $40 Early Bird, $50 in advance; $75 onsite
Student Pass - $10
Grab your 2019 Early Bird Tickets, which expire Sunday, January 27.
Gold Pass
AXPONA's Gold Pass Package $98 in advance ($125 onsite) is a special pass for admission to all three days of AXPONA along with some extra perks! The AXPONA Gold Experience Pass includes: collector's Badge, official AXPONA T-shirt, access to the AXPONA Gold Lounge with VIP check-in, coat check, refreshments and Wi-Fi, and an exclusive reception for Gold pass holders on Saturday, April 13 from 6:00 – 7:00 PM with special guests. There are only a limited number of passes available, so order soon!
Student Day pass is available for any of the three days for attendees ages 15 through 25. All general admission tickets grant access to the exhibits including Listening Rooms and Exhibit Hall, as well as educational seminars, live music, and special events.
For more information on ticketing and ticketing options, please visit AXPONA's website.
Previous AXPONA Show Reports
Enjoy the Music.com's previous coverage includes AXPONA 2018, 2017, 2016, 2015, 2014, 2013, 2012, 2011 and 2010 coverage.