AXPONA 2019 Show Report -- Audio Expo North America
AXPONA 2019 Coverage By Rick Becker -- Part 2
AXPONA 15th Floor
After a brief lunch of Clif Bar/mixed nuts/Mt. Dew in the serenity of my Tracker, I returned to the 15th Floor. Immediately off the elevator I was confronted with yet another grand, make that GRAND, system in the large Club Lounge. Huge Gobel Divin Noblesse speakers ($220,000) driven by yet another CH Precision rig dominated the far end of the room. Oliver Gobel explained the patented bending wave driver technology they use in the drivers they manufacture themselves and are used on the Epoque Aeon series of speakers shown on banners in the room. The speaker heard here is actually just the middle model of the Devin series and it, too, featured bending wave technology in the 8" midrange drivers.
I had to cut Oliver short as he started to delve into White Paper territory. He did point out the woofers each have four ports around the front of each driver to balance the forces on the cone — something I haven't seen before. There are no parallel surfaces in this design and internally they use a ceramic sponge to diffract the sound, but no damping material to absorb it, yielding a more transparent and open result. A TechDas Air Force One Premium turntable provided the analog front end here. I hate to be redundant, but this was another Best Room not to be missed. It kind of feels like the timing of Olympic swimming events where the outcomes are differentiated technologically and measured by hundredths of a second — far beyond the limits of the human eye, or in this case, the human ear where the differences are so small and the room configurations so influential.
Finally, we return to the Real World in Room 1515 where folks like you and I can afford the gear. The Auranas SRV server ($3500) and Soekris DAC 1541 ($1200) were totally new to me, but the Conrad-Johnson amps, Eminent Technology LFT-8b speakers, ($2500) Vandersteen Sub Three subwoofer ($2490) and AudioQuest Niagara 5000 power conditioner and cables. It may seem peculiar to have a sub that costs as much as the main speakers, but the combination worked very well, providing a very transparent window to the music as you would expect from this planar-magnetic speaker with its unusual rotary woofer. There is a reason Eminent Technology has been around for 37 years and you could hear it in this room. The little unit atop the tuning pipes behind each speaker was the Acoustic Revive RR888 Schuman Wave Generator, said to improve the propagation of sound in the room.
Vinh Vu of Gingko Audio was on hand with his platforms that I've heard very good result from under a VPI turntable, and his new [[Arch]] footers ($200-400) that I've tested in prototype form. Good sound here with Wells Audio Majestic ($4400) stereo amp driving the stand mounted Gingko Audio Clarissa LE speakers ($3000) in room 1520.
Jeff Joseph was on had with the introduction of the new Joseph Audio Perspective 2 Graphene speaker ($15,000) with new drivers and upgraded crossovers. His new Pulsar2 Graphene was premiered at Montreal last month and awarded one of five Best Products there. The new Perspective2 Graphene sounds just as good for only a $2000 premium over the prior model. Of course, having reel-to-reel tapes, Jeff Rowland electronics and all Cardas wiring helps a bit, too. A very natural sound was heard here with slow jazz music giving evidence of why Joseph speakers are so respected in the industry.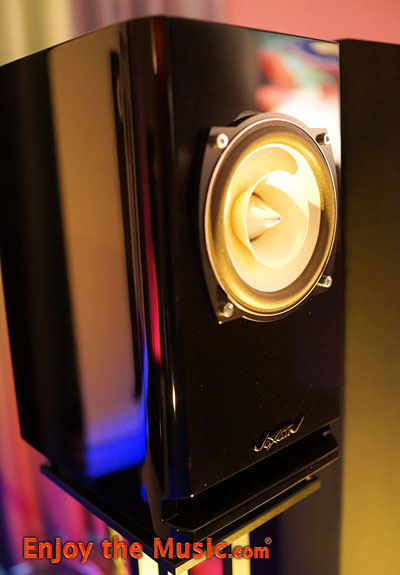 Voxativ showed up with The Absolut Box, their integrated class AB amp/DAC and DSP / Wi-Fi / Bluetooth system in a box driving a pair of their stand-mounted Hagen monitors with a single full-range driver. The Absolute Box has DSP optimization for each of three speakers: the FIT (Five Inch Tower), Hagen, and taller floorstander, Zeth. It is sold as a package with the speaker for $6700 (FIT), $7900 (Hagen) and $12,900 (Zeth), including their speaker cable as well. Such system simplicity seems to be a significant trend today in an effort to appeal to younger buyers who lean toward minimalism. Acoustically, the system had wonderful air and bloom that is normally achieved with much more expensive gear. If not a Best Room, this should rate as a Must Hear room at the show. Unfortunately my photo of the stylish Absolut Box was blurred but it was about a foot square and maybe 3" tall — certainly not visually overpowering.