High-End Audio / Audiophile & Music Industry News
---

Help Support Enjoy the Music.com Via Amazon Shopping
02 / 28 / 19
AVM Audio, Radhio, Shyunata, And Stillpoints
Florida Audio Expo 2019 show in Tampa, Florida.
Here at the Florida Audio Expo were two rooms by AVM, and i mainly focused on the room with their A8.3 preamp, which is a solid-state unit that offers an optional tone control and plug-in vacuum tube card! AVM's PA8.2 is a modular pre with phono, DAC, and as stated you can get a tone input card plus vacuum tube output card!
---> Read More
Mojo Audio Mystique V3 Non-Oversampling R-2R DAC
The art and science of high resolution digital audio today.
Review By Jeremy R. Kipnis
Back in April of 1980, when I was a lad of 15, I went to a recording session that featured one of the new digital tape recorders. This big device on wheels translated the microphone's sound into binary ones and zeros and recorded it on special 1/4" reel-to-reel tape. This process, known as Analog-to-Digital Conversion (ADC), resulted in a near perfect approximation of the incoming signal, unlike traditional analog magnetic tape, which requires special biasing and noise reduction.
---> Read More
Luxman PD-151 Analog Record Player For Audiophiles
Targeting a slightly wider range of vinyl enthusiasts, Luxman America has introduced their PD-151 belt-drive turntable ($3,895). The PD-151 incorporates a new DC brushless motor and features include three speeds (33.3, 45, and 78 rpm) with independent pitch adjustment, massive anti-resonant construction with 10 mm thick aluminum top plate, and 8.8 pound platter. Other features are high-precision Jelco tonearm, oxygen-free copper wiring, magnesium alloy headshell, and detachable IEC power cord. Optional accessories include a dust cover and a second tonearm counterweight. Luxman engineers have gone to extraordinary lengths to maintain precise platter speed. It starts with the company's unique sine wave/Pulse Width Modulation power supply, which provides ultra-stable direct current to the new DC brushless motor. This high-torque motor continually monitors and maintains speed with a sophisticated Proportional-Integral-Derivative (PID) feedback control loop. The machined 8.8 pound aluminum platter is meticulously finished with a diamond-cut surface. A platter this heavy requires bearings capable of sustaining extremely high pressure and so Luxman engineers specified polyether ether ketone (PEEK) thrust bearings and brass radial bearings for effortlessly smooth rotation and long life. Luxman engineers also implemented a rigorous strategy to suppress vibration and resonance in the turntable's chassis. It begins with large, rubber isolator feet that offers 8mm of independent height adjustment. Next, the PD-151 incorporates a 10mm machined aluminum top plate. At nearly 0.5" thick, it provides much-needed weight and creates an exceptionally stable platform. Suspended from the top plate is an underslung chassis that protects the music with yet another layer of vibration damping. Inside the player, rubber damping mounts isolate the chassis from two additional sources of potential vibration: the motor and power transformer. Jelco's S-shaped 7" tonearm has a one-point-cross suspension of extremely low friction. Overall length is 229mm while effective length is 214mm, with an overhang of 15mm. The supplied counterweight accommodates phono cartridges from 4 to 12 grams and the accessory counterweight accepts cartridges of 9 to 19 grams. The magnesium alloy headshell weighs just 13 grams.
02 / 27 / 19
Hi-Fi+ March 2019 Features High-End Audio Reviews
Hi-Fi+ magazine's March 2019 issue features reviews of the Wilson Audio Tune Tots, Lumin X1 network streamer, Audiovector QR5 floorstanding loudspeakers, Conrad-Johnson ET6SE hybrid valve/solid-state preamplifier, Arcam SA20 integrated amplifier, Merrill Audio Element 118 solid-state mono power amplifiers, Melco N10/D100 music server and CD ripper, Russell K Red 120 floorstanding loudspeakers, and Grand Prix Audio Apex XL isolation footers. Within his editorial Alan Sircom says "Although high-end audio marches to a different beat than most retail concepts, it's a tough world out there at the moment. Global uncertainty, threats of recession in parts of Europe, and a collective waiting for the other shoe to drop in Brexit negotiations in the UK have all sapped consumer confidence, and sales of luxury goods like audio have stalled. This environment has already taken a scalp in hi-fi, with the closure of hi-fi retail chain Superfi." See what's within this issue of Hi-Fi+ Magazine at this link.
Backert Labs, RJS Acoustics, Sonner Audio, Pass Labs, Roksan, Dynavector, Chord, Sonore, And Luminous Audio
Florida Audio Expo 2019 show in Tampa, Florida.
Backert Labs and RJS Acoustics really brought on an truly impressive grouping of high-end audio gear here at Florida Audio Expo 2019. Here's proof that with the properly chosen gear that has synergy, you can create a truly remarkable music listening system.
---> Read More
02 / 26 / 19
Lampizator, Master Built, VAC, And Von Schweikert
Florida Audio Expo 2019 show in Tampa, Florida.
Here at Florida Audio Expo 2019 was great sound coming from a grand combination of gear from leading high-end audio manufacturers. Lampizator has long been known to make truly terrific-sounding DACs. Here in Tampa they were debuting their new LampizatOr Pacific solid-state amplifier.
---> Read More
Boulder 2108 Next Generation Phono Preamplifier
Boulder Amplifiers' 2108 phono preamplifier ($52,000)reference level unit features several substantial advancements in technology and performance over the previous generations. Vast improvements have been made in sound quality through the use of better ground paths and planes, revised circuit topology, and lowering of the static noise floor. Increased use of surface-mount PCB technology, manufactured on Boulder's own SMD manufacturing machines and ovens has also yielded improvements in noise radiation, propagation delay, parasitic capacitance and the elimination of lead inductance in selected circuits. Features and improvements within the 2108 include multiple Equalization Curves in addition to the standard RIAA EQ curve. These new settings are FFRR, Columbia, and EMI. Dual chassis design provides keeping electronics and control functions contained within a machined aluminum chassis and all power supply and standby circuitry is housed in separate casework to isolate noise and prevent noise or hum from the power supply from interfering with sensitive high-gain audio circuitry. There is +10dB greater gain for MC cartridges too. The net result is said to be substantially improved low-level resolution and dynamic or transient response. Boulder's 2108 phono preamplifier employs their 995 gain stage, which is a modular discretely implemented section with initial gain stage for significantly reduced distortion and noise. All 995 circuitry is potted in a proprietary epoxy resin for consistent thermal stability and increased reliability, then mounted in a precision-machined aluminum housing. There's also a MC Cartridge Demagnetizer Pass-through. The unit is fully balanced and has dual mono construction. Inputs and outputs are high quality fully balanced XLR connections and all audio circuitry is executed in a dual-mono configuration for increased isolation of the left and right channels. There are three stereo inputs and two stereo outputs for connecting multiple turntables or tonearms, each with customizable "Personality Cards", which can be tailored to meet the resistive and capacitive loading needs of specific phono cartridges. Dual outputs are included to feed both a main listening system and / or a recording system.
02 / 25 / 19
BorderPatrol, Triode Wire Labs & Volti Audio
Florida Audio Expo 2019 show in Tampa, Florida.
Here at the Florida Audio Expo 2019 was a trifecta of great gear by Triode Wire Labs, Volti Audio and BorderPatrol Audio. My notes say there's something glorious about hornspeakers fed by great tube amps.
---> Read More
HIFICRITIC's Latest Issue Features Their Annual Awards
HIFICRITIC's latest issue features HIFICRITIC Awards where they bestow awards for Audio Excellence, Recommended and Best Buys. Stan's Safari No 45 as Stan looks at the appeal of loudspeakers with single full-range drive units, and admits he has a weak spot for an Eclipse. Warsaw Audio Video Show 2018 report by Andrew Harris incorporates some unusual perspectives. Passing Notes 6 has Julian Musgrave mulling over media, considers classic kit and starts getting to grips with his new listening space. Keith Howard examines the whole concept of phase response in loudspeakers. High-end audio gear reviews include Naim ND555, KEF R5 well-priced floorstander, Yamaha NS-10 phenomenon examined, and Audio Icon 2 transformer-based passive controller with full remote control. Kevin Fiske tries out the Thoress Phono Enhancer upmarket phono stage as Andrew Harris examines Kirmuss KA-RC-1 record cleaner. Chris Frankland investigates the mysterious world of Audio Alchemy's step-up device. Sonus faber's impressive Sonetto VIII high power floorstanding loudspeaker from this well-established Italian brand is assessed by Martin Colloms and the Pro-Ject Stream Box S2 Ultra has Andrew Everard thinking this might be the perfect way to bring streaming capability to a DAC. Other articles and reviews include the Molybdenum Anode 211 re-born, four cartridges from Audio-Technica, DP Audio, Linn and Rega, plus In Pursuit Of The Supercleans – Part III has Julian Musgrave explaining to Ben Lilly why he did not trade in his active ATC speakers. Jazz Picks, the Best Of Classical, plus Rock, Pop And Other Nice Music brings music to your ears. And lastly, Subjective Sounds has Paul Messenger describes Origin Live problems but loves the latest Quadraspire gear. See what's within this issue of HIFICRITIC at this link.
American Music Licensing Collective:
By Musicians, For Musicians
With the recently signed into law Music Modernization Act (MMA) by President Trump, now comes the time to decide what entity will be in charge of paying musicians, engineers, etc their earned royalties. While the music industry has enjoyed quite a bit of control over the purse strings for the past decades, a newly-formed organization by and for musicians is now seeking your support. The new Music Modernization Act creates a new entity called the MLC (Mechanical Licensing Collective). Its fourteen person board of directors will be responsible for ensuring the world's music publishers and songwriters are paid their royalties. Stewart Copeland, who is Founder of The Police, songwriter, composer, and American Music Licensing Collective (AMLC) Board Member wants their organization to succeed over the music business' longstanding stranglehold on royalty payments. According to AMLC , "After decades of squinting into the murk of royalty apportionment we can now have an independent body to keep the lights on and the microscopes trained. Support the AMLC! One of the primary tasks of the MLC is to identify and pay the owners of the songs being streamed on Spotify, Apple Music, Amazon Music Unlimited, Tidal and all other "interactive" digital music services in the USA. In addition, the MLC will oversee how unidentified (commonly known as "black box") royalties are held and made available for claiming. It will also recommend if these unclaimed royalties should be taken and given to others, even entities that don't use the MLC or own the copyright, based on their U.S. market share. Your voice can have an impact on keeping any perceived or actual conflict of interest of the MLC board members to a minimum while ensure the highest level of confidence and trust of the organization. According to the law, the MLC and its fourteen person board must be "endorsed and supported" by copyright owners that have music available in the U.S. on Spotify, Apple Music, Tidal, Google Play, Amazon Music Unlimited and other streaming digital music services. It does not matter where you live or what country you are a citizen of. If your music is available in the United States, you get to decide whom to endorse and support. There are different entities competing to be the MLC which is why we formed the American Music Licensing Collective (AMLC); to represent what we believe to be the best option for you. We want to work for you to get you paid, but to do so we need your endorsement. The world of guesstimates and black boxes should be replaced by more accurate and efficient technology to ensure that all song owners, from the kid writing and recording in their bedroom, to the major music publishers, are paid what they have earned. EVERY SONGWRITER AND MUSIC PUBLISHER SHOULD BE PAID WHAT THEY EARN! THE AMLC WILL GET YOU PAID." There is a free e-book (PDF format) that will tell you everything you need to know about the Music Modernization Act (click here for PDF).
02 / 24 / 19
Hegel Music Systems And Dynaudio
Florida Audio Expo 2019 show in Tampa, Florida.
Here at Florida Audio Expo 2019 Hegel had a wonderful system with their H590 integrated amplifier with DAC ($11,000) connected to a pair of Dynaudio Contour 60 loudspeakers ($10,000 per pair). The room was well-organized and had quite the sound!
---> Read More
Integrity Sound: Aurende, Martin Logan, Parasound And Rega
Florida Audio Expo 2019 show in Tampa, Florida.
Integrity Sound is a retail store in Sarasota, FL, and they had Rega's P6 turntable with Exact 2 phono cartridge mated to Parasound's impressive Halo JC3JR phono preamplifier. For digital duties, an Aurender 10 Music Server provided true lossless Hi-Res Audio music quality from show sponsor Qobuz.
---> Read More
White Album By The Beatles Is Certified 24X Platinum
According to the Recording Industry Association of America (RIAA), The Beatles White Album has been certified 24X Platinum, and thus earning it a fourth top-certified album of all time. According to the RIAA, "The Beatles already hold top honors as the highest certified band in Gold and Platinum Award history, with 178 million certifications across a wide range of titles, including the iconic White Album. Other albums by The Beatles that have surpassed Diamond certification include The Beatles 1967-1970 at 17X Platinum, The Beatles 1962-1966 at 15X Platinum, Abbey Road at 12X Platinum, 1 at 11X Platinum, and Sgt. Pepper's Lonely Hearts Club Band at 11X Platinum." Chairman and CEO of RIAA Mitch Glazier said, "The Beatles are undoubtedly one of the most influential bands of all time, with music that stands the test of time. The magic of John, Paul, George, and Ringo continues to be experienced by new fans across the country and we are honored to present them with this milestone achievement. Diamond status is already a rare feat – for an album to go 24X Platinum it has truly become part of America's cultural fabric. Congratulations to the band and their families, Apple Corps, Capitol and UMe, and all who helped create this album and bring it to the world."
The Police Release Six Vinyl LP Box Set
Celebrating 40 years of music, The Police has just released their Every Move You Make: The Studio Recordings box set. This six vinyl LP box set brings together The Police's entire recorded studio albums, as well as a 12-track sixth disc entitled Flexible Strategies, which contains exclusive bonus material of non-album recordings and B-sides. Re-mastered and cut onto 180 gram heavyweight vinyl at Abbey Road Studios by Miles Showell, the world's leading exponent of half-speed mastering, this limited-edition set celebrates the 40th anniversary of the multi-million selling band's first album, Outlandos d'Amour. It also contains a special 24 page, 12"x12" photo book featuring rare and unseen images from the band's personal archives housed in deluxe packaging of a hardcover box with lift-off lid. The Police's studio albums include Outlandos d'Amour (1978), Reggatta de Blanc (1979), Zenyatta Mondatta (1980), Ghost in the Machine (1981) and Synchronicity (1983)."
02 / 21 / 19

VIDEO: How A Vinyl Record Is Made
Quality Record Pressings / Acoustic Sounds vinyl LP pressing plant tour.
Enjoy the Music.com and Enjoy the Music.TV presents to you our tour of the Quality Record Pressings (Acoustic Sounds) vinyl LP pressing plant. We join plant manager Gary and owner Chad Kassem as they take us on a step-by-step journey through how a vinyl LP record is produced.
---> Read More
02 / 20 / 19
Mytek Brooklyn Bridge
Florida Audio Expo 2019 show in Tampa, Florida.
Mytek brought their new Brooklyn Bridge ($2995) to Florida Audio Expo 2019, which is basically identical to Brooklyn DAC+ in terms of audio circuits and performance. The addition of a built-in Network Streamer brings the unit to modern standards. This also means the AES/EBU digital input was replaced with an Ethernet network connector plus there's a Wi-Fi antenna and a USB port for external music hard drive.
---> Read More
MBL, United Home Audio, And Wireworld
Florida Audio Expo 2019 show in Tampa, Florida.
MBL North America was at Florida Audio Expo with a complete system i've heard many times in various forms. Nothing much has really changed, as you need massive power to drive these speakers, with powered subwoofers needed for true deep bass production.
---> Read More
Audioengine A2+ Wireless Bluetooth Computer Speakers
Audioengine's A2+ Wireless Speakers ($269 per pair) were designed for your desktop with Class AB monolithic analog power amplifiers built inside the left speaker. Audioengine home speakers utilize Bluetooth aptX for up to 100 feet of wireless signal transmission without drop-outs. Connect any way you like: Wireless or wired, digital or analog. A2+ works seamlessly with all your favorite audio players and streaming music services via this variety of inputs. Amplification is rated at 60 Watt peak power total (15 Watt RMS / 30W peak per channel). Drivers are a 2.75" aramid fiber midrange/woofer and 0.75" silk dome tweeter to produce a frequency responce from 65Hz to 22kHz (+/-2dB). Inputs include 3.5mm stereo mini-jack, RCA, USB, and Bluetooth 5.0. Wireless setup takes about a minute and no apps to download or wi-fi passwords to enter as this is a simply Bluetooth design. There's a variable RCA line-out to feed subwoofer(s) or other speakers too. Internal digital-to-analog converter is CSR8670 that handles up to only 16 bits at up to 48kHz native. Speaker dimensions are 6" x 4" x 5.25" (HxWxD).
Cirrus Logic CS35L41 Amplifier For Portable Devices
Listening to music, streaming video and gaming on smartphones just got better with a boost from Cirrus Logic's (NASDAQ: CRUS) latest boosted smart audio amplifier. The Cirrus Logic CS35L41 smart power amplifier is designed to support the growing trend toward stereo audio in smartphones and portable audio devices. It delivers enriched audio clarity and loudness with advanced power management, all in a small package – nearly half the size of other leading DSP smart amps. By tackling the complex engineering challenges inherent in mobile stereo audio design, Cirrus Logic enables OEMs of smartphone and battery-powered portable devices to introduce a markedly improved audio listening experience for both mono and stereo applications, while conserving battery life. Cirrus Logic's CS35L41 11-volt boosted Class D audio amplifier with DSP, complemented with Cirrus Logic's SoundClear Playback software, improves audio quality and increases the loudness of smartphone speaker output while protecting the speaker using both hardware and software techniques. Its advanced battery management system and predictive algorithms adapt to changing audio, speaker and battery conditions to minimize power consumption and battery current, without sacrificing audio performance. This new smart power amplifier also uses 55 nm process technology, the most advanced for this class of amplifiers, resulting in a tiny, 5.64 mm2 space-saving WLCS package. This is important to OEMs who want to include a two-speaker design, as well as pack in as many new features and functions as possible. The core of the Cirrus Logic CS35L41 features a 5.3-Watt digital input, mono Class D amplifier with the lowest noise and idle power consumption in its class. An integrated 11-volt Class H DC-DC converter boosts the supply voltage and maintains higher efficiency than other audio power amplifiers relying on Class G boost regulators. By adaptively tracking the audio level, the Class H boost converter helps improve system efficiency, minimizes power dissipation and preserves battery life.
02 / 19 / 19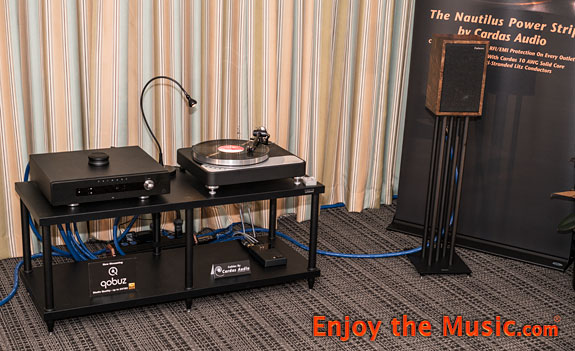 Falcon, Primare, Dr. Feickert, MoFi, Cardas, Qobuz And Solidsteel
Florida Audio Expo 2019 show in Tampa, Florida.
Ravishingly retro are the famous LS3/5 speakers, and here at Florida Audio Expo 2019 this incarnation of Falcon LS3/5a loudspeakers did not disappoint. Perhaps one of, if not the most famous small monitor to come out of the legendary BCC, Falcon's LS3/5a two-way small monitor brings back the original designer / engineer for a modern go at this decades old classic.
---> Read More
Aqua Audio, Cardas, Doshi, Innus, & Joseph Audio
Florida Audio Expo 2019 show in Tampa, Florida.
Here's another great example of how small speakers can sound far larger than most would expect. Jeff Joseph of Joseph Audio has a way with speakers and crossover designs that bring about excellent sound quality. Their room at the Florida Audio Expo 2019 was very impressive, with front-end being either reel-to-reel or digital audio from show sponsor Qobuz.
---> Read More
Vanatoo: Loudspeaker Technology Serving Art
Florida Audio Expo 2019 show in Tampa, Florida.
If you're seeking big sound in a small package, or perhaps a modest system for the office, then Vanatooo might be perfect for you. Vanatoo is a lifelong dream for engineers Gary Gesellchen and Rick Kernen, with their love for audio and technology. Their expertise in acoustics and digital electronics, plus product development and manufacturing, is why Vanatoo products are extremely well designed.
---> Read More
Audio Research Trade Up! Program For USA
Audio Research is proud to announce a special program allowing Audio Research Owners in the USA to participate in the new Trade Up! program. The program offers owners of qualified Audio Research products trade-in values up to 75% of their MSRP when traded-in toward new Audio Research products. Audio Research products are of the highest quality and can retain high value on the secondary market, emphasized as current owners are able to receive up to 75% of their original MSRP buying price. Contact your participating US Audio Research Dealer for more details on the Trade Up! Program, noting this promotional offer is valid until May 31, 2019 and limited to USA-based dealers.
02 / 18 / 19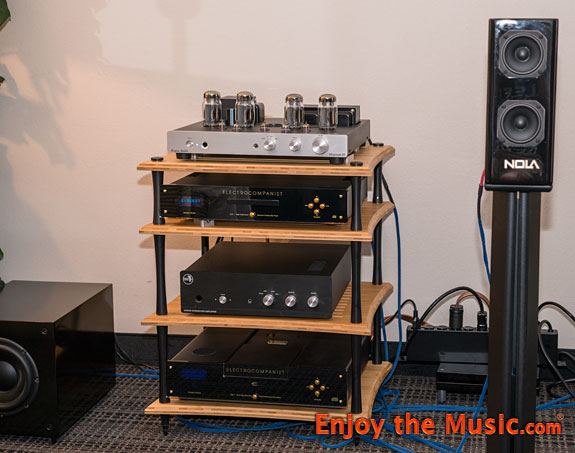 Nola Speakers & Sweet Home Audio
Electrocompaniet, Rogue Audio & Wireworld
Florida Audio Expo 2019 show in Tampa, Florida.
Here was a fun room hosted by loudspeaker manufacturer Nola, plus Sweet Home Audio located in casual 'n' fun Clearwater, Florida. Critically-acclaimed loudspeaker company Nola makes excellent loudspeakers from large floorstanders to small stand-mounted speakers. Here at Florida Audio Expo 2019 their room sounded 'far bigger' than those small monitors would lead one to believe for such a small size. Will cut to the chase right up front as my notes say, "holy crap they sound big... up to a certain volume level".
---> Read More
à la carte productions
Billy Bags, Bybee, Creek, DSA, Luminous Audio Technology, Ortofon, Spendor, Stein, Tweek Geek, Vienna Acoustics, And VPI.
Florida Audio Expo 2019 show in Tampa, Florida.
à la carte productions based out of Deland, Florida was being manned by David Sckolnik within their value room. This retail store had two great rooms at Florida Audio Expo 2019. The top-line Dynamic Sounds Associates ( DSA) room came fully prepared with Pre I linestage ($16,500) and large DSA Amp I monoblocks ($25,000 per pair) plus much more!
---> Read More
Raven Audio Tube Amps & Speakers + Mytek Digital
Florida Audio Expo 2019 show in Tampa, Florida.
Raven Audio, widely known for their excellent vacuum tube amplification and cables, always pleases at shows. Here at Florida Audio Expo 2019 they brought their new line of loudspeakers! The front soundscape was lovely and deeeep, with the system being "overall fun to listen to" says my show report notes. Considering I listen to music over eight hours a day, it's crucial that an audio system not just be accurate, it also needs to be comfortably listenable for hour after hour.
---> Read More
Abyss Headphones New AB-1266 Phi TC
The good folk at Abyss Headphones have just introduced their new AB-1266 Phi TC (Total Consciousness) stereo headphones. Newly designed 66mm planar magnetic speaker driver per side delivers the absolute highest resolution of any headphone the company has ever made. Proprietary planar magnetic transducer design (Patent Pending) is said to play effortless dynamics and low level details in the bass, mids, and highs with spacious sound outside of your head. Combined with their venerable AB-1266 headphone design, newly minted all aluminum frame and posh ear pads means the best headphones from the company to date. They've also added a few fine details to the aluminum headband to easily distinguish this TC version, as it's intricately machined design adds to the bold aesthetic. The two-tone black polymer ceramic finish along with the latest lambskin ear pads and cable accessories complete what many consider to be the World's finest headphone. Unique foamed aluminum sides are acoustically tuned to ABYSS' planar diaphragm for completely open sound. Magnetically adjustable positioning lets you fine tune acoustics and fit for your music, and you. Padded leather headband with head movement isolation properly distributes weight for hours of comfortable wear. These headphones are designed not to clamp your head, but rather float atop and loosely touch your ears (no problem with eye glasses). A nicely hand-crafted two-tone felt lined wooden box touts the Abyss Headphones logo secures all bits. Integrated resonance control ensures minimal added coloration. Custom colors are available to order. Frequency response is from 5Hz to 30kHz, impedance is 47 ohms nominal, flat phase, and a sensitivity of 88 dB/mW with less than than 1% distortion (less than 0.2% through ears most sensitive range). Abyss Headphones new AB-1266 Phi TC weigh 640 grams.
Pro-Ject Audio Systems DAC Box E Mobile
Pro-Ject's DAC Box E Mobile (€99) is the company's first endeavor into the portable audio market. It's a compact digital to analog converter (DAC) that elevates the sound performance of your modern portable audio devices. While designed to be used on the go, DAC Box E mobile can also be connected to a personal computer or laptop via the USB C input. It supports high resolution file formats up to 32-bit/192kHz and connects to any common headphones via the 3.5mm stereo headphone output. Pro-Ject's DAC Box E mobile receives power directly from the device it is attached to, so there are no additional battery packs to worry about. Frequency response is from 20Hz to 20kHz with a power output of >27mW (32 Ohm). THD+N is <0.01% @ 10mW 32 Ohm load with a SNR of >110dB.
02 / 16 / 19
Erbauliche's 324 Page Hardcover Book On Pipe Organs
Erbauliche's new hardcover book about pipe Organs ($150) spans 324 pages and is large format 11" x 14.6" (WxH). Erbauliche is an independent publishing house pursuing its mission of showcasing places, people and snapshots in time that would not be featured in tourist brochures or acknowledged by Hollywood. The pipe organ has been called the King of Instruments and has a long and rich history being used in many parts of the world as in worship services or in private school halls. Aside from their distinctive timbres, these amazing instruments are wonderfully ornate and astounding structures to behold, rising up and towering over congregations. Discover the surprising range of pipe organs in this comprehensive volume and the beautiful places they can found across the globe. This book features many high quality color photos of various pipe organs all across the world, and is printed on high quality paper. This book is a must-have for all classical music lovers and those who appreciate religious services that include the King of Instruments.
02 / 15 / 19
The Audio Company
Airtight, Clearaudio, Critical Mass, Esoteric, Kronos, Masterbuilt, VAC, And Von Schweikert.
Florida Audio Expo 2019 show in Tampa, Florida.
The Audio Company is a purveyor of hi-end luxury audio equipment, offering a wide range of innovative, high-quality audio equipment including speakers, preamps, turntables and accessories. Their room, located within the second floor, was one of the largest exhibit rooms at the Florida Audio Expo 2019. Having heard the VAC front-end amplification married to Von Schweikert speakers quite a few times at shows, this truly is a properly synergist system time and time again.
---> Read More
Wrensilva Black Tiger Ltd. Ed. Console Turntable System
Wrensilva's Black Tiger limited edition stereo console ($3599) celebrates the company's special anniversary. This limited edition Loft in ebonized American Oak has special detailing exclusive to this series, with only 100 units being available. Modeled to the technical specifications of their classic Loft console, Black Tiger packs all the power and connectivity of our full size consoles into a much smaller footprint. Upholding Wrensilva values of thoughtful design and American craftsmanship united with high fidelity analog and streaming audio, the Loft record player console is equipped with a 300 Wpc Class D output via IcePower by Bang & Olufsen. Add in the turntable, state-of-the-art Sonos functionality, a 3.5mm audio jack, and RCA inputs ensures a wide variety of uses. Fully decoupled belt driven turntable features Wrensilva 1.178" dual layer wood and acrylic with split plinth construction. An OA2 precision Gimbal tonearm, Hurst 24v AC synchronous motor, 0.75" acrylic platter and Ortofon 2m Blue MM cartridge round out the turntable's design. Hand-selected and ebonized tiger-striped American oak hardwoord plus sculptural console base in naturally patinaed hand-welded steel bring a lovely look and feel. Optional matching speakers feature Wrensilva two-way bass reflex with a 6.5" Nomex cone midrange/woofer and 1" textile dome tweeter. Crossover frequency is 1700Hz and overall frequency response for the speakers are 44 Hz to 20 kHz. Wrensilva's Black Tiger Ltd. Ed. console turntable stereo system is available for purchase as a standalone unit that can be used with even the most demanding speakers on the market or for purchase as a complete package with matching Wrensilva Black Tiger Monitor speakers and speaker stands.
02 / 14 / 19
Fidelis AV, Harbeth, Luxman, Melco, And Ton Trager
Florida Audio Expo 2019 show in Tampa, Florida.
My listening notes have little here, perhaps the music sounded great and was too busy enjoying the music? Whatever the case, my feeble mind thinks the sound was politely British. Note to self, take better notes when you have to cover 40(!) room in a few days.
---> Read More
Aurender, EMM Labs, GIK, Merrill Audio, And Muraudio
Florida Audio Expo 2019 show in Tampa, Florida.
Once again there must be something grat about the hotel's exhibit rooms that bring great sound, of course it is aided by great gear and music too. With Aurender and EMM Labs front-end gear combined with Merrill Audio's always-impressive amplification driving Muraudio's innovative speakers, hopes were high for excellent sound. And this room did not disappoint!
---> Read More
Finally! True Hi-Res Lossless Music Via Qobuz
Qobuz, the world's first and only certified Hi-Res (24-bit/up to 192kHz) streaming service, publicly launches today in the US. A hybrid streaming service and download store, Qobuz boasts approximately forty million CD-quality (16-bit) and millions of Hi-Res (up to 24-bit/192kHz) tracks, the largest available selection of Hi-Res streaming tracks anywhere. Since its launch in 2007 in Europe, where it is the streaming and download service of choice for true music connoisseurs looking for the highest possible quality, US audiophiles have been eagerly awaiting Qobuz's arrival stateside. Qobuz is poised to capitalize on the modern developments making high quality audio available to a fast-widening audience looking for a higher-level listening experience. Improvements in bandwidth speed and Internet infrastructure and the introduction of affordable speakers and audio equipment represent an accessibility tipping point in the growing high-end audio market. Qobuz is on all app stores, and a summary of its features include streaming in up to 24-bit/192kHz true Hi-Res FLAC (about 29x the audio quality of MP3) with compatible gear. There's an option to stream and offline download an unlimited amount of music on all devices-including both mobile and desktop. Qobuz also offers a parallel Hi-Res Music download store with files for purchase allowing for options that flow substantial revenues back to creators- premium pricing for Hi-Res masters is a growth area for record labels. Thee are exclusive, curated, and in-depth editorial content. Deep metadata, complete digital booklets, interactive articles, reviews, and playlists in-app on every platform. Library spans all genres, including specialist areas like jazz and classical. A unique dynamic interface allows user-selected genre focus. Qobuz' experts highlight music of interest based on user choices. Of course Roon version 1.6 integration is also available.
McIntosh Announces RS200 Wireless Loudspeaker System
McIntosh is proud to announce their new RS200 Wireless Loudspeaker System ($3000). Delivering room filling sound, the RS200 Wireless Loudspeaker System is McIntosh's next generation home audio wireless speaker. Designed for a modern streaming lifestyle, it comes packed with virtually everything needed to enjoy music streamed from handheld devices, stored online or a local computer, or played from legacy audio sources. McIntosh's RS200 offers 650 Watts of total power that is delivered to 8 drivers consisting of two 4" x 6" woofers, four 2" midranges and two 0.75" tweeters. In addition, a subwoofer output is included to connect an external powered subwoofer to further enhance low frequencies. As the RS200 can be placed in a variety of locations with unique sonic characteristics, a three-position EQ switch allows the EQ to be set based on the specific room and the user's listening preferences. McIntosh's RS200 comes loaded with several streaming options, including: Apple AirPlay 2; Bluetooth 5.0 with support for AAC, Qualcomm aptX HD for Hi-Res Music playback and Qualcomm aptX Low Latency for improved audio transmission speed to deliver sound in sync with visual media; DTS Play-Fi whole-home wireless audio; and DLNA support. There's also an audio-only HDMI input to connect to TVs that have Audio Return Channel (ARC) capabilities; an optical input to connect TVs without ARC as well as other digital sources; a USB Type-B input to play music from a Macintosh or Windows computer; and a 3.5mm AUX input for connecting analog sources. For enveloping home theater sound, connect a pair of McIntosh Play-Fi compatible RS100 Wireless Speakers (sold separately) to use as surround speakers.
Auris Audio Euterpe Stereo Headphone Amplifier
Auris Audio has just announced their new Euterpe (€1499) vacuum tube stereo headphone amplifier. Designed in a single-ended configuration, an integrated audiophile asynchronous DAC xMos / ESS Sabre allows you to use digital sources such as PC or mobile devices. Integrated within an artistic chassis, Euterpre is a headphone amplifier, DAC, preamplifier and stand, which gives you everything you've always dreamed of. Auris Audio headphone amplifiers have the original mechanical and electric conception which result in the high end sound quality. Deep sound-stage, great tonality and top level of dynamics are the main features of Auris headphone amplifiers. The unit employs a pair of PL 95 and one ECC 81 vacuum tube to produce 0.9 Watts. Conversion rate for USB digital input is DSD 64, DSD 128, and PCM 32-bit/384kHz. Inputs include USB and stereo unbalanced RCA. Analog outputs include 6.3mm stereo and RCA preamplifier with adjustable volume control.
McIntosh C2600 Vacuum Tube Stereo Preamplifier
With DAC, Phono Stage And Headphone Amplifier
A newfound family heirloom. For a lifetime... and longer.
Review By Tom Lyle
The McIntosh name can bring up all sorts of memories, images, assumptions, and yes, yearning for many audiophiles and non-audiophiles alike. The first thing that comes to my mind when I think about McIntosh components is their history. One of the first pieces of high-end equipment I ever owned was a McIntosh MC-30 monoblock, a pair of which powered speakers in my basement system in the 1970s while I was still in high school.
---> Read More
02 / 13 / 19
Deja Vu South In Miami, Florida
Western Electric Tube Amps, Otari Reel-To-Reel, Horn Speakers, Isotek, And Audio Note UK.
Florida Audio Expo 2019 show in Tampa, Florida.
If you're seeking esoterica within truly ultra-luxury high-fidelity then look no further than retailer Deja Vu South located in Miami, Florida. Rejoice, as those who know, well then you know when i say all vintage parts including chassis. These are truly hand built in Italy designs by D'Urso Cataldo (Aldo).
---> Read More
Pro-Ject, Sonus faber, And Sumiko
Florida Audio Expo 2019 show in Tampa, Florida.
The hits just keep coming here at Florida Expo 2019 show as McIntosh Group's room featured Pro-Ject, Sonus faber and Sumiko. As you'd expect the sound was properly airy, smoooooth, and extremely musical. Pro-Ject's 6Perspex turntable had a lovely Sumiko Songbird moving-coil cartridge (only $899 for an MC cartridge!).
---> Read More
2L Snubbed A Record 26 Times At Grammy Awards
According to the Los Angeles Times, Morten Lindberg has once again lost to other Grammy hopefuls a record-breaking 26 times out of 34 nominations, which is said to be a world record for the most losses from any single Grammy nominee. 2L is "the Nordic sound" as Morten Lindberg has produced 34 American Grammy-nominations with 2L, 26 of these in categories "Best Engineered Album", "Best Surround Sound Album", "Best Immersive Audio Album" and "Producer of the Year". According to the LA Times, "He records his projects with a sophisticated system designed to capture sound as if in three dimensions — to envelop a room like listeners are awash in sound waves.... On Sunday, Lindberg was nominated in the immersive audio category for the contemporary classical song cycle Sommerro: Ujamaa & the Iceberg, and for the Norwegian folk album Folketoner. He lost to Alan Parsons, Dave Donnelly and P.J. Olsson, for their Eye In The Sky - 35th Anniversary Edition. Since his first nomination, Lindberg has been up for a total of 25 Grammys across 11 straight years. Last year was rough: He earned four nods — and lost four times." When asked about all these Grammy loses and if he'd like to win one for a change, Morten Lindberg humbly said, "No, no — the opposite. Getting an award now would actually ruin my record — my track record would be completely blown away." Considering the widespread lack of interest in the Grammy Awards by many musical artists and music lovers of high quality audio, perhaps losing is actually being a winner in mainstream music's Game Of Pop Music Drones.
02 / 12/ 19

Rebuttal: Lossless Streaming Music
Why whine and cry about lossless audio, because anything is better than MP3.
Editorial By S.R.A.E.
I have some serious qualms with Enjoy the Music.com's Creative Director Steven R. Rochlin's recent editorial Lossless Streaming Music: Welcome To 20 Years Ago. First off Steven, you're certainly not the first person to realize that streaming Hi-Res Music on the Internet was possible decades ago. Who cares if you think you were the first to stream music online without the need for a plug-in, because what did you do with that technology?
---> Read More
Suncoast Audio
Featuring Magico, Luxman, Lumin, AudioQuest, Critical Mass, Avantgarde Acoustic, Viva, Aurender, AVID, And Shunyata.
Florida Audio Expo 2019 show in Tampa, Florida.
Suncoast Audio is a lovely store located in the heart of Sarasota's ever-growing Lakewood Ranch area. Store owner Michael Bovaird offers a wide variety of gear to this affluent area of Florida, and his exhibit rooms wonderfully reflect that. With two rooms, there was a lot of gear to cover here!
---> Read More
House Of Stereo / Wolf Audio Systems
Featuring Ayre, VPI, Van Den Hul, Wireworld Cable, Quad, Focal, Bob Carver, Bel Canto, Audience Cables, TAD And KEF.
Florida Audio Expo 2019 show in Tampa, Florida.
House Of Stereo is a longstanding retail store located in Jacksonville, Florida, and they had two glorious rooms at Florida Audio Expo 2019. Bob Carver's 350 amplifiers drove the highly musician KEF Blade 2 floorstanding speakers. Adept Response power filtering joined wolf audio system bits.
---> Read More

Manley Labs Absolute Headphone Amplifier
The makings of a legend!
Review By Gary Alan Barker Of Headphone.Guru
Back in the late nineteen eighties I ran a small boutique by appointment only high end HiFi shop, and at that time our preamplifier of choice was the MANLEY (their first and only product at the time if my memory serves correctly), which we considered to be the finest audio product in the world.
---> Read More
EMM Labs DV2 Integrated Converter With Volume Control
The DV2 ($30,000) builds on EMM Labs ground breaking technology used in our multi-award winning flagship DA2 converter. With its redesigned analog and digital systems, integrated high resolution volume control, discrete componentry, and user-friendly operation, the DV2 can be connected directly to the amplification stage in any high fidelity system with ease. EMM Labs DV2 has a newly-developed high resolution volume control system called VControl. VControl was designed and integrated into the DV2's MDAC2 architecture and there is no loss of audio resolution because VControl does not requantize the input signal. This allows VControl to have complete transparency at any volume setting and a very wide attenuation range. EMM Labs' DV2 also features a multitude of inputs including AES/EBU XLR, S/PDIF RCA, TosLink optical, USB, and EMM Optlink for connection to an EMM transport. Analog outputs include both balanced XLR and unbalanced RCA. Internally, there's 16xDSD proprietary discrete dual differential D-to-A converters (MDAC2), the latest generation 16xDSD Meitner Digital Audio Translator (MDAT2) signal processing technology and EMM Lab's latest generation enhanced MFAST technology for instant signal acquisition and jitter-free performance. Next generation MCLK2 proprietary custom clock ensures accuracy. A new USB interface with hardware galvanic isolation seeks to keep the purity of the digital signal transfer. All inputs support 24-bit/192kHz, up to 2xDSD and DXD (352/384kHz) and MQA over USB. Service USB port allows for future software upgrades plus a RS-232 serial port for wired remote control. Dimensions are 438 x 400 x 161mm (WxDxH) and it weighs 17.2 kg.
02 / 11 / 19
Audio Advisors: Audio Research, VPI & Wilson Audio
Florida Audio Expo 2019 show in Tampa, Florida.
Let me get this out of the way right up front. Have never been a big fan of Wilson Audio speakers from years ago due to augmented upper midrange. Sounded good at first, yet ear fatigue set in within a song or three. Fortunately they have a new ear and Wilson Audio is now sounding extremely impressive!
---> Read More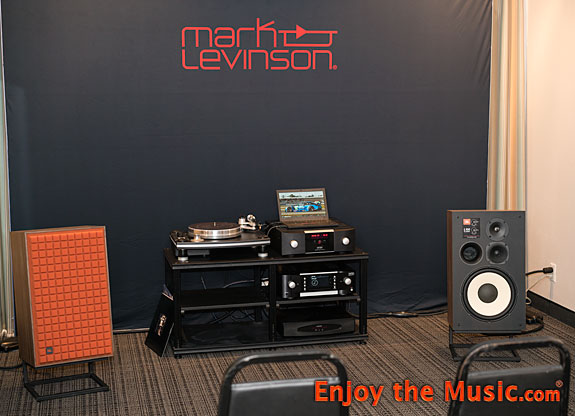 Harman's JBL & Mark Levinson Joins Transparent Audio
Florida Audio Expo 2019 show in Tampa, Florida.
My first exhibitor room visit was floor 8 at Florida Audio Expo 2019 where Christopher Trojnar of Harman was showcasing their highly anticipated JBL L100 Classic speakers ($4000 per pair) being driven by Mark Levinson No 5805 ($8500) integrated amplifier, No 519 Media Player ($20,000) and No 515 turntable ($12,500).
---> Read More

Florida Audio Expo Is A Resounding Success!
Audiophiles enjoy great sounds in comfy 80F climate.
As their inaugural event, the Florida Audio Expo was held on Friday February 8th through Sunday February 10th, 2019 at the Embassy Suites by Hilton Tampa Airport Westshore. Frankly, was a bit surprised to see so many members of the press in attendance, but then again the 80F and sunny weather in February brought reviewers from all around the USA, those who live in bitter c-c-cold Canada and more!
---> Read More
Gryphon Audio Designs PS2-S MM/MC Phono Stage Module
Gryphon Audio Designs is proud to introduce their PS2-S MM/MC Phono Stage Module. The PS2-S (S for Superior) is an updated version of their renowned PS2, but offering an extended range of MC-cartridge load impedance options. More than 30 years after the introduction of the compact disc, the LP still represents the largest selection of recorded music on any storage medium in human history. Therefore, the company believes it is essential that Gryphon owners have full access to the artistic vision captured for all time by this high-resolution format. Gryphon Audio Designs has consistently offered unwavering support to the LP format with high performance MC/MM phono-stages as optional modules for installation in preamplifiers and integrated amplifiers at all price points across the company's product range. Based on the legendary Legato Phono Stage, the Gryphon PS2-S MM/MC Phono Stage Module is a true dual-mono design for enhanced channel separation, capable of extracting every musical detail for ultimate realism. A design philosophy that Gryphon Audio Designs has been following since the introduction of the legendary and shiny Gryphon Head Amp back in 1985, which was the very first true dual-mono Class A amplifier introduced to the world of High-End Audio. It is a philosophy that Gryphon is very well-known for and a philosophy that we are proud to stick to, and with the obvious benefits from having absolute separation of the two channels they have decided to continue this design philosophy in the PS2-S MM/MC Phono-Stage Module. Gryphon Audio Designs integrated amplifiers and the Zena preamplifier can be ordered with the PS2-S Phono Stage Module factory-installed. The module can also be added to the Diablo 300, Diablo 120, Diablo, Atilla, Athena or Zena later if needed.
HIGH END 2019 Is Sold Out Of Exhibition Space
The HIGH END 2019 audiophile show in Munich, which is about three months away, is now fully booked. HIGH END opens its doors from May 9 to 12, 2019 and welcomes many international hi-fi brands with more than 500 exhibitors. As always, the demand for exhibition space among companies has been consistently high. Stefan Dreischärf, the Managing Director of the company HIGH END SOCIETY Service GmbH, is delighted about the multitude of registrations received. "The HIGH END is fully booked, all well-known manufacturers will be attending the event and the booking status has again increased by ten percent compared to last year's event at the same time. This year, we will also yet again be able to present new exhibitors who are attending the HIGH END for the first time." A number of well-known brands will also be showcased at the event for the first time in 2019. The entire capacity of the exhibition grounds, which cover an impressive area of 29,000 square meters, is therefore completely filled. At present, all 138 closed rooms with sizes between 49 and 440m2 in the upper atriums and all four exhibition halls of the MOC are reserved. "The immense feedback from the interested companies yet again extremely impressively underlines the status of the HIGH END as the world's leading hi-fi exhibition and innovation platform for the industry", explains Jürgen Timm, the Chairman of the Board of the HIGH END SOCIETY. The entire spectrum of high-quality consumer electronics No other exhibition in the world offers such a comprehensive portfolio of devices, innovations and services for the hi-fi industry as the HIGH END in Munich. In fact, the event presents the entire spectrum of high-quality consumer electronics from A right through to Z. The exhibition, which is held over a period of four days, expects to welcome more than 20,000 visitors, approx. 13,000 of whom are interested consumers. The other more than 7,000 visitors are top-ranking opinion leaders from all over the world who attend the event as trade visitors in order to find out about the latest trends and innovations in the worlds of analog technology, digital technology and electronics, loudspeakers, headphone developments, mobile products, sound recording medium sales and plenty of accessories. As one of the most important events on the globe for experts in the audio industry and a unique world of experience for the general public, this year's HIGH END exhibition in Munich in May is sure to yet again be a Mecca for the hi-fi universe.
02 / 07 / 19
Sony / UMG Facing Major Lawsuits Including Class Action
According to Music Business Worldwide, "Five musicians brought proposed class actions against Sony Music Entertainment and Universal Music Group in the US District Court for the Southern District of New York today (February 5). The legal action is based on the refusal of those two labels to 'permit recording artists to terminate grants of copyright interests 35 years after the initial release' of the artists' albums." Plaintiffs are seeking both damages for copyright infringement and declaratory relief. The Copyright Act's Section 203 (a.k.a. 35 year law) states that "Upon the effective date of termination, all rights under this title that were covered by the terminated grants revert to the author, authors, and other persons owning termination interests..." Sony is allegedly ignoring the law by not transferring the rights back to the music creator as requested via Notices of Termination. Music attorney Evan S. Cohen sent such notification to Sony and Universal, "Our copyright law provides recording artists and songwriters with a valuable, once-in-a-lifetime chance to terminate old deals and regain their creative works after 35 years. This 'second chance' has always been a part of our copyright law. Sony and UMG have refused to acknowledge the validity of any of the Notices, and have completely disregarded the artists' ownership rights by continuing to exploit those recordings and infringing upon our clients' copyrights. This behavior must stop. The legal issues in these class action suits have never been decided by a court, and are of paramount importance to the music industry." In other music news, Kanye West is also suing Sony and UMG to buy back rights to his music. Kanye West said last year, "I went to go buy my publishing from Sony/ATV, and they said it was $8 million, $9 million. And when I went to buy it, they told me no, I couldn't buy my publishing… I have the money to buy my publishing, and they told me that I couldn't buy my publishing." Kanye West has filed multiple lawsuits within the Los Angeles Superior Court. While it is not clear if Kanye has legal right under the same Copyright Act's Section 203, let this be a reminder for musicians to always own their master tapes, etc, or provide a short timeline to allow major music label specific, and revocable, rights to your work.
Audio-Technia AT-LPW40WN Turntable With Phono Stage
Audio-Technia's new AT-LPW40WN turntable ($299) is a fully manual belt-drive turntable designed to give you optimal high-fidelity audio reproduction from vinyl at a reasonable price. It features an aesthetically pleasing anti-resonance MDF plinth with simulated walnut wood veneer to limit low-frequency acoustical feedback and a sensor-monitored motor to ensure accurate platter rotation speeds at 33.3 and 45 rpm. Audio-Technia's AT-LPW40WN includes a straight carbon-fiber tonearm with adjustable tracking force and an AT-HS4 universal 0.5"-mount headshell with an AT-VM95E Dual moving magnet (MM) phono cartridge. The AT-VM95E cartridge features a 0.3 x 0.7 mil elliptical stylus, yet can be replaced with any VM95 Series replacement stylus. Tonearm is a balanced straight design with an effective arm length of 223.6mm, overhang of 18.6mm, tracking error angle of <2 degrees, and applicable cartridge weight is from 12 to 17 grams. The AT-LPW40WN is equipped with a built-in selectable phono preamp and a detachable dual RCA output cable to enable direct connection to components with or without a dedicated phono input. The motor features a speed-sensor system to maintain accurate platter rotation speed. This turntable includes RCA cable, 45 rpm adapter, rubber mat, and removable hinged dust cover. Wow and flutter is rated at 0.15% with a signal-to-noise ratio of >60dB. Phono pre-amplifier gain is 35dB. Overall dimensions are 17.13" x 13.90" x 5.04" (WxDxH) and it weighs 10.4 lbs.
Falcon LS3/5A Classic Small Two-Way Monitor Reborn
Resurrecting the old classic BBC LS3/5A that lives up against the older classics.
Review By Joseph Ki Cheong Ming
It is no secret that Malcolm Jones did most of the design and development of the legendary KEF drive units such as the B139, B200, B110, T15, and T27. He left KEF in 1974 having just completed the famous Reference Series 104 system and thus began work on an active professional monitor plus his new company Falcon Acoustics Ltd.
---> Read More
Stromtank S2500 Battery Power Supply
The joys of a pure sine wave with battery power.
Review By Tom Lyle
I've been stricken with something I like to call an "audiophile illusion of grandeur" for quite some time. It started long ago, when I first discovered that the AC power supplied to my stereo system was less than adequate. This wasn't too difficult to figure out, because in the daytime my system sounded lousy, at least compared to how it sounded at night.
---> Read More
02 / 06 / 19
Florida Audio Expo — February 8th To 10th, 2019
The Florida Audio Expo is excited to announce its inaugural show for 2019! This show will be held on Friday February 8th through Sunday February 10th, 2019 at the Embassy Suites by Hilton Tampa Airport Westshore. The new southeast show seeks to give music lovers the chance to personally audition some of the industry's finest offerings, all taking place in sunny Florida. The show is free to the public. The exhibitor list grows daily, and currently features such prominent brands as LampizatOr, Legacy Audio, Luxman, Magico Loudspeakers, MBL North America, VAC, and many more. "Florida hasn't had an audio show in a good number of years. We look forward to bringing our speakers and electronics to this culture-rich area of music enthusiasts," said Bill Dudleston, founder of Legacy Audio. "Our mission for creating the Florida Audio Expo was to bring a strong offering to the Southeast market with a fun atmosphere for enjoying music — we want to celebrate our lifestyle and support the industry in this region," said Bart Andeer, founder of Resolution Acoustics and manager of the Expo's daily operations. "We have been working this idea for a few years, but wanted to find the right venue available at the right time of year, and we believe we have achieved both for the 2019 show. We strongly encourage regional dealers and manufacturers from all over the US who are looking for a new option." The Florida Audio Expo will provide access to incredible sounds, as well as loads of area attractions to do and see. Only a five-minute drive from the Tampa International Airport, the Embassy Suites are close to such local attractions as Busch Gardens, and just an hour's drive from Walt Disney World. Additional benefits for attendees and exhibitors staying at the Embassy Suites include free airport shuttle, free breakfast, and free happy hour. The Embassy Suites, originally built as condominiums, offer a luxury feel and the living suites are acoustically isolated — one of the key reasons this venue was selected. The audio rooms, Marketplace, and headphone/personal audio demo suites will all feature display areas that include a separate bedroom and kitchen, offering exhibitors the added benefit of a multi-purpose room as an interesting and affordable space.
10,000,000 Attend Fortnite Concert Feat. Marshmello
While not audiophile (at this time in human existence), the concept of virtual concerts is an interesting one with amazing possibilities! EDM artist Marshmello gave a concert on Fortnite, where a reported 10 million concurrent players were in attendance. With so many attendees, this audience far eclipses any concert ever held within the 'real world' (IRL). There's also special merch offered that can be purchased for those who desire a concert tee. According to an article in Forbes, "And on top of all that, this wasn't just a 'stop by if you want' kind of thing. Epic literally disabled every other mode in the game to force people to attend the ten minute long concert at Pleasant Park. I'm not exactly sure how many players were logged into Fortnite at the time, but last we heard in November the game peaked at 8.3 million concurrent players. Granted, it's not the 100 million players that will watch the Super Bowl halftime show tomorrow, but I mean, it's not nothing, especially when you compare it to any other live venue in the country where the largest stadium in the US barely tops 100,000 seats, with most venues, especially for an EDM show, far, far lower than that. And Marshmello just had a captive audience of several million at once." Sammy Andrews, founder of Deviate Digital, notes that while virtual gigs are not new. Sammy also admires the scale of Marshmello's audience. "This idea has had its tires kicked plenty over the last 20 years, but what's new here is the sheer level of integration, and the scale of exposure and engagement to a far larger and more receptive audience". Dare we say 'old-school' live streaming concerts, both flat 1080 and 360-degree, has been around for many years, yet virtual concerts inside popular video games is quite interesting. With 10,000,000 attending Marshmello's Fortnite concert breaking records, it has to at least make concert promoters sit up and take notice. One day will we have virtual classical and jazz concerts, perhaps bring back Miles Davis, Billie Holiday and others. Years ago Creative Director of Enjoy the Music.com Steven R. Rochlin suggested full 360-degree scans of all major musical artists. With Intel's mega-multi-camera capturing capability, we could one day enjoy immersive Hi-Res Audio / Video holographic concerts within our living rooms, plus you can choose to watch from any seat within the concert venue!
02 / 05 / 20
Sonus faber Launches Their Palladio Collection Loudspeakers
Sonus faber is excited to announce their new Palladio line of speakers. This is a special collection of custom installation speakers for both In-Wall and In-Ceiling use that stays true to the Sonus faber's legendary heritage. Paying homage to the company's Italian roots, Vicenza's artistic heritage is why Sonos faber's new collection bears the name of the Renaissance architect Andrea Palladio. He is considered to be one of the most influential figures in the Western architecture history, a master whose work is still said to be an unsurpassed reference for the definition of classical proportions rules. The Sonus faber Palladio Collection features two lines: Level 5 and Level 6, ideal complement of Sonetto and Olympica collections respectively with 13 models in total. Level 5 offers two In-Wall and four In-Ceiling speakers and the Level 6 includes two In-Wall and five In-Ceiling speakers. Additionally, both lines boast the option to add a versatile passive subwoofer (PS-G101). Silk dome tweeters are characterized by DAD (Damped Apex Dome) technology and mid-ranges and woofers are equipped with natural fiber and cellulose pulp diaphragms. These two elements give life to the recognizable and iconic "Voice of Sonus faber". The Crossover network is designed for better definition and purity of sound featuring the Paracross Topology circuitry. Each line has two angled models (PC-562P and PC-563P for Level 5, PC-662P and PC-664P for Level 6) that increase the versatility of the collection allowing users to easily complete any home theater or stereo system, in any environment, even those difficult to access. Whenever front speakers cannot be placed on walls, these models can be mounted in the ceiling. Drivers have been positioned at an optimal angle to aim the sound towards the listening position, guaranteeing the same performance of a front firing speaker. Thanks to the swing out dogs fixing system, all Palladio speakers can be secured quickly and effectively to plasterboard. All Palladio series models are equipped with a magnetic metal grille, designed to make each model as discreet as possible and ready to be painted. For Level 6, however, an extra option is offered: For those who do not want to relinquish the Sonus faber style, PL-664 and PW-662 models can be upgraded with classic elastic grilles masks, iconic design element and a tribute to stringed musical instruments that have guided the fortune of our brand. Sonus faber Palladio products will be available in the third quarter of 2019.
Hi-Fi World March Features Reviews & Think Pieces
Hi-Fi World's March 2019 issue features reviews of the Sonus faber Sonetto III loudspeakers, Micromega M-One 150 amp / streamer, Melco N100 & D100, Icon Audio ST300 MKII valve amplifier, Mitchell & Johnson S800 pre amplifier & S815 power amplifier, Icon Audio KT150D triode amplifier, Pioneer QX4000 quadraphonic receiver, and Hanna MH / ML phono cartridges. Within his editorial, Noel Keywood says, "Whilst the LP is returning with a vengeance – just read our News this month (p7-9) – that other technology of the past, the valve amplifier, seems less assured in its progress. Britain, Germany, the USA and Japan have all returned to valve amplifier manufacture and China too, where they still make valves. But modern valve amplifiers come with curiously different design philosophies, Audio Research (USA) conceptually inhabiting Mars whilst Audio Note (UK) are on Venus – or something like that!" See what's within this issue of Hi-Fi World at this link.
02 / 04 / 19
Qobuz Official Streaming Service Of Florida Audio Expo
The Florida Audio Expo is thrilled to announce that Qobuz, the world's first certified Hi-Res streaming and download service, will be the official streaming service for its inaugural show. Qobuz, a company that truly loves proper lossless Hi-Res Music, will launch on Valentine's day 2019 (February 14th). Their recently open beta testing of its USA service has been a resounding success, giving music aficionados looking for a premium lossless Hi-Res Music audiophile experience a preview of the service in anticipation of the public launch. Showgoers will be eligible to enter daily raffles to win Qobuz subscriptions, and while at the Expo can experience the service through some of the audio industry's finest products. "Our mission was to create a show that offers music lovers the opportunity to explore new ways to enjoy their music, and Qobuz fits that structure perfectly — we're thrilled to have them as part of the Expo," said Bart Andeer, founder of Resolution Acoustics and manager of the daily operations for the Florida Audio Expo.
02 / 01 / 19
Special Retro-Futuristic Edition!
Enjoy the Music.com's February Review Magazine features think pieces including Come To The Party where Roger Skoff writes about spreading the fun and saving money in the process too! Music industry professional Bobby Owsinski helps show you The Three Building Blocks Of Acoustic Treatment (time for a refresher).
We Look Back
Lossless Streaming Music: Welcome To 20 Years Ago by Steven R. Rochlin makes a good argument as today we're 10 years behind the curve, and here's why.... We also revisit DRM Wars during the early days of online music and how it very much concerns you! Continuing this issue's retro feel, we explore the early days of Internet with our Interactive Music Xpo 1999 show report, plus Streaming Media East 2000 event coverage.
We Look Forward
Where Do We Go From Here as Steven R. Rochlin writes about Classic Audiophiles Versus Modern Music Lovers. The question is asked, will 360-degree audio change the face of old-school stereo 'philes? We also look forward to seeing many of you at the inaugural Florida Audio Expo in Tampa from Friday February 8th through Sunday February 10th.
We Review
Gear assessments include Tom Lyle's World Premiere Review of Triangle Art's TA-200M Class A monoblock power amplifiers, Scott Lombardo's critical evaluation of MrSpeakers Ether 2 over-the-ear headphones, and vinyl LP lovers on a budget rejoice as Paul Schumann takes a listen to Sumiko's $149 Rainier moving magnet (MM) phono cartridge.
Read this month's edition of Enjoy the Music.com's Review Magazine at this link.
As always, in the end what really matters is that you...
Enjoy the Music,
Steven R. Rochlin
Creative Director
Enjoy the Music.com
---
Previous High-End Audio News
For previous high-end audio and music industry news click here.