Nola Speakers & Sweet Home Audio
Electrocompaniet Rogue Audio & Wireworld
Florida Audio Expo 2019 show in Tampa, Florida.
Report By Steven R. Rochlin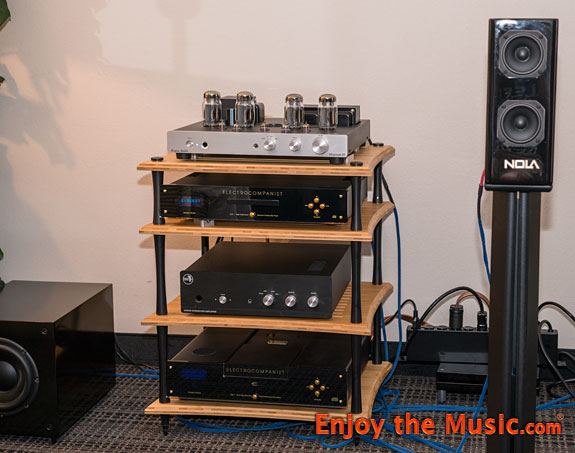 Here was a fun room hosted by loudspeaker manufacturer Nola and Sweet Home Audio located in casual 'n' fun Clearwater, Florida. Critically-acclaimed loudspeaker company Nola makes excellent loudspeakers from large floorstanders to small stand-mounted speakers. Here at Florida Audio Expo 2019 their room sounded 'far bigger' than those small monitors would lead one to believe for such a small size. Will cut to the chase right up front as my notes say, "holy crap they sound big... up to a certain volume level".
The system consisted of Nola Brio Quattro four-piece system with a pair each of open baffle satellites and powered subwoofers. The two gloss black Nola satellite Speakers are a mere 12" X 5.5" x 5.5" (HxWxD) and weigh only 12 lbs each, yet a four-piece system deliver sound from 28Hz to 20kHz easily.
The small monitors are an open baffle design, meaning the rear of the driver is 'open' and thus not enclosed within a cabinet as you find with many other loudspeakers. According to the company, two identical 3.5" drivers are used, with the upper driver operating in an open baffle as a dipole and the lower driver mounted in a ported chamber. This configuration, says Nola, "combines the natural imaging and expansive soundstage provided by the open baffle mounting with the dynamic presence and impact of the enclosure-mounted driver". A pair, one per channel, of matching subwoofer utilizes an 8" long-throw woofer driven by 250 Watts of Class A/B power.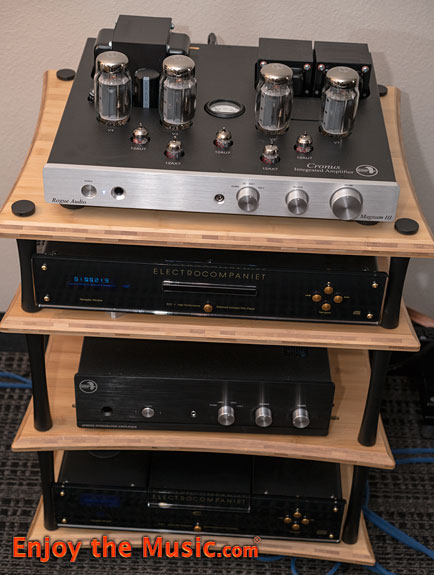 Other gear within their room includes the updated version of their award-winning Rogue Cronus Magnum II integrated amplifier that produces 100 Watts per channel stereo and has a wide bandwidth from 20Hz to 30kHz. Rogue Audio's new new Cronus Magnum III ($2,995) features several significant and exciting upgrades along with a new triode/ultralinear switch. For vinyl enthusiasts, the phono section has been completely redesigned for MM and MC cartridges, with gain settings for 45dB and 60dB of gain. The Triode/Ultralinear switch allows for on the fly switching between higher Watt Ultralinear operation and lower output pure triode. Rogue Audio's new headphone circuit is based around MOSFET buffers capable of massive current sourcing and is (basically) a simplified single-ended version of the company's RH-5 headphone amplifier. If that's not enough, they also improved the line stage section to achieve lower noise floor. Machined aluminum metal remote completes the upgrade. For front-end duties, Electrocompaniet's CD player was put to good use. Cabling was Nola Blue Thunder, with Wireworld (made right here in Florida) for power duties.
For preamplification, Rogue Audio's Sphinx integrated amplifier also made a showing at Florida Audio Expo 2019. We reviewed and gave a very special Blue Note Award to the Rogue Audio Cronus Magnum II integrated amplifier (see our review here).
---> Back to Florida Audio Expo 2019 show report page.