Falcon, Primare, Dr. Feickert, MoFi, Cardas, Qobuz And Solidsteel
Florida Audio Expo 2019 show in Tampa, Florida.
Report By Steven R. Rochlin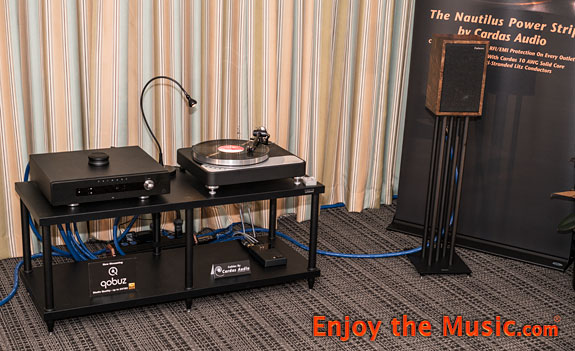 Ravishingly retro are the famous LS3/5 speakers, and here at Florida Audio Expo 2019 this incarnation of Falcon LS3/5a loudspeakers did not disappoint. Perhaps one of, if not the most famous small monitor to come out of the legendary BCC, Falcon's LS3/5a two-way small monitor brings back the original designer / engineer for a modern go at this decades old classic. Having already secured legendary status, each new model is hand-assembled by Falcon in Oxford, England. They are 15 Ohm as a continuation in seeking a faithful reissue of the original design published by the BBC way back in October 1976.
Front-end gear was Primare I25 Prisma integrated amplifier with built-in streamer / DAC that played lossless music from Qobuz. While the big business seems to want a proprietary lossy scheme with questionable upper frequency coding, Qobuz delivers the very best in true lossless music via upwards of 24-bit/192kHz FLAC. For many years FLAC has proven itself universal and playable on pretty much all modern hi-fi DACs. No need to make any system or DAC changes, as you can right now play all the great FLAC music files you so desire with Qobuz.
For turntable duties, Dr. Feickert's Volare turntable with Origin Live Silver MK3a tonearm and Koetsu Black Goldline MC cartridge filled the bill nicely. MoFi Electronics StudioPhono MM/MC phonostage ensured accurate RIAA equalization.
Cardas Nautilus power strip and their Clear Beyond signal and power cables connected to Isotek's Isoplug AC Noise Filter. On a personal note, my fave microphone cables are by Cardas, as they provide natural harmonics and overall excellent sound without external noise negatively affecting the crucial analog signal. If you haven't auditioned Cardas cables, i highly recommend you do so. At Florida Audio Expo 2019, common Cardas cables include Clear series interconnects start at $610 for 1.5 meters, and $970 for 3 meters, with Clear series speaker cables start at $940 for a 2.5 meter pair. Cardas was showing off their latest flagship power cable, Clear Beyond XL, in all of the rooms, which is $2265 for a 1 meter length. However Clear series power cables start at $440 for a 1 meter.
Stands were by Solidsteel and include NS-7 speaker stands and their S4-2 equipment rack. There's little doubt these stands can bring a lifetime of use year in and year out.
Overall sound was perhaps a slight bit deep bass shy, yet that's the speaker's limitations. For most acoustic music you'll hear a glorious blend of accuracy and musicality. Having heard many iterations, the Falcon LS3/5a are a real winner and we reviewed the original Falcon version at this link.
Here's a gear listing of the room:
Falcon LS3/5a loudspeakers $2,995 / pair
$3,250 in Burr Walnut finish
Primare I25 Prisma int amp streamer / DAC $3,995
Dr. Feickert Volare turntable & Origin Live Silver MK3a
tonearm and Koetsu Black Goldline MC cartridge $5,500
MoFi Electronics StudioPhono MM/MC phonostage $299
Cardas Nautilus power strip $1,499
Cardas Clear Beyond signal / power cables
Isotek Isoplug AC Noise Filter $149
Solidsteel NS-7 speaker stands $349
Solidsteel S4-2 rack $699
---> Back to Florida Audio Expo 2019 show report page.