High-End Audio, High Fidelity Audiophile Industry News
---



Stay informed with the latest news and information by joining Enjoy the Music.com's e-Newsletter list. As an active member of our e-Newsletter, you are entered into all our great contests too! Come get social with Enjoy the Music.com's fun, informative and interactive Facebook, Twitter, Google+ and Pinterest pages. We have many videos within our YouTube channel too! We also have an excellent RSS feed to keep you informed on a daily basis with up-to-the-minute industry information, high-end audio equipment review updates and more!
05 / 29 to 05 / 31
T.H.E. Show Newport 2015

Enjoy the Music.com's coverage of The Home Entertainment Show Newport (T.H.E Show) 2015 marks the fifth year of this informative, fun, and relaxing southern California event. T.H.E. Show Newport will be held at The Hotel Irvine in Irvine, California, Friday through Sunday, May 29th through the 31st, 2015. Visitors to T.H.E. Show Newport can visit the Headphonium exhibitors, the Marketplace, Vinyl, CD, and Accessories vendors all in one location-a giant 15,000 sq. ft. Grand Ballroom in the center of the Hotel Irvine. Returning to the event in 2015 will be the gourmet food trucks, a giant high-end auto show, live entertainment day and night, wine tasting, and many more popular educational seminars orchestrated by the Los Angeles and Orange County Audio Society (LAOCAS). New this year will be a very impressive home theater demo featuring Focal, Sony, and The Source AV, in Hotel Irvine's elegant amphitheater. Joining T.H.E. Show for the first time, Crestron will present the latest in AV and home automation. Ford Motor Company will display its line of cars while demonstrating the latest advancements in automotive electronics in the Hotel Irvine's 8,000 sq. ft. pavilion adjacent to the hotel. Enjoy the Music.com's T.H.E. Show Newport 2015 report will be online soon!
05 / 27 / 15
The Chord Company Sarum Super ARAY Power Cable

The Chord Company has launched a new reference-level flagship power cable — Sarum Super ARAY (£1,700 for one meter length). As the Wiltshire company's flagship power cable, it forms part of a new reference-level range and boasts being a testament to just how much musical information conventional cables can lose or corrupt according to the company. Chird's Sarum Super ARAY power cable conductor geometry was developed just as Chord started to work on a new UK mains plug and IEC plug. The mains plug is a bespoke version of an MS Power mains plug — the conductors have been heavily silver-plated and changes have been made to the internal structure of the plug casing. The changes act to both stiffen the casing and to allow the fitting of two silicone tubes, which are designed to improve mechanical damping and vibration; the effect of vibration on performance is something that Chord discovered during the development of the original Power Chord cable. The new IEC plug is also a bespoke Chord Company design. The internal contacts are heavy-gauge and again, are heavily silver-plated. Both the new mains plug and IEC are the best that Chord has ever used. Chord has been producing power cables for the past ten years and like its interconnect and speaker cables, the company's obsession with high-frequency interference has heavily influenced the design of its power cables. The conductors remain the same as the original Sarum and then the Sarum Tuned ARAY power cable: micro-polished and silver-plated. The insulation is gas-foamed PTFE and the shielding is a very effective, high-density silver-plated braid, combined with an unusually heavy-gauge shield. The key difference, though, apart from the new mains and IEC plug, is the way that the new Super ARAY conductors are utilized. This involves the fitting of an ARAY 'chamber' and extensive internal re-working. The strongest visual clues, though, are indeed the new plugs. The Sarum Super ARAY power cable is available in 1m, 1.5m and 2m lengths from stock, with custom lengths being made to order and can also terminate with Furutech 16 Ampere IEC connectors. Where space is restricted, Chord can also fit-to-order the high-quality Schurter IEC plug that has been used for many years on its Power Chord. European Sarum Super ARAY power cables are also available: these are fitted with Furutech Schuko mains plugs. "The Super ARAY conductor design for the power cable had been staring me in the face for quite a while; the design and configuration then fell into place quite naturally," says Technical Director Nigel Finn. "What truly surprised everyone here, though, was the dramatic improvement. Even though the first Sarum Super ARAY cable was built in the summer of 2014, demonstrating the improvements remains startling."
Jadis Electronics I-50 Stereo Integrated Vacuum Tube Amplifier

Jadis is now shipping their I-50 state-of-the-art integrated ($10,345). The Jadis I-50 is a 50 watt per channel stereo amplifier that operates in pure class-A. It employs an auto-bias for the vacuum tubes to keep them operating within their optimal range. A remote control is also included.. It was designed from the ground up to take advantage of the new KT150 tubes, which are said to offer improved microphony and heat dissipation characteristics over other designs. It also provides more power and "better detail and bass control than other tubes" according to Jadis. Tube complement is four KT150, three ECC82 and two ECC83. The I-50 has four line inputs and one USB input (48kHz/16-bit), and it will drive speakers from 1 to 16 Ohms. Frequency response is from 20 Hz to 20 kHz, dimensions are 48.5cm x 34.5cm x 33cm (WxDxH) and it weights 70 lbs.
05 / 25 / 15
Metaxas Solitaire And Soliloquy Amplifiers

Metaxas is celebrating their 30th anniversary by releasing their Solitaire and Soliloquy amplifiers. Almost 30 years after its first introduction into high-end audio, the newly designed and significantly updated Metaxas Solitaire and Soliloquy monoblock power amplifiers will once again be available to serious audiophiles, recording engineers and music purists worldwide. The Solitaire produces 150 wpc stereo, whereas the more expensive Soliloquy produces 100 wpc for precision discrete transistor voltage regulation of both input and high-current output stages. The new dual-printed circuit board construction places the delicate small-signal circuitry on the upper board and uses high-current ultra-high-frequency "wave-guide" design for the power delivery lower board. Custom designed driver and power transistors, made to Metaxas' specification, are all individually computer batch selected, matched and load tested. The sensual, organic and striking casework is cast and then machined from aluminum. Absolutely every part of the amplifier including the circuit, topology, layout and casework has been designed by Kostas Metaxas. The new Solitaire and Soliloquy amplifiers will be joined by a new IKARUS integrated amplifier, a TRIBUTE preamplifier plus a new PRINCE portable and EMPEROR electrostatic monitor loudspeaker. Frequency response for both the Solitaire and Soliloquy is from DC to 500 kHz.
Stenheim Reference Statement Loudspeakers

Stenheim new top of the range Reference Statement loudspeakers. This speaker system was created in pure and well-studied lines to create a superb look and the company's unparalleled sound rendition capabilities. Based on the concept behind their Reference, the company seeks to achieve the very best in dynamics, musicality, and imaging. Another goal is to reproduce any genre of music, along with impressive sound levels from the deepest bass to the highest notes. There is remote operation of the MTM couple (midrange, tweeter, and midrange panel) diffusion angle. The subwoofer tower extends the range of the deepest bass. In addition, there is a medium-bass and sub-bass frequency filter included in a separate unit that is added between the preamplifier and amplifier. Each complete custom consists of two Reference subwoofer towers and two upper range towers with 8 transducers in full D'Appolito configuration. Subwoofer towers have six woofers and multiple monoblock amplifiers. A passive/active five-way crossover system has analog active crossover for the bass section and the subwoofer towers. Frequency response is from 10 Hz to 100 kHz and system sensitivity is a high 96dB/W/m. Dimensions for each tower are 1890mm x 370mm x 560 mm (HxWxD) and weight is 660 lbs.
Industry News 10 Years Ago

There is a new Winamp plug-in for Apple's iTunes users that allows them to move music files in a way that circumvents DRM (digital rights management) protection. ml_iPod is a plug-in for Winamp 2.9x/5.x and features ease of media management, playlist support, and the ability to copy songs from your iPod to your computer's hard disk. This is in contrast to Apple's own software that does not allow tracks from being moved off the iPod. With ml_iPod people can share their iTunes collections provided Apple's FairPlay DRM scheme is unlocked via Hymn project, then configure ml_iPod plug-in to run the hymn.exe file. Justin Frankel, creator of Winamp and P2P software Gnutella, said "I firmly believe you should have the right to transfer your music with any application you like and if this requires software which circumvents DRM (digital rights management), then I don't believe this is ethically wrong. I trust our users to use this freedom responsibly and to not steal music." UPDATE: Fast-forward a few years after this announcement and Apple finally did away with their DRM scheme.
Industry News 15 Years Ago

Add a new lawyer to the Napster saga... and 15 million dollars! Napster's new CEO, Hank Barry, is very familiar with Napster and has been a lawyer for some time as well. Added to the mix is new funding to the amount of $15 million from Hummer Winblad Venture Partners whose portfolio also includes the likes of the streaming audio company Liquid Audio, Inc. "According to a recent poll, over 70 percent of all college students have used Napster's software and 19.2 percent use it everyday." Hank Barry continues "With over 10 million registered users within its first nine months, Napster's file sharing application has become the most rapidly adopted technology in the history of the Internet."
05 / 22 / 15


Show Coverage


HIGH END 2015 Facts And Figures

AURALiC ARIES MINI @ HIGH END 2015

VPI, ModWright, TuneAudio, And Skogrand Cables @ HIGH END 2015

Dan D'Agostino Master Audio Systems Stream @ HIGH END 2015

Meridian's MQA Technology @ HIGH END 2015

Questyle QPR1 And CMA800P @ HIGH END 2015

Lehmann Audio Headphone Gallery And Linear D @ HIGH END 2015

Bonus Photos @ HIGH END 2015 Munich Audiophile Show Report
H-Fi World's July 2015 Issue Is Now Available

Enjoy the Music.com just posted Hi-Fi World's July 2015 issue. This issue features review of the Damson Vulcan portable loudspeaker, Tannoy Revolution XT 8F loudspeaker, Cambridge Audio Azur 851n network player, Cowan Plenue 1 high resolution music player, Tascam DR-22WL portable handheld recorder, Arcam FJM A49 integrated amplifier, Luxman l-55OAX integrated amplifier and much more. Within his editorial, Noel Keywood write, "It has been a long time since we published circuit diagrams in Hi-Fi World. But you'll find pages of them this month, starting at page 88. As editor I always quake a little at what non-technical readers will think when we publish circuits, because if you're not into DIY and don't enjoy the smell of solder flux, this is all gobbledegook. But on the other hand I know a lot of readers love a good, hard look at what's going on, as well as something to build – and I feel David Lord's feature has merit past the effectiveness of his circuits. He writes in an easy, accessible style – rare in this field – and both parts of his feature article have contained in-depth info on the best way to get a great sound from LP. He even makes the point that unless you're running in balanced mode, you are not getting the best from your record deck, going on to illustrate the issues in fine detail. I loved reading it all – I hope you do. And solder flux smells sort-of nice in any case!" You can see what's within the July issue of Hi-Fi World at this link.
Mourning Industry Founder John Ulrick, By Greg Weaver

Today I mourn the passing of a good friend and one of the men who helped found the high-performance audio industry, John Ulrick. Hired as a Circuit Design Engineer at Litton Industries right out of college to work with the Air Data Group, John started designing servo circuits for the North American XB-70's Mach number computer in 1962. It was there that he met future Infinity partner, Arnie Nudel in 1965. Working together in the Litton applied physics group doing solid-state laser research, Arnie asked John to design the switching power supply and servo to control the mirror that would point the laser for their new range finder. Litton was already using early Class-D amplifiers to control the gimbals of the inertial platforms of their navigation systems. While measuring the pointing servo, Arnie asked John if he might be able to apply servo control to a woofer. John found that an intriguing idea, and set to work producing a servo control system for a customized Cerwin-Vega 18-inch woofer with a feedback winding. The use of servo control extended the bass lower by three octaves and reduced the harmonic distortion by a factor of ten! This system would evolve to become the Servo-Static I, and the first commercial model was sold in 1966 under the name NUTEC. By August 1968, Infinity was born and John soon found himself asking if he could build an audio amplifier using switching technology. The resultant amplifier, which he called The SWAMP (SWitching AMPlifier), yielded 250 watts per channel, ran at a switching frequency of 500 KHz, and was the first audio Class-D amplifier in the world. After selling infinity in 1974, then leaving after contractual obligations in 1978, John started Spectron, and for the first five years, built stereo automotive amplifiers. Japanese competition grew so fierce by the end of the decade that they just couldn't compete, so John and some of his former colleagues from Hughes Missile Systems started building a multiplexer system to double the capacity of each satellite transponder for the burgeoning satellite TV business. They licensed and sold it, and John, with a little cash back in his pocket, re-started Spectron in 1990. This time, he wanted to build Class-D amplifiers for the audiophile market. His first commercial product, a digital pulse width modulation-switching amplifier, the Spectron 1KW, was a 500 watt per channel stereo behemoth, and was well received by the audiophile community in 1992. Over time, the 1KW continued to evolve, first reintroduced as the Musician in 2000, then, with minor but very effective improvements in the circuit, it was released as the Musician II in 2003. John advanced the design to offer the Musician III by 2005, a 600 wpc amplifier that set new standards for the class, and most recently offered a Musician III Mk2, that incorporated V-Cap Upgrades, Super-Effect Bybee Purifiers, and cryogenically treated ceramic CryoParts Rail Fuses, first available in 2014. Most recently, John spent the better part of his day designing special versions of his Class-D amplifier circuits for license to semiconductor companies, who in turn manufacture the amplifier on semiconductor chips for pro sound power amplifiers and premium auto sound systems. John had successfully won a bout with prostate cancer late last summer, but over the past 8 weeks, he had been in and out of the hospital. His cancer finally affected his brain, and John passed away last night (May 20, 2015), at approximately 7:30 PM, with his sister-in-law, Beverly Larkin, by his side at the Henry Mayo Newhall Memorial Hospital in Valencia, California. He was one of the true gentlemen of this industry, and his friendship, his almost permanent smile, his effervescent outlook on life, his unrelenting love of auto racing and audio, will be sorely missed and impossible to replace. Born August 19, 1939, and raised in Encino, California, the wife he adored and shared his life and passions with for 22 years, Toni Decker, passed away in 2013. He is survived by three stepchildren, Kevin Decker, Eva Rejhons, and Nick Decker, and two grandchildren, Sam Casey and Noa Rejhons.
05 / 21 / 15
Review: Astell&Kern AK380 Portable Media Player / DAC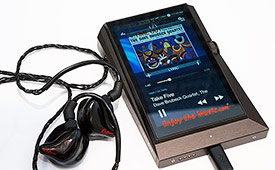 Ok, let us get this said and done right here and now. The Astell&Kern AK380 will set you back $3500 whereas the Sony is $1200. Battery life of the Sony after charging is leagues ahead of the AK380. The NW-ZX2 also handles TIDAL and other online music services and, frankly, any Android app you choose to use. The AK380 is a true purpose-built edge-of-the-art 32-bit/384kHz and native DSD capable unit (and we must remember that Sony's NW-ZX2 surprisingly does not handle Sony's proprietary DSD format natively). No matter how one slices it, the question will be raised if the AK380 is three times better than the NW-ZX2. For usability and flexibility there is no contest as the NW-ZX2 wins due to being Android-based. If we're talking battery life on a single charge, once again the Sony wins. Read the complete review of Astell&Kern's AK380 portable media player and DAC here.


Show Coverage


ZenSati @ HIGH END 2015

Sennheiser HD 630VB @ HIGH END 2015
Australian H-Fi's Latest Issue Is Now Available

Enjoy the Music.com just posted Australian Hi-Fi's May/June 2015 issue. This issue features review of the Opera Mezza 2012 loudspeakers, Parasound P5/A23 pre/power amplifiers, Avid Sequel SP turntable, SVS SB 13-Ultra Subwoofer, NAD C546BEE CD player, Sennheiser Urbanite XL headphones and more. Within his editorial, Greg Borrowman says, "Australian Hi-Fi Magazine has been a whipping post for thousands of audiophiles over the nearly half-century it's been around, but I have to say that now we're big-time on the Internet, as well as in print, the lashings are becoming more frequent, and despite many years in the editor's chair, my skin is no thicker. You won't be surprised to learn that of all the criticisms levelled at the magazine, the single most common is that we don't publish any negative reviews, and that this is obviously because we don't want to upset our advertisers. Pure internet hi-fi publications, on the other hand, are apparently paragons of virtue... and most especially the ones that don't accept advertising. 'They tell it like it is,' I am emailed by various correspondents." You can see what's within the May/June issue of Australian Hi-Fi Magazine at this link.
Amadeus Philharmonia Reference Speaker

French manufacturer Amadeus is now offering their Philharmonia reference speaker. The new Philharmonia two-way, self-powered speakers feature a 28mm soft-domed tweeter and a handmade 8" midrange/woofer. Their Philharmonia has a line-level input with a customized analog integrated tone control system to optimize the tonal balance for best sound within a variety of rooms and the user's preference. These speakers were designed by Amadeus' acoustician Michel DELUC, who has designed speakers over the past 30 years, along with French architect Jean Nouvel, who created the Philharmonie de Paris building. Bernard BYK, co-founder and CEO of Amadeus, says, "Imagine a reference sound reinforcement system, adapted to the dimension of this architectural gem, with exceptional design, ergonomics and acoustics is a kind of consecration! Jean Nouvel's imagination, exuberance and creative genius brought a brilliant solution, beyond the original specifications. Amadeus especially praises tradition. Combining innovation and timeless beauty, this system, christened 'Philharmonia', embodies the know-how, the creativity and the values on which we have been building our History for more than 35 years." Amadeus expects to release their Philharmonia reference speaker in Q4 2015, with pricing to be announced soon.
05 / 20 / 15


Show Coverage


KEF Blade Two @ HIGH END 2015

TIDAL Loudspeakers @ HIGH END 2015

Argento Audio Cables @ HIGH END 2015

Nordost Cables @ HIGH END 2015

iFi Audio iDAC 2 Sneak Peek @ HIGH END 2015

Mark Levinson And JBL @ HIGH END 2015
Lyrus Audio Model Nine And Six Planar Magnetic Headphones

Boulder has just formed Lyrus Audio Designs Ltd. and has announced plans to enter the high-end headphone market with two new designs. These technology-laden planar magnetic headphones are the Lyrus Audio Model Nine ($1890), features the industry's largest planar diaphragm at 90mm (78.5 cm2) that utilizes gold conductive traces on an ultra-thin planar membrane. Their Model Six ($1290) possesses virtually identical execution and technology, yet with an 80mm (63.59 cm2) diaphragm and silver conductive traces on its planar membrane. Both models are fully balanced planar magnetic designs utilizing a patent pending charging process called SCN (Super Charged Neodymium) for raw neodymium which results in significantly higher flux per weight than off-the-shelf magnets. These super-charged magnets are then mounted on both sides of the diaphragm in a true push-pull balanced arrangement. Special Ducted Port Tuning (DPT) is used in both Lyrus Audio Designs' Model Nine and Model Six for bass loading. This is an industry first in planar magnetic design, and more reminiscent of high end loudspeaker design than that of a headphone. Utilizing Thiele-Small parameters to calculate proper bass loading, low end reinforcement and bass extension are claimed to be unrivalled by the company. Each headphone is given a serial number and supplied with an individual measurement sheet, signed and dated by the inspection technician. Lyrus Audio manufactures their headphones with beautiful Laotian Rosewood and precision machined aluminum housings.
05 / 19 / 15
CE Week Adds Hi-Res Audio Session Sponsored By The DEG

CE Week, presented by CEA, is scheduled for June 23rd through the 27th in New York City. As the City's largest new technology showcase and the CE industry's official mid-year industry meeting, they have announced that The DEG (The Digital Entertainment Group) will be sponsoring a series of activities in support of the Hi-Res Audio Experience. During the special Your Next Audio Conference on June 23, The DEG will sponsor a panel titled "The Future of Hi-Res Audio" which will examine the technology that's driving the next wave of Hi-Res Audio innovation. The panel will be moderated DEG Senior Director, Marc Finer, and panelists will include representatives from leading CE companies. At CE Week there will be a Hi-Res Audio Zone featuring demonstrations of the latest hi-res compatible products from Astell & Kern, dCS, Kimber Kable and Sony Electronics. As part of the CE Week Conference Program on June 24, Mark Finer will also moderate a panel on Hi-Res Music and Recording that will address the key issues affecting the recording and distribution of Hi-Res Audio content. The panel will include executives from The Recording Academy Producers & Engineers Wing, Sony Music Entertainment and other music companies. Finally, to commemorate Legacy Recordings 25th Anniversary, press are invited by The Digital Entertainment Group and Sony Music to join a Hi-Res Music Listening Session, the evening of June 24. This will be held at Battery Studios in New York City and include Hi-Res music demonstrations of both new releases and classic recordings. "The DEG has been at the forefront of promoting High Resolution Audio across the industry in association with the major music companies," said Amy Jo Smith, President of The DEG. "This initiative was conceived to bring audiophiles and entertainment enthusiasts closer to the music recording experience. During CE Week, The DEG is proud to sponsor a number of activities that will help broaden this message to an even wider audience and further evangelize Hi-Res Audio."
Lumen White's White Light Anniversary Floorstanding Loudspeaker

Lumen White has announced their new White Light Anniversary floorstanding reference loudspeakers. As the company' "Tour de Force", the White Light Anniversary are a very special three-way system with proprietary Lumen White port, loading and damping technologies. These speakers benefit from advanced porting, a cabinet that is virtually free of signal reflections and signal shadow effects. Cabinet constructed is from custom made, multiple tone-woods, and variable density plywood. The acoustical properties is said to be superior to synthetic, metal, and solid wood enclosures due to its more balanced spread-spectrum behavior and "disappearing" psychoacoustic signature. Physical in-baffle driver time-alignment, precision-rounded baffle edges are also a hallmark of the Lumen White White Light Anniversary floorstanding speaker. Cabinet design has been optimized via the very latest-generation, 3D pressure, flow, resonance and port dynamics simulation and mapping research. Driver compliment for this three-way includes custom designed ceramic driver array with a 1" ceramic or diamond tweeter, 5" ceramic midrange driver, and three 7.5" ceramic woofers. All of the drivers feature 3D, ideal acoustic center dome geometry offering "vastly reduced impulse delay and energy-storage effects". Advanced spider and surround design for extended cone excursion has been achieved without the compression artifacts found in conventional alternatives according to Lumen White. The crossover section is a purist, proprietary, minimal phase design with custom tailoring of both driver and crossover specs to the target performance envelope. An interesting feature of the crossover is the ability for switchable impedance correction for tube and solid-state amplification. Overall frequency response is from 30Hz to 35kHz and impedance is 6 Ohm with a sensitivity of 89dB/W/m. Bi-wire terminals are supplied by WBT and is their NextGen high-end terminals. Dimensions are 129 x 32.5 x 60.5 cm (HxWxD) and each speaker weighs 110 kg."
Industry News 10 Years Ago

The legitimate online music competition has heated up as Yahoo's Music Unlimited service will cost a mere $6.99 (monthly) or $58.80 if you pay for a year in advance for all the music you care to download. While an introductory price, it is approximately half the cost of Napster and RealNetworks service. The new Yahoo service will allow users to transfer their music, with over 1,000,000 titles available, to portable devices. An additional cost of 79 cents for each song if you want to burn a copy of the downloaded music to a CD. Another feature of Yahoo Music is that users can share their music with others via the company's Messenger service.
Industry News 15 Years Ago
Online music is hotter than ever! Below is the official Nielsen//NetRatings (partnership between Nielsen Media Research, ACNielsen eRatings.com and NetRatings, Inc.) for the month of April 2000 as compared to the previous month.
WindowsMedia.com +151.3 percent
Sonicnet.com +78.9 percent
AudioHighway.com +67.7 percent
mPulse.com +62.1 percent
mp3mp4.com +59.2 percent
mp3board.com +42.3 percent
Napster.com +39.8 percent
SonyMusic.com +28.3 percent
LiquidAudio.com +19.2 percent
05 / 18 / 15


Show Coverage


Gryphon Audio Designs @ HIGH END 2015
05 / 14 / 15
HIGH END 2015 Is Europe's Largest High-End Audio Event


HIGH END 2015, taking place at Germany's M.O.C. from May 14th through 17th, offers visitors the world's biggest selection of high-quality consumer electronics products. No other event offers the public such an international, wide and varied product spectrum. Visitors can look forward to seeing major brand names, exciting designs and new products. In addition to this, the HIGH END is not only a trade fair; it is also an experience and will feature a wide variety of interesting talks, presentations, demonstrations and workshops with high-profile speakers all about consumer electronics. Some of the important conference include radio in the digital age where 90 years after it was introduced, radio broadcasting uses the full range of digital possibilities. Andreas Koch, one of the inventors of the DSD high-definition digital audio format and owner of Playback Designs, will discuss a very special joint venture. Of course Meridian will be presenting their MQA technology in hopes of procuring licensing agreement from other manufacturers and online music delivery services. Did you know that workers in Germany spend an average of 90 minutes per day in their vehicle, and so there will also be a special car audio section at HIGH END 2015. In total, more than 400 exhibitors with about 900 brands from all over the world will be presenting their products and services. Enjoy the Music.com's HIGH END 2015 show report will be posted soon after Europe's largest, and most important, high-end audio event of the year.
05 / 10 / 15
Soulution 755 Phono Preamplifier And 760 DAC

Soulution will be launching their 755 phono preamplifier and 760 DAC (47,000 CHF each) at the upcoming Munich HIGH END 2015 show. Soulution's 755 phono preamplifier features a high quality unbalanced circuit design that ensures few components are within the signal's path. A dual-mono layout with discrete left and right channels maximizes channel separation and virtually eliminates crosstalk. Input selection (including the ground connection) is done by high-grade relay. And input buffering ensures the Soulution 755 presents a benign load to the cartridges. For all three inputs, two moving coil (MC) and one moving magnet (MM) offer selectable impedance. To suppress rumble from warped records there is an IEC subsonic filter (<20Hz) which will protect loudspeakers against hazardous cone excursions. Mono operation is selectable as well. A passive analog volume control uses high-precision, low-noise metal foil resistors, and controls both volume and balance. Analog outputs include both balanced output (XLR) and unbalanced output (RCA). Soulution's 760 DAC employs an ultra-precise clock generator combined preamplifier grade analogue output stages with a 24-bit/192kHz and double DSD DAC. The DSP based USB and LAN inputs get synchronized on the ultra-precise, internal master clock and ensure optimal reception of all high resolution music formats. Soulution's "Zero-Phase-Technology: is claimed to resolve one of the fundamental problems of the digital-to-analogue conversion. Namely, according to the company, "the introduction of the (over)upsampling technology allowed using aliasing filters with a wider transition band than required for a sampling frequency of 44.1kHz. However, the cut-off frequency of these filters is still way too low for not having any influence on the phase response in the audio band. Zero-Phase-Technology overcomes this shortcoming! Smallest timing errors provoked by the analog low pass filter of the D/A converter get eliminated. The 760's anti-aliasing filter (passive 3rd order Bessel filter), with a cut-off frequency of 120kHz, does show a phase shift of up to 15° in the audio band. Due to the Zero-Phase-Technology the phase error of the analog music signal remains below 1°, 20Hz to 100kHz!" Analog outputs include balanced (XLR), unbalanced (RCA), with digital outputs being S/PDIF (RCA), AES/EBU (XLR) and optical (TosLink). Digital inputs include S/PDIF (RCA), AES/EBU (XLR), optical (TosLink), USB and Ethernet. Both of the new Soulution units also have their LINK-System with a pair of RJ45 jacks.
05 / 08 / 15
Eden Acoustics Open Baffle 2000 Watt AIR Loudspeaker System

Eden Acoustics' new AIR loudspeaker system is the company's first model within their Sound of Art series. With AIR, the box becomes a thing of the past and the sound is free to float above and around the drivers with an pen baffle design. Eden Acoustics feels that their AIR loudspeakers "will revolutionize the way people look at open baffle speakers. With their striking appearance, AIR loudspeakers successfully combine visual ART and SOUND and will enrich any modern interior. Taking over two years to develop, AIR offers a new vision of the high-end loudspeaker. The concept evolved from open baffle principles towards a more open architecture called O.A.D. (Open Air Design). That means : No more box, not even a baffle in sight". AIR is a fully active loudspeaker system that includes multi-channel 192kHz/40-bit digital crossovers via specially developed DSP, a DAC for each frequency band, and new generation Class D amplifiers to power each driver. Audio enthusiasts can choose the best source components to connect to AIR, which accepts analog or digital inputs. Every AIR loudspeaker system is handcrafted in Canada from CNC-machined acrylics and American walnut solid wood. The system is comprised of the two AIR towers, one low frequency bass module and the amplifier/DSP control center cabinet with a total of 2000 watts of power. Pure silver wire is used on the inputs and the loudspeakers use professional quality Neutrik SpeakON connectors.
05 / 07 / 15
Sonic Studio For TIDAL And Hi-Res Audio

Sonic Studio has outlined their upcoming release of version 1.0 of Amarra for TIDAL ($39.95). There is no doubt that recent trends in consumer audio have hastened the rise in popularity of Hi-Res Audio (HRA), including new higher resolution, network streaming services. Sweden–based TIDAL, controlled by Jay-Z's Project Panther Bidco, leads the way with their massive multimedia library and strong artist support. Built using the Amarra Audio Engine, an optimized audio pipeline bypassing the computer's audio software, Amarra for TIDAL is ready for a truly high fidelity experience that explores TIDAL's vast music collection. Being software–only, Amarra for TIDAL is future–proof and easily upgradeable as TIDAL's services evolve toward even higher fidelity. Developed in conjunction with TIDAL's engineers, Amarra for TIDAL is said to deliver bit–perfect high resolution music. The Amarra Remote feature for iOS frees users to control their music throughout the home. With support for both Macintosh OS X 10.9 and 10.10 as well as Windows 7 and 8, it is a true cross–platform solution that provides playback of TIDAL's 44.1kHz, 16-bit streaming music service. Amarra for TIDAL includes a professional–grade Sonic EQ and 14 factory presets providing compensation curves for popular headphone models from Apple, Audeze, Grado and others, while additional presets address popular music genres, from acoustic and classical to jazz and rock. Users may also personalize their presets and save them to be recalled at any time.
Industry News 15 Years Ago
High Tech Meets New Rock and Roll Museum in Seattle. Next month will ring the opening of the world's largest gathering of Rock and Roll memorabilia and information since the Rock and Roll Hall of Fame. This new high-tech gallery will include exhibits on the history of guitars. In fact rock guitarist legend Jimi Hendrix, who himself was a Seattle native. Not to worry as punk and hip-hop is also featured within the museum. The high-tech part may be due to the efforts of one of the founders of this museum, Microsoft's co-founder Paul Allen who himself donated quite a bit of his collection of Hendrix memorabilia. Of course as is expected with any great Rock and Roll museum opening, many concerts will be performed all around Seattle including Metallica, Kid Rock, Alanis Morissette, Matchbox Twenty, Dr. Dre, Eminem, James Brown, Kid Rock, the Red Hot Chili Peppers, No Doubt, Beck, the Eurythmics, Patti Smith, Bo Diddley, Dave Avlin, Rickie Lee Jones and Taj Mahal to name a few. "Part of [the visitor's] experience here is to be creative, to create their own music." said Paige Prill, Experience Music Project spokesperson. Prill also said "You could point to everything from the design of this building, which is about the flow of music and the ever-changing elements of rock 'n' roll... all the way down to the genres of music that we've chosen to use in the museum to the way that we display them." The high-tech angle is partially in that the visitors to the museum will have the availably of using a handheld computer to guide them through the building. When a visitor finds a certain exhibition of piece of memorabilia interesting, they can "bookmark" it on the handheld PC to later go back to a "Digital Lab" area for more in-depth information.
05 / 06 / 15
MIC Coalition Versus The Music Industry Concerning Fair Play Fair Pay Act

As a follow-up to yesterday's Enjoy the Music.com Industry News, it appears that Amazon, Google, and Pandora have joined together to stop any proper increase in royalty rates paid to recording labels and music artists. In fact it was reported that Pandora is seeking to further reduce the royalties it pays. Joined by IHeartMedia, NPR, and the National Restaurant Association, a new lobbying group called the MIC Coalition (Music, Innovators, Consumers Coalition) has been formed. Their members also include CEA, NAB, Cox Media Group, and others. As reported on Enjoy the Music.com within our February 6th update, we may finally be getting a new United States of America Copyright Office ruling as a just-released report recommends changes to federal music copyright laws. Next up will be the U.S. Congress to see if these changes should be implemented. New changes to current law reflect today's environment while also ensuring copyright holders, musicians, etc get fairly paid for the work. You can read all 245 pages (PDF) of the report by clicking here. As for the MIC Coalition, they are fighting back as their members believe that for this music ecosystem to continue to grow and thrive, the industry must create a predictable, balanced and transparent music marketplace that focuses on making music affordable and accessible so that consumers can continue to enjoy it. Artists can be compensated for it, and the marketplace can continue to grow to its fullest potential yet the MIC Coalition does not state exactly what percentage they feel is fair pay to the content they their business model depends upon. MIC Coalition also believes that connecting audiences with musicians for the betterment of the entire music industry, which may be true, yet we all need to remember that many of the laws concerning compensation to musical artists and record labels was created long before the current modern environment and thus needs to be updated to reflect these modern changes. Furthermore, the MIC Coalition thinks that keeping payments low benefits consumers when they can legally access music in a variety of venues and in new and innovative ways. MIC Coalition's mission statement says "a risk [Congress] will craft a law that stifles innovation to the detriment of consumers and artists". It is no secret that many musical artists are not happy with the current legacy payment system and many major recording labels are also realizing the current payment/royalty situation may be unsustainable. There is no doubt that decades old laws governing fair payment for content creation needs to be updated. Content creators should be free to ask for proper payment, given the current market environment, for their work. This is what a free marketplace and capitalism needs to modernize in today's environment. We do indeed live in interesting times.
05 / 05 / 15
Apple Under Scrutiny Due To Unfair Online Music Business Practices

In an interesting development, The Verge is reporting that "Apple pushing music labels to kill free Spotify streaming ahead of Beats relaunch". We're not sure if the relaunch will include Hi-Res Audio music, yet if it does Apple might also need to explain why many of their customers are finding it difficult to play Hi-Res Audio FLAC files and the like on their iPhones and why, if this happens, they then make it easy to use said music files when they relaunch their online music service. Is Apple purposefully crippling their hardware until they have a business plan to take advantage of 'hidden' features? The Verge is saying that "Aggressive tactics from the music giant (Apple) have garnered scrutiny from the Department of Justice and the Federal Trade Commission. The article is saying that the Department of Justice and the Federal Trade Commission are examining Apple's business practices as it pertains to their music business. It seems to get worse the more you read this monumental article on The Verge. They are also reporting that "Apple has been pushing major music labels to force streaming services like Spotify to abandon their free tiers, which will dramatically reduce the competition for Apple's upcoming offering". If this is true, we wonder what Steve Jobs, a man who enjoyed music on vinyl LP and not an iPod, would be thinking right about now. As always, there is far more to this story, including Apple wanting major record labels to remove their music from online sites and services such as YouTube. This news is not to be taken lightly if indeed what Apple is reportedly trying to do is true. You can read the entire article on The Verge here.
05 / 04 / 15
AXPONA Audio Con Reports An 18% Increase In Attendance

The numbers are officially in and according to AXPONA, their event at Chicago's Westin O'Hare from April 24th through April 26th sold 5137 tickets. This is an an 18% increase from their 2014 event. Celebrating its third straight year in Chicago and its second year at The Westin O'Hare, this year's event provided a broadened experience with the introduction of Audio Con, the brain child of a recently established partnership between JD Events, the producers of AXPONA, and LeftField Media, the co-creators behind New York Comic Con. This year's expansion included the addition of special live-music performances capping off each day of the conference, including jazz singer and pianist Patricia Barber and legendary blues artist John Primer. AXPONA Audio Con featured 30 percent more exhibit rooms and table top exhibits. The highly sought after Ear Gear Expo doubled in size from AXPONA 2014, showcasing more headphones than ever before and allowing attendees to compare and contrast the most advanced headphones in the market. AXPONA has confirmed that 80% of this year's exhibitors rebooked onsite to return in 2016. "The success of the nation's first Audio Con demonstrates the enthusiasm and love that people have for music, from audiophiles and manufacturers of high-end audio equipment to musicians and music lovers alike," said AXPONA founder Steve Davis. "Our vision for Audio Con is to introduce everyone who loves music to the best sound the industry has to offer, and after seeing it play out at the first AXPONA Presents Audio Con, I'm confident that this event is heading in the right direction." You can see high resolution on-demand video segments from Enjoy the Music.com's live broadcast within our AXPONA Audio Con 2015 show report.
HIGH END 2015 Is Europe's Largest High-End Audio Event


HIGH END 2015, taking place at Germany's M.O.C. from May 14th through 17th, offers visitors the world's biggest selection of high-quality consumer electronics products. No other event offers the public such an international, wide and varied product spectrum. Visitors can look forward to seeing major brand names, exciting designs and new products. In addition to this, the HIGH END is not only a trade fair; it is also an experience and will feature a wide variety of interesting talks, presentations, demonstrations and workshops with high-profile speakers all about consumer electronics. Some of the important conference include radio in the digital age where 90 years after it was introduced, radio broadcasting uses the full range of digital possibilities. Andreas Koch, one of the inventors of the DSD high-definition digital audio format and owner of Playback Designs, will discuss a very special joint venture. Of course Meridian will be presenting their MQA technology in hopes of procuring licensing agreement from other manufacturers and online music delivery services. Did you know that workers in Germany spend an average of 90 minutes per day in their vehicle, and so there will also be a special car audio section at HIGH END 2015. In total, more than 400 exhibitors with about 900 brands from all over the world will be presenting their products and services. Enjoy the Music.com's HIGH END 2015 show report will be posted soon after Europe's largest, and most important, high-end audio event of the year.
Industry News 15 Years Ago
Generation Y has their own way to enjoy the music unlike previous generations. The Consumer Electronics Association (CEA) conducted a study online with a sample of 1551 young adults aged 15 to 21 (a subset of Generation Y) during March 2000. From this survey, 57 percent claimed to have played an MP3 music file. To quote part of this report by CES "Although sound quality expectations vary from consumer to consumer, the data suggests that the majority of Generation Y listening to the MP3 format rate its sound quality as comparable to a typical stereo." Around 14 percent of respondents said they used their PC more than a traditional stereo for enjoying music. Meanwhile 25 percent of others surveyed said they used both the computer and home stereo equally for a total of around 40% using their PC as much, or more so, than the more traditional stereo system. To add to this, Thirty percent stated that they would be very or somewhat interested in enhancing their PC for higher sound quality while 55 percent were "very or somewhat interested" in a home stereo with Internet music capabilities. Within this survey, 64 percent of participants have already used the MP3 format. Fast-forward to 2015 and... need we say more?
05 / 03 / 15
Hi-Fi+'s Latest Issue Is Now Available

Enjoy the Music.com just posted Hi-Fi+'s May 2015 issue. This issue features show coverage of the 85th Geneva Salon de L'Auto, and reviews of the Magico M-Project floorstanding loudspeaker, Scansonic MB-2.5 floorstanding loudspeaker, Bowers & Wilkins CM10 S2 floorstanding loudspeaker, German Physiks HRS-130 floorstanding loudspeaker, Art Alnico 8 floorstanding loudspeaker, Russell K Red 50 standmount loudspeaker, Audio Analoguevivace digital to analogue converter, QAT Audio RS3 music server/player, IsoTec EVO3 Mosaic Genesis power regenerator and more. Within his editorial, Alan Sircom says, "Loudspeakers are potentially the components most resistant to change part of the whole audio world. The ideas of Rice and Kellogg in the 1920s, Olsen in the 1940s, and Villchur and Allison in the 1950s and 1960s effectively created much of what loudspeakers are today. Basic design may have improved over the years, but the modern loudspeaker has remained almost unchanged in decades. " You can see what's within the May issue of Hi-Fi+ at this link.
05 / 02 / 15
Tesla Battery Power May Upgrade Your High-End Audio System

While it is no secret that Enjoy the Music.com's Editor and Creative Director Steven R. Rochlin uses over 700 lbs of battery power to ensure the best sound quality from high-end audio gear, as normal off-the-grid power has many problems, how long until other reviewers find that the new Tesla battery makes an improvement within their home audio / video system? The new Tesla battery system for the home environment, called Tesla Energy, is a suite of batteries "for homes, businesses, and utilities fostering a clean energy ecosystem and helping wean the world off fossil fuels" says their press release. Tesla is not just a niche automotive company, it's an energy innovation company. Tesla Energy is a large battery system that is purpose-built to deliver power to an entire home or business. Advantages include clean power without electrical spikes or sags as found within legacy energy delivery systems. Furthermore, users can save money by shifting their on-the-grib power consumption when it is cheaper (at night) versus higher cost time periods, to recharge the system. Of course solar, wind and other power generation systems can interface with the Tesla Energy system. The Tesla Powerwall is a rechargeable lithium-ion battery designed to store energy at a residential level for load shifting, backup power and self-consumption of solar power generation. Powerwall consists of Tesla's lithium-ion battery pack, liquid thermal control system and software that receives dispatch commands from a solar inverter. The unit mounts seamlessly on a wall and is integrated with the local grid to harness excess power and give customers the flexibility to draw energy from their own reserve. Powerwall is available in 10kWh for backup applications or 7kWh optimized for daily use. Tesla's selling price to installers is $3500 for 10kWh and $3000 for 7kWh excluding inverter and installation. The warranty is 10 years and dimensions are 1300mm x 860mm x 180mm (HxWxD). For large installations, Tesla Energy for utilities bring the system to an impressive 100kWh battery blocks grouped to scale from 500kWh to 10MWh+. These systems are capable of two hours or four hours of continuous net discharge power using grid tied bi-directional inverters. Systems support applications including peak shaving, load shifting and demand response for commercial customers while offering, renewable firming and a variety of grid services at utility scales. We will soon find out which other reviewer within the industry begins highly praising the advantages of battery power nearly 15 years after first being brought to the forefront by Enjoy the Music.com within our November 2000 Final Labs review.
05 / 01 / 15
May's Review Magazine: AXPONA Videos, World Premiere And More

Enjoy the Music.com's May Review Magazine features two show reports, over 25 high resolution studio-quality videos, a special world premiere review of Double Helix Cables' rose gold precious metals IEM cable and more. See our May Review Magazine by clicking here.
This month's Enjoy the Music.com includes our complete, and the industry's most extensive, Salon Son & Image 2015 show report. Rick Becker fills over 10 pages with more than 150 photos plus we name our Best Of rooms! Of course this past weekend's AXPONA 2015 show coverage features the industry's only true high resolution, high quality videos from our state-of-the-art broadcast studio. Enjoy the Music.com's own Editors and Creative Director Steven R. Rochlin is joined by many leaders within the high-end audio industry. We have key information you need to know within over 25 professional video segments recorded during AXPONA 2015.
Enjoy the Music.com 's review of the brilliant Bowers & Wilkins CM10 S2 floorstanding loudspeaker by Tom Lyle shows that high quality is accessible by virtually everyone. In fact, it's more than reasonable to assume that due to the of economies of scale Bowers & Wilkins new $4000/pr speakers can offer a great level of performance. Many people, non-audiophiles included, expect a certain level of performance from this brand of speakers and B&W delivers! After some time spent with the CM10 S2, this generous offering was wonderfully apparent. Am not only auditioning these speakers for review, I'm listening to them in a daily basis to fulfill my daily requirements for perfectionist quality music... or at least as close perfectionist quality one can finesse out of the gear currently within my system.
Editor and Creative Director Steven R. Rochlin brings you a world premiere review of Double Helix Cables Symbiote Fusion 4 and Symbiote SP 8 IEM cable with precious metals option. Art and science, at times, can be one in the same. Fashion has many examples of form following function. Yet rarely in the 'real world' can one person produce art, science, and handcraftsmanship within the same product. Peter Bradstock of Double Helix Cables successfully single-handedly combined state-of-the-art 3D printing tech with high-end Litz wire and personally crafts each and every Double Helix cable.
Of course we have more equipment and music reviews, think pieces, and our Munich HIGH END 2015 show report will be live starting the very first day of this event! You can enjoy our May Review Magazine at this link. As always, in the end what really matters is that you...
Enjoy the Music,
Steven R. Rochlin
Editor and Creative Director
Enjoy the Music.com
Industry News 15 Years Ago

In a turn of events MP3.com's MyMP3.com service was ruled in a New York court on Friday that they violated copyright law due to making copyrighted material available for download (over 80,000 CDs to be exact). As regular readers may recall, a user simply downloads a program from the MP3 website, it then verifies you own a CD and in turn allow you to download your CD in the MP3 format. This action saved consumers/users the step of changing their CDs to MP3 files. The fines in this case could start at $750 million! "There will be a definitive impact on companies doing business on the Internet," said Don Pelto, managing intellectual property partner for Washington D.C. based law firm McKenna & Cuneo LLP. "Every company like MP3 that is doing something innovative on the Internet hopes that judges will take some leading role in fashioning the law around them. To date, no one has done that." The U.S. District Judge Jed Rakoff issued a terse order Friday holding MP3.com "liable for copyright infringement."
"This is not a victory for the record labels--it's a loss," MP3.com Chairman/CEO Michael Robertson said in response to the decision. "New technologies for delivering music are here to stay, and the technology trend is moving in only one direction: forward. "It is funny the parallels between MP3 and Microsoft and how defiant they are," Pakman said. "They are making the statements right before damages are assessed."

MP3.com's stock was sharply down after this legal decision was rendered by nearly dropping 40 percent to close at $7 per share, down $4.62 from the previous day's close. About a month ago MP3.com stock was trading at about $20 a share. "By standing against the My.MP3.com technology, the recording industry is standing against increased revenues for its members and damaging the chances of a responsible music delivery system to counter the unregulated systems like Napster and Gnutella. These systems do not compensate artists and rights owners," Robertson said. "When pioneering new technologies designed to grow their businesses are attacked, it leaves a vacuum which will be filled with technologies unfriendly to artists and their existing revenue streams." My.MP3.com is a system which requires the purchase of CDs. This is totally different than other programs such as Napster and Scour that do not require users to first purchase a CD before accessing MP3 music files.
The federal copyright statute calls for infringers to be liable for a minimum of $750 per violation which could amount to at least a $337.5 million judgment against MP3.com (based on 40,000 CDs and an average of 10 songs per album). As of mid-March, the database contained more than 80,000 CDs, reported MP3.com president and chief executive officer Michael Robertson. The RIAA is of course seeking damages of $150,000 per infraction which is the maximum amount available as a statutory remedy.
04 / 30 / 15
Onkyo Music Exclusively Offers Iron Maiden In 24-Bit FLAC

Online music exclusives are heating up as Onkyo Music has announced the exclusive release via their Hi-Res Audio download service of 19 Iron Maiden catalog albums encoded from 24-bit high resolution FLAC masters. Delivering the music to listeners exactly the way the artist and recording engineer intended, these are brand new re-masters from their original analog and digital sources. All 15 studio albums, two Best Of compilations and two live albums were personally selected by Maiden's founder member Steve Harris for this superior mastering technique. "The hi-res mastering procedure allows the listener to experience the music as close as possible to the way the artist intended it to be heard," said Steve Harris. "So of course I was very keen for the Maiden albums to be mastered in this way. The records have been available digitally before, when this medium first became a platform for music distribution but that was mastered with CDs in mind. The hi-res mastering process involves a different approach and it's great to finally deliver the music to our fans in as close to a pure and accurate sound as we could possibly achieve. For example, as most people know, I was never really happy with the sound on the first Maiden album but listening to it now, the guitars are louder, the drums more substantial and the overall tone is so very much improved in my opinion. Tony Newton and Ade Emsley who worked closely with me on the project did a terrific job recapturing everything from the original masters and together we've re- mastered them all digitally and I'm really happy with the results." All of the band's hi-res releases are available exclusively from Onkyo Music and e-Onkyo music (Japan only).
Headphones Growing By 8.5% In 2014 To 309.5 Million Units

Headphone brands celebrate impressive growth according to a new report by Futuresource Consulting, with worldwide shipments of headphones growing by 8.5% in 2014 to 309.5 million units. The report also found that, despite average retail price only growing by 4% in 2014, less than the growth in 2013, the trade value of shipments grew by 12%. This generated revenues worth $9.4 billion. Despite increasing fragmentation in the headphones market, Sony, Philips, and JVC continue to secure the top three market positions, accounting for 31% of worldwide shipments. There is growing competition, notably from Apple Earpods, with a 5% worldwide volume share, and Beats by Dre, which has grown in volume by leveraging Apple's strong distribution networks. Futuresource Consulting also analysed the different features and types of headphones emerging on the market within this new report. It notes that microphones have become a common feature across all types of headphones, especially as the ownership of mobile devices continues to grow. In 2014, headphones with microphones grew by 58%, to account for 36% of worldwide shipments. In-ear headphones accounted for the lion share, 60% of worldwide shipments, with the inclusion of new features helping to drive growth in this segment. During 2014, many brands introduced Bluetooth headphones to meet the growing demand of music on the go. This segment is forecast to increase over the coming years, with wireless headphones likely to account for 21% of worldwide shipments by 2018. Sport headphones was another big area, with many headphone vendors introducing different designs for comfortable grip around the ears. We are seeing strong competition from specialist headphone manufacturers in this area, including Yurbuds, Jaybird, Jabra, and Parrot. "The demand for headphones is increasing, especially as consumers are using their mobile devices for a plethora of content on the go, whether that's whilst commuting to work, running, cycling, or simply walking into town," Simon Bryant , Associate Director Consumer Electronics , Futuresource Consulting. "We are also seeing an increase in demand for more sophisticated features, which is increasing value and driving more sales for the vendors. In the coming months, we will likely see an increased presence from specialist vendors, which can add unique features."
04 / 29 / 15
AXPONA Live Broadcast Videos Are Now Online

Enjoy the Music.com is busy mastering and posting approximately 30 videos recorded during our exclusive live broadcast! As the official live broadcast of AXPONA 2015, we feature some of the best exhibitors during this event. All videos are now online in true hi-resolution 1080 with crystal clear audio. Our great videos have key information you need to know from AXPONA 2015. Our live videos from AXPONA 2015 are available at this link.
Hi-Fi World's Latest Issue Is Now Available

Enjoy the Music.com just posted Hi-Fi World's June 2015 issue. This issue features reviews of the Blue Aura X40 Bluetooth speaker, Neat SX3 speaker, Leema Elements CD player, Sony NWZ-A15 digital music player PrimaLuna Dialogue Premium HP amplifier, Teac AI-301DA amplifier, coverage of the Wigwam Show and much more. Within his editorial, Noel Keywood says, "I should know what's going on here, but sometimes – no, quite often – events have a way of leaving me non-plussed. As I pored over reader David Lord's impressively thorough look at the balanced connection of pick-up cartridges, why we need it and how to do it – see page 90 – an e-mail slid into my in-box from ex-contributor and hi-fi expert extraordinaire Richard Brice. Richard's role in this tale might not be obvious until you start to delve into what he has to offer in his software programme Stereo Sauce, which I review on page 22. In the end both these men seek to get the best from LP through, ultimately, the moving coil cartridge. What I haven't told you yet is that in Part II of David Lord's article next month we will be publishing a super-quiet phono stage design he has built successfully and from Richard Brice I hope we will get another super-quiet phono stage – but this one has a digital output. The poor man is desperately trying to get a pre-production sample completed for us, so fingers crossed." You can see what's within the June issue of Hi-Fi World at this link.
04 / 28 / 15
Astell&Kern Entry-Level AK Jr.

Astell&Kern has announced their entry-level AK Jr. ($499). The Astell&Kern AK Jr features 64GB of internal memory and a microSD card slot, supporting a 64GB microSD card for a total capacity of 128GB of music storage. The AK Jr features a single Wolfson WM8740 DAC and an unbalanced 3.5mm headphone jack with an output impedance of 2 Ohms, which the company feels is powerful enough to drive a wide range of high-end headphones and in-ear monitors. A front-facing 3.1" LCD touchscreen displays your music information. The AK Jr supports a wide range of digital audio files, including 24-bit/192kHz and single-rate DSD (converted to PCM) plus the most popular Apple lossless formats in addition to many other lossy music formats users may currently have. You may also employ the AK Jr as a USB DAC to connect the player to a computer as a way to improve the sound over a computer's stock internal sound card from a PC / Mac desktop or laptop. "The success of the entire line of Astell&Kern portable music players has proven that audiophiles everywhere want the best possible sound at home and when they travel," said Henry Park, CEO of iriver, which is the parent company of Astell&Kern. "The product reviews have been outstanding and we want to thank all of our supporters for their honest evaluations. We hope that the introduction of the AK Jr will successfully reach a new demographic which is just as passionate about true quality sound. The AK Jr is going to change the demands of what's acceptable in the quality of portable music for the masses. We feel that when additional music lovers hear our sound, they will be committed to this level of quality." Enjoy the Music.com has reviewed the Astell&Kern AK120 and AK240 portable media players.
Pangea Audio HP201 Hybrid Headphone Amp With 24-bit/192kHz USB DAC

Pangea Audio just introduced their HP201 hybrid vacuum tube headphone amplifier with 24-bit/192kHz USB DAC ($299.99). The Pangea Audio HP201 combines Class A solid-state circuitry featuring MOSFET output devices with a premium vacuum tube to create "the smooth, authentic headphone playback characteristics that music enthusiasts crave" says the company. The Pangea engineering team, led by engineer/designer Jay Victor, selected MOSFETS rather than more affordable Op-Amp devices because of their performance advantages. "I tested a variety of solid state output devices and vacuum tubes in the design process of the HP201, selecting the combination I thought delivered the best performance despite their substantially higher cost," says Jay Victor. The 12AX7 vacuum tube is protected by an easily removable shield, making it a simple task to swap in compatible tubes from different manufacturers for enthusiasts interested in experimenting with the sound. Built upon a sturdy all-steel chassis featuring a 10mm machined metal face plate, the HP201 is designed to deliver long-lasting high-performance audio. A robust output amplification stage within the Pangea Audio HP201 is compatible with a wide range of headphone makes and models, and the analog stereo outputs can be connected directly to a power amplifier and controlled using the large, precision-machined aluminum volume control. The HP201 also features a pair of auxiliary RCA inputs for additional flexibility. The internal linear power supply provides an upgradeable rear panel IEC connector, enabling the use of a premium Pangea power cable or those offered by other manufacturers. The HP201's USB DAC lets you play high-resolution digital audio files directly from your Windows or Mac computer. Conversion is managed by the highly regarded Cirrus Logic CS4344 24-bit/192-kHz DAC chipset.



Come join Enjoy the Music.com's fun and informative Facebook, Twitter and Pinterest pages. We feature great music, fun photos, and up to the minute updates plus so much more for you to enjoy We also have a YouTube channel filled with videos from shows and music concerts.
---
For previous high-end audio industry news click here.