AXPONA 2021 Show Report
Audio Expo North America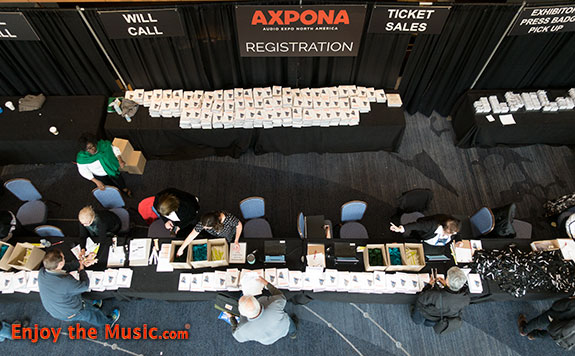 Update: August 23, 2021
AXPONA Has Been Rescheduled To April 2022
This just in from AXPONA:
Dear AXPONA Community,
AXPONA will be rescheduled from October 29-31, 2021 until April 22-24, 2022.
Throughout this spring and early summer, enthusiasm for AXPONA in October was sky high. Attendees were buying tickets, exhibitors were making plans and the media were requesting their press passes. But in recent weeks Covid cases in the US, due largely to the Delta variant, have been spiking again which has adversely impacted consumer travel behavior and corporate travel decisions.
Exhibitors and attendees travel to AXPONA from throughout the United States and from more than 40 other countries. Over the last few weeks, citing concerns over personal health, the unpredictability of international travel restrictions and reinstated companywide travel bans, many community members have told us they are unwilling or unable to commit to AXPONA in October.
So we have worked with our Renaissance Schaumburg venue partner to return AXPONA to its traditional spring timeframe in 2022, April 22–24, and we secured future dates from April 14-16, 2023 and April 12-14, 2024. We look forward to full participation in April with over 200 listening rooms, the Ear Gear Experience, Record Fair, Expo Hall, live concerts, networking events and so much more fun for audio gear buyers and sellers from all over the world to safely enjoy.
Lastly, we support other industry gatherings that go ahead this fall as planned. We believe business and consumer events can be successfully held during these times so long as responsible health and safety measures are implemented and adhered to. In fact, we look forward to seeing many of you at some of these upcoming events soon.
We will be in touch with all AXPONA participants in the days and weeks ahead about the April show. If you have immediate questions, please feel free to reach out to us. Ticket holders may call or send questions to Liz Smith and exhibitors and sponsors may call or send questions to Mark Freed.
Until then, stay safe and healthy and immersed in great sounding music!
Sincerely,
Liz Miller Smith / Mark Freed
Event Director / VP of Sales
Show Report Sponsored By
About AXPONA 2021
AXPONA (Audio Expo North America) 2021 will be held from October 29th through 31st at their permanent home at the Renaissance Schaumburg Convention Center near Chicago. This event is for audiophiles, music lovers, and manufacturers who want to showcase their gear within listening rooms, plus an Expo Hall featuring the ever popular Record Fair, a Ear Gear Experience, Master Class Theater, informative seminar schedule, and live concerts too.
AXPONA is an event for audiophiles, manufacturers of high-end audio equipment, musicians and music lovers. This three-day experience features many high fidelity listening rooms, providing guests the opportunity to experience the latest technology in high-end consumer audio products. Attendees are encouraged to go from room to room and sit, listen and compare the various systems, keeping in mind possible social distancing due to the Coronavirus pandemic.
High-End Audio Seminars
AXPONA 2021 seminars offer a look at various subjects featuring speakers within the music and audio industries.
An Exhibit Hall Featuring Ear Gear Expo
Audition everything from open-back, closed-back, to in-ear headphones. This includes headphone set-ups including cables, amps, players and accessories will be available to demo within AXPONA's Ear Gear Experience. Hear many brands in personal audio. The Ear Gear Experience allows you to shop, compare, and learn about many things related to personal audio. Exhibitors should be cleaning chairs, headphones, etc, between listeners to help reduce the spread of the Coronavirus.
Where
The Renaissance Schaumburg Convention Center
1551 N. Thoreau Drive
Schaumburg, IL 60173
When
Friday, October 29 from 10am-6pm
Saturday, October 30 from 10am-6pm
Sunday, October 31 from 10am-4pm
Tickets
1 Day - $20 Early Bird, $25 in advance; $30 onsite
2 Day - $30 Early Bird, $40 in advance; $60 onsite
3 Day - $40 Early Bird, $50 in advance; $90 onsite
Student Pass - $10
Gold Pass
AXPONA's Gold Pass is $98 in advance ($125 onsite). A Gold Pass allows admission all three days of AXPONA along with a collector's badge, AXPONA t-shirt, 2021 pin, a reusable AXPONA water bottle, access to the AXPONA Gold Lounge with VIP check-in, coat check, refreshments, Wi-Fi, and an Happy Hour with wine and beer for only two days of this three day event. You also get access to the Gold Hospitality Suite in the Hotel Tower with seating, water, snacks, and a restroom. In addition, Gold Pass holders have a VIP line for the evening concerts so you can be the first to find your seat for the show.
Previous AXPONA Show Reports
Enjoy the Music.com's previous coverage includes AXPONA 2020, 2019, 2018, 2017, 2016, 2015, 2014, 2013, 2012, 2011 and 2010 coverage.