AXPONA 2020 Show Report -- Audio Expo North America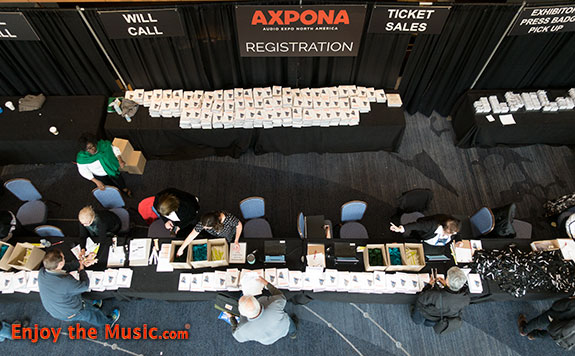 AXPONA Worldwide Audio Fest 2020
Due to the Coronavirus, this year's event was rescheduled to AXPONA 2021. JD Events found a way to do an excellent job with their Worldwide Audio Fest, which is a virtual (online) show on Instagram. To quote AXPONA, "The Audio World is alive and thriving! With music lovers staying home around the globe, you can virtually experience what is new in high end audio. In two jam-packed days, over 50 of the world's top audio brands will introduce new products, make announcements and interact. You will discover new ideas and technologies and see what your favorite audio brands are up to. This historic festival is designed to bring positivity and awareness to music enthusiasts across generations around the globe during this time when face to face is not possible." We invite you to visit each brand's Instagram page and enjoy their video presentation.
June 18, 2020
Time Brand
10:50 AM Intro/AXPONA @axpona
11:00 AM Nordost @nordostcables
11:15 AM VPI Industries @vpiindustries
11:30 AM Gryphon Audio Designs @gryphonaudiodesigns
11:45 AM WallyTools Analog Setup Tools @wally_tools
12:00 PM Stein Music @steinmusic_de
12:15 PM NAD @nadelectronics
12:30 PM BlueSound @bluesoundhifi
12:45 PM Goya Acoustics @goya_acoustics
1:00 PM AGD Productions @agd_audio_design
1:15 PM Clarus @claruscable
1:30 PM Janszen Loudspeaker @davidjanszen
1:45 PM Pro-Ject USA @project.usa
2:00 PM Classé Audio @Classeofficial
2:15 PM AudioQuest @_audioquest_
2:30 PM Goldenear Technology @goldeneartech
2:45 PM Direct Audio @directaudio1
3:00 PM Acora Acoustics @acora.acoustics
3:15 PM Black Ice Audio @blackice_audio
3:30 PM IsoAcoustics @isoacoustics
3:45 PM Verdant Audio @verdant_audio
4:00 PM Danville Signal @danvillesignal
4:15 PM Zesto Audio @zestoaudio
4:30 PM VK Music @vkmusic821
5:00 PM Delmark Records @delmarkrecords
5:30 PM Technics @technics_global
5:45 PM Mikodam @acousticwallpanelsbymikodam
June 19, 2020
Time Brand
10:50 AM Intro/AXPONA @axpona
11:00 AM Zavalinka Records @zavanlinkarecords
11:15 AM Meze Audio @mezeaudio
11:30 AM Puritan Audio Labs @puritanaudiolabs
11:45 AM Dan D'Agostino @dagostinoamps
12:00 PM Aretai @aretailoudspeakers
12:15 PM Eikon Audio @eikonaudio
12:30 PM Ayon Audio @usatubeaudio
12:45 PM Gobel High End/Bending Wave USA @bending_wave_usa
1:00 PM VANA @vanasound
1:15 PM Gryphon Audio Designs @gryphonaudiodesigns
1:30 PM Cambridge Audio @cambridgeaudiousa
1:45 PM Klipsch @klipschaudio
2:00 PM Jerry Harvey Audio @JHAudio
2:15 PM Glenn Poor's Audio Video @glennpoors_audiovideo
2:30 PM Fidelice by Rupert Neve Designs @fidelice.audio
2:45 PM Alta Audio @alta.audio
3:00 PM HIFIMAN Electronics @hifimanelectronics
3:15 PM Pangea Audio Distributing @pangeaaudio
3:30 PM Legacy Audio @legacyaudio
3:45 PM Qobuz @qobuzusa
4:00 PM Arion Audio @arionaudio
4:15 PM Andover Audio @andoveraudio
4:30 PM Audio-Technica @audiotechnicausa
4:45 PM The Sound Organisation @tsobryce
5:00 PM Parasound @parasoundsf
5:15 PM Haniwa @haniwaaudio
5:30 PM Black Ice Audio @blackice_audio
AXPONA 2020 Press Center
Enjoy the Music.com's exclusive AXPONA 2020 Press Center gave you key information about luxury hi-fi gear / high-end audio products that were set to be showcased during AXPONA 2020.
---> See our AXPONA 2020 Press Center at this link.
AXPONA 2020 Has Been Officially Cancelled
April 30, 2020
Dear AXPONA Exhibitors and Sponsors;
We at AXPONA wish you all the very best during these COVID-19 disrupted times. We care most about the health and safety of you and your loved ones. So many businesses are hurting, the future is unpredictable, opinions are mixed and emotions on all sides are strong. Ultimately we must err on the side of caution and the concern for human safety so it is with a heavy heart for us to announce that AXPONA 2020 has been cancelled.
We know everyone is hurting right now. Many businesses in many industries are being hammered by the impact of this pandemic. JDE in particular is facing a financial calamity due to the disastrous impact on tradeshows. So I need to be transparent with you about the current position of JD Events and AXPONA:
• JDE does not carry business interruption insurance that covers communicable diseases. In fact I am not aware of any US organizers that do. So our losses are not covered.
• We are not a public company, owned by a venture fund, a large media firm or a trade association with deep pockets. We are a small privately held business, operating shows in two other industries which, like AXPONA, are both in peril. Like many of you we are applying for the PPP and disaster relief loans available through the SBA for a temporary lifeline as well as pursuing all other avenues of raising capital.
• High end audio shows are not highly profitable. To do them right they are cost and manpower intensive undertakings. That is why you have never seen a large tradeshow organizer invest in building a show to serve the needs of this industry. JDE however chose to invest boldly in the outlier idea of building a world-class event comparable to Munich in North America.
• We made large investments in multi-platform attendee marketing campaigns, signed a long-term commitment to make the Schaumburg venue AXPONA's permanent home, hired professional and passionate full-time event management staff, developed and deployed customer satisfaction programs, and so much more that goes on behind the scenes at JDE, all designed to create the best possible customer experience and ROI environment for our exhibitors. We have not yet come close to recouping those investments
• Our exhibit space contract language does not obligate JDE to pay refunds if the event is cancelled due to circumstances beyond our control. The pandemic could not have hit JDE at a worse time. Virtually all deposit monies were spent on producing and marketing the April show, including salaries, overhead and other service providers. Due to the havoc wrecked upon AXPONA and our entire business, JDE is simply not in a position to pay out refunds.
I know everyone would like specific answers now but we need some time to fully assess the current damage to JDE and to pursue additional sources of funding to help us bridge the gap to 2021 and beyond. Over the next several weeks we will be devising a plan for all 2020 exhibitors to rebook their same space, advertising and sponsorship positions in the 2021 event by rolling a portion of their 2020 deposits forward. The amount that we can offer to roll forward will depend on our ability to strengthen our financial position in the weeks to come.
There are no easy decisions in this time. JDE has let good people go and slashed salaries in order to stay afloat. We are deeply invested in and committed to this industry long-term. I hope you appreciate my candor even if you don't like what you hear and we hope you are willing to work with us as all industry stakeholders must do in hard times. Even though this is a time when we are required to be distant from each other I believe in the long run that this experience will bring us closer together.
On a positive note, we are excited by the response to the "AXPONA Livestream" event on what would've been our April 17 opening day. We plan to conduct more virtual events in the coming months to keep the community connected and to provide value at no charge to our exhibitors during this down time.
It remains our pleasure to serve this great industry. Thank you all for your understanding and your support.
Sincerely,
Joel A. Davis
Founder & CEO
JD Events
Sincerely,
Mark Freed
About AXPONA 2020
AXPONA (Audio Expo North America) 2020 will be held from August 7th through 9th at their permanent home at the Renaissance Schaumburg Convention Center. This year is AXPONA's eleventh anniversary, marking its largest show to date! This event is for audiophiles, music lovers, and manufacturers will showcase more than 200 listening rooms, an expanded Expo Hall featuring the ever popular Record Fair, a new Ear Gear Experience, Master Class Theater, robust seminar schedule, and live concerts nightly.
AXPONA is an event for audiophiles, manufacturers of high-end audio equipment, musicians and music lovers. This three-day experience features over 200 high fidelity listening rooms, providing guests the enviable opportunity to experience the newest technology in high-end consumer audio products. Attendees are encouraged to go from room to room and sit, listen and compare the various systems.
Where
The Renaissance Schaumburg Convention Center
1551 N. Thoreau Drive
Schaumburg, IL 60173
When
Friday, August 7 from 10am-6pm
Saturday, August 8 from 10am-6pm
Sunday, August 9 from 10am-4pm
AXPONA 2020 Tickets Are Now On Sale Online
AXPONA (Audio Expo North America) 2020 tickets are now available for sale. You can get tickets at this link.
Tickets
1 Day - $20 Early Bird, $25 in advance; $30 onsite
2 Day - $30 Early Bird, $40 in advance; $60 onsite
3 Day - $40 Early Bird, $50 in advance; $90 onsite
Student Pass - $10
Gold Pass
AXPONA's Gold Pass is $98 in advance ($125 onsite). A Gold Pass allows admission all three days of AXPONA along with a collector's badge, official AXPONA t-shirt, 2020 collector's pin, a reusable AXPONA water bottle, access to the AXPONA Gold Lounge with VIP check-in, coat check, refreshments, Wi-Fi, and an Happy Hour with wine and beer on Friday, August 7th and Saturday August 8th from 5pm to 7pm. You also get access to the Gold Hospitality Suite in the Hotel Tower with seating, water, snacks, and a restroom. In addition, Gold Pass holders have a VIP line for the evening concerts so you can be the first to find your seat for the show! There are a limited number of Gold Passes available so get yours ASAP.
For more information on ticketing and ticketing options, please visit AXPONA's website.
Previous AXPONA Show Reports
Enjoy the Music.com's previous coverage includes AXPONA 2019, AXPONA 2018, 2017, 2016, 2015, 2014, 2013, 2012, 2011 and 2010 coverage.