High-End Audio / Audiophile & Music Industry News
---

Support Us: Try Amazon's Lossless 24-bit/192kHz Music Free For 3 Months
09 / 30 / 19
RMAF 2019 Show Report Part 4
9th Floor Features Great Gear!
Show Report By Rick Becker
Win FiiO's M9 Hi-Res Audio Lossless Music Player!
Enjoy the Music.com is honored to join with FiiO for our September 2019 contest. You could win a FiiO M9 portable Hi-Res Audio portable music player valued at $299.99! FiiO's M9 Hi-Res Audio portable music player can handle everything from lossy MP3, OGG, and WMA to true lossless FLAC and WAV files for those who desire the very best in high-resolution music playback.
---> Read More
09 / 27 / 19
Amazon Music HD Now Offers Songs In Dolby Atmos
Amazon Music HD, true Hi-Res Music lossless streaming in upward of 24-bit/192kHz, has announced Dolby Laboratories' Atmos music efforts. Dolby claims their providing musicians a platform that removes the limitations of creation and allows listeners to experience a deeper connection with their favorite artists and songs. A growing library of tracks in Dolby Atmos are available to experience on Echo Studio through the recently announced Amazon Music HD plan. Universal Music Group (UMG) has announced plans to release thousands of new songs, current hits, and legendary tracks in Dolby Atmos featuring a wide range of genres including hip-hop, pop, rock, country, jazz, and classical music. You can get a free three month trial of Amazon Music HD at this link.
Audiovector Introduces Their New R Series Speakers
Audiovector has been designing speakers for over 40 years, and their new R Series brings together their longstanding knowledge combined with handcraftsmanship. Audiovector's Freedom Grounding system eliminates distortion, improves overtones, lowers the noise floor, plus it increases image depth and focus according to the company. This technique routes away the motion-induced distortion between the drive units and increases control, resolution and micro dynamics. Separate grounding circuits connects from the loudspeaker driver to the ground terminal of your power distributor via the Schuko connector. All models include carbon fiber drivers for midrange / bass mated with an AMT Arrete tweeter.
All R-series speakers use a tilted plinth to avoid undesirable standing waves within the cabinet. Audiovector plinths have a built-in steel spring holding the spikes to rid the speakers from the mass of the floor. The R-series will all be available in the standard matte colors Italian Walnut, African Rosewood, Black Ash and White Silk. Custom piano colors are available on request. Black cloth grille is included with all speakers.
09 / 26 / 19
Van den Hul
The Frog MC Phono Cartridge
Smooth and soothing sounds for vinyl lovers.
Review By Steven R. Rochlin
Over the past five years i have been fortunate enough to avoid the digital wars. Let the other guys deal with DVD-Audio, SACD, HD DVD and Blu-ray as i sit back and enjoy my 8000+ and growing vinyl collection. Almost a year ago my review of the Oracle Delphi MK V turntable with Oracle-SME 345 tonearm proved that vinyl indeed has much to offer music lovers worldwide. While attending the recent Munich High End show (2007), i was chatting with Aalt Jouk van den Hul (A.J.) at some press event for another manufacturer. Have known A.J. for well over a decade, as he attends many shows, and we have sat down and enjoyed some nice conversations about music, audio equipment... whatever.
---> Read More
McIntosh Announces MC257 Seven-Channel Amplifier
McIntosh is proud to announce their MC257 seven-channel tri-amplified +1 / home theater power amplifier ($10,000). Bringing both tri-amplification for loudspeakers and / or home theater dreams to life, the MC257 produces 200 Watts per channel when all seven channels being used. Naturally the front panel is highlighted by McIntosh's new eye-catching TripleView Power Output Meter that independently indicates the real time power reading of the amplifier's three main channels.
In addition to the new TripleView meter, the MC257 features many other upgrades. When using just the front left, center and right channels, power output has been increased by 25% from 200 Watts per channel to 250 Watts per channel. When using all seven channels, each will receive a healthy 200 Watts per channel. Regardless of how many channels are used, the full 200 or 250 Watts is delivered to either 4 or 8 Ohm speakers via McIntosh's Dynamic Power Manager (DPM) technology. Filter capacity has been increased by 20% over previous models. Dynamic headroom has increased from 1.7dB to 3.3dB as well. Analog input is vis balanced XLR or unbalanced RCA, with speaker wire outputs via McIntosh's custom gold-plated binding posts.
CEntrance Cerene dB Stereo Headphones
CEntrance has broadened its audio product line with the launch of Cerene dB ($199.99), their first pair of headphones. The new headphones' sound is optimized to offer a transparent reference for professionals and audiophiles alike. The new Cerene dB headphones represent years of research into headphone performance. CEntrance spoke with loyal customers - professional musicians and audiophiles to understand what's truly important in headphone design. Sound quality, comfort, sound isolation, and affordability emerged as key factors. Cerene dB are closed-back headphones with a circumaural design for superior acoustic isolation. Premium synthetic leather ear pads and a padded headband provide comfort during long listening sessions. Large dynamic, neodymium drivers offer precise bass and extended high-end, equally great for recording and mixing, or enjoying favorite music. A foldable design with two-way, 180-degree cup rotation provides flexible storage options and makes the new headphones perfect for travel.
09 / 25 / 19
RMAF 2019 Show Report Part 3
10th And 11Th Floor Continued
Show Report By Rick Becker
Capital Audiofest 2019 DIY And High-End Audio Event
Capital Audiofest (CAF), launched in 2010 as a very casual DIY show, has evolved into a well-organized and well-attended event. CAF is recognized as a fun, friendly and family-oriented show where you often see parents with children strolling from room to room listening to music, auditioning gear, and browsing the multiple bins of vinyl records, CDs and accessories. During the evenings they feature live music within the bar and special live performers in the Theater. Adding to the fun local distillers offer tasting of their alcoholic beverages. CAF 2019 takes place from November 1st through 3rd at the Hilton Washington DC / Rockville Hotel & Executive Meeting Center. See Enjoy the Music.com's CAF 2018 show report at this link.
09 / 24 / 19

2019 Burning Amp Festival November 9 And 10
The 12th annual Burning Amp Festival, scheduled for November 9th and 10th, 2019, will be held at the Firehouse and Building C of the historic Fort Mason Center on the San Francisco waterfront. Burning Amp is a yearly participatory event for Do-It-Yourself (DIY) audiophiles to show off their projects, learn, network, and share their passion for experimenting with DIY audio gear. Founded in 2007, Burning Amp is an all-volunteer, non-profit audio happening attended by enthusiasts worldwide.
The Saturday Workshop Day (pre-registration required) will include an Amplifier Build Workshop and a Measurement Workshop. In the Amplifier Build Workshop participants will assemble a preamp/headphone amp, an all-new design from long term patron Nelson Pass. The Measurement Workshop, led by Bob Cordell and Demian Martin, will explore measurements of both amplifiers and loudspeakers. The Sunday main event offers amateur DIY audio projects on display and for audition. Burning Amp's keynote speakers are always standing-room-only (subject to Fire Dept. regulations) events. This year's speakers are: Sean Casey, founder of Zu Audio, and Nelson Pass, audio industry legend and DIY icon.
09 / 23 / 19
RMAF 2019 Photofest
Photofest Featuring 100 Pics From RMAF 2019
RMAF 2019 photofest by Ron Nagle
Celebrate Abbey Road Via MORmusic.Today Event
MORmusic.today and many music retailers will be celebrating the 50th anniversary of The Beatles Abbey Road record release. Music lovers can visit a variety of locations to experience this album on September 28 via a coast-to-coast party. Beatles fans will have a rare opportunity to hear all 17 tracks, remixed, remastered, and delivered on premium sound systems in over 40 local high fidelity audio stores. Originally released on September 26, 1969, Abbey Road is considered to be a musical masterpiece, ranking among the greatest artistic achievements of the 20th Century. The album's unforgettable music has transcended its era, producing legendary hit singles like "Come Together," "Something," "Here Comes the Sun" and "Maxwell's Silver Hammer." To date, more than 14 million albums have been sold, topping all of the band's 12 studio releases.
To honor this historic 50th anniversary of Abbey Roads, over 40 independent stores in over 20 states across the United States and Canada will play the newly remastered album on its premium quality sound system, delivering a one-of-a-kind experience for Beatles fans. Featuring the original 17 tracks newly mixed by producer Giles Martin (son of George Martin) and mix engineer Sam Okell, the new LP and CD is offered in stereo, high-resolution stereo, 5.1 surround, and Dolby Atmos (24-bit/96kHz on Blu-ray), accompanied by 23 session recordings and demos, most of which have never been released.
Tokyo International Audio Show 2019
The International Audio Society of Japan (IASJ) will be presenting the Tokyo International Audio show from 22nd November through 24th. Rich textured analog music to detailed and spacious sound of digital music will be played in 35 rooms. Each exhibiting room is acoustically sealed providing an ideal listening environment for playback demonstration. Events exhibitors are planning to have seminars by audio reviewers or engineers in their own exhibit rooms. Please refer to official site of IASJ for more details. Approximately 200 high-end audio brands will be exhibited, portraying the joy of listening. Please visit the show and feel the superb reproduced music through the high-end consumer audio equipment. You will feel "you are in a live music event".
09 / 21 / 19
RMAF 2019 Show Report Part 2
11th Floor Continued Plus Press Events
Show Report By Rick Becker
09 / 20 / 19
Tannoy Gold 5, 7, & 8 Active Studio Monitor Loudspeaker
Tannoy's new Gold 5, 7, and Gold 8 active monitors ($250, $315, and $385 respectively) are a premium bi-amp'ed nearfield studio reference monitor for accurate sound reproduction with outstanding definition. The Gold 5 employs a proprietary 5" dual concentric point source driver with 200 Watts of bi-amplification, the Gold 7 a 6.5", and Gold 8 an 8" driver with 300 Watt bi-amplification to ensure timing accuracy and an abundance of power. A front-firing bass port design allows for near-wall placement and ensures optimal low frequency performance. Their next generation Gold 5 with 5" driver features a 0.75" titanium tweeter with Tulip waveguide. The Gold 7 and Gold 8 have a 6.5" and 8" driver (respectively), with both drivers featuring a 1" titanium tweeter with Tulip waveguide centrally-mounted. When used in pairs, the new Tannoy Gold loudspeakers are said to produce detailed stereo image with very wide sweet spot.
Class AB amplification is transducer-matched for both LF and HF bi-amplification. Continually-active XLR and TRS phone jack inputs let you connect up to two audio sources. Dedicated input trim from 0 to -12 and high frequency adjustment from -2 to +2 let you optimize the audio for your listening conditions. There's a switch to select 0, -2, and -4dB bass EQ adjustment to further ensure the speaker integrates well within your listening space.
Audio Analogue AAdac DAC / Pre / Headamp
Audio Analogue's new AAdac (€3495) combines a preamplifier, headphone amplifier and DAC all within one convenient piece of luxury audio gear. The internal high performance digital-to-analog converter (DAC) handles upwards of 32-bit/768kHz Hi-Res Music files by employing a Sabre ES9038 chip. Native DSD up to 512 is also handled with ease. There are seven different digital filters to provide sound shaping of your choosing. Digital inputs include coax S/PDIF, optical TosLink, and XLR AES/EBU.
Audio Analogue's AAdac also has Bluetooth aptX high quality audio wireless input. To ensure very high sound quality, separate boards are used for each stage, with separate power supplies dedicated to digital and analog sections. Fully balanced and discrete audio-grade components populate the output stage to ensure ultra-low noise and distortion. AAdac has a wide variety of functions and entering the set-up it is possible to regulate the front panel LED brightness.
09 / 19 / 19
RMAF 2019 Seminar Videos
HIFICRITIC's Latest Issue Features Articles & Reviews
HIFICRITIC's latest issue features Stan's Safari No 46 in which Stan Curtis explains how failing hearing is no obstacle to the ability to carry on enjoying music. Passing Notes 8 has Julian Musgrave explaining why he's an SACD devotee, extols the virtues of a good subwoofer, and is blindsided by a pair of over-performing DIY speakers. Synchronicity And Serendipity has Andrew Everard saying there's a lot of received wisdom involved in the world of Hi-Fi: things accepted as being facts just because – well, just because they've always been so, and as a result are beyond challenge.
Gear reviews include ATC SCM50 ASL studio-derived active monitor, ATC'S 'Starter System', Goldmund Telos 590 Nextgen integrated amplifier, Melco N10 & N100 Digital Music Libraries, Audio Note TT3 three-motor turntable, various headphone surprises, Chord Hugo TT2 and M Scaler, Atoll Electronique CD200 Signature, DAC300, IN200 Signature and IN300. Also reviewed within this issue are Quiescent Mains Cable Loom, Q Acoustic Concept 300 standmount speakers, Nain Supernait 3 integrated amplifier, NAD M10 network audio system, Mytek Digital Manhattan II, plus integrated amplifiers including the Hegel H390, Krell K-300i and the Mark Levinson No 5805.
Within Martin Colloms editorial, he says "Somehow the UK managed to vote for leaving the European Union (EU), and as I write this around August Bank Holiday it looks possible it may occur without an exit agreement, so the United Kingdom (UK) audio business is hoping for the best. Much of our audio is China made and will continue to be imported. The UK may levy additional import taxes on European equipment while EU tariffs may impact price and availability of electronic components. Production schedules and costs are already impacted, as some of these parts are already scarce and certainly more expensive." See what's within this issue of HIFICRITIC at this link.
Analogue Artisan A1 Series Turntable
Remote VTA / SRA Mongoose Tonearm & Pod
Truly reference sound quality with astonishingly low distortion.
Review By Tom Lyle
Brian Calaio, the owner and chief engineer of Analogue Artisan and I have two things in common. The first is our love of music; the second is that we both believe that once a high-end audio system gets to a certain level of refinement, everything contributes to the sound of the system. The problem is that if the manufacturer of a component believes that everything makes a difference, and designs equipment with that maxim in mind with no regards for price, things can get a bit hairy, that is, very expensive.
---> Read More
09 / 18 / 19
Quiescent Mains Cable Loom
The concept of vibration control in signal-carrying cables is a relatively well understood, but can the same factors affect a system via its mains cable?
Review By Kevin Fiske Of HIFICRITIC
Following my positive reviews in HIFICRITIC of the Quiescent Technologies Peak Speaker Cables (Vol. 12/2) and Peak Interconnect (Vol. 12/3) I was invited by the company to try its more costly Apex Interconnect. However, in my system the Apex sounded too fat in the bass and rather sluggish. I preferred the Peak. Quiescent's Steve Elford suspected my mains loom. Could one of his colleagues bring a selection of Quiescent – formerly Vertex AQ – mains products to try in my system?
---> Read More
Synchronicity And Serendipity
Synchronicity and serendipity took this issue of HIFICRITIC and turned it into a de facto celebration and turned it into a de facto celebration...
Article By Andrew Everard Of HIFICRITIC
There's a lot of received wisdom involved in the world of Hi-Fi: things accepted as being facts just because – well, just because they've always been so, and as a result are beyond challenge. It's a nice, cozy way of thinking, taking in all sorts of myths and legends built up over the years, such as 'source first', 'analogue is always best', and 'the more boxes the better'.
---> Read More
Jensen C12-K 100 Watt 12" Loudspeaker Driver
Jensen's new C12K-2 12" loudspeaker driver provides a modern British voice in a vintage American package. This high-power 100 Watt handling capability speaker features a low-end punch with a warm, rich mid-range and smooth articulate highs. This speaker is not only capable of handling high levels of overdrive and distortion, but is also capable of achieving clarity and detailed response with those sounds says the company. The C12K-2 can beautifully produce the complex and nuanced tones of vintage and boutique amplifiers and is available in both 8 and 16 Ohm nominal impedance. Resonant frequency for the 8 Ohm version is 79Hz, with the 16 Ohm being 85Hz. Cone material is paper, voice coil is Nomex, and wire winding is copper. An integrated paper surround, non-treated cloth dome, pressed sheet metal basket, and ferrite magnet round out this design.
TACET Mozart Violin Concertos KV 207 & KV 219 SACD
TACET's real surround sound Mozart Violin Concertos KV 207 & KV 219 (€21.47) on hybrid SACD features the Netherlands Chamber Orchestra. With Gordan Nikolić on violin, this new music release features inspiring "vacuum tube sound" and presented in stereo for CD and 5.1 24-bit/96kHz 5.1 channel surround sound on the SACD layer. The orchestra including the soloist sitting within a big circle around the microphones. Gordan Nikolić, soloist and leader of the recording, delivers his musical expertise and feels entirely at home with Mozart. His love for the crazy things within the music aurally shines through. While in the fast movements you hear climbing and clambering around on the strings like a child at the playground, during slow movements he caresses his violin as you would a newborn puppy.
09 / 17 / 19
Amazon Music HD Lossless 24-bit/192kHz Hi-Res Music
And so it finally begins as a mainstream service offers true lossless Hi-Res Music. With all due apologies to Qobuz and, to a lesser extent Tidal, Amazon Music reaches a massive amount of music lovers globally and their new Ultra HD tier ($14.99 a month, $12.99 for Prime members) delivers upwards of true lossless 24-bit/192kHz streaming music to subscribers. This price is less than what lossless Qobuz, and lower quality lossy Tidal, provides today. Amazon claims to already have over 50 million songs within their High Definition tier, yet keep in mind that is CD quality 16-bit/44.1kHz. Of those, there are 10 million songs within their Ultra HD tier. Enjoy the Music.com greatly appreciates the first mainstream music provider in offering true lossless Hi-Res Music streaming services to their customers. Learn more from Amazon at this link.
Sonus faber Olympica @ World Of McIntosh NYC
A good high-end system is akin to a time machine.
Review By Tom Lyle
Last year I took a tour of World Of McIntosh, a very impressive five-story luxury townhouse in the Soho neighborhood of downtown New York City. World Of McIntosh is an amazing place, packed with working audio systems featuring gear from McIntosh, Sonus faber, Pro-Ject Audio Systems, Audio Research, and more. This luxurious space is used as an event space, for invitation only audio tours, and for anything else one who wants to use a space "where music and design are merged in a way that's striking, memorable, and undeniably enjoyable".
---> Read More
Focal Unveils Chora Loudspeaker Series
As Focal's new affordable loudspeaker design, the model lineup consists of the Chora 806 standmount, Chora 816 floorstander, Chora 826 floorstander, plus dedicated 806 stands (prices per pair $799, $1,399, $1,599 and $299 respectively). Made in France at Focal's specialist manufacturing facilities, Chora is a new generation of high quality loudspeakers featuring an all-new cone. Slatefiber is a unique new speaker driver material with a stylish slate-effect visual. This thermoplastic polymer is made with non-woven recycled carbon fiber that is said to achieve greater damping, excellent rigidity and lightness. All models have wood cabinets with bass-reflex designs. A TNF aluminum / magnesium tweeter is another Focal signature. Chora loudspeakers are available in Black, Light Wood and Dark Wood finishes.
09 / 16 / 19
RMAF 2019 Show Report Part 1
Truckin' To Denver
Show Report By Rick Becker
09 / 15 / 19
Chord, Jadis, Spendor And SME @ RMAF 2019
Excellent products distributed by Bluebird Music
09 / 14 / 19
Win FiiO's M9 Hi-Res Audio Lossless Music Player!
Enjoy the Music.com is honored to join with FiiO for our September 2019 contest. You could win a FiiO M9 portable Hi-Res Audio portable music player valued at $299.99! FiiO's M9 Hi-Res Audio portable music player can handle everything from lossy MP3, OGG, and WMA to true lossless FLAC and WAV files for those who desire the very best in high-resolution music playback.
---> Read More
09 / 13 / 19
ZeroHedge Posts About Vinyl Outpacing CDs
ZH down-talks vinyl, backlash ensues.
Popular online financial and political website ZeroHedge just posted an article titled "Vinyl Records Set To Outpace CD Sales For The First Time In 30 Years, Even Though They Suck", and the comment sections is filled with their longtime readers who push back on the less-than-positive article about the sound of vinyl LPs. Within magazine Rolling Stone it says, "Vinyl records earned $224.1 million (on 8.6 million units) in the first half of 2019, closing in on the $247.9 million (on 18.6 million units) generated by CD sales. Vinyl revenue grew by 12.8% in the second half of 2018 and 12.9% in the first six months of 2019...."

ZeroHedge follows-up by saying, "My question is, given the amount of noise and distortion coming from an age-old source, why invest in a great, audiophile-quality amp or preamp? In effect, one is feeding it with a distortion-laden source component with poor dynamic range. It's tantamount to pumping 50-octane fuel into your new Lamborghini Aventador. Perhaps it's time to try out the higher-grade audiophile fuel, even if it costs a few bucks more, so that you can realize the potential of your music playback system." When vinyl LP sales become an article on ZeroHedge, you know there's more to the story. Read the comments section of their article, as it is quite enlightening, and entertaining too!
09 / 12 / 19
If You Aint Got Music
Then You Aint Got Schiit
MartinLogan MDA Series Switching And Room Correction
MartinLogan is pleased to announce the new MDA Series of distribution systems featuring their MDA8 and MDA16 ($1999 and $3499 respectively). With the ever-growing popularity of whole-house and outdoor audio systems, the challenge of unlocking the performance potential of sound has only increased. Web-based setup, digital inputs, equalization, matrixing, plus room correction capabilities and all within one chassis. Anthem Room Correction (ARC) and bass management further extends the capability of their MDA series. Additionally, with both IP and RS-232 connections, MDAs are compatible with leading home automation systems, including Control4, Crestron, Elan, RTI, Savant, and URC.
With full matrix switching capabilities of analog and digital inputs, and independent room correction with Anthem Room Correction (ARC) in each zone, MDAs allow you to install robust audio solutions throughout a home or business. These unique technologies understand the unique acoustic signature of each listening space and correct deviations from an ideal response. With an eye on preserving even the most subtle nuances of music, MDAs accept high-resolution PCM up to 24-bit/192kHz. MDAs will never hold back a compelling musical experience.
MartinLogan's MDA8 powers up to four zones with eight total channels at 60 Watts per channel into 8 Ohms, while the MDA16 powers up to eight zones with sixteen full channels at 60 Watts per channel into 8 Ohms. Zones can also be bridged for a high output mode with 200 Watts per channel into 8 Ohms. MDAs are fully configurable using an intuitive web-based interface that controls every available setting for every zone and every input. It has never been easier to set up a whole-house audio system with such extremely accurate results.
HeadAmp Gilmore Lite Mk2 Class A Headphone Amplifier
Makes us rethink what a $500 amplifier can sound like.
Review By Dave Hanson
The term "reference equipment" might be a bit overused in the personal audio hobby. Often times, it is simply a substitute for our "best" gear, but what should a true piece of reference gear really be? Neutral? Definitely! Transparent to all the gear in your chain? Unquestionably! Able to drive anything from IEMs to all but the most difficult planars? Indubitably.
---> Read More
Sanders Sound Systems
Best Of 2019 Blue Note winner sounds off @ RMAF 2019.
09 / 11 / 19
ELAC And (Audio) Alchemy... @ RMAF 2019
So I Say...
Audio Ramblings And The SOtM sNH-10G Switch
Worth the differences? For us, yes.
Review By Dave Clark Of Positive Feedback
For those of us who are pushing things in terms of what can we accomplish with playing our music back via files within some networked system, well... where does one stop? Or better yet, what else can one do to improve things?
Noble Audio's Mighty Khan In-Ear Monitors
A rare instrument that make listening to music as good as it gets.
Review By Frank Iacone Of Headphone.Guru
The Wiz has been busy creating new universal and custom designs using hybrid technology. Dr. John Moulton is well known in the personal audio community for creating outstanding designs with artful flair; John is an audiologist by trade and spends most of his time working with his brother Jim Moulton, an attorney by trade, who is the marketing arm and partner for Noble Audio. Jim is based in Texas and has been doing all the personal audio shows showing the new designs that the Wiz has been creating.
---> Read More
Aaron Weinstein 3X3 Audiophile Edition Hi-Res Music
What if you were presented the same album recorded three different ways – different microphone techniques, and different microphones? The performers and performances remain the same, but, the means used to capture their performances change. Do you feel like you'd know going in what you like best? Aaron Weinstein 3X3 Deluxe Audiophile Edition gives you the opportunity to explore this very concept. Recorded in a single day in a Brooklyn church, this intimate band of three Jazz musicians perform an album of beloved instrumental standards captured three different ways. Which version is ultimately superior will be a uniquely individual answer, and a uniquely satisfying listening experience for all.
Aaron Weinstein, a rising star in the New York Jazz community, makes his Chesky Records debut on 3x3, an album of instrumental Jazz standards that not only experiments with modern recording methodologies, but with the boundaries of Jazz expression. Featuring Aaron Weinstein (violin), Matt Munisteri (Guitar), Tom Hubbard (Bass), 3x3 is the perfect illustration of the beauty of simplicity. No unnecessary production; no extemporaneous distractions. You're left with stunning musicianship, breathtaking acoustics, and evocative and memorable music.
09 / 10 / 19
Bryston Launches Their BDA-3.14 Multi-Function DAC
Bryston has introduced their BDA-3.14 ($4195) multi-function DAC that adds an array of impressive features to the much heralded BDA-3 DAC platform. The BDA-3.14 is said to delivers the performance and build quality music aficionados have come to expect from Bryston. Bryston's BDA-3.14 offers streaming capability via a built-in music player that delivers access to network-connected storage and USB drives as well as streaming services such as Qobuz, Tidal, Roon and Internet radio. Digital connectivity between the internal music player and the DAC is managed using the I2S protocol that preserves audio and clock data with virtually zero error. The BDA-3.14 also features a digital volume control, enabling users to drive an amplifier directly. An updated version of Bryston's Manic Moose user interface for phones, tablets and computers provides users with intuitive control over all functionality. Virtually every digital input and both balanced XLR and unbalanced RCA analog output are supported. There are also four HDMI inputs plus an HDMI output.
09 / 09 / 19
RMAF 2019 Show Report
Enjoy the Music.com's Best Of 2019 Blue Note Awards @ RMAF 2019
A Change Of RMAF Venue And Attendees
High-end audio show in Denver matures into a true luxury lifestyle event.
Article By Steven R. Rochlin
RMAF 2019 Seminars Sponsored By Enjoy the Music.com
Blockchain & Hip Hop Panel: Smart Money
The Dirty Little Secret: Powering Audio On Mains Power Line
Acoustic Analysis: Optimizing The Room-Speaker Interface
Creating A Buz
Streaming Hi-Res Music Via Qobuz
Record Cleaning Made Difficult
A Systematic Approach To Creating Your Ideal Hi-Fi System
How To Care For Your Prized Vinyl
09 / 05 / 19
RMAF 2019 Pre-Show Sneak Peeks Are Now Online!
Enjoy the Music.com just posted valuable information on over a dozen new products being shown this weekend at Rocky Mountain International Audio Fest (RMAF) 2019. Our exciting show report is expected to be our most extensive Denver undertaking in all of RMAF's 16 year history! Please remember to attend Thursday night's media / exhibitor party as Enjoy the Music.com is sponsoring it. Free drinks on us! We look forward to seeing everyone in Denver and be sure to check back daily for show updated too! See our RMAF 2019 show report at this link.
09 / 04 / 19
Raven Audio Captivates With New Avian Series Int. Amps.
Raven Audio has created three new Avian Series stereo integrated vacuum tube amplifiers. Coming off the assembly line are their Nighthawk MK3, Blackhawk MK3, and Osprey MK3 ($2995, $3795, and $4895 respectively). The 20 Watt per channel Nighthawk Integrated is Raven Audio's entry-level amplifier, with your choice in tubes on a budget stock all the way to rare NOS triodes. Tube types include two each 12AT7, 12AT7, 12AU7, and four 6L6GC (self-biasing). "It creates a wideband, smooth, detailed and accurate sound without high frequency roll-off or 'fog'" according to the manufacturer. Audiophile quality gold-plated RCA inputs (six) plus a subwoofer output, and taps for 4 and 8 Ohm speakers. Proprietary output/power transformers.
Raven Audio's Blackhawk MK3 integrated stereo tube amplifier builds on the same philosophy as the Nighthawk, yet the Blackhawk adds premium custom capacitors and other components within the signal path. The result is a wider and deeper soundstage. Included in all MK3 integrated amplifiers is a high-pass 6dB crossover for those seeking to integrate an active subwoofer. This provides a modest way to achieve a seamless transition with a good quality subwoofer.
Their top-of-the-line Ospery MK3 integrated stereo vacuum tube amplifier produces 30 Watts per channel via two each 12AT7 for preamplifier stage, 12AT7 for power amplifier first stage, 12AU7 for phase inverter/driver, and lastly four 6L6GC power tubes. All Raven Audio MK3 series have upgraded boards, audiophile grade 99.95% copper RCA and speaker connectors that accept banana, spade, and bare wire as large as 8 gauge. They says, "The Osprey is an amazingly capable tube amplifier that drives speakers with all delicacy, attention to detail, and musicality of the Nighthawk and Blackhawk but, with even more power and authority." Raven Audio products are made in the U.S.A. and are built to military specifications.
Hi-Fi+ September 2019 High-End Audio Magazine
Hi-Fi+ magazine's September 2019 issue features coverage of The North West Audio Show. There's also a competition where you could win one of three pairs of 1More Triple Driver BT earphones worth ฃ109.99! Equipment reviews include the Naim Audio Supernait 3 integrated amplifier, CH Precision L1 / X1 dual mono preamplifier / power supplies, YG Acoustics Hailey 2.2 floorstanding loudspeaker, Sonus Faber Electra Amator III stand-mounted speaker, Vitus MP-201 Masterpiece DAC, Kudos Titan 505 stand-mount loudspeaker, Melco N100 networked music server, Gold Note IS-1000 integrated amplifier, Kuzma Stabi S/4Point 9 / Car-40 turntable / tonearm / cartridge, Stack Audio Link USB streaming bridge, and Shunyata Research Alpha USB cable.
Within Hi-Fi+'s Ultimate Headphone Guide within this issue are reviews of the HiFiMAN Jade II electrostatic headphone system, Pangea Audio headphone hanger, AudioQuest DragonFly Cobalt portable headphone amplifier / DAC, and Cleer FLOW noise-cancelling Bluetooth headphones.
Alan Sircom's editorial within the September 2019 issue of Hi-Fi+ says, "The political world is awash with populist politicians railing against globalization, but when it comes to audio, the notion of global brands dominating the audio scene is almost nothing more than a fantasy. Back in the 1950s and 1960s, good audio brands rarely ventured far outside their country of origin; those days are gone, but the notion of global brands dominating the world-wide market is absurd. We still listen parochially; local music for local people." See what's within this issue of Hi-Fi+ magazine at this link.
Ginko Audio Introduces Their Sextet Modular Speaker
Gingko Audio will be introducing their Sextet Modular Speaker System ($4995 to $8995) at the Capital Audiofest in November within the Monroe room on the third floor. The Sextet is a collaborative effort that builds upon the Tubulous technology from Gingko Audio, the Swarm from AudioKinesis, and unique cabinet construction from Salk Sound. This speaker system may be configured to heighten the listener's experience with a richer, fuller sound, with up to six components – monitor speakers, a variety of matching subwoofers, and stands.
The Monitor Speakers are built on Gingko Audio's Tubulous technology and experience with the ClaraVu and Clarissa LE speakers. Built on AudioKinesis's Swarm Subwoofer System, the Powered Subwoofers incorporate a built-in amplifier and digital crossover to match the Sextet Monitors. The Primary and Outboard Passive Subwoofers (up to four units) can be driven by an external sub amplifier in various configurations to suit the room's acoustics. Dedicated Stands are designed for the Sextet Monitors and can be weighted with sand or lead shots for added stability and vibration control. Standard finishes are walnut and cherry, with custom finishes available at extra costs.
09 / 03 / 19
Enjoy the Music.com Celebrates
10 Year Partnership With Hi-Fi World Magazine
Enjoy the Music.com, high-end audio's celebrated online site since 1995 and a leader in providing industry news, gear reviews, and show reports, is pleased to celebrate our 10 year anniversary with partner magazine Hi-Fi World. As an independently owned British magazine, Hi-Fi World specializes in reviewing high-end audio equipment, think pieces, and audiophile show reports.
---> Read More
RMAF 2019 Show Is This Weekend!
Featuring a luxury destination at the brand-new Gaylord Rockies Resort & Convention Center, Enjoy the Music.com's Rocky Mountain International Audio Fest (RMAF) 2019 show report celebrates our sweet 16 years of covering this highly popular high-end audiophile event. Take in the friendly atmosphere at RMAF where all are welcome and questions are encouraged. You will experience in one location many major household audio brands from Klipsch and McIntosh to ultra high-end brands Acora Acoustics, Audio Research, Kimber Kable, Mark Levinson, Nordost, Pro-Ject, VAC and many others.
RMAF 2019 provides a lively atmosphere of interactive experiences that ranges from engaging with industry engineers, owners and salespeople to live entertainment and formal seminars on a variety of current topics and trends in the audio industry. Many companies present their world-wide debut of new products and, additionally, may offer discounted show-prices on selected top quality hi-fi equipment. Learn more about RMAF 2019 at this link.
09 / 02 / 19
Hi-Fi World October Features Reviews & Think Pieces
Hi-Fi World's October 2019 issue features your chance to win a Cambridge Audio AX A35 amplifier and AX C35 CD player worth ฃ600. Gear reviews include the Quadral Orkan 9 loudspeakers, Triangle Esprit Titus EZ bookshelf speakers, Naim NDX Streamer, Audiolab 6000n network player, Densen B150+ amplifier, B&O Beovox C40 loudspeakers, Pro-Ject x1 budget audiophile turntable, Audio Technica OC9x cartridge, Meze Empyrean headphones and more.
Within his editorial, Noel Keywood says "There are upsides and downsides to the measurement of products we carry out. It takes time, using a lot of expensive test equipment – the downside. But it also unearths problems and strange behavior – the upside. Yet measurement rarely draws criticism – even interest. But not so this month as you will read on p75 where we re-test Audiolab's 6000N streamer." See what's within this issue of Hi-Fi World at this link.
09 / 01 / 19
Enjoy the Music.com's Sept. Review Magazine
Win FiiO's M9 Hi-Res Audio Lossless Music Player!
Enjoy the Music.com is honored to join with FiiO for our September 2019 contest. You could win a FiiO M9 portable Hi-Res Audio portable music player valued at $299.99! FiiO's M9 Hi-Res Audio portable music player can handle everything from lossy MP3, OGG, and WMA to true lossless FLAC and WAV files for those who desire the very best in high-resolution music playback.
---> Read More
Best Of 2019 Blue Note Equipment Awards
Celebrating the best high fidelity audio gear of 2019!
As Chosen By The Staff At Enjoy the Music.com
Enjoy the Music.com's Best Of 2019 Blue Note Awards celebrates the many great achievements by audiophile manufacturers within the high-end audio and Hi-Res Audio industry. Our 2019 Blue Note Awards is a culmination of 19 years of reviewing and carefully choosing what products have earned special recognition for our annual awards. Our Best Of 2019 Blue Note Award celebrates the finest products we have reviewed during the previous 12 months.
---> Read More
RMAF 2019 Show Report
Rocky Mountain International Audio Fest 2019 Show Report
Featuring a luxury destination at the brand-new Gaylord Rockies Resort & Convention Center, our Rocky Mountain International Audio Fest (RMAF) 2019 show report celebrates our sweet 16 years covering this highly popular high-end audiophile event. Take in the friendly atmosphere at RMAF where all are welcome and questions are encouraged. You will experience in one location many major household audio brands from Klipsch and McIntosh to ultra high-end brands Acora Acoustics, Audio Research, Kimber Kable, Mark Levinson, Nordost, Pro-Ject, VAC and many others.
---> Read More
RMAF, CAF And NYAS
Plus Our Annual Blue Note Awards
Three shows in three months plus our Best Of 2019 Blue Note Awards!
Editorial By Steven R. Rochlin
What do Denver, Washington DC and New York have in common from September through November? If you guessed luxury audio shows you'd be correct! First up is Rocky Mountain International Audiofest (RMAF) from September 6th through 9th at the brand-new Gaylord Rockies Resort & Convention Center. From November 1st through 3rd is the Capital Audiofest (CAF) at the Hilton Hotel Rockville (near DC). Lastly, there's the New York Audio Show (NYAS) at the city's Park Lane Hotel by Central Park from November 8th through 10th. Let's take a look at each show, and then sum things up shall we?
---> Read More
Why Listen?
Roger Skoff writes about the very essence of our hobby.
Article By Roger Skoff
If you've read any of my other articles in this publication or elsewhere, you know that I've always advocated listening as the final basis for any audio decision: Spending your time poring over spec sheets; reading reviews – regardless of how many, by whom, or in which magazine or blog – and even discussing the latest products, systems, or "software", with your friends or fellow audiophiles (even learnedly and with great passion) are simply not adequate substitutes for the evidence of your own ears.
---> Read More
The Long View On Cables
Audiophiles are divided as to whether cables are snake oil or nirvana.
Article By David Schwartz, Member Of Gotham Audio
Last year, members of Audio Syndrome, a Long Island based audio club, got into a discussion about cables. They had all read a series of articles by Belden engineers Galen Gareis and Gautam Raja, on audio cable design. One of the club members looked into the cost of the Belden Iconoclast cables designed by the authors. He found them to be quite expensive.
---> Read More
High Style In High-End Audio
You don't need to be an Audiophile OG to chill with a sense of style.
Editorial By Steven R. Rochlin
Have been taking photos of audiophile gear for many decades, and am always impressed by the creative flow of many designs. Below are a very small sampling of the incredibly talented engineering and design by a variety of high-end audio manufacturers.
---> Read More
Copland CTA 408 Vacuum Tube Integrated Amplifier
A tube amplifier in disguise.
Review By Dr. Phil Gold
It has been seven years since I reviewed the Copland CTA 506 Power amp which I liked very much at the time and is still available today. From my 2012 review of the CTA 506: The Copland CTA 506 combines classic design with the latest developments in vacuum tubes to create an impressive and attractively priced power amp that seems equally at home across musical genres. It stands up well against the other power amps – tube and silicon based – that have been through my listening room.
---> Read More
T+A SDV3100HV Streaming DAC
And PDT3100HV Disc Drive
T+A took a giant step forward with its HV series.
Review By Matthias B๖de Of STEREO Magazine
Imagine if you had a free choice on the wheel of fortune. Over and over again. As often as you want! That's how it feels when you press the mighty volume control on T+A's brand new SDV3100HV Streamer-DAC-preamplifier, whereupon it jumps into source selection mode and scrolls through the numerous options in the turquoise illuminated display kind of like you would on a smartphone.
---> Read More
World Premiere Review!
ELAC Alchemy DDP-2 DAC/Pre/Streaming End-Point
A benchmark accomplishment!
Review By Greg Weaver
Audiophiles exploring the boundaries of Red Book CD playback from the early to late nineteen-nineties will no doubt recall California based Audio Alchemy gear with great fondness; I know I do! Founded on the inspired design and engineering of one Peter Madnick, Audio Alchemy almost single-handedly set the stage for the acceptance and ascent of multi-box Compact Disc playback systems. Initially offering their lineup of very affordable yet remarkably high-performance outboard DACs...
---> Read More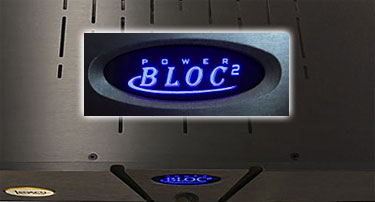 Legacy Audio Powerbloc2 Stereo Power Amplifier
A great value Class D stereo amplifier!
Review By Rick Becker
When I first discovered high end audio nearly 30 years ago, my economic circumstances and skepticism of the value of products kept me in tortoise mode. The real value of tortoise mode early on was to allow me time to learn how to listen and time to experience of a lot of gear at audio shows to learn what my personal acoustic and aesthetic values were. As the decades have rolled on, my ability to spend larger sums of money has increased but the pace has remained in the tortoise league.
---> Read More
Melco N10 Music Server And PS10 Power Supply
Enveloping sound that activates all my audiophile senses!
Review By Tom Lyle
By now, the music server shouldn't be a foreign concept to most audiophiles. When servers first began to be a part of our digital front-ends, all that most audiophiles wanted and needed were designers to provide a convenient way to play their music files. Since then, enough research and development have gone into designing and building music servers that there are now plenty of options available at many different price points. Today, the name of the game is sound quality. Melco has upped the ante by providing not only a perfectionist audio module, but one that has its own outboard power supply connected to it in order to increase the level of sound quality.
---> Read More
Backert Labs Rhumba Extreme 1.3 Preamplifier
A neutral presentation that excels in micro dynamics and harmonics.
Review By Dean Cacioppo
In my humble opinion, the two most under appreciated aspects of high-end audio are room acoustics/speaker placement and the preamplifier. These are the unsung heroes of the best sounding audio systems in the world. Speakers are generally front and center - kinda like a quarterback for a great football team. The power amplifier and the speakers complete the final circuit in audio reproduction, so the matching of the power amp and the speaker is crucial.
---> Read More
World Premiere Review!
Audiomods Series Six Tonearm
It takes a great tonearm to get the best from your cartridge.
Review By Clive Meakins
The Audiomods Series Six is the first totally in-house all-Audiomods tonearm. Previous versions up to the Five relied upon the ubiquitous Rega arm-tube, albeit a modified version. Jeff Spall is Audiomods; it's his business based on his tremendous interest in vinyl replay and tube amplifiers. Jeff is an enormously practical "un-tweaky" audiophile. Over 10 years ago Jeff started out by modifying Rega arms; as the years progressed there became less and less Rega content in the Audiomods arms and upgrade kits
---> Read More
Read All Articles, Reviews, And Show Reports
We have many more reviews, show reports and think pieces than shown above, so be sure to read this month's edition of Enjoy the Music.com's Review Magazine at this link.
Best Of 2019 Blue Note Equipment Awards
Enjoy the Music.com celebrates the best hi-fi gear of 2019!
Enjoy the Music.com, high-end audio's celebrated online site since 1995 and a leader in providing industry news, gear reviews, and show reports, is pleased to announce our Best Of 2019 Blue Note Awards. Enjoy the Music.com's Best Of 2019 Blue Note Awards celebrates the many great achievements by audiophile manufacturers within the high-end audio and Hi-Res Audio industry.
---> Read More
---
Previous High-End Audio News
For previous high-end audio and music industry news click here.