High-End Audio / Audiophile & Music Industry News
---

Help Support Enjoy the Music.com Via Amazon Shopping
05 / 30 / 19
FiiO M11 Android-Based Hi-Res Music Player
Meeting the needs of those seeking versatility with their hi-res portable music player, FiiO's new M11 ($450) includes 3.5 stereo, plus 2.5 and 4.4 mm balanced headphone outputs. With its support of Bluetooth 4.2, the M11 can transmit the SBC / aptX / aptX HD / LDAC / LHDC formats as well as receive certain formats. High-performance audiophile DACs are a pair of AK4493, with the unit having 3GB RAM plus 32GB of internal storage. There are two microSD slots to achieve upwards of 4TB of storage. For internal processor, Samsung's popular Exynos 7872 is put to good use to keep operating speed fast and seamless. FiiO's M11 portable hi-resolution music player easily plays back music up to PCM 384kHz and native DSD256. Frequency response is from 10Hz to 90kHz (-3dB). A symmetrical USB Type-C connector makes charging the unit fast (2.5 hours for full charge). FiiO's M11 can also be employed as a USB DAC and has USB audio out functionality. Output modes include FiiO Link, Apple AirPlay, DLNA, and Wi-Fi (2.4GHz and 5GHz). The 5.15" bezel-less color touchscreen has a ratio of 18:9 ratio with 720P resolution. Operating system, is open-source highly customized Android 7.0 Nougat that supports any 3rd party apps, though do note Android Play store is not included so adding more apps will need to be side loaded. Battery life is 13 hours, with 1200 hours for deep sleep standby. The FiiO M11's body is polygonal in style, giving an radically distinctive yet visually arresting aggressive look. Dimensions are 130 × 70.5 ×15.5 mm and the FiiO M11 weighs around 211 grams.
05 / 29 / 19
Schiit Releases Four New Preamplifiers
Schiit announced the immediate availability of four stereo preamplifiers, ranging from $299 to 899, as well as a new 'Product Thunderdome' sales model that allows Schiit to bring a wider variety of interesting products to its buyers, without the downsides of a traditional mass buying site model. The four preamps are:
Saga S. Single-ended passive or JFET buffer remote controlled preamp with 64-step relay stepped attenuator, $299.
Saga+. Single ended passive or tube hybrid buffer remote controlled preamp with 64-step relay stepped attenuator, $399.
Freya S. Balanced and single-ended passive or Nexus solid-state gain stage remote controlled preamp with 128-step relay stepped attenuator, $599.
Freya+. Balanced and single-ended, passive, discrete differential buffer, or discrete differential tube remote controlled preamp with 128-step relay-stepped attenuator, $899.
Product Thunderdome is an entirely new idea, where "several products enter, but maybe none leave." It allows Schiit to bring its customers new, cool things more often, and perhaps even to offer one-off special runs in the future — but without making prospects join a group to get the price down, or wait for months for delivery. The products that sell the best continue in the line.
One of the solid-state preamps, Freya S (pictured), is also the first product to feature Nexus, a unique, discrete, current-feedback topology that seamlessly handles both single-ended balanced inputs and outputs without conversion. Similarly, Freya+ is a large advance on the previous Freya, offering complete power-down of tubes when not in use, a motorized potentiometer to track the remote control, and a new differential buffer stage for easier integration with amplifiers that need differential input.
Saga S is Schiit's least expensive preamp to date, and provides an ultra-high-end relay-stepped attenuator passive stage, as well as a two-JFET discrete buffer, for use with a wide range of power amplifiers. Combined with Vidar, it creates a complete preamp and power amp system for under $1000. Saga+ is an enhancement of the original Saga, with a motorized potentiometer to track the remote control and DC heaters for even lower noise. Like all Sagas and Freyas, it also features a relay-stepped attenuator for volume control.
05 / 28 / 19
HIGH END Munich 2019
The Largest High-End Audio Show On Earth!
Getting there isn't always half the fun...
HIGH END 2019 Show Report By Greg Weaver
This was to be only my second visit to this sprawling, enormous show in Munich, the largest high-end audio show in the world. While my first visit had come in 2017, a massive project at my day job that forbade all members of the management team from taking any time away from our duties from mid-April (just after AXPONA 2019 in the USA) through June of 2018, had prevented my attendance last year.
---> Read More
05 / 23 / 19
Merrill Audio Christine Reference Stereo Preamplifier
Achieving sound quality competitive with the very best!
Review By Tom Lyle
It's time for me to give it a rest. From this point forward, I'm not going to criticize anyone for incorrectly substituting the term "preamplifier" for "linestage", or vice versa. Basically, a preamplifier is a component that provides gain to send to the power amplifier, and contains an internal phono preamplifier, or even might contain an internal digital-to-analog converter. A linestage is one that has no other functions besides providing gain. Of course, both can switch between multiple sources and provide impedance matching between it and the power amp.
---> Read More
Wireworld Second Generation Flat Ethernet Cables
Wireworld Cable Technology has announced the release of their second generation Ethernet patch cables that includes their Chroma 8 Ethernet ($15/meter + termination), Starlight 8 Ethernet ($60/meter + termination) and Platinum Starlight 8 Ethernet ($600/meter + termination). Their patented flat design was developed through listening tests that compared network cables to a local USB stick. These new 'Series 8' cables utilize higher density triple-layer shields and quieter Composilex 3 insulation to maximize audible and visible performance.
The official network cable categories (ie. Cat5/6/7/8) only include twisted pair cables, so these non-twisted twinax cables cannot be rated by those test specifications. However, according to Wireworld, "it is interesting to note that the 100Gb/s (QSFP+) Ethernet cables used in internet server installations are also twinax designs". The patented Tite-Shield design utilized in these cables places the conductors in parallel, with each of the four pairs isolated from the others by dense triple-layer shields. This radical flat design is so effective at isolating noise that replacing only the final cable in the network can substantially improve sound quality.
Two critical areas of performance include the density of triple-layer shields, which reduces both cross-talk and external interference. However, says the company, the controlled listening tests also revealed that internally generated 'Triboelectric noise' was still masking too much quiet musical information. Upgrading from Wireworld's proprietary Composilex 2 composite insulation, used in the original versions, to the newly developed and much quieter Composilex 3, and is said to enabled even finer musical details to be preserved.

The three cables differ only in their conductor materials. The Chroma 8 is yellow with Oxygen-free copper conductors. Starlight 8 is red with silver-clad OFC conductors and Platinum Starlight 8 is silver with conductors made of the most conductive metal available, Ohno Continuous Cast solid silver of 7N (99.99999%) purity. With next generation performance and versatility, Wireworld Series 8 Ethernet cables provide audio/video consumers and professionals with objectively superior network fidelity.
05 / 22 / 19
Enjoy the Music.com Launches Monthly Audio Gear Contests
Enjoy the Music.com, a longstanding source for luxurious high-end home and portable audio equipment reviews, news and show reports since 1995, is launching monthly gear contests to bring great music to our enthusiastic worldwide readership. Years ago, the site delivered multiple contests that, in total, offered over $250,000 in prizes. During 2012, our High-Stakes High-End Giveaway presented prizes that, in total, were valued at nearly $90,000! This eclipses any other high-end audio giveaway at the time, and to this day still commands the industry's largest contest.
---> Read More
Win Vanatoo Transparent One Encore Speakers
Valued At $599!
Enjoy the Music.com is honored to join with Vanatoo for our June 2019 contest. The Transparent One Encore (T1E, $599) series of wireless powered speakers from Vanatoo is your solution for high quality music, movie, and game playback without all of the clutter. Simply plug one speaker into the wall, run the supplied wire between the two speakers, and connect your source, which can be just about anything.
---> Read more and enter for your chance to win!
McIntosh Laboratory @ HIGH END 2019
HIGH END 2019 Show Report By Steven R. Rochlin
As many of you know from reading my previous review of the MC611 amplifier, my Muse / wife Heather loves McIntosh Labs. A much better formal review of McIntosh's MC611 monoblock amplifier is by our Senior Editor Tom Lyle so read that one instead of mine imho. For me, is the incredibly high sound quality combined with a truly incredible 50+ year lifespan these overbuild products easily reach. For Heather, it is those mesmerizing blue meters (and sound quality).
---> Read More
WBT PlasmaProtect For Higher Quality Connection
HIGH END 2019 Show Report By Steven R. Rochlin
During HIGH END 2019 WBT held a very informative press event on Friday afternoon and for a geek like me it was very informative. CEO Wolfgang B. Thörner had a wonderfully prepared speech to accompany their informative video. As many audiophiles know, WBT is one of the industry's leading manufacturer of connectors, which are used by Kimber Kable and many other manufacturers.
---> Read More
Cary Audio SLI-80HS Stereo Integrated Amplifier
Cary Audio's new SLI-80HS ($4495, Heritage Series) maintains the integrity of its previous version with very little feedback, which is said to provide incredible transparency and detail within your music while also providing bass texture and impact. Newly designed solid-state rectification adds excellent pace to the music plus offers improved dynamics and bass detail over earlier versions. A pair of toggle switches select either triode mode producing 40 Watts per channel of pure Class A power, or ultra-linear mode that doubles power to 80 Watts per channel stereo in Class AB. Of interesting note is that Cary Audio has partnered with Klipsch to design a version of the SLI-80 to directly complement their Klipsch's Heritage Series product line. Black Ash, Cherry, and Walnut wood side panels are available as an additional accessory of the new SLI-80HS (Heritage Series) integrated amplifier to match the various finishes of Klipsch loudspeakers.
EXOGAL Delivers HyperDrive Amp For Their Ion PowerDAC
EXOGAL's HyperDrive upgrade realizes the next level of refinement for the company's Ion PowerDAC. What EXOGAL realized in 2013 was that analog sound was digitized using a process called "successive approximation" where it is sampled fast enough to catch the tiniest detail the human ear could hear. Once EXOGAL realized that, and everyone else had previously missed the point entirely, they took a look at what the company could do about it. This led EXOGAL to the realization that the only perfect approach was to reverse the successive approximation process. And now in 2019 they added a circuit called HyperDrive to the Ion, which increases the regulation granularity of our internally-derived high voltage power supply.
HyperDrive allows them to essentially drive "closer to the guardrails," which gives a performance boost in terms of output power (125 Watts @ 8 Ohms, with a peak output current of 10 Amperes per channel), improved frequency response across the dynamic range of the PowerDAC (5Hz to 22kHz), and better protection from anomalous conditions such as bad mains power, etc. All of their products are built with an open architecture allowing you to listen to the digital music format of choice: local files or streaming. All of their products are made in the USA; designed, sourced and manufactured in Minnesota.
05 / 21 / 19
McIntosh Announces Their C49 Stereo Preamplifier
McIntosh is proud to announce their new C49 stereo preamplifier ($5000) that is prepared for future of digital music technologies. Their C49 features McIntosh's DA1 Digital Audio Module, which can be replaced by newer McIntosh digital audio modules that accommodate new digital technologies. This will allow the C49 stereo preamplifier to be kept up to date with digital music formats and viable well into the future. The C49 comes with a multitude of inputs.
For analog, it has two XLR balanced, three RCA unbalanced, one Moving Coil (MC) and one Moving Magnet (MM) inputs. On the digital side, it has six inputs housed within the DA1 module: two S/PDIF coaxial, two TosLink optical, a USB and proprietary MCT (for use with McIntosh's MCT series of SACD / CD Transports). The DA1 is powered by an eight-channel, 32-bit DAC that is used in Quad Balanced mode; it supports up to DSD256 and DXD 384kHz for playback of high resolution audio. In total, the C49 has 13 inputs, and each can be given user-friendly names to simplify system setup and control.
For outputs, the C49 has two XLR balanced variable outputs, two RCA unbalanced variable outputs, and an unbalanced fixed output. The outputs are designed for easy use when bi-amp'ing speakers so that neither the highs or lows are inadvertently turned off. Audio sources can be fine tuned via the bass and treble tone controls. The C49 can be seamlessly integrated into a home theater system via Home Theater Pass Through. McIntosh's High Drive headphone amplifier with Headphone Crossfeed Director (HXD) is also included.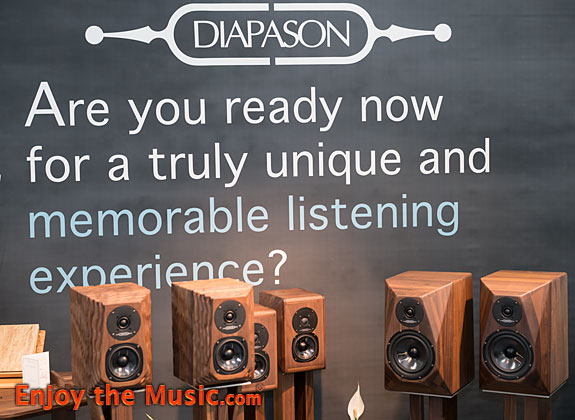 Diapason Adamantes V, Micra III Excel & Autunno
HIGH END 2019 Show Report By Steven R. Rochlin
Coming from Italy is Diapason and their exquisitely styled loudspeakers with real wood cabinets. The company seeks to produce speakers that best convey a flare for design and love of music. Company founder Alessandro Schiavi came together constantly works to attain perfection in acoustic reproduction, and to deliver a musical listening experience capable of resonating with our deepest emotions.
---> Read More
Gryphon Audio Designs Delivers Best Sound
HIGH END 2019 Show Report By Steven R. Rochlin
It is no secret that I love Gryphon Audio, as they produce incredibly well-build products that sound incredible! Just as it was during AXPONA 2019, they were showcasing their new Ethos CD player and DAC (€28,800). Breaking the rules of black boxes, Gryphon Audio gave the Ethos a wonderful sense of style combined with the fun of handling physical media. Am truly in love with the visual presence of this modern CD player / DAC, plus it offers top-shelf performance too!
---> Read More
Vertere Acoustics DG-1 Dynamic Groove Record Player
Vertere Acoustics new DG-1 Dynamic Groove Record Player (€3350) is designed for a less extreme customer: one who is driven by performance but needs almost Plug and Play setup. This customer – from Vertere's research – wants ease of setup and use but not at the expense of future upgradeability. Back to fundamentals involved examining every element of the design, rethinking the way turntables work, and removing every superfluous element that got in the way of the ultimate aim: getting the listener, as close as possible to their music. Advanced microprocessor generated electronic motor drive is said by the company to be their best possible drive system. Fully programmable, via copper/stainless steel shielded motor drive PCB, allows for future upgrades. The platter, able to spin at 33.3 and 45 rpm, is made with high precision machined aluminum alloy with bonded PETG record interface mat and cork / neoprene / nitrile bonded underside resonance control disk. Noiseless and stiction eliminating nylon thread tonearm bearings are each made up of hundreds of three microns thick twined nylon 6.6/6 strands. There's a two layer aluminum alloy / polymer sandwich non-resonant tonearm beam as well. To keep unwanted vibrations away, the low frequency compliant yuned silicone rubber is integrated into the DG-1's isolation system, with bespoke clear precision molded silicone rubber round 'belt' that is stable with temperature and humidity. Also included is a non-resonant clear acrylic dust cover with elegant integrated hinges.
05 / 20 / 19
Silbatone & Western Electric Vintage Hornspeakers
Setting The Tone For Unavailability
Now also image you're a music lover and want the very best. Since you have nearly limitless funding, why not just create your own company? Go ahead and hire the very best designers, and then have them build the world's most esoteric audio gear. This is what Silbatone is all about. Back in 2002 I was perhaps the first to review their C-102 battery powered preamplifier. In May of the same year I reviewed their JI-300B integrated amplifier. While the preamp was absolutely incredible, the integrated did not fare as well and the company made changes to the design since then.
---> Read More
AXPONA 2019 Show Report Part 6 By Rick Becker
Saturday night was dinner at Buffalo Wild Wings followed by a return to the Hyatt to charge camera batteries. Attending the free concert back at the Renaissance would have been too distracting. I decided to drop down to the bar to cash in my ticket for a free drink and do my homework for the final day of the show. The guy next to me recognized the AXPONA program I brought along and it opened up an hour-long conversation.
---> Read More
Conrad-Johnson HVA1 Reference Headphone Amplifier
The conrad-johnson design team is particularly excited to announce the release of their latest product, the HVA1 headphone amplifier ($7500). The HVA1 is a reference quality single-ended Class A triode amplifier designed to power low-impedance headphones (around 20 to 32 Ohms). The HVA1 accommodates two line-level inputs, with a power output of 3 Watts into 20 Ohms. The enhanced triode circuit, similar to that introduced in conrad-johnson's flagship GAT preamplifier, employs two 6922 vacuum-tubes. There is one 6922 for for each channel, with voltage gain coupled to a high-current FET buffer stage (source follower).
Each of the two channels is powered by its own independent DC regulator. CJD Teflon capacitors and Vishay resistors are featured in the circuits. The level control is a discrete stepped attenuator constructed entirely with Vishay resistors. The circuitry is housed in a heavy, elegant aluminum chassis dressed with anodized brushed aluminum panels on front, sides, and top.
05 / 17 / 19
STEREO Magazine Teams Up With Enjoy the Music.com
STEREO, Europe's most respected magazine, partners with Enjoy the Music.com.
Enjoy the Music.com, a significant provider in high-end luxury audio equipment reviews, news and show reports since 1995, is elated to announce our teaming up with STEREO Magazine. As Europe's most respected magazine, STEREO has successfully reached millions of music lovers throughout the world spanning many decades. This new partnership continues the vision of both publications to share in the joys of music and how to best reproduce it within your home, office, and everywhere possible. For nearly 25 years, Enjoy the Music.com is an essential resource for information about the high-end audio industry and high resolution / streaming music on the Internet.
---> Read More
HIGH END 2019 Exhibitors And Visitors Press Release
At HIGH END 2019, held last weekend in Munch, was incredibly successful as they showcased 551 exhibitors from 42 countries (+3.8% compared to 2018), had 21,180 visitors in total (+6.5%), and 8,208 trade visitors from 72 countries (+8.6%). According to HIGH END, whose motto this year was 'Enjoy The Music':
Friday clearly turned out to be the strongest visitor day, drawing several thousand music enthusiasts to the many exhibition stands. Continuously increasing number of exhibitors 551 exhibitors, 67% of whom were international, presented a broad range of products at the HIGH END. Compared to the previous year, the number of companies exhibiting increased by some 3.8%. They came from 42 different countries and the following countries were most strongly represented: the United States, United Kingdom, Italy, France, Japan, Denmark, Switzerland and China.
For the trade experts, it was one of the world's most significant events in the audio industry, for the public it was a unique world of experience – this year again, the HIGH END pivoted on these two areas of interest. Trade visitors In total, 8,208 trade visitors from 72 countries came to Munich. This represents nearly nine percent more visitors compared to the HIGH END 2018. The share of international trade visitors was in fact 75 percent. The lion's share of international visitors came from European countries other than Germany, with a major focus on the following countries: the UK, Italy, France and Switzerland.
We also received numerous trade visitors from Asia and America, however. It is the combination of music presentations, the showcase of the most exquisite lines of equipment, workshops and captivating lectures that have made up the HIGH END for decades, attracting dealers, consumers, as well as representatives from the audio and supplier industry, to the exhibition in Munich....
This year's brand ambassador and special guest of the HIGH END, Steven Wilson, precisely exemplifies this living, professional linkage of technology and music at the highest level. Like no other contemporary musician, Wilson is celebrating outstanding success both behind the microphone and in front of the mixing console. Exhibition visitors were able to experience the outstanding British musician live at an autograph session to acquire his personally-signed special-edition Home Invasion: In Concert at the Royal Albert Hall as a five-LP box set. There was a huge turnout, and a seemingly endless line formed in front of the autograph signing table. Surrounded by his international fan community, Steven Wilson also took time out for a few selfies and a complete walking tour of the exhibition.
HIGH END 2020 will take place from May 14 to 17 within the exhibition area of the MOC in Munich.
05 / 16 / 19
Ayon Audio, Lumen White, Stromtank, And Sonitus
HIGH END 2019 Show Report By Steven R. Rochlin
Just as during their debut at AXPONA 2019, Ayon Audio had their sweet looking pure Class A Epsilon Evo Mono vacuum tube amplifiers (€20,000) here at HIGH END 2019. A nice set of KT150 tubes, with very high quality parts and small signal tubes, produce an extraordinarily wide frequency response from 8Hz to 70kHz. Wide bandwidth, Class A power, super clean / transparency... you need to hear these in action to truly appreciate their ability to drive speakers.
---> Read More
World Premiere Review!
Elly Audio Loudspeaker
Kickstartin' a very capable and well-designed speaker both sonically and aesthetically.
Review By Rick LaFaver
Hello again everyone, I have been away awhile both enjoying and surviving the birth of my two daughters but things have settled down to a point where I can have some time in the evenings to pour myself a glass of my beverage of choice and not only put time in with my system, but write about it even. I have missed this so much, but I needed the right thing to come back to from my retirement... semi-retirement... or we'll call it a sabbatical?
---> Read More
Tencent Music Entertainment Group Q1 2019 Results
Tencent Music Entertainment Group (NYSE: TME), the leading online music entertainment platform in China, announced its unaudited financial results for the first quarter ended March 31, 2019. Revenues were RMB5.74 billion ($855 million), an increase of 39.4% year-over-year. Operating profit was RMB1.15 billion ($171 million), an increase of 22.9% year-over-year. Net profit attributable to equity holders of the Company increased by 17.4% year over year to RMB987 million ($147 million). This past quarter's results is nearly double the paying users as compared to the same quarter is 2017 (28.4M versus 15.3M). "We started 2019 with solid first quarter results and strong growth," stated Mr. Cussion Pang, Chief Executive Officer of Tencent Music.
"Our businesses recorded healthy growth rates driven by product innovation, content diversification, and technological advancement. During the past few quarters, we constantly expanded our online music subscriber base while steadily increasing our subscriber retention rate. As our users increasingly consume music content through streaming services, we are riding on this trend to gradually transition into a pay-for-streaming model over the coming years. We also strengthened our market leadership in music-centric social entertainment by focusing on product innovation and enhancing user experience through data analytics. We remain committed to investing in the provision of premium content as well as innovative product features. We believe that these investments will significantly enhance the level of user engagement for our services and sustain our long-term growth going forward."
05 / 15/ 19
Nordost Cable @ HIGH END 2019
By Steven R. Rochlin
During HIGH END 2019 in Munich Nordost gave us a preview of three new products. Valhalla 2 Tonearm Cable +, QPOINT Resonance Synchronizer, and a special sneak peek of their QSOURCE Linear Power Supply. Nordost's Valhalla 2 Tonearm Cable + is $4,999.99 for 1.25 meter length ($625 each additional 0.5 meter), QPOINT is $749.99, and Q source is $2,499.99 (accompanying QSOURCE DC Cable is $259.99 for 1 meter, add $50 for each additional 0.5 meter). In fact Nordost cables were within a variety of systems at HIGH END.
---> Read More
Audio Research REF160S Stereo Tube Amplifier
Audio Research has announced their Reference 160S (REF160S) stereo power amplifier ($20,000). This new amplifier is said to distill the astonishing resolution, dynamic impact, musical purity and finesse of the 160M into one beautiful and attainable chassis designed for the music lover in all of us. Following the success of their internationally-acclaimed 160M monaural power amplifier introduced in 2018, the REF160S is a vacuum-tube design with dual transparent power meters that float in front of the eight KT150 output power tubes.
Feature set includes a proprietary auto-bias circuit, switchable Triode or Ultra linear modes of operation, balanced XLR and single ended RCA inputs, plus an output tube monitoring mode. Additionally, the 160S employs a four-layer circuit board, allowing music to emanate from a jet-black background. Power rating is 140 Wpc. Read Enjoy the Music.com's review of the Audio Research LS28 line stage and VT80 power amplifier at this link.
4-CHerry Amplifier By Digital Amplifier Company
The new 4-CHerry amplifier from Digital Amplifier Company produces 400 Wpc of ultra clean power. With four channels of power, it can use used for bi-amplifying speakers or within a home theater system. This helps round out their 2-CHerry, 3-CHerry, 4-CHerry, and 5-CHerry configurations ($2390 to $2990), plus they also offer a KING version of each amplifier ($2890 to $3490). The KING version has gold WBT binding posts, and double rail capacitance on all channels. All models employs the same beautiful faceplate as the MEGAschino (red or black, you choose). Power output is 200 Wpc at 8 Ohms, and doubles to 400Wpc @ 4 Ohms. Read Enjoy the Music.com's review of the MEGAschino stereo amplifier at this link.
05 / 14 / 19
Kharma, David Chesky, Purist Audio Design, Zesto Audio, Tri-Planar And Merrill Williams
HIGH END 2019 Show Report By Steven R. Rochlin
HIGH END 2019 in Munich success was far beyond even my wildest expectations. Not only were many people wearing lanyards with ' Enjoy The Music' on them, every single business meeting (and there were many) resulted in major success for all involved. It felt like the stars within this galaxy aligned and were smiling gleefully. Of course with so many business meetings beckoning, it also meant there was no time to visit many of my friends.
---> Read More
Dan D'Agostino MAS Progression Integrated Amplifier
Dan D'Agostino Master Audio Systems Progression Integrated Amplifier is a versatile front-end solution for your home music system ($18,000, $20,000 with phono stage, and $25,000 with both phono stage and digital module). The Progression Integrated produces 200 Watts @ 8 Ohms and 400 @ 4 Ohms. A unique toroidal winding technology, first employed in the Momentum M400 amplifier, delivers greater power output from a similarly sized conventional transformer keeping the Progression Integrated surprisingly small for its capability.
Internal circuitry filters RF noise from the AC powerline and compensates for asymmetric power waveforms and DC on the mains. Two analog meters, inspired by Swiss watch faces, function as signal level meters during music playback. When volume is adjusted, the meter needles change to volume setting indicators. After adjustments are made, the meters revert back to signal level operation. The meters also function as balance, phase, and mute indicators. Housed in a chassis the exudes the D'Agostino aesthetic, the unit is built on a modular platform. The Progression Integrated fills every need of today's music listener and audiophile.
The analog platform provides two single ended RCA inputs and three XLR balanced inputs including a theater pass through. Balanced preamplifier outputs make for convenient inclusion of subwoofer(s) into your audio system. An optional moving coil (MC) phono module adds turntable playback to the list of features. The Bluetooth Remote control connectivity, first used in the Progression and Momentum HD Preamplifiers, is included as part of the base package. Bluetooth connectivity eliminates line of sight issues and extends the usable range 5x versus conventional IR remote controls. An optional digital module vaults the Progression Integrated into the cutting edge of today's digital listening environment.
The digital enhancement adds connectivity for legacy sources, both source and host USB functionality, and premier streaming functionality. Field upgradeable, the digital module adds two S/PDIF coaxial, two TosLink optical, USB-A, USB-B, and RJ-45 inputs. Roon music management with Tidal, Qobuz, and MQA digital technologies are all available features. A fully differential DAC handles PCM signals up to 24-bit/192kHz and DSD signals up to 4xDSD (11.2 MHz).
Sonus Faber Launches Minima Amator II Speaker
The new Minima Amator II (€4000 VAT included) give life to the Heritage collection from Sonus faber. Minima Amator II is a two-way bookshelf loudspeaker system with a 28 mm silk dome tweeter implemented with the DAD (Damped Apex Dome) technology. A 6" midwoofer, developed in the Vicenza-based laboratory, features the well-known cellulose pulp and natural fibers cone on a die-cast aluminum basket. Paying homage to the company's past through classic design, while strongly breaking through the barrier of time with an electro-acoustic point of view, the Heritage collection transmits the tradition of the brand and enhances its artistic relevance.
Minima Amator II is the restatement of a fundamental product first introduced in 1992 when the company was establishing key principles that would go on to guide future productions: accurate design and high-quality natural materials, combined together to obtain a sound reproduction as natural as possible. Solid walnut wood cabinet adds to the speaker's sound quality, resulting in a harmonious, smooth and consistent listening experience. The cabinet is embellished by a thin brass insert at the base, reminiscent of the elegant Electa Amator III design. The front baffle shows the iconic shape of the Voice of Sonus faber and is covered in leather. Meanwhile, the rear panel is also covered in leather, plus it houses the exit of the reflex duct and is embellished by the brass binding posts. Sonus faber's Minima Amator II was intended to be a bookshelf speaker, yet is also designed to be paired with the Carrara Stand or with the Unicum stand.
dCS Mosaic Music Streaming Platform
Data Conversion Systems Ltd (dCS) launched their new streaming audio platform. Named dCS Mosaic, this new product brings greatly enhanced streaming audio functionality and an elegantly simple user experience to all owners of current dCS products. dCS Mosaic is a bespoke collection of hardware and software modules which, when combined, provide listeners easy and intuitive access to their digital music. Streaming audio has been a core technology of dCS products since the release of Vivaldi, but Mosaic represents a leap forward in terms of functionality, performance, and user experience. Both TIDAL and Qobuz streaming music services Hi-Res Music services are supported as is legacy CD-quality by Deezer. The addition of a library of internet radio stations and podcasts from around the globe enhances the new service. Conceived from the ground-up as a truly cross-platform solution, dCS Mosaic Control app is a single, unified interface to any current dCS product using a mobile device running iOS or Android.
05 / 13 / 19
Enjoying The Music @ HIGH END 2019
Europe's #1 show is an epic success story!
Editorial By Steven R. Rochlin
As the 19th time attending HIGH END Society's show in Germany, have been proudly smiling as this event has grown to epic proportions! As the only American reporter to have covered this event back then, HIGH END was at the Kempinski Hotel in Neu-Isenburg and product pricing was still in German Deutsche Marks (DM). Over the years, have observed this event grow to the point of needing a larger venue. The 2004 HIGH END show was the first within the now sold out M.O.C.
---> Read More
AXPONA 2019 Show Report Part 5 By Rick Becker
This first room is a bit of mystery to me. I suspect it was Room 544 which was highlighted as an AXPONA room on the floor plan, but not identified on the page listing the presenters. Room 544 was tucked down a short hall just as you come off the stairway coming down from the 6th Floor, making it easy to miss. I'm glad I didn't!
---> Read More
AXPONA 2019 Show Report -- Audio Expo North America
AXPONA 2019 Show Coverage By David Schwartz
My first audio show was in 1957. It was a small one held in a New York office building consisting of showrooms. Lacking the bathrooms and closets of hotel rooms, there was no congestion at the showroom doors. That, combined with a horrible tweeter demonstration are the only real memories I have of that show. It was in the early days of high fidelity (mono), woofers and tweeters had to be explained as well as how to hook up a system.
---> Read More
05 / 09 to 05 / 12
HIGH END In Munich Wants You To Enjoy The Music
HIGH END 2019 show will open their doors and welcome exhibitors and visitors from all over the world from May 9th through 12th in Munich, Germany. With exhibitor space already fully booked months in advance, this year's HIGH END show marks it's 38th time and 16th at M.O.C. As during the past 19 years, longer than any other North American magazine, Enjoy the Music.com will once again report on HIGH END in Munich. This internationally renowned exhibition has firmly established itself as a global event over nearly four decades. Outstanding British singer Steven Wilson is HIGH END's official brand ambassador for this year's event. Steven Wilson is a musical all-round talent par excellence and first became known especially as the founder and creative force behind the progressive rock band Porcupine Tree. In the meantime, he has been pursuing a solo career under his own name and has enjoyed vast success as a solo artist, both in the charts and in concert. Most recently, Wilson delighted his audience in London, selling out three consecutive concerts at the legendary Royal Albert Hall.
---> See our HIGH END 2019 show report.
05 / 06 / 19
Rhapsody Adds MQA Powered By Napster
And the circle is now complete as Shawn Fanning and Sean Parker brought music format MP3 to fame with their peer-to-peer (P2P) file sharing service Napster in 1999. While many major music labels, plus the RIAA, fought Napster legally, we must remember that Sony said they would never offer an MP3 player at the time. Times have indeed changed. Today, that going against the grain sprint continues as Napster's owner Rhapsody International Inc. just announced it has completed a global agreement with MQA, the disruptive company that produces a proprietary "Authenticated Master Quality" music file type versus longtime standard lossless FLAC. According to the press release, "Rhapsody's Powered by Napster platform service now offers partners the option to choose high-resolution and studio-quality audio for those who select MQA (Master Quality Authenticated) as their format of choice. Powered by Napster will offer MQA music tracks across multiple platforms including mobile, automotive and home."
"Powered by Napster is a complete music and audio platform service," says the press release. "It offers companies a suite of technologies and solutions, including music and media streaming and download infrastructure, applications, rights management, customer billing, royalty administration, and business intelligence. The addition of MQA positions Powered by Napster as the leader in high-quality audio music services."
05 / 04 / 19
Merrill Audio GaN ELEMENT 114 Stereo Amplifier
Zero feedback, zero dead time and bottomless noise floor using Merrill Audio's Gallium Nitride (GaN) transistors on the ELEMENT 114 stereo power amplifier ($15,000). Utilizing trickle down technology from the award winning ELEMENT 118 and ELEMENT 116 Monoblock Power Amplifiers released last year, Merrill Audio's ELEMENT 114 ZXOL proprietary design technology leaps ahead of all other Class D implementations and provides more detail and immediacy. According to the company, "The Musical detail, experience and immediacy along with the immediately noticeable ultra-low noise floor takes music reproduction to a whole new experience. It only takes an instant to realize your listening to something quite special."
Using advanced Gallium Nitride (GaN) transistors and advanced PCB design techniques, the dead time is reduced to zero, which removes any distortion. Dead time is the time the MOSFET transistor takes to discharge or charge when changing states. Since there is no dead time distortion, the ZXOL proprietary design also has Zero feedback. With Zero feedback, says the company, there is much more detail, more information and much greater immediacy all with a sense of ease and openness.
Merrill Audio's ELEMENT 114 delivers power across complex loads that doubles 200 Watts into 8 Ohms, 400 Watts into 4 Ohms and 800 Watts into 2 Ohms. Speaker binding posts are pure copper, input is via gold plated balanced XLR, with a gain upwards of 26dB (400 Watts into 4 Ohms at 0.08% distortion). Read Enjoy the Music.com's World Premiere Review of Merrill Audio's Element 118 monoblock amplifier at this link.
05 / 03 / 19
Vitus Audio World Premieres SIA 030 Integrated Amplifier
During HIGH END 2019 in Munich Vitus Audio will be premiering their SIA030 integrated stereo amplifier (pricing not set). Weighing in at a healthy 110 lbs, the unit produces 30 Watts per channel output in pure Class A that can switch to Class AB for 200 Watts (both ratings @8 ohms). SIA 030 features a 2.2KVA vibration suspended custom design transformer, 400,000μF primary capacitor bank with an additional 216,000μF secondary capacitor bank. SIA 030 shares the DNA of the flagship four chassis mono blocks amp, MP-M 201 with a fully regulated PSU. Airflow has been optimized for maximum cooling with no fans.
There's an 'extra' transformer for all logic/CPU etc. Standard inputs include two sereo pairs of RCA unbalanced and three XLR balanced. Speaker outputs are true balanced. There's also a pre-out un-balanced RCA for active subwoofers, etc. RJ45/USB logical inputs allows for easy firmware upgrades. Optional MM / MC Phono stage and DAC / Streamer are available. The digital board provides XLR AES input, RCA S/PDIF, Ethernet for streaming, USB, and optical TosLink.
AudioSolutions World Premieres Virtuoso M Speaker
AudioSolutions Virtuoso M loudspeaker ($32,000 per pair) will make it's first global appearance at HIGH END 2019 in Munich. The Virtuoso falls between the company's Figaro and Vantage Anniversary speaker series, completing their lineup. The Virtuoso shares DNA with their flagship Vantage Anniversary, yet with the visual styling of the Figaro line. AudioSolutions' Virtuoso is a three-way loudspeaker with two 7.5" bass drivers, a 6.5" midrange driver and a mini horn loaded 1.2" tweeter.
There will be seven standard Xirallic high gloss finishes, five Metallic premium finishes and a never seen before Chameleon version. Virtuoso's cabinet is a box in a box design which increases rigidity and stiffness up to 10 times of a regular cabinet according to the company. Virtuoso's midrange driver covers an extremely wide range between 500 to 7000 Hz, which is the signature for AudioSolutions speaker designs. Three crossovers in one speaker thanks to the unique crossover design. Users can choose between Balanced, Moderate or Enhanced modes for their listening preferences.
05 / 02 / 19
World Premiere Review!
Bob Carver Cherry 180 Tube Monoblock Amplifier
One of the most significant tube amplifiers of the past 60 years!
Review By Dick Olsher
Everyone, I'm sure, has by now heard that the innovative and dare I say legend in his own time, Bob Carver, is back! Carver LLC is about tube amplifiers, and soon loudspeakers. It is really the tale of two Bobs: Bob Carver the designer, and Bob Farinelli the business and marketing hub. Two tube monoblock amps are currently shipping: the Cherry 180 and Black Beauty 305. Both share the same chassis, but the 180 is optimized for a KT88 output stage while the 305 is designed specifically for the KT120. Although promoted as a nominal 180 Watt amp, Carver tells me that the Cherry 180 will deliver about 270 Watts.
---> Read More
Hi-Fi+ May 2019 Issue Features Reviews & CanJam NYC
Hi-Fi+'s May 2019 issue features their CanJam NYC 2019 report from the Big Apple plus John Challenger, Salisbury Cathedral's Deputy Director of Music, talks about organ music. Equipment reviews within this issue include the Naim Audio NDX 2 / XPS DR streamer, Constellation Audio Pictor / Taurus stereo preamp/amp, Chord Electronics Huge TT 2 / M Scaler DAC, KEF LSX active bookshelf loudspeakers, Exposure XM CD player, and Triangle AIO 3 active Bluetooth loudspeaker. Other home audio gear reviews include the Node Audio Hylixa stand-mount loudspeaker, Spendor A4 floorstanding loudspeaker, Cambridge Audio Alva TT direct drive turntable system, Rega Aura phono stage, and VooDoo Cable Stradivarius Amati / Dynasty.
Within this issue's Ultimate Headphone Guide, there are reviews of the Cayin N5iiS portable digital music player, Sony DMP-Z1 desktop digital music player / headamp / DAC, Meze Empyrean planar magnetic headphones, Campfire Audio Equinox custom-fit in-ear monitor, iFi Audio Gemini 3.0 dual-headed USB cable, and Nordost Purple Flare USB cable.
Within his editorial Designed, Built, And Made In The UK, Alan Sircom says "At the moment, it's a little hard to be British. The country is divided by Brexit and – wherever people stand on the Leave/Remain continuum – the one thing that unites the kingdom is that politics has not covered itself in glory in recent years. If you travel abroad, you are often met with expressions of sympathy – not necessarily about the event, but about the abject mishandling of the event as it draws to what (as we go to press) might be a close." See what's within this issue of Hi-Fi+ Magazine at this link.
Leema Acoustics Stream IV CD Player
Leema Acoustics has announced their Stream IV (£2295), which is a 'future-proof' CD player for the streaming age. Fully updated for the streaming age, Stream IV offers Tidal, Spotify and Qobuz integration plus vTuner Internet Radio, Deezer and the ability to read data from connected USB drives and Dropbox / OneDrive accounts. Fully UPnP / DLNA compliant, the Stream IV can access and playback from networked music devices, and offers both wired and wireless operation with WPS Wi-Fi integrated for easy home set-up.
Leema Acoustics Stream IV includes an advanced high-resolution 24-bit/192kHz streaming module, a Stream Unlimited CD mechanism, plus a high-quality ESS 9018 Sabre DAC that benefits from S/PDIF coaxial and TosLink optical digital outputs for connection to pre-existing high-performance external DACs. Further audiophile touches include a high-quality Noratel linear power supply. The unit is available in black and silver.
05 / 01 / 19
Netflix Now Streaming 'Studio Quality Sound'
According to Netflix, "Starting today, when you watch Netflix on your TV, it should sound even better. Some of the most iconic moments in TV and film are defined by their score. Without its beautiful theme music, would The Crown be as majestic? Would the eeriness of Stranger Things come across in the same way? Often the subtlety of sound may go unnoticed, but it can have a profound impact on the atmosphere of a scene and fundamentally change how a viewer responds to it. The magical combination of sight and sound brings viewers closer to the story, and that's why we support creative technologies and features like 4K, HDR, Dolby Atmos and Netflix Calibrated Mode.
Today, we're excited to announce a new feature, high-quality audio, which takes our sound quality to another level. We gave it this straightforward name because it fits: high-quality audio delivers audio that sounds closer to what creators hear in the studio, so every little detail is captured for a richer, more intense experience.
Additionally, if you have bandwidth or device limitations, we've made the feature adaptive so that we will deliver the best possible audio to match your capabilities. This is similar to what we already do for video.... We expect these bitrates to evolve over time as we get more efficient with our encoding techniques." And here's the rub for those who truly understand high sound quality, on Netflix website is says, "If you've ever been in a professional recording studio, you've probably noted the difference in how things sound. One reason for that is the files used in mastering sessions are 24-bit 48 kHz with a bitrate of around 1 Mbps per channel. Studio mixes are uncompressed, which is why we consider them to be the 'master' version."
If a so-called "master version" is a mere 24-bit/48kHz.... You can see why the confusion sets in due to a sheer lack of education by the industry at large as 24-bit/192kHz (stereo) and 24-bit/96kHz (5.1 surround sound) has been available via DVD over 20 years ago (March 31, 1997 to be exact). Note that even at its very best, Netflix has a new maximum 5.1 audio bitrate of 640 kbps, with Dolby Atmos being up to 768 kbps. This is not quite something audiophiles might desire at its current best, yet is a wonderful step in the right direction and we look forward to Netflix delivering higher audio bitrates in the future.
For now, Netflix still is not delivering audio technology to equal 1997 standards. To help educate you, our loyal readers, true high resolution stereo audio is a bitrate of 9,216 kbps, while 1980's technology CD is 1,411 kbps, and the best MP3 is 320 kbps. As a point of interest to the ever-lower sound quality delivered by streaming services, Apple Music streams at 256kbps.
AXPONA 2019 Show Report Part 4 By Rick Becker
In Buddhism there are the Four Noble Truths, the first of which is "Life is suffering" (because everything changes). Today's suffering began in the first room when I realized I had left my SD card back at the hotel room in my computer. As I headed for the elevator, I remembered I had tossed a new card into my briefcase, so it was now a matter of finding scissors to cut open the plastic packaging.
---> Read More
Show Reports, Gear Reviews & More!
Enjoy the Music.com's May Review Magazine features our ongoing AXPONA 2019 show coverage, the 25th annual Zagreb AV Show, and soon our HIGH END Munich report! This month includes part 2 of Ethan Winer's How To Do A Proper Listening Test. Editor Tom Lyle discusses many things vinyl, while Roger Skoff writes about who you should rely on in putting together your system. Industry veteran Bobby Owsinski asks, Will Amazon Beat Apple To The Hi-Res Music Streaming Punch?
Manufacturer Articles
Manufacturers chime in as KEF delivers a Comprehensive Guide To Digital Music Formats, plus Joe Cohen of The Lotus Group asks What's Up With Noise Reduction In The MHz Range?
Equipment Reviews
Gear reviews within this issue include Ron Nagle bringing the glow of vacuum tubes with his World Premiere Review of Rogue Audio's new Cronus Magnum III integrated amplifier with phono stage. Analog aficionados will surely enjoy reading Tom Lyle's extensive review of Etsuro Urushi's musically involving Bordeaux MC phono cartridge. We also have reviews of Paradigm's 200B small two-way monitors, plus Quad's PA-One+ triode vacuum tube DAC / headamp from Headphone.Guru and AURALiC's ARIES G1 wireless streamer thanks to our friends at Positive Feedback. These are just a sampling of the many articles and reviews within this issue.
Below are just a few highlights. See all reviews and articles within this month's edition of Enjoy the Music.com's Review Magazine at this link.
As always, in the end what really matters is that you...
Enjoy the Music,
Steven R. Rochlin
Creative Director
AXPONA 2019 Show Report
AXPONA 2019 show coverage by Enjoy the Music.com Staff
Enjoy the Music.com's extensive AXPONA (Audio Expo North America) 2019 show report now features over 200 photos! There's more to come, so check back often!
---> See our AXPONA 2019 show report.
Vinyl Is Back!
Plus what's within this issue and new partnership announced!
Article By Tom Lyle
I'm puzzled. I realize that vinyl isn't "coming back", it's back! Which means that not only serious crate-diggers are searching for and purchasing older records made from before the great CD-scare of the 1990s, but newly reissued vinyl, and new vinyl releases from current artists. As a serious collector of vinyl, I have mixed feeling about many of the records being made and sold these days. To put it bluntly, the majority of records being made today are nothing more than CDs pressed onto vinyl.
---> Read More
Will Amazon Beat Apple To
The Hi-Res Music Streaming Punch?
Article By Bobby Owsinski
I've been predicting for some time that one of the major streaming services would begin to offer higher resolution music, if for no other reason than for brand differentiation. Who would've thought that the service to make the first move would be Amazon? A recent post from Music Business Worldwide states that Amazon is in active talks with record labels for license agreements for better-than-CD quality music material, and that one (still unnamed) is onboard.
---> Read More
Etsuro Urushi Bordeaux MC Phono Cartridge
Getting closer to the music etched into your LP's grooves.
Review By Tom Lyle
It was about a year ago that I reviewed the cartridge that's one step lower in Etsuro Urushi's line, their Cobalt Blue. In the review I said that the Cobalt Blue is "a super-transparent window into the recording that was etched into an LP's surface", praising this cartridge to the point where one might be led to believe that there is no better cartridge on the market. This is not the first time I've felt as though I have painted myself into a corner when reviewing a piece of high-end audio equipment, which happens more often than not when the equipment performs as well as the Cobalt Blue.
---> Read More
World Premiere Review!
Rogue Audio Cronus Magnum III
Int. Amp. With MM / MC Phono Stage
Excellent build quality combined with the sonic performance of vacuum tubes.
Review By Ron Nagle
The name Cronus is past down to us from an ancient Greek myth. Krónos was the leader and youngest of the first generation of Titans. I did my usual on line peeking and sleuthing and found images of the Cronus, a very retro looking open frame amplifier. But while all of those pictures looked like the subject of this evaluation they were actually photos of an earlier version of the Magnum II amplifier. So these photos were taken before I ever got my hands on this review sample. This story is about the new extensively upgraded Cronus Magnum III.
---> Read More
Paradigm 200B Small Monitor Speaker
Impressive bottom end for a small loudspeaker.
Review By Dean Cacioppo
Paradigm Speakers and I have a long, and personal history. Another lifetime ago, I sold hi-end audio at the retail level. Mostly because it was my dream job. Even after I left full time, I would work there on the weekends. Our modus operandi back then was to get the guy who was looking for a new "stereo" and bring them in our big room to let them experience the sound of a real audio system. Then the next step was to bring them into the "small room" where they could experience some of that same magic in their price range.
---> Read More
The Core Issues: Choosing A Power Transformer
Article By MagneQuest Transformer Company
The Core Issues examines the function, construction, design, and operation of magnetics for audio applications. This is practical advice in the form of useful "rules of thumb" with enough pure theory to give us some concept of how these magnificent devices work. This column is not an academic engineering tutorial but rather a guide to becoming an informed consumer.
---> Read More
Read All Articles, Reviews, And Show Reports
We have many more reviews, show reports and think pieces than shown above, so be sure to read this month's edition of Enjoy the Music.com's Review Magazine at this link.
---
Previous High-End Audio News
For previous high-end audio and music industry news click here.