A Music Professor's Assessment Of AXPONA 2023
Great memories of music plus a renewed energy, and inspiration for the art of premium audio.
Audio Expo North America 2023 Show Report By Dr. Michael Bump
The audiophile-faithful descended once again on Schaumburg, April 14th through 16th, for North America's largest gathering of high-end designers, manufacturers, and enthusiasts of all levels and backgrounds. AXPONA 2023 is now officially in the books as the largest to date, with public relations/media coordinator, Natalie Stanichuk, reporting just over 9,000 attendees with over 500 companies exhibiting. Over two hundred rooms distributed over 12 floors of the Renaissance Hotel and Convention Center provided opportunity to experience and celebrate some of the finest home audio designs in the world.
Though the above numbers for this 12th annual AXPONA are impressive, I am continually inspired by the welcoming, tight-knit community that it represents. Everyone has a place at the table, and everyone comes away with a broader awareness and appreciation for the high art of presenting recorded music (and perhaps a few lighter wallets, too!).
As a professional musician and university professor, 99% of my weekends are spoken for, thus the luxury of traveling to an audio conference for even a day is very difficult. Consequently, I've thus far been unable to jet off to Munich, and rarely to Capital Audiofest (CAF), the Florida International Audio Expo, or the Pacific Audio Fest (PAF) due to rehearsal / performance commitments. However, a consequence of proximity and blessings from the calendar Gods, I've thankfully been able to carve out the annual weekend road trip to Chicago.
A 6.5 hour drive from our home in the cornfields of Missouri and I'm re-energized and inspired by friends and audio artisans the world over. Indeed, being an actively-engaged audiophile is a seemingly natural extension of my professional identity, and yet (and somewhat ironically) reflects an autonomous community of friends and acquaintances, one enriching the other.
High-end luxurious premium audio and hotel rooms are quite the enigma (An observation I've mentioned previously that I feel bears repeating). That's why show reports can never be considered "equipment reviews," IMHO. However, I find the irony in it all intriguing when observing the challenge audio teams are faced with. In many ways, I find this element of audio shows almost as interesting as the audio pieces themselves. Room tuning as a concept in hotel rooms seems fundamentally an oxymoron. Sonic maladies abound at these conferences, and the "ideal" listening spot is often lost in the incidentals of room traffic. This coupled with the fact that many room "premieres" carry with them pieces barely off the work bench with little/no break-in.
Those who persevere in doing their best to dial in highly sensitive audio systems over three days have my utmost respect and admiration. And there are many examples of audio teams who consistently overcome these obstacles to great success, which I can't help but interpret as a reflection/extension of their attention to equipment design and sonic objective.
The caveat to my visit this year was that I only had two days to peruse (Fri-Sat), as it was necessary to travel back early Sunday for an evening recording rehearsal. With twelve floors of 200+ listening rooms, the Ear Gear Experience, Expo Hall, seminars, and concerts, a personal master schedule was essential to navigate the weekend (although through visiting/meeting old and new friends, impromptu gatherings, etc., I ended up failing miserably at this).
Needless to say, I did not have the opportunity to enjoy what I'm certain were many fine rooms, for which I extend my apologies. In any case, here are those who won over my ears at this year's AXPONA in both sound and design.
Day 1
In that last year (my AXPONA 2022 show report), I toured from the ground-up, this year I let gravity take the lead and started at the 16th floor. Happier legs = better listening! ;)
Room 1603
AXPONA 2022 was my first opportunity to experience the Bayz omni-directional design, and I was indeed impressed, though admittedly did not have sufficient listening opportunity to offer any constructive commentary. This year, I vowed to bathe my ears a bit longer, and fortunately found a rare listening window in the Rhapsody Audio room that was not otherwise congested. I was also appreciative of the opportunity to visit with and come to know better Bayz founder and chief designer, Zoltan Bay.
The visual design may be polarizing, however there's no question the Counterpoint 2.0 carbon fiber sculptures ($159,900 per pair) command attention. Form serves function, and once you hear music through them, you have an immediate respect for this truth. Indeed, they will reward you with time well-spent, as the expansive sonic landscape presented is undeniable.
Air, speed, coherency, and a truth-to-source stage were characteristic of all music samples. Partnering them with the Taiko Audio Extreme Server ($30,000), Esoteric K01XD ($24,000) used as a DAC with the Taiko but also as a CDP, and a VAC power plant, consisting of the Master Pre ($30,000) and 200iQ Stereo Amp ($16,000), proved an exceptionally effective synthesis of like-minded musical objectives, producing one of the finest experiences of the show.
Room 1627
One of a few rooms I was compelled to visit more than once, and for extended listening, was the GTT Audio room. Bill Parish is a straight-shooter from the word go, whose highest priority in this endeavor is and has always been faithfulness to the music. Obviously coming from the professional arena, this means everything to me.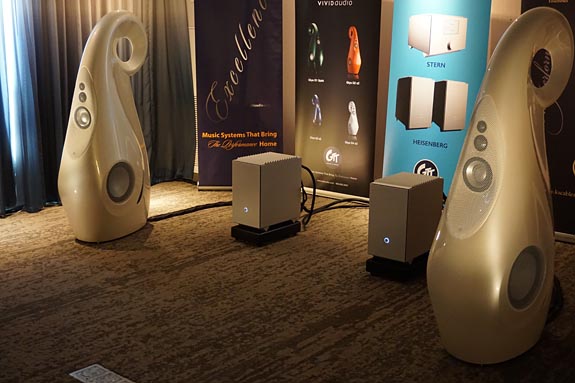 To no surprise, this room represented an outstanding and well-thought gathering of truly exceptional audio pieces, offering stunning musical representations of every recorded sample put forth. GTT has recently welcomed Vivid Audio into their product line-up, with the Giya G1 Spirit ($95,000 pr), as well as the Kaya K-25 ($11,000) (shown in another room I did not have an opportunity to visit), representing. Also on-hand was the world-premiere of the Dejitterit Switch X Ethernet switch ($3,500), bundled with a digital front-end that included the Grimm MU1 Roon core/streamer ($12,500) and MolaMola Tambaqui DAC ($13,500). A second premiere spotlighted the pure liquid gold MolaMola Lupe phono stage ($9,850) – Part of a truly world-class analog front-end, headed up by the Kronos Sparta table ($26,000), Kronos Kronoscope RS arm ($14,000), and My Sonic Lab Signature Platinum mc cartridge ($11,000).
Power management honors were bestowed upon a pair of the amazing Audionet Heisenberg monos ($105,000 pr) and Stern line stage ($48,950).
Had time been available to me, I would have been delighted to spend all afternoon / evening in this room. IMHO, one of the Best-of-Shows and a gem of this year's AXPONA.
Room 1621
Yet another outstanding amalgam of like-minded designs whose primary objective from their creators is to generate "the sound of reality," as it were. And they indeed create this experience among the very best in the business. Though Scott Walker Audio has represented VAC for some time now, it is only recently that they have partnered with Damon Von Schweikert, Leif Swanson, and the rest of team-Von Schweikert Audio. I'm sure I speak for many who see this merger as an absolute win for all of us, and wish this partnership the greatest success.
Though in past years showing in the Euphoria room had its bling and traffic advantages, I personally liked this migration to a more relatable listening space. Anchored by the VSA Ultra 7's in a beautiful diamond graphite finish ($180,000 pair) and a pair of Shockwave V-12XS subwoofers ($16,500 ea), power was served up via a pair of the new VAC Master 300 iQ monos ($42,000 each), managed by VAC's Master preamp ($30,000). Sources included the Aurender W20SE music server ($23,000), Aurender MC20 Reference Master clock ($30,000), the top-of-its-game LampizatOr Horizon DAC ($50,000), as well as the world premiere of the Sonorus Audio ATR10 mkII reel-to-reel deck ($32,500). Masterbuilt Ultra cabling joined audio forces throughout the system, with Artesania component racks and stands (Exoteryc 3x3 $12,300 and Aire amp stand $4,680 each).
It should be noted that the Ultra 7's were isolated with the Center Stage2 LS 1.0 footers ($950 each), a joint design/distribution effort of both VSA and Critical Mass Systems (my review forthcoming in an upcoming issue of Enjoy the Music.com's Review Magazine). The significance of this component cannot be overstated. Similar to the Critical Mass Systems CS 2M chassis footers I reviewed, its employment under most any speaker cabinet will generate a new level of listening awareness.
Room 1607
Audio Group Denmark, represented in the States by-in-large via Tyler Mueller/Next Level HiFi and Peter Hansen, North American Sales Manager, continue to reinvent the state-of-the-art in home audio. It is amazing to observe the myriad of "what ifs" that designer/inventors Michael Borresen, Lars Kristensen, and Flemming Rasmussen have turned into quantifiable "this" responses in the enjoyment of recorded music. As I had commented in my USA premiere review of the Borresen 01 two-way monitors, these audio artisans have found success by re-imagining and consequently. Re-inventing what a fine audio design can and should do to, in turn re-creating an authentic musical experience.
Audio Group Denmark umbrellas four design brands – Ansuz (cabling, power distribution, streaming, resonance control), Aavik (amplification, DACs, Phono stages, streamers), Borresen (speakers), and the new Axxess. Axxess is designing and manufacturing innovative, high-quality speakers, amplifiers, and cabling at a more modest price point.
As in 2022, this year's AXPONA featured three rooms of Audio Group Denmark designs, with the Serenity room on the second level reserved for the premiere of the new M3 full range dream machine, which I'll comment on shortly. To my delight however, I found the presentation in room 1607, featuring the new Borresen X3 ($11,000 pair) as their USA premier earlier this year at the Florida International Audio Expo 2023), Axxess Forte 1 integrated amp (with built-in DAC, streamer, and headphone amplifier)($5,500), Ansuz Mainz8 A3 power/ground distributor ($3,700), Ansuz PowerSwitch A3 internet switch ($4,000), and full loom of Ansuz A2 cables, an absolute favorite among my listening experiences this year.
Though by no means inexpensive, these pieces represent Audio Group Denmark's more budget-accessible approach to high-end home audio designs, leaving little for want and everything to appreciate in a true-to-life musical event. Authenticity of performance space, three-dimensionality, tactile presence of instrumental/vocal sources, natural/organic envelopes, trademark tight bass with transient speed and control across the frequency spectrum, depth, headroom.... All there with conviction. Again, no denying there's some serious coin here to invest, but man, what a bargain for the money! I look forward to working with Tyler and Peter towards a future review opportunity with any/all of these fine designs.