A Music Professor's Guide To AXPONA 2022
Audio Expo North America 2022 Show Report
Show Report By Dr. Michael Bump
How sweet it was to experience the return of audiophile heaven! The high art of musical re-creation never had it so good where, for three days, audiophiles and newcomers alike were able to forget their troubles, immersed in and celebrating some of the finest home audio designs in the world.
As a professional musician & university professor, 99% of my weekends are spoken for, thus the luxury of jetting off to an audio conference for even a day is pretty much impossible. Add to this the two-year hiatus due to the Pandemic... well, it's been a while. For some years prior and as a consequence of proximity, I've done my best to at least carve out the annual weekend road trip to Chicago for AXPONA 2022. A 6.5-hour drive from our home in the cornfields of Missouri and I'm re-energized and inspired by friends and audio artisans the world over. This year's vibe from attendees and manufacturers was very enthusiastic and positive, with attendance seeming to be at least as strong, if not stronger, than any AXPONA show I've experienced. Kudos to Liz and her team for pulling off a fantastic event!
High-end audio and hotel rooms are quite the enigma. That's why show reports can never be considered "equipment reviews," IMHO. However, I find the irony in it all intriguing when observing the challenge audio teams are faced with. In many ways, I find this element of audio shows almost as interesting as the audio pieces themselves. Room tuning as a concept in hotel rooms seems fundamentally an oxymoron. Sonic maladies abound at these conferences, and the "ideal" listening spot is often lost in the incidentals of room traffic.
This is coupled with the fact that many room "premieres" carry with them pieces barely off the workbench with little / no break-in. Those who persevere in doing their best to dial in highly sensitive audio systems over three days have my utmost respect and admiration. And there are many examples of audio teams who consistently overcome these obstacles to great success, which I can't help but interpret as a reflection / extension of their attention to equipment design and sonic objective.
With ten floors of 140 listening rooms, over 500 manufacturers and dealers, the Ear Gear Experience, Expo Hall, seminars, and concerts, a personal master schedule was essential to navigating the weekend (although through visiting/meeting old and new friends, impromptu gatherings, etc., I ended up failing miserably at this). In any case, here are those who won my ears over at this year's AXPONA in both sound and design:
Day 1
Touring from the ground floor on up, my first stops of note were consequently in the big rooms. Utopia C, hosted by Wynn Audio, included Serbian company, Karan Acoustics' LineA preamplifier ($41,000) and a pair of their PowerA monos ($106,000). I had the pleasure of reviewing the Karan KA S 400 & KA L Mk3 pairing for Enjoy the Music.com in 2019. Impressive then to be sure, however, the LineA / PowerA combo was clearly on new level. The Vimberg Mino D speakers (with 30mm diamond tweeter upgrade costing $58,000 as shown) had outstanding timing and transparency.
I've always been a fan of the Vimberg sound for its non-fatiguing natural presentation, and this particular pair in an eye-catching luminescent green finish was pretty special. Debuts included the Kalista DreamPlay X CD / SACD transport ($68,800) with the Metronome AQWO Player ($20,000) used as a DAC), as well as the Kalista DreamPlay Twenty-Twenty table on static display ($54,000). A loom of Crystal Cable "Art" series cables, including the Monet, Van Gogh, and Da Vinci designs, brought together this exquisite family of audio pieces.
The Schaumburg A room featured an all-Burmester system, anchored by the 909 monoblocks ($73,495), effortlessly moving beautiful music through their BC150 three-way "standmount" speakers ($150,000). The system was managed nicely with the all-in-one 111 server, DAC, CD / CD ripper, and analog preamp unit ($49,995). A synthesis of stunningly beautiful audio pieces, with an attention to detail that is second to none. Now, if only I owned an exotic European car with a Burmester system as well...!
Although I heard all three Borresen rooms, it was the Serenity room with the 01 Silver Supreme monitors ($60,500), supported by an all-Aavik system that included their P-580 amplifier ($30,000), C-580 pre ($30,000), S-580 streamer ($25,200) and Anuz DTC Signature cabling - that really impressed.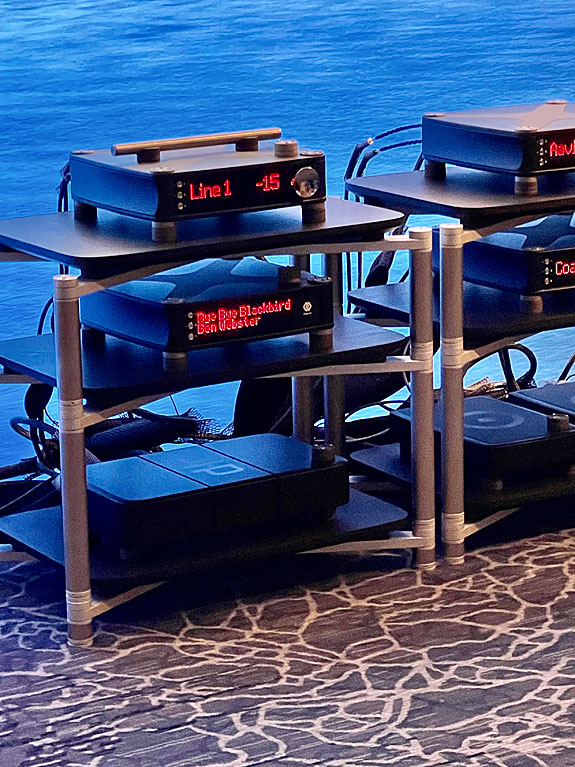 As I expressed in my premiere review of the original 01 (Enjoy the Music.com / July 2020), you would be hard-pressed to identify these as anything less than full-range floor standers if your eyes were closed. They can pressurize almost any room with a life-like presentation, full of exceptional detail and a huge soundstage. However, the Silver Supreme iteration is a quantum leap forward in every sonic category
The Prosperity room, outfitted with an array of Luxman gear, including the M 10X 1200W monoblocks ($19,995 ea) and 600 Watts in Class A/B mono output, C-900u preamplifier ($15,995), the D-10X SACD player ($19,995), a Melco N1Z / 2EX-H50 music server ($5,499), as well as the new Luxman PD-151 MkII turntable ($TBA). In front of this were the Magico M6 floorstanders ($185,000), with all cabling provided by AudioQuest. As with many of the rooms, I was able to do a brief test drive with a personal reference or two, this one being from bata virtuoso, Brenda Navarrete's, Mi Mundo [Inakustik #ACD92972]. Fast, articulate, just a touch of warmth, and wholistic soundstage, sums it up nicely. A presentation to behold, to be sure. Overall, one of the finest presentations at the show, IMHO.
---> Next Page Of Dr. Michael Bump's AXPONA 2022 show report.