High-End Audio, High Fidelity Audiophile Industry News
---



Stay informed with the latest news and information by joining Enjoy the Music.com's e-Newsletter list. As an active member of our e-Newsletter, you are entered into all our great contests too! Come get social with Enjoy the Music.com's fun, informative and interactive Facebook, Twitter, and Pinterest pages. We have many videos within our YouTube channel too!
Upgraded RSS Feed

Enjoy the Music.com offers a great RSS feed to keep you informed on a daily basis. We now provide more daily updates, up-to-the-minute industry information, high-end audio equipment review updates and more! Add our feed: www.EnjoyTheMusic.com/enjoythemusic.xml
11 / 29 / 14
Industry News 10 Years Ago
The audience is listening... and the music industry may finally be "getting it" by making the soon to be release DVD-Audio format backward compatible while keeping within the WG-4 specification. Working on ways to make the upcoming new DVD-Audio fully compatible with current models of DVD-Video players, Warner Music and Universal Music are making inroads to placing uncompressed 24-bit/96kHz music within their future DVD-Audio releases. Warner's technology VP Jordan Rost said his company's first DVD-Audio discs will include a compressed Dolby Digital 5.1 mix playable on current DVD-Video players. Meanwhile Universal Music's production director Jim Belcher said his company is "looking at" uncompressed 96kHz/24-bit stereo PCM tracks on its future DVD-Audio discs.
11 / 28 / 14
Are Audio Dark Roasts Two-Way Monitors

Are Audio's Dark Roasts monitors ($1440 CAD) mate precision craftsmanship with high-quality drivers and crossover parts. The Dark Roasts are the big brother of Are Audio's successful Light Roasts. The Dark Roasts use the same top quality designed cabinet, yet built around a larger 6" midrange/woofer cone driver, which gives greater efficiency and bass extension. Paired with a 26mm silk dome tweeter, the overall frequency response is from 40 Hz to 20 kHz with a 4 Ohm load presented to the amplification. A point-to-point wired first order crossover network, designed around 3 kHz, provides minimal interference and thus allows the electrical signal to flow nearly unimpeded to the tweeter and woofer drivers. Customers can have the Are Audio Dark Roast monitors customized in any color and hardwood of their choosing. The craftsmanship is met with using premium Scandinavian components, which the company feels brings acoustic precision and balance, compelling realism, extended treble, a 'larger than they look' deep bass performance, and an elegant seamless appearance. This two-way reflex enclosure has a top firing port to aid in extending the output of the lowermost frequencies. Dimensions are 33 x 16.5 x 26 (HxWxD in cm) and weight is 15.4 lbs. Are Audio believes that environmental ethics and thus use environmentally friendly manufacturing. They strive to minimize their environmental impact by sourcing local Canadian lumber, as well as other materials, adhesives, and paints that are free from harmful VOCs (volatile organic compounds).
11 / 27 / 14
December Review Magazine Features World Premiere High-End Audio Reviews

Enjoy the Music.com's December Review Magazine has five world premiere reviews, four additional high-end audio equipment reviews, a video tour of Acoustic Sounds, video tour showing you how a vinyl LP is manufactured, more Blues Festival videos, music reviews... and our Great Audiophile Gift Awards for 2014. Enjoy the Music.com, and sister site Enjoy the Music.TV, have been very busy this past month adding a staggering amount of information, equipment reviews, daily news updates, and videos. If you have been following us on Facebook or Twitter, then you have been enjoying these updates in a timely manner. Our sincerest thanks to those who have been e-mailing us with compliments concerning our enhanced daily Industry News updates. Our December Review Magazine features world premieres of the LampizatOr Generation 5 Level 4 DAC, Line Magnetic Audio LM210IA 300B integrated amplifier, Soundfield Audio Monitor 2 active speakers and Aaron Let's Rock! stereo integrated amplifier.
We also have new reviews of the Quad PA-One tubed headphone amp, Benchmark Media AHB2 stereo amp, Chord Electronics Hugo battery powered DAC/headphone amp, Ortofon 2M Mono SE MM phono cartridge, and a Head-To-Head Shootout of the Sony NWZ-ZX1, Sony NWZ-A17 and Pono Music Player. Furthermore, we have updated our TAVES 2014 coverage too!
Think pieces include Spending More And More, Yet Getting Less And Less by Mr. Flood plus our monthly Skoffin' Up Food For Thought has Roger Skoff considering The Whole Experience. We have added more videos from the Blues Masters at the Crossroads concert, a video tour of Acoustic Sounds and another video showing you, step-by-step, how a vinyl record in manufactured at Quality Record Pressings!
Lastly, don't miss our Great Audiophile Gift 2014 awards! We give you many great gift ideas ranging from only $8 to $499, with most being under $300. High-end audio does not always mean high priced. Check out Enjoy the Music.com's choices for both giving, and receiving, this holiday season.
As always, in the end what really matters is that you...
Enjoy the Music,
Steven R. Rochlin
Editor and Creative Director
Enjoy the Music.com
11 / 26 / 14
TACET's Koroliov Series Vol. XVI Now Available On CD

TACET's new Koroliov Series Vol. XVI (€17.60) CD features Ludwig van Beethoven Sonatas op. 109, 110 and 111 with pianist Evgeni Koroliov. Evgeni Koroliov, said to be the master of nuance, announces himself again with another recording of the Late Piano Sonatas of Beethoven, this time with op.109, 110 and 111. A heavy, powerful touch is not his thing. Of course he plays loudly where it should be loud, yet he captures the listener in a different way. He seduces him with the beautiful sound of his touch and with an almost all-absorbing intensity, to engage in small and even minuscule agogic phrasing, slurs or accentuation, in the flow and tumble of the subtle beauty of the score, which often simultaneously develops its powerful undercurrent and yet urges us to grant it our awareness. Thus out of many endless, small treasures emerges an unimaginably beautiful and great whole. The pianists feels that Beethoven was not the powerful antagonist, which he is often portrayed, as in loud but superficial interpretations. His creative force erupted in hieroglyphic ink blots on the paper; only in this way was he different to you and I. A mystery.
Audio-Technica SonicPro ATH-MSR7 Headphones

Audio-Technica , who feel that Hi-Res Audio as set by The DEG should be over the decades old sampling rate of 16-bit/44.1kHz Red Book CD standard, today announced the introduction of its SonicPro ATH-MSR7 over-ear Hi-Res audio headphones ($249.95). Designed to deliver the highest level of accuracy and musical realism from high-resolution audio and other top-quality source material, the smartphone-compatible Audio-Technica SonicPro ATH-MSR7 incorporates a host of newly developed design innovations including exclusive True Motion Drivers "to deliver extraordinary detail, clarity and imaging with a natural tonal balance and extended dynamic range". True Motion Drivers employ an exclusive 45 mm driver with a lightweight, highly responsive voice coil and diaphragm. The ATH-MSR7's Multi-Layer Air Damping Technology utilizes a two-layer aluminum/magnesium housing that provides a lightweight yet rigid structure for the drivers to reduce unwanted internal vibrations that could color the sound. Within the multi-layer structure are three precisely placed air vents that control the airflow to provide greater dynamics and sonic impact. The housing is specially shaped to "mirror" the physical structure of the ear to enhance low-frequency sounds. In addition, the ATH-MSR7 incorporates a mesh acoustic resistor that is said to improve high-frequency response, and a low-frequency acoustic resistor for extended, accurate bass. The sonic result, says Audio-Technica, is a smooth, richly detailed, powerful and spacious sonic presentation that completely immerses listeners in the high-resolution audio experience. Audio-Technica's SonicPro ATH-MSR7 is designed for total comfort with cushioned, soft, memory foam earpads that fit securely yet comfortably around the ears and its flexible swivel design and padded headband facilitate an excellent fit for any wearer. The headphones are supplied with a detachable four-foot smartphone-compatible cable with an integrated controller and microphone that let the wearer answer phone calls and control music/video playback from compatible smartphones and other devices, including Android-based systems, iPhone, iPad and iPod. The SonicPro ATH-MSR7 also comes with a standard 4-foot and 10-foot cable and a carrying pouch and will be available in March 2015 in black (ATH-MSR7BK) and gun metal (ATH-MSR7GM).
Audio-Technica also added the below to their press release describing what they feel is Hi-Res Audio:
While many listeners may believe that high-resolution audio came along with the introduction of the Compact Disc in 1982, constraints on the disc's storage space always prevented CD audio (standardized at 44.1 kHz/16-bit) from fully and completely reproducing the original recorded sound. The advent and subsequent popularity of MP3s only made this problem more pronounced - the necessary compression of these files causes audio information to be lost, thus greatly reducing the audio quality. But with lossless audio file formats, faster Internet speeds, and storage space increasingly easy to come by (and in ever-smaller packages), the push is on to create audio equipment capable of capturing and reproducing true Hi-Res Audio, generally considered to be 96kHz/24-bit or better. The Hi-Res Audio logo certifies that a product meets the Hi-Res Audio standards. Per these standards, headphones must have transducer frequency performance to at least 40 kHz.
11 / 25 / 14
The Cable Company's Summer Against Hunger Fundraiser For CARE Raised Over $339,000

The Cable Company's annual August Summer Against Hunger fundraiser for CARE raised over $339,000 this year. Contributions from The Cable Company, their vendors, customers, and two anonymous donors totaled $48,428. CARE has arranged 6:1 matching funds yielding total program donations of just over $339,000. The Cable Company wants to thank everyone who participated in this year's fundraiser by making a purchase in August. For every one dollar you spent with us in August, even on used products, at least $0.70 was donated to CARE. For purchases of their sponsoring vendors' products, it was actually $1.40 in total contributions for each $1.00 in purchases. Contributions this year are being earmarked by CARE to support the implementation of a cost-effective model of post-primary education in the rural Swat district in Pakistan by using existing primary schools to hold evening classes for girls in grades 6 through 8. Swat is the area of Pakistan where school girl Malala Yousafazai, winner of this year's Nobel Peace Prize, advocated for girls' education. As part of this overall project, schools damaged by flooding and insurgent attacks are being repaired and improved with water and sanitation facilities. The girls are being equipped with textbooks and school supplies for core subjects as well as age-appropriate life skill topics such as health and hygiene, communication and language skills, and personal and home safety. The overall project will reach 4000 direct beneficiaries and an estimated 100,000 indirect beneficiaries. The Cable Company, and of course Enjoy the Music.com, sincerely thanks everyone for helping The Cable Company to assist in CARE's funding for this project.

NEW: Enjoy the Music.com's Great Audiophile Holiday Gifts For 2014
Awesome gift ideas to give your audiophile this holiday season.

NEW: Head-To-Head Shootout
Sony NWZ-ZX1 And NWZ-A17 Versus The Pono Music Player
Review By Steven R. Rochlin
Linn 24-bit Studio Master Track For Free

While we here at Enjoy the Music.com are being inundated with Black Friday sales, to post them all would take many hours in and of itself! So instead, if your company is giving something away for free, then we'll post it. Not free with purchase, we're talking 100% free. And to start this off right, you can enjoy this holiday season with free high-resolution music courtesy of Linn! As a special gift, Linn is giving away a different, free 24-bit Studio Master track every day in December until December 25th. Explore and expand your musical tastes with a host of award-winning recordings from a variety of genres and musicians, including well-known favorites! Each day Linn will post an exciting new video letting you discover the story behind every song. But they know that no-one likes waiting, so in the spirit of the holidays, here's a taste of what's to come – enjoy Dougie MacLean's classic 'Caledonia' performed with the award-winning Royal Scottish National Orchestra. Don't forget to check Linn each day to download a new track for free starting December 1!
11 / 24 / 14

NEW: TAVES Consumer Electronics Show 2014 Report
Rick Becker's part 5; with one more update coming soon!
NEW: Skoffin' Up Food For Thought
The Whole Experience
Roger Skoff writes about music.
Article By Roger Skoff

NEW: Ortofon 2M Mono SE MM Phono Cartridge
The future is mono!
Review By Clive Meakins
11 / 22 / 14
LIVE! Blue Heaven Studios A/V Recording During The Blues Masters at the Crossroads Concert

Enjoy the Music.com and Enjoy the Music.TV presents to you live footage during Blue Heaven Studio's annual Blues Masters at the Crossroads concert. You get a very rare glimpse at watching live as the mix engineer works his magic within the recording studio! In addition, we show you the professional master tape recording in action plus see the multi-channel DSD recording process too. Editor and Creative Director of Enjoy the Music.com and Enjoy the Music.TV, Steven R. Rochlin, mans the camera as we show you live footage from both the audio mixing and video mixing rooms during the 2014 Blues Masters at the Crossroads concert. You can watch our video by clicking here.
Acoustic Sounds Office Tour With Chad Kassem

Enjoy the Music.com and Enjoy the Music.TV presents to you our tour of Acoustic Sounds offices. We join owner Chad Kassem as he takes us through their impressive offices, including their historic turntable room and incredible vinyl vault! Editor and Creative Director of Enjoy the Music.com and Enjoy the Music.TV, Steven R. Rochlin, mans the camera as we explore Acoustic Sounds main office facility. As always, in the end what really matters is that you... Enjoy the music! Come see our tour by clicking here.
11 / 21 / 14
Essence Electrostatic DPA-440 Class D Stereo Amplifier

Essence Electrostatic DPA-440 Class D stereo amplifier ($1299) produces 220 Wpc @ 4 Ohms and provides both unbalanced RCA and balanced XLR inputs. With its rated bandwidth from 20 Hz to 25 kHz (+/-0.2dB), the new Essence DPA-440 has a low signal-to-noise level of -100dB and high dampening factor of <1000. At peak performance, it can produce 40 Amps of driving power. The Essence DPA-440 uses the latest Class D topology to provide a highly efficient amplifier with very low distortion combined with very high stability with virtually any speaker load. The all-discrete driver and output stage have lower open-loop THD as well as lower idling losses, which the company says is "normally conflicting requirements with conventional IC driver circuitry". In fact Essence says that their DPA-440 is capable of up to 400 Watts of dynamic power per channel @ 2 Ohms. The performance of the entire signal path is critically dependent on the power supply; in this case a well regulated switch mode design with 90% efficiency. Secondary supplies are individually regulated and decoupled at each OpAmp for lowest possible noise and maximum dynamic range. The Essence DPA-440 weighs 18 lbs and measures 12" x 3.5" x 12.5" (WxHxD). On the back of the unit are a gain adjustment for each channel, high quality RCA and XLR connectors for input plus WBT gold-plated five-way binding posts for loudspeaker hookup.
Technics Tracks To Sell 192kHz/24-bit Digital Music Downloads

Technics, the long famous brand for DJs and hi-fi enthusiasts, is going to be offering 24-bit hi-res music online with the aid of 7digital. Whilst only available for the time being within Germany and the UK, Technics new music download store will be selling 24-bit FLAC audio tracks. Reports are saying that tens of thousands of them will be in the 192kHz/24-bit sampling rate range, with a plethora being typical old Red Book CD format of 16-bit/44.1kHz. As time passes, Technics hopes to further expand their music collection. Your purchases will also be stored on the Internet (cloud) and will be available for download to multiple devices. Technics Tracks music service will be available online for both Mac and PC users plus APPs for Android and iOS devices. "Technics Tracks will be a vital tool for us to deliver the perfect overall premium audio experience to our customers," said head of Technics Brand Strategy in Europe David Preece. "We understand the uniquely emotionally engaging experiences that listeners crave when playing their favorite tracks and see the remarkable revelations that music lovers have when they experience true hi-resolution music delivered by our new hardware. We're incredibly excited to be driving growth in hi-resolution music availability. Now we want to make the experience of exploring the highest-quality music formats more engaging and more accessible than ever before. Technics Tracks is a platform, where listeners can not only download their favorite tracks in stunning 24-bit quality but will also be a rich source of news and editorial content on hi-res audio releases: another step in supporting our ultimate goal of bringing the world's highest-class audio experience to serious music lovers." 7digital's CEO, Simon Cole, said "This is an extremely exciting partnership for us. As a platform provider we get to work with some visionary device brands and we are always interested in being involved in projects that tackle underserved markets. The re-launch of Technics really addresses the needs of audiophiles and anyone interested in high quality music experiences. We are excited to help Technics see this fantastic service become a great success."
TIDAL Launches test.tidalhifi.com To Compare MP3 To CD Quality Audio Streaming

TIDAL, the first high fidelity lossless music streaming service with HD music videos and curated editorial, has just announced the launch of test.tidalhifi.com, a website that allows visitors to compare the difference between compressed and uncompressed music. The test gives users a direct comparison, so that they can confirm that they are achieving the most out of their audio equipment when streaming music. Whilst listening to five different tracks, users can blindly toggle between the different quality versions and select what they think is the high fidelity quality. At the end of the test, they are informed which version they selected of each track, with those selecting four or five lossless tracks given the opportunity to try TIDAL's High Fidelity music service for free for 14 days. "Hundreds of thousands have invested in a good pair of headphones or an expensive home audio system, but they do not get a genuine High Fidelity experience as long as they are listening to compressed files -- which most standard streaming services offer," said Andy Chen, CEO of TIDAL. "Sales of high quality headphones increased 80 percent last year, but buying expensive audio products is wasted if you use a bad source. With test.tidalhifi.com, we want to highlight the difference between compressed and uncompressed music, so that users can immediately appreciate the difference that a service such as TIDAL offers, and why it increases the musical experience." The test is to listen to five different tracks and distinguish what is compressed and what's playing in lossless High Fidelity Quality. Compressed tracks play in AAC 320 kbps, which is the medium quality in TIDAL and corresponds to mainstream services. This is contrasted with lossless audio, TIDAL's HiFi-quality setting, which has the same quality as CD and is played in FLAC format. As an advertisement-free CD-quality streaming music service. TIDAL is available now in the UK and the USA for a monthly subscription rate of £19.99 / $19.99. TIDA has more than 25 million music tracks and over 75,000 music videos. TIDAL has dedicated apps available for Apple iOS and Android devices, plus a web player for PC and MAC.
Denon's Flagship AVR-X7200W Network A/V Receiver

D+M Global, owners of such brands as Boston Acoustics, Denon, and Marantz plus the previous owners of McIntosh Labs, have upped their game with Denon's new flagship AVR-X7200W network A/V receiver ($2999). As part of the company's X-Series, the Denon AVR-X7200W features high quality parts, build quality and a plethora of features packed into a single chassis. This includes the new Dolby Atmos and soon to be user firmware upgradeable to the Auro-3D listening format. The new Denon AVR-X7200W features a 9-channel amplifier with 150 watts per channel packed in a left/right-separated, symmetrical monolithic amplifier design with custom made DHCT (Denon High Current Transistors). It further supports speaker setups that go beyond its 9 power amplifier stages, thanks to 11.2 channel processing and 13.2 channel preamplifier outputs. The unit also includes processing to handle Dolby TrueHD, DTS-HD Master Audio, DTS Neo:X and Audyssey DSX for advanced surround experience with additional height or wide speakers. Denon's own D.D.S.C.-HD32 circuit with AL32 processing multi-channel plus Denon's Link HD connection aid in ensuring jitter-free transmission from a supporting Denon Blu-ray player. Discerning consumers who appreciate custom room correction at perhaps the highest of levels will appreciate the Audyssey package including Audyssey MultEQ XT 32 (Pro ready) room calibration with Sub EQ HT and LFC. The AVR-X7200W has enough processing power to run an Audyssey-calibrated 5.1.2, 5.1.4, 7.1.2, and even a full 11 channel Dolby Atmos setup; taking advantage of 7.1.4 or 9.1.2 Dolby Atmos configurations. Auro-3D capability creates another unique immersive surround sound experience. Built-in Wi-Fi easily connects to a home network whilst Bluetooth can connect mobile devices with the touch of a button. Once connected, the AVR-X7200W opens up any room to literally unlimited music sources and playback options. Users can stream their own music conveniently from Apple iDevices via AirPlay, or access their music library on DLNA compatible devices like a NAS (network attached storage) device. Moreover, users can choose from thousands of Internet Radio stations and enjoy music services too. A front USB port can be used to connect either USB storage devices, or an iDevice to playback music and charge at the same time. To keep control of all those features, there is a Denon Remote App available for iOS and Android devices. And also available is the improved Setup Assistant and Advanced Graphical User Interface (GUI) which makes it very convenient even for beginners to set up the device with its amazing roster of facilities. There are 8 HDMI inputs, 3 HDMI outputs, and an advanced video processor handles future 4K Ultra HD 50/60 Hz full rate content as well as featuring 4:4:4 Pure Color 4K sub-sampling pass-through. Of interesting note is that Denon does not want to compromise on the limited bandwidth and color capability of currently available HDCP2.2 implementations, and so in the spring of 2015 Denon will start offering a hardware upgrade to include full HDCP2.2 copy protection protocol. Other included features are RS232 control, MM phonostage input, 3 source / 3 zones capability, and ISF calibration ready.
11 / 20 / 14
Style Wars Documentary Now Available On Blu-ray

Now available on Blu-ray is the classic hip-hop documentary Style Wars. Style Wars takes us on a journey through the golden age of youthful creativity and exploding hip hop subculture. When director Tony Silver and co-producer Henry Chalfant delivered the broadcast version of their prize-winning film to PBS in 1983, the world received its first full immersion in the phenomenon that had taken over New York City. The urban landscape was physically transformed by graffiti artists who invented a new visual language to express both their individuality, and the voice, expressed with music, of their community. In Style Wars, New York's ramshackle subway system is their public playground, battleground, and spectacular artistic canvas. As MC's, DJ's and B-boys rock the city with new sounds and new moves, we see street corner breakdance battles turn into performance art. The soundtrack features classics performed by The Sugar Hill Gang, The Treacherous Three, The Fearless Four, Grand Master Flash and The Furious Five, Trouble Funk, Rammellzee / K-Rob and Dion. New York's kings of graffiti and b-boys own a special place in the hip hop pantheon. In Style Wars they continue to empower new generations with the original spirit of hip hop, as it reached out from underground tunnels, from uptown streets, clubs and playgrounds, to the world at large. Bonus material on the Blu-ray includes outtakes, a brand new 40 minute film culled from 30 hours of left over materials filled with hidden gems and fascinating moments never before seen. There is also a B-Boy showcase montage of fast paced phenomenally acrobatic Rocksteady Crew at their tour launch party, in the studio, on the streets, and battling it out against Dynamic Rockers at the United Skates of America in Queens. You also get as bonus footage within Style Wars their 'In The Cutting Room' section. In the summer of 1983 a camera crew visited Valkhn Films, an editing house where Style Wars was being painstakingly spliced together. This 25 minute piece is a rare glimpse at the process of telling a real story as it's happening. "Anybody who wants to understand what hip hop is all about needs to see a movie called Style Wars" said KRS-One. "A breakthrough documentary" says The New York Times and VIBE said, "Hip hop's Rosetta Stone."
Industry News 15 Years Ago

It deeply saddens me to report the following. Enjoy the Music.com received this letter on the 19th of November (1999) yet did not post it per the request of an employee of Mobile Fidelity. Mo-Fi, as they are affectionately called, were at that time hoping for last minute financing which unfortunately never came. What spurred this situation? M.S. Distributing of Hanover Illinois, the company that distributes some of Mo-Fi's products and also other music and video labels, went bankrupt taking with them millions of dollars of inventory from many companies. This includes quite a large sum of Mo-Fi's software. While M.S. Distributing is trying to work out deals with some of the companies, this situation was not resolved in time to save Mo-Fi. With the very fragile economy some "high-end" companies work upon, this might spell just the beginning as companies become reliant on their distributors (or other county's sales). This is, perhaps, a wake up call? With the recent flat sales in the Far East within the past year has given a few manufactures a wake up call. Now Mo-Fi folds because one of their distributors goes bankrupt. Posted below is the actual letter, word for word, we at Enjoy the Music.com received on November 19, 1999 from Mobile Fidelity.
November 19, 1999

Dear Friend;

It is with incredible sadness that Mobile Fidelity Sound Lab announces its closure after more than 22 years in business. This announcement was made today after extreme, but unsuccessful, efforts were made to overcome the financial blow dealt by the events leading up to the abrupt closure of M.S. Distributing's music division.

Mobile Fidelity has remained a small, fiercely independent audiophile label since its inception in 1977. The company was able to weather and withstand several economic and industry upheavals throughout the years. As you know, for the past three or four years, much of the high-end audio industry has suffered through a recession. Mobile Fidelity, once again, undertook the necessary measures to ride out the downturn - especially with the anxiously-awaited new SACDs and DVDs with video soon to be in
the marketplace.

However, in September of 1999, the closure of M.S. Distributing's music division resulted in a substantial percentage of uncollectable receivables for MFSL, plus the inventory it represented. Without access to the funds or the availability of inventory for re-sale, the financial devastation was more than our small company could overcome. Therefore, as of November 19, 1999, the company that changed the way the world listened to music, itself has closed its doors.

Herb Belkin was a co-founder of Mobile Fidelity and a co-owner until his retirement nearly five years ago made this statement when contacted: "I am deeply saddened with the knowledge that the employee-owned Mobile Fidelity - which for so many years represented a major symbol of quality in the field of pre-recorded music - was in the end a victim of bigness and mediocrity. I, along with all audiophiles every - where will deeply miss the musical efforts of MoFi."

Herb and the loyal employees of Mobile Fidelity wish to thank all of our friends and supporters throughout the years. Without everyone's belief in our efforts to make the very best audio reproductions possible, our star wouldn't have shone so bright for so long. We offer our best wishes to those companies that remain and hope they survive this most challenging era of high-end audio.

We sincerely hope that our memory and legacy will continued to be enjoyed for many years to come through the hundreds of classic LPs, aluminum and gold CDs, and even cassettes, that Mobile Fidelity has lovingly remastered for the enjoyment of music lovers, and for ourselves. It was a wonderful ride while it lasted.
As a side note, this also comes just as Mo-Fi released their first SACD disc whose own controversy is a story unto itself. In the end we here at Enjoy the Music.com are devastated at hearing on Mo-Fi's demise. Arguably one of the world's best remastering facilities is now no more. The folks who brought us the UHQR and Anadisq 200 vinyl plus possibly the best sounding Pink Floyd The Wall on CD. Of course there is also Muddy Waters, The Who, Duke Ellington, Billie Holiday, B.B. King, Cream and too many more to mention here. We wish all past employees at Mobile Fidelity the best and hope the music loving community gathers together to pay homage to the late great remastering label that has brought so much musical joy to many people all around the world.
11 / 19 / 14
Is 16-bit/44.1kHz (CD Standard) A Hi-Res Audio Format? We Want Your Opinion.

QUESTION 1: Would you buy a brand new 'Hi-Res Audio' player capable of handling up to a 16-bit/44.1kHz audio file?
QUESTION2: Would you call a decades old Red Book standard 16-bit/44.1kHz digital audio file 'Hi-Res Audio'?
QUESTION 3: Would you pay extra for an upsampled music file that was originally 16-bit/44.1kHz... especially considering that upsampling has been essentially free within most CD player for decades?
QUESTION 4: How would you feel about The DEG if they said that a 16-bit/44.1kHz digitized audio file can be officially labeled as 'Hi-Res Audio'?
Come join the discussion on Facebook by clicking here
Blues Masters at the Crossroads 2014 Concert Grand Finale
Enjoy the Music.com's sister site, Enjoy the Music.TV, presents Bernard Allison's performance during Saturday night's grand finale of the Blues Masters at the Crossroads concert. Sure i could have done a typical one day mastering job, yet with so much going on within the mix.... It took nearly two days to master this as i wanted to really show off Bernard and his band's amazing talents. If you love blues/rock, Jimi Hendrix, and incredible musicianship you really must watch this video! Make sure you click the lower right cog wheel and choose 1080 for the best in sound and video quality. As always, in the end what really matters is that you.... enjoy the music.
Enjoy the Music.com's 2015 Show Schedule


Enjoy the Music.com and Enjoy the Music.TV listing of our planned 2015 show coverage is below. We will be adding more shows during 2015, yet we feel the below is a good basic starting point. Of note is that we are official media partners with all shows below except CES. Please take note of how we plan to report on each event, as the CES will be done in a special way so we can cover many pavilion exhibitors, hotel show spaces, plus offshoot location too. As such, make sure you are a member of our manufacture/distributor/etc eNewsletter list by clicking here to receive details on how to ensure your room is scheduled during our live video broadcast. If you are a show promoter and desire coverage from Enjoy the Music.com please e-mail us by clicking here.
January 6th to 9th, 2015
CES 2015 Show Report
Las Vegas, Nevada
Live stream / netcast.
Add this event to your calendar.

April 24th to 26th, 2015
AXPONA 2015 Show Report
Westin O'Hare
Rosemont, Illinois
Live stream / netcast via our TV studio at the event.
Add this event to your calendar.

May 14th to 17th, 2015
HIGH END 2015 Show Report
MOC Munich-Germany
Photo coverage and perhaps some live streaming.
Add this event to your calendar.

May 29th to 31st, 2015
T.H.E. Show Newport Beach 2015 Report
The Hotel Irvine
Newport Beach, California
Live stream / netcast via our TV studio at the event and photo coverage.
Add this event to your calendar.

August 14th to 16th, 2015
California Audio Show 2015 Report
Westin Hotel
Millbrae, California
Live stream / netcast via our TV studio at the event.
Add this event to your calendar.

October 2nd to 4th, 2015
Rocky Mountain Audio Fest 2015 (RMAF 2015 Show Report)
Marriott Tech Center Hotel
Denver, Colorado
Live stream / netcast via our TV studio at the event and photo coverage.
Add this event to your calendar.

TAVES 2015
Dates and details to be added shortly.

11 / 18 / 14
TAVES 2014 Show Report Part 4 By Rick Becker

Rick Becker has done it yet again as he brings us part 4 of his outstanding TAVES 2014 coverage! Enjoy the Music.com added many more great photos and information within Rick's in-depth TAVES 2014 show report. Within part 4 Rick Becker covers more great gear with a widespread variety of high-end audio components for you to discover. See Rick Becker's TAVES 2014 show report here.
Blues Masters at the Crossroads Concert
Enjoy the Music.com's sister site, Enjoy the Music.TV, presents Mighty Sam McClain's performance during Saturday night's Blues Masters at the Crossroads concert. Today we are mastering the last performer from Saturday night's Blues Masters at the Crossroads 2014 concert and hope to have Bernard Allison's performance online later today. As always, in the end what really matters is that you.... enjoy the music.
11 / 17 / 14
Australian Hi-Fi Magazine

Enjoy the Music.com just posted Australian Hi-Fi's November / December magazine that includes many exciting equipment reviews and an editorial that concerns when hi-res digital audio files are not, in fact, not hi-res at all. This issue's equipment reviews include the Krell S-550i integrated amplifier, Bowers & Wilkins 685 S2 loudspeakers, Allnic Audio H-1201 phono EQ amplifier, Denon DCD-1520AE SACD player, Krix Neuphonix AE40 speakers, Focal Spirit Pro headphones, Gryphon Pendragon loudspeaker system and more. In his editorial, Greg Borrowman says, "I hate to break it to you fans, but Johnny Ray is dead, and most so-called 'hi-res' tracks are not 'hi-res' at all, but rather a complete waste of your money and Internet bandwidth. First you have to define 'hi-res' and the problem is that none of the definitions I've seen is up to the job. They all fail to recognise that in order to be classified as a 'high-res' file the music performed by the musicians that is contained in that file MUST have been originally recorded digitally with a machine generating a 24-bit word every 48-thousandth of a second. That rules out every analogue recording ever made, and every multi-track digital recording made before 1996. So if the supposedly 'hi-res' music track you're listening to was recorded prior to 1996 (and was recorded multi-track) it's not hi-res. End of story. (Pat Metheny's 1996 album 'Quartet' was the world's first 24-bit multi-track digital recording, using the first Neve Capricorn desk ever to be fitted with 24-bit DACs. Earlier multi-track recordings are all 16-bit recordings, made with either 3M's Digital Audio 32-track deck—16-bit/50kHz!—where the 16-bits was provided by using separate 12-bit and 8-bit converters, since true 16-bit converters weren't available when the machine was designed, or with a digital recorders made by Soundstream, Denon, Sony et al, all of which used standard 16-bit DACs.)"
Chord Electronics Choral Ensemble Equipment Rack

Chord Electronics has launched the Choral Ensemble, which is a new solid-aluminum equipment support for their equipment (single tier with Integra legs is £1350, with their single top-mount tier with Integra feet being £1215). Chord Electronics' Choral Ensemble is a specially designed modular support system for the company's stylish Choral range of components. The new equipment support is based around a finely machined 30mm-thick aircraft-grade aluminum plate, supported by four stackable solid aluminum 50mm diameter Integra legs. The Choral Ensemble equipment support can be configured to any height and the cleverly designed Integra leg system allows any component from the Choral range to be combined with Chord Electronics' full-sized equipment. The Integra leg system on the Choral Ensemble aligns perfectly with the Integra Legs featured on other Chord Electronics components, enabling full cross-range system-building. It enables users to select from Chord's Reference, Standard and Choral ranges, in one vertically aligned system. Each tier features four solid-aluminum Integra legs. Each leg-base has three ball-shaped rubber feet and each leg-top has three precision-machined hemispherical dimples. When two tiers are coupled together, the legs give a precise and secure fit between each module, plus a useful degree of damping between the high-mass platforms.
11 / 15 / 14
Review Magazine Midmonth Update
While it is very rare we have a midmonth update, hopefully you'll see we have many updates worthy of this very rare midmonth news posting. Enjoy the Music.com's November Review Magazine midmonth update is packed with world premiere reviews, more show coverage, more hi-res videos from the Blues Masters at the Crossroads... So what have the music loving reviewers and reporters at Enjoy the Music.com been up to the past few weeks? Glad you asked!

First we have more RMAF 2014 coverage as photojournalist Kemper Holt chimes in. Then we have more TAVES coverage too, yet this time by Rick Becker as his part 1, 2 and 3 reports are now online.

Do you love music? If so, then we have two more hi-res videos from the Blues Masters at the Crossroads 2014 concert, with more videos coming next week so remember to check back there. For DIY guys, we posted Jeff Poth's Motorola DCP-501 receiver mods where you can learn how to tweak and improve your gear for minimal money.
Equipment Reviews


Ok, here's where it gets even more fun (fun'er'er?). We have a world premiere review of the Aaron Let's Rock! stereo integrated amplifier that takes the stylish skull theme to a whole 'nother level! Wojciech Pacuła gives you the blow-by-blow details and we have an abundance of amazing hi-res photos not to be missed! Seriously, even if you're not in the market for an integrated amplifier you really should check out the review just for the fantastic photos.

Then we add in a world premiere of the Quad PA-One vacuum tube headphone amplifier by Panagiotis Karavitis with more beautiful hi-res photos of course, so please have plenty of Internet bandwidth for Enjoy the Music.com's November Review Magazine midmonth update. You can enjoy our November Review Magazine midmonth update by clicking here. As always, in the end what really matters is that you...
Enjoy the Music,

Steven R. Rochlin
Editor and Creative Director
Enjoy the Music.com
11 / 14 / 14
Blues Masters at the Crossroads Concert
We have just posted a new video from the Blues Masters at the Crossroads Saturday night performances. We are working on mastering two more performances today and hope to bring them to you as soon as we can. This is a long, and painstaking, process. Thus if only one gets done today we will be extremely happy. Thank you for your patience, we truly do appreciate it.
Radial Engineering To Re-Launch The Hafler Brand

Radial Engineering Ltd. is re-launching the Hafler brand of high fidelity audio products. During the early 1950s David Hafler's passion for sound quality led to the patented design of the Ultra-Linear transformer technology. Formed in the mid 1970s, David Hafler begun his commercial work releasing solidly built high quality audio products. In 1987 the Hafler line was acquired by Rockford Corporation. Radial Engineering Ltd. is a manufacturer of professional audio products based in Canada. Radial was established in 1991 and incorporated in 1992 as JP CableTek Electronics Ltd. All of the company's products are conceived and designed in-house, and then produced using a network of fabricators. According to Radial President Peter Janis, "Way back in the 1990's, Radial was the Canadian distributor for Hafler and ever since then, we have felt that given the opportunity, we could bring Hafler back to the world of audio. Earlier this year, we purchased the brand from Rockford-Fosgate and have been quietly working through designs in preparation to launch the brand at this year's CEDIA trade show... David Hafler basically invented high fidelity amplifiers back in the 1950s under the Dynaco brand. Later, he launched the David Hafler company. When Rockford-Fosgate took over the reins in 1987, they focused their attention on studio amplifiers culminating their designs with the popular P3000 and venerable 9505, often considered to be one of the most musical and dynamic sounding amplifiers of all time. We are currently going through the paces of redeveloping these legends. But this is no easy task! We are working with various winding companies to recreate power transformers, locating some hard to find parts and retooling the heat syncs. Once the groundwork is completed, we will upgrade the designs where we think we can bring value. We anticipate launching the power amps in 2015." They have already begun what they are calling the 'Hafler Revolution' with phono preamplifiers and headphone amplifiers.
Denon DA-10 192kHz/24-bit And DSD Portable DAC Headphone Amplifier

Denon's DA-10 ($399) is the company's first battery powered audiophile quality portable headphone amplifier with asynchronous USB that handles DSD and uses a 192kHz/32-bit DAC. Denon's DA-10 is housed in an elegant aluminum finished casing with a solid aluminum alloy volume knob. The DA-10 package includes a very useful carry pouch, which is designed to house the DA-10 as well as a portable audio device or a smartphone. While portable audio players, smartphones, and tablets can easily power ordinary ear buds, their analog audio output stages typically can't handle higher impedance headphone types. With its advanced audio technologies engineered by Denon audio experts, the DA-10 has a higher amplification output to drive higher quality headphones and IEMs. The DA-10 also acts as an external, high fidelity audio DAC. Denon's DA-10 features reference class 192kHz/32-bit Burr-Brown PCM-1795 chip, which is also found within premium audiophile disc players and digital amplifiers. The DAC features the ability to decode linear PCM files with sampling frequencies from 32 kHz all the way up to 192 kHz, and bit depths up to 24 bits. It is also compatible with one bit DSD files including 2.8MHz and 5.6MHz. Internally, the Denon DA-10 features premium design and construction, with separate circuit boards for the main audio block and the power supply block, to eliminate inter-stage interference. Amplification is via discrete current buffer. There are dual master clocks (22.6 and 24.6 MHz) to optimize performance with specific sampling frequencies (44.1, 88.2, 176.4 MHz and 32, 48, 96, 192 kHz), and the low phase clock crystals are positioned directly adjacent to the DAC chip on the audio board for maximum jitter reduction. Audio quality is further enhanced by Denon's digital filtering and noise shaping algorithm, called Advanced AL32 Processing. Inputs include standard USB for iPod, iPhone and iPad, and micro-USB port for direct connection to a computer's USB audio output. This port works in asynchronous mode to support not only 192kHz/24-bits and DSD 2.8MHz and 5.6MHz. For other portable devices and players, the DA-10 package also includes a standard 3.5mm to 3.5mm stereo analog cable, with "L" connectors on both ends. A dual position amplifier gain switch allows for use with low and high impedance headphone types, as well as a variable/fixed output switch that allows for direct connection to another audio components. Equipped with a high capacity 3200 mAh rechargeable lithium-ion battery, the DA-10 provides up to seven hours of run time with an iDevice, and up to 24 hours runtime when connected to a portable player via the analog 3.5mm input.
PTP Audio Blok20 LM1875-Based Stereo Amplifier

PTP Audio's new Blok20 (€2250) stereo solid-state amplifier produces 20 Wpc via the LM1875 amplifier chip. The story goes that when PTP Audio's owner and designer, Peter Reinders, was given a few LM1875 chips one day he had to try them. With a few leftovers from the parts bin he built an extremely minimalist amplifier. Upon trying his new design he fell in love, with is replacing a single-ended valve amplifier within his own system. PTP Audio's designer took time to refine the amplifier further, both electronically and visually. In the end this has resulted in the Blok20 you see here. The Blok20 amplifier is designed to work best with high(ish) efficiency speakers with simple crossovers and sane impedance curves. This 20 Wpc amplifier is very minimalist, with the heart being the use of the LM1875 amplifier chip. There are minimal parts count, as the amplifier circuit is one chip and there are three resistors. PTP Audio's Blok20 uses no PCB, as everything is point-to-point wired for an extremely short signal path. The unit also features three line level inputs via RCA and they have a 50 kOhm input impedance. Ultra fast recovery rectifiers and 300VA toroidal transformer supplied power to the internal circuitry. All wiring is high purity silver plated copper with Teflon insulation. The 4mm thick stainless steel back panel includes an integrated heatsink. The Corian housing measures 170 x175 x 200 (HxWxD in mm) and is available in black or white, with other colors available upon request. Overall weight is 17.6 lbs.
11 / 13 / 14
Get CANADA HiFi Magazine's Latest Issue For Free

Enjoy the Music.com has just posted the October / November 2014 issue of CANADA HiFi audio/video magazine! This issue features reviews of the Encore ENC-5 bookshelf speakers, Bryston Middle T loudspeakers, Adsum Audio The Detonator speaker, and Cyrus Streamline2 streaming music play. In this issue editorial, Suave Kajko says, "The fall is upon us and that means that another edition of the TAVES Consumer Electronics Show is coming up. This year's show will be so much larger in size and scope, it will be almost like a brand new show. In fact, so many new elements have been added to the show this year, we decided to change the show name from the Toronto Audio Video Entertainment Show to TAVES Consumer Electronics Show. The sleeker new name reflects far better what direction the show is taking. In addition to audio and video products, this year's TAVES will showcase a number of groundbreaking technologies such as holographic displays, an Oculus Rift virtual reality gaming area (the devices doesn't come out until May 2015), Tesla electric cars, and mind control headbands – just to mention a few. I can hardly wait to see the show myself this year!" Get your free PDF download of the October / November 2014 issue at this link.
AudioQuest Nighthawk Headphones

AudioQuest's new Nighthawk headphones is jam packed with innovation. AudioQuest felt their very first headphones, hinting at this being a new series perhaps, needed a special name. They wanted something that "conveyed power and freedom, inspired ideas of physical and emotional transportation, complemented the overall look and feel of the product, and still left room for growth". Perhaps hinting they plan to release a higher-end model in the future? Time will tell. In any event, the AudioQuest Nighthawk headphones have a flexible headband that efficiently distributes the weight, thus providing a feel that is both comfortable and comforting. A special patent-pending suspension system allows the earcups to articulate freely, accommodating heads of any shape or size, while effectively decoupling the earcups to counteract intrusive resonances. NightHawk's earpads are made of soft, durable protein leather—again shaped to resemble the human ear—with greater thickness toward the rear of the pad. Since aftermarket cables for headphones has been a growing industry, and AudioQuest being a cable company, they equipped the Nighthawk with the company's 30+ years of experience in the high-performance cable business. The included headphone cable is purposefully designed to minimize distortion and uses many of the same technology and metallurgy as found within their speaker cable. This includes high-purity Solid Perfect-Surface Copper+ conductors, Foamed-Polyethylene insulation, Carbon-Based Noise-Dissipation System (NDS), and silver-plated terminations. AudioQuest also included a unique 1/4" to to 3.5mm headphone adaptor that, like their finest cable connectors, features a thick Direct-Silver plate over our extreme-purity Red Copper and beryllium-copper base metals. As fr the special drivers, NightHawk takes a radically different approach than most others by employing advanced 50mm drive units with high-excursion and biocellulose pistonic diaphragms mated with compliant rubber surrounds. NightHawk's patented split-gap motor design is said to "dramatically reduce intermodulation distortion to provide a clean, well-defined broadband response and a large, naturally detailed representation of space with truly remarkable resolution in the time domain". Furthermore, AudioQuest's NightHawk headphones uses symmetrically distributed, equation-driven curvatures to intelligently guide airflow through its internal driver structure, thus reducing the harmful, unpredictable effects of turbulent air pockets and voice coil rocking. A special 3D printed biomimetic grille to protect the driver yet allow the sound to flow into the listener's ears was inspired by the underlying structure of butterfly wings.
YouTube Music Key Service

Music fans will soon be able to subscribe to YouTube's new Music Key service ($7.99/month launch promo, with normal pricing being $9.99). With so many major, and minor, recording labels and musicians relying on YouTube to reach their targeted audience, Music Key is going to be an interesting business venture for an online music service. In addition to the incredible depth of music available on YouTube, Music Key is also offering access to Google Play Music's entire library. There will be ad-free music videos, background playback, plus offline caching so you can watch videos without the need for an Internet connection. For now, YouTube's Music Key is available in Beta. "You've watched, shared, remixed, invented, parodied and whatevered your favorite songs, making YouTube the ultimate place for artists and fans to connect," says their press release. "To celebrate all that music and unlock new ways to enjoy, we're making it easier to find new music on YouTube and rock out to old favorites. Plus, we're starting the launch of a new subscription service that lets you watch and listen to music without ads, in the background or offline. If a song exists in this world, you can probably find it on YouTube... But until today you couldn't easily find and play full albums. In the coming days, you'll be able to see an artist's discography on YouTube, and play a full album with both their official music videos and high-quality songs our music partners added to YouTube." Well played YouTube and Google, well played indeed!
TAVES 2014 Show Report Part 3 By Rick Becker

Rick Becker once again chimes in with key information from TAVES 2014! Enjoy the Music.com has added more great photos and information with Rick's exciting TAVES 2014 show report. Within part 3 he covers music, art and of course many high-end audio components. See Rick Becker's TAVES 2014 show report here.
11 / 12 / 14
Daft Punk Alive 1997 And Alive 2007 Limited Edition Vinyl LP Box Set

Daft Punk will release their Alive 1997 and Alive 2007 limited edition four LP box set on 180 gram vinyl pressings for the first time! Alive 1997 was recorded at the Que Club in Birmingham and features a 45-minute live mix of the duos tracks. It was originally released in vinyl, and the new four vinyl LP box set includes a newly remastered version. As for Alive 2007, it was originally released in December 2007 and was recorded at Bercy in Paris in June of the same year. The new four vinyl LP limited edition box set is a deluxe vinyl package, which will be available on December 22nd and includes a 52-page book. Daft Punk's Alive 2007 earned two Grammy Awards in 2009 in the category of Best Electronic Album and Best Electronic Single. This box set is said to be available December 19 in Europe, and on December 22 within the UK. So far there is no release date for the USA. According to the French site Amazon.fr, the limited edition Daft Punk deluxe LP box includes Alive 2007 double white 180 gram vinyl, with a B side being etched. Alive 1997 is two silver 180 gram vinyl LPs. It also comes with a 52 page book is filled with photos taken during Daft Punk's 2007 tour. A replica VIP Pass plus Alive 2007 download card for Alive 2007, Alive 1999 and live video "Harder Better Faster Stronger" is also part of this special box set. Track listing for both albums is below.
Side A:
Robot Rock
Oh Yeah
Touch It
Technologic
Television Rules The Nation
Crescendolls

Side B:
Too Long
Steam Machine
Around The World
Harder Better Faster Stronger
Burnin
Too Long

Side C:
Face To Face
Short Circuit
One More Time
Aerodynamic
Aerodynamic Beats
Forget About The World

Side D:
Prime Time Of Your Life
Brainwasher
Rollin And Scratchin
Alive
Da Funk
Daftendirekt
Superheroes
Human After All
Rocknroll
Beats Electronics Solo2 Wireless Bluetooth Headphones

No matter what some audiophiles might feel about Beats Electronics headphones, there is no denying they have a major influence and market share. The new Beats Solo2 Wireless model ($299.95) was just announced and breaks away from the usual wired-only affair. You can pair the Beats Solo2 Wireless with your Bluetooth device and move freely for up to 30 feet away. It also allows users to enjoy hands-free phone calls with the built in microphone. In addition, the on-ear controls allows music lovers to adjust their listening experience without reaching for their device. To quote their site, "The Solo2 Wireless has a dynamic and wide range of sound with a natural clarity. The ear cup padding buffers outside noise, bringing you closer to what the artist intended you to hear. Regardless of what kind of music you're into, you will feel the crisp, balanced sound in your Solo2 Wireless." Company fanboy remarks aside, the Beats Solo2 Wireless headphones are made with a durable housing and are compact; with a foldable design to make it easy for traveling and storage. The center of the flexible headband and frame of the Solo2 Wireless has been engineered to give it an almost custom-fit feeling. The headphone's flowing curves has no visible screws, and pivoting earcups complete the physical fitting plus this ergonomically-designed product is designed for optimal comfort and sound delivery. Beats' Solo2 Wireless headphones come with a carrying case, RemoteTalk cable, USB 2.0 charging cable (USB-A to USB Micro-B), 4.5-foot cable for normal wired use, and weighs 215 grams (0.47 lbs.).
RMAF 2014 Report By Kemper Holt Part 1

Enjoy the Music.com just posted part 1 of Kemper Holt's RMAF 2014 (Rocky Mountain Audio Fest) show report! Celebrating our eleven years of reporting on this extremely popular event, the RMAF 2014 featured high-end, high fidelity audio equipment at the Denver Marriott Tech Center Hotel from October 11th through the 13th. Enjoy the Music.com live streamed well over 20 hours of exciting video from the RMAF 2014 hi-fi, high-end audio show! We visited a variety of rooms and exhibition spaces and streaming it all live to our worldwide audience.
Audioengine B2 Premium Bluetooth Speaker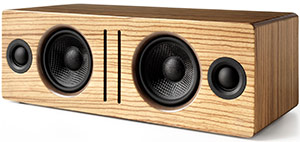 Audioengine's new B2 premium Bluetooth speaker ($299) brings the signature sound of the company's popular 2+ powered desktop speakers to the wireless world in a convenient all-in-one stereo speaker system. The Audioengine B2 has a built-in 24-bit DAC, extended wireless range, and the aptX Bluetooth audio decoder. This combination works together to bring the best sound possible from the all-in-one unit. There is no doubt that many music lovers are seeking to stream audio from their Bluetooth-enabled device(s). The Audioengine B2 only takes seconds to setup and is ready to produce music throughout the room. The midrange/bass driver are a pair of the 2.75" Kevlar variety while for the uppermost frequencies they use silk soft dome tweeters. The wooden cabinet is hand-built and there are dual front port slots for extended bass response. The wood cabinet of the B2 reflects traditional Audioengine design and the high-quality components and audio fidelity are typical of Audioengine's commitment to great sound at affordable prices. An analog 1/8" jack works with any phone, tablet or external music source. Frequency response is from 65 Hz to 22 kHz (±2.0dB) and the Bluetooth 4.0 receiver handles aptX codec and supports aptX, A2DP, and AVRCP. The TI PCM5102A DAC chip works at 24-bit rate, dimensions of the Audioengine B2 is 4.25" x 12.25" x 5.50 (HxWxD) and shipping weight is 10 lbs. Enjoy the Music.com reviewed the Audioengine D2 24-bit wireless DAC, Audioengine A5 powered monitor loudspeaker, and Audioengine A2 powered minimonitor.
Record Wall-It Is A Great Way To Display Vinyl LPs

Record Wall-It is one of the coolest ways to display your vinyl LPs ($7.95 each, with price discounts available if you buy in quantity). They easily mount to the wall and enable a fast way to access your music too. You can proudly display picture discs or LPs thanks to the detachable record post. Record Wall-It fits virtually all albums as each frame holds single or double albums. You can show off double LP by simply placing two frames side by side. Record Wall-It is very decorative and you can arrange frames any way to show off your artistic creativity too. Simple installation means you only need to use a screw to attach to the wall, which is included with each frame. The company calls Record Wall-it "the easy record frame because it allows you to change up your vinyl collections quickly without fuss, you can use your imagination to arrange your albums anyway you can dream up, and because it's not another boring album frame." They also make a great holiday gift idea too! "When I decided to develop my idea of an easy access record album frame, I looked into expanding its functions and versatility that will meet the needs of record collectors and yet be affordable to every vinyl fan," said company owner Roger Herz. "Launching this simple idea has become an American dream. And I dedicate my dream to you – my customers."
11 / 11 / 14
Do You Own Your Digitally Downloaded Music? The Answer Might Surprise You!

QUESTION: Did you know that.... With online music you never really 'own' the music. You're paying full price to merely license the ability to play it. Go ahead and try to legally sell your hi-res music files online and see what happens. Sadly, that seems to be the way it is with online-only digital music file purchases (read: non-physical format). So this begs the question, should vinyl LP retailers include with purchase the same album in hi-rez download or offer said downloads also on a physical format? This way you own the physical format and can sell/trade it as desired. Your thoughts? Chime in your thoughts and join the discussion within Enjoy the Music.com's Facebook page at this link.
UPDATE: China's 11.11 Shopping Festival Reaches Over $9,000,000,000 In Sales At Alibaba

What is your consumer electronics company doing to reach a broader, worldwide audience? Alibaba Group Holding Limited, a Chinese e-commerce company akin to the USA's Amazon.com, celebrated China's 11.11 Shopping Festival with 2014 sales figures exceeding 2013. This year they achieved an outstanding sales gain to reach RMB 36.2 billion ($5.9 billion USD). UPDATE: It reached $9,000,000,000 USD, which is larger than the USA's 'Black Friday' (the day after Thanksgiving). This figure is due to transactions via Alipay, China's version of PayPal, and of course is subject to final auditing. Singles' Day, or Guanggun Jie (光棍节), is a day for people who are single and is celebrated each year on November 11 (11/11). The date was chosen for the connection between singles and the number '1'. This holiday has became very popular amongst the young Chinese population and in recognition of the day, young singles organize parties and Karaoke to meet new friends or try their fortunes. It also just so happens to be the largest online shopping day within the entire world. According to online website TechCrunch, "Last year (2013), Alibaba notched an 80 percent growth in sales compared to the shopping day in 2012, but this year it has widened its efforts behind Mainland China, with sales expanding worldwide. The company said early traffic was strongest from China, Taiwan, Hong Kong and the U.S. too. Finally, more wow figures to give you a sense of perspective: Alibaba estimates that 27,000 merchants and 42,000 brands will be involved in the 11/11 sales this year." During his trip to China in 2009, reporting on high-end audio companies including TJ Full Music, Shuguang, Compact Audio Technology, Jungson Audio and Sheng Ya Amplification plus the popular Guangzhou AV Fair, Editor and Creative Director of Enjoy the Music.com Steven R. Rochlin noted that Chinese citizens highly value American and European audio products. This begs the question, if your audio company is seeking to increase sales worldwide, then they should ask themselves what are they are doing to ensure proper representation in China? So we ask again, what is your consumer electronics company doing to reach a broader, worldwide audience?
Densen B-250 Preamplifier

Densen's B-250 preamplifier takes many of the innovations from the company's B-275 Super Leggera, yet offers a new level of performance. The volume level is controlled by an extremely precise attenuator made of Vishay metal film resistors, which is switched by relays controlled by the microprocessor. This results in precision and refinement with an attenuator that contains no less than 200 steps so the volume is very precisely (0.5dB) matched between left and right channels. The Densen B-250XS contains sockets for the SA Board for surround and their DP-03 MM RIAA phonostage. There is also the possibility of upgrading the B-250XS with the DNRG or 2NRG external power supply to further enhance the sound quality. The amplification stages are all refined developments based on advanced Class A designs, which have been encapsulated on a board to avoid interference with the delicate signal. The output stage is a dual mono design with a large storage capacity of 100,000 uF. The SA boards (Surround Audio Boards) bring the normal stereo unit to 5.1/ 7.1 line input and 5.1 / 7.1 preamplifier output. The SA boards exist in two versions the SA-02 board is the standard version, whilst the SA-01 is the reference version with extremely high quality preamplification stages. The Densen B-250XS also contains socketing on the back panel for use with internal DACs. Densen will soon introduce a reference DAC for internal use. It will have USB, TosLink optical and S/PDIF coax digital inputs. As standard, the Densen B-250 preamplifier has four line inputs and a tape loop via unbalanced RCA jacks. Preamplifier outputs are two stereo sets for bi-amplification. The output stage is based on a 6 Watt Class A amplifier with zero feedback. It is available in black with gold / chrome buttons or albino silver chassis.
Industry News 10 Years Ago

DTS (Digital Theater Systems, Inc.) has announced DTS-HD, a new name for their lossless compression technology previously called DTS++. DTS-HD is an audio codec that can support a virtually unlimited number of discrete surround sound channels, can downmix to 5.1-channel and stereo, plus delivers audio quality at bit rates extending from DTS Digital Surround up to lossless. Unlike lossy compression schemes that lose data and strip away part of the audio signal, lossless technology is claimed to have the ability to reduce an audio file size while not losing any of the data. This allows for more audio data to fit within an optical disc. Upcoming formats such as Blu-ray Disc and High Definition DVD (HD-DVD) will support DTS-HD.
Industry News 15 Years Ago

Bowers & Wilkins, a leading exporter of loudspeakers in North America that began operation in 1966, has announced their first headphone offering called the he P5 Mobile. Claiming to offer natural sound, the noise isolating design is for users on the move. Recognizing that many mobile headphones can be tiring when listened to over extended periods, Bowers & Wilkins' engineers at the Stenying Research Establishment work to produce a headphone with a natural, non-fatiguing performance and comfortable over long periods of use. The use of specially developed ultra-linear neodymium magnets and highly optimized Mylar diaphragms provide high-end sound quality. Sound isolation is achieved through a combination of the closed-back design featuring a rigid metal faceplate and the sealed-leather ear pads. The leather-clad headband has been designed for extreme comfort where it interfaces with the side of the head while the softest available sheep's leather from New Zealand has been used for the ear pads. Recognizing the dominance of Apple's iPod and iPhone in the portable media market, the P5 comes supplied with a Made For iPod approved cable, which allows for speech and device control. It also comes supplied with a high-quality, standard audio cable with gold-plated plugs. Switching between the two is facilitated by the magnetically attached ear pads, which simply pop off allowing access to the cable. Enjoy the Music.com has reviewed the Bowers & Wilkins (B&W) top-line reference 800D large floorstanding loudspeakers, which can be seen by clicking here.
11 / 10 / 14
Parasound Zdac V.2 DAC With Headphone Amplifier

Parasound is now shipping their Zdac V.2 DAC and headphone amplifier unit ($549). The Parasound Zdac V.2 follows their original Zdac, yet adds enhanced preamplifier features, a new headphone amplifier with increased gain and dual output jacks, plus an improved system integration option for those who desire 12-Volt triggers for home automation. The Parasound Zdac V.2 also is Lightning jack equipped for Apple iOS devices to send digital audio directly to the Zdac V.2's USB port. Zdac V.2 adds a high-slew-rate headphone amplifier to prevent the odd-order distortions that can contribute to listening fatigue. Its low 10 Ohm output impedance combined with higher gain allows it to drive headphones up to 600 Ohms. There is a dedicated headphone volume control and dual 1/4" and 1/8" phone jacks to avoid added adaptor contact noise and insertion loss. The Parasound Zdac V.2 is configured to drive a power amplifier directly without need of a preamplifier via balanced XLR and unbalanced RCA line outputs. Users can set these outputs to be either variable or fixed level for maximum signal-to-noise ratio. The Zdac V.2 has TosLink optical and S/PDIF coaxial digital inputs that support up to 192kHz/24-bit sources plus a USB input for up to 96kHz/24-bit. Asynchronous sample rate conversion is active for all inputs, which are re-clocked and up-sampled to 422kHz/24-bit. The Parasound Zdac V.2 is available in silver or black finish.
Pink Floyd's The Endless River Is Now Available On LP, CD, DVD and Blu-ray Discs

Longstanding and incredibly legendary musical artist group Pink Floyd's new release, The Endless River, is now for sale at Acoustic Sounds. There are three different versions to choose from too! The 180 gram vinyl by QRP two LP set ($36.98, plus free download and insert ACOL 7881) was mastered by Doug Sax. Another option is a deluxe box set that includes CD, Blu-ray, book and postcards ($31.98 CCOL 20102). Lastly is a deluxe box set that includes CD, DVD, book and postcards ($28.98 CCOL 20092). Pink Floyd's The Endless River, the new album from David Gilmour, Rick Wright and Nick Mason, is the band's highly-anticipated release. This album's starting point is with the music that came from their 1993 album Division Bell. Created by David Gilmour, Rick Wright and Nick Mason, the trio listened to more than 20 hours of themselves playing together to select the music they wanted to work on for the new album. "Over the last year we've added new parts re-recorded others and generally harnessed studio technology to make a 21st century Pink Floyd album" says David Gilmour. "With Rick gone, having passed way due to cancer in 2008, it feels right that these revisited and reworked tracks should be made available as part of our repertoire." Nick Mason says The Endless River is a tribute to Wright. "I think this record is a good way of recognizing a lot of what he does and how his playing was at the heart of the Pink Floyd sound. Listening back to the sessions, it really brought home to me what a special player he was." The Endless River is mainly a four-sided instrumental album with one song, "Louder Than Words," which includes new lyrics by Polly Samson. The concept for the powerful imagery of a man rowing on a "river" of clouds was created by Ahmed Emad Eldin, an 18-year-old Egyptian digital artist. Ahmed's image was then re-created by Stylorouge, which is an award-winning UK design agency. Pink Floyd's album artwork, mostly created by Storm Thorgerson of Hipgnosis, is as legendary as the band's music. With Storm's passing in 2013, the task of finding an image that carried on Storm's legacy passed to Aubrey "Po" Powell, Storm's original partner in Hipgnosis. BTW, David Gilmour also said, "Unapologetically, this is for the generation that wants to put its headphones on, lie in a beanbag, or whatever, and get off on a piece of music for an extended period of time. You could say it's not for the iTunes, downloading-individual-tracks generation... But there are a lot of people who'll get a lot of enjoyment out of this."
TAVES 2014 Show Report Part 2 By Rick Becker

Enjoy the Music.com photojournalist Rick Becker continues bringing you key information from TAVES 2014. We have added more excellent information within Rick's exclusive TAVES 2014 show report. Within part 2 he covers the second floor of this major fall Toronto high-end audio, cutting-edge technology and art event. See Rick Becker's TAVES 2014 show report here.
11 / 09 / 14
Tubecore Audio's DUO Media System

Tubecore Audio's DUO media system (starting at $649) combines Class A vacuum tube amplification with high-tech computer audio processing. At the heart of the DUO lives a discreet Class A vacuum tube preamplifier via the twin triode 12AU7 (choice of Electro-Harmonix as standard or upgrades include Tung-Sol, gold pin Electro-Harmonix or Genelex). Modeled after the legendary V72 microphone preamplifier, the DUO's amplifiers reproduce audio "with rich uncompromising quality" according to the company. With dedicated Wi-Fi and Bluetooth inputs, the Tubecore Audio DUO can stream audio and video while the 24-bit DAC delivers your digital media. With a balanced phono input and RIAA EQ, playing vinyl through the DUO is pug-n-play. Furthermore, a dedicated headphone amplifier ensures you can put the DUO's vacuum tube preamplifier to work for your cans too. DUO's modular media computer can be configured with Intel's Core i5 NUC so that you get 16GB of memory, a 1TB SSD and 802.11ac wireless. In collaboration with Intel, the new DUO features a compact computing module that integrates Intel's Next Unit of Computing (NUC). With support up to a Core i5 processor and Intel Graphics HD 5000 video, the new DUO runs Steam and XBMC. The new DUO features upgraded internal electronics including Tubecore's 48v vacuum tube pre-amplifier and 24 bit digital-to-analog converter (DAC). Clean power is provided via a multi-stage filtered power distribution system which ensures distortion free playback at peak volume. Tubecore Audio's new DUO has two base NUC powered variants featuring either the Intel Atom processor E3815 or a high-performance Intel 4th generation Core i5 4250U. The Core i5 NUC supports up to 16GB of memory and Dual SSDs for up to 2TB of storage. Additional features include their discrete trusted platform module (TPM 1.2), Watchdog timer (hardwired to board reset), Custom Solutions header (DMIC, AppLaunch GPIO, HDMI_CEC, SMBus, I²C[0:1], PWM[0:1] w/5V buffers, 1.8/3.3/5 Vstby power), two serial port headers (TXD/RXD/RTS/CTS, w/5V transceivers), 12-24V DC internal power header and is compatible with Windows Embedded 8 Standard (WES 8), WES 7, and/or Linux. Tubecore Audio's DUO is built by hand and is offered in a variety of colors and woods, plus for a limited time is also available in cut and carved Aged Teak and Quilted Maple. The DUO's cabinet comes standard in curly and straight grained Mahogany. Computer inputs include Intel 10/100/1000 Mbsp Ethernet, two USB 3.0, HDMI, and two RJ-SMA. The 12AU7-based vacuum tube preamplification section has a dynamic range of >100dB (20 Hz to 20 kHz), frequency response from 10 Hz to 20 kHz and THD of <0.01%. Output power is 100W @ 8 Ohms via Class AB solid-state circuitry. Dimensions are 18.5" x 8.5" x 8.5" (WxDxH) and the unit weighs 26.2 lbs.
11 / 08 / 14

World Premiere Sneak Peek!
NEW: Quad PA-One Headphone Amplifier Review
Can an old dog learn new tricks?
Review By Panagiotis Karavitis
NEW: Motorola DCP-501
All-In-One Home Theater Receiver Mods Part 1
Article By Jeff Poth
11 / 07 / 14
WyWires Diamond Series Cables

WyWires new Diamond series extends their line of premium cables. This new range, which is now their top level, followes the recent and continued evolution of their Red and Platinum Series cables. WyWires' Diamond series augments their Litz wire and air dielectric technology to new levels of sophistication. Demanding meticulous, hand-crafted fabrication ensures exacting quality standards as each cable epitomizes WyWires' no-compromises approach to high-fidelity audio cabling solutions. According to the company, "Listeners will note impressive gains in ambiance retrieval with a rich, indulgent soundstage that intensifies localization. Treble response is smooth and fatigue-free, with a robust midrange. Bass response is authentic and intimate, delivering authority anchored by unparalleled fluidity". WyWires Diamond series is available standard as 2.5 meter speaker cable pairs for $7995, and 1.2 meter analog interconnects for $4495. Custom cable lengths and terminations are available upon request.
The Chord Company C-Line Interconnect

The Chord Company has launched an entry-level C-line interconnect featuring ARAY techniques (£45). This entry-level interconnect cable introduces the company's proprietary ARAY techniques, yet at a very affordable price. The Chord Company's tuned ARAY technology was originally developed for the flagship Sarum cable range, yet have employed this technology across a wider cable range including their digital and streaming products. The new C-line analog RCA cable has these outsource-built to their specification; whilst all other analog interconnects in The Chord Company's range are hand-built by their technicians at the Wiltshire facility. Every C-line is carefully hand-tested and packaged in Wiltshire. The C-line features pseudo-balanced oxygen-free copper conductors with fully floating high-performance shielding and is "optimized for maximum performance with CD players, DACs, phono-stages and streamers". In addition to being constructed using ARAY techniques, C-line also benefits from unique direct gold-plating technology plus ultra-reliable over-molded strain-relief for the cable's plug terminations. hey are available in RCA to RCA in 1 and 0.5 meter lengths (£45 and £35 respectively).
Merrill Audio Taranis Stereo Power Amplifier

Merrill Audio Advanced Technology Labs just introduced their Taranis Stereo Power Amplifier ($2500) with NCore Technology. The unit produces 400 Watts @ 8 Ohms and 600 Watts @ 4 Ohms. The Taranis Stereo Power Amplifier is powered by the same NCORE technology as the company's $12,000 VERITAS Monoblocks. The Taranis Stereo Power Amplifier provides very high value to audiophiles on a budget looking towards the VERITAS as the ultimate Audio power amplifier, in a cost effective stereo package. Named after the Celtic God of Thunder, the unit provides a signal-to-noise ratio (SNR) of 120dB and total harmonic distortion (THD) better than 0.005%. A full differential state of the art, ultra-fast input stage with 100kOhm input impedance was custom developed for the Taranis provides 26dB of gain. With a high current drive, the input stage gives the output stage "superb musical speed and detail" says the company. The Taranis Stereo Power Amplifier is full featured with a steel chassis to limit EMI/RFI interference, an LED power meter for each channel, LED indicators for Power On, Ready, Clipping, Over current and Fatal error. On the back of the unit are silver plated pure copper speaker posts that allow for bananas and spades, gold plated IEC from Furutech and Cardas silver over copper XLR inputs. Upgrade options include Stillpoints Ultra Mini Riser footers, Waveform Fidelity power cords and Synergistic Fuses.
Reference Recordings' Robert Moore CD Outta My Soul

Reference Recordings is soon to release their Robert Moore CD Outta My Soul ($14.99). New to RR's Fresh! series is Robert Moore, jazz vocalist, composer, trumpet and harmonica player based in Portland. He has evolved a sound uniquely his own, mixing his Southern roots, influences of soul and gospel into his own distinct interpretations of bebop and swinging jazz. Outta My Soul showcases six originals and six compositions from diverse writers including Frank Loesser, Sting, Gene Ammons and King Pleasure — one instrumental and eleven vocals from delicate to scat to blues proclamation. There's even a Ken Nordine-esque spoken 'word jazz' number. Produced by Robert and recorded in high-res digital by innovative engineer Bob Stark, the album combines creative arrangements and outstanding performances by many of Portland's best musicians in a wide variety of settings from two to twelve. His music has steadily grown in depth, passion and honesty during his 60 years on the planet. Robert's well-seasoned, finely-honed chops on vocals, trumpet, and harmonica are bringing joy to a wider audience than ever. FRESH! is part of Reference Recordings' mission to encourage new artists and give them a strong platform for promotion and sales nationally and internationally.
11 / 06 / 14
Hi-Fi+ Magazine's November Issue

Enjoy the Music.com just posted Hi-Fi+'s November edition filled with many great equipment and music reviews. This issue includes the National Audio Show 2014 report and equipment reviews of the Estelon Extreme floorstander, Sonus Faber Olympica II floorstander, Karan Acoustics Phono Reference phonostage, Rogue Audio Cronus Magnum integrated valve amplifier, Peachtree Audio Nova 220SE integrated hybrid amplifier/DAC, Bowers & Wilkins CM6 S2 stand mounted speaker, HiFiMAN HE-560 planar magnetic headphones and much more! In his editorial, Alan Sircom says "Audio is all about 'bandwidth'. Not simply in terms of frequency response, dynamic range, signal to noise ratio, or even FM radio broadcasting; 'bandwidth' in this sense is about just how wide the audio market has become. In this issue of Hi-Fi+ for example, we have products ranging from a few hundred pounds right up to more than £100,000. With that broad spread comes a widening market." See the November issue of Hi-Fi+ by clicking here.
TAVES 2014 Show Report Part 1 By Rick Becker

Two weekends after attending the NYAS in Brooklyn was RMAF... A small handful of weeks later I'm up before sunrise and on my way to Toronto for the TAVES 2014 show gratefully chauffeured by my audio buddy, Tom Lathrop, who frequently attends RMAF 2014, and occasionally the Montreal show. We grabbed some coffee and ascended to the lobby... See Rick Becker's TAVES 2014 show report here.
Harry Pearson Jr., Founder Of The Absolute Sound, Passes Away

It is with a heavy heart that we report that Harry Pearson Jr. (HP), founder of The Absolute Sound (TAS) magazine in 1971, has passed away. HP ran TAS for the next 35 years as it continued to be one of the most influential high-end audio magazines. HP was an extremely influential reviewer of audio equipment and greatly helped redefine what many consider state-of-the-art within audio/music reproduction. He was very demanding of his writers and was one to not shy away from a worthy challenge. HP's passing marks, in some ways, the end of one era and the beginning of the next. HP will be missed greatly by many, including Yours Truly who remembers the wonderful words HP said to me over the years. A most humble thanks HP for being the bedrock of the industry we all love called high-end audio. We here at Enjoy the Music.com are proud to say we are Internet partners with The Absolute Sound for the past dozen years. None of this would have been possible without the immense genius, longstanding fortitude, and mastery in journalism of Harry Pearson Jr.
11 / 05 / 14
Warner Music Groups Signs Licensing Deal With SoundCloud

It has been confirmed that Warner Music Group (WMG) has signed a deal to license music from popular online music site SoundCloud. This marks the first of the major record labels to join forces with Germany's audio and music site SoundCloud. "We're thrilled that Warner Music Group will be the first major label to join our new creator partner program," said SoundCloud's founder and CEO Alexander Ljung. We expect to generate significant revenue for Warner and its artists in the months and years ahead as we roll out an ad-supported offering and subscription service that delivers real value to the industry." Of interesting note is that as major record labels seem to be in financial struggles in some regards, online burn rates are doing no better as SoundCloud lost $29 million during 2013 on revenues of only $14 million. According to the Wall Street Journal, "SoundCloud will pay royalties to both Warner Music and its publishing division, Warner/Chappell Music, each time one of the songs they've opted to monetize is streamed on its free, ad-supported service, as well as for songs played on a new subscription service, according to a person familiar with the matter." TechCrunch says, "Prior to this, SoundCloud's negotiations with the major music labels had stalled. Reports from the FT and others noted that Sony, WMG and Universal been in a deadlock with the startup over licensing terms, without specifying what the problems were on either side. Some had suggested, and we had heard, that the licensing issue — and the potential problems for SoundCloud if it wasn't resolved — was even part of the reason why acquisition talks fell apart between Twitter and the music streaming company."
Genelec Home Audio G Five Active Loudspeaker

Genelec Home Audio just unveiled its new G Five active loudspeaker, which is the flagship model in the Genelec G Series of active loudspeakers for home audio. Thanks to its large waveguide, the Genelec G Five is said to reproduce nuances and dynamics of the audio material with high fidelity. As featured in all Genelec G Series, the G Five provides acoustical response adjustments to allow correct setup and acoustical calibration to the room it is placed in. Thus the Genelec G Five can even be placed in a less than perfect acoustic environment/room and provide good results. The G Five employs an 8" woofer mated with a 1" dome tweeter. Genelec's G Series models can be mated with the company's F Series subwoofers to deliver full range sound. The G Five active two-way loudspeaker combines an organic, rounded form with gently curving design to avoid unwanted acoustic reflections that interfere with the direct sound. A proprietary Directivity Control Waveguide (DCW) formed around the tweeter is designed to match the frequency response and directivity characteristics of the midrange/woofer. This results in a smooth frequency response on- and off-axis and controlled directivity maximizing the direct sound aimed to the listening area. Maximum sound pressure level is 110dB/m and frequency response is from 35 Hz to 21 kHz (-3dB). Internal amplifier power is 150 W for the 8" midrange/woofer and 120 W for the tweeter. Dimensions are 17.8125" x 11.25" x 10.9375" (HxWxD) and weight is 28 lbs.
Talk Electronics Apprentice HA Headphone Amplifier

Talk Electronics Apprentice HA headphone amplifier (£119.95) has just been improved with more robust output power and drive. The headphone output has been also further improved via a high quality Neutrik 6.3mm stereo socket for reliability and is capable of driving into 8 Ohms whilst maintaining low distortion. It uses our ultra linear circuit topology which maintains an almost linear (within one zero) distortion regardless of output level and frequency. The results are said to be "stunning dynamics, detail and neutrality with a very low fatigue factor, which is an important yet often overlooked criteria for prolonged headphone listening" according to the company. The new low impedance output has a maximum output power of 1W into 32 Ohms at a frequency response from 10 Hz to 50 kHz (+/-0.5dB). The low distortion is <0.001% from 20 Hz to 20 kHz with a signal to noise ratio of -86dB. Special parts used within the improved Talk Electronics HA headphone amplifier include very low impedance Panasonic FM/FC series PSU caps plus a low noise, fully regulated power supply circuitry.
Industry News 15 Years Ago
DVD's Content Scrambling System (CSS) has been cracked and pirate downloads could be close at hand. Just as the Windows Media player's security encryption has been cracked to unprotect previously protected data, so has the codes used on DVD discs. A Norwegian group of programmers have breached Hollywood's digital defense against the copying of digital video discs, CSS. "This opens a whole can of worms," said Michelle Abraham, senior analyst with multimedia-market researcher Cahner's In-stat Group. "The movie studios will be hard-pressed to stop this." Jerry Giaquinta, spokesperson for Sony Pictures said "At this stage, we are assessing the matter...". Of course Sony and other studios are keeping a close eye on this matter to ensure their property is protected. "One part of the (CSS) algorithm is really weak," said Stephenson, who analyzed the source code and found additional holes that the original program has not exploited. "The slowest attack that I have to break the encryption takes less than 18 seconds on my PC... a Pentium III." The one saving grace is that DVD-Video movies use a large amount of data and therefore downloading a complete movie via the normal 56kbs interconnect connection would simply take days (unlike MP3 audio which is a matter of minutes). Is the new security code for MP3 called SDMI far behind?
11 / 04 / 14
Eversound Audio ESSENCE Powered Speaker

Eversound Audio, based in Switzerland, specializes in compact high-end active systems with a purist approach. Several years ago founder Ted Kwolek noticed a gap in the market for a high quality computer speaker system, and Eversound's ES-1 was born. Their new ESSENCE (~$2600) is a completely new model that includes a 24-bit/96kHz USB DAC, in-house developed driver, die-cast cabinet, and is available in ten color combinations. The 24-bit/96kHz asynchronous USB DAC was designed exclusively for the ESSENCE by Gordon Rankin, known for his company USB DACS, Wavelength Audio and as the designer of Audioquest's Dragonfly. Featuring Mr. Rankin's Streamlength protocol and the latest 32-bit ESS chips, the ESSENCE has a high fidelity DAC stage. The cabinet is designed entirely in 3D on state-of-the-art CAD software and is manufactured from die-cast aluminum with a unique, fully modular assembly method. Called the Eversound Modular Assembly System (EMAS) which, in combination with a series of grooves and tension rods which run the length of the cabinet, virtually eliminates resonances and creates in effect one solid block. The 4.5" coaxial drivers of the system were developed in-house and features neodymium magnets and kapton voice coils. Overall dimensions are 12 x 19.5 x 18 (WxHxD in cm), weight is 7 lbs. for the right channel/amp unit and 6 lbs. for the passive left channel. Internal power amplification is 50W/channel via ICEpower audio technology. Frequency response is from 48 Hz to 30 kHz via the 4.5" two-way coaxial with paper cone mid/woofer and soft textile dome tweeter. Inputs include asynchronous USB Type B, TosLink optical and 3.5 mm analog stereo mini jack plus RCA jacks. There is also a 3.5 mm stereo mini jack for adding a subwoofer and another 3.5 mm stereo mini jack for headphones.
Fostex PX-5HS Amplified Speakers And TH500RP Planar Headphones

Fostex International's PX-5HS amplified hi-fi speaker system ($999) is a two-way unit with 5.2" aramid fiber woofer and 1" soft dome tweeter. They are mated with a 35W/18W digital amplifier. The Fostex PX-5HS inherits the concept of the company's professional reference monitor, model PX-5, yet has been carefully tuned to hi-fi audio listening to deliver "comfortably natural and clear sound to your listening room". Driven by a digital amplifier of 35W for the midrange/woofer and 18W for the tweeter, sound output should reach good levels without high distortion. Fostex's 5.2" Crimson midrange/woofer is made of an aramid fiber mixed diaphragm, which is impregnated with resin to enhance fiber bonding for higher rigidity. Additionally, a 1" Urethane film laminated polyester fiber dome tweeter is tuned with back chamber for smooth high frequency reproduction. There are Rotary Encoders for Volume and Tone Controls with LED indicators. Additionally, Auto Standby / Auto Operation functions for electric power saving are included with a fade in function to gradually increase the output level when powering on. One of the biggest advantages of the PX-5HS, says the company, is that this active speaker system has been specifically tuned at the Fostex factory for maximum performance. Fostex also has announced their TH500RP studio monitor planar headphones ($699). Fostex has employed RP (Regular Phase) diaphragm technology in their acclaimed professional studio headphones such as the T20RPmk2 and the recent T-series models. The new TH500RP model now combines this RP technology with the design philosophy and flair of the TH900, resulting in a set of premium headphones. Employing the uniquely developed RP (Regular Phase) diaphragm, which consists of etched copper foil on the surface with high heat resistant polyimide film as the base material. The distinctive characteristic of planar diaphragm is further evolved by newly tuning the entire driver unit. With its proprietary gravity resin baffle plates, The TH500RP is claimed to "deliver high-resolution sound, plus the Fostex trademark rich midrange and low frequency, a reduction of unwanted resonance has been achieved". Soft leather ear pads ensure optimum distance between the diaphragm and the ear for a comfortable listening experience even in prolonged use. The connecting cable is made of HiFC for sonic and conductivity benefits. A leather texture, carrying pouch is included.
11 / 02 / 14
Enjoy the Music.com's November Review Magazine


Within our November Review Magazine we have a new Senseless Ramblings titled Music, Shows And Life where our Editor discusses his audio and music journey during the past month. Roger Skoff has some delicious Food For Thought as he covers Chinese And Being Different.
If you love music, especially the blues, then you'll not want to miss the many 1080 res high fidelity recordings we are posting from the Blues Masters at the Crossroads 2014 concert! Taken directly from the main mix board during this live event, these recordings join stunning video from this magical and musical concert sponsored by Chad Kassem of Acoustic Sounds. For gearheads, we have well over 4H:30M of video from the RMAF & CanJam 2014 show! We present to you a stunning array of equipment seen during this major autumn USA high-end audio and PMP event. Adding to that, would you like to see how a vinyl LP is made? If so, then we have a detailed video tour of Quality Record Pressings' manufacturing facility!
Ok all you audiophiles out there, next up are our world premiere reviews of the Pass Laboratories XA30.8 power amplifier, and another world premiere covering the Zugspitz Triumph highly-sensitivity, crossoverless loudspeaker. Getting back to the vinyl LP theme, our review of the Kiseki Blue NS moving coil phono cartridge is not to be missed! Of course you'll want clean vinyl, right? We have you covered with a review of the new VPI MW-1 Cyclone record cleaning machine. For computer audio guys, we have a robust roundup with the Micro Zuma C.A.P.S. v3 audio server, JPLAY, SOtMtX-USBexp, Audiophile PCI-E to USB audio card, and HDPLEX linear power supply.
Our vintage magazine partners and Boston Audio Society join in with a special Ray Dolby Remembered article, Sound Practices covers Casual Reactions by Herb Reichert where he discusses The Matrix Of Culture, and lastly VALVE's editor Dan Schmalle heralds High Efficiency Speakers. Classical music lovers rejoice as Max Westler carefully assesses a treasure trove of great live performances from Eastern Europe! Dmitri Shostakovich Symphony No. 10 in E minor, op.93, Dvorak's Symphony No. 8 in G major, op. 88, Beethoven's Egmont Overture and more are reviewed within this issue!

You can enjoy our November Review Magazine at this link.
10 / 31 / 14
Enjoy the Music.com's TAVES Live Coverage Begins Today

From October 31st to November 2nd, the TAVES Consumer Electronics Show at the Sheraton Centre Hotel in downtown Toronto, Canada, is the ultimate event for Canadians passionate about technology. TAVES features the latest devices in technology for home audio, home theater, electronic gadgets, digital photography, and a special preview of many products not yet available! For this 2014 event, products of interest never before available at TAVES Consumer Electronics Show will be included within the New Technology Arena, Jolt Art Gallery, a digital photography / imaging area as well as a dedicated headphone / portable audio section. Introduced for the first time in 2014, the New Technology Arena will enable visitors to see groundbreaking electronic products and prototypes – many funded by Kickstarter and Indiegogo crowd-funding campaigns. "TAVES is delighted that Enjoy the Music.com and Enjoy the Music.TV will be offering coverage to their readers, including live video coverage, of the TAVES Consumer Electronics Show" said Suave Kajko, President of TAVES Consumer Electronics Show. "For the first time, we will have live coverage streaming online to help inform and educate consumers on the wide variety of electronics available in the marketplace today. Enjoy the Music.com has always provided a wonderful written perspective of our event and we expect that the live streamed video coverage will take this to the next level. The timing couldn't be better since this year TAVES will offer a greatly expanded show floor, with many new product categories featured for the very first time including holographic displays, 3D printing, replicating, Oculus Rift, Tesla, and more. We look forward to the unique perspective and insight that Enjoy the Music.com and Enjoy the Music.TV offers." See our TAVES coverage here.
Walker Audio Procession Phono Amp

Walker Audio just announced their Procession Phono Amp ($8000) with dual mono continuously-variable linear cartridge loading for use with moving coil cartridges. This two-piece component has two dials, one for each channel, which can be adjusted during play and set anywhere between 0 and 2.5 kOhms, making this the company's easiest-to-use phono amp ever. "Most adjustable-loading phono amps only allow large fixed incremental adjustments such as 100, 300, 500 or 1000 Ohms," says Lloyd Walker, founder and President of Walker Audio. "These are all compromises and not the absolute best setting for any cartridge or system. The best setting is somewhere in-between." The Procession's dual channel continuously-variable loading allows users to personalize their system's performance by selecting the loading for each channel that is ideal for their cartridge and their listening style and music. Walker Audio thinks that very rarely are cartridges perfectly balanced in both channels. The Procession phono amp allows users to increase the loading in one channel to correct for a slight imbalance or to adjust for less-than-perfectly-recorded LPs. "A small adjustment on one or more channels can significantly increase your listening pleasure," says Walker. "If an LP is bright-sounding, lower the dials a bit. Lowering the dials also will give you a more laid-back sound. If you want more excitement, increase the load settings."
Long Island Hall of Fame Fifth Induction Ceremony

The Long Island Hall of Fame's fifth induction ceremony at The Paramount theater in Huntington (NY) included legendary musicians, singers, songwriters, producers and record label executives. Record producer and music executive Clive Davis was inducted by Dionne Warwick, who thanked her saying, "Dionne should be the next one to be inducted into the hall of fame." Davis also introduced his newest artist, Avery Wilson who we first heard on NBC's, "The Voice." Among other inductees was the Billy Joel Band, who performed on the Paramount's stage for the first time in 25 years sans Billy as he was out of town. Band members Richie Cannata, Liberty DeVitto, Russell Javors and Doug Stegmeyer, who were thrilled in their acceptance of the induction, performed with Billy Joel Tribute singer, Dave Clark, and brought the crowd to their feet. Hip-hop pioneer and founding member of the group Run-D.M.C., Darryl "D.M.C." McDaniels performed his remake of the Harry Chapin classic "Cat's in the Cradle" with Chapin's daughter Jen Chapin. McDaniels who was previously inducted into the Long Island Music Hall of Fame, accepted the 2014 Harry Chapin Award, which was presented to him by Chapin's wife, Sandy Chapin. Inducted by Pink Floyd co-founder and legendary musician Roger Waters, was decades long concert promoter Ron Delsener, who brought concerts to Central Park and brought rock and roll to the Jones Beach Marine Theater; Rapper Kurtis Blow; singer Debbie Gibson; lyricist Gerry Goffin and producer Steve Thompson were also among the 2014 inductees. LIMHoF Gala Producer, Founding Member and Vice Chair James Faith said, "It's been an honor to be a part of this organization from its inception. As producer of the past five galas, it's humbling to not only celebrate our history, but play a part in making it! This year's gala may be the most historic event to date." Special guests included Suffolk County Executive Steve Bellone, Susan and Peggy Stegmeyer, Denis McNamara, Ron Alexenburg, Carlos Alomar, Brian Koppelman, Eric Bloom of Blue Oyster Cult. Jen and Sandy Chapin, up and coming, singers Tina DeCara and Maria, Apollo Salazar, Fred Davis, EGC's Ernie and Nicole Canadeo, State Assemblyman Joseph Saladino, musician / DJ Joe Rock, and WBAB's DJ Fingers. A highlight of the evening was an announcement that the LIMHoF will finally establish its first permanent museum in Wyandanch in the near future which would serve as the home for the hall of fame.
10 / 29 / 14
Lyn Stanley Potions [from the 50s]

Lyn Stanley, the wonderful jazz singing phenomenon, has attracted a large number of devotees with her beautiful, sultry alto voice. Discovered in 2010 by world-class jazz pianist Paul Smith, Lyn Stanley began self-producing her debut album entitled Lost In Romance. Now, a year later, Lyn is a worldwide sensation selling thousands of albums in various formats for audiophiles, music lovers and the casual listening market. Lost In Romance is the #1 selling album on DownloadsNOW and is ranked in the top 100 albums played by jazz and radio stations across the USA. Lost In Romance is engineered by Tommy Vacari, Al Schmitt, and Bernie Grundman. Working together, they produced an album of jazz standards drawn from the Great American Songbook with a line up of musicians specially assembled to perfectly match each interpretation. Armed with more audio knowledge than most singers, Lyn Stanley decided to embrace her supportive audience and all they taught her and take the ultimate leap into analog recording. Potions [from the 50s], Lyn's latest album, celebrates the composers of the 50's and was record to analog tape to make the music more authentic. Lyn hired world-renowned jazz pianist/composer and producer Kenny Werner to play on and produce the album, adding Bill Cunliffe and Mike Lang. Cunliffe and Lang, along with Steve Rawlins and Tamir Hendleman were the album's arrangers. Song selections were primarily Lyn's choice. Lyn then secured the talents of some of Los Angeles and New York's finest musicians to participate. And returning to the elements that made her first album so successful, she hired Al Schmitt, this time as both the recording and mixing engineer, along with Bernie Grundman to master the album. The microphone chosen in Los Angeles and New York for vocals was a Neumann U47, and the vocals recorded at Capitol used the same Neumann U47 that Nat King Cole and Frank Sinatra used. The end result graciously captures Lyn's talents as she performs a collection of classic 1950s music. The album contains 15 tracks, with 12 being pure analog from musicians through vocals, mixing and mastering. Two of the tracks on Potions [from the 50s] were original musician and vocal recordings in ProTools (192kHz/32-bit). Every song on the album was mixed and mastered on analog tape. Initially, the album is being released as a stereo SACD hybrid produced by Sony DADC's plant in Austria. In early November 2014, the double vinyl, 180 gram 45 RPM album will be released. The pressing plant is Record Technology Incorporated (RTI), which has already begun the platting process of the mastered lacquers within two hours of their completion by Bernie Grundman. RTI will press these records on their #4 pressing machine and have hourly quality tests during the run. This initial pressing of Potions [from the 50s] will include 1000 individually numbered and signed units and 1200 non-numbered albums sold through quality USA and International record distributors. The album will also be available, in a limited numbers, as 1/4" two-tape 15ips IEC reel to reel album only through her website.



Come join Enjoy the Music.com's fun and informative Facebook, Twitter and Pinterest pages. We feature great music, fun photos, and up to the minute updates plus so much more for you to enjoy We also have a YouTube channel filled with videos from shows and music concerts.
---
For previous high-end audio industry news click here.