High-End Audio / Audiophile & Music Industry News

Subscribe to our newsletter plus enter our contests!
---
07 / 30 / 21
Hi-Fi World's September 2021 Reviews & Think Pieces
Hi-Fi World's September 2021 issue features your chance to win a pair of black rhodium loudspeaker cables worth ฃ600. Reviews within this issue include:
Sonus faber Lumina V
Cambridge Audio Evo 150 System
Icon Audio HP 205d Headphone Amplifier
Audiolab DC Block Mains Cleaner
RX Reels High Quality Tape Reels
Coherent 62 XLR Cables
Hacker Gondolier GP42 Turntable
Teac TN-5BB Turntable
JBL Tour I Headphones
Paul Rigby rounds up the latest audiophile CD releases
...and much more!
Within his editorial Noel Keywood says, "If you want a powerful amplifier in a small case, a Class D amplifier from Hypex (Netherlands) has become a popular choice. The company was started by ex-Philips employees in 1996 they say, and I experimented with early modules that even back then delivered clean low-distortion treble – something Class Ds were not known for at the time. Their modules have since become a go-to for manufacturers, so no surprise to see them used by Cambridge Audio in their remarkable Evolution 150 all-in-one player that you can read about on p17. Yes – it does produce that much power, for all those seduced by a 150 Watt power spec. It also has a remarkable range of ability: I hope you enjoy reading about all its many talents." See what's within this issue of Hi-Fi World at this link.
07 / 29 / 21
Spotify Reports Their Second Quarter 2021 Earnings
Spotify just announced their second quarter 2021 financial performance and it's great news for the music business and musicians worldwide. Revenue of €2.33 billion grew 23% Y/Y in Q2 (or 28% Y/Y on a constant currency basis) and was toward the top end of the company's guidance range due to significant advertising strength and subscriber outperformance. Central bank driven currency devaluation (FX headwinds) of 430 bps were 230 bps greater than expected, primarily driven by the Federal Reserve's Dollar product weakness versus the ECB's Euro product. Spotify's Premium Revenue grew 17% Y/Y to €2.056 billion (or 20% Y/Y constant currency) while Ad-Supported Revenue was particularly strong, growing 110% Y/Y to €275 million (or 126% Y/Y constant currency).
"Most of our major metrics -- Subscriber growth, Revenue, Gross Margin, and Operating Income -- performed better than expected this quarter," says Spotify. "Our Premium Subscribers grew 20% Y/Y to 165 million in the quarter, towards the upper end of our guidance range and modestly ahead of forecast. We added 7 million subscribers in Q2, which drove healthy double digit Y/Y growth across all regions. We saw strong performance of our Standard product across both Europe and North America.... Our average monthly Premium churn rate for the quarter was down 23 bps Y/Y and down modestly Q/Q. The Y/Y improvement continues to be driven by the adoption of our higher retention offerings like Duo and Family Plans in addition to growth in high retention regions."
Raidho TD4.2 Floorstanding Loudspeaker Review
Raidho's TD4.2 delivers the meaning of music.
Review By Tom Lyle
I admit it. The pair of TD4.2 speakers that have taken residence in my listening room are the best speakers I have ever had the pleasure of auditioning. They are also the most massive, most substantial, and at $122,000 to $142,000 a pair, the most expensive. It was a bit of a humbling experience unpacking these speakers. This is because getting them out of their crates and into the listening room required hired help - there was no way I could move these speakers into the listening room upstairs by myself.
---> Read our review of the Raidho TD4.2 speakers.
10 Questions For High-End Audio Manufacturers
Featuring James Chung, CEO Of FiiO
During Enjoy the Music.com's very special 25th Anniversary we're asking various high-end audio manufacturers to answer the same ten questions. Their answers may surprise you! This month we're featuring James Chung, CEO of FiiO. FiiO was established in 2007 and has experience in researching and developing countless portable music products of different types, and sell FiiO-branded products through sales agents worldwide.
---> Read about James Chung, CEO of FiiO.
07 / 28 / 21
AudioConLA Show From January 14th To 16th, 2022
The prestigious Los Angeles and Orange County Audio Society takes enormous pleasure in announcing the launch of AudioConLA, a world-class international high-end luxury audio show organized under the direction of Sarah Tremblay and Michel Plante, the successful duo behind Montreal Audiofest and Toronto Audiofest. Scheduled for January 14th to 16th at the Regency Newport Beach, it is convenient to airports and a large population too. "Positioned nearly equidistant from key Asian markets and the EU, LA is an ideal location to hold an exclusive annual high-end show. Combined, Sarah and Michel have decades of experience in organizing successful and universally acclaimed international industry events, and we are confident that with them at the helm, AudioConLA will continue their winning streak," says their press release.
The Hyatt is very conducive to listening to music and shopping for audio gear and audio-related accessories. AudioConLA 2022 will also present two world-class music concerts to be held at the hotel's exclusive 1200 seat tree-lined outdoor amphitheater, the home of the Newport Beach Jazz Festival. Performers will include internationally renowned jazz pianist / singer Anne Bisson on Friday evening and the pop-sensation Charlotte Cardin on Saturday evening. The weather is excellent plus there's an abundance of luxurious space outside for group meet-ups, smoke a cigar with friends... or simply enjoy the warm California sun. Learn more about AudioConLA at this link.
07 / 27 / 21
7Digital And Super Hi-Fi Next Gen Listening Experience
Super Hi-Fi, the audio technology company leveraging AI to deliver next-generation music listening experiences, has announced that they are expanding their partnership program, adding a global leader in B2B music services. 7digital will use Super Hi-Fi's platform to bring advanced playback and AI-powered recommendations to their playlisting and curation tools for the first time. 7digital's music-platform-as-a-service powers some of the largest and fastest growing consumer brands around the world. Fully integrated with the world's labels and publishers, 7digital offers a suite of end-to-end services to reduce the cost and complexity of building and deploying music experiences, including ingestion and real-time music delivery, automated clearances, and backend label and publisher reporting. With this new integration of Super Hi-Fi's intelligence-driven technology, brands and companies are now able to add a critical layer of differentiation and customized listening features when they access their fully cleared music catalogue via 7digital's platform.
"The streaming music market has become largely undifferentiated across music selection, pricing, features and access," said Zack Zalon, Chief Executive Officer, Super Hi-Fi. "We're adding fully integrated compatibility with 7digital's music platform, to create a seamless layer of value for our respective customers. The result allows digital music service providers and music-driven consumer brands to create highly compelling, personalized audio products that were previously unattainable." Super Hi-Fi powers AI-engineered, individually customized listening experiences across streaming services, broadcast and digital radio, digital fitness, audio advertising, and other music services. Listeners benefit from distinctive and engaging audio experiences that allow them to enjoy music and other relevant programming in a fluid flow. The company's platform uses advanced AI to source, produce, manage, deliver and seamlessly connect any type of audio content at scale and in real-time.
07 / 26 / 21
Long Awaited Multi-Channel Pink Floyd The Dark Side Of The Moon
The much anticipated Pink Floyd The Dark Side Of The Moon in hybrid multi-channel SACD is finally available! This multi-track masterpiece is mixed for 5.1 surround sound and stereo from the original analog master tapes by Pink Floyd Producer / Engineer James Guthrie. According to Acoustic Sounds, "Another classic Pink Floyd title receives the multichannel reissue treatment and Acoustic Sounds and Analogue Productions is once again proud to handle exclusive distribution of this monumental SACD. How lucky we all are to hear this legendary studio recording realize its full potential. The SACD also of course includes a stunning stereo mix. And as this is a hybrid disc, the album is of course also playable on a standard CD player."
"This is Pink Floyd at its collective finest, with everyone contributing. David Gilmour took a huge chunk of the music — writing, laying down the chord progressions on "Breathe," "Time," and "Any Colour You Like," plus the singing on the album's best songs.... Known for its complex instrumental textures, the album firmly established Pink Floyd as one of the most innovative bands in rock history. A concept album, its themes explore conflict, greed, time, and mental illness, the latter partly inspired by the deteriorating health of founding member Syd Barrett, who left in 1968."
07 / 23 / 21
2021 Is A Milestone Year For Music Streaming
According to TradingPlatforms, during 2021 in the USA there are 100,000,000 users and a 30% penetration rate for online subscription music streaming. "Subscription-based music streaming services have made music more accessible than ever before, with hundreds of millions of subscribers worldwide," says their report. "According to data presented by Tradingplatforms.com, the number of music streaming services users in the US will reach 100M in 2021 and will generate the most revenue globally – $8,700,000,000 ($8.7B)... The music streaming penetration rate is expected to reach the 40% mark by 2025." TradingPlatforms also said that global music streaming revenue to cross the $20B mark in 2021; to reach 900,000,000 users in 2025.
"One of the many benefits gained from music streaming services was its ability to make an extremely wide range of music accessible to the average listener," says Rex Pascual, Editor at Tradingplatforms.com. "However, with music streaming already more than a decade old and competition heating up, services like Spotify are now starting to offer exclusive perks such as pre-releases and concerts to its subscribers in order to stand out. With music streaming in the US hitting 100M users in 2021, the focus for the industry seems to be shifting from accessibility to varying forms of exclusivity."
Jay Z Sells Tidal, Moves To VR With Immersive Sound
With Jay Z's selling Tidal streaming music service to Jack Dorsey's Square for $302M, the forward-thinking entrepreneur Jay Z / Roc Nation now has their eyes and ears on VR with immersive sound. Roc Nation has recently purchased $7,000,000 in SENSO 'tokens'. SENSO is the in-platform currency of Sensorium Galaxy — a digital metaverse bringing people together through high-quality virtual entertainment developed in partnership with chart-topping artists and the globally recognized nightlife mogul Yann Pissenem. This vast entertainment-focused metaverse consists of multiple virtual worlds, each of which features a particular type of content. High-caliber performers like David Guetta, Carl Cox, Armin van Buuren, and Black Coffee are among the first lineup of artists confirmed for PRISM — a world dedicated to all sorts of musical expressions. According to their press release, "In a similar fashion to in-game currencies, SENSO is used for all value transactions within the ecosystem. Participants use these tokens to access shows of their favorite artists on the platform, subscribe to premium content, customize their avatars, upgrade features, issue NFTs, as well as execute other actions."
"This deal is evidence that entertainment leaders are realizing the big opportunities that digital environments and their economies represent for the entire industry," said Brian Kean, Chief Communications Officer at Sensorium Corporation. "By owning SENSO tokens, Roc Nation is taking a step towards the future of entertainment, giving their artists a chance to potentially benefit from global content distribution through Sensorium Galaxy and safeguard ownership rights on all of their digital content." Sensorium Galaxy is claiming to be the evolution of social networking, taking users far beyond today's one-dimensional digital experiences. Jay Z's Roc Nation is launching a new multimedia brand 'EDITION by Modern Luxury' to take advantage of this new experience.
07 / 22 / 21
WBT Earns German Innovation Award 2021
WBT Industrie has been chosen as the winner of the German Innovation Award 2021 in the medium-sized companies category for its development of "3D gold-plating of connectors using PVD plasma" process (Physical Vapour deposition). This innovation is internally named WBT-PlasmaProtect. With this plant technology it has, for the first time, been possible to develop a significantly more environmentally-friendly process to use instead of the electroplating process used previously. The effectiveness was increased from 20% to 80% by a new 3D process. Energy requirements were reduced by ~26% and resource consumption was reduced by ~35%. At the same time, the long-term stability and contact quality was improved by a thin but extremely pure (high vacuum) and still elastic layer of gold (Hertzian stress). The German Innovation Award is one of the most prestigious awards for new developments "made in Germany", and is jointly presented by Accenture, EnBW and the magazine Wirtschafts Woche. Awards are given to companies that change technology and markets with their innovative strength.
10 Questions For High-End Audio Manufacturers
Featuring Matthieu Latour, Audio Division Director Of Nagra Audio
This month we're featuring Matthieu Latour, Audio Division Director Of Nagra Audio. In 1951, Stefan Kudelski, a gifted 22-year-old engineer, developed an extremely high quality, miniature, self-contained audio recorder which he named simply the "Nagra I". Nagra is a Polish word meaning "will record". The interest in his invention was immediate. The Nagra II and III followed in the mid to late 1950s revolutionizing the world of radio broadcasting, cinema and music.
---> Read our 10 questions to Matthieu Latour.
10 Questions For High-End Audio Manufacturers
Featuring Chris Sommovigo, Designer And Engineer At Stereolab
This month we're featuring Chris Sommovigo, Designer And Engineer At Stereolab. In 1992 Chris Sommovigo introduced to the world the first truly precision-made 75 Ohm digital coaxial cable under the brand name ILLUMINATI, and has since designed more than a dozen other digital cables for the market – either for the Illuminati brand, for Stereovox, or for other brands (such as Kimber Kable and i2Digital). His digital cable designs remain among the most sought after and popular designs in the world.
---> Read our 10 questions to Chris Sommovigo.
07 / 21 / 21
audioXpress' August 2021 Issue Is Now Available
audioXpress' August 2021 issue features:
Audio Precision APx517B Acoustic Audio Analyzer
Parameter Estimation And Box Simulation With Speakerbench (Part 1)
The DH-220C MOSFET Power Amplifier (Part 2)
A New Type Of Amplifier For Direct Driving Loudspeakers (Part 2)
Acoustical Solutions Round-Up 2021
Acoustic Room Treatments: Taming the Gorilla
An Introduction to Measuring Rooms
Sound Control: Zooming Toward Better Online Audio
And much more!
Within his editorial, J. Martins' Making Acoustics Personal And Safe says "This is our annual edition where we pay extra attention to acoustics — something that I like to think we actually do every month. After getting the magazine to the printer, I always wish we could publish more contributed articles — and we are always receptive to publishing more work in this domain. In particular from those working in the fascinating domain of acoustic measurements, simulation, and even auralization of acoustics. This is an area of significant progress. Software tools and increasingly powerful computation platforms are enabling something that we have all been dreaming about for years: To be able to perform real-time ray-tracing, wave and particles propagation for simulation of acoustic properties, conditions, and interactions. While many still use it mainly for research, this is now part of the basic toolset for education, while acousticians are using it more for both designing new acoustic treatment solutions and full project design. And given the enormous progress that is taking place in structural mechanics, dynamics, and multiphysics simulation, the always-elusive research in areas such as vibration and sound control is now also not only possible but highly recommended." See what's within this issue of audioXpress.
07 / 20 / 21
StereoNET Expands Coverage And Goes Global
What started as just a small idea and a bunch of basic HTML code has morphed over two decades to become what StereoNET is today. StereoNET, part of an international network of publications owned wholly by Sound Media International Pty Ltd, now encompasses four regions by producing independent publications within the UK and Europe, North America, Australia and New Zealand, and Southeast Asia. The global editorial team is headed up by David Price, who started writing for Hi-Fi World in 1993 and edited the magazine for nearly a decade. He was then appointed as Editor of Hi-Fi Choice and continued to freelance for it and Hi-Fi News until becoming StereoNET's Editor-in-Chief in 2019.
In addition to stacks of original content, including the latest news and reviews for hi-fi, home cinema, headphones and more, StereoNET also offers one of the most extensive discussion forums catering for a global audience. With over 5.7 million posts and nearly half a million discussion topics, the StereoNET forums are a daily visit for hundreds of thousands of enthusiasts, consumers, and trade members. Membership is free, and you can tap into the knowledge and expertise of enthusiasts from all over the globe. You might even score yourself a bargain in the classifieds that has seen more than $34,000,000 worth of ads listed in just over a year!
07 / 19 / 21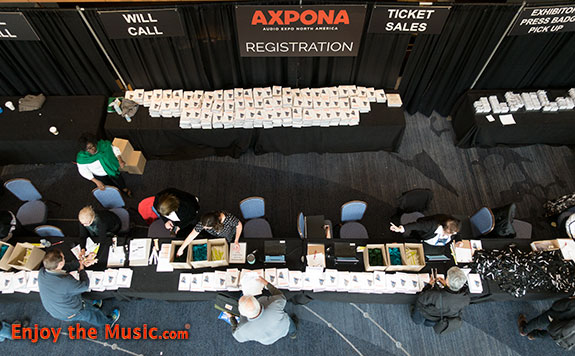 Discounted Tickets For AXPONA 2021 Are For Sale
From October 29th through 31st, AXPONA 2021 will take place at the Renaissance Schaumburg Hotel & Convention Center within Schaumburg, IL. Whether your passion is analog, streaming, headphones, speakers, the music or all of the above, AXPONA is where you will discover the latest gear from the brands you love to create your ultimate listening experience. Plus you can connect with fellow enthusiasts, designers, and industry experts. You can save 15% on current pricing for one, two, or three day tickets with code INSIDER21. The special rate expires on July 31. Please note that this offer is only valid for 1, 2, and 3 day passes. Gold, Industry and Student passes do not qualify for the discount. Also note that at AXPONA all sales are final. If you purchased a ticket for their 2020 event and opted to use your ticket for 2021, your ticket is still valid and active. Printed tickets will still grant admission and there's no need to reprint your ticket.
07 / 16 / 21
AES Audio Education Conference 2021
Registration is now open for AES' special Audio Education Conference that will be live streamed online. From July 22nd through 24th the AES will welcome everyone to their conference as they feature many excellent educational seminars. A few, of the many, highlights include:
Back to the Future: Reintroducing Analog and Vinyl Audio Production to Digital Natives
Keynote Address By Mark Ethier CEO of iZotope
Curricular design of the audio emphasis route within the Universidad El Bosque music program: A space for creation and technological mediation for the cultural and creative industries.
Teaching Acoustics to Audio Students: A Middle Path
Developing a Curriculum for Teaching Audio Archiving, Preservation & Restoration
A Method for Program-Level Academic Review and Revision in Audio Education
Education and Certification in Sound Pressure Level Measurement, Monitoring and Management at Entertainment Events
The ALMS Project: Mobile Technology for the Instruction of Music Technology
Development of a digital photo-realistic console simulation as a learning/teaching tool
Dolby Workshop: Providing the tools for educational institutions to train the next generation of creators
Genelec Workshop: Building your immersive room.
Female Audio Educators: Why All Audio Students Need Them
Who are we teaching? The changing profile of students learning audio production skills.
07 / 15 / 21
Kiseki Purple Heart NS Moving Coil Phono Cartridge Review
The sound of sonic art.
Review By Tom Lyle
Phono cartridges occupy a reverent place in an audiophile's arsenal. The Kiseki Purple Heart NS (new style) moving coil phono cartridge reviewed here is a good example. Their significance, however, is often under-appreciated by neophytes who don't understand that cartridges have a shorter lifespan than other components. The manufacturers are not to blame; after a few years, even the most robust stylus wears out or the cantilever breaks. The uninitiated – or the financially strapped – will frequently opt to replace those elements (re-tipping), but the DNA of a true audiophile relentlessly demands upgrading to a better phono cartridge. Luckily, a large majority of manufacturers are willing to credit the purchase price of an older cartridge towards a new one higher up in their line. That brings us to the subject of this review, the Kiseki Purple Heart NS moving coil phono cartridge. In November 2014 I reviewed the excellent Kiseki Blue NS, priced about a thousand dollars less than the Purple Heart. Those who read the review know that Kiseki cartridges are manufactured by Herman van den Dungen....
---> Kiseki Purple Heart NS moving coil phono cartridge review.
World Premiere Review!
GamuT Limited Edition Di150 Solid-State Integrated Stereo Amplifier Review
The most transparent integrated amplifier I have ever had the pleasure of auditioning.
Review By Ron Nagle
Let us take a look back to the Enjoy the Music.com archives. In October of 2006 our friend and colleague Phil Gold evaluated a three-piece GamuT audio system. That Danish system was comprised of the CD3 compact disc player, the Di150integrated amplifier and a pair of L5 speakers. Now more than eight years have passed and we can now listen to an evolutionary new GamuT Limited Edition version of their Di150 integrated amplifier. At first glance, both old and new versions of the GamuT Di150 integrated amplifiers look the same. All of the advances are on the inside incorporating a revised circuit design and higher quality internal components. This is how the GamuT company answered my preliminary questions. "Concerning the Limited Edition model, we have improved and refined the output stage for a cleaner sound with even lower distortion. We are offering this Limited Edition for the same price as the regular Di150, $11,990."
---> GamuT Limited Edition Di150 solid-state integrated stereo amplifier review.
SonicKey Audio Tracking / Watermarking Announced
SonicKey seeks to enables all audio within the world to be identifiable, referenceable, and yes trackable. Claiming to be inaudible, their watermarking technology is said to easily integrated in to both software and hardware. They also claim to be the first completely inaudible music identification technology. "SonicData's patented technology is an algorithm that adapts to any sound, identifying and understanding its frequency and harmony," says the company. "This means that the SonicKey becomes part of the underlying sound of any music or content in which it is encoded. SonicKey is inaudible watermarking. It is fast and performant and through SonicData's cloud based solutions can encode millions of songs in just a few hours. Any music and sound is now uniquely identifiable with 100 percent accuracy to any version, stream, edit, cut, language, performance or distributed copy."
SonicData may enable rights holders to track their revenues for all content use. SonicKey is said to have a 100% effective detection rate across broadcast and streaming, social media, video sharing, and in-venue use. "While technology has revolutionised the distribution and consumption of music and other content, rights holders have been unable to accurately understand or control its use. The SonicData platform delivers accurate performance and playback identification by encoding a unique SonicKey in to a song, sound track, musical piece or any content with sound."
07 / 14 / 21
Verizon Adaptive Sound Spatial Surround Experience
With some manufacturers and service providers getting involved in proprietary plug-in add-ons and lossy file types, Verizon's Motorola one 5G UW ace will be the first phone to include their new mobile audio solution. Verizon Adaptive Sound is claimed to produce brilliant spatial surround experience regardless of what headphone, soundbar, or in-ear monitor you use. This also works with whatever application you're watching or listening to, including Dolby Atmos-enabled content. To experience Verizon Adaptive Sound, simply use your favorite applications to play your music, video or game and it will automatically optimize the content for your listening device. You can also manually control different settings like treble, bass, spatial, voice, etc. Verizon Adaptive Sound will be made available on a broader portfolio of new devices in the future, as well as some existing devices via an over-the-air software update.
McIntosh Voice Of Sound Short Film Feat. Bob Weir
McIntosh Labs and Convicts have teamed up to launch Voice Of Sound, a short film that celebrates the history of sound and music that is voiced by the Grateful Dead's Bob Weir. McIntosh is elated to partner with purpose-driven creative studio Convicts for the project, both celebrating music culture to lift our spirits up. According to McIntosh Labs, "Music brings us back to the most impactful moments of our lives, shaping our identity and allowing us to look forward to shape new ones." The film is narrated by the Voice of Sound (Weir) and explores the genesis of sound and its role throughout history. They are excited to share this film to showcase its legacy and journey in a way that resonates with and connects people, helping guide them to find their own sound.
07 / 13 / 21
Burning Amp Festival 2021
DIY Audio's Premiere International Festival!
An expanded Burning Amp Festival 2021 returns after a year of Covid lockdown, October 16th and 17th at Fort Mason Center on the bay in San Francisco. This will be the 13th Burning Amp, which has since 2007 provided a forum for Do-It-Yourselfers and audio hobbyists to meet, learn, and show off their projects. It is a two-day event. Saturday will feature seminars by Bob Cordell and Demian Martin. Bob Cordell is an engineer and author of "Designing Audio Power Amplifiers". Demian Martin is an audio product designer and holds numerous patents. Saturday will also be a Build Camp (see photo below from 2019's Burning Amp) of a new amplifier design by Nelson Pass featuring unique devices and a super simple circuit.
Sunday is the main event with DIY'ers showing off their projects in Building C, and presentations in the Firehouse, capped off by an auction and raffle for donated items. Confirmed for Sunday presentations are Steven Dear on the science behind audio perception, and as always, Nelson Pass updating the "Greedy Boyz" on his latest designs for the DIY community. Steven Dear is a researcher in audio neurophysiology and perception. Nelson Pass is well known in the audio industry and his current companies are Pass Labs and FirstWatt. Check out Burning Amp's site for updates and ticketing information.
Update: The organizers have reached the difficult decision that with the current Covid Delta surge in San Francisco and California, Burning Amp 2021 must be a Zoom-only event. The safety of all the participants is paramount. The same great presentations originally scheduled for the live event remain unchanged, in an online gathering on the same dates: October 16 & 17.
07 / 12 / 21
RMAF Show Update June 12th, 2021
RMAF 2021: Be There or Be Square... We'll Be Around!
Following a year and a half of isolation, we are excited to be planning RMAF 2021! After getting off to a slow start because of the uncertainties around reopening, we are delighted to report strong interest from both exhibitors and attendees. We have attendee registrations from 31 states and 5 countries. If you were thinking that you'd sit this year out, maybe it's time to rethink your position. If you stayed home in 2019 because you were nervous about our new venue and wanted to wait a year to see how things went, it's now been three years since your fans at RMAF have had a chance to sample your wares! That's a long time in our industry! A whole new generation of audiophiles have entered the marketplace and are ready to hear what you've been working on! Let us help you introduce yourself before they buy their first really great system!
We are happy to share the Gaylord's news that the hotel and conference center are now completely open. "Fully vaccinated guests and associates are no longer required to wear face coverings or social distance in indoor or outdoor areas of the hotel, unless required by local law."
We know that some people are still not comfortable in close proximity to others, so we will offer each exhibitor the option to require masks in their room, and to indicate that preference on their room sign. The hotel assures us that there will be hand sanitizing stations throughout the hotel and conference center. Personal responsibility will be the watchword, and we will be encouraging everyone to be respectful of others. Read more within Enjoy the Music.com's RMAF 2021 show report page.
07 / 09 / 21
Capital Audiofest 2021 Show In November
Capital Audiofest (CAF) started out in 2010 as a very casual show and has evolved into a well-organized and well-attended event. CAF is recognized as a fun, friendly, and family-oriented show where you often see families strolling from room to room listening to music and auditioning gear. You can also browse the multiple bins of vinyl LP records, CDs, and hi-fi accessories in the Atrium Marketplace. During the evenings CAF provides wonderful live music within the bar plus special live performers in the Theater. In addition, there's local distillers offering tastings. Capital Audiofest 2021 is set for November 5th through 7th at the Twinbrook Hilton in Rockville Maryland. Learn more at Enjoy the Music.com's Capital Audiofest 2021 show report page.
Qobuz Sponsors Juilliard's Historical Performance
Juilliard's Historical Performance program takes listeners on a lossless hi-res musical trip around the world. Qobuz, the music lovers' true lossless high-resolution music streaming service, is pleased to sponsor Juilliard's release of Le Monde Galant. The concert is part of Juilliard LIVE, which showcases live-streamed and on-demand student performances for a global audience. The June 29 release, out now, features an exclusive performance from the Juilliard415 period-instrument ensemble. The hour-long concert allows listeners and viewers to travel back in time through the perspective of some of the foremost 17th and 18th century composers. Audiences will travel from the United Kingdom to the Ottoman Empire and the Middle East to the Americas as imagined by Jean-Marie Leclair, Georg Philipp Telemann, Jean-Philippe Rameau, and more.
With the help of Qobuz, the performance was professionally captured in Juilliard's Peter J. Sharp Theater in May 2021 and edited with the school's state-of-the-art video and audio recording equipment. The concert premiered on June 29 on Juilliard's Media Gallery and YouTube Channel. Enjoy the Music.com invites you to listen to this performance in lossless hi-res audio and via their video below.
07 / 08 / 21
Raidho TD4.2 Floorstanding Loudspeaker Review
Raidho's TD4.2 delivers the meaning of music.
Review By Tom Lyle
I admit it. The pair of TD4.2 speakers that have taken residence in my listening room are the best speakers I have ever had the pleasure of auditioning. They are also the most massive, most substantial, and at $122,000 to $142,000 a pair, the most expensive. It was a bit of a humbling experience unpacking these speakers. This is because getting them out of their crates and into the listening room required hired help — there was no way I could move these speakers into the listening room upstairs by myself. Usually, when assigned the task of moving large speakers, I would enlist a friend or two to help me out, but in this case, if I attempted to move them as I did with other large speakers, there would be no way I could get them into my listening room without damaging the mirror-like, gorgeous walnut finish of this review pair. And so, I had to hire professionals to the job.
---> Raidho TD4.2 floorstanding speaker review.

Six Reasons Why Subwoofers Are Important For Music
Article By Nick Brown Of SVS
There is a lingering sentiment in the hi-fi community that subwoofers are only for home theater and the benefits to music playback are suspect or even negative. It's true that lesser subwoofers are not designed to optimally handle the speed, detail and nuance of certain music, but it's certainly not a steadfast rule. A great subwoofer elevates the listening experience in a way no other audio component can, into the tactile realm. Below is a list of six reasons why a properly engineered and tuned subwoofer is important to music playback. The majority of speakers start dropping off at about 50Hz, which deprives you of the full depth and clarity of bass tones.A great subwoofer will reach down to 20Hz or lower, right down to the limit of human hearing. This means you never miss a note and can even feel the lowest notes from something like a pipe organ, kick drum, bass guitar or the occasional cannon volley from the 1812 Overture, for a much more immersive experience.
---> Six reasons why subwoofers are important.
07 / 07 / 21
audioXpress' July 2021 Issue Is Now Available
audioXpress' July 2021 issue features:

Nuheara IQbuds2 MAX Hearing-Assist Earphones
Digitally Enhanced Hearing Devices
By Brent Butterworth
NAD Electronics M33 Masters BluOS Streaming DAC Amplifier
The Complete Package for a Wireless Life
By Stuart Yaniger
The DH-220C MOSFET Power Amplifier (Part 1)
The Circuit
By Bob Cordell and Rick Savas
A New Type of Amplifier for Direct Driving Loudspeakers (Part 1)
Theory Behind the Design
By Paul Marchese
Low Distortion Voltage-Controlled Floating Resistor
By Dimitri Danyuk
The Multiple Faces of Amplification Evolution
By J. Martins
Professional Power Amplifiers
A Market in Recovery
By James Kirby
Negative Feedback Amplifier Circuits
By Richard Honeycutt
Within his editorial, J. Martins says, "Have you noticed the important evolution that is taking place in professional audio applications, particularly with commercial installations? The last year and a half caused a business stagnation for many manufacturers of professional audio equipment, but those companies have continued to expand on many of the concepts, features, and technologies that were already under development in 2019, and further accelerated the research to improve their abilities to control, manage, supervise, and monitor vital systems remotely. As in many other technology areas, the pandemic circumstances led to the accelerated adoption of web- and cloud-based tools that were merely being 'considered' and suddenly became obviously essential." See what's within this issue of audioXpress.
07 / 06 / 21
Hi-Fi World's August 2021 Reviews & Think Pieces
Hi-Fi World's August 2021 issue features your chance to win a pair of Esprit Beta RCA interconnects worth ฃ540. Reviews within this issue include:
Devore Fidelity Orangutan 09/96 Loudspeakers
Devialet Phantom 1 Gold Loudspeakers
Triangle Borea BR03 Bookshelf Speakers
Cowon Plenue D3 Digital Audio Player
World Design Pre4 Amplifier And PSU3
Coherent 6d Loudspeaker Cables
Black Rhodium Operetta Digital RCA Cables
TDL RTL2 Loudspeakers And Their History
Teac PE-505 Phono Pre-Amplifier
HiFiMAN Deva Planar Magnetic Headphones
...and much more!
Within his editorial, Noel Keywood says "Perusing a forum discussion about transmission line loudspeakers then admiring Falcon Acoustics revivalist IMF 200 transmission line shortly due for release takes me back to the glory days, when loudspeakers were big. So big they arrived in a Pantechnicon, or that's what happened when Wharfedale sent me a pair of 2075s from Bradford. Tannoy deliveries, especially of the Westminsters we reviewed in the November 2015 issue, were similarly frightening. And from speakers so large that's the sound you got too: frightening. I was reminded about all this when reviewing the DeVore Orangutans in this issue, that you can find on p10. This is a speaker with a generously large sound smoothly delivered. Those that like a big cabinet with looming presence will surely find the DeVore attractive – and its sound satisfying." See what's within this issue of Hi-Fi World at this link.
07 / 01 / 21
Enjoy the Music.com's July 2021 Review Magazine
This month's Enjoy the Music.com Review Magazine features T.H.E. Show and HiFi Summit reports, many world premiere reviews, pus North America premiere reviews too! All this and much more within Enjoy the Music.com's July Review Magazine available at this link.
Hi-Fi? What's That?
Roger Skoff writes about our hobby and the non-audiophile world.
Article By Roger Skoff
A woman came to my house yesterday to give me a bid on some planned remodeling. When she came in, she sat on the couch in the living room, in what would be a good spot for listening to that room's sound system and, noticing the large speakers, she commented "Gee, you must like to listen really LOUD." When I responded that "No, I like to listen really good", she gave me a look of frank bafflement and obviously had no idea at all what I meant. Although what that woman said took me aback, it probably shouldn't have. It was hardly the first time I'd ever run across people with not even the slightest understanding of our hobby. One incident that particularly comes to mind is the time, a few years back, when I went to Canada for the Toronto Hi-Fi Show. At the airport, as I was passing through customs, the young lady Customs Agent asked me why I had come to Canada.
---> Hi-Fi? What's That? Article By Roger Skoff.
GTT Audio Visits Rufus Smith Of Enjoy the Music.com
Bill Parish visits a longtime audio reviewer in North Carolina.
Article By Rufus Smith
The week of May 24, 2021, I had the pleasure of hosting two of what I consider two of the giants of the industry, Bill Parrish of GTT Audio & Video and Joe Kubala of Kubala-Sosna Research. GTT Audio has been in business since 1995 and has established itself as one of the top retailers/distributors of high-end audio equipment in the US. GTT is currently the distributor and flagship retailer for Audionet, Kronos Audio, and Mola Mola. In addition, they are a premier dealer for YG Acoustics and Kubala Sosna. Of course, these companies represent just a fraction of the products they carry, and Bill brings 43 years of experience in the audio/music business to share with his clients.
---> GTT Audio visits Rufus Smith of Enjoy the Music.com.
World's First In-Depth Review!
MC Audiotech Forty 10 Loudspeaker
This could be your 'forever speaker'.
Review By Rick Becker
Call it what you like, but we have to start here. If you can't get past the way the Forty-10 looks, all the praise in any audio journal will be meaningless to you. Straight and simple, it is quintessential Mid-Century Modern design. In terms of where American mainstream home furnishings is today, it is spot on. In terms of the interior design of people that can afford this speaker, well, you may need to adjust. The original Eames lounge chair and ottoman is still available from Herman Miller for $7000 and the knock-off can be had for less than $1300. Many contemporary Scandinavian recliners will also work very nicely. Ekornes is not your only option. If you've got a dedicated listening room (and most people considering a $37,000 speaker will) this should not be a problem. As a two-way dipole, it needs to be 30" to 40" out from the front wall behind it. It will have a definite presence in your room.
---> MC Audiotech Forty 10 loudspeaker review.
North America Premiere Review!
The FinkTeam Kim Speakers
An expansive soundscape you can almost step into to join the fun!
Review By Ron Nagle
So it was just another day trolling the internet trying to find something audio that was new and was just a bit out of the ordinary. That thing needed to be something cut from a very different cloth. That's when I found the FinkTeam Kim stand-mounted loudspeakers. Three days later strictly by a serendipitous sequence of events, my New York Audio Society joined a Zoom meeting with the man behind all of that Fink-ology. The FinkTeam was formed from the fertile mind of a renowned German speaker designer named Karl Heinz Fink. There were a lot of questions asked, some of them not directly concerning the Fink design team. More specifically I wanted to ask in detail what new thinking went into the Kim speaker design. But it did not happen, I was only one of many participants at that meeting. But I came away from that meeting understanding that after years working as a speaker design expert for other people, KHF decided to design a new speaker adhering to the things that he values most.
---> The FinkTeam Kim loudspeaker review.
World Premiere Review!
Verdant Audio Blackthorn 1 Monitor Speakers
An over-achieving monitor with a musical performance well beyond its' modest size.
Review By Dr. Michael Bump
I first had the pleasure of meeting Scott Bierfeldt, President and Chief Designer at Verdant Audio, at AXPONA 2019 in a by-chance meeting. I was planning on heading out earlier than expected on Sunday, as the snow was starting to come down (attendees may recall), and I was a bit nervous about the six-hour mark. drive home to the cornfields of Missouri. Nevertheless, the rooms beckoned me back for one more quick tour that morning, where I happened to walk by a familiar blue glow within the Verdant Audio room. At the center of a very attractive system were a pair of stunning Art Audio Quartet 845 push-pull monoblocks. I was familiar with Art Audio from an introduction years prior to their 50-Watt SET Adagios, and was aware that Verdant Audio had re-introduced the UK company to the U.S. earlier that year as the sole domestic distributor. Needless to say, my curiosity was piqued stepping into the room noting several examples of Art Audio pieces, as well as the premiere of two monitor designs created by Scott, under the Verdant Audio name.
---> Verdant Audio Blackthorn 1 monitor speakers review.
Aavik Acoustics I-180 Integrated Amplifier, D-180 DAC, And S-180 Streamer / Network Player Review
A symbiotic sonic relationship... for your listening pleasures.
Review By Tom Lyle
The Danish high-end audio manufacturer Aavik was nice enough to send me three components from their entry level-line. I call this gear "entry-level" not because it is a system priced for those new to the exciting world of high-end audio but because they are the least expensive components in Aavik Acoustics' 180 / 280 / 580 line. I did not know the price of these three components when they arrived at my home for review. On looks alone, I assumed that they would cost much more. About halfway through the review period, I peeked inside the cabinet of this integrated amplifier. Its innards looked as if they were constructed by an engineer but also by a visual artist. Its complex yet very neatly arranged interior was impressive. During my audition of all three components, I determined that their display and intelligent functionality belied their relatively low price.
---> Aavik Acoustics I-180 integrated amplifier, D-180 DAC, and S-180 streamer / network player review.
World Premiere Review!
JERN 11S Compact Loudspeaker Review
A well-balanced speaker that presents a lovely neutral rendition of music.
Review By Robert Jorgensen
What is a poor reviewer to do when he would rather put on some more music than write on the review? My wife might say "Suck it up and get on with it". This could imply that I do not want to say anything but that's not the case. I am just enjoying the music too much. There is a bit of a backstory here. If I remember well, the first time I saw the JERN Speakers was a couple of years ago at the ISE Exhibition in Amsterdam. Ole Lund Christensen, whom I have known for 20 odd years, was banging away on a piece of steel, a piece of aluminum, and his very heavy cabinets made of a special kind of cast iron using a little hammer. There is a video floating around on YouTube where he does it with a piece of aluminum and a piece of his special "Vibrakill" cast iron. It was very instructive since both the steel and the aluminum rang like bells and the JERN cabinet just gave a dull thud. As he explained that was exactly the point of the demo.
---> JERN 11S compact loudspeaker review.
World Premiere Review!
New Horizon 301 Vinyl LP Turntable Review
A vinyl revival!
Review By Paul Schumann
This past year of my audio reviewing has had quite a vinyl flavor. Last summer, I reviewed the TriArt phono amplifier. This past fall, I listened to the Aric Audio Unlimited II Preamp with an included phono stage. The turntable I used with both is the oldest piece of gear I own, a Yamaha P-350 turntable. Looking at that old piece of gear takes me back to a very different time in audio and always makes me realize how much time has passed since I purchased it. Before I bought the Yamaha P-350, my system consisted of my dad's old Dynaco preamp and amp, a Pioneer tape deck, and a pair of ADS L620 speakers. At that time I was listening to prerecorded tapes or ones I recorded on friends' systems. Forgive me, I was only 18. I bought the ADS speakers at an audio salon called Audio Concepts adjacent to the University of Texas campus in Austin. That place was my gateway to what became high-end audio. It was there I was introduced to Klipsch, Magnepan, Theil, and Advent speakers. Their main electronics were Nakamichi and Yamaha.
---> New Horizon 301 vinyl LP turntable review.
World Premiere Review!
NPS 1260 3D Enhancer Solution Review
A big leap toward reality!
Review By Rick Becker
A recent discussion in the Audiogon Forum asked "How much reality do you really need? Some of the replies included:
If it's on the recording, I want to hear it.
For my critical listening, I want the full Monty.
It's the nature of man to want more or different.
Reality is highly overrated.
Just FYI, "reality" is not really my jam.
Enough to hold my attention.
I like it, I love it, I want some more of it.
If a recording needs a playback system in order for you to hear it, and every system is different, how do you really ever know what's on the recording?
...My only ultimate goal is to enjoy music. Reality blah blah-blah.
---> NPS 1260 3D Enhancer Solution review.
Read All Articles, Hi-Fi Gear Reviews, Etc.
We have more wonderful high-end audio equipment reviews, think pieces, etc within this month's Enjoy the Music.com's Review Magazine available at this link.
---
Previous High-End Audio News
For previous high-end audio and music industry news click here.