High-End Audio / Audiophile & Music Industry News
Have Your Voice Heard!



We have thousands who've joined us on social media and you're invited too! Come join the conversation on Facebook and Instagram to meet like-minded music lovers. For our business partners, be sure to join and follow us on LinkedIn for important business updates, event information, and much more. As always... enjoy the music.

Subscribe to our eNewsletter for timely info and contests.
---
04 / 30 / 23
The AXPONA 2023 Chronicles: Part 3
Fascinating audio gear on the 14th floor.
Audio Expo North America 2023 Show Report By Rick Becker
Mission speakers were driven by an Audiolab rig here. The room was labeled American Audio and Video, but Caleb Hansen's exhibitor pass was labeled Audio Advisor (who is based in nearby Michigan). I should have been a little more inquisitive. A Dual CS 618 ($1300) sat atop a Pangea Audio Vulcan Five-Shelf rack at a very reasonable $250. This is a handsome rack for those in the early stages of their audio journey. Below the turntable was an Audiolab CD player, a 9000A integrated amplifier ($3k), and a DC Block 6 direct current blocker (power conditioner?). The Audiolab 9000 series is available in silver or black. The speakers were Mission M770 ($5k, including stands).
---> The AXPONA 2023 Chronicles: Part 3.
Today Is International Jazz Day 2023
Today is International Jazz Day 2023 whichwill feature an all-star global concert webcast worldwide on April 30 at 4pm EDT (1pm PDT / 10pm CET). Herbie Hancock is planned to host a global concert with UNESCO featuring performances in 13 global cities by Dianne Reeves, Marcus Miller, Dee Dee Bridgewater, Christian McBride, Somi, Melody Gardot, Sérgio Mendes, Cyrille Aimée, Antonio Sánchez, John Beasley, and many more!
Independent artists and organizers on all seven continents present an astonishing array of performance, educational and community outreach programming each year for International Jazz Day. Also on April 30 (today), teachers and students around the world use International Jazz Day as an opportunity to learn more about the empowering history and legacy of jazz music. Check out our growing library of free educational videos and resources. You can also view hundreds of videos from past International Jazz Day celebrations, including official clips from the All-Star Global Concert, and incredible submissions from their partners in more than 190 countries.
04 / 28 / 23
Australian Hi-Fi Show 2023 In Sydney Is This Weekend
Brought to you by Australian Hi-Fi, What Hi-Fi? and Sound+Image magazines, the Australian Hi-Fi Show 2023 is taking place from April 28th through 30th and will celebrate the latest and greatest in the hi-fi and AV industry. This show gives visitors the opportunity to see and hear a range of audio products from all around the world. With over$10,000 in hi-fi prizes up for grabs at the 2023 Australian Hi-Fi Show, attendees will surely have a lot to look forward to. The Australian Hi-Fi Show 2023 in Sydney will take place from April 28th through 30th at the 4.5-star boutique Novotel Sydney Central hotel located within the heart of the city.
There will be ~40 exhibitors showcasing over 100 brands, including Hisense, Yamaha, Sonus Faber, McIntosh, Goldmund, Kyron Audio, Perreaux, Denon, Marantz, Bowers & Wilkins and more – all showcasing their latest audio wares to display and demo. If you're looking for another good reason to come along, attendees will also have the chance to win some of the latest gear from Perreaux, Richter, Denon, Bowers & Wilkins, AudioQuest and Yamaha. Australian Hi-Fi is one of What Hi-Fi?'s sister titles from Down Under and Australia's longest-running and most successful hi-fi magazines, having been in continuous publication since 1969. Now edited by What Hi-Fi?'s Becky Roberts, every issue is packed with authoritative reviews of hi-fi equipment ranging from portables to state-of-the-art audiophile systems and everything in between.
04 / 27 / 23
Wells Audio Commander Level II Tube Line Stage Review
The Commander is in a club of one.
Review By Sam Rosen
A little while ago I reviewed the Wells Audio Cipher. I asked Jeff Wells, the owner of Wells Audio, to tell me more about the Cipher, and he more or less described it as his preamp circuit, with a single fixed input coming from the DAC. I was so impressed with the smooth analog nature of his DAC that I asked him if I could review his preamp. A few months later, a Commander Level II arrived at my door. The Commander Level II is Jeff Wells' mid-range preamp. The standard level I, sells for $3999, the level II (my unit) sells for $9000, and the Level III sells for $18,000. Each version has the same base design and circuit, and each upgrade introduces higher end and more expensive discrete parts into the build process. According to Wells Audio these improvements lower the noise floor, increase the dynamic range, and dramatically improve the experience.
---> Wells Audio Commander Level II Tube Line Stage Review.
Noble Fokus TWS In-Ear Monitor (IEM) Review
Achievement unlocked!
Review By Gary Alan Baker
Last year I gave the Noble Falcon Pro True Wireless IEM a well-deserved Headphone.Guru 2021 Product of the Year Award because it was the most convenient, most comfortable, and best-sounding True Wireless IEM I had been given the opportunity to listen to. Now, Noble has one-upped themselves by offering the Noble FoKus Pro True Wireless IEM, a true audiophile quality multi-driver, hybrid IEM bringing Bluetooth and True Wireless to a whole new level. Designed by the "Wizard" John Moulton (AU.D. CCC-A), one look at the Noble FoKus Pro True Wireless IEM tells you that this is a much more refined, much higher-end product than the Falcon Pro.
---> Noble Fokus True Wireless In-Ear Monitor (IEM) Review.
04 / 26 / 23
The AXPONA 2023 Chronicles: Part 2
Fine premium audio gear on the 15th floor.
Audio Expo North America 2023 Show Report By Rick Becker
Magico hardly needs an introduction. The S3 model in blue shown here was certainly eye-catching, and driven by a pair of CAT (Convergent Audio Technology) monoblocks the music was completely controlled and musical. It was the larger S5 that I heard on Thursday evening before the show began that sounded so good on the 2nd Floor in a much larger room. Being a tube fan, I'd have to say this combination works incredibly well with an inviting sound that makes it easy to emotionally connect with the music. This makes me wonder why they faced the amps together to conceal the faceplates. There was a second room sponsored by Magico, but I'm not sure what was different between them. There was not a lot of literature or component lists at the show overall. Kudos to those who went to the effort.
---> The AXPONA 2023 Chronicles: Part 2.
04 / 25 / 23
HIGH END 2023 Show In Munich
From May 18th to 21st, 2023, the very special 40th HIGH END trade show in Munich will once again shine the spotlight on luxurious premium music reproduction systems, inspiring listening enjoyment and exquisite audio technology. For many years, the HIGH END has been providing both the big players in the industry and smaller owner-managed companies with their ideal presentation platform as the world's leading audio trade show. It is the perfect place to establish business relationships, expand networks and exchange ideas and experiences with other industry experts.
HIGH END is delighted to announce that they have yet again secured an international musical genius as our HIGH END brand ambassador. Al Di Meola has established a reputation as an iconic guitarist who creates unmistakable sound characteristics with his jazz fusions of various music genres. At the same time as HIGH END, the Society's International Parts + Supply (IPS) event perfectly complements the HIGH END, which has developed into the largest international hi-fi show and enjoys tremendous significance and international popularity within the audio industry. Manufacturers of supply parts for the audio industry will be provided with a special exhibition area in the MOC event center, alongside the HIGH END 2023, offering an ideal platform for establishing more intensive contact with their customers and optimally showcasing their products tailored to their target group. Learn more at Enjoy the Music.com's HIGH END 2023 show report page.
04 / 24 / 23
T.H.E. Show SoCal 2023 In June
T.H.E. Show SoCal 2023 (The Home Entertainment Show) takes place at the the Hilton Orange County Costa Mesa from June 9th through 11th. Now with a very exciting re-brand, T.H.E. Show SoCal is the destination where music, entertainment, tech, and media meet in an integrated, state-of-the-art experience trade show. Spotlighting a breadth of brands spanning from classic industry leaders to up-and-coming rising stars, T.H.E. Show plans to be no ordinary luxury audio event. With an ever-expanding online community, year-round VIP, and luxury experience events, their 2023 event has a lot going on for all to enjoy.
T.H.E. Show is the culmination of understanding that consumers and attendees want more than just the latest and greatest components and gear. They want an emotional experience. They want to feel the music. T.H.E. Headphonium section specialized on personal / portable audio including DAPs, headphones and more, and is presented by Enjoy the Music.com partners eCoustics! Cars are back! After a bit of a hiatus, they are excited to announce that the automotive portion of T.H.E. Show is back and better than ever! You can expect classical cars, vintage cars, supercars, and specialty cars on exhibit, so stay tuned! Of course an expanded vinyl section will be available for purchase for all you vinyl junkies. Learn more about T.H.E. Show SoCal 2023 at their website.
04 / 23 / 23
The AXPONA 2023 Chronicles: Part 1
Sensational sound on the 16th floor.
Audio Expo North America 2023 Show Report By Rick Becker
I made a big mistake Friday morning. I had read somewhere that the show started at 9 a.m. so I was up on the 16th Floor, ready to go at that time. I wandered up and down the halls of the 16th and 15th floors trying to find music. It seems 9 a.m. was when admission to the show began, while the rooms opened at 10 a.m., which is a normal audio show procedure. I was excited that they would open at 9 a.m. to give me three more hours to work the show, but no such luck. So, here we go! It's always fun to stop into the PureAudioProject room to see which speaker in which configuration they are showing. It is practically a "design-it-yourself" company.
---> The AXPONA 2023 Chronicles: Part 1.
04 / 22 / 23
Record Store Day 2023 Is Today!
Today is the exciting Record Store Day 2023! According to the organization, "Record Store Day was conceived in 2007 at a gathering of independent record store owners and employees as a way to celebrate and spread the word about the unique culture surrounding nearly 1400 independently-owned record stores in the US and thousands of similar stores internationally. The first Record Store Day took place on April 19, 2008. Today, Record Store Day is celebrated at independently-owned brick-and-mortar record stores around the world."
"This is a day for the people who make up the world of the record store — the staff, the customers, and the artists — to come together and celebrate the unique culture of a record store and the special role they play in their communities. Special vinyl and CD releases and various promotional products are made exclusively for the day. Festivities include performances, cook-outs, body painting, meet & greets with artists, parades, DJs spinning records, and on and on. In 2008 a small list of titles was released on Record Store Day and that list has grown to include artists and labels both large and small, in every genre and price point. For several years, 60% or more of the Record Store Day Official Release List came from independent labels and distributors. The list continues to include a wide range of artists, covering the diverse taste of record stores and their customers."
04 / 21 / 23
Reference Recordings' The Complete Beethoven Piano Concertos
Reference Recordings, for over 40 years an innovator, respected independent label dedication to high-quality sound, and earning multiple Grammy nomination, has announced their The Complete Beethoven Piano Concertos album (FR-751SACD). Performed by the Grand Teton Music Festival Orchestra with Grammy-winning pianist Garrick Ohlsson and conducted by Sir Donald Runnicles, this album was recorded during live Festival performances in July 2022. A student of the late Claudio Arrau, Mr. Ohlsson is especially noted for his masterly performances of the works of Mozart, Beethoven and Schubert, as well as the Romantic repertoire. Of note is that he is the only American to win first prize in the International Chopin Piano Competition.
The Grand Teton Music Festival Orchestra consists of top talent from across the world, including more than 220 musicians from 90 orchestras and 65 institutions of higher learning, many performing together each summer for over 25 years. Reference Recordings' The Complete Beethoven Piano Concertos with Pianist Garrick Ohlsson was recorded July 5th through 9th (2022) at the Walk Festival Hall in Wyoming. The album was produced by Vic Muenzer, with assistance from sound engineer Kevin Harbison, plus mastering engineer Graemme Brown and Zen Mastering. This album is sure to be a favorite for those who love Beethoven's classical music. The physical album includes three SACDs, a 5.0 Surround immersive SACD, and Stereo CD layer. Shipping out on May 12th, you can pre-order The Complete Beethoven Piano Concertos album at Reference Recordings here.
04 / 20 / 23
Qobuz Lossless Hi-Res Audio Service Now In Canada
Qobuz, the true lossless high-quality music streaming service and download platform, is now available in Canada. Canadian music lovers seeking a unique, true lossless high-resolution audio music experience will now have access to music far beyond that of their mainstream competition. No gimmicks, no proprietary lossy mumbo-jumbo that does not qualify for the Hi-Res Audio logo, just glorious music to satisfy your desires. With their launch in Canada, Qobuz marks its expansion into its 26th country. After Northern Europe, Australia, and New Zealand in 2021, and Latin America in 2022, Qobuz's arrival today in Canada responds to a growing need among Canadian music aficionados and audiophiles for high-quality music streaming and download offerings.
Since its founding, Qobuz has developed a unique approach to online music. At the heart of the offer is top-notch sound quality. With its lossless catalog and downloadable files, Qobuz provides rich, incomparable listening quality that brings users as close as possible to the intention and emotion of the artists. Qobuz's launch responds to the growing need among Canadian music lovers and audiophiles for high quality music streaming offers. Qobuz is also a community based on a common passion. Qobuz Club offers music enthusiasts from all over the world a unique place where they can share their musical discoveries and recommendations as well as advice on hi-fi equipment. Why settle for lesser quality, or that of unknown or unclear origin, Qobuz is a proven leader for those who desire the very best in lossless audio quality.
Doing What's Best For The Luxury Audio Community
A heart-to-heartfelt wish as there's much work to do!
Editorial By Steven R. Rochlin
Since it has been quite some time since writing an article, I'd like to first thank all our readers for your patience in product delivery over the past year. Supply constraints combined with various factory closings globally over the past year have been a challenge for many of us. While many of us stayed home, we took much joy, and a careful listen, to our luxury audio systems. With many of your wanting to upgrade your gear, there were many companies I spoke with who were simply inundated with orders. As someone who gives close attention to the luxury goods market for decades, the health of the industry also rests on the used marketplace. Am sure many of you have seen the rise in asking prices for pre-loved gear. This, imho, reinforces the value of high-end audio products.
---> Doing What's Best For The Luxury Audio Community.
Kronos Kronoscope RS And Discovery RS Tonearm Overview / Review-ish
Featuring Louis Desjardins, Bill Parish, and Enjoy the Music.com Senior Editor Greg Weaver.
Video Report By Greg Weaver
With many manufacturers smartly doing their own videos, this month Enjoy the Music.com is showcasing GTT Audio's Episode 56 featuring Kronos Audio launch of their Discovery RS and Kronoscope RS high-end audio tonearm. Here we have Louis Desjardins of Kronos Audio, Bill Parish of GTT Audio & Video, plus our very own Senior Editor Greg Weaver discussing these new tonearms. I'd be remiss if I didn't mention one of the audiophile community's longstanding writers, Rufus Smith, who changed from a VPI top-line turntable to the Kronos Discovery and he's extremely happy with the sound results.
---> Kronos Kronoscope RS And Discovery RS Tonearm.
04 / 19 / 23
The AXPONA 2023 Chronicles: Introduction
A mix of both younger and older attendees... plus a Chicago riot.
Audio Expo North America 2023 Show Report By Rick Becker
I rolled into the Renaissance Thursday afternoon in time to register and attend the first of two private listening sessions for the Press. I've been a big fan of Vitus Audio from Denmark since day one. And the same can be said of Estelon speakers — not just for their outstanding sound quality, but also for their artistic design. That the small country of Estonia has been such a staunch NATO contributor and supporter of Ukraine has also earned my heartfelt respect. The room here, set up in conjunction with The Audio Experience of nearby Palatine, IL was in Schaumburg D, around the corner to the right of the Registration Desk on the First Floor.
---> The AXPONA 2023 Chronicles: Introduction.
Australian Hi-Fi March / April 2023
Editorial: New LPs Acquired During Record Store Day
HiFi Rose RS520 Streaming Amplifier
Marantz AV 10 & AMP 10 Preamplifier/Power Amplifier
Rega Elex Mk4 Stereo Amplifier
AI Sound Is Here
Hi-Fi Primer: Record Players
Len Wallis Audio Hi-Fi Headlines
Music Top Picks
Rock Music Rippers
Music Reissues
And Much More!
Within her editorial, Becky Roberts says "By the time this issue lands in your letterbox, and hopefully by the time it lands in your lap, Record Store Day will be just days away. The annual celebration of the independent record store and everyone involved in it — the staff, the customers, the artists — takes place globally on Saturday 22nd April and, keeping with tradition, will see hundreds of special release vinyl (over 400, in fact) become available to purchase in stores on that day (and in some cases, online in the following days). If this comes as news, or indeed an unexpected reminder), to you, and you consider yourself a passionate spinner of the good wax stuff...."
---> Australian Hi-Fi March / April 2023 Issue.
04 / 18 / 23
Fraunhofer IIS MPEG-H And xHE-AAC Immersive Audio
Fraunhofer IIS' xHE-AAC, the latest generation of the AAC codec family, offers several benefits to service operators and consumers. It can operate over a wide bitrate range, with seamless switching between bitrates for adaptive bitrate delivery using DASH or HLS protocols. In addition, the codec comes with a mandatory loudness and dynamic range control for consistent playback loudness, and thanks to the Live Automatic Loudness feature in the encoder this works also for live inputs (such as streaming of concerts, sports events or news streams). xHE-AAC is supported in the latest Apple, Android, Amazon, and Microsoft operating systems. In the news recently is that MainConcept and Fraunhofer IIS are collaborating on MPEG-H Audio and xHE-AAC encoding for video and audio streaming services. Since professional music creators like to work directly with an audio CODEC, Fraunhofer IIS partners with Avid to enable support of MPEG-H Audio in Pro Tools. In addition, MPEG-H Audio is now available in Future Nuendo updates.
Fraunhofer continues to lead the way for inclusion within integrated circuits. Avid says, "People who create media for a living become greater creators with Avid's award-winning technology solutions to make, manage and monetize today's most celebrated video and audio content — from iconic movies and binge-worthy TV series, to network news and sports, to recorded music and the live stage. What began more than 30 years ago with our invention of nonlinear digital video editing has led to individual artists, creative teams and organizations everywhere subscribing to our powerful tools and collaborating securely in the cloud." MainConcept codecs, for example, are used by major organizations including as Adobe, AVID, Autodesk, Corel, Dalet, Endeavor Streaming, Globo, Grass Valley, Intel, MAGIX, Nikon, PlayBox, Soliton, Sony, Telestream, V-Nova, and Wowza. Fraunhofer estimates that two billion hours of on-demand xHE-AAC content are currently streamed each month by content providers including Netflix, Facebook, and Instagram.
YouTube Streaming Coachella 2023 Music Festival
With the past weekend's event already in the books, and out apologies for posting this news items a bit late, YouTube is streaming Coachella 2023 including all stages, all weekend long, and you can enjoy the music wherever you are watching with an internet connection. Every year the Coachella music festival grows, and this year YouTube is going all in with their livestream experience. Thus all six stages means, for the first time in music history, that all six stages will be live streamed online. They will also be capturing all the "can't miss" musical moments and sharing them with fans around the world via YouTube Shorts and across the platform so everyone gets the chance to experience the fun.
From high-quality performances and exclusive merch drops on Coachella's YouTube channel, to on the ground actions with Artists, Creators and fans — exclusively on Shorts — and so much more... it's all happening on YouTube! The weekend one livestream gets rolling at 7pm on Friday, April 14th and runs through Sunday night, April 16th. Again, our apologies for posteing this a bit late. Weekend two kicks back into gear the following Friday, April 21st through Sunday, April 23rd.
04 / 17 / 23
Greg Weaver's AXPONA 2023 Sunday Night Sneak Peek
Audio Expo North America 2023 Show Coverage
AXPONA 2023 Show Report By Greg Weaver
Many thanks to Enjoy the Music.com's Senior Editor Greg Weaver for his Sunday sneak peek from AXPONA 2023 (Audio Expo North America). Be sure to also check out Greg's The Audio Analyst channel on YouTube. Greg will be sending us a lot more in the coming days, so be sure to check back for additional AXPONA 2023 show coverage.
---> Greg Weaver's AXPONA 2023 Sunday Night Sneak Peek.
04 / 15 / 23
Robert C. May's AXPONA 2023 Saturday Night Sneak Peek
Audio Expo North America 2023 Show Coverage
AXPONA 2023 Show Report By Robert C. May
It's Saturday @ AXPONA 2023 and you know Robert C. May is having a great time! He sent us a small batch from his excursion today through the show. Today's Audio Expo North America 2023 show coverage By Robert features Von Schweikert, LampizatOr, Westminster Audio, MBL, Linkwitz, PranaFidelity, Yamaha, and Quintessence Audio Ltd. with Sonus Faber loudspeakers.
---> Robert C. May's AXPONA 2023 Saturday Night Sneak Peek.
04 / 14 / 23
Robert C. May's AXPONA 2023 Friday Night Sneak Peek
Audio Expo North America 2023 Show Coverage
AXPONA 2023 Show Report By Robert C. May
Our reviewer Robert C. May sent us a few sneak peek photos from his day here at AXPONA 2023. Much more to post in the coming weeks ahead.
---> Robert C. May's AXPONA 2023 Friday Night Sneak Peek.
Greg Weaver's AXPONA 2023 Friday Night Sneak Peek
Audio Expo North America 2023 Show Coverage
AXPONA 2023 Show Report By Greg Weaver
Our Senior Editor, and famous for his The Audio Analyst channel on YouTube, is Greg Weaver who has kindly sent us some great pics from AXPONA 2023 today. Gerg will be sending us a lot more in the coming days, so be sure to check back for much more!
---> Greg Weaver's AXPONA 2023 Friday Night Sneak Peek.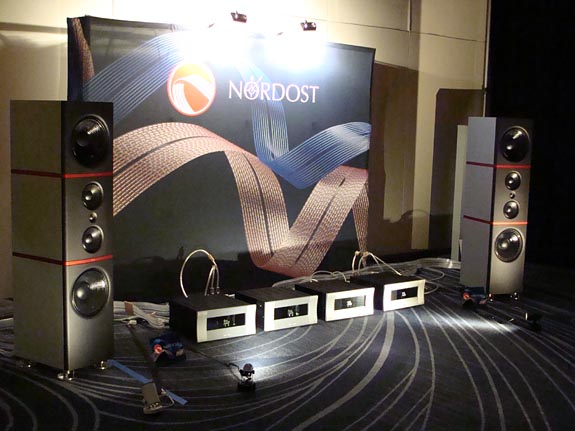 Dr. Michael R. Bump's AXPONA 2023 Friday Night Sneak Peek
Audio Expo North America 2023 Show Coverage
AXPONA 2023 Show Report By Dr. Michael R. Bump
One of our musicians in residence, Dr. Michael R. Bump, has sent us some great photos from his experiences at AXPONA 2023 on Friday. Michael is a career professional musician, who also instructs percussion at Truman State University's Department of Music. Michael loves system synergy, and so without further delay here are his Friday pics.
---> Dr. Michael R. Bump's AXPONA 2023 Friday Night Sneak Peek.
audioXpress May 2023 Magazine
Editorial: Make It Worth It!
The Hypex NCORE NCx500 Amplifier Module
Learning Audio Testing And Measurements
Vintage Op-Amp Noise Simulation Part 2
Monoblock Power Amplifier With Precision Bias Control Part 2
Power Transformer Parameters, Selection, And Testing Part 7
The Vanderveen Trans PP80 Valve Amplifier
A (Z)OTL With 300Bs Part 1
A Trip Down Memory Lane: Electric Guitar Amps
And Much More!
Within his editorial, J. Martins says "In this Glass Audio special issue of audioXpress we are proud to offer two high-quality tube amplifier projects from two renowned tube experts from both sides of the Atlantic. The first project by Menno van der Veen is another amplifier designed under the auspices of the author's TubeSociety initiative. The other comes from Thomas Perazella and in this case details a remake of a famous David Berning ZOTL amplifier. Both are of remarkable quality and value to all tube/valve enthusiasts at a time when it becomes increasingly more risky (and expensive) to build your own projects, unless we already know that the results are truly exceptional."
---> audioXpress May 2023 Magazine.
04 / 13 / 23
TIDAL Announces They're Going Lossless FLAC
With news of a not-so-welcome proprietary lossy format possibly exiting the CODEC space, Enjoy the Music.com just learned from reddit user @TIDAL_Jesse (CEO Jesse Dorogusker) that TIDAL will be offering true lossless FLAC. According to Jesse, "So many questions about MQA and hi-resolution audio. I hope we don't spend all of our time on audio format details, but it's an AMA and you're asking. TIDAL has cared about high quality and even experimental audio formats long before it was cool or common among music streamers. Why? Because artists take care when making their art and they want/hope to present their work in the best light (whatever they think that is exactly). We also live in a world that is mobile-dominated and mobile phones have constraints in memory, data plans, coverage maps - so there's always a consideration for the customer's need between more quality and more bandwidth/storage efficiency. Breaking news for my reddit peeps: we will be introducing hi-res FLAC for our HiFi Plus subscribers soon. It's lossless and an open standard. It's a big file, but we'll give you controls to dial this up and down based on what's going on."
Also of note is another reddit post where @TIDAL_Jesse says:
TIDAL Artist Home will be release next month
TIDAL will try to improve homepage personalization
TIDAL will introduce normal FLAC Hi-Res for HiFi Plus users soon
TIDAL will consider to add a button to disable Atmos decoding
TIDAL Artist Home will be focus in all stakeholders in music creation, not just the artist
TIDAL is working in a open API for developers
TIDAL is working on playlist thumbnails
Update: It has been reported that MQA files will continue to be available on TIDAL along side lossless FLAC. Only time will tell the future of the controversial MQA format as they continue to remain in administration within Europe (comparable to Chapter 11 within the USA).
Salon Audio Montréal Audiofest Show Report Part 5
The Lower Level continued, plus Best Rooms and a post-show adventure!
Report By Rick Becker
Crossing over to the side with the Outremont and St. Laurent rooms, let's wander down through the Outremont rooms heading toward the escalators. These rooms were larger than the Westmount (except for Outremont 1, hosting Yamaha again, which was larger than the other Outremont rooms), but not as large as the Montreal rooms and only about half the size of the St. Laurent rooms across the hall from them. Last year in this space Son Ultime wowed me with a McIntosh rig driving a pair of large Tannoy speakers. This time they brought in the McIntosh XRT1.1K floorstanding, four-way line array with 70 drivers. It is one step down from their flagship model.
---> Salon Audio Montréal Audiofest Show Report Part 5.
04 / 12 / 23
RIAA Announces AI Music Principles
With the goal of supporting music created and played by humans, as the music business continues to produce and distribute AI-generated audio, the RIAA seeks to support human creativity and accomplishments. According to the RIAA, an organization that advocates for recorded music and the people / companies that create it in the USA, "A broad coalition announced the launch of the Human Artistry Campaign to ensure artificial intelligence technologies are developed and used in ways that support human culture and artistry – and not ways that replace or erode it. With more than 40 members including major unions, trade associations, and policy experts representing individual creators and rightsholders from across the entire tapestry of creative endeavor, the Human Artistry Campaign is positioned to be a leading voice in the rapidly unfolding debate over the costs and benefits of different forms of AI."
"The group outlined principles advocating AI best practices, emphasizing respect for artists, their work, and their personas; transparency; and adherence to existing law including copyright and intellectual property. The campaign urges supporters to sign a petition to advance these fundamental principles. The launch was announced at SXSW in Austin today at an event featuring voice actor and prolific songwriter Dan Navarro, Grammy-nominated singer-songwriter Jessy Wilson and UT Austin professor and immersive technology expert Erin Reilly – and moderated by Rob Levine, Billboard's Deputy Editorial Director." You can learn more at the RIAA's website.
04 / 11 / 23
AXPONA 2023 Show Is This Weekend
AXPONA (Audio Expo North America) 2023 takes place from April 14th through 16th at the The Renaissance Schaumburg Convention Center. The three-day experience features multiple hotel floors packed with over 190 listening rooms according to the show promoter. Also featured will be The Record Fair, The Ear Gear Experience, and seminars. Whether you're a serious audiophile, a newcomer to high-end audio or simply a music lover, you'll find everything you need to immerse yourself in your favorite sounds. If you're searching for the latest personal audio gear, come hear the best headphones for an on-the-go listening experience.
AXPONA is thrilled to announce that Canadian Jazz singer/songwriter Anne Bisson will be taking stage to close the first day of their show on April 14th. The charismatic pianist and television star from Montreal, Quebec is leading her world class jazz trio with new songs and covers. Singer-Songwriter Amber Rubarth will be taking the stage on Saturday, April 15th to close out our second day of AXPONA. Known for her poetry-folk acoustic sound, Rubarth has toured all over the world, opening shows for legendary artists including Emmylou Harris, Kenny Loggins, Richie Havens, Dr. Ralph Stanley, and Jason Mraz. Learn more at Enjoy the Music.com's AXPONA 2023 show report page.
04 / 10 / 23
Salon Audio Montréal Audiofest Show Report Part 4
It's Sunday, let's take a look n' listen at the Lower Level.
Report By Rick Becker
The larger rooms at the Bonaventure are on the lower level, accessible by a long escalator, but first, I inspected the rooftop wilderness pond to make sure all the ducks were accounted for and none ended up on plates at the Industry Banquet. Near the top of the elevator, Anne Bisson insisted I wait until she finished her breakfast donut before I take her photo. Motet was set up with Fidelio recordings and LPs by Vincent Belanger and others at the bottom of the escalator. To the right of the elevators, the line was clearly too long for the Lamborghini Uber. Turning back in the other direction I found Isabeau Corriveau, a regular at shows these days.
---> Salon Audio Montreal Audiofest 2023 Show Report Part 4.
04 / 07 / 23
Salon Audio Montréal Audiofest Show Report Part 3
The incredible industry banquet... sponsored by Enjoy the Music.com.
Report By Rick Becker
Saturday night a sold-out crowd of over 125 people in the industry gathered in the Ville Marie room at the Bonaventure for a gala banquet featuring a multi-genre French Canadian band for entertainment to go along with French Canadian cuisine. Before long I found myself with a camera in one hand and a glass of champagne in the other. As I milled around, people were being shammed into posing for photos with the Mistress of Ceremonies, drag queen Rainbow Drag. Some posed joyfully. Others, not so much. Before I knew what was happening, Sarah Tremblay was pushing me up onto the set.
---> Salon Audio Montréal Audiofest Show Report Part 3.
04 / 06 / 23
Hi-Fi+ April 2023 High-End Audio Magazine
Editorial: Investing In Premium Audio Gear
Ferrari Purosangue Burmester In-Car Audio System
Competition! CAD USB II-R Cable Worth £1500.
Achieving Audio Nirvana
Naim Audio NSC 222, NPX 300, And NAP 250 Review
Wilson Audio Alexx V Floorstanding Loudspeakers
Atoll IN300 Integrated Amplifier / DAC
Aqua Acoustic Quality La Diva M2 CD Transport
T+A Solitaire T Wireless Headphones
Platanus 3.0S Moving Coil (MC) Cartridge
...And Much More!
Within this month's editorial, Alan Sircom says "In recent years, it has become fine for people to embrace their inner nerd in almost every hobby or interest. Except audio. In audio, it's still unacceptable in some circles for someone to spend money on good audio without being pillaried for being at once a credulous sap and obsessed by 'bling'. And I'm not sure why we are the exception. Here's what I mean. British actor Henry Cavill (best known for playing Superman and his roles in The Witcher and Mission Impossible - Fallout) is known as an avid gamer and unashamed fan of Warhammer 40,000. He has spoken about this extensively in chat shows recently. Only a few years ago, his fanaticism over painting plastic spacemen would have been met with scorn and ridicule, but now it's met with genuine interest, even among non-fans." See what's within this issue of Hi-Fi+ magazine at this link.
04 / 05 / 23
The Absolute Sound April 2023
The Sweet Spot Editorial: The Listening Position
Wayne Garcia Listens To The Magico S3 Speaker
Focal Stella Utopia EVO Loudspeaker Review
Thorens TD-124 DD Turntable and TP-124 Tonearm
Linn Products Majik LP12 Turntable
YG Acoustics Peaks Tor Loudspeaker
Acora Acoustics SRB Loudspeaker
Tidal Piano G3 Loudspeaker
Siltech Royal Crown Interconnects and Loudspeaker Cables
Furutech Six-Outlet Power Distributor
...And Much More!
Within his editorial, Robert Harley says "Just about every audiophile knows that the 'sweet spot' is the listening position exactly between a pair of speakers and equidistant from each. That's the location where the sound from each speaker arrives at your ears at about the same time, allowing your brain to create a three-dimensional soundstage with a centrally placed image (if those qualities exist in the recording). Move the listening position slightly to the left or right, and the center image loses its tangibility and the glorious three-dimensional soundstage collapses. The sanctity of the sweet spot is vividly embodied in the description by a 45-year industry veteran, who likened sitting in front of a pair of speakers to 'worshipping at the triangular altar.'"
---> The Absolute Sound April 2023.
04 / 04 / 23
Salon Audio Montréal Audiofest Show Report Part 2
Rick Becker's Montreal Chronicles 2023 Show
Report By Rick Becker
Still on the main floor, we take the stairs at the end of the long hall, just past the ducks in the rooftop wilderness, to reach Level 2. The Kuzma Stabi R turntable with a built-in DC motor and non-flexible drive belt was fitted with the new Safir 9 tonearm with a sapphire arm (€20k for tonearm). Cutting-edge tonearms are now in a league of more than $20k USD. There was certainly plenty of resolution coming from this turntable which is machined from a block of solid aluminum. Frank told me that the Kuzma did an outstanding job of digging deep into the bottom end of his speakers and holding it tight. The bass was so natural sounding that I hadn't paid attention to it or expected it to be otherwise.
---> Salon Audio Montréal Audiofest Show Report Part 2.
IFPI Releases Their Global Music Report 2023
The International Federation of the Phonographic Industry (IFPI), a national network that represents the business interests of ~8000 members across the globe, has released their Global Music Report 2023 financialization analysis. According to the IFPI, "The global recorded music market grew by 9% in 2022, driven by growth in paid subscription streaming, according to IFPI, the organization that represents the recorded music industry worldwide. Figures released today in IFPI's Global Music Report show total trade revenues for 2022 were $26.2 billion. Subscription audio streaming revenues increased by 10.3% to $12.7 billion and there were 589 million users of paid subscription accounts at the end of 2022. Total streaming (including both paid subscription and advertising-supported) grew by 11.5% to reach USA $17.5 billion, or 67.0% of total global recorded music revenues."
"There was growth in other areas too with physical revenues remaining resilient (+4.0%); performance rights revenue increasing by 8.6% and returning to pre-pandemic levels; and synchronization income climbing by 22.3%. Asia grew by 15.4% with its largest market, Japan, seeing growth of 5.4% whilst the second largest market, China, grew by more than 20% (28.4%), becoming a global top five market for the first time. In a continuing trend, Asia also accounted for almost half of global physical revenues (49.8%). Revenues in Europe, the second-largest recorded music region in the world, grew by 7.5%, with the region's three biggest markets all posting gains: UK (+5.4%), Germany (+2.2%) and France (+7.7%). Latin America saw gains of 25.9%, maintaining more than 10 years of regional increases. The USA & Canada region – the world's largest in revenue terms – grew by 5.0% in 2022; The world's single biggest market, the USA, grew by 4.8% – exceeding $10 billion for the first time – and Canadian recorded music revenues increased by 8.1%."
04 / 01 / 23
Enjoy the Music.com's April Review Magazine
This month we feature two World Premiere and a North America Premiere review, our Montreal and Singapore show coverage, plus many great videos too! This month's gear reviews range from top-end solid-state amplification, point-source loudspeakers, and tweak fuses to skinny ribbon speakers and those that use solid granite(!) enclosures. We also compare three in-ear monitors (IEM)... and much more! There's a beautiful issue in store for you this month. As always, in the end what really matters is that you... enjoy the music!
---> See Enjoy the Music.com's April 2023 Review Magazine.
What Do You Listen For?
Roger Skoff writes about one of hi-fi's most basic issues.
Article By Roger Skoff
A great deal has been written about what music we do or should listen to. And even more (every record or equipment review, for example) has been written about how things sound, how we ought to listen to them, or what gear we should listen on. To my knowledge, though, except for the occasional incidental reference relative to some other subject, almost nothing has ever been written about what we actually do or should listen for. The fact is that we don't just "listen". We couldn't if we wanted to: Even in an apparently "quiet" room, the ambient noise level – the sound that's constantly going on all around us while we speak with or listen to others, listen to music, or just sit still, saying or doing nothing – has been measured to typically average somewhere in the range of 45 to 50 dB. That's hardly a thunderous din....
---> What Do You Listen For?
Dan D'Agostino Master Audio Systems Progression S350 Stereo Power Amplifier Review
The Dan D'Agostino S350 amplifier makes each musical selection sound spectacular!
Review By Tom Lyle
Dan D'Agostino Master Audio products are not the most expensive audio components on the market, but in my opinion, their audio products are some of the best sounding high-end audio components I've ever had the pleasure of auditioning. I was lucky enough to have the opportunity to review two D'Agostino Master Audio components in the past. In 2017, I reviewed the excellent-sounding Momentum Lifestyle integrated amplifier, which had an onboard DAC and could also be used as a streamer with its front-panel LCD metadata display. Also in 2017, I reviewed D'Agostino Master Audio System's Momentum phono stage, which I was highly impressed with its outstanding sound quality and very user-friendly front panel controls.
---> Dan D'Agostino Master Audio Systems Progression S350 Stereo Power Amplifier Review.
World Premiere Review!
Synergistic Research Master Fuse Review
Take a leap of faith and trust your own ears.
Review By Rick Becker
Andy Weiderspahn was away at the Florida Audio Expo when news broke of their new Master fuse so Kevin Sample stepped up and obtained permission for me to receive some review samples. Having previously reviewed the Black, Blue, Orange, and Purple fuses over the years I was eager to investigate this new version — especially because of the hype that went along with the introduction. Obviously, it is not named with a color. More alarmingly, it takes a large jump in price over the Purple fuses that grace much of my system. But most importantly, it claims to be such an improvement over the Purple that they recommend using only one, primarily in your source component, two at most. This last point softens the blow of the price jump. The Master is said to work well with lesser Synergistic fuses that may already grace your system.
---> Synergistic Research Master Fuse Review.
Bowers & Wilkins 705 S3 Stand-Mounted Loudspeaker Review
A sense of performance that gets out of the way of your music.
Review By Simon Lucas
Getting to 'Series 3' of the Bowers & Wilkins 705 stand-mounting loudspeaker has been a rather more convoluted process than it might seem at first glance. You might imagine that 'S3' replaces 'S2', which in turn replaced 'S1' (or perhaps just '705') – but you'd be wrong. Getting to '705 S3' initially required there to be an original '705', it's true. But after this, the entire 700 range (for reasons no one cares to remember) became the 'CM' range. 'CM' didn't remain a thing for all that long, and was replaced by the 'S2' range of 700 models. Then the 705 S2 (and the 702 S2 floorstander) were singled out for the Bowers & Wilkins 'Signature' treatment – I reviewed the 705 Signature in issue 187 of this very magazine. These 'Signature' editions ran alongside the 'vanilla' S2 models on which they were based.
---> Bowers & Wilkins 705 S3 Stand-Mounted Loudspeaker Review.
McIntosh MP100 Phono Preamplifier / DAC Review
A serious piece of kit for an entry level vinyl setup.
Review By Gary Lea
If you are a reader of this esteemed publication it is not a stretch to presume you are an audiophile and probably pretty deep into our wonderful hobby. Having said that, I think you would be hard-pressed to find anyone amongst us who has not heard of, listened to, or even owned McIntosh components at some time in our audio journey. Right after college, and I started making reasonable money for the first time, I moved up from a Yamaha integrated amp to a McIntosh MA6200 integrated unit. Sound-wise it was a toss-up between that and a comparable Luxman. While Luxman was perhaps a bit more exotic, I just could not resist the aesthetics of the McIntosh and I never regretted the decision. That was some 43 years ago and was the second phase of my serious journey down the HiFi Highway.
---> McIntosh MP100 Phono Preamplifier / DAC Review.
Westone Audio Mach 20, 60, And 70 In-Ear Monitor (IEM) Review
Westone's Mach 20 is a legitimate bargain!
Review By Kevin Venable
I first heard of Westone Audio when I was 30 years old. I was sitting in the Alley, a courtyard between buildings, at Hollywood California's famous music school Musician's Institute. My ears were filled with silicon my teeth gnawing on folded cotton, looking at a pamphlet filled with various custom In-ear monitors and ear plugs from brands like Ultimate Ears, Shure, and Westone Audio. It was 2005 and little did I know this company whom I was first seeing mentioned had helped invent the idea of in-ear monitors (IEMs) in 1985, 20 years prior to my first ear impressions. I never did buy the IEMs I had the impressions made for as the auditions I had never panned out into a touring gig and I slowly turned toward electronic music and started DJ'ing leaving my dreams of playing guitar for a living to gather dust.
---> Westone Audio Mach 20, 60, And 70 In-Ear Monitor (IEM) Review.
Radio Shack's Realistic System 200 Review
Tremendous features and an authentic value!
Review By Mark Rochlin
Today I received the most amazing unit to evaluate, the Realistic System 200! New for 1988, this unit represents a new peak of the Tandy / Radio Shack line and continues the tradition of quality and value that makes Radio Shack famous and guarantees their continued success. Their System 200's ingenious design revolves around both sonic excellence and ease of use. Styled in a custom made faux walnut-looking rack with matching speakers, this unit will enhance the style of your living room. Radio Shack has taken the unique approach of enclosing the entire unit within one single chassis. This allows them to invest into their system where it counts, the internal electronics.
---> Radio Shack's Realistic System 200 Stereo Review.
World Premiere Review!
Sozy Wulkmun High-Rez Audio Turntable
Freeing your music has never been easier!
Review By Nilhcor R. Nevets
Look, I'll make this preview brief as spy photos and an advanced copy of their upcoming advertisement just hit my desk. While I'm bound to this desktop torture getting this story out fast, your music LPs soon will have a newfound freedom away from their homeward bondage. With vinyl LP sales experiencing double-digit growth, it appears that the LP is once again becoming a major force within the music industry.
---> Learn more about Sozy's Wulkmun High-Rez audio turntable.

Many more reviews & articles are within our Review Magazine.
---
Previous High-End Audio News
For previous high-end audio and music industry news click here.