High-End Audio / Audiophile & Music Industry News

Subscribe to our newsletter plus enter our contests!
---
Enjoy the Music.com gladly provides hundreds of high-end audio show reports, thousands of audiophile equipment reviews, plus daily news. Please support us via our affiliate account at Amazon. Bookmark this Amazon link and use every time you shop.
01 / 30 / 21
How A Vinyl Record Is Made
We tour Quality Record Pressings / Acoustic Sounds vinyl LP pressing plant.
Enjoy the Music.com presents to you our tour of the Quality Record Pressings (Acoustic Sounds) vinyl LP pressing plant. We join plant manager Gary and owner Chad Kassem as they take us on a step-by-step journey through how a vinyl LP record is produced. As always, in the end what really matters is that you... Enjoy the music!
---> See how a vinyl LP record is made.
T.H.E. Show 2021 Scheduled For June 11th To 13th
This just in from T.H.E. Show:
It is with careful but great pleasure we are able to announce that T.H.E. Show 2021 is slated to take place June 11th through 13th at the Hilton in Long Beach, California! We realize that with the pandemic still ongoing and with so many variables changing on a daily basis (we do have contingency plans already in place), there will be some questions. Please feel free to contact us with any questions you have.
Top Secret!
In the past few years you will have seen T.H.E. Show break new ground with initiatives such as our web series, our award-winning documentary short, "T.H.E. Human Side," (soon to be a feature film), various exclusive experiences such as our "X Marks the Spot" event at the legendary Capitol Studios in Hollywood, CA, etc and 2021 is no different! If you're a manufacturer, dealer, distributor, or bespoke designer and would like to participate in our latest forthcoming initiatives, please send us an email on our super-luxury, super exclusive, and super-secret (at least for now) plans being laid for something extremely fun and engaging for the entire high-end audio, HiFi, and luxury community.

Sincerely,
T.H.E. Show Team
TheHomeEntertainmentShow.com
01 / 29 / 21
Hi-Fi World's March 2021 Reviews & Think Pieces
Hi-Fi World's March 2021 issue features your chance to win a pair of Spendor Classic 4/5 loudspeakers worth £1600. Reviews within this issue include the B&W 603 S2 Anniversary loudspeakers, Triangle Borea BR08 loudspeakers, Earmen Eagle & Sparrow pocket DACs, NovaFidelity N25 network audio streamer, Creek Audio Voyage i20 integrated amplifier+DAC, Anthem STR Pre & Power amplifiers, Esprit Beta RCA interconnect cable, and Atlas Hyper Achromatic bi-wire loudspeaker cable. Olde Worlde assesses the Nakamichi 550 portable cassette deck, plus reviews of the Goldring Ethos MC cartridge, and Pro-Ject Phono Box RS2.
Within his editorial, Noel Keywood says "Fascinating to see two loudspeakers that look so alike, the B&W 603 S2 Anniversary on p16 and the Triangle Borea BR08 on p46. You'd think they sound the same, but no – they are quite different. Their designers have differing views on what sounds good, or perhaps – more cynically – just what sells well. We were divided over these loudspeakers. Both were impressive in their own way, enjoyable in their own way. I hope you find what we thought, put through my own words, illustrates their individual qualities and strengths." See what's within this issue of Hi-Fi World at this link.
ecoustics.com Announces New Editor And New Focus
After more than 20 years of delivering daily content across a wide spectrum of consumer electronics categories, Enjoy the Music.com's partner magazine ecoustics is shifting gears and becoming more focused on the next generation of A/V enthusiasts. They are charging into 2021 with a renewed focus and greatly expanded social media presence to best meet the needs of a growing market segment focused on vinyl, used and vintage, and more affordable high-end audio systems. With more than 20 years of consumer A/V media experience, ecoustics are very excited to announce the transition of Senior Contributing Editor Ian White to the role of Editor in Chief.
"2020 gave us an opportunity to take a step back and look at the changing landscape in the world of consumer A/V media," said Brian Mitchell, Founder & CEO of ecoustics.com. "With traffic growing by almost 27% each quarter, we realized that we needed to make some strategic changes to bolster the quality of our original content, improve the way we engage with the next generation of enthusiasts who have migrated to podcasts, Instagram, and YouTube, and develop a younger core group of contributors who have already developed significant social media communities that are interested in vinyl, used and vintage high-end audio components, personal audio, and more affordable high-end audio systems." You can read ecoustics' entire press release at this link.
01 / 28 / 21
The Neoteric Listener
Furutech DSS-4.1 Speaker Cables And DPS-4.1 Power Cable Review
Review By Dean Seislove Of Positive Feedback
Cables have it rough. Last in thought, least in budget, forever to be put to work quickly, and then quickly overshadowed by flashier audio gear. When gushing about an audio system, who starts with the cables? Nobody ever, that's who. Such neglect is a crying shame. Cables bear the precious audio signal like a yeoman's cart dispatched by his ladyship. They're the pack mules in the trip down the Grand Canyon; the Pontoon boat floating down the Mekon river. Without cables, your audio system deluxe is just odd-looking furniture. Cables deserve accolades, no matter how much contrary nonsense is spouted off by cynics. I deny the cable deniers!
---> Furutech DSS-4.1 speaker cables & DPS-4.1 power cable review.
01 / 27 / 21
B.audio B.dac EX Streamer With Acoustic Correction
B.audio's new B.dac EX digital-to-analog converter (€8590) has modern streaming capability plus acoustic correction. This French manufacturer has brought new enhancements to their DACs, which benefit of a series of new features under the EX label. These include a network input giving access to streaming functionalities, as well as a USB slot for direct connection of storage media. Additionally, a DSP-based acoustic correction feature offers a wide range of possibilities for adjusting to the listening environment. As the extended version of the B.dac, the B.dac EX is a response to many requests for network playback and D/A conversion functionalities in a single product.
Streaming inputs are optimally interfaced with B.audio's patented Source Jitter Removal (SJR) technology - a process that effectively eliminates 100% of the source jitter. Enabling the conversion circuitry to work optimally, the SJR provides unmatched digital-to-analog conversion quality regardless of the audio format used. The available features include compatibility with protocols UPnP, MPD, LMS, NAA, Roon, Airplay, and Spotify, plus access to streaming services Qobuz, Tidal, Spotify, etc. via compatible iOS and Android applications. Playback of various formats include PCM up to 384kHz / DXD / DoP / native DSD up to DSD 256. Integrated cloud / UPnP server makes data stored on USB media accessible over the network. Lastly, the onboard DSP features parametric acoustic correction allowing to make the best out of the listening environment. In-house developed, this functionality is based on a 64-bit architecture.
01 / 26 / 21
Vermeer Audio Model Three Integrated DAC
Vermeer Audio's team is proud to present its new Model Three D integrated stereo DAC (€12,990), which is based on the company's Model Two and the components that have made this uncompromising unit a success. The Model Three D is an integrated DAC / Network Player / Digital Preamplifier that can act as a direct source for any type of amplifier. LEEDH Processing provides outstanding innovative technology for digital volume control, where digital volume adjustment usually corresponds to a loss of sound information and is often perceived as a drop in hearing acuity that often leads the listener to 'turn up' the volume to be able to 'hear better'.
The LEEDH Processing team analyzed the underlying problems associated with digital audio that limit potential progress and developed solutions to the current digital problems based on the "culture of the fidelity" as opposed to the "culture of accuracy". Based on this original approach, the LEEDH Processing team invented a volume-control process that allows the modification of the amplitude of the digital signal with perfect fidelity, i.e., without modification of its shape and therefore free of any loss of information. Digital inputs include one each S/PDIF RCA, optical TosLink, AES/EBU XLR, USB and I2S via HDMI, pus Ethernet input via UPnP-compatible RJ45 connector. For analog outputs there's stereo headphone, unbalanced RCA (2 Vrms) and balanced XLR (4 Vrms).
01 / 25 / 20
Audio Research Reference 80S Stereo Amplifier
Audio Research now offers their Reference 80S stereo amplifier ($16,000) that produces 70 Watts per channel (33 Watts in triode mode) and continues the company's latest design effort in creating a vacuum tube amplifier that not only 'redefines' ultimate music reproduction, but does it in an incredibly beautiful package. Their 80S continues the design ethos, including dual Ghost Meters that float in front of four KT150 output tubes. Extruded panels, a vital part of the all aluminum chassis, provide rigidity and beauty. A single shallow whisper fan is built into the bottom plate for cooling. Flexibility is built-in, too, with balanced XLR and unbalanced RCA inputs, with speaker outputs being 4, 8, and 16 Ohm, plus 12V input and output triggers, RS232 input, tube hour meter, switchable fan speeds, and defeatable auto-off function.
The feature set is the same as the 160S, including a proprietary auto-bias circuit that adjusts for not only tube age, but for power line voltage swings. There is fusing of the output tubes, switchable Triode / Pentode operation to accommodate loudspeakers, output tube monitoring, and inclusion of an hour meter so you know how many hours are on the tubes–like an odometer for your amplifier. Like every Audio Research Reference amplifier before it, the 80S is a fully-balanced differential design because it provides the highest performance and lowest distortion. A four-layer circuit board is used to ensure a separate ground plane, better circuit layout, and fewer noise-inducing point-to-point connections. Each unit is built by hand at the company's Maple Grove, Minnesota facility. The unit is 19" x 10.5" x 18.5" (WxHxD), weights 62 lbs, and is available in either natural silver or black finishes.
01 / 22 / 21
AGD Gran Vivace Monoblock Reference Amplifier
AGD Productions Gran Vivace monoblocks ($18,500 in standard finish, optional polished finishing is $19,995) is the company's new top-of-the-line reference monoblock amplifiers. It produces 350 Watts @ 4 Ohms and is based on the new GaNTube KT120. The AGD GaNTube technology is a unique proprietary Class D modular platform with 100% Gallium Nitride MOSFET based amplification circuitry. The AGD GaNTube KT120 is a large and powerful GaNTube that is pin-to-pin compatible with its lower power sibling GaNTube KT88 MkII, and utilizes a new state-of-the-art 600V rated GaN MOSFET devices. The new 600 Volt Gallium Nitride power MOSFET used in the GaNTube KT120 power stage is said to efficiently switch at much higher frequency and slew rates than any silicon-based counterparts, and "can deliver the most sublime sound thanks to their ideal 'by the book' oscillations-free switching capabilities."
These new advanced components are the key to the power capabilities and the reference musical performance of the AGD Gran Vivace monoblocks. Thanks to the improvement in key components, and the extremely efficient PCB layout (improvements tested and introduced recently with the AGD GaNTube KT88 MKII), AGD has said to achieve the design's goal to operate this more powerful power-stage at ~800kHz, the now standard PWM frequency of AGD GaNTubes. The higher PWM frequency operation delivers a direct and positive impact on the overall outstanding sonic and musical performances with sublime mid-high range realism along with the unique tight and control bass.
01 / 21 / 21
KEF's New KC62 Subwoofer With Uni-Core Technology
KEF has just launch their new KC62 Subwoofer ($1499.99) with three technologies in design and sound. Using KC62's force-canceling and Uni-Core technologies, KEF has brought innovation to a subwoofer. Measuring at 9.68" x 10.07" x 9.76" (WxHxD) and weighing 31 pounds, KEF's new KC62 active subwoofer powered by two 500 Watt Class D amplifier is said to "deliver unprecedented depth and breath-taking accuracy with its compact and sleek design" says the company. As Enjoy the Music.com posted on January 14th within our industry news page (see below), Uni-Core delivers excellent performance through the combination of a force cancellation configuration and a single motor system with concentrically arranged voice coils. This patent-pending design allows the cabinet size to be reduced by over a third while equaling, or exceeding, the driver excursion of a much larger subwoofer.

Other technologies include KEF's P-Flex Surround, also known as Origami Surround. The P-Flex Surround is a brand-new patent-pending driver surround that resists the acoustic pressure inside the cabinet without limiting sensitivity in which traditional surround designs do. The other innovative technology is the Smart Distortion Control Technology. This patent-pending, sensorless, motional feedback system helps correct even the slightest signal abnormalities and transients. By measuring the current in the voice coil, detecting, and then correcting any non-linear distortions, Smart Distortion Control delivers accurate bass with less colorization. KEF's KC62 performance is further enhanced by custom in-house designed DSP (Digital Signal Processing) algorithms (KEF's Music Integrity Engine). These algorithms include iBX (Intelligent Bass Extension) and SmartLimiter, which continually analyze the signal to prevent clipping. The line output High Pass Filter allows for fine-tuned integration, while KEF SmartConnect eliminates connection issues. KEF's KC62 is crafted from extruded aluminum and offered in Carbon Black and Mineral White finishes.
World Premiere Review!
Dan D'Agostino Master Audio Systems
Momentum Lifestyle Integrated Amplifier
With DAC & Audio Streaming Review
Only for music lovers, because that is the MLife's raison d'être
– to enable the listener to revel in one's love of music.
Review By Tom Lyle
Many audiophiles are familiar with the name Dan D'Agostino, by virtue of him being the founder, CEO, and chief engineer at Krell which he founded in 1980. The products made by Krell, which included everything from power amplifiers to SACD players and speakers, were some of the best high-end components available. In 2009 he was ousted by investors that he himself invited into the company because they thought the company should change direction. Almost immediately after leaving Krell he formed Dan D'Agostino Master Audio Systems.... In late 1970s a local dealer lent me a Krell power amplifier. When I auditioned it in my humble system it was almost instantly apparent that no, all power amplifiers do not sound the same.
---> Dan D'Agostino MAS Momentum Lifestyle integrated amplifier with DAC/streaming review.
01 / 20 / 21
Erztich Medousa Fully-Balanced Headphone Amplifier
Erzetich's Medousa (€3500) balanced headphone amplifier is ideal for those that wish to refresh their music experience and enjoy richer, deeper, clearer audio. The amplifier boasts an elegant stainless steel chassis alongside artificially aged wooden sides. Medousa is said by the company to blend the advantages of 'tube' and 'balanced' amplifiers in a single dependable system. The unit features a gain stage with a high-quality Electro Harmonix 12AU7/ECC82 triode vacuum tubes (other NOS tubes are available at additional cost). The tubed gain stage is followed by a solid-state current buffer. The four monoblock modules optimize the symmetry between the four channels. Erzetich's Medousa is sophisticated enough to work with variable loads, regardless of whether high or low impedance headphones are in use, with the power output of 335 mW @ 8 Ohms (326 mW @ 600 Ohms).
The Erztich Medousa headamp's linearity expands over the hearing range of the listener, from 3Hz to 600kHz, thus ensuring music boasts more depth and vibrancy. Optimal performance can be generated when the amplifier is in fully-balanced mode. However, you can use an unbalanced input and/or output if you prefer. Both unbalanced RCA and balanced XLR input are provided, with outputs being both balanced and unbalanced. Dimensions of the unit are 300mm x 110mm x 335mm (WxHxD) and it weighs 4800 grams.
01 / 19 / 21
Tacet Dmitri Shostakovich, Symphony No. 9 Op. 70
Tacet's new Dmitri Shostakovich, Symphony no. 9 op. 70, Symphony no. 5 op. 47 hybrid SACD features Concerto Budapest / András Keller. According to Tacet, "Pictures while listening to symphony no. 9: A joyful, almost boisterous opening movement. A dreamy, contemplative second followed by a sparkling presto. And then this short fourth movement, the helpless lament of a lonely bassoon, still showing signs of vitality against the stark, unbending, unison brass. A small, tormented individual under brutal state power. Nevertheless, still it laments. The dictator repeats his demand. But the bassoon does not totally lose heart. It starts the last movement with a shy, slightly mischievous dance that becomes gradually more light-hearted."
"Somewhere along the line, the timpani and horns give the signal to rise up, initially very softly. This is the announcement to the dictator: watch out, Stalin, this is it, now I'll make you think with pen and ink! The furious ascent peaks with a grotesque triumphal march that sounds like liberated laughter. The powerless one makes fun of the all-powerful – and then whistles in his face! Looking back, the question arises: who is the one lying as heavy as cold sheet metal in an eternal bottomless pit and who is the one who remains laughing in history? Judging by the music, by the 9th symphony Shostakovich had put the worst of times behind him. Quite different from in the 5th, but that's another story. Another story, by the way, that you can also find in this cinema. Is that just my idea? Or does it come from the fact that the Concerto Budapest and András Keller tell the story in such a straightforward manner? It almost seems as if there are people playing here who are marked by the aftermath of those times." Tacet's hybrid SACD contains a CD-layer, DSD stereo layer, and 5.1 multi-channel track.
01 / 18 / 21
Piega Ace 50, 30, And Center Loudspeakers
Piega just launched their new Ace series of loudspeakers, which consists of their Ace 50 floorstander, Ace 30 bookshelf, and Ace Center center-channel speaker (€990, €490, and €590 each respectively). As a successor to their established TMicro loudspeakers, the new Ace series have been equipped with a number of state-of-the-art details. All models feature the AMT-1 Air Motion Transformer tweeter, with its extremely light 24mm x 36mm folded membrane and a powerful magnetic drive made of high-purity neodymium. Piega says this driver "provides airy and detailed sounds" plus it "provides an excellent transient response and the lowest levels of distortion continuing to set standards in its price range".
All models also feature the MDS cone drivers, which have been re-engineered for improved reproduction in the low and mid frequencies and fitted to the new cabinet design. The result is "an impressively powerful, crisp and deep bass combined with a clear and natural voice reproduction." The Ace 50 floorstander is a four driver, three-way system with two 120mm MDS-B, a 120mm MDS, and an AMT 1 driver. Frequency response is from 45Hz to 40kHz and the speaker has a sensitivity rating of 90dB/W/m while presenting a 4 Ohm load. All Ace models have a silver aluminum cabinet and a cover in silver fabric. Other options are a black anodized aluminum cabinet with black fabric cover or white lacquer finish with white fabric cover.
01 / 15 / 21
Mytek Audio Liberty THX Stereo Headphone Amplifier
Mytek Audio proudly introduces their new Liberty THX AAA HPA ($1495), an analog headphone amplifier featuring THX Achromatic Audio Amplifier technology. The patented THX Achromatic Audio Amplifier (THX AAA) is claimed By ytek to be the most linear amplifier technology available today. According to the company, their new headamp provides "astonishing musical accuracy, unprecedented dynamic range, as well as infinitesimally low levels of noise and distortion". Using THX's patented feed-forward error correction circuit topology allows the THX AAA-based amplifier to reach its maximum output power rating of 6 Watts while exponentially reducing noise and distortion levels.
This THX patented feed-forward topology can output a maximum current of 1 ampere and voltages reaching 25Vp-p. As a result, the Liberty THX AAA HPA can drive any pair of headphones available today. With such immense power capabilities, extensive circuit protection is of the utmost importance and the THX-888 module within this device has this fully covered. The amplifier uses the highest quality gold plated connectors and a selection of the highest grade parts, including an oversized 60-Watt toroid power transformer, separate low noise power regulators for left and right channels, and a large bank of low impedance power supply electrolytic capacitors. For inputs, there are four line level inputs, three unbalanced RCA and one balanced XLR. The front panel outputs include a 4-pin XLR and 4.4mm balanced, plus 1/4" TRS and 3.5mm for an in-ear monitor (IEM). Dimensions are 5.5" x 8.8" x 1.74" (WxDxH) and it weighs 4.5 lbs.
Enjoy Reading Your Fave Hi-Fi Magazines Online
Enjoy the Music.com invites you to read the many excellent articles and reviews by our partner publications. Stay safe, and remember that our love of music / hobby is one that can be enjoyed within the privacy, and security, of your home, office, within your car, and on-the-go. We'd like to take a moment to remind our readers that many of our print magazine partners offer online subscriptions. As always, in the end what really matters is that you... enjoy the music!
Vintage Magazines

Web Partner Magazines
01 / 14 / 21
KEF Creates Maximum Bass With Uni-Core Technology
KEF is releasing their new Uni-Core design, which delivers a completely new take on speaker and subwoofer design for the company. Uni-Core seeks to create a high-level of performance, while reducing the subwoofer or speaker cabinet volume significantly. Between desirable aesthetics and uncompromising performance, the first challenge was fitting two drivers into a compact cube enclosure. Uni-Core uses two dual force-cancelling drivers with concentrically arranged, overlapping voice coils, that are driven by a single motor to provide stunning bass performance from a small enclosure.
The voice-coils are different sizes and occupy the same physical space within the Uni-Core driver assembly. This allows for an extremely compact physical cabinet with significantly reduced volume when compared to subwoofers that rely on conventional driver technology. The saved space provides the drivers far more excursion than an equivalent-sized, force-cancelling design, unlocking more output and depth from much less space. This patent-pending technology is said to smoothly deliver powerful and deep bass response while removing the space concerns that are often obstacles to premium subwoofer performance. The new Uni-Core technology will be applied in an upcoming KEF product that will be announced this month.
Enjoy the Music.com's 20 Year Anniversary
We get by with a little help from our friends.
Article By Steven R. Rochlin
Frankly, 20 years is a short period of time. Has it really been 20 years? Would love to say it seems like only yesterday that Yours Truly was this wild four ear piercings, nose ring and dog collar wearing avant-garde young kid strolling the hallways at shows, yet when it comes to the modern Internet 20 days ago seems like forever. Knowing that simply offering basic advice and how-to articles, plus my senseless ramblings, were fun yet the site also needed to start reviewing gear. Longtime and highly respected reviewer Dick Olsher and others agreed to join Enjoy the Music.com back in those early days and we've continued to grow ever since.
---> Enjoy the Music.com's 20 year anniversary editorial.
01 / 13 / 21
PerListen Audio S7t Tower And D212s Subwoofer
Perlisten Audio just announced two tower speakers, one center channel, and three subwoofers in the North American market. The reference S7t tower speaker ($7500 per pair on up depending upon choice of veneer) is their top efforts to speaker design. Their first THX Certified Dominus speaker, the four-way S7t, showcases all drivers designed by the company's USA-based engineering team and is said to work well with 6500 cubic feet of space and 20 feet of distance. The S7t achieves the goal of total harmonic distortion (THD) rated below 0.5% at 90dB listening levels. PerListen's patent-pending Directivity Pattern Control (DPC) waveguide is centered by three 28mm "beamforming" tweeters to accurately control vertical and horizontal dispersion. A beryllium tweeter with expanded bandwidth to 40kHz and a rear absorption chamber reduce internal reflections to the bare minimum.
PerListen Audio's D212s active subwoofer ($5500 on up depending upon choice of veneer) is simultaneously flexible and powerful, with equal emphasis on massive power output and ultra-low distortion low frequency reproduction. The company employs Advanced FEA (finite element analysis) to reach PerListen Audio's high level of optimization requirements to create two 12" woofers with 60mm peak linear excursion. Proprietary carbon fiber drivers produce extreme levels of bass without sacrificing total harmonic distortion (THD), resulting in bass response that is consistently accurate and powerful. The D212s provides both balanced XLR and unbalanced RCA inputs, plus a high-performance 3000 Watt amplifier with 32-bit ARM four-core processor with 48-bit data path DSP. The driver's push-pull design cancels second-order harmonics to further reduce distortion.
audioXpress' February 2021 Issue Is Now Available
audioXpress' February 2021 issue features Microphones Get Essential Status by J. Martins, Enabling Voice Capture and Developing for Voice Interfaces by J. Martins, Why Thousands of Virtual Microphones Matter by Erica Yorga (Nureva), Widex Moment mRIC RD Hearing Aid by Brent Butterworth, The Science and Physics of High-End Mic-Preamp Design (Part 1) by Mike Meechan, X-Altra Moving Coil/Moving Magnet RIAA EQ Preamplifier (Part 1) by Andrew C. Russell, and Design Considerations Imbedding a High-Output by Michael Steffes.
Within his editorial, J. Martins says, "As the saying goes, "Without Input There Is No Output," and without microphones there wouldn't be audio recordings. Microphones were invented and perfected to serve basic communications and later for broadcasting — essentially connecting people. When Alexander Graham Bell patented the first microphone, in 1876, the concept was part of his basic wire transmission system. Microphone design quickly evolved to serve the needs of telephony, public address systems for concert halls and public events, and even hearing aids. But in fact microphones were almost simultaneously used for sound recording. The earliest known recordings of the human voice (phonautograph recordings) made in 1857, used a basic transducer and a vibrating stylus that generated modulated lines of sound waves on sheets of paper." See what's within this issue of audioXpress.
01 / 12 / 21
Enjoy the Music.com Celebrates Adding Ecoustics As Content Sharing Partners
Enjoy the Music.com and ecoustics are thrilled to announce our new content sharing partnership, expanding the reach of both online publications to a wider range of readers, listeners, and viewers across the globe. With a combined 46 years of online publishing history between the two magazines, both are cornerstones of the consumer home entertainment media online world and charging into 2021 with a renewed sense of purpose and direction.
---> Enjoy the Music.com celebrates adding ecoustics.
01 / 11 / 21
NAMM Believe In Music Digital Experience 2021
NAMM, the National Association of Music Merchants, is a not-for-profit association that promotes the pleasures and benefits of making music and strengthens the $17 billion global music products industry. Their digital experience will take place during The NAMM Show dates, starting on Monday, January 18, 2021 and showcasing content through Friday, January 22. Believe in Music Week is the global gathering to unify and support the people who bring music to the world. The online celebration will feature a mix of comprehensive programming and professional education at BelieveinMusic.tv, as well as an interactive marketplace to connect buyers and sellers – all designed to elevate the innovation and inspiration found across the industry while offering support for those most deeply affected by COVID.
NAMM's Believe In Music event will also offer live music, content and product discovery for all who believe in music, helping connect music makers and enthusiasts across the world. While not The NAMM Show or a virtual tradeshow, the initiative will meet the immediate business needs of NAMM member companies through thought-leader led education for all segments of the industry, networking and AI matchmaking, and business-to-business-focused opportunities to reaffirm and grow business connections, launch new products, share brand initiatives and engage with customers in real-time. Registration for NAMM's digital experience is now available at this link.
01 / 08 / 21
KJF Audio SA-01 Solid-State Modular Amplifier
KJF Audio has announced their SA-01 solid-state stereo amplifier ($647 to $884 depending on options) that is based around the Ncore MA-01 amplifiers. With the SA-01, the company has allowed themselves freedom in the design of the case work to bring you something great to look. A high quality sealed switch allows you to choose your preferred connection type of analog unbalanced RCA or balanced XLR. As they would we would prefer no switch within the signal path, KJF have used the best switch they could find for this purpose. You can choose between 8mm milled aluminum fronts offered in cool anthracite or a choice of solid wood, including Walnut, Sapele, Cherry and Maple to match the decor of your homes.
Built around your choice of Hypex NC***MP modules offering three different power outputs across six different modules. You can configure these as a stereo or monoblock amplifiers. KJF Audio's SA-01 is very flexible as it can be re-configured should the customer decide at a later date. To keep the pricing low, and to make this available to as many customers as possible, the SA-01 will be a direct sales. The design utilizes the Hypex N-core modules, which appear in some of the most sought-after high-end amplifiers, so absolute sound quality is beyond doubt. They come in a range of power output from 100 to 500 Watts.
Hegel Music System V10 MM / MC Phono Stage
Hegel Music System is proud to announce the launch of the company's first phono stage, the V10 ($1500). The V10 seeks to achieve the design and sound performance of more expensive unit, yet at far lower costs. Hegel's V10 works with both moving-magnet (MM) and moving-coil (MC) phono cartridges, plus there's a Subsonic Filter to remove undesirable ultra-low frequencies and rumble. Eliminating external noise is especially important when using sensitive low output MC cartridges. That is why Hegel Music Systems fitted the MC input with four transistors connected in parallel in hopes of making the input completely silent and stopping any bias current feedback to the cartridge coil. Analog input from your turntable is unbalanced RCA, with analog outputs being both RCA and balanced XLR.
Hegel's V10 MM / MC stereo phono stage is designed with fully discrete input stages using some very special hand matched pairs of FET transistors. Both for the MC and afterwards the MC stages. This ensures very low noise and zero DC feedback to the pick up. After the FET stages a new bipolar OpAmp stage takes over for optimal amplification. Further, the V10 is 100% dual mono design. It uses an external AC power supply that is specially designed by Hegel for the V10. This power supply has two connectors, one for each channel, plus it features a very low noise floor and aid in achieving an optimal channel separation. The internal power supplies are also shielded heavily from the gain stages.
10 Questions For High-End Audio Manufacturers
Featuring David Chesky Of Chesky Records & HDtracks
During Enjoy the Music.com's very special 25th Anniversary we're asking various high-end audio manufacturers to answer the same ten questions. Their answers may surprise you! This month we're featuring David Chesky of Chesky Records and HDtracks. At Chesky Records, their philosophy is simple: to create the illusion of live musicians in a real three-dimensional space. Chesky Records tries to achieve the impression of reality with the most advanced technology available, careful microphone placement, and, most of all, a recording team that pays attention to every minute detail-making your listening experience tangible, pleasurable, exciting, and realistic.
---> 10 questions to David Chesky of Chesky Records & HDtracks.
01 / 07 / 21
Jeep Grand Cherokee Luxury Sound By McIntosh
The new 2021 Jeep Grand Cherokee will debut with the auto industry's only sound system made by McIntosh Laboratory. Available first in the Jeep Grand Cherokee L, the MX950 McIntosh Entertainment System is available in Overland and Summit models and comes standard when equipped with the Summit Reserve Package. Customers will soon be able to experience what it is like having a McIntosh Entertainment System with them on-the-go. To ensure McIntosh luxury home audio experience was replicated in the vehicle, engineers from both companies worked hand-in-hand to fuse form and function into the system architecture.
The MX950 McIntosh Entertainment System boasts 19 speakers in 12 optimal locations to deliver precision sound through every inch of the vehicle and a 17-channel amplifier delivers up to 950 Watts of power. The system has LD/HP speaker design to lower distortion and McIntosh Power Guard for unrivaled clarity even at very high-volume levels. The most advanced materials technologies were used to make components lighter, yet stronger, so speakers respond faster in delivering timely sonic reproduction. The occupants are enveloped in a massive sweet spot to hear music with zero coloration, just as the artist intended. Naturally the system incorporates McIntosh's iconic styling cues such as the metal ridged control knobs and backlit logos on the door speaker grilles.
AXPONA Webinar Features Iconic Loudspeaker Designers
Mark your calendar for January 13th at 7pm EST and get ready to gather round your screens to join AXPONA on Zoom for an engrossing and lively panel discussion by some of the most iconic and gifted loudspeaker designers in the industry today! Hosted by industry veteran reviewer Greg Weaver, who writes for Positive Feedback and Enjoy the Music.com plus has an excellent YouTube video channel called The Audio Analyst, webinar panel members include Gayle Sanders of Eikon Audio, Andrew Jones of ELAC USA, Leif Swanson of Von Schweikert Audio, and David MacPherson of Studio Electric. Enjoy a front row seat as they share the challenges they face and how they work to accomplish their ever-advancing design goals in today's market, with ever improving materials, technologies, and design approaches. Find out why they make the choices they make, and what drives those decisions. We are setting aside time for Q&A, so bring your burning loudspeaker questions and be prepared to learn something new! Register in advance for Greg Weaver's loudspeaker designer webinar hosted by AXPONA via Zoom at this link.
Hi-Fi+ January 2021 High-End Audio Magazine
Hi-Fi+'s January 2021 issue features reviews of the Audiovector R6 Arreté floorstanding loudspeaker, Magnepan LRS floorstanding panel loudspeaker, ELAC Vela FS 408 floorstanding loudspeaker, Gryphon Audio Designs Ethos CD player, Purelow LO passive subwoofer, Bowers & Wilkins 702 Signature floorstanding loudspeaker, PrimaLuna Evo 100 DAC, AURALiC Vega G2.1 streaming DAC / preamplifier, Karan Acoustics Master Collection LineB preamplifier, Primare I35 Prisma integrated amplifier, Acoustic Solid Wood MPX turntable, Vertere Acoustics Redline cable system, High Fidelity Cables Orchestral Helix system, Gutwire Consumate interconnect cables, 1More Dual Driver ANC wireless neckband in-ear monitors, and Westone ES80 custom-fit in-ear monitors.
Within this month's editorial, Alan Sircom says, "Owards and upwards! While 2021 is likely going to be a year of consolidation and picking up the pieces, it's hard not to see some optimism now that we are unshackled from the horrors of 2020. OK, so we're still experiencing a lot of aftershocks from the Year of Hell, and likely will do so for some time to come, but maybe 2021 will be the year of 'hope!' to replace the year of 'nope!' In our little world, audio companies have fared relatively well, in part because we've weathered storms before. Let's face it, though; products that are designed to enhance the home listening experience are always going to perform better than expected during a time when everyone is at home. That advantage goes away as we unfurl ourselves and rebuild our lives beyond those four walls. Maybe we didn't win the war, but we won some good battles... now audio needs to manage the peace." See what's within this issue of Hi-Fi+ magazine at this link.
World Premiere Review!
PureAudioProject Quintet15 Horn1 Open Baffle Speaker Review
The pure essence of music at Kipnis Studios (KSS).
Review By Jeremy Kipnis
For as long as I can remember, I've been interested in audio and particularly the qualities associated with really good Stereophonic music reproduction. And I've often noted how there are such a myriad of different ways to design a pair of speakers and still get a high quality sonic illusion that easily communicates qualities like believable imaging, spatiality, height, dynamics, frequency extension, sense of immersion, and toe tapping musicality; should they be found in the recordings listened to in the first place. Apparently, speakers can come in all shapes and sizes, be constructed of wood, metal, glass, carbon-fiber, concrete, and even plastic. And they have been in use in telecommunications and related industries for almost a hundred and fifty years....
---> PureAudioProject Quintet15 Horn1 loudspeaker review.
01 / 06 / 21
Hi-Fi World's February 2021 Reviews & Think Pieces
Hi-Fi World's February 2021 issue features your chance to win a pair of Wharfedale Evo 4.3 loudspeakers worth £999. Reviews within this issue include the KEF LS50 Meta loudspeakers, Fyne Audio Fi-5 loudspeakers, Astell&Kern Kann Alpha player, Rotel A11 Tribute amplifier & CD11 Tribute CD player, Longdog Audio Ida P6100m monoblock amplifiers, Atlas Ailsa RCA cables, and Esprit Beta loudspeaker cables. Olde Worlde takes a look at Videologic's DRX-601e DAB tuner. Within their vinyl / analog section, Hi-Fi World takes a close look and listen to the Yamaha GT-5000 turntable and Keith Monks Prodigy RCM bamboo record cleaning machine, while Classic Cuts assess Summerteeth, an 1999 album from Wilco.
Within his editorial, Noel Keywood says, "Small loudspeakers get ever larger in ability. And that's just as well because I suspect an increasing number of today's music listeners find large loudspeakers unacceptable in the home. I suppose it is all a case of floor space, of which there is little in the average UK home. Small speakers are the answer to small rooms and this month we have two of them. One is a successor to the Tannoy marque, from Scottish company Fyne Audio – the beautifully finished F1-5s that you'll find reviewed by John Pickford on p44. Not only is this 'speaker suitable for small rooms, it is a 'point source' where treble fires out from the centre of the bass cone, giving focus and image coherence." See what's within this issue of Hi-Fi World at this link.
01 / 05 / 21
UK Audio Show Rescheduled To October 2021
This just in from the Chester Group Exhibitions, "The uncertainties surrounding this years show have continued due to COVID-19, and we could see no point in setting firm new dates for 2021 due to those uncertainties, until now! Dates have now been set which hopefully will provide a realistic chance for the show to take place in 2021. We had already announced our move to the De Vere Staverton Estate which has provided us with considerably more scope and variety of exhibition suites, and that has not changed."
"Initially we tried to plan for March 2021, but that has also been proven to be over ambitious. Our new date does not conflict with any other shows in the UK , and our unique show packaging, that covers all Exhibitors, remains completely unchanged. Our brochure for 2020 remains unchanged apart from the dates, thus all existing bookings remain the same." Chester Group's 2021 UK Audio Show is planned to take place at the De Vere Staverton Estate in Northants October 9th and 10th, 2021.
01 / 04 / 21
We're entering 2021 with more new content and promotion initiatives. Enjoy the Music.com is planning to have the highest qty of information and promotion for everyone within this industry as possible on many fronts. We'll be publishing more gear reviews, more educational articles by leading experts within their field, as many show reports as possible, plus expand on our Facebook / Instagram social media pages too!
NOTE: If you're a manufacturer, distributor and / or representative, please join our eNewsletter list at this link.
NOTE II: If you're one of Enjoy the Music.com's longtime loyal readers, then join our e-Newsletter here to receive e-mail once every two weeks or so, plus you'll be entered into our contests too!
As always, in the end what really matters is that you...
Enjoy the Music,
Steven R. Rochlin
Creative Director
HighEndAudio.com EnjoyTheMusic.com
Review Magazine, audioXpress, Australian Hi-Fi,
Headphone.Guru, Hi-Fi+, HIFICRITIC, Hi-Fi World, HiFi Media,
NOVO High-End, STEREO Magazine, Positive Feedback,
Sound Practices, VALVE... and much more!
Blue Coast Music Completes New Distribution Deal
Blue Coast Music has completed a new distribution deal with Entertainment One (eOne) and will launch 300 HD tracks to DSPs on January 15, 2021. The tracks include never-before-released performances by Alex de Grassi, Fiona Joy Hawkins, Meghan Andrews, Jenna Mammina, Tony Furtado, Garett Brennan, Art Lande, Jenner Fox, and many more, which will be available for the first time through Spotify, Apple Music, Amazon, Tidal, and other digital music streaming services. Blue Coast Music is known for being the first online digital music store to deliver Direct Stream Digital (DSD) downloads to the consumer. DSD and HD audio offer more detail in the sound than the conventional mp3, CD, or other lossy file types.
Recently, Blue Coast Music has expanded its services to include distribution on behalf of many labels, including their sister company, Blue Coast Records. Combined with HD expertise, a studio known for high quality recording and mastering, and record labels specializing in acoustic music, the decision to distribute to streaming services through eOne was an easy one. Blue Coast Music was founded by Cookie Marenco, a sound engineer with more than 30 years of audio experience. A sought-after expert in the HD audio engineering field, she has worked for Windham Hill Records, has worked on five Grammy-nominated records, engineered, or produced more than 500 albums, and has and been involved in the early development of digital recording -- from recording to legacy lossy mp3 and standard HD to modern immersive sound.
01 / 01 / 21
Enjoy the Music.com's January Review Magazine
Enjoy the Music.com's January Review Magazine features a variety of gear reviews, think pieces, plus a special editorial with a newly uploaded video featuring Tim de Paravicini. See Enjoy the Music.com's January Review Magazine at this link.
Remembering Tim de Paravicini
October 1945 To December 2020
Lecture by Tim de Paravicini in December 2006 as we all celebrate the triode's 100th anniversary.
Article By Joe Rasmussen
It was the year 2006 and the annual European Triode Festival was looming at the very end of November and into early December. This was a special year for those into tubes, or valves as some call them. In fact, Triodes is the very raison de'tre for the annual European Triode Festival. Mostly for Europeans, but many would come from other parts as well, all Triode lovers. I have attended a number of times, all the way from Australia and I am fairly sure I have the record for the most-traveled distance. This was one year I was not going to miss out. Behind the scenes, Guido Tent and Emile Sprenger of the organizing committee wanted to invite somebody significant, somebody of importance.
---> Remembering Tim de Paravicini.
And The Music Goes 'Round And 'Round...
Roger Skoff writes about changing ideas of perfection.
Article By Roger Skoff
I just saw a picture of a truly remarkable recording studio mixing/mastering console. It has 48 channels, 56 monitors, 1046 Routing Modules, four bands of EQ on every input, and, for only a little under two hundred grand, it has enough features, knobs and dials, special effects, toys, and goodies, to satisfy even the most control freak engineer or producer. I loved it! And, when I was a Hi-Fi Crazy kid recording maven, back more than half a century ago, I would have lusted after it as the fulfillment of my every recording dream.
---> And The Music Goes 'Round And 'Round....
The Right Call:
How To Avoid Poor Equalization Choices
Exploring the matter that how an analyzer is set up can greatly affect the appearance of the results.
Article By Merlijn van Veen
If you don't know the answer before you start to measure, how do you know you are getting a good measurement?" – Ivan Beaver, chief engineer, Danley Sound Labs. If I were to ask you to measure the voltage coming out of the electrical outlet closest to you using a multimeter or VOM (volt-ohm-millimeter), you would have expectations. However, should the multimeter's display, for whatever reason, not show the expected voltage for your specific region, there's a valid reason to start investigating. Maybe the meter's batteries are dead or maybe a circuit breaker tripped. Regardless, you were right to question the outcome because it didn't meet expectations.
---> The Right Call: How To Avoid Poor Equalization Choices.
10 Questions To David Solomon Of Qobuz
Sharing the joys of Qobuz's lossless streaming music service.
Enjoy the Music.com's 25th Anniversary brings you a new special feature!
During Enjoy the Music.com's very special 25th Anniversary we're asking various high-end audio manufacturers and personalities to answer questions about their love of music. Their answers may surprise you! This month we're featuring David Solomon, Chief Evangelist for streaming music service Qobuz. When they formed Qobuz in 2008, their goal was to offer the digital world the aspects of music fandom that audiophiles, those who love music best, have always cherished. For Qobuz, this meant quality sound, quality editorial, and a freedom of choice that wholly excludes bias. As a result of their diverse collective culture and musical education, Qobuz' business catered to artists old and new.
---> 10 questions to David Solomon of Qobuz.
World Premiere Review!
Dynamic Sounds Associates Amp I Review
Class-A tour de force!
Review By Greg Weaver
I've had the pleasure of writing about Dynamic Sounds Associates gear for over 16 years now, with my first take on the original Phono-ONE phonostage appearing back in November of 2004! Since that time, I've reviewed, or used as reference, the superb Phono II phonostage (with the Phono III coming on deck soon!), the exceptional Pre I Linestage, and now, I am privileged to bring you the world premiere review of the exceptional Amp I monoblocks. The engineering mind behind all these fresh and exceptional designs is one Dr. Douglas Hurlburt, whom I first met while living in southern Maryland during the early to mid-nineteen nineties.
---> Dynamic Sounds Associates Amp I review.
Nagra Tube DAC And Classic PSU Power Supply Review
Sonic glory... worth it!
Review By Tom Lyle
Nagra is a Swiss audio equipment manufacturer that has been in business for over 65 years. Their professional portable tape records were an industry standard for many decades, even appearing as props in many films and television shows. Their reputation was rock-solid even before they started manufacturing high-end audio equipment in the 21st Century. Because of this, and because of the fine high-end audio components they've been designing and manufacturing since 2012, I suppose there are many audiophiles, and plenty of non-audiophile, who might add the Nagra Tube DAC and its matching Classic PSU power supply to their systems without an audition, or without reading reviews on the subject.
---> Nagra Tube DAC and Classic PSU Power Supply.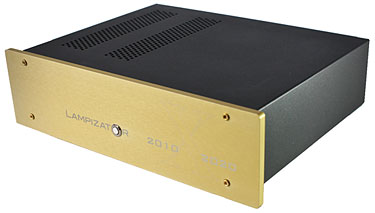 LampizatOr MM2 Moving-Magnet (MM) Phono Stage Review
Beautiful to behold and a joy to use.
Review By Brett Rudolph
Turntables have always been one of my favorite sources for my playback system. They are highly customizable, straightforward to use. They tend to offer a great bang for the buck, especially on the entry-level ones. In fact, you can purchase a more expensive turntable, start with a reasonably inexpensive cartridge that sounds great and move into higher performance ones over time, if you wish. Of course, there is a downside. They do require a bit more care and feeding than their digital brethren. The two main types of cartridges on the market are moving magnet (MM) and moving coil (MC). They both have their advantages and disadvantages. However, as a rule, moving magnet cartridges tend to be less expensive to date.
---> LampizatOr MM2 moving-magnet (MM) vacuum tube phono stage review.
Tekton Moab Floorstanding Speaker Review
With their thunderous bass complementing a dazzlingly beautiful midrange, Tekton's Moab full-range speakers stand tall both in appearance and in musicality.
Review By Rogier van Bakel
For virtually everyone on the planet, this past calendar year brought a range of challenges and sorrows; 10/10 would not recommend. Hooray for 2021, with its promise of health, actual instead of virtual hugs, and a return to normalcy. When looking back on our collective annus horribilis (Latin for dumpster fire), I consider the arrival of a pair of Tekton Moab speakers in my listening room a welcome ray of light. Like many audiophiles confined to home by the pandemic, I've found much meaning and comfort in music these past nine months. With my photography business on the skids, there was suddenly occasion to burrow into a couple of thousand standout tracks, old and new. I almost didn't miss the roughly two dozen concerts I would've attended in a normal year. I think that's in part because, well, if any stereo speakers I've ever heard sound just like live music, it's the Moabs.
---> Tekton Moab floorstanding speaker review.
Audio MusiKraft Polished Lithium Nitro 2 Cartridge Review
Discovering the joys of a new realm in listening enjoyment.
Review By Bob Grossman
Audio MusiKraft's polished Lithium Nitro 2 cartridge with Ipe wood inserts is a dramatic enhancement of the classic Denon 103 that performs in a nuanced, balanced, lively, engaging, musically satisfying way with having a stunning bejeweled shell. While the cost is way beyond that of the basic 103 cartridge, so is the performance! The MusiKraft cartridge will be appealing to the most discerning and demanding audiophile and can be the ultimate tunable piece of equipment for bringing listening enjoyment. Deciding upon a cartridge can be a complex and difficult challenge for any audiophile. Cartridges are not usually an item that can be borrowed to easily install at home for a demo evaluation.
---> Audio MusiKraft Polished Lithium Nitro 2 cartridge review.
DS Audio DS-E1 Optical Phono Cartridge / Phono Energizer And DS Audio ION 001 Vinyl Ionizer Review
New heavyweight contenders!
Review By Maurice Jeffries
My first encounter with DS Audio's fascinating line of optical cartridges and matching phono energizers (the term that DS Audio uses to describe the outboard power supply/phono equalization units supplied with each cartridge) occurred at the 2020 Florida Audio Expo Show, held last February in sunny Tampa, Florida. Musical Surroundings distributes DS Audio's growing line of products here in the United States. In the Musical Surroundings suite, company head honcho Garth Leerer and his team put together a swell little system headlined by the affordable and overachieving Maggie .7 speakers, a stem-to-stern suite of Rogue electronics, Wire World cables, an eye-catching cobalt blue AMG Giro turntable, and matching arm, this fronted by an entry-level DS Audio DS-E1 optical cartridge and matching phono energizer.
---> DS Audio DS-E1 optical phono cartridge / Phono Energizer and DS Audio ION 001 vinyl ionizer review.
Sennheiser HD 800 S Open-Back Headphones Review
Keith Howard continues his adventures in headphones with an in-depth look at this classic design, first reviewed by Martin Colloms in HIFICRITIC Vol. 11 No. 2.
Review By Keith Howard
When Sennheiser launched the original HD 800 – of which the S is an improved version – in 2009, none of us knew just how momentous the next decade would be for headphones, driven principally by the arrival and rise to ubiquity of the smartphone and the dawn of hi-res portable digital music players. Before we knew it, everyone and his dog was making headphones, planar magnetics were having an unlikely renaissance, speaker manufacturers sought a slice of the action, and people wore not just earbuds on public transport but large circumaurals too. With no trace of embarrassment.
---> Sennheiser HD 800 S headphones review.
Read All Articles, Hi-Fi Gear Reviews, And 10 Questions
We have more wonderful high-end audio equipment reviews, think pieces, etc within Enjoy the Music.com's January Review Magazine available at this link.
---
Previous High-End Audio News
For previous high-end audio and music industry news click here.