High-End Audio / Hi-Res Audio (HRA) Audiophile Industry News
---



Stay informed by joining our e-Newsletter list plus it enters you into our great contests too! Get social with Enjoy the Music.com at Facebook and Twitter. Videos are available on our YouTube channel plus we have an excellent RSS feed.
10 / 30 / 17

TAVES 2017 Show Report
Toronto Audio Video Entertainment Show
Part 1 By Rick Becker
Capital Audiofest (CAF) 2017 & CanMania 2017 This Coming Weekend

Capital Audiofest (CAF) 2017, also featuring CanMania, is the premier East coast audio show that you can count on to deliver great sound, enjoy thousands of dollars of high-end audio gear, and audiophile music all within a truly fun experience. CAF 2017 is scheduled for November 3rd through 5th at the Hilton Hotel at Twinbrook Metro. They are expanding the show this year to build the premier East Coast Show within the same great venue as last year. This venue received glowing reviews from the audio press, plus the hotel has a major Metro line right out the back door that will take you directly to the center of Washington D.C. Look for more listening rooms, more lectures, more live entertainment than in the past. Head honcho Gary Gill and his team, including Christina Yuin as Festival Rep and Paul Elliott for other major duties, are working to provide you with a truly remarkable audio show experience. During 2017 the CAF there is the return of CanMania as an integral part of the overall event. In coordination with Headphone.Guru, CanMania promises to be their biggest and best one ever! They've committed to building the largest headphone and personal audio show on the East Coast. CanMania 2017 brings together manufacturers, vendors, headphone and personal audio enthusiasts along with the audio industry press. CanMania will have 30 booths within the large Plaza ballroom. This spacious ballroom will give exhibitors plenty of room and separation with over 5400 square feet. Furthermore, tables will be in the hallway in front of the Plaza.
New Vinyl LP Pressing Plant Furnace MFG Opening In January 2018

Furnace MFG's record pressing has just announced their new 50,000 square-foot plant in Northern Virginia will open in January of 2018. The new plant will fill a desperate industry need for more vinyl record production capacity while creating 40-plus new jobs in Northern Virginia, all while the company seeks to minimize the environmental impact of the new manufacturing facility. You love vinyl. Furnace Record Pressing loves vinyl. At their facility, vinyl record pressing is a passion. They handle every step of your pressing project from getting your records pressed and packaged to added touches like color or heavyweight vinyl, digital download cards and hosting. And yes, audiophiles are catered to as Furnace Record Pressing offers the largest vinyl pressing capacity in the world. They have over 50 active, fully automatic presses allowing them to offer some of the quickest lead times in the industry. Choices from normal black, to colored vinyl and picture discs are also possible. If you desire laser etching, that can also be arranged.
10 / 27 / 17

Bob Carver, Joseph Audio, Doshi Audio, Von Schweikert Audio, Audionet, And GTT Audio Video.
RMAF 2017 Report By Kemper Holt
Elton John Announces Diamonds Ultimate Greatest Hits Compilation

Available on four physical formats; 1CD, 2CD, 3CD limited edition box set and 2LP gatefold vinyl, plus digital formats, Elton John's upcoming release Diamonds is now available for pre-order. The 2CD format contains 34 tracks, and 10 page illustrated booklet. Elton John's 3CD limited edition box set contains 34 tracks over two discs, plus 17 bonus tracks of personal favorites curated by Elton himself. Also contains 72 page hardback book containing annotations for the stories from each song plus a set of 5 postcard illustrations of Elton. Vinyl LP enthusiasts can enjoy the 2LP gatefold containing 21 tracks, and pressed on 180 gram vinyl plus glorious gatefold artwork. Kicking off with the ever-stunning 'Your Song,' this definitive collection brings together all the landmark hits of one of the greatest song books of all time, including 'Tiny Dancer,' 'Rocket Man (I Think It's Going To Be A Long, Long Time),' 'Candle In The Wind,' 'Don't Go Breaking My Heart,' 'Sacrifice,' 'Can You Feel The Love Tonight.' Diamonds coincides with the 50th anniversary of Elton's phenomenal song writing partnership with Bernie Taupin. Meeting in 1967 through a music magazine advert seeking songwriters, Elton and Bernie went on to become one of the most enduring song writing duos of all time, achieving a sustained level of success that puts them head and shoulders above the competition. Catapulted into the limelight as a song writing force in 1971 with 'Your Song,' the duo never stood still creatively, defining an era with their run of back-to-back classic 1970's albums. While 'Candle In The Wind' topped the charts in three different decades and 2016's critically acclaimed 'Wonderful, Crazy, Night' was a top ten hit in the USA, their legacy is one that is unrivalled in terms of longevity, creativity and commercial success. You can pre-order Elton John's Diamonds 2LP set, or any of the CD sets, at this link.
10 / 26 / 17
DOGE 7 384kHz/32-Bit Tube Preamp, DAC, And Headphone Amplifier

DOGE Electronics Factory offers their new & tube DAC that handles 32 bits and DSD64 /DSD128 / DSD256. preamp mode ($1599, add $160 for optional Psvane TII for RCA use only or $230 for Psvane TII XLR and RCA use). The DOGE 7 is their most innovative product to date as it combines their best digital and analog circuitry that they're claiming is "close to turntable (sound), that we would challenge to recognize it in a blind test versus turntable". The unit offers 384kHz/32-bits chip that is DSD compliant and a full tube analog stage without solid-state components, where most of the other tube DACs on the market offer just a buffer tube stage except a few ones that can be counted with fingers of one single-ended. DOGE 7 uses a 32-bit last generation ESS Sabre 9018 and a six-tube analog stage if you use unbalance output or eight-tube analog stage if you use balance output. Two S/PDIF coaxial inputs, two TosLink optical inputs, plus one native 384kHz USB input, one AES/EBU input. All inputs are DSD compliant and the XMOS chip gives full 32-bit/384kHz USB input. One important digital feature of their DOGE 7 is that this DAC is not DSD compliant only with USB input like most of DACs, but is DSD compliant also in coaxial, optical and AES/EBU inputs. The DOGE 7 comes with a quality headphone output with volume controller. Please note the headphone output is the only solid-state stage on the DOGE 7.
Industry News 15 Years Ago
Like Hi-Res Audio In 2017, DVD-Audio Can Be Heard At Store Locations
Music lovers are now able to enjoy listening to DVD-Audio discs in Virgin Entertainment Group's Megastores. Free standing DVD-Audio demonstration stations, along with DVD-Audio and Super Audio CD (SACD) products, will have their own small section in hopes of educating the consumer about the new higher resolution audio formats. Hundreds of music titles are available on DVD-Audio and SACD such as Aerosmith, The Doors, The Rolling Stones, and Sheryl Crow. At this time, DVD-Audio booths are available at Virgin Megastores' in Burbank Los Angeles and San Francisco (California), Boston, Orlando (Florida), New York City, Chicago, New Orleans, Miami, and Salt Lake City. Virgin Megastores has also decided to lower many prices of these discs through November 3rd. "With the quality of DVD-Audio higher than traditional CDs, along with the experience-factor in one of our demonstration booths, our customers will be able to sample songs with surround-sound quality as well as take advantage of video clips, artist commentaries, biographies and photo galleries that are also offered on the DVD-Audio discs," said Glen Ward, CEO, Virgin Entertainment Group, North America.
10 / 25 / 17

RMAF 2017 Intro, Acoustic Zen, Convergent Audio Technology, Sound Science, And Well Pleased A/V.
RMAF 2017 Show Report By Kemper Holt
Boston Audio Society Invites You To Visit Their Legendary Symphony Hall

On Sunday November 5th at 1PM, the Boston Audio Society invites you to join them in visiting the legendary Symphony Hall at 301 Massachusetts Avenue in Boston Massachusetts. Guests include Brian McCreath (WGBH / WCRB producer for BSO broadcasts), Antonio Oliart (WGBH / WCRB audio engineer for BSO broadcasts), plus Nick Squire and Joel Watts, audio engineers for the Boston Symphony. The Boston Audio Society, an independent non-profit member supported organization promoting the highest quality of music reproduction and home theater, plus high standards in recording and transmission, is providing you a great opportunity to visit Symphony Hall and see its audio broadcast and recording facilities. The Boston Symphony Orchestra will be on tour in Japan at that time, so the hall is unusually available to BAS members and friends. They will have as hosts the members of the team that is responsible for the BSO's radio broadcasts and archival recordings. The main mixing and monitoring studio in the basement of Symphony Hall can accommodate perhaps 10 or so guests at a time to look at the setup and listen to music playback over the fine B&W-based system. They will also use the Chorus Room to meet as a group and hear from our BSO and WGBH hosts, and small groups can be taken to see and hear the studio. We can also bring groups of guests up to the stage of Symphony Hall to see the space, how microphones are hung and placed, and how signals are transmitted to the basement studio. All BSO programs are recorded on computer in multi-channel form, and archived on hard drives. These recordings may be used for commercial release on the BSO Classics label. When Deutsche Grammophon or another record label is capturing concerts for planned release, they work in parallel with the WGBH / WCRB broadcast team.
NOTE: Because of Symphony Hall security requirements, the Boston Audio Society needs to provide the hall's security team with a list of attendees in advance, so they can be checked in at the stage door. If you're not certain you can come, send your name in anyway and say that you're unsure. This will also enable us to get a rough idea of the number of people who'll be there, so we can plan activities accordingly. IMPORTANT: You must pre-register for this event by sending an e-mail to David Hadaway.
10 / 24 / 17

RMAF 2017: Tekton, Marantz, Parasound, Fidelis AV, AURALiC, Van Alstine, Mark Levinson and Alta Audio.
Muddy Waters Debut Album And Lionel Richie Solo LP Reissues

Few pieces of blues art have been as influential as Muddy Waters' seminal debut album The Best of Muddy Waters, plus we ad in three historic albums on vinyl from one of the most successful solo artists in Pop/R&B crossover history, Lionel Richie. Vinyl LP reissues of legendary artists have increased dramatically and here we have two musical artists' albums being available in high quality vinyl. Muddy Waters' original humble piece of vinyl was released by an upstart label in 1958 that served as The Big Bang for rock 'n' roll and the ensuing half century of modern popular culture. On November 10, Geffen/UMe will celebrate the forthcoming 60th anniversary of Waters' first album by reissuing The Best of Muddy Waters on vinyl in original mono for the first time in 30 years while also making it available for download and streaming for the first time ever, giving new and familiar listeners a reminder of the bluesman's truly incandescent music. An assemblage of Waters 78 RPM recording made between 1948 and 1954 for Chess Records, The Best of Muddy Waters captured Waters' growth from acoustic artist to archetypical electrified band leader and charted the exciting evolution of blues. Getting as bit more modern, Lionel Richie's mega-platinum album triple-play — 1982's Lionel Richie, 1983's Can't Slow Down, and 1985's Dancing On The Ceiling — sealed the recent Kennedy Center Honoree's legacy as one of the most popular singer/songwriters of the modern era, in the wake of his 1982 departure from the lineup of one of Motown's biggest artists of the Seventies, the Commodores. Lionel Richie's singular blend of songwriting artistry and catchy, sing-along hooks has long defied genre-labeling, propelling his mass appeal to fans of R&B, soul, pop and country alike, and leading to his amassing more than 100 million album sales to date. Over the course of these three albums, Richie garnered four No. 1 singles on the Billboard Hot 100 ("Truly," "All Night Long (All Night)," "Hello," "Say You, Say Me") and a dozen Top 10 singles overall on the Pop, R&B, and Adult Contemporary charts alike. International superstar Lionel Richie has a discography of albums and singles that are second to none. His music is part of the fabric of pop music; in fact, Richie is one of only two songwriters in history to achieve the honor of having #1 records for nine consecutive years. With more than 100 million albums sold worldwide, an Oscar, a Golden Globe, four Grammy Awards, the distinction of MusiCares person of the year in 2016, and Kennedy Center Honoree in 2017, the Tuskegee, Alabama native is a true music icon. You can purchase these vinyl LPs and more at this link.
10 / 23 / 17
Aqua Acoustic Quality Formula xHD 768kHz PCM And DSD256 DAC

Italy's Aqua Acoustic Quality has introduced their new Formula xHD that redefines the sonic performance of their Formula DAC. The Formula xHD features the following upgrades and modifications as compared to the Formula DAC including new firmware release 3.0 for the main FPGA (DAC) with optimization of the code. Also new is the USB board with hybrid architecture. Proprietary hybrid two-stage XMOS xCore XE216 + FPGA is joined by a fully-floating (isolated) USB decoding and clock generation by FPGA with proprietary code. Internally there are high quality, long life, low noise parts and modular design. Sample rate in "Bit Perfect" up to 768kHz PCM and quad rate DSD (DSD256) is aided by the latest version of customized XMOS X Core Driver on Windows OS (W7, W10) and native X Core Audio on Mac OS (Bit Perfect). For Linux users, USB Audio 2.0 operation works for Bit Perfect. These updates required significant optimization of code for the main FPGA of R2R ladder DAC which has improved sound quality. The new hybrid USB XMOS xCore 200 (dual core) + FPGA circuitry enables the high-resolution audio file playback. Digital input is via Ethernet, coax S/PDIF (RCA and BNC) and XLR AES/EBU. Analog output is via stereo pair of balanced XLR and unbalanced RCA.
10 / 20 / 17
Frank Zappa Halloween NYC With 158 Tracks In 24-Bit Hi-Res Audio

By 1977, Frank Zappa's Halloween shows were already the stuff of legends. While the shows began in the late 1960s, around 1972, these monumental performances would become annual events. Initially held in Passaic, NJ and Chicago, IL before moving to New York City in 1974, this concert event would remain there. NYC (and its audience) had become a special place for Zappa and the synchronization of Halloween in NYC proved to be the perfect match. From October 28-31, 1977, Zappa and his band played six historic shows at the 3000 capacity Palladium. All the performances were recorded with four being filmed, resulting in Zappa's mammoth film project, "Baby Snakes." Following the news that Frank Zappa will be going back on tour, the Zappa Family Trust and Universal are proud to announce that Zappa's legendary Halloween residency of 1977 will be released for the first time in its entirety on October 20 via Zappa Records/UMe ($99) just in time for the 40th Anniversary of these shows. The Halloween 77 box set will include all six concerts with 158 tracks (mixed in 2016 from original vault masters) loaded onto a "Zappa's Oh Punky" fun size candy bar-shaped USB drive in 24-bit WAV audio. The package will also include a 28-page digital booklet featuring never-before-seen photos and liner notes from Vaultmeister Joe Travers, co-producer of the box alongside Ahmet Zappa, and personal firsthand accounts from many of Zappa's bandmates, crew and fans who were there, including guitarist Adrian Belew, percussionist Ed Mann, keyboard tech Thomas Nordegg, tour manager Phil Kaufman, and fan Janet "The Planet" Walley. In the spirit of Zappa's favorite season, the specially designed, limited run box will include a retro Halloween mask and costume of the maestro himself. In addition to the box set, a 3CD version will also be available featuring the entire Halloween night show plus select tracks from the October 30th gig. Fans looking for a specific show will be able to purchase the concert of their choice digitally on release day. You can order the new Zappa release at this link.
10 / 19 / 17

RMAF 2017: Burwell & Son, Rogers High Fidelity, Daedalus Audio, ModWright, VPI, Skogrand, Von Schweikert, Mojo Audio, PureAudioProject, Whammerdyne, And Furutech.
dCS Gear Now Supports MQA In All Current Product Offerings

dCS announces the release of a software update that provides MQA compatibility to all current product ranges. MQA, Master Quality Authenticated, provides a means to efficiently encode and transmit Hi-Res Audio and is based on the axiom that, in audio, high resolution "can be more accurately defined in the analog domain in terms of temporal fine structure and lack of modulation noise, than by any description in the digital domain, particularly one that relies on sample rate or bit depth numbers" says the company. MQA works by converting the analog music to digital and back to analog again. According to dCS / MQA, "The conceptual framework models analog as an infinite sample rate representation, which can be approximated by a hierarchical chain of downward and upward splines. The MQA encoder takes account of and corrects aspects of the original analogue-to-digital and studio preparation chain. Although a listener can enjoy the encoded stream at CD quality without a decoder, the best result comes with an MQA Decoder, or a combination of MQA Core Decoder and Renderer, which reconstructs exactly what was heard in the studio. The MQA Renderer performs sampling reconstruction under song-by-song instruction from the encoder, while at the same time matching and optimizing the attached DAC to deliver an authenticated analogue output. MQA Decoders include a Renderer which is customized for each built-in digital-to-analogue converter. Generally, the converter includes an integrated DAC which is not wholly configurable and may have some performance limitations. For this reason, most MQA decoders include pre-compensation for the built-in converter." Of note is that dCS does not use IC converters in its DACs; instead the process of reconstructing analog from the digital stream is entirely custom, using specific software and discrete hardware to make a DAC. However, unlike other non-integrated DACs, the dCS is still modeled on reconstruction using oversampling, filtering and high-speed conversion.
Industry News 15 Years Ago
DVD Entertainment Group Celebrates Successful Format Launch
During the year 2002, DVD sales show promising gains as compared to 2001, with the key three months (including holiday season) forthcoming. The DVD industry experienced double digit growth in the third quarter, outpacing 2001's record sales. According to the DVD Entertainment Group (DEG), in the third quarter 2002, 153.3 million DVD software units shipped to retail, more than double what shipped in the same period last year. According to figures compiled by Ernst & Young on behalf of the DEG, more than 1.1 billion DVD movies and music videos have shipped since the format's inception in 1997. "The record pace continues for DVD as we move into the all-important fourth quarter," said Bob Chapek, President, DVD Entertainment Group and President, Buena Vista Home Entertainment. "Consumers have been craving entertainment for the whole family on DVD, from their favorite classics to the recent box office blockbusters. This holiday season, we are anticipating stellar sales for the industry as the adoption of the format continues its penetration into mainstream households." There are more than 18,000 titles currently available with approximately 100 new DVD movies and music videos released each week.
10 / 18 / 17
Burning Amp Festival 2017 -- DIY Audio Festival November 12th

Burning Amp Festival (BAF) 2017 is coming to the Fort Mason Center in San Francisco on Sunday, November 12th from 8:30 a.m. to 8:00 PM. New this year is that BAF's hours have been extended due to the increased interest and popularity of DIY audio amongst music-loving enthusiasts of all ages. Held in the fall since 2007, BAF has grown into a premier international event for do-it-yourself (DIY) audio enthusiasts and professionals. DIY audio is the original maker movement dating back to the 1940's and 1950's when Hi-Fi was in its infancy, and a lot of great-sounding equipment was assembled at home by enthusiastic amateurs. BAF celebrates audio technology both new and old, tube and solid state, analog and digital. The festival has been held in the fall since October of 2007. Come listen to hand-built audio amplifiers, speakers, and more. Bring your own gear: DIY amps, speakers, turntables, DACs, servers, etc. Share ideas and learn to design and build your own equipment. There will be displays, demos, auction and raffles items and freebies, plus well-attended lectures by prominent figures in audio engineering design like Nelson Pass, Siegfried Linkwitz, Damian Martin and Wayne Colburn. And, there are numerous DIY giveaways: Nelson Pass is, as always, generously contributing a big batch of Amp Camp amp circuit boards, parts and loudspeaker drivers.
Pop / Ska Band No Doubt Celebrates UMe 25th Anniversary With Vinyl LP

No Doubt's eponymous 1992 debut album introduced the world to a one-of-a-kind band that would soon dominate the music world with their dynamic sound. With such early hits as "Trapped In A Box" exemplifying the group's original ska-pop sound, No Doubt kicked off the band's career with a bang, laying the groundwork for the multi-platinum success that they'd achieve over the next twenty-plus years. On November 10, UMe celebrates the 25th anniversary of No Doubt's original release with a sparkling new vinyl edition of the album that originally put No Doubt on the map. In addition to marking the debut disc's first-ever vinyl release, the new LP will be pressed on high-quality 180 gram vinyl. Additionally, exclusive limited-edition colored-vinyl versions will be available through No Doubt's official website, as well as the online retail sites uDiscover and The Sound of Vinyl. In addition to the album's original front cover art, the back cover of the new vinyl edition features a never-before-seen band photo from the original photo session by photographer Chris Cuffaro. No Doubt — Gwen Stefani on vocals, her brother Eric Stefani on keyboards, guitarist Tom Dumont, bassist Tony Kanal and drummer Adrian Young — originally became a local sensation on their Southern California home turf, before bursting onto the national and international scenes with an effervescent, new-wave infused sound that offered an upbeat alternative to the angst-driven grunge-rock that dominated the charts at the time. No Doubt's early ska leanings are balanced on the album by a state-of-the-art pop sensibility that manifests itself on such tunes as "Let's Get Back," "Move On" and "Get On The Ball." Although the debut album was not a major hit at the time of its original release, it emerged as a fan favorite as No Doubt subsequently became one of their era's most popular bands. After releasing No Doubt, the band would score a series of smash singles and massively popular albums like Tragic Kingdom, Return of Saturn, Rock Steady and Push and Shove, helping to secure Gwen, Tony, Tom and Adrian their place in the American rock music pantheon. The band's massive success can be traced back to No Doubt, whose definitive new vinyl edition cements its pivotal place in pop history. You can buy No Doubt's 180 gram vinyl LP at this link.
10 / 17 / 17
Merrill Audio Now Integrates IsoAcoustics GAIA III Isolators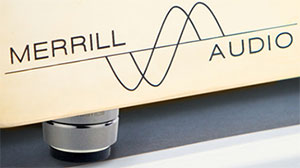 IsoAcoustics is an award-winning designers of the acclaimed GAIA series of acoustic isolation footers. Today they are pleased to announce a new collaboration with renowned hi-fi equipment maker Merrill Audio Advanced Technology Labs, whose power amplifiers and preamplifiers continue to earn numerous awards every year. SO effective immediately all Merrill Audio electronics will ship with GAIA III isolation footers. IsoAcoustics' GAIA III is the union of aesthetic visual design and acoustic engineering. Compatible with floor standing speaker weighing less than 70 lbs, this small compact design is said to "deliver unbelievable acoustic isolation that will bring out a clarity and openness from your speaker you've never heard" says the company. The GAIA III comes with three different thread sizes: M8, M6 and 0.25"-20. "I first heard the footers at a colleague's ( Harry Weisfeld of VPI — a very credible, and astute listener.) He was using the IsoAcoustics GAIAs under his KEF Blade speakers, and loved them," says Merrill Wettasinghe, President of Merrill Audio. "Once I tried that GAIA III under my equipment, I decided that I wanted to partner with IsoAcoustics."

RMAF 2017: Pro-Ject, Abyss Headphones, Ayon Audio, Lumenwhite, Synergistic Research, And McIntosh Labs.
10 / 16 / 17

RMAF 2017 Show Report
Aurum Cantus, Wavelength Audio, DanaCables, Music Hall, Audioengine, GoldenEar And Hegel.
10 / 13 / 17
Qualcomm's State of Play Report 2017 Survey With Key Insights

So what are audio consumers looking for? Qualcomm's just-released State of Play Report 2017 survey provides some great info into what shoppers are looking for within their audio products. Qualcomm surveyed over 4000 consumers in the US and UK who use a smartphone, and gathered their opinions on key topics including what really matters to them when buying wireless headphones or a wireless speaker, whether they'll be investing in pair of truly wireless earbuds and how they feel about voice interaction. According to the report, "More than ever, consumers in 2017 expect both convenience and quality from their personal audio devices, at all pricing tiers. This is illustrated by technology shifts such as the widespread uptake of streaming media services and wireless devices, which offer greater freedom for users. The results showed that sound quality is a vital purchase driver for 78 percent of respondents, and 51 percent cited ease-of-use as a main factor in their purchasing decision.... Consumer interest in the hearable ecosystem is rapidly building. More than two thirds (67 percent) of Americans surveyed were interested in a wireless headset that could connect to the internet and provide voice assistance for their daily lives." Also of note is that more people desire using voice control and personal assistants in 2017 compared to last year, as shoppers want smart technology that can respond to them when they ask a question or give a command. In addition, 43 percent of respondents felt that having the ability to use voice control for their audio device will make their life easier.

RMAF 2017: Tweak Studio, Acoustic Sounds, IsoMike, Kimber Kable, WattGate, emm labs, Nordost, Gryphon Audio, VAC, And Tannoy.

RMAF 2017: Zu Audio, Peachtree, Raidho, Nagra, Technics, MQA, Acoustic Zen, Dan D'Agostino Master Audio Systems, Prism Sound, and Convergent Audio Technology.
10 / 12 / 17
McIntosh Labs Has Announced Their Compact MA5300 Integrated Amplifier

McIntosh Labs MA5300 ($5000) is the company's smallest solid-state integrated amplifier in terms of both power output and physical size, making it an ideal choice for smaller spaces or for someone just beginning to assemble a home audio system. It's a direct coupled amplifier that delivers 100 Watts per channel into 8 Ohm speakers or 160 Watts per channel into 4 Ohm speakers. New dual scale blue Watt meters give an accurate readout of power output for both 4 and 8 Ohm impedances. The MA5300's complement of 12 inputs includes 6 analog inputs (4 unbalanced RCA, 1 balanced XLR and 1 Moving Magnet) and 6 digital inputs (2 each S/PDIF coaxial and TosLink optical, USB and proprietary MCT for use with McIntosh's MCT series of SACD/CD transports). All digital inputs are housed in a special DA1 Digital Audio Module, which can be replaced by future modules as new digital audio technologies are developed. The DA1 comes with an 8-channel, 32-bit Digital-to-Analog Converter (DAC) used in Quad Balanced mode and supports up to DSD256 and DXD 384kHz for high resolution audio playback. All inputs can be given user-friendly names to simplify system control and configuration. Included on the McIntosh Labs MA5300 are Monogrammed Heatsinks, which are connected to advanced high current output transistors that eliminate warm-up time so the MA5300's complete sonic capabilities can be enjoyed from the moment it's turned on. Powerful new control microprocessors have been used to improve overall system operation, along with some of the latest audio-grade circuit components to deliver the best possible sound. Bass and treble tone controls have been added to help further fine tune the music to the listener's personal preferences. Power Guard, Sentry Monitor, Home Theater PassThru, High Drive headphone amplifier with Headphone Crossfeed Director (HXD), and gold-plated speaker binding posts are also part of this flexible unit. The classic McIntosh aesthetic of blue Watt meters, a black glass front panel with aluminum end caps, control knobs and illuminated logo complete the MA5300.
Boston Public Library To Offer Over 200,000 Vinyl Records Online

The Boston Public Library has well over 200,000 vinyl records, some being historically significant, and has put them all online. This includes a number of special collections in their holdings. These holdings include "spoken word" as well as music. The Library has begun to make available parts of these collections in a digital format. We expect these collections to grow as more items are available digitally. Due to copyright restrictions, some of the items in these collections can only be accessed in the Main Branch at Copley Square. Boston Public Library's Sound Archives Collections were within their basement, collecting dust rather than being listened to. They are carefully transferring the records from its sound collection to longtime partner the Internet Archive, a nonprofit digital library, so they can be cataloged and digitized for public access. "This brings collections that we have had, makes them accessible to the public but also will preserve the original materials as well," said Boston Public Library's President David Leonard. "It's exciting to have something come out of a dusty basement and go straight to being online." The Internet Archive houses many millions of historical collections of varying formats, including books, movies and software. Boston's immense vinyl collection includes the 20th century, with genres ranging from jazz and opera to pop and even spoken word. This transferring of vinyl LPs could take a few years to complete, yet will all be available online for generations of people to discover and enjoy.
10 / 11 / 17
TAVES 2017 Consumer Electronics Show Features Hi-Fi & More

Enjoy the Music.com's seventh annual TAVES Consumer Electronics Show (Toronto Audio Video Entertainment Show) report features Canada's ultimate high-technology showcase. TAVES 2017 takes place at the Toronto Congress Centre from October 13th through 15th and connects trade professionals, media and consumers to the many facets of consumer electronics. This world-class exposition attracts companies from around the globe and showcases cutting edge technology and innovation spanning a broad range of categories, including audio, video, robotics, wearables, smart devices, 3D printing, drones, electronic gadgets and more. You can easily slip into a demonstration suite and savor the latest immersive audio and vision technology. TAVES boasts North America's largest selection of hi-fi & home entertainment systems including speakers, turntables, amplifiers, and portable audio. Learn more about TAVES' 2017 show at this link.

RMAF 2017 Show Report Overview

Focal, Naim, Pass Labs, WyWires, Dedalius, ModWright, TW Acustic, Constellation Audio, Wilson Audio, Raven Audio, and Legacy.
More RMAF 2017 coverage coming soon so check back daily!
10 / 10 / 17

Acoustic Energy AE1 Active Monitor
Martin Colloms assesses the new active version of a classic miniature loudspeaker.
Review By Martin Colloms
Tisbury Audio Domino MM / MC Solid-State Stereo Phono Stage

Tisbury Audio Domino (ฃ139) is a versatile, high performance phono preamplifier. Selectable gain settings and input loading allow any MM or MC cartridge to be used. Ultra high-spec components along with the laser engraved walnut and aluminum enclosure achieve high-end sound and build quality, yet without the high price tag. Domino has four switchable gain settings: 40, 49, 58 and 67 dB. This allows virtually all cartridge, from high output MM to low output MC, to work with any amplifier. This s particularly handy if you're also using our Mini Passive Preamp, as you won't have to worry about system matching. RIAA equalization is achieved with a passive filter located between two separate gain stages. According to the company, this configuration gives the best of all worlds: low noise, high accuracy, and exceptional sonic performance. Special 0.1% thin film resistors and 1% polypropylene film capacitors result in an exceptional 0.2 dB RIAA accuracy. Domino's power supply uses an off board 15 V AC transformer (not to be mistaken for a switch mode DC adaptor, it won't work with DC) keeping electrical noise away from the sensitive gain stages. This gives hi-fi grade, linear regulated power rails in a small package, without having to worry about hum or ground loops. Each unit is handmade is designed, made, and tested within their London workshop for true British quality hi-fi.
10 / 09 / 17
Recording Academy P&E Wing "Recommendations For Hi-Resolution Music Production"

Concurrent with the upcoming Audio Engineering Society (AES) New York Convention, and reflecting its ongoing mission to educate and offer technical guidelines, the Recording Academy Producers & Engineers Wing will officially publish a new paper titled "Recommendations for Hi-Resolution Music Production," which will also be the subject of a panel on Thursday, October 19, at the convention. This is a updated version of its historically influential "Recommendations for Delivery of Recorded Music Projects" that was announced previously. "Recommendations for Hi-Resolution Music Production" is brand new for 2017. Although it is now possible for consumers to hear music at its best, rather than converted to conventional uncompressed digital resolutions (or worse: inferior compressed consumer formats), the industry currently lacks hi-res production standards, causing confusion and inefficiencies in the digital music supply chain. To address this, the P&E Wing has created this new document to help increase efficiency and transparency in the production process. This easy-to-read paper was created by a dedicated committee, chaired by Leslie Ann Jones – the 2017 AES Heyser lecturer, a Grammy Award-winning engineer and currently the Director of Music Recording and Scoring at Skywalker Sound. The Hi-Res Guidelines will be featured at a panel at the AES New York Convention at the Javits Center in Manhattan on Thursday, October 19, from 3:00pm-4:15pm (Room 1E14): "Recording Academy P&E Wing Presents: High Resolution Record Production and Why it Matters." Participants include Moderator Michael Romanowski, Coast Mastering – Berkeley, CA, USA; The Tape Project; alongside Panelists Chuck Ainlay, METAlliance – Nashville, Tennessee, USA; Marc Finer, Digital Entertainment Group – Los Angeles, CA, USA; Leslie Ann Jones, Recording Engineer and Producer, Director of Music Recording and Scoring, Skywalker Sound – San Rafael, CA, USA; and Bob Ludwig, Gateway Mastering Studios, Inc. – Portland, ME, USA.
The new revision of "Recommendations for Delivery of Recorded Music Projects" specifies the physical deliverables that are the culmination of the creative process, with the understanding that it is in the interest of all parties involved to ensure that recorded masters are safely stored and remain accessible for both the short and long term. Previous versions of the Delivery Recommendations have been widely used by record labels, schools, etc. as guidelines and best practices. This updated version provides crucial information about available technologies and includes a new section on recommended file hierarchy and management for recorded music that studio pros will find especially helpful. The revision committee, chaired by producer/engineer Jeff Balding (Don Henley, Taylor Swift, Maren Morris, Megadeth) and mastering engineer and educator Jim Kaiser (Director of Technology, MasterMix, and Audio Engineering Technology instructor at Belmont University), consists of a cross-genre, cross-region, cross-discipline group of respected recording professionals.
10 / 05 / 17
Rocky Mountain Audio Fest 2017 October 6th Through 8th

Featuring a newly renovated venue, Enjoy the Music.com's RMAF 2017 show report celebrates 14 consecutive years of reporting on this highly popular event. During the 2017 event, once again we have the Rocky Mountain International Audio Fest teaming up with Head-Fi's CanJam Denver event! Audio gear from large reference speakers to the smallest in-ear monitors can be experienced at the show. RMAF 2017 is being held at the Denver Marriott Tech Center Hotel from October 6th through the 8th. Enjoy the Music.com will bring you exciting RMAF 2017 show coverage, with a special separate CanJam 2017 Denver report too! The 14th Annual Rocky Mountain International Audio Fest (RMAF) is the largest consumer audio and home entertainment show within the Mid-West United States. Denver's own audio wonderland will feature over 160 exhibit spaces representing more than 400 companies from North and South America, Europe, Australia and Asia. RMAF's special RIHPA are the high-end audio industry's world-wide press awards honoring high-end audio manufacturers -- the Oscars of the audio industry.
Hi-Fi+'s October Magazine Features Many High-End Audio Reviews

Hi-Fi+ Magazine's October 2017 issue features interviews with Bob Surgeoner of Neat Acoustics and high-end audio dealer The Source AV of Torrance in California. Hardware reviews within this issue include Totem Acoustic Signature One loudspeakers, JBL 4312SE standmount loudspeakers, Musical Fidelity Encore 225 streaming integrated amplifier, Monitor Audio Silver 300 floorstanding loudspeaker, dCs Network bridge Ethernet / DAC connector, Hegel H90 streaming integrated amplifier, Massdrop x Noble X universal-fit IEMs, Merging+ Player Music server / DAC / headphone amplifier, Audeze iSine20 planar magnetic universal-fit earphones, Clearaudio Maestro V2 moving magnet cartridge, AuroraSound VIDA phono stage, Audiovector QR active subwoofer, and Kimber Kable Hero CU/8TC interconnects and loudspeaker cables. Within his editorial High-End Audio At A High Point, Alan Sircom says, "Interest in the world of audio – in all its guises – is at something of a high point at the moment. With the rise of streaming, the continued interest in all things vinyl, and the tremendous impact of the personal audio world on hi-fi, the audiophile doldrums of ten years ago are little more than a distant memory. However, one important and sustained change took place in the latter half of the first decade of the 21st Century – high-end became a 'concept' not just a 'price tag'. The old multi-box, high-price system still has an important part to play in the audiophile world, but just as importantly, people are buying products for the sake of the quality of performance irrespective of the amount of shelf space or the size of the hole in the bank account. This has happened because those lower cost products have – on occasion – become a heck of a lot better in recent years." See what's within this issue of H-Fi+ Magazine at this link.
10 / 04 / 17
Hi-Fi World's November Issue Is Now Available Online

Hi-Fi World's November issue features reviews of the Tannoy Cheviot loudspeakers, Acoustic Energy AE100 loudspeakers, Piega Classic 7 loudspeakers, OPPO UDP-205 universal player, Questyle QP2R Hi-Res Audio player, Audiolab M-DAC Mini, Pro-Ject Pre Box digital/amp box, Chord Sarum T loudspeaker cable, Sony ST-80F radio tuner, BBC DRT-2 turntable, Atlas phono cables, FiiO f5/f9 in-ear headphones and more! Within Noel Keywood's editorial he says, "Complexity breeds bewilderment – and it shows as digital gets ever more complicated. Audio seems to be creeping toward AV where, these days, an AV receiver comes with arrays of proprietary technologies on-board, most of them pretty superfluous, like Hall mode where echo is added. Once a few technology logos from Dolby or DTS were acceptable; now you'll see lines of such logos. Manufacturers in the audio sector are slowly taking on-board proprietary technologies such as aptX and DSD, a variant of PDM that is registered to Sony. You'll see plenty of talk in our Letters this month about this technological creep. Some manufacturers tackle it head on though and Pro-Ject's Pre Box Digital DS2 and its matching Class D Power Box DS2, reviewed on page 14 by Martin Pipe, is a fine example of a compact, room friendly design that just about does it all when it comes to music replay." See what's within the November issue of Hi-Fi World and read the complete editorial at this link.
Industry News 10 Years Ago
British Audio Visual Dealers Association Raises Industry Standard

The British Audio Visual Dealers Association (BADA), formed in 1982 as a Hi-Fi and Home Cinema retailers' trade association with over 80 shops, 20 associate members made up of manufacturers, distributors and members of the press, has announced a long term agreement to invest in raising industry standards. At a meeting of the BADA board and the association's manufacturer (associate) members held in London, an agreement was reached to form a long term strategic alliance to develop a program of training for excellence. The manufacturers and BADA agreed to the formation of an industry training fund which will be used to develop ongoing training over the next five years, with the aim of continually improving standards within retail and educating dealers in new and emerging technologies. Initially aimed at BADA retail and associate members, the training will commence immediately with a concerted roll out of the existing Demcraft course. The agreed target will be to train 100% of customer facing staff within BADA retail shops and the manufacturers' representatives in Demcraft. This will ensure a minimum standard is set that both dealer and supplier will adhere to. It will also help forge closer understanding between retailers and manufacturers of the importance of correct product setup and demonstration. Future training courses will build on this minimum standard to further develop the skill set of both retailers' and manufacturers' staff. The target to complete the rollout of Demcraft is 2008 AGM in June where members will be asked to incorporate Demcraft into BADA's code of practice thereby increasing member entry requirements. The training fund will be established through contributions from BADA's own finances and those of the signed up associate members. Associate members present at the meeting included Arcam, B&W, The Chord Company, Dolby, Dynaudio, JVC, KEF, Marantz, Meridian, The Multi-Room Company, Naim, PMC, and Yamaha.
10 / 03 / 17
Parasound John Curl Designed Halo JC 3 Jr. Phono Preamplifier

Parasound just introduced a more-affordable John Curl-designed phono preamplifier for a new generation of analog LP and turntable enthusiasts. The new Parasound Halo JC 3 Jr. stereo phono preamplifier ($1495) is about half the price of the company's $2995 premium dual-mono Halo JC 3+, which is widely acknowledged as one of the world's best phono stage preamplifiers. Parasound's Halo JC 3 Jr. is a high-performance, low-noise stereo phono preamplifier for use with moving magnet (MM) and moving coil (MC) phono cartridges. The precision gain circuits feature independent control of gain and load impedance for an optimal interface even with extremely low-output moving coil cartridges. The Parasound Halo JC 3 Jr. incorporates sophisticated new audio circuits created by John Curl and circuit boards layouts by Carl Thompson, Curl's circuit board design partner. The JC 3+ "DNA" is apparent in the JC 3+ circuit topology, which shares many of the same component parts, including Neutrik locking XLR jacks and Vampire 24k gold-plated RCA jacks. Its toroid power transformer capacity is nearly as great as the JC 3+ and its RIAA EQ employs the same REL capacitors and other passive parts used in Curl's legendary Vendetta phono preamplifier. To help achieve our price goal for the JC 3 Jr., Parasound has created an all-new, lower profile Halo chassis that is just one rack-space tall. A substantial aluminum partition isolates the phono stage board from the power supply, power transformer and internal AC wiring. The power transformer is encased in a steel enclosure to prevent emissions that could contaminate ultra-sensitive audio circuits. Convenience features include stereo-mono select as well as auto turn on with a 12V trigger. You can read Enjoy the Music.com's world premiere review of Parasound's JC 3 MM/MC stereo phono preamplifier at this link.
Aries Cerat Incito S Preamplifier With E280F And 5AR4 Vacuum Tube

When designing the Aries Cerat Incito preamplifier (€15,000), the company's main goal was to reference a great Einstein quote "Make everything as simple as possible, but not simpler" and to absorb and implement this into our current audio design mentality. With the Incito S, they took this quote but with a twist, "simpler but better." Generally in audio, designs with simple circuits tend to work and, most important of all, sound much better. However in many cases, simple solutions come with shortcomings particularly in audio in the form of questionable measured performance. The Incito S is a contrary statement to this 'rule'. As with the Aries Cerat Incito as reviewed here, in the heart of the Incito S preamplifier beats a zero feedback power gain stage which consists of a small single-ended triode vacuum tube amplifier and a transformer coupled super triode using the ultra-high trans-conductance E280F. This superb tube, which is made solely by Siemens, is loaded with a highest quality step down transformer with reconfigurable secondary winding to support switchable gain. This small SET amplifier can easily provide voltage swings of over 320V, stepped down to 80Vpp (or 40Vpp) while keeping transistor-like noise figures. The specially designed step-down transformer provides very low output resistance and more than adequate current to drive any load down to 50 Ohms! This required a robust and preferable passively filtered power supply. The power supply is built around the 5AR4 rectifier and uses separate double pi filtering for each channel with oversized chokes and high speed capacitors. The power transformer is encased in an external chassis, connected with a permanent umbilical cord. This design choice lead to improved noise floor figures of 20dB, now well below the -110dB mark. For volume control Aries Cerat used "the best-to-our-ears way of implementing a volume control apparatus... that is transformer volume control". The Incito S uses the same TVC and input system of their bigger preamplifier brothers such the Impera II. To go even further, they used the same AC link proprietary technology for the biasing of the small SET amplifier. The bias circuits are controlled and monitored by the use of a variable pot and a build in meter which ensures bias tuning of the design is both easy and intuitive. Full swing frequency response is from 4Hz to 140kHz (-6dB) with a maximum signal output swing of 32Vrms @ 10kOhm load. There's a -6Bb switch (reconfigurable step down) for level control. Output impedance is <50 Ohm (<12 Ohm in -6dB mode). Harmonic distortion is 0.005% typical, with a maximum harmonic distortion of less than 0.1% THD at 20V rms. Aries Cerat Incito S vacuum tube stereo preamplifier weighs 75 lbs.
10 / 02 / 17
Enjoy the Music.com's October High-End Audio Review Magazine
Enjoy the Music.com's October Review Magazine delivers three World Premiere Reviews plus CanJam and RMAF 2017 show coverage in Denver! Roger Skoff shares his thoughts on the controversial issue concerning audio tests and such. World Premiere Reviews include Bastanis Sagarmatha Solo loudspeaker, European Audio Team (EAT) B-Sharp turntable with MM cartridge, and LKV Research Verito 1 integrated amplifier with MM / MC phono stage. We look forward to seeing everyone at CanJam and RMAF in Denver. See what's within this month's edition of Enjoy the Music.com's Review Magazine at this link.
As always, in the end what really matters is that you... enjoy the music!
Enjoy the Music,
Steven R. Rochlin
Creative Director
Enjoy the Music.com

If You've Got Ears You Don't Need To Be Blind
Roger Skoff writes about a strange request for testing.
Article By Roger Skoff

Coming Soon! RMAF 2017 Show Report
Our Rocky Mountain International Audio Fest 2017 show report.

Coming Soon! CanJam Denver 2017 Show Report
CanJam 2017 @ RMAF Show Report

World Premiere Review!
Bastanis Sagarmatha Solo Loudspeaker
Dare to be different with this highly evolved open baffle loudspeaker.
Review By Clive Meakins

World Premiere Review!
European Audio Team B-Sharp Turntable
If anyone asks you what they should buy....
Review By Ron Nagle

World Premiere Review!
LKV Research Verito 1 Integrated Amplifier With MM / MC Phono Stage
An excellent integrated amplifier with a marvelous sounding phono section too!
Review By Tom Lyle

Campfire Audio Vega In-Ear Monitor (IEM)
What happens when a 'fun sound' meets flagship performance?
Review By Dave Hanson
More Articles Available Online!
See all our show reports, articles, and gear reviews within Enjoy the Music.com's October Review Magazine now available online.
---
For previous high-end audio industry news click here.