High-End Audio / Hi-Res Audio (HRA) Audiophile Industry News
---



Stay informed by joining our e-Newsletter list plus it enters you into our great contests too! Get social with Enjoy the Music.com at Facebook and Twitter. Videos are available on our YouTube channel plus we have an excellent RSS feed.
08 / 31 / 16
Hong Kong Audio Visual Expo 2016 Report: 10 Pages With 100 Photos

Enjoy the Music.com has just posted over 100 photos spanning 10 pages from the 2016 Hong Kong Audio Visual Expo! As one of Asia's most representative annual high-end consumer electronics events organized by Hong Kong Audio Technique magazine, the 2016 show was held at Hong Kong Convention and Exhibition Centre (Wan Chai, Hong Kong) and spanned three floors totaling 80,000 square feet of display area. Naturally source material included CD, DVD, and other digital formats plus vinyl LP and a few reel-to-reel units too! Come check out what was at the Hong Kong Audio Visual Expo at this link.
08 / 30 / 16
Hi-Fi World's October Issue Is Now Available

Hi-Fi World's October 2016 issue features reviews of the Rock MKII active loudspeakers, Gear4 Streamer for those on a budget, Focal Sopra No1 loudspeakers, Luxman DA-250 DAC with headphone amplifier, Entotem Class A Plato music system, Chord Shawline cables, Ferguson 3361 Stereogram, McIntosh MT5 turntable, Audio Technica AT-LP5 turntable, Pioneer SE-MHR5 headphones, a great contest giveaway and more. Within his editorial, Noel Keywood says "What a glorious sight the McIntosh MT5 turntable was – and what a glorious sound it gave. It had a deep, dark and spacious soundstage, that impressed all who heard it. These qualities put it up amongst the best vinyl spinners, whilst the green glow from its acrylic platter was intriguing in low light. You'll not be missing this player in the dark after the first bottle of Champagne in a late night listening session! To see how well it fared in detail see our review on p13. At the other end of the price scale in this issue we also bring you the Audio Technica AT-LP5 Direct Drive turntable. We're talking beer budget prices here – forget the Champers. But whilst you don't get a bright green glow to lead you to LP, as it were, you do a great budget starter package. I was happy to be reminded that the dear old analogue turntable is so easily upgraded, so what you get is by no means what you are stuck with. Audio Technica do a great job in providing a product that'll work out of the box, not damage your precious record collection yet can easily be improved as funds permit. Read more about this fine budget vinyl spinner on p83." See what's within this issue of H-Fi World at this link.
The Absolute Sound Celebrates Their 2016 Golden Ear Awards

Within the August issue of The Absolute Sound they are celebrating the welcome return of Technics to high-end audio plus celebrates their 2016 Golden Ear Awards. Reviews within this issue include KEF's Muo wireless speaker, Astell&Kern AKT8iE in-ear monitors, Technics R1 Reference System, Mytek Brooklyn DAC with MQA decoding, Rogers EHF-100 Mk2 integrated amplifier, Nordost Frey 2 cable, Stillpoints Ultra 5 and Ultra 6 isolation devices, REL T7i subwoofer, Aavik Acoustics U-300 integrated amplifier, and The David Berning Company 211 / 845 power amplifier. Within his editorial titled Standing on Their Own Shoulders, Robert Harley says "The idea that technological or intellectual advances are built on the previous work of others has been with us for a long time. Although Isaac Newton is generally credited with coining the phrase "standing on the shoulders of giants" ("If I have seen further, it is by standing on the shoulders of giants") that metaphor had been widely invoked since the 12th century. Throughout history contemporary innovators and thinkers have recognized that their achievements would not have been possible without the foundations created by their predecessors. This phenomenon, of course, applies as much to designing audio products as to any other field of endeavor. The classic tube amplifiers from the late 50s and early 60s (Marantz Model 9, McIntosh MC275, Harman Kardon Citation II, Dyna Mk III) would not have been possible without the breakthrough Williamson amplifier of 1947. In turn, virtually all of today's tube amplifiers are derived from one of those four amplifiers." See what's within this issue of The Absolute Sound at this link.
08 / 29 / 16
Rotel Announces 14 Series Components And A12 Integrated Amp

Rotel has announced the introduction of their 14 Series components that represent the very essence of Rotel's world renowned Balanced Design Concept. The 14 Series is expected to arrive in North America in early October and includes the A14 Integrated Amplifier ($1299) and CD14 CD Player ($599). Rotel's A12 Integrated Amplifier ($899) will also be released at the same time as the new 14 series components. Built with critically selected electronic components used throughout the audio path, the 14 Series features a sleek design with simple and intuitive controls. Rotel's A14 Integrated Amplifier has a high power output and advanced set of features. It is rated at 80 Watts per channel RMS into 8 Ohms, both channels driven. The A14 features a substantial power supply comprising a Rotel manufactured toroidal transformer plus slit-foil capacitors to effortlessly handle difficult speaker loads and dynamic signal peaks. It has been designed to accommodate both classic analog and the latest digital source components supported by the on-board AKM 32-bit/768kHz DAC. Rotel's A14 also supports Bluetooth with aptX, iOS/Android control App and PC USB with DSD support. Rotel's A12 Integrated Amplifier displays the same clean lines and intuitive operation as the flagship A14, yet with output power rated at 60 Watts per channel RMS into 8 Ohms. The A12 supports Bluetooth with aptX and has a Wolfson high performance 24-bit/192kHz DAC plus USB input. Rotel's CD14 CD player begins with a carefully engineered power supply to ensure separate, ripple-free voltage and current to both digital and analog circuits. A high-precision CD mechanism feeds a Wolfson high performance 24-bit/192kHz DAC. Both iOS and Android control APP (requires connection to A14) is supported and there is both a S/PDIF coaxial digital and stereo analog output.
08 / 26 / 16
Pro-Ject Offers Mozart's Symphonies No. 25, 35 And 39 On Vinyl LP

Pro-Ject Audio Systems is very proud to announce an exclusive cooperation between The Vienna Philharmonic Orchestra and Universal Music (Decca) to issue a series of vinyl records that include important performances of the VPO. These are beautifully remastered from the original analog master tapes and pressed with highest care on premium 180 gram virgin vinyl. All records are limited to total number of not more than 2000 pieces and consecutively numbered. This first issue consists of two records and includes three of the most successful Mozart symphonies, No.25, 35, 39, recorded live at the Wiener Musikverein. But this recording not only offers terrific sound quality, but externalizes the mastery of composition, orchestra and conductor! Riccardo Muti conducts Wolfgang Amadeus Mozart's Symphonies No. 25, 35 and 39 to create a true masterpiece of Mozart's symphonies. Both are within the most respected artists of classical music of the modern era and this vinyl record combines outstanding interpretation and unrivalled sound experience that preserves the soft warm ambience of Wiener Musikverein. This very rare audiophile recording has been remastered with care and love by none other than Georg Burdicek, the heart and soul behind Tonzauber. This audiophile 180 gram LP pressing pressing is made by Pallas /Germany and each of the 2000 copies are numbered by hand.
Chord Electronics Is Now Shipping Their SPM 1050 MkII Stereo Amplifier

Chord Electronics is now shipping their significantly upgraded SPM 1050 power amplifier to now reach MkII status (ฃ4950). The latest-spec MkII model offers reduced output distortion for greater transparency and fidelity, plus improvements to capacitance for cleaner power delivery. The second-generation version also includes enhanced isolation on the mains transformer to reduce interference and enhance sonic performance. In keeping with the original, the SPM 1050 MkII uses Chord's low-distortion amplifier circuitry and features four proprietary lateral-structure dual-die MOSFETs per channel (eight in total), enabling even the most demanding loudspeakers to be driven with clarity and precision. Chord's SPM 1050 MkII offers both balanced XLR and RCA phono inputs, plus two pairs of loudspeaker outputs with gold-plated connections for bi-wiring. A single power button offers operational simplicity from stand-by mode and the amplifier's status is indicated on the faceplate by a simple two-LED sequence showing power and relay functions. The luxuriously casework is machined from solid aircraft-grade aluminum and offers a stunning aesthetic plus rigidity that dampens unwanted vibration.
08 / 25 / 16
Last Week! The Cable Company's 21st Annual Summer Against Hunger

The Cable Company's 21st Annual Summer Against Hunger sale once again gives CARE relief and development projects a much needed boost. It's easy to participate as there is no extra cost or separate donation by you. Throughout August simply purchase new items from the brands on The Cable Company's sponsors list and the entire amount of your purchase will be matched dollar for dollar as a donation to CARE. Plus all purchases of brands not on the Sponsors list, and even used items, will be matched fifty cents for every dollar you spend. The first CARE packages were delivered to WWII survivors in 1946. In 2015 CARE reached over 65 million people in 95 countries with 890 sustainable development projects as well as relief efforts. More than 90% of CARE's expenditures – among the highest of all philanthropic organizations – support its poverty-fighting projects around the world. The matching donations for your purchases come from The Cable Company, vendors on the sponsor list, and other matching donors. The Summer Against Hunger fundraising program has generated over $4,000,000 for CARE projects during the past 20 years. Everyone at The Cable Company is grateful to their sponsors for participating in their 21st Annual Summer Against Hunger. Enjoy the Music.com is once again honored to be supporting this wonderful effort.
Autonomic MMS-1e & M-120e Ethernet DAC / Whole-House Products

Autonomic introduces their new generation MMS-1e and M-120e whole-house entertainment products featuring eAudioCast proprietary audio-over-Ethernet technology. The MMS-1e whole-house music player and the M-120e 4-zone amplifier each means that your music player and amplifier can be connected using a single Cat5e cable at high resolution 24-bit/192kHz bitrates without the need for traditional analog audio wiring. Integrators will appreciate the flexibility to decentralize the placement of eSeries amplification, making it dramatically less difficult to bring high-resolution digital audio streaming into the most challenging zones. Most critically, the MMS-1e and M-120e each reside in a new compact form factor, enabling integrators to easily locate these components along with source devices anywhere in the home or in a traditional structured wiring enclosure. Autonomic's MMS-1e music player ($995, with two-stream/four-zone package starting at $1995) represents a new entry level product focused on enjoying streaming content throughout the home. The MMS-1e can be leveraged as a low cost single stream music player utilized as a standalone solution within a control system environment, or can be paired with an Autonomic eSeries amplifier, where its capacity doubles to provide two independent network streams of content. That means that the MMS-1e paired with the M-120e amplifier will deliver a two-stream/four-zone premium entertainment package. This solution is expandable via Ethernet to as many as 96 zones, enabling the user to grow their music system as their needs change while enjoying the same intuitive user interface they become accustomed to with the basic package. The MMS-1e supports high-resolution audio, and the Japan Audio Society has certified the MMS-1e as a Hi-Res Audio player with built in 24-bit/192kHz DACs. The MMS-1e supports one analog output through it's internal DAC, plus mirrored high-resolution PCM digital outputs with both coax and HDMI ports. The MMS-1e will support one stream mirrored to Analog, PCM, and HDMI outputs, and two streams when using the eAudioCast technology. Autonomic's MMS-1e is completely solid-state and has no moving parts by leveraging solid-state storage and re-engineered passive cooling systems, which translates to years of trouble free and silent performance, lower power consumption and faster response times. MMS-1e supports both wired and bi-directional Wi-Fi connections for convenient placement. Autonomic's MMS-1e and M-120e can be used as a standalone entertainment solution or integrated into any of the popular home automation platforms as part of a larger smart home package. Autonomic's M-120e is a four-zone amplifier delivering 30-watts per zone. There is an analog RCA-style input for connection of a local audio device and a coax output for digital redistribution of audio inputs. An Infrared (IR) output enables connection of a remote keypad such as the Autonomic KP-6.
08 / 24 / 16
Wolf Ear Audio Makoyi Transformer Coupled Headphone Amplifier

Wolf Ear Audio's Makoyi transformer coupled vacuum tube headphone amplifier (starting at $3300 CAD) operates in Class-A to produce 4.5 watts. This single-ended triode design is designed to dominate hard-to-drive headphones with ease. Boasting 4.5 watts, this versatile amplifier uses no-feedback and should easily drive even the most challenging headphones. Within the power supply are a mains transformer and two large chokes for maximum filtering. The power is rectified with "hyper-fast, soft recovery FRED rectifiers (the closest thing to a tube rectifier, but without the voltage loss and current limitations)" says the company. Only high quality film capacitors used throughout the power supply to outlast even the very best electrolytic capacitors. The circuit topology employed on the driver maximizes voltage gain and is extremely linear via the company's favorite 6SN7 vacuum tube. Wolf Ear Audio's Makoyi output stage is extremely versatile and is tube 'rollable' with a wide array of different tube types, including yet not limited to, 6L6, EL34, KT88, etc. Included are "some very nice NOS 1960's tubes to get you started". Output impedance is ~8 Ohm (+/-2 Ohms, depending on output tube type), frequency response is from 20Hz to 80kHz and the stock volume control is an Alps Blue Velvet potentiometer . Options available include Teflon film and foil capacitors ($300 CAD) and a 24-Step ladder-type hand-made attenuator ($300 CAD).
Atlantic Technology Debuts LCR2 Ultra Compact Two-Way Speakers

Atlantic Technology has introduced their new LCR2 ultra compact speakers in white or high-gloss black finish for a wide variety of audio and home theater applications ($200 each). At just 8 inches tall, the Atlantic Technology LCR2 is the smallest speaker ever offered by the company, yet they feel is a true high fidelity product that delivers excellent audio reproduction for smaller loudspeaker applications. The front baffle is designed to reduce diffraction and enhance dispersion to ensure excellent timbre balance for music and maximum intelligibility on dialog. The 0.75-inch silk dome tweeter offers exceptional upper-octave smoothness and dispersion while the audiophile-grade long-excursion 3.5-inch woofer uses CPP (Composite Polypropylene/Paper) cones that deliver smooth bass response down to 100Hz. Atlantic Technology's LCR2 speakers have built-in keyhole brackets for wall or stand mounting, or can be placed on a shelf or tabletop. Frequency response is from 115Hz to 20kHz, nominal impedance is 6 Ohms, and sensitivity is 87dB/W/m.
08 / 23 / 16
Contest! Your Chance To Win Over $700 In Kimber Kable Products!

Enjoy the Music.com is honored to join with Kimber Kable for our September contest. Their very first products were the braided 8 wire and 16 wire speaker cables. Recently Kimber Kable has warmly embraced bringing great sound to the headphone community with their new AXIOS series of cables. Kimber Kable employs very pure copper and silver wire in hand assembling each cable in Utah, USA. This month's contest gives away over $700 in hand-crafted products especially designed for the avid music lover within us all. The winner of Enjoy the Music.com's Kimber Kable contest will receive a Timbre 1-meter pair with Ultraplate connectors, 8VS 8' pair with SBANs connectors and PK10 Base 6' cable with WattGate evo connectors! To learn more and enter for your chance to win click here.
08 / 22 / 16

Capital Audiofest 2016 Show Coverage
The Voice That Is @ Capital Audiofest 2016
Bricasti, Tidal And The Voice That Is @ CAF 2016
Capital Audiofest 2016 Giveaway @ CAF 2016
08 / 20 / 16
Rocky Mountain International Audio Fest Plans For Their 2016 Event

The Rocky Mountain International Audio Fest (RMAF) has been notified by the Marriott Denver Tech Center (DTC) that second phase renovations have been delayed (see attached statement from the Marriott) and will not be complete by the start of the 13th Annual RMAF in October. In response to this development, RMAF and the Marriott DTC have devised an alternative plan to expand the show into other available space on the property. Marjorie Baumert, director and co-founder of the Rocky Mountain International Audiofest reports, "RMAF has a full slate of booked exhibitors for both the two-channel and CanJam features of the show, alongside a host of industry vendors. The show is packed to the gills! We can't thank the audio community enough for coming together to generously support us. We are also grateful to the Marriott DTC for their dedication to housing an exemplary show, despite challenges due to the ongoing renovations. Thanks to the Marriott and our exhibitors, the annual Audio Fest is slated for another enormously successful show October 7th through 9th, 2016."
Due to circumstances beyond the hotel's control, the following spaces will not be available for the show: all Atrium sleeping rooms, Front Range exhibit floors 2 through 5 (including 550, 589, 535), and all meeting space including Bluebell, Cottonwood, Conifer, Iris, Larkspur, Lupine, Primrose, Spruce, The Rocky Mountain Event Center (CanJam) and the open Atrium area. In order to accommodate space requirements for RMAF and other upcoming conferences, the Marriott DTC will provide semi-permanent conference structures, including industrial tents and broadcast quality pods. Equipment specifications and exact layout regarding the following adjustments will be detailed in an announcement next week.
The plan is as follows: All 4th and 5th floor Front Range exhibit rooms will now be moved to the Summit Tower side. CanJam will be located in a large tent located in the front of the hotel. CanJam Atrium spaces will be moved to the Summit tower side of the lobby. Lobby meeting rooms will be located in pods near the entrance of the hotel. Other news regarding this year's event: RMAF will present the 2nd Annual Rocky Mountain International HiFi Press Awards (RIHPA) on Friday, October 7, 2016. The RIHPA has built on the success of the inaugural event in 2015 by adding several new international publications. RMAF is pleased to welcome back returning U.S. and international press that continue to support the industry.... There will be social events, live musical entertainment, and a host of seminars led by industry experts. For further information, please contact the RMAF office from their website.
08 / 19 / 16

Capital Audiofest 2016 Show Coverage
Fern & Roby Plus Luminous Audio Technology @ CAF 2016
Beanstalk Audio @ Capital Audiofest 2016
Care Audio, MAD, And Linear Tube Audio @ CAF 2016
VPI, KEF, Nordost, And Odyssey @ Capital Audiofest 2016
DejaVu Audio And Aldo D'Urso @ Capital Audiofest 2016
08 / 18 / 16

<<< REWIND <<<
Audio Note UK Ongaku
A very temping aural pleasure.
Review By Steven R. Rochlin
An Evening With Todd Rundgren – Live At Ridgefield DVD/CD And LP

Cleopatra Records is pleased to announce An Evening With Todd Rundgren – Live At Ridgefield on August 26, 2016. Get ready for an incredible concert experience, a multi-media extravaganza available on CD, Vinyl, DVD, and Blu-ray, starring classic rock icon and famed songwriter/producer Todd Rundgren. A Wizard, A True Star, the title of his 1973 solo album, aptly sums up the contributions of this multi-faceted artist to state-of-the-art music. As a songwriter, video pioneer, producer, recording artist, computer software developer, conceptualist, and interactive artist, Rundgren has made a lasting impact on both the form and content of popular music. Recorded live at the Ridgefield Playhouse in Ridgefield, CT on December 15, 2015, Rundgren's new release includes some of his best known songs including "Hello It's Me", "I Saw The Light" and "Bang The Drum All Day"! PLUS, hear/watch fan favorites that haven't been performed live in decades, including unforgettable Utopia and Nazz anthems. The set list consists of milestone Rundgren classics taken from his rich back catalogue, including songs from the albums "Something/Anything" (1972), "A Wizard, a True Star" (1973), "Faithful" (1976), "Hermit of Mink Hollow" (1978), "The Ever Popular Tortured Artist Effect"(1982), "A Cappella"(1985), "2nd Wind" (1991), "One Long Year" (2000), "Liars" (2004), "Global" (2015), plus key cuts from the Utopia albums "Oops! Wrong Planet" (1977), "Swing To The Right" (1982) and "POV" (1985), as well as from the first two albums by Todd's seminal 1960's band The Nazz (1968 and 1969). You can purchase An Evening With Todd Rundgren – Live At Ridgefield on CD / DVD and on vinyl LP.
08 / 17 / 16
A Q&A Discussion... About High Resolution Audio
We all know that the world of recorded music is always changing. High resolution audio has already penetrated the audiophile marketplace. Now it's the mass market's turn. In order to bring everyone who loves music up-to-date on the status of high resolution audio, we turned to the ultimate sources – Owen Kwon, President of Astell&Kern, the global leader in high resolution portable and home audio playback devices and Marc Finer, Senior Director, DEG: The Digital Entertainment Group. For nearly 20-years, the association has advocated and promoted entertainment platforms, products, and distribution channels which support the movie, television, music, consumer and IT industries. Read this very informative interview concerning Hi-Res Audio at this link.
08 / 16 / 16
Bryston BDP-Pi Hi-Res Digital Music Player

Bryston has announced the introduction of the BDP-π digital music player ($1295). The compact BDP-π features advanced Bryston hardware and software built upon the Raspberry Pi and HifiBerry platform, which gives users fast response to commands and high-performance within a chassis 1/3 the width of full-sized players (2.75" H x 5.7" W x 8.5" D). The BDP-π will playback digital music ranging from MP3 to lossless 24-bit/192kHz High-Res Music files and can be connected to virtually any DAC using the provided S/PDIF, TosLink, USB and HDMI connectors. Bryston's BDP-π can also connect to an external drive to access digital content, gain access to your favorite Internet radio stations and enjoy lossless TIDAL streaming. The BDP-π is also a Roon Ready device. Inputs include four USB 2.0, Ethernet (10/100 Mbps) while outputs are S/PDIF, TosLink, HDMI and USB 2.0. It can be controlled via IR and TCP/IP. All Bryston digital products are covered by a five year warranty and the unit is available with silver or black faceplate.
08 / 15 16
Amazon.com Now Offers Selected Brands Of High-End Audio Gear

Buying high-end audio gear online may not be new, yet longtime e-commerce site Amazon now offers a special section featuring prestigious high-end audio brands. With Amazon.com, Inc. (NASDAQ: AMZN) recently announcing second quarter financial results that increased operating cash flow by 42% to $12.7 billion, they have set they cyber eyes on a new Amazon.com Premium Audio Store. A special selections of home entertainment brands is available, including Devialet, KEF, PS Audio, Marantz, Emotiva, Bang & Olufsen, ELAC, Definitive Technology, Bowers & Wilkins, Peachtree, MartinLogan, Beyerdynamic, HiFiMAN Electronics, B&O Play, and more. Amazon says "These brands have become trusted over time because of their expertise in a wide variety of home entertainment products. Within this long list of brands, you'll be able to find home entertainment products for all your needs, starting with the essential speakers for any home. Our store carries pre-amplifiers, amplifiers, wireless products, CD players, 7.1 theater systems, 5.1 theater systems, in-home installation solutions, DACs, integrated amplifiers, electrostatic speakers, premium headphones, and audiophile gear of all kinds. We also carry a variety of other products that complete your home entertainment system such as receivers, turntables, and more." Due to the nature and care of luxury good items such as high-end audio, Amazon offers pre-sale consultation plus post-sale installation and support.
08 / 12 / 16
The Rolling Stones Mono LP Box Set Features Ltd. Ed. 7" Records

ABKCO Music & Records will, for the first time ever, release all mono studio recordings by The Rolling Stones in the 1960s! On September 30th, ABKCO Records will make available the vinyl and CD box sets of The Rolling Stones In Mono that contains a total of 186 tracks, 56 of which have never before been heard in mono since the advent of the digital age. Within nine countries around the world, very special 7" LPs limited to 1000 copies will be individually available only in local stores. Among the singles to be offered is a reissue of the historic, "Street Fighting Man" / "No Expectations" single, originally withdrawn shortly after release in 1968 that will be re-pressed for the USA. For the UK, there's the withdrawn Decca single "Poison Ivy" / "Fortune Teller", dating from 1963. Other releases include the German receive the 1967 single, "2,000 Light Years From Home" / "She's A Rainbow", and a Japanese version of "Tell Me (You're Coming Back)" / "Carol". These will all be in reproductions of their original sleeves, six of which are pictures sleeves. A very limited quantity of all nine of the ultra-rare 7" LPs will be available through uDiscover Music when you purchase the CD or LP box sets. Taken together, the albums cover a remarkable five-year period during which the group recorded reputation-building classics. The full list of albums included within The Rolling Stones In Mono box set includes:
The Rolling Stones (UK version)
12x5
The Rolling Stones No.2
The Rolling Stones, Now!
Out Of Our Heads (US version)
Out Of Our Heads (UK version)
December's Children (And Everybody's)
Aftermath (UK version)
Aftermath (US version)
Between The Buttons (UK version)
Flowers
Their Satanic Majesties Request
Beggars Banquet
Let It Bleed
Stray Cats

The full list of reissued 45s is:
Germany Exclusive
'2,000 Light Years From Home' / 'She's A Rainbow'
UK Exclusive
'Poison Ivy' / 'Fortune Teller'
Australia Exclusive
'Fortune Teller' / 'Sad Day'
US Exclusive
'Street Fighting Man' / 'No Expectations'
France Exclusive
'We Love You' / 'Dandelion'
Japan Exclusive
'Tell Me (You're Coming Back)' / 'Carol'
Norway Exclusive
'Time Is On My Side' / 'Congratulations'
Holland Exclusive
'Empty Heart' / 'Around And Around'
Canada Exclusive
'Not Fade Away' / 'Wanna Be Your Man'
YouGov UK's Vinyl Record Buyer Survey Gives Much Insight

According to a recent survey by YouGov, vinyl LP records' rebirth is fuelled by older music obsessives and not young hipsters within the UK. Their survey say, "Major retailers are trying to exploit the trend too. Tesco now sells vinyl albums in its stores, and has even adapted some of its advertising to tie its 'back to basics' range to with iconic album covers. While Urban Outfitters is another outlet with a significant vinyl section, it is still relatively rare for major high street chains to stock records in a bid to lure younger consumers. YouGov Profiles data suggests that records' resurgence is rooted in middle-aged nostalgia. When compared to the adult population as a whole, those that have purchased a vinyl album recently are more likely to be aged between 45-54. By contrast, those in the 18-24 aged group are the least likely. Furthermore, music plays a central part in vinyl buyer's lives. Two thirds (66%) of this group say they could not get through day without listening to music, compared to 49% of UK adults in general. A third (33%) of record buyers say they listen 'whenever they can' compared to 25% of over-18s overall. Record buyers are passionate about music and are more likely to go to gigs than the population at large. Fully two-thirds (68%) of vinyl lovers say they enjoy seeing their favourite artists live (compared to 47%) and are more likely to be happy to spend money to support their preferred acts (21% compared to 9%). Downloading music illegally is condemned, with 59% of vinyl fans saying it is wrong, compared to 55% of over-18s in general. There may be a suggestion that music helps this group emotionally too. Vinyl buyers are slightly more likely to both keep their feelings to themselves (56% vs. 53%) and enjoy being alone (69% vs 66%)."
LP Gear Vessel MM And MC Value-Priced Phono Cartridges
Since 1995, LP Gear has been serving the record-playing community worldwide and has just
introduced a complete line of LP Gear Vessel Cartridges priced between $99 and $799. Seeking to offer something for everyone, each model within the Vessel Series seeks to deliver more information and a more exciting, engaging connection to the music. The first four cartridges available are the moving magnet Vessel A3 Super Series priced from $99 to $499. The $99 A3SE (Super Elliptical) is said to produce an open midrange and palpable vocals. The $260 A3SV (Super Vivid Line Contact) creates a more detailed, nuanced and dynamic sound. The $499 A3SS (Super Shibata) has detail along with a special sense of warmth and closeness to the music, while the $499 A3SM (Super Microline) is balanced towards dynamics and leading-edge transients. All Vessel moving magnet (MM) cartridges have a replaceable stylus, plus it's easy to replace or upgrade to a different stylus shape. The Vessels are compatible with a wide range of turntables, amplifiers and preamplifiers with a standard Phono input. LP Gear's $249 BIN 215 and $329 BIN 323 phono cartridges are high-output moving-coils (MC) delivering a healthy 1.7mV output with the power to drive any standard Phono input. Vessel says that their BIN cartridges are dynamic, open sounding, and communicate the essential pace, rhythm and timing of music. The BIN 215 a significant improvement over the revered Supex 901 Super High Output MC cartridge.
08 / 11 / 16

<<< REWIND <<<
Parasound Halo Integrated 2.1 Channel Amplifier With DAC
A fine Swiss army knife.
Review By Phil Gold
Industry News 14 Years Ago
The First Annual, And Highly Celebrated, Record Store Day

August 12th (2002) is the very first Vinyl Record Day (VRD), which is also the first nonprofit organization dedicated to the preservation of the cultural influence, recordings and cover art of vinyl records. As the years passed, during Vinyl Record Day retail stores are asked to promote this event by having a one week sale that focuses on special vinyl releases and an overall celebration of the independent music store. Stores gladly exhibit special album cover art and play vinyl on their sound system. Music lovers worldwide are asked to invite family and friends to enjoy vinyl too! Play your favorite tunes on vinyl LPs, recall and share memories, and simply have a fun time while enjoying the music.
08 / 10 / 16

Capital Audiofest 2016 Show Coverage
Gershman Acoustics And Valve Amplification Company @ CAF 2016
Classic Audio Loudspeakers, United Home Audio, And Atmosphere @ CAF 2016
DC DIY Audio Club @ Capital Audiofest 2016
Deja Vu Audio And NOLA Loudspeakers @ CAF 2016
08 / 09 / 16
Benchmark Updates Firmware On The DAC2 HGC And DAC2 L DACs

Benchmark has updated the firmware on the DAC2 HGC and DAC2 L audio D/A converters. Firmware version 2.X is primarily an update to the user interface functions. The new firmware is more responsive and is easier to use and includes some new features and some minor audio performance improvements. This update adds an Auto-On function and a volume control memory. The update also remaps the volume control so that the relative volume of analog and digital inputs track more precisely over the entire range of the control. Furthermore, an additional 2.5dB of digital headroom on the USB input is now provided for. With this additional headroom, all of the digital inputs now have 3.5dB of headroom above 0dB FS. The increased headroom on the USB input can be advantageous when playing 44.1 kHz (CD) or 48 kHz (DVD) source material. Version 2.X can be be field installed by inserting a memory module into the empty 8-pin socket on the circuit board. If the module is added, a jumper must be moved to select the expansion memory. Version 2.X can also be factory installed by flashing the on-board memory. The expansion memory is only required for field upgrades and is only accessed when the DAC2 is in the process of turning on. The expansion module is completely inactive while audio is playing. For this reason, there is no performance difference between factory upgrade and field upgrade options. We recommend the field upgrade for most customers. The $59 field upgrade kit can be ordered online.
08 / 08 / 16
CanJam London 2016 Show Is This Coming Weekend

CanJam Global, the world's premiere headphone audio expo produced by Head-Fi.org, is holding their CanJam London 2016 show at the contemporary Park Plaza Westminster Bridge Hotel in Central London on August 13th and 14th. As one of today's hottest trends in consumer electronics, CanJam London will bring you the latest and greatest in headphone audio technology. Produced by Head-Fi.org and sponsored by Enjoy the Music.com's partner HiFi+ Magazine plus EchoBox Audio and Noble Audio, CanJam London 2016 will feature products from over 80 of the industry's leading companies in more than 15,000 sq. ft. of event space. With exciting new product introductions, educational seminars, a highly targeted attendance of consumers, industry affiliates, and members of the press, this is the consumer electronics event that you cannot afford to miss! Enjoy the Music.com will be reporting on CanJam London 2016 show as this is a must-attend summer Head-Fi event.
08 / 06 / 16
Asius Technologies ADEL Prevents Hearing Loss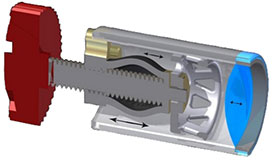 Asius Technologies' ADEL is the world's first and only patented technology that safely delivers a louder, more spacious and richer sound - all while avoiding the risk of hearing damage caused by earbuds. Stephen Ambrose invented in-ear monitors, an advanced earbud used by professional musicians on stages around the world. This invention became today's earbuds. When he saw the resulting damage he returned to the lab and with National Institute of Health and National Science Foundation funds solved the problem by creating a second eardrum. He's toured with artists like Stevie Wonder, Rush, Simon and Garfunkel, Kiss, and Diana Ross to develop his professional audio products. And today, he's ready to help bring another innovation to market via an upcoming Kickstarter campaign. Why? Because too many teens, young adults and professional musicians suffer from hearing loss today and will experience even more in the future. In fact, the proportion of teens with mild or worse hearing loss has increased 77% since the 1990s. And there studies prove the loss is due to earbud use. According the the LA Times, once hearing is damaged it will never recover.
Fact: Earbuds cause hearing loss...
Stephen discovered that when the ear canal is sealed by an earbud, the speaker vibrations create acoustic pressure. In the confined space of the closed ear canal, these become harmful amplified pneumatic pressures and cause the eardrum to move with an amplitude thousands of times greater than normal. Tiny muscles around the eardrum then tighten to protect the ear by dampening the sound. To overcome this dampening you must turn up the volume. The more the volume increases, the more the eardrum tightens. And so on. And so on. 40 million Americans suffer from hearing loss. For 10 million Americans, the hearing loss is noise induced, not reversible and permanent.
The Solution...
Stephen found a way to break the cycle. It's called ADEL and it'll change the way you hear music. This technology adds a second eardrum into all of our earbuds. This second eardrum takes the punishment of the pneumatic pressure caused by sound in the ear canal, and delivers clear, crisp sound that's unlike anything you've ever heard. And it's not louder noise coming from your earbuds.
Vanderbilt University study of Asius Technologies' earbud performance. Actually, with ADEL, it's quieter – often operating at 1/10th the amplified in-ear power levels of traditional listening devices (per studies conducted at Vanderbilt University Medical Center). And by not prematurely tightening in-ear muscles, which can dramatically compress the volume, loud sounds actually sound louder and require less overall volume levels. The results from the Vanderbilt University Medical Center study show that using ADEL allows listeners to enjoy Enhanced Loudness Perception (lower volumes sound significantly louder and better over conventional devices). This provides them a louder yet safer, high fidelity listening experience at greatly reduced power levels (1/4 to 1/16th typical levels) with no perceived loss in volume.
08 / 05 / 16
Pioneer's $350 High-Torque PLX-500 Turntable Includes RIAA & USB

Pioneer brings a high-end, entry-level turntable to the masses with their new PLX-500 ($350). This high quality direct drive turntable offers a more versatile vinyl solution for DJ'ing, audiophiles, and archivists alike. The PLX-500 is ready to use straight out of the box thanks to its line output via a built-in RIAA stage, which lets you plug it into your preamplifier, receiver, or directly into powered speakers. Pioneer's PLX-500 inherits the layout of the PLX-1000 professional turntable and produces a "warm, clear analogue sound" according tot the company. This high-torque turntable, like the Technics 1200 yet uses a servo speed detection system, employs a three-phase brushless DC motor and includes a cartridge, stylus and slipmat. There's a USB output for digitizing your LP music collection. Digitizing your tracks is easy using Pioneer's free rekordbox application and, once they're in your rekordbox collection, you can play them using the PLX-500 and a rekordbox dvs set-up, or on a DDJ controller, or on CDJs via USB. Rotation speed includes 33.3, 45, and 78 rpm, with a rotation speed adjustment range of +/-8%. The universal type S-shape tone arm, has a gimbal-supported type bearing structure, an effective length of 230.5mm, and an overhang of 16mm. Tracking error is within three degrees, with the arm height being adjustable within a 6mm range. Pioneer's PLX-500 turntable is available in black or white chassis.
ProMusicDB's Metadata Database Makes Life Easier For Musical Artists

ProMusicDB is working with musicians worldwide by filing the plans for a new platform so that ProMusicDB can preserve, protect, and authenticate the digital identity of music creators and musical works in the digital realm. An artist-contributed, non-profit music credits database and digital archive will be created to benefit music lovers, musical artist, lyric writers, etc. ProMusicDB Founder Christy Crowl hopes to have their new database become the Smithsonian of music credit metadata. "ProMusicDB is bringing the possibility of obtaining validated artist-contributed data into both the archival (library) and music business sectors  –  something sought after, but not easily attained by everyone who needs to do their job with music-related metadata. We are also bringing the possibility of standardizing and unifying the way artists collectively contribute their metadata into the music business ecosystem when they need to. In my mind, our challenge and mission is similar to the Smithsonian's  –  which is bringing about the increase and diffusion of knowledge  –  only in music credits specifically, and in the digital realm." Hopes are to eliminate the time-consuming effort by all artists in gaining recognition and receiving appropriate payment, which currently can take upwards of thirty different entities today. Today, an artists may need to add their credits to IMDB, AllMusic, Gracenote, Wikipedia, Discogs, and others. ProMusicDB seeks to offers a single place to benefit all musical artists, with an inaugural open enrollment period for music creators and musicians beginning in late September 2016. After the free open enrollment period ends, musicians can join by being referred by another ProMusicDB member in good standing. For those seeking to be notified of the upcoming open enrollment period and informational Webinars, visit ProMusicDB or contact Christy Crowl at christy@promusicdb.org.
08 / 04 / 16

TBT: Line Magnetic Audio LM210IA Integrated Tube Amplifier
A 300B integrated amplifier with true dynamics and attack!
Review By Gary Pearce

Capital Audiofest 2016 Show Coverage
Now Listen Here, Joseph Audio, And Rogue Audio @ CAF 2016
LKV Research @ Capital Audiofest 2016
EMIA Audio @ Capital Audiofest 2016
Triode Wire Labs, Border Patrol, And Living Voice @ CAF 2016
08 / 03 / 16
Affordable & Excellent High-End Audio Within August's Hi-Fi+ Magazine

Hi-Fi+'s August 2016 edition features many great reviews, including many affordable high-end audio products! This issue includes reviews of the Moon Neo Ace integrated streaming amplifier, ENIGMAcoustics Dharma D1000 hybrid dynamic/electrostatic headphones, Electrocompaniet EC Living Tana SL-1 / Tana L-1 streaming active loudspeaker system, Dynaudio EMIT 20 standmount loudspeakers, Sonus Faber Venere S floorstanders, OPPO Digital PM-3 closed-back planar magnetic headphones, Rosso Fiorentino Certaldo floorstanding loudspeakers, Audioquest Dragonfly Red / Black portable digital to analogue converters, AVI DM10/10" subwoofer system, Pro-Ject Carbon Esprit SB turntable, Golden Ear Triton Five floorstanding loudspeaker, Chord Electronics Hugo TT DAC and headphone amplifier and more. Also within this issue is a great article about Bob Stuart of MQA and Morten Lindberg of recording label 2L. Within his editorial, Alan Sircom says "Somewhere along the road to high-end audio, we lost sight of 'affordability' This is perhaps understandable as, by definition 'high-end' does not imply 'low cost'. But there is no direct correlation between price and performance. Although you often get what you pay for, some of the most expensive products fail to shine compared to cheaper models. In this edition of Hi-Fi+, we have gone for the more affordable and attainable parts of high-end audio. Nothing is compromised here. We called this 'affordable excellence' for a reason. We took those products that don't cost a King's Ransom, but sound like they should. Note that 'affordable' is not the same as 'cheap' or 'budget'. Save for a few exceptions, the products in our list are not products you can pick up for peanuts on eBay, but instead work to that mandate of 'excellence'. They deliver the sonic goods and a price that makes them more high-value than high-end." See what's within this issue of H-Fi+ at this link.
08 / 02 / 16
All Things Must Pass, Tower Records Documentary On DVD

The documentary about Tower Records titled All Things Must Pass is coming to DVD. Established in 1960, Tower Records was once a retail powerhouse with 200 stores, in 30 countries, on five continents. From humble beginnings in a small-town drugstore, Tower Records eventually became the heart and soul of the music world, and a powerful force in the music industry. In 1999, Tower Records made an astounding $1 billion. In 2006, the company filed for bankruptcy. What went wrong? Everyone thinks they know what killed Tower Records: The Internet. But that's not the story according to the documentary. Directed by Colin Hanks, and featuring music icons like Dave Grohl, Elton John and Bruce Springsteen, All Things Must Pass is a feature documentary film examining this iconic company's explosive trajectory, tragic demise, and legacy forged by its rebellious founder Russ Solomon. For seven years, Hanks took on the documentary that lamented and celebrated the Sacramento-based record store that grew from his hometown into an American retail powerhouse.
The Cable Company's 21st Annual Summer Against Hunger

The Cable Company's 21st Annual Summer Against Hunger sale once again gives CARE relief and development projects a much needed boost. It's easy to participate as there is no extra cost or separate donation by you. Throughout August simply purchase new items from the brands on The Cable Company's sponsors list and the entire amount of your purchase will be matched dollar for dollar as a donation to CARE. Plus all purchases of brands not on the Sponsors list, and even used items, will be matched fifty cents for every dollar you spend. The first CARE packages were delivered to WWII survivors in 1946. In 2015 CARE reached over 65 million people in 95 countries with 890 sustainable development projects as well as relief efforts. More than 90% of CARE's expenditures – among the highest of all philanthropic organizations – support its poverty-fighting projects around the world. The matching donations for your purchases come from The Cable Company, vendors on the sponsor list, and other matching donors. The Summer Against Hunger fundraising program has generated over $4,000,000 for CARE projects during the past 20 years. Everyone at The Cable Company is grateful to their sponsors for participating in their 21st Annual Summer Against Hunger. Enjoy the Music.com is once again honored to be supporting this wonderful effort.
08 / 01 / 16
Bargain-Priced Gear Featured Within Our August Review Magazine
Enjoy the Music.com celebrates high-end audio at down-to-earth pricing within our August issue! We have two different $2600 per pair speakers, two different $1000 per set speakers, an outstanding $2500 integrated tube amplifier, plus a great pair of $620 monitors! In total, the August issue of our Review Magazine has three World Premiere reviews, a North American Premiere, plus video featuring Bruce Ball of Questyle.
Are you curious about how a top-flight company keeps DAC power supply noise at all-time lows? There is no doubt audiophiles desire the very best, and it all starts with a high-performance power supply. We have a great manufacturer article by Benchmark Media Systems showing you how they do it.
Enjoy the Music.com has begun posting our coverage of the sold out Capital Audiofest event too! Check back often as we update our CAF 2016 show report over the coming days.

Capital Audiofest 2016 Show Report
CAF High-End Audio Event Report

T.H.E. Show Newport 2016 Report
The Home Entertainment Show Newport 2016

Inside This Issue...
Reasonably priced gear, world premiere reviews, and sold out shows.
Editorial By Tom Lyle

Off To The Races
The only real way to judge our audio toys and goodies.
Article By Roger Skoff

Enjoy the Music.TV Video With Bruce Ball Of Questyle Audio
Featuring their CAS192D, CMA600i, CMA800R, Gold Reference and QP1R.

Power Supplies In Audio Digital To Analog Converters
Article By Benchmark Media Systems

Pass Laboratories Special Edition
Featuring 12 Pass Labs products, article by Nelson Pass & company profile!

<<< REWIND <<<
VPI Industries Classic 3 Turntable
One powerhouse turntable and tonearm combo!
Reviewed By Anthony Nicosia

World Premiere!
Aurum Cantus V30M Loudspeaker
A quantum leap forward in pushing the limits.
Review By Ron Nagle

World Premiere!
Audience Au24-SX World-Class Cables
Heightened transparency, focus, plus a more defined and accurate soundstage.
Review By Greg Weaver

World Premiere!
Rogue Audio Cronus Magnum II Stereo Integrated Amplifier
High-end audio's Poster Child for being an overachiever.
Review By Steven R. Rochlin

North America Premiere!
Q Acoustics 3050 And Concept 40 Loudspeakers
A glorious one-two punch from Q Acoustics.
Review By Tom Lyle

Triangle Esprit Titus EZ Compact Speakers
Punching far above their weight.
Review By Rick Jensen

Eclipse TD-M1 Wireless Speaker System
Accurate sound meets seductive styling.
Review By Dwayne Carter
---
For previous high-end audio industry news click here.