High-End Audio / Hi-Res Audio (HRA) Audiophile Industry News
---



Stay informed by joining our e-Newsletter list plus it enters you into our great contests too! Get social with Enjoy the Music.com at Facebook and Twitter. Videos are available on our YouTube channel plus we have an excellent RSS feed.
06 / 30 / 17
Sony Once Again Begins Pressing Vinyl LPs Due To High Demand

According to Nikkei Asian Review, "Sony is setting up a new production line for vinyl records in Japan's Shizuoka Prefecture. Sony will resume pressing vinyl records for the first time in nearly three decades, looking to keep up with demand from not only nostalgic seniors, but also younger aficionados. Production will resume by March 2018 at a plant in Japan's Shizuoka Prefecture run by a subsidiary of Sony Music Entertainment (Japan). Sony stopped making vinyl records in-house domestically in 1989 after the advent of CDs, which the company co-developed and began selling in 1982. Sony Music installed record-cutting equipment at a Tokyo recording studio in February, enabling it to produce the masters from which vinyl records are copied. Cutting is a delicate process, with the quality of sound affected by the depth and angle of the grooves, and Sony is scrambling to bring in old record engineers to pass on their knowledge... Since Japan has only one active record manufacturer -- Toyokasei -- supply often cannot keep up with demand, and many new releases are often offered in only limited quantities, according to Sony Music. Though used records account for 70% of vinyl sales at Lawson HMV Entertainment, the Lawson unit is apparently seeing stronger demand for new releases from popular artists as well.... Japanese sales of vinyl records have roughly octupled from 2010 levels to 799,000 units in 2016. Sony and Panasonic rolled out new record players last year, while Lawson HMV has opened three Tokyo stores specializing in records since 2014. Tower Records has expanded its floor space. Vinyl sales outpaced digital music sales at one point last year in the U.K. In the U.S., 17.2 million units were shipped last year, with consumers 35 and younger accounting for 70%." For those curious how a vinyl LP is made, we'll show you within our extensive video tour of Quality Record Pressing at this link.
06 / 29 / 17
VPI Announces Their City Namesake Cliffwood Turntable

VPI Industries is based in Cliffwood, New Jersey, and so after 40 years they have produced a turntable named after the city. VPI's new Cliffwood turntable ($900) celebrates their heritage and workers by naming this turntable after the place they are built. Only available within the USA for the time being, yet VPI plans to eventually ship worldwide, the demand is expected to outstrip supply. Estimated shipping is end of July to early August. VPI's Cliffwood turntable comes with a machined aluminum platter and 600 RPM AC motor with two speed pulley. A machined aluminum gimbaled 9" tone arm with VPI/Grado Green cartridge comes pre-mounted. Also of note is that VPI plans to make this system fully upgradeable. MDF vinyl wrap in Black Truffle finish, said to "look really cool" brings the final visual touches. There is a special "Snow White" version available too. In fact VPI is very excited to announce the this new finish as a standard option!
HIFICRITIC's Latest Issue Features Gear Reviews And More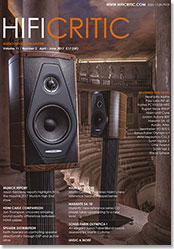 Enjoy the Music.com has just posted the latest HIFICRITIC magazine featuring HIGH END Munich report, a special tribute to Alvin Gold (May 13th 1948 -- April 7th 2017), plus reviews of the Neat IOTA ALPHA, Pass Labs INT-60, Fostex PC100USB-HR2, Rupert Neve Headphone Amplifier RNHP, Naim UNITI Core, Marantz SA-10, AURALiC Aries, Sennheiser HD 800 S, Sonus Faber Olympica I, AVM Inspiration CS2.2, Schiit MJOLNIR 2 + VALI 2, and UK car audio 2017. Within his editorial Digital Music And Online Music Streaming, Paul Messenger says "It might be more than fifty years since Bob Dylan originally wrote that 'the times they are a changing', yet that phrase is arguably even more relevant to the music business today. Sure, analogue vinyl will continue to steam on regardless, but the various digital sources are constantly evolving and coming up with new solutions. Indeed, one reason behind this editorial was a misunderstanding in the (virtual) office over naming the latest digital sources. From the mid-1980s and for twenty or thirty years thereafter, Compact Disc was really the only digital audio game in town. However, as computer memories expanded and internet speeds increased, various alternatives presented themselves. In its early days computer audio gained a poor reputation, due to MP3 digital compression and the practice of 'pirate' file-sharing." See what's within this issue of HIFICRITIC at this link.
06 / 28 / 17
Boulder Amplifiers Solid-State 1160 Stereo Power Amplifier

Boulder Amplifiers is now shipping their 1160 Stereo Power Amplifier ($28,000). The 1160 is the successor to the 1060 Stereo Power Amplifier and the first product in the new 1100 Series to debut. The 1100 Series is Boulder's mid-level product line, combining new technology and exceptional performance with reduced size, power and cost. The 1100 Series offers a substantial advancement over the previous 1000 Series, with improvements in sound quality by way of better thermal management, ground paths, noise floor, and circuit layout. The increased use of surface-mount technology, manufactured on Boulder's own surface-mount manufacturing machines and ovens, has also yielded improvements in noise radiation, propagation delay, parasitic capacitance and the elimination of lead inductance in affected circuits. It also offers improvements in unit-to-unit quality and consistency and long-term reliability. Also new for the 1160 is the use of a 64-bit, multi-core ARM (Advanced RISC Machine) processor for all supervisory functions, including management of protection circuits, AC line monitoring, power, thermal detection, error notification, and HTML- or IP-based external control. This ARM processor will also enable the use of Boulder Net, an IP-based unit-to-unit detection, system layout, and communication architecture available to external control systems such as Savant or Crestron and application-based system controls. For units that are network connected, an HTML setup and control page is available by simply logging into the amplifier's IP address via a browser. Gain stages within the 1160 are Boulder's proprietary 983, which are unique to the 1100 Series. 983 gain stages feature surface-mount mechanical design with board-mounted heatsinking and provide the initial 20dB of gain in a multi-stage design for exceptionally wide bandwidth. They combine discrete and monolithic design with a high-current output. Boulder's 1160 utilizes 56 bipolar output devices (28 per channel), 48 filter capacitors and 2 toroidal power transformers to generate power output of up to 300 watts per channel into any load, enabling massive current swings and the ability to drive any loudspeaker to realistic audio levels.
06 / 27 / 17

Rupert Neve Headphone Amplifier RNHP
Martin Colloms assesses a headphone amp from one of pro audio's famous names.
Review By Martin Colloms
JCAT NET Card FEMTO Audiophile Network Interface

JCAT has introduced their NET Card FEMTO (€422), which is said to be the first high-end Ethernet adapter for noiseless and jitterless data transfer from your PC media server. According to JCAT, "Setting up a media server on a PC or using a computer as a network audio renderer (endpoint) is easy nowadays. But the problem with computers is that they were never designed with audio in mind. While there are improvements for USB-based playback available, the network controller part of a PC remains noisy. JCAT puts an end to imperfections of network playback with NET Card FEMTO – the ultimate network interface designed specifically for transferring high-quality audio over LAN. By using ultra-low noise linear power supplies and FEMTO Clock Technology combined with enterprise level Ethernet controller from Intel, the JCAT NET Card FEMTO ensures maximum network transmission quality. Connect a network audio player, media server (NAS) or a broadband router to JCAT NET Card FEMTO and enjoy vast sound quality improvement when streaming audio data."
• Audiophile PCI Express GbE LAN adapter
• Ultra-low noise linear regulators/filters eliminate noise problems from PC
• No switching power supplies
• FEMTO Clock Technology (Crystek CCHD-957)
• Industrial grade components
• Enterprise level Intel i350 Ethernet controller
• Gold plated high durability EMI shielded RJ-45 connectors
• Two LAN ports supporting up to 1Gbit connection speeds
• LED-off feature to counteract noise
• Requirements for optional PSU: 5V/1.5A min
• PSU can be supplied from computer PSU via LP4 connector or from an external PSU via 2.1/5mm center positive DC jack connector
• Low-profile & full-height laser cut PCIe brackets included
• All x1-x16 lane PCI Express 2.0 slots supported
• Supported operating systems: Windows (all editions) and Linux
06 / 26 / 17
Acoustic Research Hi-Res Audio AR-H1 Planar Headphones

Acoustic Research will soon ship a new HiRes Audio over-ear AR-H1 ($599) headphone with planar magnetic driver technology for the company's unmatched sonic performance. The AR-H1 represents a new standard in headphone performance for the company by incorporating planar technology -- acclaimed for achieving detailed output with drastically reduced distortion compared to other technologies – with an open-back circumaural, or over-ear design for exceptional comfort and sound quality. Featuring an industrial design that is both comfortable and aesthetically appealing, the AR-H1 gives music lovers an 86mm planar driver with a neodymium magnet array that is considered among the best in its class. Frequency response is measured at 10Hz to 70kHz, with sensitivity rated at 100dB/V, and impedance at 33 Ohms. A true hi-resolution headphone should be as comfortable as it is sonically exciting, which is why the AR-H1 features as a genuine leather headband and low resilience ear cushion that add up to hours of listening with no fatigue. Acoustic Research's AR-H1 comes complete with essential accessories including a 1.2 meter audio cable (3.5mm three-pole to dual 2.5mm two-pole), a 6.3mm plug adapter, and a soft pouch for easy storage and portability.
Industry News 18 Years Ago
Huge Court Decision Handed Down: MP3 Players Are Legal
Federal appeals court ruled earlier this week that the Diamond Multimedia Rio, which plays MP3 files, is a legal product. This now paves the road for many other companies to join in on the high-demand MP3 playback device market! Of course, as expected, the losing Recording Industry Association of America (RIAA) played down the win. If the RIAA won and shot down MP3, you just know they would now be singing to the high mountains. Fortunately, the RIAA rightfully lost and now manufactures will soon be in full swing releasing their own MP3 portable music players. Thompson and others are already planning their own MP3 playback device(s). Sony, on the other hand, has said they have no interest in the MP3 hardware or marketing MP3 software at this time and will be streaming media using the new Microsoft Windows Media Player file format. In a statement made on the RIAA website about the loss of the lawsuit "We're obviously disappointed we lost in the Appeals Court. The court appears to have concluded that, despite Congressional intent, the Audio Home Recording Act has limited application in a world of convergent technologies. We filed this lawsuit because unchecked piracy on the Internet threatens the development of a legitimate marketplace for online music, a marketplace that consumers want. Fortunately, the shared interest in such a marketplace has overtaken the lawsuit; the technology and music industries have already come together, in voluntary initiatives like the Secure Digital Music Initiative (SDMI), to create a secure environment in which consumers can access the music they love in new ways." Still, there is a joint venture to offer digital music online using SDMI. SDMI will create a secure environment in delivering digitized audio on the web and is being supported by many manufacturers including Diamond Multimedia.
06 / 23 / 17
Black Sabbath The Ten Year War LP & Hi-Res Music Box Set

Love their press release, as it says, "A foreboding storm is gathering overhead. Bells toll, lighting cracks, rain falls... something dark and sinister is heading this way. It's 1970 and four guys from Birmingham, with the release of their debut self-titled album, have single-handedly created what would become known forever as heavy metal. It was a singular moment of crushing heaviness that would define the genre for years to come.... As the seventies came down like a dark cloud, Ozzy Osbourne, Tony Iommi, Bill Ward and Geezer Butler welcomed these uncertain times with open arms and riffs of thunder. And so The Ten Year War began. Fresh from receiving the 'Golden God' Icon Award at this year's Metal Hammer Golden Gods, Black Sabbath are proud to announce The Ten Year War – a limited edition vinyl box set, released September 29th via BMG, that brings together their eight Ozzy fronted albums, plus a swathe of other rarities, all housed within exclusive artwork created by renowned street artist, graphic designer and activist Shepard Fairey. Despite Black Sabbath's multi-million selling albums and rabid fan base throughout the seventies, this adulation wasn't always mirrored by the music press at the time. The band received more than their fair share of criticism, prompting them to publish The Ten Year War brochure; a playful dig at journalists with the witty tagline "more good press than most – more bad press than any." The brochure is reproduced in full for the box set and is one of the many exclusive items held within that also includes eight vinyl LPs meticulously reproduced in their original sleeves, re-mastered by renowned mastering engineer Andy Pearce from the original tapes and pressed on 180 gram splatter-colored vinyl, each LP with unique and individual coloring." Also included are two rare 7" singles, reproduced in their original sleeves. A special crucifix shaped Black Sabbath USB stick, exclusive to this box set, which can be worn round the neck and contains MQA high definition audio of the first eight Black Sabbath albums. Each box set is individually numbered. It's fair to say that The Ten Year War is the definitive Black Sabbath package and is one of the most important and influential artists of the UK at their time.
06 / 22 / 17
Frank Zappa Absolutely Free Vinyl LP With Laser Etching

The Zappa Family Trust will mark the 50th anniversary of Frank Zappa & The Mothers of Invention's politically-charged, envelope-pushing sophomore album, Absolutely Free, with an expanded vinyl-exclusive edition on September 29 via Zappa Records/UMe. This double 180-gram LP version will include the original record mastered by Bernie Grundman cut directly from the original analog master tapes and a second disc with 20 minutes of rare and unreleased bonus material, including the "Why Don'tcha Do Me Right?"/"Big Leg Emma" single as well as vintage remixes and radio ads from The Vault on side one and a laser etching of Zappa's visage from the album cover on side two. The package features Zappa's original layout and a reproduction of the rare, highly sought-after "libretto," an 18-page booklet with a foreword by FZ and lyrics to all the compositions, that was offered only by mail order when originally released. Released 50 years ago on May 26, 1967 on Verve Records, Absolutely Free was the Mothers of Invention's follow-up to their landmark debut album, Freak Out! Brash, challenging and exhilarating, the record was revolutionary as it pushed the limits of what an album could be. A pop culture pastiche, the album leaps through genres – from psychedelic pop and progressive rock to free-form jazz and avant-garde noise to doo-wop and garage rock, often in the same composition as on album highlight, "Brown Shoes Don't Make It," and is filled with Zappa's trademark biting political and social satire. Hailed by All Music as a "fabulously inventive record" that is "by turns hilarious, inscrutable, and virtuosically complex," the album is divided into two "oratorios" or song suites – "Absolutely Free" and "The M.O.I. American Pageant" – and is rife with complex instrumentation, cutting edge experimentation and unconventional editing. You can pre-order Zappa's Absolutely Free on Amazon right now.
06 / 21 / 17
dCS Limited Edition Vivaldi One Digital Music System

dCS has proudly announced the July release date of their Vivaldi One ฃ55,000), which is a limited edition digital music player that is specially designed to mark the company's thirtieth anniversary. Limited to just 250 uniquely numbered pieces, this unit includes state-of-the-art network streaming functionality. The new Vivaldi One offers state-of-the-art technology inside, and superlative style outside that is Wholly designed and manufactured in Great Britain. Vivaldi One's aerospace-grade aluminum casework comes in a choice of three exquisite finishes, never before seen on dCS products. The Gloss White and Piano Black versions are finished by HQ Lacquer, a family owned British business of over three decades' standing, famed for its high quality finishes. dCS' Vivaldi One can be supplied plated in Decoplate 24K gold or other precious metal by FH Lambert Ltd., the world-renowned specialist in decorative metal plating. Vivaldi One features the Esoteric VRDS Neo SACD-capable transport, allied to the latest generation dCS Ring DAC. Effectively a digital signal processing computer, the dCS Ring DAC and Digital Processing Platform runs PCM up to 24-bit/384kHz, DSD up to DSD128 and DSD in DOP format. Vivaldi One also supports all major lossless codecs plus MQA. Driven by custom-designed software running on Field Programmable Gate Array (FPGA) chips, Digital Signal Processing (DSP) chips and a microcontroller system. Offering twice the logic capacity of previous generations, Vivaldi One houses the latest 2.0 Ring DAC with double speed mapper, making it the highest expression of the dCS art. You can easily stream music from NAS drives and online services such as TIDAL and Spotify Connect over Ethernet, from Apple devices via Airplay, and audio via USB, AES and S/PDIF digital inputs. Commemorating the company's thirtieth anniversary, Vivaldi One also comes supplied with a specially curated music collection, reflecting the musical passions of the dCS designers, engineers and technicians who created Vivaldi One – plus an engraved plate showing its individual serial number.
Industry News 15 Years Ago
Major Labels Break Redbook CD With Protected Digital Discs
In the firing line are the big five major record labels (AOL Time Warner's Warner Music, BMG Entertainment, EMI, Sony Music Entertainment, and Vivendi Universal's Universal Music Group) as a class-action lawsuit has been filed in the Los Angeles Superior Court concerning the new protected music discs. Since these new protected music discs do not conform to any of the Compact Disc (CD) standards, such as the "Red Book" that states what a CD should technically be to be universally readable by CD / CD-Rom / DVD drives, they are causing problems with consumer's hardware. In fact these problems could include repair costs and/or loss of data in a computer system! The law firm Milberg, Weiss, Bershad, Hynes and Lerach have filed this lawsuit on behalf of two Southern California consumers. Since these protected music discs may have no warning of the possible damage they can cause when used in various playback devices, this is said to be misleading consumers who may not realize that such protected music discs can cause problems. Of course the RIAA, who only have the record label's interests in mind, is calling the lawsuit "frivolous". Meanwhile many Web sites, including Enjoy the Music.com, feel that this new measure to protect music is illegal and have written articles concerning this issue. The problem is that some of the techniques employed to protected the music data to deter copying also makes the disc unplayable on the millions of computer CD-Rom / DVD-Rom drives. Since many people enjoy music through their computer system it is misleading to not specifically state on these new protected music discs that they will not play on said drives like the normal music CD. "If you use an Apple computer, you can't even get the disc out of the tray. It requires the time and cost of taking the computer into a repair shop and having it removed that way," attorney Nicholas Koluncich, brother of one of the plaintiffs, told the Los Angeles Times. "At the very least, the labels should make sure they sell a product that actually works." Also of note is that Sony employed a rootkit, which lowered the security of some computers,. Sony's eventual rootkit 'fix' is said to have exacerbated a possible security hole within computer operating systems and thus may have brought a higher possibility to a computer problem via virus attack.
06 / 20 / 17
LAAS 2017 Show Report Part 4: Wilson Audio, T+A, MQA, Nordost, Merrill Audio, VPI, German Physiks, Ayon Audio, Lumen White, Maxonic, Concert Fidelity, And Indigo.
LAAS 2017 Show Report Part 5: Ryan, AURALiC, Periodic Audio, StereoPravda, Aaudio Imports, Blue Coast Records, Kimber Kable, And Astell&Kern.
Nola Metro Grand Reference Gold 2 Loudspeakers

The new Nola Metro Grand Reference Gold 2 loudspeakers ($40,000 per pair.) is an ultra-high-end compact 3.5-way floorstanding loudspeaker designed for smaller to medium-sized rooms. The Metro Gold Series 2's updated dual 6.5" magnesium cone Alnico-ring-magnet woofers now have lowered electrical and magnetic distortion that are even further reduced from the already low distortion specs of the original Gold bass driver. In addition, according to NOLA, the electrical "drag" of the driver has been lessened, enabling the new woofer to provide "remarkable low-level/low frequency resolution, dynamics and transient response". The Metro Gold 2's ribbon tweeter has been upgraded with components that are now built in-house at Nola. The crossover network has been improved with parts that were not available for the original version, and Nordost silver internal wiring is now employed more extensively throughout the loudspeaker. Nola's woofers feature solid copper, gold-plated phase plugs that eliminate coloration and provide tighter bass with superb definition. The ribbon tweeter delivers high-frequency response to 100kHz, for extraordinary "air" and spaciousness, and full-range reproduction of Hi-Res Audio and other high-definition music sources. The critical midrange driver and tweeter are mounted in Nola's hallmark open baffle design to eliminate any possibility of unwanted enclosure "box" colorations. Overall frequency response is from 25Hz to 100kHz with a sensitivity of 87dB/W/m (8 Ohm nominal / 4 Ohm minimum). Available finishes include Real Santos Rosewood Gloss with Black Gloss bases as standard, with Black Gloss and other finishes available by special order at possible additional cost.
06 / 19 / 17
Aequo Audio Stilla & Diluvium Floorstanding Loudspeakers

Coming after their Ensis model, Aequo Audio has announced to launch two brand new loudspeakers. The Dutch manufacturer extends the portfolio at both ends with the smaller Stilla and larger Diluvium. From first view it seems Aequo Audio's team has developed entirely new and unique speaker models, yet both products can be easily recognized as purebreds of the brand's distinctive pedigree. First to be launched is the Stilla, with a bit more mainstream design and more affordable pricing. The Stilla is a very small and incredibly elegant floor standing speaker, yet it promises the same output above 20Hz as the Ensis. Responsible for this challenging job are two 7" subwoofers mounted inside the horn loaded bass reflex cabinet, powered by Ncore amplifiers. The specification reveals that the active electronic system for analog room size and placement correction, is used to tune the speaker to roll off as a closed box speaker, so it would not suffer from problems normally associated with ported speakers. Many other technologies and materials of the Stilla are more directly derived from the closed-box Ensis speaker and the Stilla is equipped with the same formidable midrange driver. The result is a comparable character with rich audiophile musicality as well as transparent uncolored precision and an incredibly holographic soundstage. Diluvium, the company's new flagship speaker, is far from mainstream. Developed as a hallmark of their capabilities it clearly shows the exciting direction of the brand. Exact specification is yet to be released, but first rumors say it is a four-way with double the amount of drivers and dynamic output of the Ensis.
06 / 16 / 17
Brian Eno Deluxe Limited Edition Gatefold 45RPM 1/2 Speed LPs

Four Brian Eno albums will be available in deluxe limited edition gatefold half-speed mastered 45RPM vinyl LPs. Titles include Here Come The Warm Jets, Taking Tiger Mountain (By Strategy), Another Green World, and Before And After Science. On 4th August 2017 UMC / Virgin EMI present deluxe gatefold, two LP heavyweight vinyl editions of Brian Eno classics. Each album is now spread over two vinyl discs, which play at 45 RPM and were mastered at half-speed by Miles Showell at Abbey Road Studios, ensuring these seminal works sound better than ever before. While Eno's current output as a musical and visual artist and writer of philosophy, science and socio- political theory is still prolific, his illustrious back catalogue holds as much influence as ever. With experimentalism, conceptual art theory and use of the accidental as a foundation, these albums broke through the boundaries of popular music at the time. Elements of prog/psych/art rock, avant garde and 1950s rock 'n' roll were combined with an array of cultural and philosophical ideas to create fresh sounding music, that was both visionary and captivating. Alongside George Martin and The Beatles' work on 'Sgt. Pepper's.' Eno is arguably the other most pre-eminent practitioner of 'studio as instrument' ever. His unconventional recording techniques have resulted in a canon of work that places him alongside other iconic producers like Brian Wilson, Lee Scratch Perry and Phil Spector. As these albums progress chronologically, a nascent form of music begins to emerge. The ideas we hear in this early work continue to reveal themselves in Eno's later ambient and electronic experiments.
06 / 15 / 17
LAAS 2017 Show: The Opening Ceremony And Post Show Thoughts
Press Release: LA Audio Show 2017 Hands Out Inaugural Awards
LAAS 2017 Show Report Part 1: Portable Audio with DAPs, headphones, IEMs, Magic Bus and more!
LAAS 2017 Show Report Part 2: Tweak Studios, Dan D'Agostino Master Audio Systems, Kronos, Focal, Synergistic Research, VAC, Von Schweikert and more!
LAAS 2017 Show Report Part 3: ELAC, Audio Alchemy, Dana Cable, On A Higher Note, Vivid, Merging Technologies, Luxman, Zu Audio, Wyred 4 Sound and Markaudio-SOTA.
Much, much more to come, so check back daily for more LAAS 2017 show coverage.
Audio Research Announces Their First Ever Trade Up Program

Audio Research announces a special program to US owners of older Audio Research amplifiers, preamplifiers, or phono preamplifiers to Trade Up! to current models. The 2017 Trade Up! Program is their first ever Trade Up! Program. The Program offers United States of America owners of qualified Audio Research models to trade in values up to 75% of the original MSRP off their Audio Research amplifier, preamplifier, or phono preamplifier when it is traded in toward the purchase of a new Audio Research amplifier, preamplifier, or phono preamplifier. "We are very excited to provide owners with older audio equipment the opportunity to upgrade to newer models with the latest product features and enhancements", said David Onan, CEO and President of Audio Research. "With over 115 qualifying models, audiophiles and music lovers alike can take advantage of this special offer. This program offers a win-win-win situation for consumers, dealers and Audio Research. Consumer can upgrade to the newest ARC products, dealers can provide additional support and knowledge to new customers and Audio Research can provide support to both with lasting residual value after the purchase. The fact we can offer up to 75% of the original MSRP value is a testament to our products and their ability to retain high value on the secondary market as well." A complete List of eligible units and program details can be found on their website or at participating authorized USA Audio Research dealers. The promotional offer is good June 15th through July 31st, 2017.
06 / 14 / 17
Study Finds No Correlation Between Headphone Freq. Resp. And Price

A recent research paper written by Jeroen Breebaart, published online by The Journal of the Acoustical Society of America, says that there's no correlation between headphone frequency response and retail price. "This study quantifies variability of measured headphone response patterns and aims to uncover any correlations between headphone type, retail price, and frequency response. For this purpose, the mean, variance, and covariance of the frequency magnitude responses were analyzed and correlated with headphone type and retail value. The results indicate that neither the measured response nor an attempt to objectively quantify perceived quality is related to price. On average, in-ear headphones have a slightly higher measured bass response than circumaural and supra-aural headphones. Furthermore, in-ear and circumaural headphones have a slightly lower deviation from an assumed target curve than supra-ear models. Ninety percent of the variance across all headphone measurements can be described by a set of six basis functions. The first basis function is similar to published target responses, while the second basis function represents a spectral tilt." You can read the complete report at this link.
Airpulse Model One Active Wireless Hi-Res Audio System By Phil Jones

Essence For High Res Audio & More has announced that legendary British speaker designer and renowned bass player Phil Jones, whose AE-1 for Acoustic Energy "redefined the art" for the compact studio monitor, has launched his new consumer audio brand called Airpulse. Phil has designed a complete, leading-edge two-channel Hi-Res Audio high-end system speaker system for $995. The Airpulse Model One eliminates the expensive chassis cost normally required to house the amplifier, preamplifier, and DAC. Instead, these components are mounted inside one of two speaker cabinets and includes a built-in 24-bit/192kHz DAC, Manual Volume / Input, Bass, and Treble Controls (rear mounted). Power amplification is 90 watts RMS per channel Class D (bi-amplified), plus DSP error correction and Bluetooth AptX 4.0 wireless input is supported. Digital inputs are via TosLink optical and S/PDIF coaxial. Analog inputs include both unbalanced RCA and balanced XLR. A proprietary 3" horn-loaded ribbon tweeter is joined by a 5.5" Phil Jones Signature aluminum cone midrange/woofer driver. Internal wiring in by Transparent cable. A dedicated stand is available ($199) and an optional MM phono stage is also on offer ($40). Airpulse Model One comes with a 60 day return privilege; listen to them at home, if you're not convinced after listening to them, you can return them for a full refund as long as they're undamaged and returned complete in the original factory packaging.
06 / 13 / 17
iFi Audio Pro Series iESL Electrostatic Stereo Headphone Energizer

iFi Audio's new Pro series iESL ($1,399) is specially made for energizing electrostatic headphones, plus has a transformer-coupled stage for flagship dynamic headphones too. The Pro iESL driven by either the iFi Pro iCAN or another powerful amplifier takes electrostatic headphones to an unprecedented level of performance. Its defining characteristic is a transparency and an ultra-wide dynamic range that is totally natural. The Pro iESL works with Stax, Sennheiser Orpheus and many more. iFi Audio's Pro iESL's three key elements combine the very best in classic approaches with the latest in cutting-edge technology. Parts include an atypical Pinstripe Permalloy Core Transformer (PPCT), bias voltage generator, and capacitive battery power supply. Wima capacitors, Vishay MELF resistors and gold-plated silver and sealed-silver alloy contact relays are also part of this new design. The Pinstripe Permalloy Core Transformer has wide bandwidth and low distortion, as needed in the iESL, is very challenging. To attain this, the custom transformers use complicated hand-wound, multi-section windings with both vertical and horizontal sectioning. They exceed the standards set by Siemans (Germany) and Peerless (USA). With a bandwidth of 5Hz to 60kHz (-3dB), transformers in the iESL far exceed the requirements of even the JAS High-Res Logo. The Capacitive Battery Power Supply is charged up to the required voltage and then the charger circuit is turned off completely, leaving the capacitor bank to 'float' at the required bias voltage. An essentially perfect bias voltage source with no electronic noise whatsoever at any frequency as the headphones are in essence, powered by the battery bank and not the main AC wall power.
Industry News 10 Years Ago
musicFIRST Seeks To Ensure Music Creators Get Paid Fairly

It came as a surprise to me that broadcast radio stations within the United States do not pay any royalties to the Recording Industry Association of America (RIAA), a trade group that represents approximately 90 percent of all legitimate sound recordings produced and sold in the United States plus is known to judiciously go after anyone not paying what they feel is fair compensation for copyrighted music. With all the legal wrangling towards satellite radio, cable services and Internet radio, perhaps one assumed musical artists also received payment from normal AM/FM radio stations within the United States. Broadcast radio is a multi-billion dollar industry that currently enjoys playing any music they desire free of the same guidelines of payment satellite radio, cable services and Internet radio adhere to. Well, now a coalition of musicians have formed musicFIRST (Fairness in Radio Starting Today) in hopes of receiving money for the music broadcast radio stations use as content. Recording Academy President Neil Portnow said, "As we celebrate 50 years of the Grammy Awards, it is important to note that artists have sought fair compensation from radio for each of those 50 years. Three years ago in Washington, The Academy called for action at its Grammys on the Hill event. Today, with the launch of the musicFIRST coalition, that effort moves into high gear. A performance right for artists is long overdue as hundreds of millions of dollars that rightly belong to copyright owners and creators continue to go unpaid. The time has come for Congress to correct this historic inequity and for U.S. radio stations to join the rest of the industrialized world and compensate artists for using their works on the air." Many major musicians have joined this coalition, including Don Henley, who says, "What we're talking about here goes beyond the big-name stars; we're talking about aspiring artists, back-up singers, band members - all the people that bring the music to life. Radio makes millions of dollars because of our creativity, talent and hard work. It's time that all of us are fairly compensated."
06 / 12 / 17
T.H.E. Show Anaheim 2017 In September Offers Special Sweepstakes

T.H.E. Show in Anaheim 2017 is a weekend of fun, education and entertainment for consumer electronics and music enthusiasts. Scheduled from September 21st to September 24th at the Hilton Anaheim, this Southern California consumer electronics show will provide attendees an opportunity to see and hear the latest in loudspeakers, audio components, home theater, video, HDTV, digital music, vinyl recordings, headphones, virtual reality, and more. Show attendees ranging from dedicated gear heads to first time buyers can preview and demonstrate millions of dollars worth of components from more than 400 brands from all over the world. They are commitment to bring a new level of attractions to T.H.E. Show that will promote the show as a destination while increasing attendance with new, vital and affluent buyers. T.H.E. Show Anaheim encourages you to enter and share their new sweepstakes as the grand prize is airfare, hotel, show attendance and dinner! The winner will be chosen and announced on Facebook on June 20th so don't delay, share today! Other promotional campaigns will appear in enthusiast publications, regional/local publications, radio, outdoor billboards and direct mail as well as social media channels and a national consumer sweepstakes that is already live. Additional promotional activity includes live performance by John Novello band featuring Tom Scott, artisanal spirits tasting, a high tech fashion show, sweepstakes, Disney discounts and more. Exhibitors may register their exhibit room through T.H.E. Show's Apple app. You can win a free trip to T.H.E. Show Anaheim at their website! Tickets are on sale now are start at $15 for a single day to $40 for a three day pass. You can visit T.H.E. Show Anaheim at this link.
Citi, Live Nation And NextVR Unveil Virtual Reality Music Concerts

Citi, Live Nation, and NextVR unveiled today that Imagine Dragons, Lady Antebellum, Third Eye Blind and Prince Royce will each broadcast one of their upcoming concerts, for the first time, in virtual reality. Through cutting-edge technology, fans will be transported into an unprecedented concert experience, providing up-close-and-personal access to some of the summer's hottest shows. In addition, fans will have rare access to behind-the-scenes footage, in virtual reality, via the "Backstage with Citi" series. From being a fly on the wall as the artists get amped-up for their performance to walking side by side with them as they take the stage, this will be a thrilling journey that fans couldn't otherwise access. Slash & Friends were among the first artists to be showcased in the "Backstage with Citi" virtual reality series. In addition to performing live, in VR, at the LA Zoo, fans were also invited to take a virtual journey with Slash as he explored the zoo, interacted with the reptiles and shared his love for animal conservation. The one-of-a-kind live concert series will kick off on June 15th when multi-platinum, Grammy Award-winning rock band Imagine Dragons perform an exclusive show at the Belasco Theatre in Los Angeles. The live NextVR content will be available on a Samsung Gear VR headset or Google Daydream, along with a compatible smartphone, by downloading the NextVR app from the Oculus store for GearVR or the Google Play store for Daydream. Portions of "Backstage with Citi" will also be made available on demand -- in virtual reality and 2D -- on Citi channels. The additional schedule of concerts to broadcast live in NextVR will be:
• June 15: Imagine Dragons, Belasco Theater, Los Angeles, CA
• June 21: Third Eye Blind, Blue Hills Bank Pavilion in Boston, MA
• June 24: Lady Antebellum, Jiffy Lube Live in Bristow, VA
• July 2: Prince Royce, Music Park in Dallas, TX
Additional artists to be announced in the coming weeks.
Gryphon Audio Designs Available In USA / Canada Via On A Higher Note

Gryphon Audio Designs, an internationally acclaimed Danish high end audio manufacturer, known for their award-winning sonic performance and luxurious finish, has selected On A Higher Note, LLC as its exclusive distributor for North America. A California based premier promoter of musical integrity and distributor of synergistic components handpicked to preserve and recreate the purest essence of the live music experience in the home environment, On A Higher Note with its deep dealer network of audio advisors serving the same aim is distinctly poised to reintroduce The Gryphon's extensive line of premium electronics and loudspeaker series to music lovers in the United States and Canada. "We are very excited to be able to bring The Gryphon back to North American homes. Having known and admired Flemming Rasmussen and his team for many years, we are delighted to be presented with this true gem of an opportunity to be able to share our passion for music through Gryphon's unapologetically uncompromising high-end audio systems," exclaimed Philip O'Hanlon, President of On A Higher Note. "Whether it is in the selection of music to demonstrate the musical essence, the dedication in the setup of individual audio systems to showcase its highest performance, or the depth of knowledge in extracting synergy from every product On A Higher Note distributes, Philip and his team has demonstrated their commitment to musical integrity, best matching Gryphon's design philosophy and manufacturing fortitude," commended Flemming E. Rasmussen, Founder and CEO of Gryphon Audio Designs. Enjoy the Music.com has reviewed the Gryphon Audio Designs Kalliope DAC and the Gryphon Diablo 300 integrated stereo amplifier with 32-bit/384kHz & DSD DAC option.
06 / 01 / 17
Enjoy the Music.com's June Review Magazine Is Now Available Online
Enjoy the Music.com's June Review Magazine features our HIGH END 2017 show report from Munich plus the upcoming LAAS event this weekend! Roger Skoff, a wise man of excellent timing, writes about the California audio scene. We have a world premiere review of the incredible Sound Lab Majestic 545 full-range electrostatic speaker where Tom Lyle says, "They are the smallest electrostatic speaker Sound Labs makes, they can be driven with as little as 50 Wpc, and one is likely to have a huge return on their investment with these speakers. This is because they perform as good as any speaker I've ever heard, although on a slightly smaller scale. The quest for realistic sound from a pair of speakers is likely to end here, as I have not yet heard a speaker in my listening room that performs as well as the Sound Lab Majestic 545."
Within Dave Hansen's review of the 1MORE Quad Driver universal fit in-ear monitor he says, "The Quad is able to scale up pretty nicely with a better source. Paired with the Chord Mojo it was flat-out impressive and hard to actually stop listening to. The powerful dynamics, best-in-class sub-bass, velvety mids and grand staging always kept me flipping for one more song... how fitting. Overall, I'd happily recommend this IEM to pretty much anyone searching for an earphone around at the $199 price point."
We look forward to seeing many of you at LAAS this coming weekend! Their first event already looks to be very successful judging from the many press releases and industry buzz. See Enjoy the Music.com's June Review Magazine at this link.
As always, in the end what really matters is that you... enjoy the music!

The California Show Scene
Roger Skoff writes about why he's going to triple down.
Article By Roger Skoff

LAAS 2017 Show Report From Los Angeles
Our Los Angeles Audio Show 2017 Report Begins Soon!

HIGH END 2017 Munich Audiophile Show Report
Our HIGH END 2017 show report from Munich!

World Premiere!
Sound Lab Majestic 545 Full-Range Electrostatic Loudspeakers
The quest for realistic sound from a pair of speakers is likely to end here.
Review By Tom Lyle

Flashback Review
Conrad-johnson Premier 17LS Preamplifier
The legend continues...
Review By Steven R. Rochlin

1MORE Quad Driver Universal Fit In-Ear Monitor
A princely sounding IEM, priced for the proletariat.
Review By Dave Hanson

Flashback Review
Bowers & Wilkins' Big And Beautiful Nautilus 800 Loudspeaker
An unusually refined and articulate high end, wide bandwidth loudspeaker.
Review By Alvin Gold
More Articles Available Online!
See all our show reports, articles, and gear reviews within the June 2017 edition of Enjoy the Music.com's Review Magazine now available online.
---
For previous high-end audio industry news click here.