HiFi Media April / May / June 2021
Welcome to HiFi Media on Enjoy the Music.com! HiFi Media is a multi-media magazine that covers almost all aspects of modern audio/video media with particular accent on the music and film. We inform, test and review new products of the widest range: from audio/video/photo devices and gadgets to the newest music albums. We also cover all relevant related global events. The quality of our magazine earned us readers' respect in many countries, including the strong support of local distributors. HiFi Media began print publication in 1996 and have online readers in Croatia, Slovenia, Serbia, BiH and Macedonia. The annual "Zagreb Audio Video Show", the largest show of the kind in this area and celebrating its 24th anniversary in 2019, is closely connected to the publisher of the HiFi Media, and as the main sponsor. HiFi Media stresses that both the magazine and AV Show are the most influential institution in the home-entertainment segment at our location within Europe.
Articles & Reviews In This Issue
3 Editorial: The Show Must Go On
This issue is dedicated to our colege Gordan Gaži, who passed away in February.
Editorial By Andrija Curkovic
6 AV News
78 Tehno News


Hi-Fi Interviews
12 In Memoriam: Tim de Paravicini - "We are Aston Martin of Hi-Fi world"
(reprint from issue 65/2006)
16 Alfred Vassilkov (Estelon) – "Sound from the north"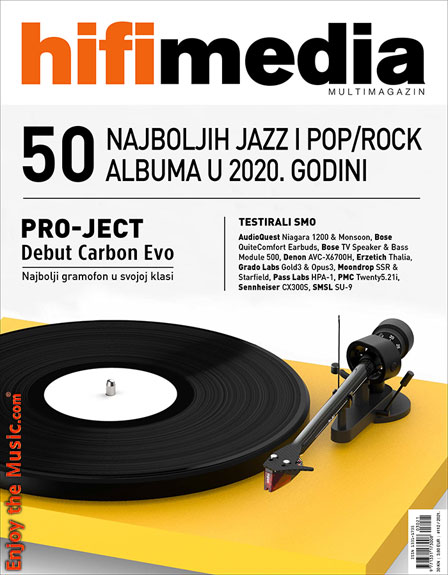 Equipment Review
20 Grado Gold3 & Opus3 – Cartridge
28 Pro-Ject Debut Carbon EVO - Turntable
30 Pass Labs HPA-1 – Headphone Amplifier
34 SMSL SU-9 – Hi-Res MQA Bluetooth DAC
38 PMC twenty5.21i – Loudspeaker
40 Erzetich Thalia - Portable On-Ear Headphones
42 AudioQuest Niagara 1200 – Power Conditioner
42 AudioQuest Monsoon – Power Cable
44 Bose TV speaker - Soundbar
44 Bose Bass Module 500 – Active Subwoofer
48 Denon AVC-6700H – 8K AV Receiver
52 Bose QuietComfort Earbuds – Noise Cancelling Earbuds
54 Moondrop Starfield – In-Ear Headphones
56 Moondrop SSR – In-Ear Headphones
56 Sennheiser CX 300S – In-Ear Headphones
MusicStyle
58 Sharon Jones: "Funk explosion, funk fireworks"
62 Open Mike Eagle - "An intimate inventory of life's defeats"
64 Laura Marling - "English songwriting hope"
66 J.R. August - "Hymns to nature"
68 Forty best pop / rock albums in 2020.
74 Rock / pop - album reviews
82 Jazz Interview: Lee Konitz - "Music should come from the realm of the unconscious"
86 Ten jazz albums in 2020.
88 Jazz - album reviews
Film
92 The Mandalorian - "The art of storytelling"
96 Streaming Wars: film distribution between cinemas and small screens
100 DVD/BD - movie review
Subscribe!
Click here to subscribe to HiFi Media
Previous Issues
2021
April / June
2020
January / March September / November
2019
April / June July / September
2018
January / March April / June July / September October / December
2017
January / March July / September October / December
2016
January / March April / June July / September October / December
2015
September / November
2014
January / March June / August September / November
2013
July / August November / December