Home | Audio Reviews | Audio Shows | Partner Mags | News



April / May / June 2021
The Show Must Go On
This issue is dedicated to our colege Gordan Gaži, who passed away in February.
Editorial By Andrija Curkovic
In the month when we mark the anniversary of the beginning of the global pandemic of COVID-19, there are still no final solutions to this problem. All live public events are still being canceled, including consumer electronics shows which, in the current circumstances, as it is now best seen, are evidently of great importance to this industry, as virtual presentations have proved insufficiently effective.
The pandemic continues to plague Europe and the world, and only further confirms how much we as humanity have not met these challenges. Some of the strongest EU markets are currently in full or partial lockdown (Germany, England, France...), population vaccination rate is very low (below 8% at EU level as I write this), problems with insufficient available quantities of the same vaccine, possible side effects after vaccinated, uncertainty about the possibility and mode of travel between EU countries, travel with or without a "COVID-19 passport", hotel accommodation, etc., etc.... All of the above includes too many unknowns that must be resolved, if one could expect, with a high degree of reliability, a September live event of the announced Consumer Electronics Show in Berlin (IFA) and a High-End Audio Show in Munich.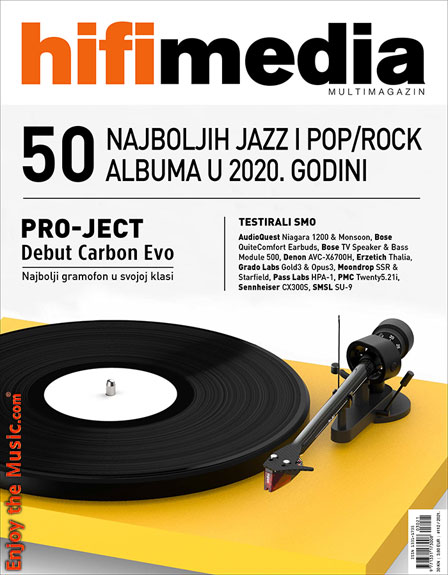 I am an optimist by nature, but in this case I would not put a large amount of money with the bookmaker.
With or without the show, interesting consumer electronics products will always be on offer and we will inform you about them on the pages of our magazine, as you can see in this new issue. From the phenomenal turntable (Pro-Ject Debut Carbon Evo), headphones (Bose, Erzetich and Moondrop), turntable cartridges (Grado Opus3), Hi-Res Bluetooth / USB digital-to-analog converter (SMSL) to AudioQuest power filter (Niagara 1200).
In the music section of the magazine, we bring you the ten best jazz and pop / rock albums released in 2020 by our music critics, a review of the past work of musicians: J.R. August, Open Mike Eagle, Sharon Jones, Lee Konitz and Laura Marling. Although he passed away in April 2020, jazz alt saxophonist and composer Lee Konitz was named best alt saxophonist by readers of the prestigious DownBeat magazine later that year. Wanting to pay tribute to him and remind readers of his musical work, we posthumously publish the interview conducted with him by our jazz editor Davor Hrvoj in 2013 in Zagreb.
On the film pages of the magazine, we looked at the global success of the brilliant SF TV series "The Mandalorian" and the current problems of film distribution between cinemas and small screens.
Unfortunately, this year we will also remember the sudden departure of our colleague and associate from the first day of the magazine, Gordan Gaži, who passed away on February 24th.
We dedicate this issue of the magazine to him.
-- Andrija Curkovic
Editor-in-Chief
Subscribe!
Click here to subscribe to HiFi Media.