audioXpress Magazine November 2021
audioXpress remains the authority on audio and reproduced sound by connecting manufacturers and distributors with developers, buyers and consultants around the globe! It's readers are the audio product designers, consultants, integrators, DIY enthusiasts, opinion leaders and your best customers. All of them agree that the coverage of trending topics, unique in the audio industry, make audioXpress a must read.
Every month, audioXpress combines the best educational articles on topic such audio electronics, speaker and headphone design, amplifiers (from tube to Class D), acoustics, practical test and measurement, audio engineering praxis, and standards. audioXpress provides inside stories on new audio developments, on R&D Stories, the most complete objective reviews of innovative products and software, and selects some of the best DIY audio projects from worldwide experts.
From The Editor's Desk
4 What's Old Is New Again
Plus a bit of cross-reference developments within multiple industries.
Editorial By J. Martins
5 Client Index
Features
8 SPL Phonitor One D Headphone Amplifier System
Entering the Matrix
By Stuart Yaniger
Longtime contributor Stuart Yaniger tests and reviews
the Phonitor One d headphone amplifier system,
the first in a new product line for music enthusiasts
developed by SPL of Germany.
34 A DSP Audio Processor At The Heart
By Al Clark
In this article, Al Clark, the co-founder and CEO of
Danville Signal Processing, shares the journey that
led his company to develop and successfully bring to
market a dedicated DSP audio processor for speaker
manufacturers and serious loudspeaker DIYers.
44 Ultra-Linear: Why It Works And When It Will Not (Part 2)
Some Interesting Conclusions
By Morgan Jones
In Part 1, Morgan Jones reviewed the basic tenets of
ultra-linear operation and looked into the detailed
process with several tube types. In Part 2, he
addresses several questions raised and comes to
some interesting conclusions.
50 Cascodes, Folded Cascodes, And Current Mirrors (Part 2)
Current Mirrors and Line Stages
By Morty Tarr
In Part 1 of this three-part article, Morty Tarr
discussed cascodes and folded cascodes. Cascodes are
useful to improve high frequency response and device
linearity. Folded cascodes add the ability to move the
signal level back toward ground. In Part 2, he focuses
on current mirrors and line stages.
58 The History of the American Magnetic Head Industry
By Scott Dorsey
An article several years in the making, it could as
easily have resulted in an interesting reference
book, given the extensive scope of the topic. Scott
Dorsey shares the essentials of his research during
this journey down memory lane into tape recording,
centered on the American magnetic head industry.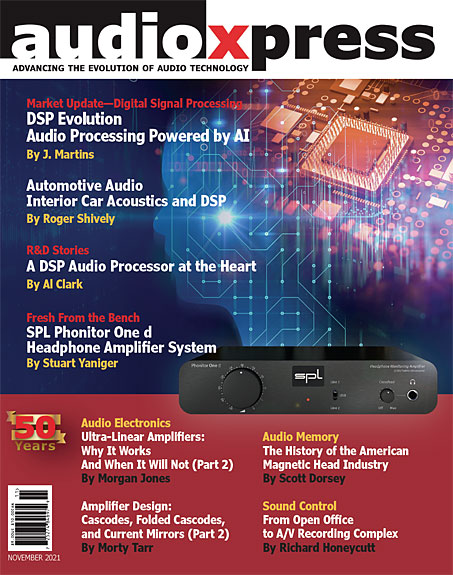 Market Update — Digital Signal Processing
18 DSP Evolution: Audio Processing Powered by AI
By J. Martins
In this Market Update, we follow industry trends as
digital signal processing applications evolve from connected
systems to on-device, on the edge, with AI/ML integrations,
and as hardware-agnostic software solutions.
28 Automotive Audio
Interior Car Acoustics and DSP
By Roger Shively
In the unique acoustic space of the car interior, there
has always been a need to control the sound field either to
simply balance the tonal quality of the audio playback or to
reproduce the auditory illusion of a larger event space where
the apparent width or placement of a source can be enhanced,
and the listener can feel they are naturally enveloped in the
soundscape of the original recording or broadcast. This
update describes how the existing platforms for DSP are
evolving in automotive as in other industries, enabling
users to be part of how they interact and enjoy the driving
and audio experience.
Sound Control
38 From Open Office to A/V Recording Complex
By Richard Honeycutt
Although classic TV studios have changed dramatically
as they morphed into modern AV studios, the acoustical
design challenges remain largely the same. Our columnist
shares his experience with the design of an AV recording complex
built into a former office building.

Subscribe To audioXpress Magazine
Click here to subscribe to audioXpress magazine.
Previous Issues
2021
January February March April May June July
August September October November
2020
July August September October November December