What's Old Is New Again
Plus a bit of cross-reference developments within multiple industries.
Editorial By J. Martins
In this edition of audioXpress, Scott Dorsey offers an interesting historical journey into one of the most critical pieces of technology in the heyday of the audio industry: magnetic recording and playback heads. The people and the numerous companies involved played a vital role in shaping the music industry and popular music as we know it. From recording sessions at Sun Studios to 8-track Ampex recorders introduced in 1955 and explored by Les Paul, magnetic heads raised studio music production to unimaginable artistic heights. Computers and digital recording followed and enabled even more creative possibilities. All along, this interesting story serves to remind us how vital components and technologies pioneered in the audio industry dwarf in comparison to the massive business subsequently generated in other industries, and the formidable dynamics that creates.
In this same edition we jump to the cutting-edge of today's technology — the use of artificial intelligence in digital audio processing. As audioXpress focuses once again on the topic of digital signal processing, our Market Update feature discusses one such pivotal moment, with audio technologies now front and center in the priorities for consumer electronics and the powerful mobile communications industries. All the while raising unprecedented attention for automotive, security and even medical applications.
In this article, I tried to look ahead at the implications of machine learning, artificial intelligence, voice recognition, and the related consequences of transferring computing power and DSP directly to edge devices. This has massive implications in the audio industry, and particularly for the many companies that have pioneered those efforts and are showing practical results. From Texas Instruments to Analog Devices, DSP Concepts, Syntiant, and Synaptics, the history of DSP continues to be written in the US, where most of the algorithm and software companies are also strategically located.
From California to Massachusetts, an interesting history is being written of the efforts to raise DSP to a whole new level, on-device, at the edge, using AI/ML. The same way as digital recording and computer systems transformed the audio industry in the last 40 years, these (apparently farfetched) technology efforts are having a tremendous impact over audio applications—and they are just starting.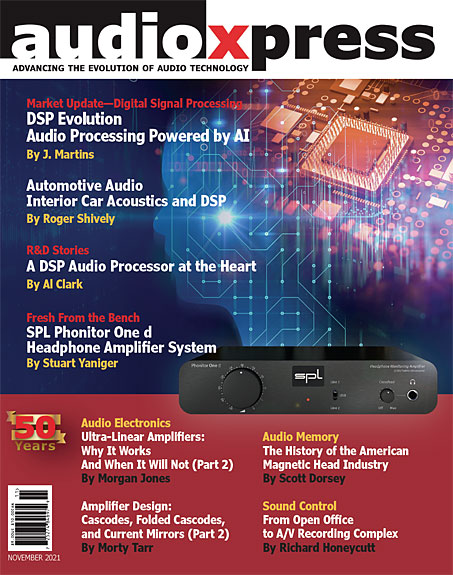 As detailed in this edition, evolution is happening faster thanks to mobile audio, voice recognition technologies, wearables/hearables, and the transition to spatial audio formats. Happening so fast that the companies we are just starting to recognize for their contributions are quickly absorbed in the frenzy of acquisitions that is already taking place. For developers, this poses a challenge since you might just be starting to explore a new hardware option, and learn how to code for an exciting platform, just to find out that your idea is readily available in existing DSP libraries and software modules for common consumer products.
That is why it is so important to cross-reference developments in multiple industries, and this edition includes two additional perspectives on audio processing. Roger Shively describes how dramatically things are changing when it comes to designing interior car acoustics and automotive audio applications, adding DSP to the equation. And Al Clark of Danville Signal Processing shares his journey, working with Analog Devices and DSP Concepts key DSP offerings to build a solid business in pro audio, which he recently expanded in a new versatile DSP solution for home audio and high-end enthusiasts.
Available technology applications demonstrating the power of audio processing by AI and ML are for now restricted to cloud-based implementations, mainly to improve and train the models. Speech-To-Text for automatically generated subtitles and transcription in multiple languages is now using machine learning to improve accuracy, combined with image recognition and high-level context analysis. And AI is being applied to improve spatial simulation of sound sources, including for binaural processing. New SoCs with powerful neural engines launched this year are able to handle noise reduction, source separation, echo and reverberation removal, or applying regenerative algorithms to place sounds in different acoustic environments—all with audio processing directly on device.
I could also mention more interesting DSP stories from the professional audio market, where digital audio mixers and networked DSP processors are now able to offer dozens of channels of the best analog circuit emulation. Yes, even using AI-based tools for tape saturation to overcome limitations of standard DSP estimation of analog component interactions. You still need to master analog audio electronics, because now we can explore anything imaginable in that domain.
J. Martins
Editor-in-Chief

Subscribe To audioXpress Magazine
Click here to subscribe to audioXpress magazine.