Kharma Elegance dB7-S Floorstanding Speakers
Gorgeous looks... and they look as good as they sound.
Review By Tom Lyle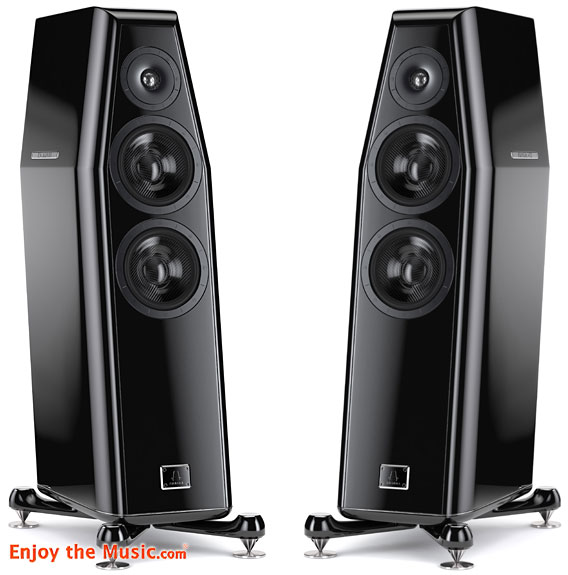 Let's be clear. Kharma Elegance dB7-S are not the largest or the most expensive high-end loudspeakers one can buy. They aren't even the largest or most expensive speakers in the line that they are a part of. But they are gorgeous high-end speakers that sound as good as they look, and obviously designed, built, and are intended to be included in the best high-end audio systems that are owned by those that consider themselves to be discriminating audiophiles. One can place them into an existing system, or one can build a fine system around these speakers. Although, in both cases one must keep in mind that if one were to anthropomorphize these speakers it could be said of them that they do not suffer fools. In other words, these speakers will reveal both the sonic assets and flaws of upstream equipment more than most any other speaker I can think of right now.
Kharma Elegance dB7-S Floorstanders
The Elegance dB7-S comes to us from the Dutch company Kharma International that manufactures a wide range of high-end audio products, speakers, electronics, cables, and something they call "projects", which consist of everything from complete A/V systems to furniture. The Elegance dB7-S is a three-driver, floor-standing speaker that rises about 40" off the ground, that's about three and one-third feet, and weighs just short of a very substantial 100 pounds. The pair of seven-inch woofer/mid Omega-7 drivers of the dB7-S are designed in-house.
A 1" Beryllium tweeter sits atop of the two larger drivers, as their advertising hyperbole hits a stride as they describe the speaker's behavior as "ultra-high resolution in the midrange depicting the many layers and sound colors like in excellent wines, where the complexity of the whole history of making the wine can be tasted in a moment". These drivers certainly look impressive, and that's why I left off the speakers' magnetically-attached grilles for the entire length of the review period.
Signature
The "S" in the Kharma Elegance dB7-S denotes that it is a "Signature" model. Kharma's Signature models differ from their standard models in a few areas. First, rather than using composite drivers, the mid/woofers of the dB7-S uses Omega-7 drivers, which have a construction based on Kharma's "Ultra High Modulus" carbon fibers, which they claim is "the best fiber available on the globe today". The advantage of this material is that it is very stiff due to the use of a "unique" resin and a proprietary production process that Kharma uses, which "displaces break-up frequencies of the cone".
Their Signature models also feature enhanced damping properties to better absorb energy trapped inside the speaker's cabinets, and they also upgrade the internal wiring using a thicker grade than in the non-Signature models. In addition, the Signature model uses a vibration-reducing compound on the crossover and on the back plate of the speaker, which Khama says brings mechanical vibration to an absolute minimum.
Great
After listening to these great looking speakers for a while I expected that the construction of the cabinets had much to do with their sound, or lack of superfluous sound. In fact, Kharma says that the contour of the cabinet has lots to do with the sound of the speaker, that "the shape is fully functional to the way that sound develops from the loudspeakers". Kharma improved upon this design from the previous iteration of this speaker, as they redesigned the stand and the bottom of the speaker's cabinet, and they redesigned the front cover as well as made small changes to other design details.
Interior
In their literature Kharma doesn't say much about the interior design of the cabinets of the Elegance dB7-S. When I knocked my knuckles against the side of the speaker it produced only a "click". Banging a little harder with my fist generated a "thud". These tests, along with my listening sessions led me to believe that the inside of these speakers is as close to completely inert as can be. I can think of some other speakers being sold these days that are designed in this way, but many priced much more than the dB7-S. This cabinet inflexibility allows the drivers of the dB7-S to be the only thing that moves. And so, what I was hearing from these speakers was the result of the design choices of the Kharma engineers, and it obviously led the writers of their promotional material to scribe the poetic description of the speakers' sound above.
System
The Kharma Elegance dB7-S speakers were set up in my second system, located in a common space of our home. The associated equipment during the speakers' audition period was generally impressive, and even though I was limited to the gear I had in-house, I tried my best to select equipment that would bring out their best qualities. Luckily, the majority of these components were likely as good, or better than a typical system in which these speakers would be used. I used both tube and solid-state amplifiers to power the speakers. A near perfect match for these speakers was a solid-state amp I was currently reviewing, a 150 Watt per channel Audio Analogue Maestro Anniversary stereo integrated amplifier made in Italy (REVIEWE D THIS MONTH HERE).
I was also lucky enough to also have an older favorite on hand, a pair of PrimaLuna DiaLogue 6 monoblocks, powered by tubes and putting out 70 Watts each. Actually, the resulting sound surprised me a bit, I thought because they were lower powered there would be some loss of detail. There wasn't. They sounded slightly better than the Audio Analogue amp, and therefore spent most of the time powering the speakers.
The preamplifier for this system was the Mark Levinson No 523, not only because it sounded great, but because of its excellent internal phono preamplifier. Initially I used the M2Tech Nash phono preamp with its matching Van Der Graaf power supply. But it had to be sent back to the manufacturer half-way through the Kharma's review, and so in the interim I used the Mark Levinson's phono stage, which performed admirably.
At first analog was provided by a Pro-Ject Debut Carbon Esprit SB (DC), the turntable's Ortofon 2M Red moving magnet (MM) phono cartridge connected at first to the M2Tech Nash phono stage with Van Der Graaf power supply, and then to the internal phono stage of the Mark Levinson preamplifier. During the second half of the review the Pro-Ject Esprit SB was replaced by the much more refined performance of the Pro-Ject X2 turntable with carbon/aluminum sandwich tonearm, 2" acrylic platter and much thicker plinth. To match the more refined performance of this turntable, the phono cartridge was upgraded to a Sumiko Moonbeam Moving Magnet (MM) cartridge.
And just to make sure I was getting the best out of this front-end, the phono preamp was also upgraded at this time, so this turntable's cable was connected to my reference Pass Laboratories XP-17 phono preamplifier, and that signal was sent to Mark Levinson preamp. And not only because by this time in the review period the Kharma Elegance dB7-S had proved that they deserved the best front-end equipment I could gather together (and because I'm rarely satisfied), I then switched out the Sumiko phono cartridge and carefully aligned a Lyra Kleos low-output moving coil (MC) cartridge on the Pro-Ject XS's tonearm, adjusting the Pass Labs phono preamps loading settings accordingly.
Explaining which equipment, I used as the front-end for digital might not be as involved, it was certainly more than sufficient to provide an excellent musical signal to audition the dB7-Ss. Central to this was the Benchmark Media DAC3HGC digital-to-analog converter, which uses an ESS Technologies ES9028PRO converter chip for not only an extremely low noise level, but a very musical and powerful sound. When spinning 5" silver discs such as CDs and audio DVDs, I used an OPPO BDP-83 Blu-Ray/universal disc player, which I connected to the Benchmark DAC3HGC via a 75-Ohm coaxial cable.
When playing SACDs I connected the OPPO's analog outputs directly to a pair of inputs on the Mark Levinson preamplifier. More often than not when listening to a digital signal I streamed music from my NAS hard-drives located 2 floors above this system using a Logitech Squeezebox Touch with is digital output connected to another of the Benchmark's digital coax inputs.
Hear
I realize that the above laundry-list of associated equipment might not mean much to some. To others this information will be very pertinent. The Kharma Elegance dB7-S speakers deserve the best associated equipment because they can "hear" everything upstream. Never has the adage "everything matters" been so true. Not surprisingly, Kharma sent their own speaker cables to be used with the dB7-S speakers.
Kharma uses a combination of silver and Nano-Carbon conductors (SNC) to form a hybrid conductor construction for all three of their cable collections. By using these combinations along with the cable's construction and even the effect of air insulation, they design their cables specifically with their own equipment in mind. The sonic difference between the three collections is in the amount of precious metal that is they use in its construction, the purity of those materials, the amount of shielding, and the proprietary tempering and treatments that they apply to the conductors. Kharma says that they guarantee that these differences will "be very audible in the appropriate system". I believe them.
My listening tests revealed that these are the not only very sensitive to the associated equipment, but to the recordings that I played through them. I've often said that good equipment helps me hear what the intentions of the musicians, engineers and producers on each recording. But, can one really tell what the intentions are of these artists? From personal experience I can tell you that during the creation of recordings the objective is usually to get one's music onto the tape, hard-drive, whatever the medium is, and not to make any mistakes while doing so. The sonic results are often hit or miss – a good performance or recording is often the result of dumb luck. I'm not trying to say that there are not some very talented individuals who have made recordings that are there for us to enjoy. There are.
But I'd rather not guess how many of the recordings in my large collection are made by those with the talent and experience where they expect their recording to sound a certain way before they start. There are only so many Tony Viscontis, George Martins, Richard Mohr and Lewis Laytons, Teo Maceros, and Rudy Van Gelders to go around. The rest are simply musicians and their associates doing their best to get a record released.
And so, the Kharma Elegance dB7-S let me hear the genius of the above producers and engineers, and the other half, too, that made these recordings with the best intentions, hoping that luck went their way. I also didn't audition the Kharmas with only SACDs and audiophile approved records, because the majority of my collection and the music I listen to isn't audiophile approved. Take, for example, Ian Hunter 30th anniversary edition recording of his solo LP that he released in 1975, I'm sure you'd recognize the cover of this LP or CD. I played the plain vanilla CD through the Elegance dB7-Sd more than a few times during their stay in my system.
This is a great recording. Ian Hunter didn't hire a "big time" producer to lead this recording, it is self-produced along with his friend, guitarist Mick Ronson. It was Ian and Mick who also play the majority of the instruments, with of course Ian Hunter handling all the lead vocals. Whether or not it was "dumb luck" or not, this is a massive sounding recording, at least when played through the Elegance dB7-S. The dB7-S demonstrated that there was no need for a sub, as the bass was usable down to 30 Hz, and maybe even a bit lower, since the fundamentals of this bass shook my innards during the many rock climaxes.
I would never consider Ian Hunter a great singer, although his distinctive voice has graced not only the many Mott The Hoople records in my collection, but also his solo work during and after his band's career. During the track "Boy" on this self-titled album, it took no effort at all to imagine him in the vocal booth of the recording studio, the dB7-S rendering a crystal clear, very lifelike rendition of his "reach out and touch" vocals. All the instruments on this multi-track recording occupied very distinct areas of a huge soundstage, even the overdubbed strings were separated from the rest of instruments and vocals, which formed a silky-smooth backdrop for the rest of the recording. Ian Hunter's 12-string guitar sounded larger than life, but still, it was as if I could "see" behind it, as it formed a 3-D hologram of sound.
"Boy" starts off softly, with phase-shifted electric guitar beneath his vocals and backing instruments. It quickly turns to a typical Ian Hunter ballad, with the backing strings entering at the end of each line. Dennis Elliot, the drummer for Foreigner, of all bands, forms a rock-solid beat behind it all for a track that I never thought I'd be talking about in audiophile terms.
I would play all my favorite records and digital files through the Kharma Elegance dB7-S, and although I can't say it was "like I never heard them before", it certainly brought to light not only many "hidden" sounds, but hidden meanings behind the works I listened to. I played Jackie McLean's One Step Beyond album on Blue Note Records, both from my two-LP 45 rpm Music Matters pressing and from the 24-bit 192k digital file. The album was recorded in 1963 by Rudy Van Gelder in his New Jersey studio, and even though I might be exaggerating and using oft used phrases a bit here for effect, but when listening to the album I felt as if I was there in the studio's control room with them, listening to a live-mic feed. I could picture in my mind's ear the band in the same room, perhaps separated by some sort of baffles, but each of the musicians being about to see each other as they played.
As is the norm on these Blue Notes recorded by Van Gelder, the recordings are more like pure two-channel than stereo, as instruments are panned hard to one speaker or the other. But this didn't negate the fact that I could easily hear the studio's ambience, that is, the sound of the room, or the air that surrounded each instrument. I didn't hear this happening with Bobby Hutchinson's vibes, but I definitely heard it happen with Jackie McLean's tenor sax, where I could even sense whether or not he was sometimes slightly further away from his microphone than others. It was the same with Grachan Moncur III's trombone, who I could picture standing in front of his microphone, bobbing his head up and down to the music. Again, I might be exaggerating a bit, but I think I could also smell cigarette smoke.
But to me, the star of the show on this album is drummer Tony Williams, who one this session might have been all of 19 years old. As I played either the LP, or the digital file, I could still notice how the Kharma Elegance dB7-S could "hear" how the drums were set up, and via the speakers' drawn-to-scale soundstage let me imagine him interpreting what he heard, and turn it into one of the most engaging jazz recordings in my collection. The Elegance dB7-S was able to take from the front-end and the associated equipment's retrieval of macro- and microdynamic cues, extremely lifelike frequency extremes, and unwavering midrange transparency and translate all of this into a lifelike sonic diorama of a drum-kit being played by an extremely talented musician. My oft times used adage of a great high-end audio system becoming a time machine never rang as true.
Regardless
The takeaway with these speakers, regardless of the hyperbolic advertising and my hyperbolic description of their audible properties, is that they look as good as they sound, and they sound unshakable. Literally. They are weighty both physically and sonically and reproduce music that sounds like music.
Kharma's Elegance dB7-S speakers can handle any genre I played through them and were very good performers whether powered by solid-state or vacuum tubes. They are also more sensitive than expected. I don't mean that in the way they measure – they are of average sensitivity at 88dB/W/m. Which means that most would say they'd be happy with an amplifier that puts out anywhere between 150 and 300 Watts per channel, although they performed wonderfully with my vacuum tube amps that are rated at 70 Watts per channel. But by sensitive I mean that they are very susceptible to the equipment they are paired with, and in a good way too!
Kharma's Elegance dB7-S speakers will feel at home with the equipment that a well-healed audiophile as they assemble the most perfect system as they can, while they continue their search for that musical holy grail.
| | |
| --- | --- |
| Tonality | |
| Sub-bass (10Hz - 60Hz) | |
| Mid-bass (80Hz - 200Hz) | |
| Midrange (200Hz - 3,000Hz) | |
| High Frequencies (3,000Hz On Up) | |
| Attack | |
| Decay | |
| Inner Resolution | |
| Soundscape Width Front | |
| Soundscape Width Rear | |
| Soundscape Depth Behind Speakers | |
| Soundscape Extension Into Room | |
| Imaging | |
| Fit And Finish | |
| Self Noise | |
| Value For The Money | |
Specifications
Type: Two way, three driver floorstanding loudspeaker
Frequency Response: 29Hz to 30kHz
Drivers: 1" True Beryllium tweeter and two 7" Kharma Composite Driver (KCD)
Nominal Impedance: 4 Ohm
Sensitivity: 88dB/W/m
Maximum SPL: 110dB
Power Handling: 150 Watt continuous (300 Watt peak)
Dimensions With Stands: 14.09" x 39.80" x 23.07" (WxHxD)
Excluding Stand:10.43" x 37.44" (WxH)
Price: $31,250
Company Information
Kharma International
Kalshoven 7
4825 AL Breda
The Netherlands
Voice: (+31) 76 57 150 10
Fax: (+31) 76 57 147 73
E-mail: info@kharma.com
Website: www.Kharma.com