July 2022
Pass Labs X260.8 Monoblock Amplifier Review
Prestigious power, glorious grace, and terrific transparency.
Review By Dwayne Carter
Pass Laboratories, Inc., is a name that most audiophiles utter, after describing a product that comes close to perfection. "XXX amplifier almost sounds as good as the Pass Labs XXX model". We've all done it. Fortunately, "as good as" will have to wait. Thanks to the good people at Pass Laboratories; I get the real thing. As the world was on pause, my listening room entertained a pair of Pass Labs X260.8 monoblock amplifiers.
In full disclosure, I would like to admit that I have been a fan of Pass Labs products for many years. I've never owned or reviewed any of their products, so I was looking forward to this delivery. Fed Ex dropped them off at the front door, but would not bring them inside (Covid protocols). I was able to wrestle both boxes into the hallway, but that's as far as they would go that day. The Pass Labs X260.8 monoblock amplifiers require two people to move. I know most amplifier manufacturers recommend this, but this is the first time I heeded their recommendation. Luckily, my good friend Michael was able to help me wrestle these beasts into place.
The Pass Labs X260.8 monoblock amplifiers were well-boxed and wrapped. It took over 45 minutes to get them from their boxes, to their individual VTI Amplifier stands. These amplifiers are heavy. The specifications say they are 88lbs each (105 lbs boxed), but that can't be right. I could lift the last pair of monoblock amplifiers I had for review (the Bryston 7B³ amplifiers) with only a little back strain. They are 55lbs each. I need to get back to the gym.
The unboxing and straining were well worth the effort. The Pass Labs X260.8 monoblock amplifiers are a sight to behold. The front plate is a massive piece, with a clean, brushed aluminum finish. A large, round power meter display (showing the bias current through the output stage), is mounted in the center. I was never able to move this needle past the 12'oclock position. In short; it never left Class A bias. A small power (on/standby) button is located directly below the meter. Very clean. Upon power-up, the meter displays a cool blue light. The sides are all heat-sink fins. Heavy and black. The rear panel is laid out with large-diameter cables in mind. Each terminal is strong and separated, allowing for any snake-sized cabling you want to connect to it. Two large (functional) handles on each end will be used to wrestle these beasts into place.
Having spent over an hour unboxing and connecting the Pass Labs X260.8 monoblock amplifiers; it was time to turn them on. The minimalist design continued in the rear. At the top; is a single-ended RCA input, and a Balanced (XLR) input port. If you use the RCA inputs, you will need to short the (-) input (pin 3) of the XLR connector to the ground (pin 1). It's a gold jumper (naturally) and the directions are in the manual. To the sides; are large, lockable speaker posts. At the bottom; is a heavy-duty power terminal. A remote turn-on (12V external, IN/OUT connector), a signal ground post, and a large power button complete the rear panel.
While the Pass Labs X260.8 monoblock amplifiers come with thick power cables, I replaced them with Audioquest NRG-X3 US 3-prong (grounded) Power Cables and plugged both amplifiers into an Audioquest Niagara 1000 Power line conditioner and surge protector. I then connected Audioquest Mackenzie XLR balanced cables from the amplifiers to my preamplifiers Balanced Output 1 (an Audio Research LS27). Audioquest Rocket 44 speaker cables were connected from the monoblock amplifiers to my Martin Logan Summit Loudspeakers. My personal choice is to leave amplifiers on all the time. The Pass Labs X260.8 monoblock amplifiers front meter glowed as I checked my connections on the back, one more time. The Pass Labs X260.8 monoblock amplifiers were powered on and ready to go. They remained in this state, throughout the entire review period.
The Burn-In
For burn-in, the initial source connections were from my OPPO UDP-205 UHD Blu-ray player, into the Pass Labs X260.8 monoblock amplifier XLR Input 1 (via preamplifier). These connections were made with Audioquest Mackenzie XLR balanced cables. As is my usual process; I dropped in the Stereophile Test CD 3 (ASIN b00008fukl), hit random/repeat, and cracked the volume to 50%. Too loud. 15% would be the magic volume for this burn-in.
With the Pass Labs X260.8 monoblock amplifier capable of displacing 260W (into 8 Ohms and 520 Watts into 4 Ohms), driving most speakers will not be an issue. While connected to my 4 Ohm Martin Logan Summit Loudspeakers; 520W would be at my command. The Pass Labs X260.8 monoblock amplifiers have a unique A/B classification. The first 34 Watts are Class A output, providing clarity and depth for most listening levels. As the amplifiers were brand new; I closed the doors to the Audio Room and let the system marinate for two days. Critical listening began the following evening.
Since the UDP-205 UHD Blu-ray player was still connected to the Pass Labs X260.8 monoblock amplifier; I removed the Stereophile Test CD 3, and dropped in the Machine Gun Kelly Mainstream Sellout CD. The CD was just delivered, so I thought it would be a great way to demo music I've never heard before. Obviously, MGK's music composition is not designed or engineered for critical listening. It was 44 minutes of entertaining pop music. The performance was all crunchy guitar and over-pumped bass.
Getting serious; Roon played my growing review playlist. Streaming (through a Wadia Di322 DAC to preamplifier); it was now time for my "Demo of Destruction" playlist.
The Music
Bassnectar's "Above and Beyond" provided the visceral chest-thumping that I try to subject all of my review gear through. With the bass clearly below 32Hz at this point, the Pass Labs X260.8 monoblock amplifiers didn't flinch. I settled into the rest of the destruction playlist (Linkin Parks "Papercut", "Yeah" by Usher, "Boom Boom Pow" (Black Eyed Peas), "Don't Let Me Down" [featuring Daya re-mix], and "Never Forget You" [MNEK re-mix]).
At the end of day one, my listening notes say, "OK, but I expected more?".
As life would have it, I was unable to return to the audio room for a full week. Before ending the first listening session, I left my playlist on random, lowered the volume to 5%, and shut the door. My playlist was on for almost 150 hours before I returned.
My good friend Timmy, gifted me a new copy of London Calling by The Clash (remastered LP 180 gram pressing). This album is part of my bloodstream. I have been listening to this collection of rebellious punk rock angst, since its original release in 1979. To say I know it well, would be an understatement. Double espresso in hand, I sat down to listen to both LPs (four sides total).
Starting with the ubiquitous "London Calling", followed by "Brand New Cadillac" and on through the entire eighteen track; my audio room was awash with visceral 1980s punch. The Pass Labs X260.8 monoblock amplifiers were alive! A burn-in of about 150 hours seems to be about average for this level of gear. A few days of burn-in does not cut it any longer.
It was now time for my "Demo of Destruction" playlist, again. By early afternoon it was time to test some limits. This time, Bassnectar's "Above and Beyond" provided the visceral chest-thumping that I've come to expect. Playing through the rest of the "Demo of Destruction" playlist; the X260.8s delivered the goods. At one point, my spouse requested (repeatedly), a lowering of the volume; which was politely ignored (she's not my mother!). As the cost of a good divorce lawyer would empty my new speaker fund; I decided to switch back to vinyl.
My Demo List of favorite vinyl selections is kept apart from the rest of my collection. They stay in the audio room and are cleaned before every session. I always start with my usual two LPs: Beth Hart's 37 Days (180 gram vinyl LP), and Bruce Hornsby and The Range The Way It Is[ APRV 30118 and AEXH 44072 respectively].
Switching from new pressings to old, I took some time to wash off: "Pictures at an Exhibition" (Mussorgsky by Ukraine National Symphony Orchestra: ASIN: B01K8R6C74). The Planets by Gustav Holst [The Planets op. 32 and Maurice Ravel – Bolero, DDD Digital Masters - Product number: 5099704478128], Copland: The Music of America [Philip Collins - UPC 089408033926 1997], and J.S. Bach: The Brandenburg Concertos [Phillips: ASIN: B01LXQBP84].
Scratching and howling woke me from my musical bliss. Opening the door to my audio room; I saw the furry faces of "The Boys" (our two remaining male Cats). They were starving (don't worry. They are very well fed). It was 4:00 pm? I had spent the entire day in the audio room! This was excellent! I have not done that in a very long time. As a reviewer, I prefer to spread out my listening sessions, depending on my ear fatigue. By late afternoon, my ears were not tired. Not tired at all.
Due to Covid and some health issues, I had the pleasure of reviewing the Pass Labs X260.8 monoblock amplifiers for a longer time than normal (thank you Desmond, Anastasia, and Pass Labs!). As restrictions eased and vaccines were injected; it became easier to demo gear from my local dealers. I have been looking for new speakers to replace my beloved Martin Logan Summit Loudspeakers, for quite some time now. While I am still passionate about the Sonus faber Amati Tradition Loudspeakers; I am always willing to listen to something a bit more in my income bracket. The kindness of Pass Labs allowed me to do so. For the extended review period, I had the pleasure of listening to many different loudspeakers, paired with the Pass Labs X260.8 monoblock amplifiers.
This list included many varied loudspeakers, such as Vivid Audio Kaya 45, Aerial Acoustics 6T, Martin Logan Renaissance ESL 15A, B&W (Bowers & Wilkins) 800D3, Totem Acoustics Element Metal V2, and Klipsch La Scala AL5's. Without missing a note, the Pass Labs X260.8 monoblock amplifiers handled every brand and type of loudspeaker. Although I only had a few days or a week or two with each pair of loudspeakers; I was confident that the Pass Labs X260.8 monoblock amplifiers could drive them to their limits, or beyond.
More About The Pass Labs X260.8 Monoblock Amplifiers
Let's talk about sound and the guts of the Pass Labs X260.8 monoblock amplifiers. Pass Labs website describes the Pass Labs X260.8 monoblock amplifiers as the following:
"The X260.8 is a refined musical instrument delivering 260 watts into 8 Ohms and combines power and finesse with all the benefits of mono-block performance. Its measured performance — distortion, bandwidth, noise, and resolution is beyond reproach. Like all of the Class A/B .8's, this amplifier has some Class A bias, rewarding its listeners with a whole new zenith of sound quality."
This description brought a smile to my face. They describe this beast in three sentences. Three. That's hilariously understated, but incredibly accurate.
Sonically, the Pass Labs X260.8 monoblock amplifiers are an extremely well-built, well-engineered A/B Class monoblock amplifier that can drive even the most challenging loudspeakers, and look damn good doing it. But it's not a flashy product. It does everything very well, without drawing much attention to itself. That's a bit of a shame, really. As Pass Labs amplifiers all share similar technologies (but have slight differences), it was a little bit of work drilling down on specification differences. The big brother to the X260.8 monoblock amplifiers (the x600.8 monoblock amplifier) shares the same DNA. The monster x600.8 Class A wattage transitions to Class AB at 100wpc (but 34wpc for the 260.8s). I don't know who would need that much power. If I could afford it, I would have to have it though! Just in case.
Nelson Pass made his name with the Class A amplifiers, but Class A/B is where the market thrives. Several years in the making; the entire .8 lines share expensive features, like the high-power MOSFET transistors and extra-large output stages. All are designed to improve the Class A performance and lower distortion.
The sound stage of almost every performance was sonically satisfying and enjoyable. There was an overall cohesiveness and solid foundation in the bass, midrange, and treble ranges. Transparency can be a problem with this world-class amplifier; as it will highlight your weakest link (equipment). Use your best gear with these amplifiers, please.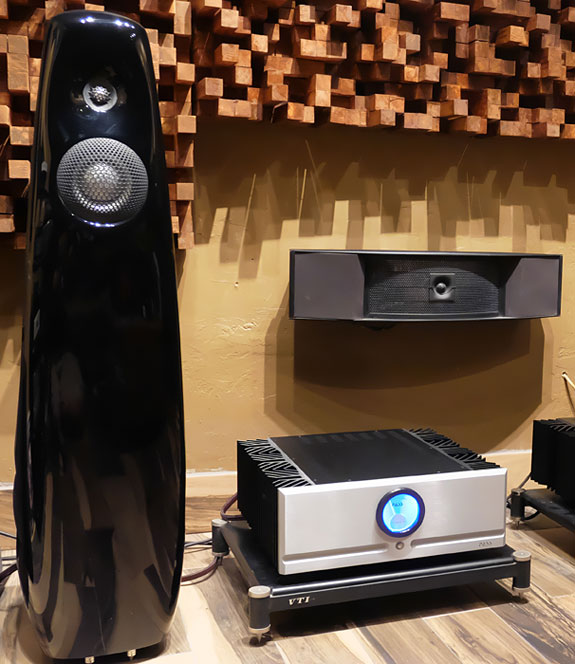 Final Thoughts On The Powerful Pass Labs X260.8 Monoblocks
The Pass Labs X260.8 monoblock amplifiers do require some space to do their work. Big, powerful monoblock amplifiers require some power and that usually results in some heat. At volume; the monoblock amplifiers' heat-sinks did displace some heat. I would not recommend holding on to the heat-sinks, but I would not worry about brushing up against them either. The Pass Labs X260.8 monoblock amplifiers will get warm, but not hot. I would not enclose them, though. Why would you? They are as beautiful to look at, as they are to listen to. You spent your kids' first-semester college fund on them, so show them off!
The Pass Labs X260.8 monoblock amplifiers retail for $ 14,250 a pair. Perfection isn't cheap, yet well worth it.
The odd thing about being an audio reviewer, is that you try not to be biased. You try not to be overly enthusiastic about the product you are reviewing. In some cases, you struggle to find fault. I'm just not going to do that, here. The Pass Labs X260.8 monoblock amplifiers are as close to perfection as you can get. I wanted for nothing more. The Pass Labs X260.8 monoblock amplifiers may not be for you. They might not push your buttons or check your boxes.
My ears were trained years ago, late at night, in dark recording studios. I listened to thousands of hours of music, through the iconic Yamaha NS-10 studio monitors. The NS-10s were legendary in their transparency. No musical sin could hide from these speakers. None. If there was a problem, the NS-10 would reveal it. The Pass Labs X260.8 monoblock amplifiers remind me of these speakers.
If you love power, grace, transparency, and (if you move your equipment around a lot) occasional back pain; I highly recommend you demo a pair of the Pass Labs X260.8 monoblock amplifiers or any of the Pass Labs .8 series amplifiers. You will not be disappointed. Highly recommended!
| | |
| --- | --- |
| Tonality | |
| Sub-bass (10Hz - 60Hz) | |
| Mid-bass (80Hz - 200Hz) | |
| Midrange (200Hz - 3,000Hz) | |
| High Frequencies (3,000Hz On Up) | |
| Attack | |
| Decay | |
| Inner Resolution | |
| Soundscape Width Front | |
| Soundscape Width Rear | |
| Soundscape Depth Behind Speakers | |
| Soundscape Extension Into Room | |
| Imaging | |
| Fit And Finish | |
| Self Noise | |
| Emotionally Engaging | |
| Value For The Money | |
Specifications
Type: High-end audio solid-state monoblock amplifier
Frequency Response: 1.5Hz to 100kHz
Power Output 260 Watts @ 8 Ohms and 520 @ 4 Ohms, Class AB
Input Impedance: 50 Ohms unbalanced RCA and 100 Ohms XLR balanced
Damping Factor: 150
Gain: 26dB
Dimension: 19" x 21.25" x 7.5" (WxDxH)
Weight: 88 lbs each
Warranty: Transferable, limited three-year warranty
Price: $14,250 per pair
Company Information
Pass Laboratories
13395 New Airport Road
Suite G
Auburn, CA 95602
Voice: (530) 878-5350
E-mail: info@passlabs.com
Website: PassLabs.com