Enjoy the Music.com Sponsors The Pacific Audio Fest 2022 Exhibitor And Media Party
(July 12, 2022) Enjoy the Music.com, premium audio's highly-celebrated site for over 26 years and a leader in providing industry news, hi-fi gear reviews, and luxury show reports is pleased to be sponsoring the Pacific Audio Fest 2022's Thursday night exhibitor and media party. To be held from Friday, July 29th through Sunday 31st at the DoubleTree by Hilton Hotel Seattle Airport in Washington state, both show exhibitors and members of the media are invited to join us for drinks, music, and good times. This is a must-attend event for Northwestern music lovers, audiophiles, and hi-fi enthusiasts alike who live within one of the nation's tech and music hubs.
Featuring many of the world's highly-respected hand-crafted luxury audio products, the Pacific Audio Fest 2022 is an upscale event for those who value music within their homes and when traveling the world. Operated by two well-respected luminaries within the audio industry, this event provides a wonderfully immersive experience in listening to the very best high-end premium audio products. Many leading audio brands are exhibiting, plus educational seminars and special features are planned, so this show is for both the curious newcomer and experienced enthusiasts alike. As Seattle native Jimi Hendrix sings, "Are you experienced?"
"The outpouring of support and enthusiasm from the industry, media, and audiophiles across the country for the Pacific Audio Fest's inaugural show has been amazing," said Lou Hinkley of the Pacific Audio Fest / Daedalus Audio. "We have more media covering this show than any other US show so far this year; clearly they see this as a show that is not to be missed. Seattle is a great choice to locate the premier western audio show. Seattle is a hub for tech and gateway not only to the west but also to neighboring Vancouver, BC, making this a truly international show. Gary Gill and I have pulled out all stops to make this a fun show for everybody, because after all, it's about more than just the gear. It's the music and the people!"
"Enjoy the Music.com is pleased to announce that we're sponsoring The Pacific Audio Fest's Thursday night media and exhibitor celebration," said Creative Director Steven R. Rochlin. "Show exhibitors and members of the press are invited to join us for drinks, music, and good times on Thursday starting at 6pm in Maxi's lounge on the 14th floor. With hundreds of manufacturers showcasing the finest luxury audio gear, this Western show is the best opportunity for Northwest-based Americans and Southwest Canadians to see and hear what all the recording studio quality true lossless high-resolution audio and vinyl LP buzz is about. We look forward to seeing you there!"
You can see our Pacific Audio Fest 2022 event coverage at this link.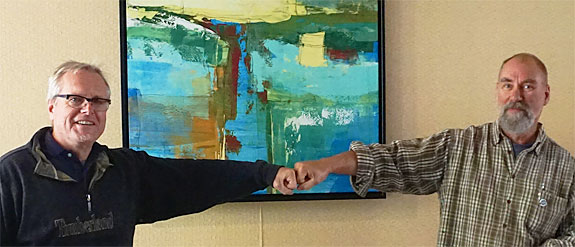 Gary Gill And Lou Hinkley of The Pacific Audio Fest
About The Pacific Audio Fest
Lou Hinkley of Daedalus Audio, in collaboration with Gary Gill of Capital Audiofest (CAF), is first and foremost a show by exhibitors for exhibitors. With that in mind, we are always open to input and will do everything possible to make this a great show and a lot of fun for exhibitors, attendees, and the entire audio community. Started in 2010 by Gary Gill, CAF presents a wide range of music reproduction products for the enthusiast, from start-up and cutting-edge technologies to cost-no-object aspirational gear, and everything in between. Lou Hinkley has exhibited in practically every type of festival and audio show, and he knows the industry well from the manufacturer's perspective.
One of the guiding principles for this show will be to keep the scale manageable for everyone. We envision about 80 to 100 rooms as optimal for this type of consumer audio show. We expect the show to do quite well in the first year, and then hit its limit no later than the second year. Once we hit our desired capacity, we will have a vendor's waiting list on a first-come, first-served basis and a firm "grandfather" policy.
About Enjoy the Music.com
Enjoy the Music.com is one of the Internet's leading information sites for high-end audio and music news, equipment reviews, plus show reports of both home and portable gear since 1995. We have received critical acclaim from our worldwide readership, like-minded audio publications, and notables such as the President of the Consumer Electronics Association (now CTA). Being associated with nine print publications and four web-based magazines, Enjoy the Music.com is part of a robust grouping of magazines and journalists which features the best minds within the high-end audio industry.
Enjoy the Music.com also offers its Review Magazine, the industry's most extensive daily industry news, plus over 260 show reports online. Enjoy the Music.com proudly sponsors all industry-operated luxury audio major events within the USA and Canada including the AudioCon Los Angeles, Capital Audiofest, Florida Audio Expo, Montreal Audiofest, Pacific Audio Fest, T.H.E. Show, and the Toronto Audiofest. Readers can connect with Enjoy the Music.com on leading social media sites Instagram and Facebook.

Enjoy the Music.com is internet partners with print magazines audioXpress, Australian Hi-Fi, Hi-Fi+, HIFICRITIC, Hi-Fi Media, Hi-Fi World, The Absolute Sound, plus vintage magazines Sound Practices and VALVE. We also collaborate with online publications eCoustics, Headphone.Guru, Positive Feedback, and STEREO.

Those desiring an interview with Enjoy the Music.com's Creative Director Steven R. Rochlin can e-mail their request by clicking here.

Note to journalists: Official logos and graphics can be downloaded by clicking here.