High-End Audio / Audiophile & Music Industry News
---

Help Support Enjoy the Music.com Via Amazon Shopping
08 / 29 / 19
Best Of 2019 Blue Note Equipment Awards
Enjoy the Music.com celebrates the best hi-fi gear of 2019!
Enjoy the Music.com, high-end audio's celebrated online site since 1995 and a leader in providing industry news, gear reviews, and show reports, is pleased to announce our Best Of 2019 Blue Note Awards. Enjoy the Music.com's Best Of 2019 Blue Note Awards celebrates the many great achievements by audiophile manufacturers within the high-end audio and Hi-Res Audio industry.
---> Read More
McIntosh MA352 Integrated Stereo Hybrid Amplifier
McIntosh Lab's new MA352 hybrid integrated stereo amplifier features a vacuum tube preamplifier mated with a solid-state amplification ($6500). An all analog design, McIntosh's MA352 preamplifier section is powered by a pair of 12AX7A and a pair of 12AT7 vacuum tubes. Its output stage is a direct coupled solid-state amplifier that produces 200 Watts per channel into 8 Ohm speakers (320 Watts into 4 Ohm). Classic dual scale McIntosh blue Watt meters give an accurate readout of power output.
McIntosh's MA352 has two XLR balanced and three RCA unbalanced stereo inputs plus a moving magnet (MM) phono input with adjustable loading. On the back are high quality gold-plated speaker binding posts to help prevent corrosion and ensure a quality signal is sent to the speakers. A stereo preamplifier output is available for connecting another amplifier; it can also be used to connect up to two powered subwoofers.
The MA352 is packed with numerous McIntosh technologies including Power Guard, Sentry Monitor, McIntosh Monogrammed Heatsinks, High Drive headphone amplifier with Headphone Crossfeed Director (HXD), five-band analog tone control (each band adjustable by +/-12dB), Home Theater Pass Through, Power Control, and Data Ports.
08 / 28 / 19
Schiit Asgard 3 Headamp/DAC/Pre & Bifrost 2 DAC
Schiit Audio just announced their new Asgard 3 modular headphone amplifier / DAC / preamplifier and Bifrost 2 upgradeable DAC ($199 and $600 on up depending on configuration). The Asgard 3 headphone amp offers 3.5x the output power of its predecessor (3.5W @ 32 Ohms), as well as a modular architecture for configuration as an amp/DAC as well as just an amp. The Bifrost 2 DAC debuts Schiit's new Unison USB input and Autonomy platform, which enables user upgrades for both hardware and firmware — without returning the DAC to the factory. It also adds remote control and balanced outputs, and uses Gungnir-class AD5781 DACs.
Asgard 3 moves from Class A to Schiit's proprietary Continuity output stage, shared with Lyr 3 and Aegir. Continuity extends the benefits of Class A outside of the Class A bias region, addressing the problem of transconductance droop identified by Bob Cordell and John Broskie. Asgard 3 runs 500mW of Class A bias, so it's running Class A for most headphone loads. However, when required, it can also deliver its full output of 3.5 Watts RMS per channel into 32 Ohms, both channels driven. It can be configured with an uprated AK4490 or True Multibit DAC module for a single-box desktop solution.
Schiit's Bifrost 2 DAC offers XLR balanced output as well as unbalanced RCA output. There's now a remote control for input select, mute, and phase invert. The 18-bit Analog Devices AD5781ARUZ D/A converter is an upgrade to the previous 16-bit AD5547. Unison USB — a elevates USB input performance. DAC cards are replaceable from the back of the product for easy hardware updates, and firmware changes are handled with an external MicroSD card slot.
FiiO K5 Pro Desktop Hi-Res Audio DAC With Headamp
FiiO's K5 Pro ($219.99) all-in-one desktop DAC and headphone amplifier solution for Hi-Res Audio playback. Features include high-end AK4493 and XMOS XUF208 chips with USB DAC that decodes up to 32-bit/768kHz. Digital inputs include USB, S/PDIF coaxial and TosLink optical. Analog outputs are both 1/4" / 6.35mm and stereo RCA. FiiO's K5 Pro desktop stereo DAC with headphone amplifier follows the success of their K5.
Fiio's K5 Pro high-quality headphone amplifier output offers three gain settings, High / Mid / Low, which accommodate a variety of headphone sensitivities. There are blue/green/yellow three-color RGB sampling rate indicator on K5 Pro. For connections, the K5 pro offers stereo RCA inputs and outputs, as well as a 1650mW/channel balanced output via TRS 1/4" / 6.35 mm. A USB port is offered as a pass-through for USB functions such as USB storage read/write and USB DAC functions. The K5 Pro ships with a power supply. FiiO's K5 Pro dimensions are 120.5 x 130 x 55 mm.
08 / 27 / 19
Artisan Silver Cables Ultimate Silver Network Cable
Artisan Silver Cables now offers their Ultimate Silver Network Ethernet cable constructed from pure silver wire (ฃ399 for one meter length). The cable features eight 26AWG individually insulated pure silver conductors arranged in a noise-rejecting braided configuration. The cable is also shielded to avoid unwanted external electrical noise. Ultimate Silver Network cable employs Telegartner high-end RJ45 plugs. The cable comes in lengths from 0.5 to 4.5 meters.
08 / 26 / 19
Enjoy the Music.com Sponsors
RMAF's Industry / Press Party Plus All Seminars
Enjoy the Music.com, high-end audio's celebrated online site since 1995 and a leader in providing industry news, gear reviews, and show reports, is pleased to announce that we're sponsoring the 16th annual Rocky Mountain International Audio Fest (RMAF) Thursday night industry / press party plus all event seminars. For nearly 25 years, Enjoy the Music.com has been a major resource for information about consumer electronics high-end audio industry and high resolution / streaming music on the Internet.
---> Read More
STEREO Magazine #23 Now Online / Free Download
This issue of STEREO Magazine features an article concerning active speakers, plus reviews of the Smart Vento 9, Phonar P4 Match Air floorstander, Piega Premium Wireless 501 floorstanders, Quadral Aurum Alpha speakers, Triangle Sensa SN 03A monitors, AVM R 5.3 turntable, Dali Oberon 1 bookshelf speaker. This month we're featuring the review of T+A's SDV3100HV streaming DAC and PDT3100HV Disc Drive. Other articles and reviews include reel-to-reel with Phillips N4522 and Revox A 700, Gauder DARC 60 floorstanding speaker, NAD M10 amplifier, and Focal Stellia headphones.
Within his editorial, Volker Pigors says "It is remarkable how the increasing globalization is spreading – also into our segment of hi-fi and high-end music reproduction. We can easily learn about loudspeakers, devices and accessories from all over the world via the web and social media, research them and even acquire them with relative ease. Sometimes it happens via traditional distribution channels, but increasingly also via purchase directly from the manufacturers." See what's within this issue of STEREO Magazine and download the entire issue for free at this link.
08 / 23 / 19
Hiromi Spectrum On Telarc Coming In October
When she recorded her solo piano debut, Place to Be in 2009, Hiromi was on the eve of her 30th birthday. She realized that the album would offer a snapshot of the chapter just ending, the ways in which her experiences and personal growth had shaped her sound over the course of her 20s. She decided then that she would revisit the solo format at least once a decade, building a sonic portrait of her evolution and artistry. Hiromi's Spectrum album showcases a dazzling evocation of the vibrant array of colors that imbue her music. Due for release October 4, 2019 on Telarc, a division of Concord Records, Spectrum celebrates the maturity and depth that have enriched Hiromi's composing and playing.
As a whole, Spectrum is a vibrant tour of the rainbow panorama of Hiromi's jazz sound; in contrast with Place To Be it's an enthralling encapsulation of her musical maturity. "I feel I'm a little closer to the piano," Hiromi concludes. "All the pianists that I really respect not only love but are loved by the piano, and that's the relationship that I would love to build through my life."
08 / 22 / 19
Reference 3A Reflector Stand Mounted Monitor
A speaker to live with... for a lifetime.
Review By Tom Lyle
Don't bother skipping to the conclusion of this review, as I'll tell you right now: The Reference 3A Reflector is a great speaker. If one has been searching for a stand-mounted speaker anywhere near its asking price of $12,000, these are the speakers to get. Not only do they do everything that one would expect of for a speaker of its size and price, but much, much more.
---> Read More
08 / 21 / 19
iBasso DX160 Hi-Res Portable Audio / Video Player
iBasso's new DX160 ($470) high fidelity Bluetooth 5.0 music player is based on the Android 8.1 system and includes DSD decoder. Every manufacturer has a different approach when it comes to new releases, and iBasso was due for a new DAP release. iBasso's middle-of-their-range DX160 unit features a dual CS43198 DAC implementation, Android Oreo, and a 5" 1080 x 1920 resolution screen. It come with latest Bluetooth 5.0, with their CS43198 being capable of DSD over PCM (DSD DoP) up to DSD256 and PCM 32-bit/384kHz. The chip makers also advertise a THD+N of approximately 115dB.
The DX160 design is relatively compact measuring in at 113 x 69 x 15mm. A glossy glass rear panel and matte black anodized finish on tan aluminum chassis is standard, with other colors being available. Analog headphone output is 4.4mm balanced with a voltage of 6.4Vrms. Frequency response is from 10Hz to 40kHz, SNR is 130dB, and THD+N is 0.00022%. There's also a standard 3.5mm stereo headphone output as well, with an output voltage of 3.2Vrms. When fully charged, the battery provides 13 hours of playback time. The unit weights 178 grams.
08 / 20 / 19
The Classic FM Family Music Box Book
Produced in collaboration with Classic FM, The Classic FM Music Box ($25) is an entertaining book that includes a comprehensive overview of classical music accompanied by hand-drawn illustrations and eight concealed buttons that play short bursts of iconic pieces of music. The Classic FM Family Music Box is a perfect introduction to the world of classical music. Featuring beautiful hand-drawn illustrations and eight sound-chip buttons that play short bursts of iconic pieces of music, this unique book brings to life some of the greatest composers throughout history.
Readers will be introduced to the genius of legendary artists such as Mozart, Bach, Beethoven, Brahms, Elgar, Handel, Verdi, Vivaldi and Strauss, and will experience their lives, inspirations and music as never before. In addition to high-quality sound chips, a unique QR code allows access to a bespoke landing page on Classic FM's website allowing readers to listen to full versions of the music featured in the book. It is an excellent gift for the music lover at any age in your life.
08 / 19 / 19
RMAF 2019 Show September 6th Through 9th, 2019
Featuring a luxury destination at the brand-new Gaylord Rockies Resort & Convention Center, Enjoy the Music.com's Rocky Mountain International Audio Fest (RMAF) 2019 show report celebrates our sweet 16 years of covering this highly popular high-end audiophile event. Take in the friendly atmosphere at RMAF where all are welcome and questions are encouraged. You will experience in one location many major household audio brands from Klipsch and McIntosh to ultra high-end brands Acora Acoustics, Audio Research, Kimber Kable, Mark Levinson, Nordost, Pro-Ject, VAC and many others.
RMAF 2019 provides a lively atmosphere of interactive experiences that ranges from engaging with industry engineers, owners and salespeople to live entertainment and formal seminars on a variety of current topics and trends in the audio industry. Many companies present their world-wide debut of new products and, additionally, may offer discounted show-prices on selected top quality hi-fi equipment. Learn more about RMAF 2019 at this link.
08 / 16 / 19
Pro-Ject VC-E And VC-S2 ALU Record Cleaning Machines
Pro-Ject's new VC-S2 ALU and VC-E (€499 and €399 including VAT) began life after listening to extensive feedback by their customers. During 2016, Pro-Ject Audio Systems' first vinyl record cleaner, the VC-S, revolutionized the affordable vacuum record-cleaning machine market. Offering a fully powered and super-fast cleaning machine was Pro-Ject's goal, and they sought to offer the best machine at reasonable pricing. As a result, Pro-Ject's VC-E and VC-S2 ALU aims to addresses everything they learned. Their new models provide better cabinets, improved clamps, and overall easier operation with less noise.
Pro-Ject's VC-S2 ALU is a direct replacement to the original VC-S, but the VC-E has been replaced as an even more affordable, compact solution. A good vacuum cleaning machine is a proven essential tool for not just record preservation, but also for maximum fidelity and enjoyment of your analog music. Their VC-E has an integrated 0.5 liter waste tank for used cleaning fluid. The S2 ALU has increased size for quieter operation and improved handling of the record and cleaning liquid application processes. An improved motor drive system provides increased lifetime. A bigger 2.5 liter waste tank and higher-end aluminum clamp secures the record and protects the label.
08 / 15 / 19
McIntosh Labs C2700 Vacuum Tube Stereo Preamplifier
McIntosh Laboratory just announced their C2700 vacuum tube stereo preamplifier ($8000) featuring multiple inputs, pass-through, phono stage, and Hi-Res Audio DAC. The DA2 DAC features an expanded set of capabilities, with the C2700 digital inputs being two S/PDIF coaxial, two TosLink optical, USB and MCT, plus a new audio-only HDMI Audio Return Channel (ARC) connection. TVs with a compatible HDMI (ARC) output can be connected to the C2700 to enjoy TV sound through a home audio system.
Popular multi-channel audio formats from Dolby and DTS are supported and will be converted to stereo audio for proper playback. The C2700 remote can control the TV's power and volume when CEC communication is enabled in both the preamplifier and the TV. The USB input has DSD playback support for up to DSD512. McIntosh's DA2 is powered by Quad Balanced eight-channel @ 32-bit DAC chipset.
For analog music, McIntosh Laboratory's C2700 vacuum tube preamplifier has nine inputs comprised of three XLR balanced connections, four RCA unbalanced connections, along with Moving Coil (MC) and Moving Magnet (MM) phono stage inputs. In total there are 16 inputs. Outputs consist of three each variable balanced XLR and unbalanced RCA plus a fixed RCA connection.
Bass and treble tone controls are included and can be adjusted in 2dB increments. The 1/4" stereo headphone jack is powered by McIntosh's High Drive Headphone Amplifier which can power almost any pair of headphones. Headphone Crossfeed Director (HXD) is included and brings an added dimension to a personal listening session when activated. Home Theater Pass Through allows the C2700 to be seamlessly integrated into a home theater system. Power Control ports easily turn other connected McIntosh components on and off, while the Data Ports can send remote control commands to connected source components.
Lossless Music Service Qobuz Celebrates Six Months
Qobuz, the certified Hi-Res streaming and download hybrid service, today celebrates six months of success in the USA. In this time, it has become the music streaming service of choice for American music aficionados by taking a listener-first, genre-focused approach and offering true high resolution lossless streaming music. Their APP connects with over 32,000,000 music lovers interested in high-quality audio.
Of note is that Qobuz has secured exclusive Hi-Res streaming for TOOL and King Crimson, and for the first time ever in 24-bit and up to 96kHz quality. Highest streaming via Qobuz is true lossless master studio quality at 24-bit/192kHz. Qobuz is the only APP to feature detailed jazz metadata and exclusive editorial content (like this annotated playlist from Grammy-winning Coltrane historian Ashley Kahn). Founded in 2007, Qobuz is a Paris-based commercial online music streaming and downloading service that addresses the needs of curious and discerning music lovers across the globe.
EMM Labs DA2 Digital-To-Analog Converter (DAC)
Producing an extremely clear sonic picture of your music.
Review By Tom Lyle
On Amazon.com one can purchase a digital-to-analog converter (DAC) with three digital inputs and a volume control for $30. Leave out the volume control and limit yourself to only one digital input and you can purchase a DAC for $14. So, why the heck would anyone, even an audiophile, pay more than $2000 for a DAC? And while we're at it, why would an audiophile purchase this EMM Labs DA2 for $25,000? There's really no answer to this other than sound quality...
---> Read More
08 / 14 / 19
Win Meze Audio 99 Classics Headphones Valued At $309!
Enjoy the Music.com is honored to join with Meze Audio for our August 2019 contest. You could win a pair of 99 Classics Walnut Silver headphones valued at $309! The Meze Audio 99 Classics delivers perfect natural sound even to the pickiest of audio lovers. The walnut wood earcups, soft earpads, and the spring steel headband will make the 99 Classics an heirloom rather than just a pair of headphones. The Meze Audio 99 exudes luxury with walnut wood ear cups and glistening silver highlights.
---> Read more and enter for your chance to win!
The Beatles Abbey Road Deluxe Three LP Box Set
Coming September 27 is The Beatles Abbey Road three 180 gram LP box set ($89.98). The three vinyl LPs feature all 40 tracks from the Super Deluxe anniversary collection! Two Sessions LPs paired in their own replicated sleeve, together with stereo remix LP, and four page insert all housed in a lift-top box. The music is sourced directly from the original eight-track session tapes.
The famed last studio album by The Beatles, the iconic Abbey Road, is presented here for the first time remixed and presented with additional session recordings and demos. The Beatles will celebrate Abbey Road's studio in London anniversary with a suite of beautifully presented packages to be released worldwide on September 27 by Apple Corps Ltd. / Capitol / Universal Music Enterprises.
08 / 13 / 19
PBN Audio M2!5 Loudspeakers
What's old, is new again.
Review By Gregory Petan of Positive Feedback
These days there are a lot of good speakers out there. More than ever, at every price point you can surely find something that fits your needs. As the price rises, the scrutiny and expectations grow, as well they should. At or around the $30,000 mark there have never been so many choices in all manners of design, materials, and technology. At the upper echelon, manufacturers have really pushed the state of the art in terms of secret composite materials for cabinets housing exotic drivers made from carbon fiber, ceramics, and other space age materials.
---> Read More
Kanto YU4 Powered Desktop Loudspeaker
The little speaker that (really) could.
Review By The Audio File Of Headphone.Guru
The Kanto YU4 is a luscious little remote-controlled two-way powered gem of a loudspeaker at $349 per pair. These diminutive beauties are jam-packed with tech-for-days and built with equal amounts of integrity, pride, and precision. This is a Lifestyle product that can find itself as a killer "small scale" system but can just as easily find itself in an audiophile's second system, be it bedroom or office, or even home cinema. Read on – and YES, I loved it.
---> Read More
08 / 12 / 19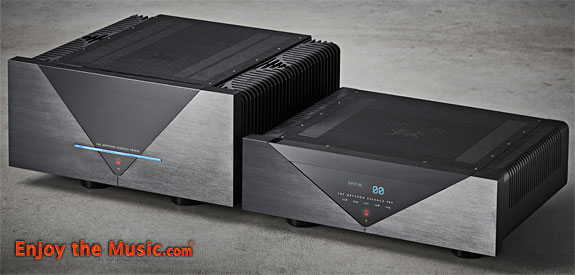 Gryphon Essence Preamplifier & Stereo / Mono Amplifiers
The year 2020 celebrates Gryphon Audio Designs' 35 years of exploration and innovation in audio components. Without a doubt they have single-handed been the leader in Scandinavia design and engineering within high-end audio. Gryphon's Essence line of amplification possesses great power and control, with an eye on signal purity and ease of use. Gryphon Audio Designs' Essence Preamplifier (€12,800) and Stereo / Mono Amplifier (€16,800) are the result of decades in research and development. All models feature Symmetrical AC power polarity for the two-channel versions to improve transient response, soundstage depth and ambience retrieval. The Essence Stereo Amplifier produces an ultra-wide frequency bandwidth from 0.5Hz to 350kHz and is conservatively rated at 50W @ 8 Ohms Class A (100W @ 4 and 190W @ 2 Ohms) and upward of 200W @ 2 Ohms in Monoblock configuration.
Constant high power reserves are available at all times, as the Essence simply does not "see" the speaker, so its reactive load cannot degrade amplifier performance. Unlike other high-power amplifiers, Gryphon's no-compromise, pure Class A topology allows the Essence to offer extreme power reserves on demand, combined with refinement and delicacy in musical presentation. The Essence Stereo employs 20 transistors per channel, while the Essence Monoblock features 40 of these devices per unit. These transistors can be called upon to deliver massive amounts of momentary peak power without overload.
Based on thorough analysis of typical listening situations, Gryphon Green Bias (green for substantially reduced environmental impact) reduces the AC power use. Green Bias offers true, pure Class A with considerably lower power consumption. Any combination of Gryphon preamplifier and power amplifier with Green Bias control allows the user to select the amount of Class A required to run his speakers fully in Class A at any given time.
Gryphon Audio Designs Essence Preamplifier has a variety of analog inputs, both unbalanced RCA and balanced XLR, plus there are both a DAC and phono modules to further expand the preamplifier's capability. The DAC module adds four digital inputs (USB, balanced AES/EBU, TosLink optical and BNC S/PDIF). USB can process PCM up to 32-bit/384 kHz as well as DSD (on Windows OS up to DSD512, on Mac OS up to DSD128, on Linux OS up to DSD128 DoP); via BNC S/PDIF and AES/EBU digital inputs up to192 kHz/32-bit PCM and via TosLink up to 96kHz/24-bit PCM. The MM/MC phono stage is a true dual-mono design for enhanced channel separation, capable of extracting every musical detail for ultimate realism.
08 / 07 to 08 / 11
Enjoy the Music.com Takes A Brief Holiday
We're on holiday through the remainder of the week. To help pass the time, please enjoy watching this 1972 video as Mr. Rogers demonstrates an Audax, and produces / cuts records from blank disks.
08 / 06 / 19
Alta Audio Celesta FRM-2M Monitor Speaker
Alta Audio has announced important upgrades to one of the company's most successful models. Alta Audio now offers their Celesta FRM-2M full-range monitor speakers ($18,000 per pair), which takes advantage of advanced engineering housed within an ultra-high gloss polyester finished cabinet. Specialized internal cabling features new conductors, which are joined by crossover capacitors, a new magnetic grille, and next-level DampHard material that helps to create an acoustically dead / resonance-free speaker.
Alta Audio's Celesta FRM-2M also features a custom designed ribbon tweeter that produces clear, fast, and flat high-end response for truly neutral sound. A powerful 6" midrange / woofer with a 3.1" long-throw voice coil has a low mass cone material to achieve high-speed characteristics. Like all Alta Audio speakers, the new Celesta FRM-2M features the company's proprietary Alta XTL (Extended Transmission Line) bass tuning system. Alta XTL tunes the cabinet at multiple frequencies to provide clean, fast bass response.
08 / 05 / 19
Japan's Hidden Listening Bars
Bridge / Resident Advisor x Asahi Super Dry
Located high above Shibuya's world-famous pedestrian crossing and equipped with high-quality Rey Audio speakers, Bridge offers a refuge from Tokyo's bustling streets. It's what the venue's manager, Masaaki Ariizumi, calls a "third place" — somewhere to unwind between home and work. This video is produced by Resident Advisor in partnership with Asahi Super Dry Beer.
---> Read More
08 / 02 / 19
Summer Against Hunger By The Cable Company
What if your audio purchase could also make a positive change in the world? The Cable Company are proud to announce that once again this year, during the month of August, 50% to 100% of very dollar you spend will be donated to CARE. They've run this program every August for the last 24 years, generating over $5,000,000 in donations.
According to The Cable Company, "You might be skeptical; how can 100% of the money spent with us on a purchase be donated, not just a small percentage? Put simply, matching grants. Our contribution is matched by sponsoring vendors. That combined contribution is then matched by an anonymous donor, and the total is then further matched by an institutional donor. Long story short, 100% of your purchase from any one of our over 70 Sponsoring Brands benefits CARE. For brands not sponsoring, or in the case of used products, CARE will receive 50% of the purchase price."
During the month of August within The Cable Company's mailings they are featuring products from our fundraising sponsors. To get started, please take a look at the following NEW promotions for August from some of our Sponsoring companies. These will save you money while also generating important donations for CARE. To view all of The Cable Company's special offers, see this link.
Hi-Fi+ August 2019 High-End Audio Magazine
Hi-Fi+ magazine's August 2019 issue features an article about The Truth About High-Resolution that asks is CD quality really all we need? High-end audio gear reviews within this issue include Neat Acoustics Ekstra, Wilson Audio Sasha Daw, and ATC SCM100SE floorstanding speakers. Also reviewed are the Harman Kardon Citation Towers wireless active floorstanding loudspeaker system, Sugden Masterclass ANV-50 integrated amplifier, Kanto Tuk Bluetooth-enabled active standmount loudspeaker, The Funk Firm Rage 1 upgrades for Rega turntables, IsoTek Systems Synchro Uni DC offset blocking device and Tellurium Q Ultra Black II analog interconnect and loudspeaker cables.
Within Hi-Fi+'s August Ultimate Headphone Guide, reviews include their Munich High-End 2019 report, answers to your personal audio questions, Monolith-Cavalli Liquid Spark headphone amplifier, Astell&Kern ACTIVO CT10 digital audio player, 1MORE Triple Driver BT earphones, and Campfire Audio Solaris hybrid dynamic/balanced armature earphones.
Within this month's editorial, Alan Sircom says, "There is an interesting difference in the outlook of the two 'lead' reviews in this issue. One – the Neat Acoustics Ekstra – is in part designed to meet the concerns of a value-conscious world, where every penny counts. While no loudspeaker will ever cost pennies, the Ekstra is attainably priced for most enthusiasts these days, by making a good loudspeaker in a cabinet that keeps the overall price down." See what's within this issue of Hi-Fi+ magazine at this link.
08 / 01 / 19
Now Online: Enjoy the Music.com's Aug. Review Magazine
Win Meze Audio 99 Classics Walnut Headphones!
Enjoy the Music.com is honored to join with Meze Audio for our August 2019 contest. You could win a pair of 99 Classics Walnut Silver headphones valued at $309! The Meze Audio 99 Classics delivers perfect natural sound even to the pickiest of audio lovers. The walnut wood earcups, soft earpads, and the spring steel headband will make the 99 Classics an heirloom rather than just a pair of headphones. The Meze Audio 99 exudes luxury with walnut wood ear cups and glistening silver highlights.
---> Read more and enter for your chance to win!
Is The Music BUSINESS Working Against Music Lovers
Do mastering engineers / music suffer at the hands of the lowest common denominator?
Editorial By Steven R. Rochlin
Have been trying my best to stop writing about music and audio gear, yet there's a voice inside of me saying you should, make that must, speak your truth. It's no secret that I read an abundance of industry inside information. This is not just high-end audio, it also pertains to musicians, recording studios, FOH / live performance, and mastering engineers (to name a few). What I find very interesting is that those who dare to speak up have many of the same concerns we audiophiles do!
---> Read More
Forget The Specs
Roger Skoff writes something that could change your mind completely.
Article By Roger Skoff
Until not very long ago, "spec sheets" were an important part of our audio hobby. You know what I'm talking about – those single-sheet write-ups that showed a picture of a product, gave a description of its features and qualities, and set down in detail such things as frequency response, measured distortion, signal-to-noise ("S/N") ratio, and so on. People used to pick them up at Hi-Fi Shows as reminders about products that had particularly caught their attention, or they would ask for them, supposedly "to show the Little Lady", as "get-out-of-the-store without-buying-anything" passes, when they'd auditioned something at their local HiFi dealer and either didn't want, or weren't yet ready, to buy them.
---> Read More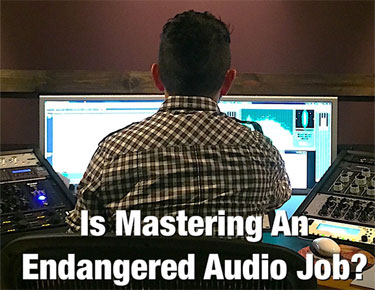 Is Mastering An Endangered Audio Job?
Article By Bobby Owsinski
Mastering engineers are some of my favorite people in the music business and many of the best are friends that I speak with frequently. One subject that's been coming up more and more in conversation is how much that business has changed, and that work is getting much harder to find. This is actually no surprise when you think about it. Just about anyone can buy the same software tools that many mastering engineers use, even though the skills to use them may be lacking. Some mastering engineers even have their own branded plug-ins or presets that simulate their hardware and software signal chains, which may help engineers on one hand, but also encourages them to stay DIY and not seek out the services of a pro.
---> Read More
Ideal Gear For The Monomaniac &
McIntosh And A Tip For The Beatles
From Woodstock to Newport and most points West.
Excerpts from the book McIntosh "...For The Love Of Music..."
Book By Ken Kessler
My grandfather was the radio/TV guy here in my hometown of Coxsackie, N.Y., at Rosa Radio and Television from the late 1940s through the 1960s, retail and repair. He used to occasionally tell me about "Dr. Yarvin," a grumpy, old family doctor here in town that supposedly had the hi-fi system to end all others. My grandfather said, "He always had me special order crazy equipment for him, brands that I never even heard of, like someone could actually hear a difference anyway...".
---> Read More
Audio Dithering: What You Need To Know
Article By Mike Levine Of Waves Audio Ltd.
Dither is one of the least understood topics when it comes to mixing and mastering, but it can actually come in handy. We've compiled a one-stop shop for understanding when, why and how to use dither. Dither is one of the least understood words in the music-production lexicon, but it's an essential ingredient when working with digital audio, and one that you really should understand if you're involved in mixing or mastering. So, what is dither?
---> Read More
World Premiere Review!
Wells Audio Commander Level II Tube Line Stage
I found myself often thinking of Van Morrison's "Cleaning Windows".
Review By Dr. Jules L. Coleman
For much of my life I tried my hand at playing guitar – with little, if any, success. Truth be told, early and often friends and family – several of whom are professional musicians – encouraged me to abandon my efforts. Ultimately, fear of being friendless and homeless carried the day, and my nascent, if not burgeoning, career came to a screeching halt. This tragedy, notwithstanding, my love of music has continued to grow unabated. Like the majority of you, I love listening to music, engaging it, getting to know and appreciate it for its artistry as well the narrative content of the music and where present the lyrics.
---> Read More
World Premiere Review!
Merrill Audio PURE Tape Head Preamp
Simple to use sweet sounding analog!
Review By Richard Cohn
Have you ever noticed how people's pets tend to look like them and reflect their personalities? Well, I have noticed a similar congruency between audio components and their designers – for good or bad (no names mentioned here are the astringent amps/designers I have come across in my years as an audiophile). Fortunately, the subject of this review, the Merrill Audio PURE Tape Head Preamp (the "Merrill Preamp" or "Pure") for reel-to-reel decks and its creator Merrill Wettasinghe are on the right side of that spectrum.
---> Read More

Help Support Enjoy the Music.com Via Amazon Shopping
KLH Kendall Floorstanding Loudspeakers
Very dynamic while still providing a graceful harmonic decay.
Review By Dean Cacioppo
There are few speaker brands that even non-audiophiles recognize. KLH is one of them. KLH Research and Development was originally founded in 1957 by Henry Kloss, Malcolm Low, and Josef Hoffman. Henry Kloss' reputation in the audio industry goes back to the 1950s and includes audio brands such as Acoustic Research, Advent, Cambridge Soundworks, and, of course, KLH. Today, the KLH brand has been reborn by David Kelley (formally of Klipsch) as KLH Audio, focusing on relatively affordable hi-fi speakers, subwoofers, A/V speakers and headphones.
---> Read More
M2Tech Nash Phono Pre & Van Der Graaf MkII Power
Capable of producing both subtle and very dense recordings.
Review By Tom Lyle
M2Tech's Nash phono stage, a component that is part of their Rockstar series, seemed to me to be the not only a perfect match for the Pro-Ject Esprit SB turntable that I set up in my second system not long ago, but also for the moving magnet Ortofon 2M Red phono cartridge that is mounted on the turntable's integral tonearm. This is probably the least expensive cartridge I would ever consider using, and conversely, at about $100 my experience leads me to believe that it is also the most expensive cartridge a non-audiophile might consider purchasing. Thankfully, it has a relatively neutral sound, and its rather open, dynamic sound make it more than "good enough" to use in a high-end system, and especially one that is as good as the system in which I'm auditioning this M2Tech Nash phono stage.
---> Read More
Read All Articles, Reviews, And Show Reports
We have many more reviews, show reports and think pieces than shown above, so be sure to read this month's edition of Enjoy the Music.com's Review Magazine at this link.
---
Previous High-End Audio News
For previous high-end audio and music industry news click here.