May 2017


Are We Ready For The Binaural Revolution?
Roger Skoff writes about what he thinks should be the next big thing.
Article By Roger Skoff
Back in the 1980's, I was married and I and my wife were regular concert-goers – Classical music and Ballet at Ambassador Auditorium and the Dorothy Chandler Pavilion; lots of other kinds of music (even a very memorable "Evening with Ravi Shankar" at the Greek theater in Hollywood's famous Griffith Park; and lots of other stuff – much of it with accompanying fireworks – at the Hollywood Bowl. We loved music of all kinds, and in addition to the concert stage, we also went to Rock clubs, Folk clubs, Jazz clubs, and even the Palomino Club in North Hollywood for Country & Western.
In order to try to save some of our musical experiences to enjoy later, I bought a battery-operated pocket microcassette stereo tape recorder and a small (and easily concealable) electret condenser stereo microphone and, several times, smuggled those things into the music venue in hopes of being able to get a worthwhile recording of what we heard.
Maybe it was the microcassette format; maybe it was the recorder, itself; maybe it was the microphone or its necessarily-out-of-sight placement; maybe it was just where we were sitting, and maybe it was some combination or all of those things, but none of the recordings we made was ever worth listening to for anything other than curiosity value, and after not too many tries, we simply gave-up our efforts to record our musical outings and concentrated, instead, solely on enjoying them "live" or in our memories.
Something new, though, has come along in recent years, that I'm guessing may eventually change all that: You can, right now, buy a pocket-sized digital stereo recorder that – if you use it properly – may be able to give near-perfect (or at least vastly better) "from-the-actual-seat-you're-sitting-in" recordings of anything you may want to hear at anywhere you want to go. The secret is binaural recording; the reason is that stereo has some flaws in recording and playback that binaural doesn't share; and the fact is that all that's needed to unlock it and start making your own high-quality and thoroughly enjoyable binaural recordings is a recorder and a product that's already been available, but largely unknown since at least 1978, and that's now being offered by at least one major manufacturer in much-improved form for an easily affordable price.
Before going on about binaural recording, though, let me tell you (or, if you were there, remind you) about something that happened years ago that relates directly to the subject of event recording, what it can sound like at the time, and how disappointing it can be upon later listening.
What I'm referring to is the 1990 "Glasnost Mondial" Aragon Jam sessions recorded live during the time of the 1990 CES. 1990 was one of the three or four years when the manufacturers of the, then very popular, Aragon and Mondial lines of electronics chose, instead of the more usual ways of promoting their company, to throw huge industry and dealer parties near, but off-site of the Consumer Electronics Show. The one in 1990 was, as I recall, at a wonderful and gigantic Russian restaurant in Chicago (there were two CESes in those days – Las Vegas in the Winter and Chicago in the Summer) and, as was the Aragon / Mondial Party custom, featured a "pick-up" band from the audio industry and audiophile press that included, among other notables, John Atkinson (Stereophile) on bass; Frank Doris (the absolute sound) on guitar; Anthony Federici (Mondial Designs) on vocals; Michael Fremer (the absolute sound) on vocals; Bob Reina (Sounds Like...) on keyboards and vocals; Steve Harris (HiFi News) on guitar; Elliot Kallen (Sounds Like...) on keyboards; Allen Perkins (Lyra-CPI) on drums, and Neil Sinclair (Theta Digital) on drums.
That one – like all of the Aragon/Mondial parties – was wonderful good fun, with great, enjoyable, and thoroughly danceable music, and was, as all of them were, recorded live for later CD release.
On that subject, Ken Kessler (Hi-Fi News & Record Review) later wrote (and was quoted in the "Glasnost" CD's liner notes as saying) "The entire event was recorded by Bainbridge [Records] using the Colossus system [to me it just looked like the regular stage/PA microphones – R] for release as a CD", and Ken went on to say "I'm overjoyed because I took the opportunity to sit dead center in front of the band long enough to implant the sound on my memory. Which means that I have another CD about which I can say, 'I was there, pal, so don't tell me how it sounded'."
Well, I was there, too, and while the music was great to listen to, the recordings – of this, or any of the other Aragon / Mondial parties (I bought them all) wasn't. The problem was that it was recorded in a great big untreated room and even though directional microphones (cardioid or super-cardioid) were undoubtedly used to tame the room and keep it as much of it as possible OUT of the recording, it still didn't work, and the sound – which was great "live" was (just like my failed concert attempts) nearly unlistenable as a recording.
And that's where binaural comes in. Unlike stereo, which normally uses two or more microphones (as many as five, just for one drum "kit) at various spacing from both the sound sources(s) and from each other, which can make for all kinds of problems, including multiple arrival times and multi-mic phase cancellations in the final mix, binaural recording uses only a single pair of microphones placed at only a single location (where a listener – you, for example) would be (or be expected to be) listening from.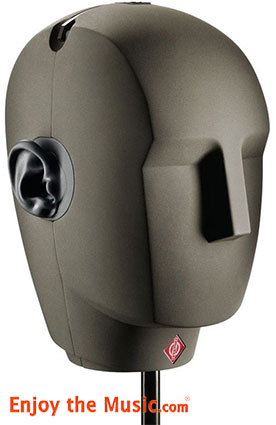 With stereo, especially if it's multi-mic'ed, "room sound" can be a real problem and can, as it did on those Aragon / Mondial Party recordings, mess things up. With binaural, the microphones are placed where your ears would be during "the real thing" and you listen to playback through earphones, ONLY, so sound recorded as ears would hear it is played back exactly the way the microphones DID hear it, directly into your ears, and all that ambient ("room") sound isn't a problem, but an element of authenticity and an aid to your musical enjoyment.
And that's the reason for this article's title: Quite literally millions of people – even just considering the U.S. – now own high performance headphones (call 'em that, or call 'em earphones; take your pick) and can reasonably be assumed to be music lovers. The only reason I can think of why they're not all binaural fans is that they've never heard of it. Which can be easily remedied by looking-up binaural sound on Google or elsewhere. Actual on-line samples of binaural sound can also be found by clicking on (among others) Kall Binaural Audio Samples, where you will find that, with binaural recording, you can actually hear a sound source in front of you, in back, moving all around you in a clearly audible circle or passing over your head or under your feet. You can also buy or download music and "show-off" recordings from Chesky Records. These are great music, brilliantly recorded, and a wonderful way to be exposed to the glories of binaural sound.
Then, once you see what all the fuss is about, you can go out and buy (possibly even after clicking on one of the hyperlinks I put in paragraph four, above) a pocket digital stereo recorder and a pair of combination earphone/microphones and go out and do your own really lifelike "hear-it-exactly-the-way-you-heard-it" binaural recordings.
Think about it – when everybody finds out about binaural and finds out that they can be their own "perfect" (or at least really good) recording engineer, don't you think there's going to be a new "Binaural
Revolution" And won't you want it to be one of your own recordings that you put on when you go home, lean back, put your headphones on and...
Enjoy the music?