Enjoy What Music?
The most important component in your system. Some thoughts...
Article By Phil Gold
The 25th anniversary of Enjoy the Music.com may be just the time to tell you exactly what music I enjoy best. Here are just a few albums that have given me particular pleasure over the years. I've chosen based on the quality of performance rather than sound quality. Ask me tomorrow and I'll give you a completely different selection, but this is a good start.
Classical Music
I'm going to start with classical music. Why? Because there is simply so much of it that is spectacularly well written and equally well played. And I never tire of it. But I do tire of some popular parts of the repertoire which have perhaps been overplayed. I'd like to point you to works and performances of the very highest caliber, so no Beethoven's Fifth from me, no 1812 Overture or Pictures from an Exhibition, no Bolero and no Moonlight Sonata.
Let's start by rating the great composers. Many music lovers will rate Beethoven number 1, and in this Beethoven anniversary year (250 years since his birth) there's an awful lot of Beethoven around. If Beethoven is your poison, I will direct you not to the Symphonies but to the String Quartets, music that in my mind is far more interesting, original, powerful, varied and unlike the symphonies, was not written to be appreciated fully on first listening. It was written more for the musicians themselves than for an audience.
The greatest recording of the Beethoven Quartets was laid down many years ago by the Busch Quartet between 1932 and 1941 at Abbey Road [Warner Classics 825646019311]. These have been available ever since in numerous editions. There are several great recordings of a more recent vintage and I will recommend the bargain box from the Alban Berg Quartet who really get to the heart of the matter [Warner Classics 190295 54259].
I'm not so sure I buy into Beethoven as number one composer. I will name some other contenders for that title along with my reasons.
First let's think about J S Bach. Some think him dry and academic, or say his music doesn't have the emotional depth of Beethoven, or that his orchestration is not as advanced. If these were truly the criteria, then Beethoven in turn must lose out to Wagner, Mahler or Shostakovich. No, the reason you may get that impression is that you've been listening to the wrong compositions or the wrong performances. It is far harder to play Bach well, because there are so many layers of depth to the music that only the very greatest musicians can make full sense of it, and when they do then it is bleeding obvious. One such occasion was when the young Glenn Gould recorded the Goldberg Variations in 1955.
This may be the most famous recording of any work of classical music, and here it is coupled with a 1981 remake – hugely different in conception. [Sony 88725411822]. Prior to that time, Bach was best known for the Brandenburg Concertos and the St Matthew Passion. His keyboard music was little known, and was played primarily on the harpsichord, not a popular instrument in the concert halls of the time. Piano recordings now dominate. The Goldberg Variations is one of the greatest compositions of all time, and Gould introduced many people, particularly young people, to its charms.
I certainly recommend this work, but not this performance, which I find overly fast, dryly recorded and lacking in warmth. It's sacrilege for a Canadian to say this, but Glenn Gould rarely strikes me as a great Bach player. Everything comes out like Glenn Gould rather than J S Bach. I recommend Rosalyn Tureck's performance of the Goldberg Variations [Troy 007]. Equally enjoyable are the Bach Partitas 1, 5 and 6 from Murray Perahia [Sony 88697443612] and or if you are prepared to put in a lot of work, the Well Tempered Clavier from Angela Hewitt [Hyperion CDS44291/4]. When I listen to Bach, I have no doubt he is the greatest composer that ever lived.
But when I listen to Mozart, maybe not all Mozart but certain remarkable works, I hold him second to none. The Marriage of Figaro for instance is a sublime work, as are the Late String Quintets and almost all the Piano Concertos. Even more so than with Bach, the artists involved make a huge difference. With Mozart I can usually tell within seconds if this performance has the magic. Some exceptional performances for you: Il Seraglio conducted by Sir Thomas Beecham [EMI CHS 7637152], the Complete String Quintets led by Arthur Grumiaux [Decca 470950-2], and the Piano Concertos conducted from the keyboard by Murray Perahia [Sony 88691914112].
And on another day, the mature Schubert is on another plain altogether. His String Quintet is rated by many as the greatest composition of all time, and I can only agree. It is as profound and sublime a work as any ever written, and yet it is altogether approachable. I recommend the version recorded at the Prades Festival by Pablo Casals [Sony SMK 58992], but for a more recent recording coupled with two other Schubert masterpieces, the Lindsay Quartet are also wonderful [ASV CDDCS243].
None of my selections so far have been for large scale orchestra, but if you have the equipment, and the room, to do justice to such a beast, then I will give you some of my favorite recordings. I'll start with Bruckner's Ninth Symphony in a phenomenal performance from the late Claudio Abbado – his last recording - made during a 2013 concert with the Lucerne Festival Orchestra [DG 4793441]. Bruckner wrote 9 symphonies. Some say he wrote one symphony nine times. There's some truth to that, but if it's true, boy what a great symphony it was!
Over my lifetime Mahler has gone from being rarely heard and regarded by many as second rate to a new position where every Mahler concert is an event and tickets sell out fast. I love Mahler, and I've always loved Mahler. My parents had a large classical collection without a single Mahler symphony, and I heard it by borrowing records from the public library. Then I attended a performance of Mahler's Second conducted by the incomparable Otto Klemperer and I was hooked for life. If I had to recommend just one recording it would be Mahler's Fourth Symphony, conducted by George Szell [Sony SBK 46535] but you can't go wrong with a complete set conducted by Leonard Bernstein [Sony 194397085624] or Claudio Abbado [02897932048].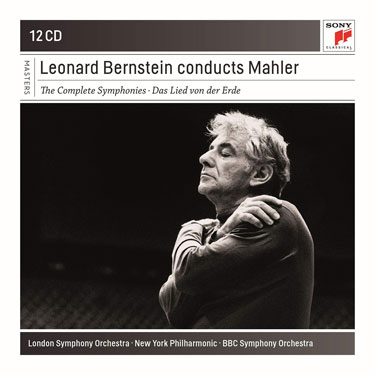 I am a long way from fully appreciating Bela Bartok, but his Concerto for Orchestra knocks me out, and it will really impress your friends if with stereo is up to snuff. Reiner's recording is justly famous, but I am going to recommend the more recent recording conducted by ZoltánKocsis [Hungaroton HSACD32187].
I'd also like to include the wonderful violinist Maxim Vengerov's recording of Shostakovich Concertos [Warner 092746742-2] under the direction of Rostropovich. The "Passacaglia" is music to die for.
Folk Music
Everyone has their favorite Dylan Album. I'll take Bringing It All Back Home [Columbia 2796-92401-2] recorded in 1965. You can't beat "It's All Over Now, Baby Blue", "Maggie's Farm", "Subterranean Homesick Blues", "It's Alright Ma, I'm Only Bleeding", "Love Minus, Zero/No Limit" and I haven't even mentioned the iconic "Mr. Tambourine Man". As interesting as the latest album Rough and Rowdy Ways may be, this for me is the real McCoy.
Leonard Cohen's best compositions may have come before most of you were born, but his best performances – that's another matter. He got better as he got older, and Live in London shows him in top form [Columbia 88697405022]. At another concert on the tour, in Toronto, the most impressive songs were Dance Me to the End of Love" and "I'm Your Man", but the whole concert was superb.
Many people have covered Leonard Cohen's songs, very few have improved on his renditions. But one exception stands out – his one tie collaborator Jennifer Warnes whose album Famous Blue Raincoat is a classic [Ariola 258418]. "First We Take Manhattan" does it for me.
Canada has contributed some fine folk singers, and from these I'll select Clouds by Joni Mitchell [Warner 7599-27446-2] and then Kate and Anna McGarrigle. They had many fine albums and my pick is their eponymous album Kate and Anna McGarrigle [Warner 718627230381]. "Talk to Me of Mendocino" and "Complainte Pour Ste. Catherine" are exceptional.
Of all the folk singers I've heard live, my top pick is Tom Paxton, because his connection with the audience and his gentle humor are a marvel. Try his debut album Ramblin' Boy [Elektra 8122735652] which features his biggest number "The Last Thing on my Mind". This is one of those few classic tracks, like "The Times They Are A-Changin'", where the lyrics and the music are perfectly bound together.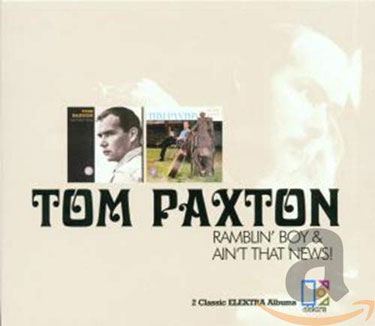 If Tom Paxton has a rival in terms of audience connection, then that must be Arlo Guthrie. Everyone should experience "Alice's Restaurant Massacre" at least once, and you can find that, "The City of New Orleans" and the pickle song "Motorcycle" on The Best of Arlo Guthrie [Warner 3117-2].
Pop, Rock, And Blues
I've no need to point you towards Abbey Road or Pet Sounds or any other classic album from the sixties for that matter. But I will mention Love's Forever Changes, still a mystery and a wonder after these many years [Elektra 8122735372]. So many strange wonders here, but if I had to pick one track it would be "Andmoreagain".
John Mayall is hugely underrated, perhaps more famous for the musicians he nurtured than for his own contributions. John McVie, Eric Clapton Peter Green, Mick Taylor, Dick Heckstall-Smith and Jack Bruce played in his band, to name just a few. But he is a superb artist in his own right, as evidenced by his 1967 album The Blues Alone [Deram 820535-2] where he writes all the music and plays all the instruments – 6 and 9 string guitars, bass, harmonica, piano, organ, celeste - and he sings the vocals. Pick of the tracks – "I heard Sonny Boy Blow", a tribute to Sonny Boy Williamson, and the mournful ballad "Broken Wings. Try it – you'll like it.
We've seen many an album of big stars releasing albums featuring a bunch of special guests. My favorite is Carlos Santana's Supernatural [Arista 07822-19080-2]. The highlights for me are "Love of my Life" featuring Dave Matthews, "Smooth" with Rob Thomas, "Maria Maria" with lead vocal from The Product G&B and the irresistible Corazon Espinado with Mana, but there's hardly a track that falls short of remarkable. I was one of the lucky attendees of an unforgettable private Santana concert in Vegas put on at CES by Monster cable for its sales team and industry friends.
My favorite singer must be Nina Simone. She makes every song her own and her Bach-infused pianism blows me away. Maybe more than any other artist, she would have been a natural exemplar of Black Lives Matter. So many great albums but I'll pick her debut Little Girl Blue [MOTIF 024952560059]. Try "Love me or Leave me" for size, then her famous rendition of "my Baby Just Cares for me", later used to sell perfume.
I guess I'm a sucker for pop and jazz musicians who incorporate a little classical influence into their performances, like ProcolHarum and Jacques Loussier. So, I'm going to pick Blood Sweat & Tears [Columbia CK63986]. This time the classical composer is Eric Satie whose "Trois Gymnopedies" opens and closes the album. I so love "God Bless the Child" and "And When I Die". Superb musicianship all through.
World Music
You've heard The Buena Vista Social Club but what about the equally wonderful introducing… Rubén González [Nonesuch 794772]. "Mandiga" is a standout – look out for the superb trumpet from Manuel 'Guajiro' Mirabal. Rubén González was simply the 8th wonder of the world.
Another standout CD is Afrocubism [Nonesuch 2-525993] - an Africa meets Cuba fusion of superb quality. It starts with the marvelous "Mali Cuba" and just gets better from there, culminating in a stunning version of "Guantanamera".
For an album of authentic African music, nothing beats the late Aly FarkaTouré, heard at his best on Radio Mali [Nonesuch 79569-2]. "Yer Mali Gakoyoyo" will give you more than a taste.
For feel-good music, nobody does it better than Cirque du Soleil. I will recommend O [RCA Victor 09026 633558-2] with its cornucopia of world music rhythms and instrumentation. I love it because it reminds me of the time my family saw the show in Vegas. "Tzelma" will certainly lift your mood, while "Nostalgie" will bring you back down.