February 2021
An Interview With Alfred Vassilkov Of Estelon
Interesting development from this brilliant loudspeaker designer.
Interview By Andrija Curkovic Of hifimedia.
To be a success in a global market, and in a very challenging segment of premium high-end speakers, from a country which many audiophiles, if you ask them, would not be able to find on a map, is a huge success. Usually, the story about such success would be preordained (fully unjustifiably) for some "other young company", situated somewhere in one of the countries of the so-called developed west. If we also know that the headquarters of the company is in the city of Tallinn, in Estonia, the country which fulfilled its independence, and end of the occupation by the former Soviet Union, which started after the World War II, only in 1991, the story gets another dimension.
Alfred Vassilkov, owner and chief designer of the company Estelon, with his two daughters Alissa and Kristiina, managed to create a successful company, which today can be an example to the other less well-known manufacturers, which would also like to "conquer the audiophile world". We wanted to know how they managed this feat, so this conversation took place in the beginning of December 2020, the year when Estelon also marks its 10-year anniversary.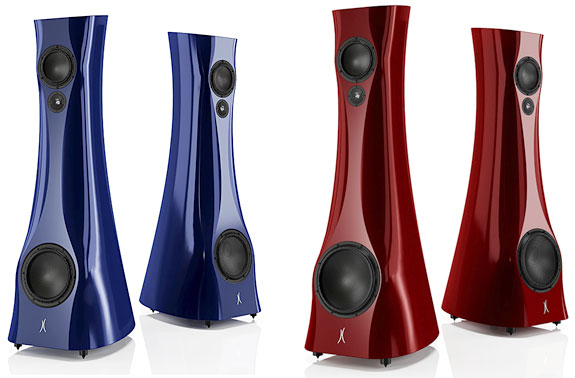 In your published biography, it is said that you studied electro-acoustics in St. Petersburg and have had 35 years of experience in the development and building of high-end speakers. I would like to ask you to describe to us your Hi-Fi beginnings in Estonia, then still under Soviet Union domination, behind the so-called "Iron curtain", what were the conditions for work, research, and possibly of development of audio components?
Alfred Vassilkov:
During the Soviet era, we had limited access to either speakers or components in general from the western world. We were working in a very different way, and it was rather hard to achieve the desired results. I remember that while designing my first speaker for commercial use, the 'Estonia 10' (1983), I had limited options on the materials used, and I had to develop everything from scratch. Every component, drivers, crossovers, etc. But on the other hand, it was a very significant experience that taught me a lot of useful techniques that I still use to this day.
In your beginnings, what was then available from the drive units for your projects, and how did you acquire them? Did you also work on other audio components or just speakers?
As it was hard to acquire the high-quality components that we wanted, we were practically designing them from scratch. We had to develop our own drivers. After the collapse of the Soviet Union, we finally had access to different drivers from different manufacturers, and we could compare, test, and use the desired components in our projects.
I have only a short experience in working on an amplifier project. I was always focused on designing various components for speakers, mainly drivers, crossovers, and enclosures.
Could you acquire some high-quality Hi-Fi speakers from the Western Hi-Fi market, which would then be used for comparison with your products? If yes, which brands and models did you use?
As mentioned, at the beginning of my career, I did not have access to any western world speakers or components. The only way to get informed about new models, or the technology used was through magazines. I do remember though an institute in Russia owning a pair of Yamaha NS1000 with beryllium drivers, and a three-way speaker by Technics with flat membranes. Although the access was limited, I managed to spend a few valuable hours auditioning.
What were the loudspeakers you respected at the end of the 1980s, and which model was the turning point in your audiophile upbringing? For me personally, in that period of audiophile forming and maturing the crucial loudspeaker was the Rogers Studio 1a, a speaker for which it could be said it was a classic example of the so-called British school of sound. Were you then under the influence of some type of speaker sound, either the British, French, or German, for example?
I could never use or audition any speaker from that era. The only way to 'picture' the speakers' characteristics, was through magazine reviews. I do remember some interesting designs from KEF that I found remarkable at the time, and B&W's interesting concept of the tweeter enclosure. So as you understand, there was no influence really in my designs. However, this ended up being my philosophy throughout my career. I always wanted to design speakers that reproduce realistically and without 'coloring' the audio signal. I like paying extra attention to every detail, and I am always trying to learn and evolve.
Ten years ago you decided to start a high-end company Estelon. What inspired you to start designing the speakers meant for the most demanding audio buyers, when there are already well established and big speaker brands leading the market?
Right before Estelon was born, I already had a very long experience in the audio industry. I had designed over 100 different speaker models by that time, including their drivers and crossover networks, and I also had experience in audio installation. During that time, I was also establishing connections in the industry by attending audio shows, meeting new people, and learning the market's needs. Once I figured out the way of creating a unique and fresh high-end product, I presented my idea to my family and the rest, as they say, is history.
Your first product, Estelon XA, steered a big interest in the audiophile public and media, both with the aesthetic and high-quality sound. What was your inspiration for the design of the speaker enclosure? How big a role in its creation was the aesthetic and WOW factor, and how much the laws of acoustics?
Design is my passion. This gives me an understanding of implementing aesthetics in my projects. One of my initial goals was to combine harmoniously engineering with elegance. Since the laws of acoustics are crucial, I design the Estelon speakers from within. So when the engineering goals are met, I integrate the design. Those two factors are presented through the Estelon speakers. They are ideal for listeners who want their systems to blend in their interior.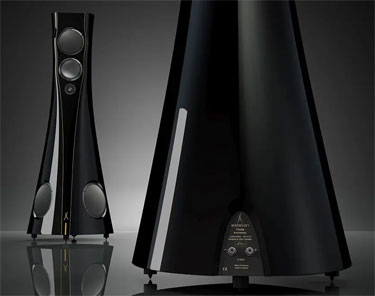 To get to the desired shape of the speaker enclosure, you utilized some special materials to achieve it. Can you tell us a little more about the material, and the manufacturing process?
After many years of research and testing, we developed a proprietary marble-based composite material and special molding technology that can make such advanced cabinets. This material gives us multifunctional shaping possibilities, inside and out. The combination of the high-density and solid mass of the molded marble-based composite cabinet results in dynamic stability and elimination of vibrations. The cabinet is extremely rigid, highly dense, resonant-free, and with exceptional internal dampening and acoustical control.
The choice of Accuton ceramic drive units tells me you strive to achieve clean, clear, and neutral sound quality, but many other manufacturers using these same units claim they achieved these goals as well. However, it is often the case that their products sound too detailed, dry, and with a lack of "soul" in reproduced sound. How did you manage to escape this trap?
The answer is a bit complicated, but the main idea behind it is the actual philosophy of our speakers' design. The first important factor is the choice and the combination of the drivers. The second factor is creating the ideal conditions for each driver in the cabinet. The third most important aspect is the crossover design. In the end, it's all about the balanced combination of the parameters that provide the desired result.
All these years you stayed consistent with top-class Accuton drivers, but in your starting model Estelon YB you are using Scan-Speak and SEAS products. What prompted this change, and do you plan to continue using these new drivers in some of your other future projects?
As a principle, we use the best possible components according to each project that we always treat individually. We are very grateful for collaborating with Thiel & Partner (Accuton), Seas, and Scan-Speak. We have many great partners. So yes, while for the YB the best drivers are from Scan-Speak and Seas, for other Estelon speakers the best drivers are the Accuton ones. We will carry on following the same philosophy in using what's best for our products and we will keep collaborating with the best companies in the industry.
I think that Estelon YB could become a "speaker for the masses", it possesses unique form, and appropriate size and characteristics for the average listening room, the only thing stopping it to become that speaker for the masses is the high price for the average audiophile. Did you think about starting a more affordable speaker line, which would keep your familiar sound in a more affordable, less demanding package?
We have many plans for the following year which is also Estelon's 10th anniversary. We have planned a series of announcements with exciting releases that have already started with the Mk II upgrades of our Classic line and the Forza Anniversary Edition which is already available but very limited to only 10 pairs.
But to answer your question, I can only say that it is one of the biggest challenges to design a more affordable speaker that maintains the high-end performance that Estelon is known for. Let's see what the future holds!
Your best and at the same time largest speaker, Estelon Extreme, won a lot of awards from the specialized high-end press around the world after it was introduced to the public. It is now five years since then, what happens now, what comes after? Do you have an idea for a new product which would surpass its sound and technical characteristics?
Yes, the product you are asking about is called Extreme Mk II! We have developed the second version of our Flagship Extreme, which sounds better than ever. Through the last five years, we have learned a lot, and the time has come to apply this knowledge to our biggest speaker. Redesigned crossovers with new improved components and a new control system for adjusting the upper module of the speaker are some of the changes applied in the second version of Extreme.
If you have an idea about a new and larger speaker than the Extreme, is such a product even needed on the market in today's circumstances? Besides, such a speaker unavoidably would place huge demands on the rest of the system, and the listening room itself, so the question is would that speaker be for you a thing of prestige and achievement, or it would have commercial potential as well?
For Estelon, the Extreme loudspeaker is not only a product of prestige but also a commercial success. The most important factor for designing a larger speaker is the size of the listening room. This would set the parameters that determine a speaker size. And of course, the size of the customer's pocket(!).
You often point out that Estelon is a family-owned company. We would like to know how much decision influence in the company your daughters have, and how much is the company a product of one man - Alfred, or the team around him?
Estelon is indeed a family business, and although in the beginning, I was the person taking the most important decisions, we have now evolved into a team of great specialists that are involved in taking the Estelon brand to the next level.

Check Out hifimedia Magazine
See many great reviews by hifimedia at this link.
Manufacturer
Estelon
Website: Estelon.com