Officine Panerai Luminor GMT 44MM PAM01033
Wear a bit of Italian history on your wrist.
Article By Steven R. Rochlin
Panerai watches are a natural blend of Italian design, Swiss technology, and passion for the sea says the company. Also known as Officine Panerai, this luxurious Italian watch manufacturer was founded by Giovanni Panerai within Florence, Italy, back in 1860. Now headquartered in Geneva, with their modern timepieces being made in Neuchâtel, their mechanical movements are either created in-house and/or ETA S.A. depending on the model of watch you so choose.
Back in the day, Panerai watches were designed and manufactured by Rolex, as their products assisted frogmen of Italy's Decima Flottiglia MAS with their operations during World War II. Staying historic, Panerai's Florence-based workshop produced wrist-worn diving instruments, yet small production yielded a mere 1600 wrist instruments between 1935 and 1970 (35 years). A majority of these went directly to the Italian Marina Militare. Back then, Mr. G. Panerai e Filgio produced the dials for these watches, which brings up an interesting side note about these dials.
As many of us love to see our timepieces during the night, there is a glowing material that takes up this task. Back in the early days of Panerai, their luminous material for the company's Radiomir line was highly radioactive radium-based self-luminous compound! Relax, as this all changed in 1965 with Luminor, a harmless compound activated by tritium.
With this history lesson out of the way, Panerai's Luminor 1950 3 Days GMT (PAM01033) was released in July 2019. As a limited edition of only 1500 pieces, finding one of these beauties today is getting scarce! With Panerai, their pricing scheme means you can get small seconds at 9 o'clock or not. A clear sapphire crystal back that allows you and your friends to admire the movement, or not. The more you want, the most it costs (logical). Their PAM01033 is priced at $8800 and has small seconds, sapphire crystal back, the '9' on the dial is present, and you also receive two watch bands. One being dark blue dyed leather and the other dark blue Caoutchouc (a rubber compound), which is dimensionally stable and tear-proof, plus it is highly durable and skin-friendly too. Furthermore, this timepiece has a sun-brushed dark blue dial that dances in various lighting.
Panrai's Luminor GMT has a generous 44mm steel case and short lugs, with blue sun-brushed sandwich dial and beige SuperLuminova. Ah yes, forgot to mention the delectable dial sandwich, which has the beige SuperLuminova on a dial surface below the main top dial. This provides an incredible 3D visual that is unlike virtually any other dial format by other manufacturers. Specially shaped, and familiar to Panerai lovers, is their 44mm sturdy casing that is CNC machined AISI 316L stainless steel. The case is both highly resistant to corrosion and hypoallergenic.
Equipped with a three day GMT automatic caliber mechanical movement, the GMT function allows one to simultaneously read local and home time (note the smaller pointed hand within the photo above, that's for GMT). For those who travel often, this is a blessing as the shorter central GMT hand moves at the same rate as the local time hour hand, carrying out a complete revolution in 12 hours. Alas, there is no AM or PM indicator on this model of Panerai, yet I'm sure those who graduated first-grade math can sort it out. As a side note, Panerai's P.9011 caliber movement within the Luminor GMT PAM01033 has a zero-reset hacking seconds function. What is zero-reset?
With most mechanical watches, you can pull the crown out and it will stop the second's hand. Panerai takes this a step further as when you pull the crown out, the small seconds hand at nine o'clock stops just like most watches, yet it resets to zero to provide an accurate setting of the time. And yes, geeks like me love these types of special FUNctions.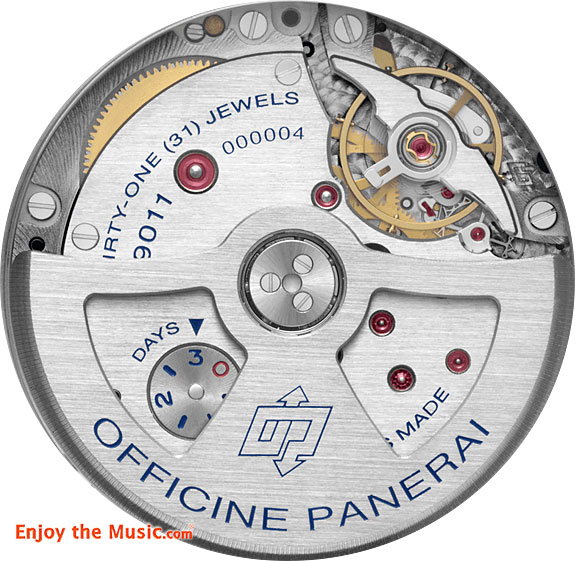 Also special is while the Panerai P.9011 caliber is an automatic winding movement, meaning as you wear it a weight winds the timepiece, seen through the back is a winding indicator to display how many days of usable power remains within the winding spring's mechanism. So there's a heck of a lot of Panerai innovation within the PAM01033 timepiece!
Panerai's caliber P.9011 has an improved two-screw design to secure the balance bridge. This ensures a solid foundation over their single screw designs, plus adds durability and can aid speed stability too (regulation, the accuracy of time). No one 'needs' a mechanical watch in this day and age of Apple / Samsung watches and everyone has a cell phone with them, yet for those such as myself who admire the history of a brand, their visual styling, and feature-set, plus craftsmanship it takes to produce these incredible works of art, the limited edition PAM01033 should hold its' value quite well imho.
It is also rare enough that you won't be wearing something that many others tend to have, such as (relatively) mass-produced Patek Nautilus / Aquanaut, or a variety of other today's 'in fashion' watches. Once registered with Panerai online (or mail-in form), the Luminor GMT PAM01033 includes an outstanding eight-year international warranty! Rolex is a glorious five years. I'd be a bit leery of manufacturers who provide less than five years of warranty in this day and age of companies that truly stand behind their luxurious mechanical timepieces. In fact, the PAM01033 is so rare, you'll find very few videos of it featured on YouTube.
Asian Video Below
Beautiful 15-second video showing the dial.
By the time you read this, mine will be here and happily be put through its paces. My Facebook personal page friends enjoy my Watch Wednesday posts.
ADDED: And here are a few wrist shots. Enjoy your time :)
Of course in the end, what really matters is that you... enjoy your time. And as always, in the end what really matters is that you...
Enjoy the Music,
Steven R. Rochlin
Officine Panerai Luminor GMT 44MM PAM01033
Functions: Hours, Minutes, Small Seconds, Date, GMT, Power Reserve Indicator on the back, Seconds Reset
Case: 44mm AISI 316L brushed steel
Bezel: Polished steel
Back: See-through sapphire crystal
Dial: Blue sun-brushed with luminous Arabic numerals and hour markers. Date at 3 o'clock, plus small seconds at 9 o'clock
Water Resistance: 30 bar / ~300 meters
Strap: Alligator Dark blue with beige Stitching, plus blue Caoutchouc strap (24/22mm standard size)
Warranty: Two years standard international, up to an impressive eight years after registration on Panerai's website.
Price: $8800
Perhaps the price is also a nod to bringing luck, as 88 bears a resemblance to 發 which implies 發財 wealth in Mandarin or Cantonese or "double happiness". The number 8 is Fa (am sure my many Asian friends understand).
Manufacturer
Officine Panerai
Route de Pierre-à-Bot 87
2000 Neuchâtel
Switzerland
Voice: +41 32 733 20 00
Website: www.Panerai.com