Audeze LCDi3 Portable In-Ear Headphones
Incredible portable audio any way you want it!
Review By Peter Pialis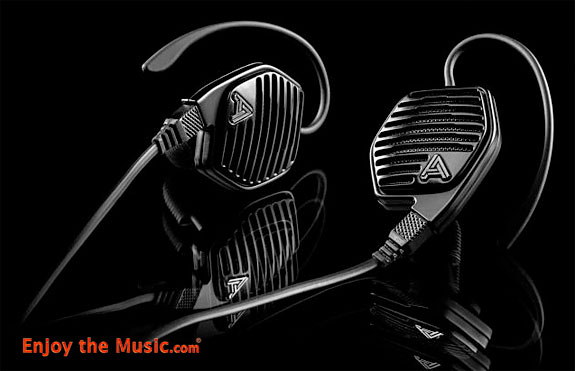 I absolutely loved the iSine20 when I reviewed them a few years ago. I found them to really shake things up in the portable market space with their full-sized headphone sound and transparency. Well, never to rest on their laurels, Audeze has just released their follow up; the LCDi3. This new product is a big step up from their iSine20 predecessors with the same magnesium housing and grill from their flagship in-ear headphones; the LCDi4. As well, you now get a plethora of options to use these in-ear headphones. Everything from a Bluetooth option to a Lightning Cipher Cable to a standard 3.5mm TRS stereo cable is included with them and as a result, you should have all of your portable audio bases covered.
Using the award-winning design from what I consider to be the best in-ear portable headphones I've ever heard, the LCDi4, the LCDi3 features an open-backed magnesium housing for greater transparency and clarity and the newly designed low-impedance drivers incorporate Audeze's patented Uniforce voice coil and Fluxor magnet technologies to maximize the dynamic range of the LCDi3 that allows them to approach a whopping 130 dB with no audible distortion. Along with the three listening options (standard 3.5mm TRS cable, Lightning Cipher cable and Bluetooth Module), the LCDi3 come with a large assortment of accessories that will allow you to maximize your enjoyment of these impressive in-ear headphones:
1.5m Auxiliary (3.5mm TRS) Cable
1.5m Cipher Lightning Cable
Audeze CIPHER Bluetooth Module
Nylon Travel Case with foam insert
Selection of Offset Ear Hooks and Ear Fins for ideal customizable fit
Cleaning brush and shirt clip
User Guide and Warranty Card
Certificate of Authenticity
Selection of Ear Tips for ideal fit into your ears
The full list of product specifications from Audeze are at the bottom of this review. As you can see with their low impedance (20 ohms) and high sensitivity (110dB/mW), you can tell that you can literally power these in-ear headphones with any device that you may have on hand when using the 3.5mm auxiliary TRS audio cable. That said, I did find the drivers quite transparent and while you can play them quite loudly from almost anything, they do respond positively with improved sources and amplification. For this review, I will use all three main modes (3.5mm TRS cable, Cipher Lightning Cable and CIPHER Bluetooth module) to put these in-ear headphones through their respective paces.
For my first serious listening session; after roughly 50 hours of burn-in, I decided to use the included Lightning Cipher cable and my iPhone XS. Using my Qobuz App, I quickly settled on The Beatles 50th Anniversary Remaster of "Abbey Road". Along with "The White Album", this record rounds out my top two Beatles releases ever. I must have listened to this amazing album over 100 times through the years and I am very familiar with this rock classic. During the burn-in phase, I settled on the newly released ear-fins as I found their balance of comfort and the ability to securely hold the LCDi3s in my ears seemed like a perfect match for me. Having the LCDi4 on hand for about a year, I knew that the medium eartips were ideal for me, so I was off to the races fairly efficiently. From the outset of John Lennon's masterpiece "Come Together", they put a huge smile on my face! I could immediately tell that the transparency with these in-ear headphones had been brought to a new level over the iSine20s.
That classic "ortho-sound" was there from the very first few bars of this album. Immersive, dynamic, impactful and transparent were the first words that came to mind when I was taking my notes. A very pleasurable enveloping warmth surrounded me throughout this recording, but unlike with many warm sounding headphones, I never once felt that I had to sacrifice an upfront midrange or treble extension and clarity. While not up to the LCDi4 flagship level of transparency, the LCDi3 did come in between them and the iSine20; in the end that is, to summarize, still very impressive overall. The bass hit hard and fast and offered a full-sized headphone-like experience; which is one strong aspect I've always loved about Audeze's in-ear headphones.
Throw in some of the widest and deepest sound-staging of any in-ear headphone or monitor that I've come across and you have one amazing portable experience. George Harrison's vocals on "Here Comes the Sun" were wonderfully upfront, clear with gobs of detail and when coupled with the clarity and speed of his acoustic guitar work transported me to the Abbey Road studios right next to George Martin as this classic Beatles song was recorded. I found that the Lightning Cipher cable had a firm grasp of the LCDi3's drivers and never once did I find myself wishing that there were more dynamics or drive. The DSP contained in this cable is a truly unique solution to optimize the frequency response and offer an improved and more transparent experience. Audeze is really a pioneer in this space and should be commended for their hard work and efforts.
I then swapped out the Lightning CIPHER cable for the included Bluetooth CIPHER module. This only took a few seconds and was quite easy to perform. Being able to go wireless is the ultimate in portability for me and cutting the chord so to speak can really help unclutter things for when you're on the go. Using the Audeze App and CIPHER technology (as with the Lightning CIPHER cable) is a huge advantage as the DSP used by both options helps optimize the balance of the LCDi3 in-ear headphones. All headphones and in-ear portables have issues with a completely flat frequency response, but the DSP used by Audeze is quite revolutionary and helps correct some of the minor issues that all headphones experience. As well, if you prefer another frequency response, from a warm to a brighter/clearer sound signature, you can "tweak" to your personal taste by using the Audeze App that you can install on to your source.
For this critical session, I decided to use my Apple Lossless recording of "Anything Anytime Anywhere" by Bruce Cockburn. This is a greatest hits compilation of Bruce's legendary career and I highly recommend it to anyone who is a fan of this brilliant Canadian artist. "Lovers in a Dangerous Time" sounded sublime from the outset. Bruce's vocals were on full display with the LCDi3 as their luscious mid-range really shone through. The LCDi3s have among the very best mid-range that I've heard from any portable headphone except for their bigger brother: the LCDi4. Guitars too were portrayed with incredible realism and transparency. Their extreme attention to detail allowed the LCDi3 to dig deep into a recording and pull out the smallest nuances that much of their competition would gloss over at best. You will likely end up experiencing some of your favourite recordings all over again with these in-ear headphones that will have you shaking your head thinking "how did I miss that before".
The overall warmth that these in-ear headphones offer will have you listening for a very long time without a hint of listening fatigue. Bass notes again hit hard and fast and will satisfy even the most critical listener. Again, the treble was slightly pushed back in the overall presentation, but I found this tonality quite helpful as mentioned as the sweeter sound signature offered an easier listening experience without detracting from a sense of air or space. The ability to use my iPhone XS and the wireless CIPHER module was simply outstanding as I was able to walk around with the LCDi3s, experience sound quality that was almost identical to the wired CIPHER cable and have the freedom of not being tethered to my device.
Finally, I decided to pair the LCDi3 with my Chord Electronics Hugo 2 and the supplied 3.5mm TRS headphone cable. This is my preferred setup for the flagship LCDi4 and I find the Hugo2 a perfect front end setup for these incredibly revealing in-ear headphones. So, in a few weeks, as I write this, my daughter and I will be in Scotiabank Arena here in Toronto getting ready to see Elton John's Farewell Yellow Brick Road Tour. So I thought it a great idea to use this classic album for this final session. Released way back in 1973 it has stood the test of time as one of Elton's very best works. "Candle In the Wind" was a brilliant showcase for both these in-ear headphones and Elton's majestic vocals.
Often folks focus on his epic piano playing or stellar ability to write hit songs, but Elton has some of the very best male vocals that I've ever heard. And yet again, the LCDi3s portrayed vocals with the upmost in clarity and transparency but offered a hint of warmth and sweetness that made the entire presentation a complete joy. The clarity and openness that the LCDi3 offer is simply off the charts and again; it is only bested by the flagship LCDi4. As portable in-ear headphones go, these new LCDi3s certainly hold their own and along with the LCDi4, offer the largest and fullest sound I've ever heard! Bass on "Bennie and the Jets" was filled with energy and clarity at the same time. Usually its pick one or the other; but rarely both. But with the LCDi3 you can have your cake and eat it too!
Simply put, if not for the stellar LCDi4 flagship in-ear headphones, the LCDi3 would make it to the top of my list for favourite portable in-ears. They are that darn good! With outstanding openness, clarity, dynamics and full sized headphone sound, the LCDi3 fire on all bases. While the LCDi4 offers a more balanced and neutral presentation, the LCDi3 offers a touch of warmth and sweetness that will be more forgiving of your upstream source and offer a very pleasing and easy listening experience for long periods of time. Throwing in pretty much every accessory that you'll need (except for maybe the kitchen sink), these new in-ears will have you off to the races regardless of how you want to use them (Apple iDevice, wirelessly, or wired to a fantastic source). If you've always wanted the LCDi4, but wanted to save some money at the same time, I strongly suggest you give the LCDi3 an audition and strong consideration; you won't be disappointed!

Check Out Headphone.Guru
See many great reviews by Headphone.Guru at this link.
Specifications
Type: In-ear, semi-open back stereo headphones
Transducer Type: Planar Magnetic
Magnetic Structure: Fluxor magnet array
Phase Management: Fazor
Magnet Type: Neodymium N50
Diaphragm Type: Ultra-thin UniforceTM
Transducer Size: 30mm
Maximum Power Handling: 500mW RMS
Maximum SPL: >130dB
Frequency Response: 10Hz to 50kHz
THD: < 0.1% @ 100dB
Impedance: 20 Ohms
Sensitivity: 1 mW
Minimum Power Requirements: >50mW
Price: $899
Manufacturer
Audeze
3412 S. Susan Street
Santa Ana, CA 92704
Voice: (714) 581-8010
E-mail: support@audeze.com
Website: https://www.audeze.com