November 2021
World Premiere Review!
High Fidelity Cables MC-1 Pro Double Helix Plus Signature Power Conditioner Review
The importance of good power for your components should not be underestimated.
Review By Rick Becker
First of all, it's not what you think. It's not a box that conditions your power and has outlets to plug all your gear into. Homeland Security would undoubtedly open your suitcase and take a close look at it if you tried to board a plane. It's a plug-in conditioner that looks like a tactical weapon James Bond might keep handy for blowing up cars or helicopters. I found it works best when plugged into a power strip or into the duplex outlet that your power strip is also plugged into.
Rick Schultz was interested in having me review some of his other products after the rave review of his NPS-1260 3D contact enhancer — a spectacular tweak that improved the transparency, resolution, and dynamics of my system. While NPS is related to High Fidelity's other products, their major innovation is their Magnetic Conduction technology that drives the flow of current to the center of a cable, thereby reducing or eliminating the skin effect typical cables have on the music signal. That's the broad simplification anyway. Some would call it cutting-edge technology; others would call it pseudo-science. But that's how science advances — from the absurd to the accepted.
Power conditioners in High Fidelity's lexicon are plug-in devices, while what they call power distributors combine their Magnetic Conduction technology with lots of duplex outlets into which you plug your components. I was surprised to learn that their plug-in power conditioners utilize varying industrial-strength versions of what is contained in their soon to be famous NPS 1260 contact enhancer. In typical fashion, in both their power conditioners and their power distributors, the more you pay, the more conditioning and the more outlets you receive.
Prices start out reasonable and escalate all the way to NASA level, though High Fidelity does not do any government work. I let Rick suggest a power conditioner for me to review, knowing I had already praised the Furutech NCF plug-in conditioner, a competitor for their entry-level power conditioner. He selected their new top-of-the-line MC-1 Pro Double Helix Plus Signature which I will hereafter refer to as the MC-1 for simplicity, seen here with the much smaller Furutech NCF.
The line of six conditioners starts with the MC-0.5 ($299) and culminates with the model reviewed here at $3499. That's to be compared with my Synergistic Research PowerCell 8 SE with 8 outlets that now retails for $2995 and comes bundled with a High Current Atmosphere Level 2 power cord valued at $1995. I used my JPS Labs In-Wall 30A dedicated line throughout the review. Unfortunately, this line is terminated with a quad head in which each outlet is angled 90 degrees from the next, making it unusable with the MC-1 with its three barrels connected in an arc.
This design works great in a single duplex outlet and acts as a cable support for the power cord plugged in above it as seen here. The MC-1 held firmly in every audiophile-grade outlet in which I used it, whether vertical or horizontal. If you're using a builder's grade wall outlet, I strongly urge you to replace it with at least a spec grade outlet, or even better, with one of the many audiophile-grade duplex outlets with a much firmer grip.
To get around this problem I plugged my Synergistic Research QLS 6 Quantum Line Source ($399) into the JPS dedicated line. This power strip has individual outlets that are spaced widely apart and angled so wall-wart power supplies hang perpendicular to the power strip without interfering with adjacent outlets. Synergistic also offers a QLS 9 ($499) with nine outlets. Both of the QLS power strips require a power cord to connect to the dedicated line, allowing you to select the quality level of the cord or the price range you're comfortable with.
Listening Protocol
Given the limitations of available outlets in either the QLS strip or the PowerCell 8 SE, I limited my rig to CD playback for this review. I had Synergistic Research power cords in the $2000 to $3000 range into the Sony ES transport, Calyx DAC, Coincident Statement line stage, and the Eddie Wong monoblocks with parallel 300B tubes driving the Kharma Ceramique 2.2 speakers, all of which are significantly tweaked in one way or another. I also had all these components wired to a Synergistic Research passive Ground Block which I was able to plug into the JPS Labs dedicated line along with either the QLS strip or the PowerCell 8 SE.
I reviewed multiple tracks from my compilation CD in each of four configurations. These are tracks I've been using for over a decade so I'm ultra-familiar with them. In each configuration, the music was toe-tappingly delicious. My rig is beyond the point where I'd be happy to take it to a desert island. I have recently made two big gains in transparency, resolution, dynamics, and noise reduction with my recent reviews of the High Fidelity Cables' NPS 1260 contact enhancer and the Acme Audio fuses. But like in drag racing, there is always the urge to go faster, so that's why I'm here.
Besides, the oceans are rising and desert islands are in peril. Suffice it to say that I went back and forth through all these combinations multiple times in different directions as quite often the benefits of a component are most recognizable when a component is removed from the system, rather than added.
1) The four configurations:
a. All components plugged into the power strip; no power conditioner
b. All components into the power strip; MC-1 into the power strip
c. All components into the PowerCell 8 SE
d. All components into the PowerCell 8 SE; MC-1 into the PowerCell 8 SE
While the first configuration without any power conditioner was quite good, the other three were better, so I dropped that configuration early on.
2) All components into the power strip; MC-1 into the power strip.
This was the most successful combination to my ear. A layer of subliminal noise was removed and the music emerged from a blacker background with more resolution, tonal color, and transparency. I'm tempted to say that dynamics improved, but the attack of notes was only more prominent because the noise floor had been lowered. The music didn't really get any louder. It just got better.
Instruments were more separated from each other on the soundstage and I could hear past the lead guitar, say, and follow the bass and the drums behind it more clearly. Slide guitar and organs, placed to the left or right simply enlarged the soundstage. And backup singers added greater depth and could be heard with greater cognition. Of particular note was that singers and instruments that were front and center became more holographic. This was something that more typically happens for me with LPs, so it was a pleasant surprise to experience this with CDs.
Mid-bass, too, down into the mid-30Hz range became noticeably more focused and had more timbre and a lot less thud. That's always been a challenge with the 9" driver in the Kharma in my 6000 cubic foot room. The room never gets fully loaded in the bass, but my mid-field listening triangle (about 9' on each side) helps compensate for the shortcoming of the single woofer. The MC-1 delivered the most tuneful bass I've ever heard from the Kharma with the 18 Wpc 300B monoblocks.
3) All components into the PowerCell 8 SE
Transferring all the power cords to the Synergistic Research power conditioner brought the sound quality down a bit. That's not a whole "notch", but when I put on my critical listening ears there were some minor differences. There was a slight loss of transparency and resolution. Tonal color faded slightly. The edges of the notes became a little coarser and when the music got up into the treble the sheen of the cymbals seemed a bit smeared. Some of the cognitive signifiers on my compilation CD were a little less discernable. And the bass notes became less defined, losing a bit of slam and timbre. Of course, this region of the bass is not the forte of 300B tubes. If it sounds like I'm slamming the PowerCell, let me set you straight. The differences are small and given the different form factors of these two conditioners, it is not an apples-to-apples comparison. We'll set that discussion aside until we talk about value, further on.
4) All components into the PowerCell 8 SE; MC-1 into the PowerCell 8 SE
Adding the MC-1 to all the power cords in the PowerCell brought the sound quality up a bit... say somewhere between the two previous configurations. The edges of the notes smoothed out nicely but it didn't achieve the transparency or the brighter tonal color of the MC-1 alone in the power strip. While most everything improved somewhat by adding the MC-1, from a value standpoint, it didn't make sense.
Play It Again, Sam, And Again
Somewhere in the middle of writing this review, I wondered whether the outcome would have been different in degree, if not substance, if I had used my AGD GaNFET solid-state amps instead of the parallel 300B tube amps. I went through the entire protocol again. It was disheartening in every combination. Why were my tube amps sounding so much better now, when in the past the two amps were so much closer in many respects?
The answer, of course, was that I had inadvertently fallen into a blind listening test with my eyes wide open. I had forgotten to place the Synergistic Research MiG footers under the AGD monoblocks. Furthermore, I had inadvertently switched the MiG footers under my DAC from the pinpoint soundstage configuration to the ambient one. And finally, it occurred to me that the AGD was equipped with the Synergistic Orange fuses while Eddie Wong's tube monoblocks were armed with the new Acme Silver Cryo fuses. I couldn't change the fuse situation, but reconfiguring the MiG footers was a game-changer. The AGD snapped to attention and once again performed very close to the tube amps and showed their superiority in the treble and deeper bass. Once again, life was good and the performance of the MC-1 was consistent with both amps.
Video
I'm not a big video fan. I'll watch parts of a football game, a national championship, or some spectacular program, but it is nowhere near the center of my life. But my wife watches a lot, so I plugged the MC-1 into the dedicated line for the modest TV rig to see what would happen. The Sony TV, an Eddie Wong 6 Wpc integrated tube amp, and a pair of Coincident Partial Eclipse speakers that we both love form the basic system. The TV headphone output feeds the amp. Along with the cable box and a rarely used Blu-Ray player, all are plugged into another QLS power strip.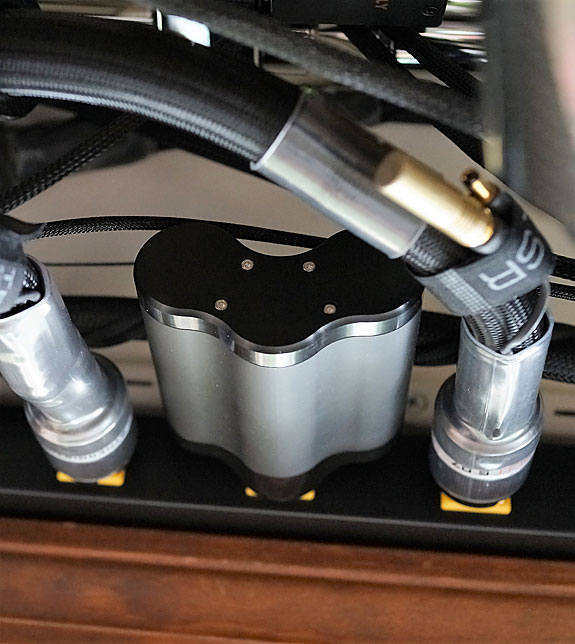 There was a noticeable increase in black level and color saturation along with more nuanced flesh tones and inner detail in the image. If you are a videophile also, you might respond "very nice", but given the high starting point for the quality of the TV, it was not a "wow." Nor did it turn 4K UHD into OLED for me. Given that the front baffles of the Coincident speakers are only 20" out from the front wall, the impact on the audio was also modest. The TV rig is not optimized for sound — it's a family room, not a dedicated listening room, but it took a modest uptick with the application of the NPS 1260 on a few of the connections a month earlier.
Value
While all three combinations (four if you count using neither conditioner) provided engaging music that would be appreciated by most audiophiles. The form factor of the MC-1 seems to be optimized by using it in conjunction with a high-quality power strip or distribution box. Its curved form can block access to adjacent outlets if they are tightly spaced. The PowerCell 8 SE, for example, was reduced to a six-outlet conditioner when the MC-1 was added.
Considering the price of the two combined at $6500, you might consider stepping up to a High Fidelity Cables power distributor that incorporates their Magnetic Conduction technology. These run from $999 to $50,000, but again, don't be scared off by the NASA-priced power distributors. The first three are designed for mortal audiophiles and are priced competitively. The MC-10 power distributor is said to have much more conditioning than the MC-1 version reviewed here. It also includes 10 outlets and sells for $5999, though as I just checked the price, I see on their website an Early Black Friday sale with 60% off everything except the NPS 1260. That certainly impacts the value proposition.
This sale also points to my next issue on value, namely that their NPS 1260 contact enhancer, the Acme Silver Cryo fuses, and the Synergistic MiG footers, and new Purple fuses are relatively inexpensive tweaks that can have a substantial effect on sound quality at a lower cost. I have many other tweaks in my rig, but I think the point is made. That said, the importance of good power for your components should not be underestimated. Fuses, power cords, power conditioners, and dedicated lines (often another high-value contribution) all factor into this and should not be under-funded.
Summary
The NPS 1260 contact enhancer is a tough act to follow. Consumer feedback is trickling in that confirms my rave review and it is an extraordinary value for what it brings to the music. Likewise, consumer feedback from the MC power conditioners has been very positive and I found a lot to love about it. The MC-1 Pro Double Helix Plus Signature took my rig to a new high point in sound quality. But the form factor of a plug-in power conditioner is more restrictive than a power conditioner with built-in outlets.
If you have a simple rig with only a few components and can get by with a single high-quality power strip, it is certainly worth considering and I can recommend it in that context. If you need lots of outlets, it may be worth considering one of their power distributors which feature their patented Magnetic Conduction technology and I look forward to trying one of those in the future.
| | |
| --- | --- |
| Tonality | |
| Sub–bass (10Hz – 60Hz) | |
| Mid–bass (80Hz – 200Hz) | |
| Midrange (200Hz – 3,000Hz) | |
| High Frequencies (3,000Hz On Up) | |
| Attack | |
| Decay | |
| Inner Resolution | |
| Soundscape Width Front | |
| Soundscape Width Rear | |
| Soundscape Depth | |
| Soundscape Extension Into Room | |
| Imaging | |
| Fit And Finish | |
| Self Noise | |
| Value For The Money | |
Specifications
Type: Power filter
Input Power: 100V to 240V
Dimensions: 2" x 5.3" x 3.8" (HxWxD)
Weight: 3 lbs.
Price: $3499
Company Information
High Fidelity Cables
901 N. McDonald Street, Suite 502
McKinney, Texas 75069
Voice: (214) 614-7111
E-mail: info@highfidelitycables.com
Website: HighFidelityCables.com