August 2017


Tekton Design Brilliance Floorstanding Loudspeaker
A very fast, detailed, and engaging speaker.
Review By Rick Becker
As a reviewer, I've had a sufficient share of equipment from the big brands in high end audio. But just as exciting for me has been discovering unique components and helping fledgling companies move forward. So here we have my review of Tekton's Design very interesting Brilliance loudspeaker ($3000 per pair). This is also why I find covering shows so fascinating and cover them is such depth. You never know what you might hear in the next room, or find sitting quietly on a table at the back of the room, or out in the hallway in a booth. Such was the case with the affordable Tekton Design OB4.5 open baffle speaker at the Montreal show in 2009. Within days I was in touch with Eric Alexander in Orem, Utah, and subsequently that speaker earned a Blue Note Award. Again in 2014 I called on Eric for an affordable speaker for my $5000 Entry Level Project and he responded with the Lore Reference, a $1000 floorstanding speaker that again picked up a Blue Note Award as part of that project.
Since the early days of Tekton, then, we have been friends. At one point, years ago, he swore me to secrecy and shared his dream of making a speaker with drivers having cones as light and responsive as the mass of the strings of violins – drivers that would start, stop and decay with the speed of instruments that created the musical notes. He was dreaming in the realm of a technological breakthrough. Knowing of his long tenure in major companies in pro audio speaker design, including a stint with Ray Kimber and his DiAural process, it never occurred to me to underestimate him. I knew it wouldn't be easy…or quick. Years passed, punctuated with personal events for each of us.
Finally, word came that he had been awarded a patent and actual development could proceed. I was promised a review sample and waited patiently for word of it shipping. As fate would have it, I received the Synergistic Research PowerCell8 UEF SE and a bundle of their new Atmosphere Level 2 and Level 3 power cords for review before the Tekton arrived. The rave review of these products appeared in last month's issue. They were the second major breakthrough for my system within a year; the first being the Codia Acoustic Design Stage 3000 BAB audio rack. My rig was at the highest level it's ever been.
What do you want for $3000, a rubber biscuit? (Blues Brothers, sorta)
The Tekton Design Brilliance speakers arrived in early March, just in time for our once-each-decade power outage in Rochester, New York. We sat huddled by the fireplace for almost a week before I could hook them up. I unboxed the Tektons and was, frankly, underwhelmed by their appearance. Gray is a very popular color in home decorating these days among both younger and Boomer generations alike. I know this from my retail furniture business. It sells across the generations. But it isn't the color I would have chosen to replace my piano gloss black Kharma speakers. Fortunately, Eric offers the Brilliance in satin black, satin white and satin red at a base price. A palate of bright colors that would delight Piet Mondrian is viewable on his website and Eric tells me he can offer an automotive paint finish for a $500 upcharge. Piano gloss black would be a $500 upcharge for traditionalists.
The shape of most Tekton speakers would also delight Piet, as they are usually block-shaped, varying only in height, width and depth. The Brilliance, here, is 47" tall, 10" wide and 13" front to back. At 62 pounds each, they feel lighter than they look. Eric tells me there is an abundance of proprietary infrastructure design within the speaker in addition to the two 1" ports beside the 4.5" woofer plus the 3.75" port on the rear. (Yes, it is a 4.5" woofer, but we will get to that later.) Additionally, there is just enough damping material inside to keep the sound lively but not too polite. From knuckle-rapping, I'd guess the 4.5" woofer is in a small ported enclosure, the three tweeters are in another enclosure, and the 8" woofer is in a third enclosure, but who's to know if there is internal duct work?
There is a single pair of gold plated binding posts and internal wiring and crossover parts are "good" in the "good/better/best" scheme of things, but these can be upgraded for an additional $300. I had the basic package which looks just like the one on the website. In case you've been scouting out his website, the Brilliance PMD Monitor with high gloss finish at $10,000 is the same design built to a cost-no-object standard.
So with the Synergistic Research gear under review, I put the Brilliance speakers in the video rig to break them in. Not only does my wife watch a lot of TV, much if it is stuff like The Voice and Dancing With The Stars that has a lot of music content. Just listening casually to the news on TV, it was obvious that the Brilliance had higher resolution than the Coincident. I struggled less with the young newscasters who haven't learned that by talking faster, they are communicating less. Driven by a vintage Kenwood surround sound receiver picked up at a garage sale after my vintage Tandberg integrated amp lost a channel, they didn't sound great. So I swapped in my Coincident Dynamo 34SE MkII integrated amp. This was an improvement and with the claimed sensitivity of 94dB/W/m for the Brilliance, the 8 Wpc was sufficient for very decent bass at reasonable volume. With non-critical listening and TV programming it was decent, but not sufficient to justify Eric's lofty claims for the speaker.
Within The Big Rig
I took one last trip through my compilation CD for reference with the Kharma speakers, then positioned the Brilliance in the identical spot: 63.5" in front of the wall behind them, seven feet between the tweeters and eight feet from tweeters to ears – pretty much a mid-field equilateral triangle. The drivers were facing straight ahead, not tilted toward my ears. In my room, with the side walls far to the left and right of the speakers, this gives me the tonal balance of live music – almost always. Beneath the spikes I placed the Soundeck footers atop slightly larger squares of solid hardwood. The addition of the wood squares is a recent change for me. It is a little fuller sounding with the wood, but I can't say for sure that it's better than just using the Soundeck footers on the carpeted floor.
The first 90 seconds of music caught me off guard. It sounded like something was wrong – like the Ferro-fluid in the drivers needed to warm up. (Eric later told me there was none in his drivers.) I replayed the first cut and realized I was listening to the highest resolution playback I've ever had from my rig. For the next hour I listened to the 18 tracks of various types of music, mesmerized by the detail that was emerging from this music that I've heard hundreds of times over the past decade or more. Tonally, it was very close to what I hear with the Kharma, which is a good thing since the room and system were put together to bring out the best in the Kharma. They are, after all, a very highly regarded speaker that presents the music in phase.
Most notable was the sensation that all of the music sounded an awful lot like the mostly amplified live music I had experienced over the previous week at the Xerox Rochester International Jazz Festival – no matter what the genre. (There is a lot more than just jazz at this festival.) The inner detail that revealed the soundscape of the recording venue, whether actually recorded, or manufactured in post-production was uncanny. As music descended into the bass the 8" pulp cone driver in the Brilliance pulled even farther ahead of the Kharma exhibiting even better tonality and presenting a deeper, more continuous soundscape with better localization of the musicians and back-up singers. This was particularly evident on Hugh Masekela's "Stimela." The Kharma is rated down to 33Hz; the Brilliance down to 30 – a difference that was sometimes evident, but not as important as the greater tonal color of the Brilliance with its faster attack and more natural decay giving the notes a more palpable presence than the Kharma with its carbon Kevlar woofer cones.
Up in the treble, with three silk dome tweeters aligned vertically, was a clarity that was authentic with shimmering cymbals that had a natural decay. Violins sounded less believable and sometimes were rather etched, perhaps a result of the higher focus?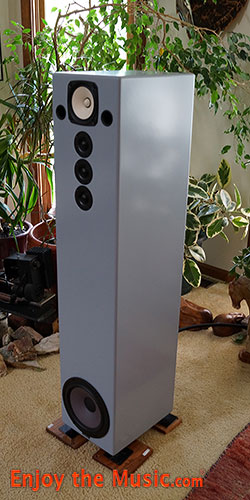 Most of the music we hear is in the midrange and it was equally superb in terms of inner detail and clarity which allowed me to comprehend lyrics that were previously a mystery. Close analysis of "Louie, Louie" revealed some lyrics that alluded to the West Indian sea chanty, but nothing that should have concerned J. Edgar Hoover. The fast attack of musical notes made it easier to identify instruments and the trailing decay made the music sound practically live. The richness of the tonal colors was realistic and addictive. When listening to music that might otherwise have let me drift off, I was held in rapt attention. For a person who likes to multi-task while listening to music, this could be a problem. Your music collection is going to seem fresh, if not brand new to you. Some might say the music was "in your face" but again, having just spent nine straight days with live music at JazzFest, that's pretty much the way amplified live music is.
Overall, tonal balance of the Brilliance is very similar to the Kharma except for the extra energy in the presence region. Only at one point did I think there was dip in the upper bass, but it was not a consistent observation. Resolution and transparency were noticeably better with the Brilliance. The notes are so well formed by the drivers that there is very little distortion. With some speakers this effect can make the music seem thin. A blurry bass, for example, will make you think there is more music present than is actually on the recording. But I didn't experience music as thin with the brilliance. Even musicians who jam fast and intentionally distort their sound come across as a lot more articulate and dare I say "talented"?
And while we're on the subject of distortion, even though I'm not a head banger, I did take a couple of tracks up to 100dB. The very slight distortion I heard could likely have been attributed to my 18 wpc monoblocks trying to fill the 6000 cubic foot listening room. I was impressed that the music was so pain-free and enjoyable at that level. (Yeah, I know some of you think 120dB is cool, and indeed, there was some big band music at JazzFest that probably got close to 110dB at times, but I'm into enjoying music over the long haul.)
At the other end of the VU meter, while listening to obscure classical music at a low volume so as not to disturb Linda's sleep, I noticed the highs and lows were not as attenuated as with most speakers at low volume – kind of like the effect of using the loudness control on receivers back the last century. I attribute that to the sensitivity of the speaker and the low mass of the cones and domes that create such a high degree of resolution. Low level listening, while not as involving as playback at levels that was appropriate for the type of music, was still quite enjoyable.
Deeper Bass?
The addition of the Synergistic Research PowerCell8 UEF SE and Atmosphere Level 2 and Level 3 power cords tightened up the bass response of my Kharma speakers beyond what I thought was possible with my SET tube power amps. With the SR gear in place, the Brilliance surpassed the Kharma in tightness (speed), timbre and physicality, and takes it very close to the experience of live performances I've just heard at JazzFest. If 30Hz isn't deep enough for your pleasure, you can take a look at the Double Impact (also $3000), a larger, heavier model with more drivers that goes down to 20Hz. Or subwoofers. And Eric makes some very interesting high sensitivity subwoofers. To match the speed and timbral performance of the Brilliance he has applied the same patented technology to his Brisance subwoofer ($2000, including shipping).
The ported 18" woofer is augmented with two 8" woofers for overtone and harmonic coupling to provide the speed and delicacy necessary to fool your brain. The Brisance is good for 20Hz and equipped with a pre-programed DSP processed Crown XTi amplifier rated at 1000 watt RMS, plenty of power for a speaker with 100dB sensitivity. At 140 pounds, you will need friends – one to hold the box and two to extract it. Your pastor may be able to put you in touch with church members willing to help at little cost. Consider using sliders instead of spikes if you need to move them on occasion. Eric tells me a smaller version of this sub is in the works.
The Technology
The technology involved in the Brilliance is covered by a US patent that gets beyond my ability to follow. Fortunately, Eric puts it a little more succinctly on his website:
Simply put, if the moving mass of the speaker cone is not the same or less than the original source (i.e. the violin, guitar, trumpet, etc.), the musical instrument's upper overtones and upper harmonics when played back through the loudspeaker system will sound diminished, lowered in volume, progressively damped, and lower in sensitivity when compared to the original sound source or musical event. In my mind, I see this relationship as a mathematical algorithm and I design loudspeakers in a new and innovative way that keeps this in mind.
So, the proprietary drivers he has designed in conjunction with major manufacturers have substantially lighter cones. (The white Fostex 4.5" driver is the same one he used in the OB4.5 open baffle speaker.) He prefers the sound of natural materials (paper in the woofers and silk in the dome tweeters) to elemental materials such as carbon fiber and beryllium. Sound, he says, propagates horizontally through paper at about the same speed as it does through air. Whereas it travels through beryllium 37 times faster, which creates problems. I'll side with him on the use of natural materials based on what I've heard at shows over the years, though my Kharma have a ceramic midrange, silk dome tweeter and a carbon fiber woofer.
Now it gets interesting. The proprietary triple silk dome radiator high frequency array is run nearly full range from 800Hz to 30 kHz. Three of them are needed to move enough air over that frequency spectrum. The proprietary high performance 8" papyrus fiber Seas driver runs from 30Hz to about 800Hz. It's mounted near the floor to reduce floor bounce and probably to reinforce the bass as well. Back up top, the 4.5" mid-bass transducer is the overtone driver covering a range of 40Hz to about 600Hz-800Hz, which is really stretching into the lower midrange. With conventional drivers and speaker design, the overtones and harmonics dissipate rapidly. The overtone driver purportedly brings them up to the volume we normally experience in live music. This is accomplished electronically with the technology covered by his patent. At this point the engineering pretty much leaves me in the dust. For those of you so inclined, I've included the link to the patent earlier in this segment.
Something's Happening Here
The physical arrangements of the drivers, aside from the patented technology involved, suggest something unusual is happening with this speaker. As I sit in my listening chair, a typical recliner that rocks back slightly when I sit in it, my ear level is about at the lowest tweeter. Eric suggested that it should be between the upper tweeter and the 4.5" driver, about 6" higher. I just happened to have a 6" riser at work so I brought it home. It's not exactly your typical audiophile accessory, and it made getting into and out of the chair more cumbersome, but it also made the music sound noticeably fuller. Additionally, the sound came from straight ahead at eye level, rather than looking slightly upward at the performers as if I was sitting at a table and they were up on a stage. This was my preferred position, but I reverted to having the listening chair right on the floor. It's not a big difference.
I also repositioned the speakers closer to the front wall behind the speakers and moved my recliner further away. This effectively decreased the angle of elevation of the music, but it also messed up the sound, making it more like recorded music and a lot less like real musicians at a live performance. I quickly re-established my original triangle.
As I often do with reviews, I invited my friend Tom over for additional input. He not only listens to a lot more live music than I do, but also a lot more classical music and female vocalists, two categories that largely escape me. (I'm much more into rock, jazz, blues and Hearts of Space.) He was troubled by what he perceived as colorations in the female vocals and the violins in the classical pieces on his compilation disc. His hearing is better than mine, particularly in the treble. I was taken back a bit by his feedback and resolved to investigate further.
First off, I switched back and forth from the 8 ohm and 4 ohm posts on the amplifiers. The 4 ohm was maybe a little bit better, but not by much. Eric leans more toward solid state than tube power as a way to extract more dynamics and a tighter bass from his speakers. Perhaps it's his experience as a drummer that craves fast attack and tight bass. I was very impressed on both counts with my tube amps, and even more so with the timbral revelation.
I set up my Radio Shack analog SPL meter on a tripod at the listening position and plotted a graph with the speakers pointed straight ahead, and also aimed at a point slightly behind my head. There was very little difference between the two positions with only slightly stronger measured performance in the upper treble with the speakers angled in towards me. Admittedly, this meter is a rather crude device that requires a correction factor at the extremes, but it catches large deviations. Audible results with my compilation disc correlated with the measured response. Again, I preferred the straight ahead position for the more natural sound and the broader and deeper soundstage it presented.
I also dragged my Kharma back into position to both measure and listen. Surprisingly, the graphs looked largely the same, except for the prominence in the Brilliance between 600Hz and 2000Hz. Audibly, the speakers are quite different. I mentioned the greater focus, tonal color and transparency of the Brilliance. Perhaps it is that elevated upper midrange/lower treble that gives you that sense of transparency. But the Kharma presented a more cohesive sound that completely conceals the reality of music coming from multiple drivers in a box. There is just music coming from behind the plane of the speakers.
These are both great speakers, but they have different strengths (and vastly different price points) and will appeal to people with different musical tastes. Tom certainly prefers the Kharma, while I like both. The Brilliance has the jump factor of live music, something that became even more evident when I substituted my more powerful Coincident Turbo integrated tube amp (28 Wpc) for the Magic Tube Research monoblocks (18 Wpc.) Quite simply, the Brilliance extracts more music off a CD and out of the grooves of an LP.
Value
I have a real problem with the value of the Brilliance. Basically, you have a design that in some ways sounds like a $30,000 speaker disguised in a chassis that is acceptable for a $1000 speaker, selling for $3000. It screams for an upgraded finish and some finer parts like better spikes and binding posts. Better, cryogenic wire inside would be a strong value-added proposition for minimal cost. I urge you to spend for the upgrades he offers. On the one hand, in standard form, it is an incredible value and a very wise purchase for someone relatively new to high end audio that maybe has kids running around the house, or frequent geographical career moves ahead of them, but who envisions themselves pulling together a very high end system over the coming years.
Baring a breakthrough in technology, this speaker will withstand a decade of upgrades to the system that surrounds it. Down the road as the family matures and the career prospers, maybe spurge for a finer looking speaker or another Tekton if Eric has upped his game in chassis design. On the other hand, someone who already has a fine system and a finely decorated home might not give the Brilliance a second glance because it doesn't look expensive enough or doesn't have the brand recognition or foreign pedigree of the big names in this industry.
There is a hidden value to the Brilliance that might not be considered if you were merely shopping for a speaker. The speaker is the source of the largest amount of distortion in a system. This distortion can be measured in whole percentage points. Sometimes, lots of them. Electronics, on the other hand, have distortion that measures in tiny fractions of a percent. With the Brilliance, you are realizing a large reduction in overall distortion of your system as evidenced by the extraordinary gain in musical detail and resolution. So instead of having to spend, say, $30,000 on an amplifier that might give you a tiny increase in resolution, you can buy a good amp for a lot less. A very lot less. And given its high sensitivity, if you wish to buy a tube amp for its sonic attributes, you need not buy an expensive, super-powerful one.
Within my 6000 cubic foot room I did very well with 18 Class A watts from my SET monoblocks. In a smaller room, 8 Watts from a 300B tube should do quite nicely at reasonable listening levels. The same principle applies to solid state amplifiers if you lean in that direction and to other components in your rig, as well, although I would caution against going cheap at your front end. Everything matters and the affordable price of the Brilliance may leave you with additional funds to improve other areas of your system.
By the same token, don't expect this speaker to make an entry level rig sound like a first class system. The supporting members of the cast play an important role in bringing out the best of the Brilliance. It will reveal what you feed it. My system has a fair amount of tweaks that contribute to what I heard here, in addition to fine, but not über-expensive components.
Eric has proclaimed from the start of his company that: "It's not just about the sound, it's all about the sound!" With his patented design, he's made a noticeable advance in dynamic speaker design. As owner of the company, he can decide whether he wants to continue championing the entry level, or grow his company to appeal to include a wider spectrum of people. He said he is also open to the possibility of licensing his patent to other companies which could provide a faster spread of his intellectual property. It would certainly be interesting to hear his technology implemented in a chassis with as much sophistication as say Kharma, Wilson Audio or Rockport Technologies.
Money for nothin' and LPs for free (Dire Straits, sort of)
Another side effect is that the Brilliance also increases the value of your LP collection–even the garage sale ones. The music that is typically masked by traditional drivers comes through with dramatically improved transparency, focus and tone. No need for $30 audiophile remasters. Dust seems to just jump out of the groove as the stylus approaches. The signal to click and pop ratio with only the use of a VPI record cleaning machine is markedly reduced because the decay of the noise is so fast most dust specs go by unnoticed. Your garage sale LPs would probably gain even more transparency and tonality with the use of an ultrasonic cleaner, but I felt no need to spend another $4000 in that direction. Spend it elsewhere. Likewise, your lust for a $10,000 cartridge will also probably evaporate. The Charisma 103 ($750) supplies excellent resolution though it is not as smooth sounding as reviewed with my Kharma speakers. More transparency and even greater dynamics come through with the Brilliance. My Charisma Reference One cartridge ($1975) is yet to be mounted with this speaker in house, but I expect it will give me extraordinary results.
Smashing The Piñata
Eric Alexander has carved out an enviable niche with Tekton Design's affordable, high quality speakers. The Brilliance is one of several new models incorporating his newly patented technology. In base level trim he is able to hold the price at $3000 and remain loyal to his customers, giving them outstanding value. The Brilliance embodies a number of qualities that equal or outshine some of the top brands in the high end and it should draw the attention of those shopping at much higher price points. More affluent people will want to upgrade both the finish and parts quality – upgrades that are offered at modest prices that will not diminish the increased value they bring to the Brilliance.
The speaker is not without its quirks which I mention above, but those who can live with them will enjoy their music for many years to come as they upgrade the rest of their system. The Brilliance is a very fast, highly detailed, engaging speaker that brought me close to a live amplified event. If you're looking for an inexpensive alternative to a Harbeth, Audio Note or Vienna Acoustics, this is not it. Likewise, if you insist on totally uncolored music, well, that road goes on forever. For the rest of us, highly recommended. It's a lot of fun and makes your music even more addictive.
| | |
| --- | --- |
| Tonality | |
| Sub–bass (10Hz – 60Hz) | |
| Mid–bass (80Hz – 200Hz) | |
| Midrange (200Hz – 3,000Hz) | |
| High Frequencies (3,000Hz On Up) | |
| Attack | |
| Decay | |
| Inner Resolution | |
| Soundscape Width Front | |
| Soundscape Width Rear | |
| Soundscape Depth Behind Speakers | |
| Soundscape Extension Into Room | |
| Imaging | |
| Fit And Finish | |
| Self Noise | |
| Value For The Money | |
Specifications
Type: Proprietary four-way floorstanding loudspeaker design
Frequency Response 30Hz to 30kHz
Tweeter: Proprietary triple dome radiator high frequency array
Midrange/Bass: 4.5" mid-bass transducer
Woofer: Proprietary high performance 8" papyrus fiber Seas transducer
Sensitivity: 94.02dB/W/m
Load: 4 Ohm design for optimum performance
Power Handling: 200 Watts
Dimensions: 47" x 10" x 13" (HxWxD)
Weight: 62 lbs.
Manufactured within the USA
Price: $3000 per pair
Upgraded paint finish adds $500
Upgraded parts adds $300
Wood Veneer: Enquire
Grilles: $75
Company Information
Tekton Design, LLC
Orem, Utah 84058
Voice: (801) 836-0764
E-mail: tektondesign@gmail.com
Website: www.TektonDesign.com