June 2020
World Premiere Review!
Chisto Easy Groove Solutions
Concentrate, Virgin Concentrate, Extreme, Enzycaster, Concentrate, Spray & Wipe, Disk Analoguer, and Hi-End Show-Gloss.
Review By Tom Lyle
For the last few years, I've been cleaning my records by using a VPI 16.5 wet/vacuum record cleaner. My record cleaning liquid of choice has been for quite some time a simple solution of distilled water and a surfactant (the surfactant reduces the solution's surface tension, making it spread more easily on the surface of the record). Before the VPI, I used a Nitty Gritty record cleaner, and before that, an Audio Advisor record cleaner. With those machines I've tried countless solutions sold by many different companies. None were worthy of a review.
A couple of months ago, a variety of record cleaning solutions arrived at my doorstep made by a brand called Chisto. Chisto also makes products they call "Digital Care" for CDs and DVDs, solutions to clean the cabinets of audio/video gear, as well as a product that reduces static-electricity on one's audio and video components. Chisto is manufactured in Ukraine. In Russian, "chisto" means "clean."
Lucky
I consider myself lucky, I listen to a very nice analog front-end system. This front-end is certainly sensitive enough to easily hear whether a record is sufficiently cleaned. My reference Basis Debut V turntable, which weighs about 100 pounds, has been refurbished after I owned it for a while by the late A.J. Conti, the former owner of Basis Audio. Its tonearm is a Tri-Planar 6, which was built for me by the owner of Tri-Planar, Herb Papier, in his Wheaton, Maryland shop shortly before he retired. Tri Mai, of Minneapolis currently owns Tri-Planar. The phono cartridge I'm currently using was lent to me by Believe HiFi and is the best model made by Top Wing, their Suzuka/Red Sparrow, which for comparison's sake, costs as much as a new Hyundai Accent sedan.
For quite a while, I was connecting the tonearm's integral cables to a nearly $15,000 Allnic H-7000 vacuum tube phono preamplifier. This fantastic phono preamp is the reason why Believe HiFi lent me the Top Wing phono cartridge - to not only to bring out the best in this phono stage but also so that I could use a cartridge that the possible owner of an Allnic might own. After the Allnic phono preamp was returned to the manufacture, I used my reference Pass Laboratories XP-17 phono preamp, which may not scale the sonic heights of the Allnic, nevertheless, this solid-state preamplifier has been in my system for a few years, and I quite familiar with its excellent sound quality when converting the signal from the phono cartridge to an audio signal that is sent to the linestage.
Superstar
I think the superstar audio reviewer Michael Fremer had a point when he coined the phrase "record cleaning by faith." He used that phrase to describe the sort of record cleaner Nitty Gritty manufacturer. When its vacuum is drying an LP or 45 the surface of the record faces the floor, so unless one uses a mirror or some other way to remotely see the surface of the record one cannot see when the record is completely dry. One must have faith that the record is completely dry. In a way, I have had a similar feeling when attempting to compare different record cleaning solutions that I use with my record cleaning machine.
Almost every record cleaning solution I have ever used has done an excellent job of cleaning my records. But to be honest, I could hear no difference between these solutions. Yes, when I played the record, I could hear that the record was cleaned as there was less noise, just as I could hear if a record needed cleaning. So, unless I were ready to apply the scientific method to test the cleaning solutions using double-blind testing, I'd have to have this faith that these solutions work.
I am not willing to do this. I will use the Chisto cleaners I have been sent, and even before using them, I have faith that they will work. If I find that one of their solutions work as well, better, or worse than my usual record cleaner, I'd note that. I'd have to have faith that my many years of using record cleaning solutions will make my opinion of this new cleaner will be valid. As an audio reviewer, the reader will also have to have faith that my opinion will be valid.
Daily
The Chisto product I used daily for cleaning records was their Easy Groove Concentrate. Its instructions said to mix the entire 100 ml bottle of the concentrate with 900 distilled water, which I did, then I decanted some of it into a smaller squeeze bottle for convenience to clean records on my VPI 16.5 records cleaning machine. Early on, I used this diluted concentrate to clean a record that had already been cleaned at least once before, and also a new record, one straight out of its shrink-wrap after pre-cleaning to remove mold-release compound (I'll explain this process soon). I also tried using Chisto's Easy Groove Virgin Concentrate with a record cleaning machine for brand new records. I had no way of telling how the Easy Groove Virgin Concentrate worked on the new record other than to say that it looked clean after I dried it on the 16.5.
There is no question that out of all the Chisto products I was sent, the product that made me sit up and notice, or rather, sit down and listen, more than any other of their products was their Easy Groove Concentrate. I cleaned my already "clean" copy of 1970s prog-rockers Gentle Giant's Acquiring The Taste, their second album, which was issued on Vertigo Records in 1971, on what some collectors call a "spaceship" label pressing.
If a reader of this review called me "crazy," it certainly wouldn't be the first time that occurred (after all, I am an audiophile). But after cleaning this record with Easy Groove Concentrate on the VPI 16.5 record cleaning machine, and then listening to only one track off this British prog-rock classic, I could easily hear that the background noise that I previously thought was nonexistent was now lower in level. It was less than nonexistent! Yes, there was still the occasional very light "tick" or "click" that I could hear during the quieter musical moments, this record is, after all, over 45-years old. Not only was the background completely silent, but I could even "hear" this silence under varying levels of tape hiss.
Could I "prove" that the record surfaces were much quieter after using the Chisto Easy Groove Concentrate and a spin on my record cleaning machine? Quieter than if I used my home-made water and surfactant mix? Probably not. I wouldn't dare suggest to someone to play the record before and after cleaning and using an oscilloscope's printout of its readings. I'm not willing to do that. After more than 25-years of reviewing high-end audio equipment, I'm accustomed to some readers believing me and some not believing me. But I know what I heard (or didn't hear), and I'm merely passing this information onto the reader. I have nothing to gain by reporting this, other than the remaining fluid in a few bottles of Chisto record cleaner, that is.
Available
I also tried Chisto's Easy Groove Enzycaster, which is a pre-wash, available as a concentrate or as a spray. Chisto also sent me their Easy Groove Extreme, which on their website says that it "fights most stubborn dirt quickly." The problem was, I don't own any extra dirty records, and to be honest, I hope I never have to rescue a garage sale record that might be in that type of condition as I did when I was in high school. I've been record hunting for many, many years. It didn't take me long, especially once I had a decent high-end system, to learn that if I find a record that is "extra-dirty," chances are that the record is also damaged beyond repair. Unless this record is super, super rare, it usually isn't worth listening to, and so the type of record is not worth cleaning. This is because no one has yet invented a record cleaner that can repair a record. But it's nice that there are companies that make these products for those who own records that they believe are worth "rescuing," in that there is a solution that can at least remove the dirt from a record without damaging it further.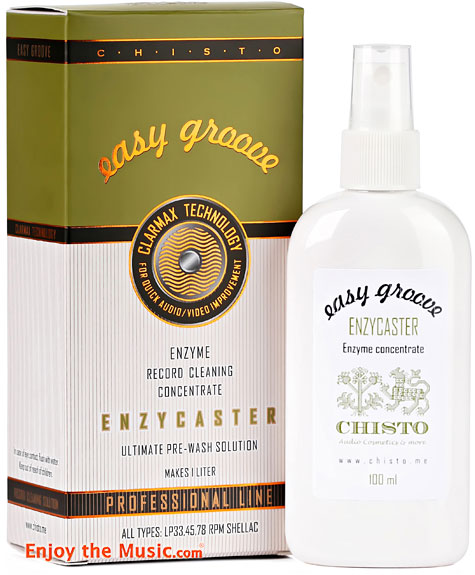 Although, after mulling this over for a while, these solutions that Chisto says are made for "very dirty records." I deduced from their literature that this pre-wash would be an excellent way to clean brand new records that need to have the mold-release compounds removed. Mold-release compounds are on all brand-new records, as they are used at the record pressing plant to avoid having the hot vinyl stick to the pressing plates during the process of manufacturing the record.
In the not so recent past, to remove this mold release compound from brand-new records, I would us pure Chloro-Flouro-Chloride (CFC), a very volatile liquid that evaporates almost instantly, taking the mold-release compounds with it. The CFC that was used by audiophiles was called "First", packaged by Nitty Gritty, which they named "First" (because it is used first. Get it?). After CFC's were banned for ecological reasons by the governments of almost every nation on Earth, I started searching for a replacement for this fluid.
After some time, I discovered that CFC was being used to assemble electronic components. Companies had developed a safe for plastics solution to clean electrical contacts. This solution was packaged as an aerosol spray and sold by various manufactures. This spray is just about as volatile as the old, banned CFC liquid. And from then on, I've been using this contact cleaner spray to clean brand-new records that are fresh from the factory. This contact cleaner needs no record cleaning machine since it evaporates very quickly after it contacts the record's surface. I think to clean the record with my record cleaning machine using a record cleaning solution.
I tried using both methods to pre-clean a record, Chisto's Easy Groove Enzycaster on one record of a brand new two 45rpm record set of a Mobile Fidelity pressing of Miles Davis' Miles In The Sky, and the contact cleaner spray on the other. After this, I cleaned the record as I usually do on my record cleaning machine. I heard no difference in sound quality when playing the record. Although this doesn't necessarily mean that the disc I cleaned with the Easy Groove Enzycaster removed the mold-release compound. I guess this is one of the times to invoke the "record cleaning by faith" maxim.
After
After I heard the amazing results I got from cleaning the already cleaned Gentle Giant record with the Easy Groove Concentrate, "amazing" in that behind the music and under the tape hiss was a background that was blacker than black, or, at least blacker than it was before I cleaned the record, I also tried cleaning records that were not "extra dirty," as Chisto says they were made explicitly for, but as a regular cleaner and as a pre-wash. I would spray a record with Easy Groove Extreme, which they also like to call a "Spray & Wash," and I also did the same with their Easy Groove Enzycaster, using it as recommended. To be able to clean a record that didn't seem to need a full washing with the record cleaning machine, the spray-on solution was a fine way of at least removing the dust that seemed to accumulate on some records, as a cloth is also provided to wipe down the record. The Easy Groove Enzycaster was some serious stuff, which was good enough for me to use on brand new records to remove the Teflon-like residue that is the mold release compound.
Also
Chisto also makes a solution that is labeled as an Easy Groove Antistatic-Fungicide-Antibacterial Spray & Wipe. This concentrate is a simple "spray on and wipe off" solution for those who might not yet have a record cleaning machine. It includes a bottle of ready to use solution and a "Chistex" cloth for wiping off the "dust" before cleaning and wiping the record to remove the excess solution. Chisto claims that this solution works about three-quarters as well as a vacuum machine.
My opinion of wiping solution off with a cloth may differ from theirs, in that I often expressed my opinion that a cloth merely drives the dirt deeper into the grooves of a record. After using this solution, I agree that it is almost as good as a machine cleaning, but not quite the same. But for those without a machine, this solution is impressive.
One-Track
Chisto makes some other products besides vinyl cleaners. I am not one to say that I have a one-track mind when it comes to vinyl as a preference for serious listening – I leave it for others to say that about me. And so, even though I believe that Chisto's Disk Analoguer, which made for CDs, DVDs, and other discs that store digital information work as well. But I haven't listened to a CD or watched a DVD for quite some time. All my CDs are ripped for storage on hard-drives for me to enjoy on my computer-based music server, or streamed over our home's Wi-Fi. And within my home, we've found that when we watch the rare movie at home, streaming and on-demand is the way to go. And so, I'll take it on faith that their CD/DVD cleaners work.
But I'm likely in the minority. I know many people who still watch DVDs and Blu-Rays on large, high-definition screens. Chisto developed Disk Analoguer not for cleaning, but as a treatment. They make bold claims such as making CDs sound more "analog," DVDs "show in full colors and sound," and that it is an "absolute must" for Blu-rays "due to its data density." They go to say that CDs and such are like vinyl in that new discs are also covered with a mold-release compound. This mold-release compound can cause reading errors, which causes "extra stress on one's DACs, which can cause digital artifacts and irritating sound.
I admit it - I'm out of my league, and so I'm not going to attempt to refute these claims, although Chisto's vinyl cleaning solutions are exceptional products, and so I'm going to give them the benefit of the doubt. Although, I've tried many digital treatments back in the day, such as painting the edges of my discs with a green marker, and coating my discs with all sorts of goo and liquids. But that was then, and this is now, so the fact that nothing ever worked back in the day, does not indict Christo's digital treatment products.
Chisto also makes a product called "Hi-End Show Gloss" made for cleaning audio/video gear such as the cabinets of amplifiers and receivers, and can even clean HD screens, claiming that the improves resolution. I'll leave that testing for others, as I'm more of a two-channel type of guy, rarely "watching" music, instead preferring to listen to it.
Impressed
Although I didn't get a chance to test their CD and DVD cleaning products, I was certainly more than impressed with Chisto's vinyl cleaning solutions, and feel privileged to be able to use these solutions on samples from my rather large vinyl collection. In the past I've purchased many different vinyl brands of cleaners, and I really couldn't hear a difference between those products and my simple, home-made brew. Yet, I would often attempt to convince myself that they were doing an excellent job simply because I spent my hard-earned money on them. But eventually I would stop using these products and go back to my trusty distilled water/surfactant solution. But in the case of the Chisto vinyl cleaning products, I did hear a difference. This, I am sure of.
Many
Chisto makes so many cleaning products, and so I think at times during this review I might have been confused as which ones to use. I also might have added to this confusion by not presenting these cleaners in order of how I used them. And so, I'll give one a summary of what I thought about these Chisto products. Although I didn't try all their products (believe it or not, I wasn't sent all of them) by using more than a few of them, I felt as if I got a first-hand look at their effectiveness. They have a very good English language website where one can view all of their products, including those I used in this review.
For everyday cleaning, and for used records that make their way into my collection, I used Chisto's Easy Groove Concentrate (in the brown box). This was an extremely good record cleaning solution. As I inferred in my review, this stuff made me think, "WHAT THE HELL IS THIS EASY GROOVE STUFF MADE OF?" The most noticeable characteristic of a record cleaned with this potion was a background that was blacker than was present before cleaning, even though I thought it sounded more than fine to me before cleaning. This black background is one that I often take about when describing a component's characteristics, and is often recording dependent. Of course, many things are responsible for a recording to have a black background. What confused me a bit was that I questioned whether or not this black background was due to the recording quality, the quality of the vinyl, or the record cleaner. In this case, it was the record cleaner!
For brand new records, one that has never seen a turntable, I used Chisto's Easy Groove Virgin Concentrate (in a rose-colored box). I have no reason to doubt the record was not cleared of the mold-release compounds when using this cleaner. When I cleaned one record of a two-record set with this cleaner, and the other with my preferred way of cleaning new records - with a pre-wash of contact cleaner plus a regular wash, I couldn't hear much difference between the two. This is a good thing, as using the Easy Groove Virgin Concentrate let me skip a step in that cleaning regimen.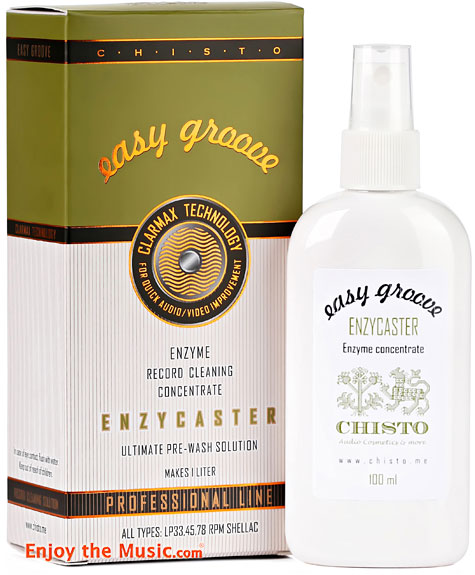 Christo also sent me two cleaners which Chisto calls pre-washes, which were Easy Groove Extreme (in both a spray and a solution), and Easy Groove Enzycaster. As I don't own any extra dirty records, and to be honest, I hope I never have to rescue a garage sale record that might be in that type of condition. But I found that both of these solutions were excellent products for cleaning brand-new records.
A reader of this review might think that my favorite of Chisto's products was their Easy Groove Concentrate, their "daily" cleanser, even though it isn't their most "powerful" product. I did not like their daily cleanser more than their cleaner meant for new records, their Easy Groove Virgin Concentrate, it's just that I had nothing to compare it to since I didn't have duplicates of these new records. That I simply loved the results I got from their Easy Groove Concentrate so much speaks well for the rest of their line. This is because they are both Chisto record cleaning products!
Defense
In the past, when I couldn't hear a difference between record cleaning solutions or even record cleaning machines, I would always recite my "cleaning by faith" invocation. This was my defense mechanism kicking in and would occur - especially when I paid for the product. There was no need for that this time around. I did hear a significant difference between the Chisto record cleaner and my home-made solutions, and so I can recommend Chisto for use on your records, too. No, their products aren't inexpensive, and yes, they have to be shipped from Ukraine. But until they obtain a USA distributor, one can order Chisto's products through their website, and five-day international shipping is free.
Specifications
Type: Cleaning products
Chisto vinyl products
Easy Groove Spray & Wipe $59.90
Easy Groove Concentrate $49.90
Easy Groove Virgin Concentrate $49.90
Easy Groove Enzycaster $59.90
Easy Groove Extreme $59.90
Chisto CD/CVC products
Disk Analoguer $49.90
Black Analoguer $49.90
Chisto Essential Care
Hi-End Show Gloss $49.90
Staticaster $49.90
Company Information
Chisto
Chistana Oü
Pärnu mnt 105
Tallinn 11312
Estonia
Voice: +372 712 3341
E-mail: info@chisto.com
Website: Chisto.com