April 2022
Best Integrated Amplifiers Below $3000
We've been listening to a lot of integrated amplifiers over the past 12 months, and these four are some of the best below $3000.
Review By Ian White
In our first collaboration video with Tarun, A British Audiophile, we picked our best budget integrated amplifiers priced under $1000.
But what if your budget can be stretched a little further?
We have listened to a wide range of amplifiers between $1000 and $3000 over the past 12 months and while a number of other integrated amplifiers in this range were very impressive including the Rotel A14MKII and Cambridge Audio CXA61 — we were quite smitten with the following.
Schiit Ragnarok 2
The Ragnarok 2 continues Schiit's mission of offering American-made equipment that is both modular, well designed, and affordable. There are two versions of the Ragnarok 2; the first is a "Just An Amp" version with no phono preamp or DAC, and the "Fully Loaded" version which includes both.
Can you drive the Magnepan LRS with the Ragnarok 2? Indeed you can but it doesn't really shine unless you raise the volume above conversation levels.
Does it work rather well with much easier loudspeaker loads? Beyond what one could expect for the asking price.
The switched stepped volume control makes noise. It's a sound that you start to ignore because the sound quality is so good. It's an amplifier that is both incisive and warm sounding and incredibly poised with all genres of music. It could use more control in the low end and the 60 Watts/channel stereo in 8 Ohms (100 Watts/channel into 4 Ohms) doesn't always feel as robust as it should.
The kicker is the balanced headphone amplifier that is better than anything in its price range and you have an American classic that is worth every penny.
Price: $1799
Learn more at Schiit.com
Exposure 2510
Tarun's amplifier of the year for 2021. The Exposure 2510 is designed for the purist. A passive preamp and amplifier section handle the heavy lifting and the phono preamp is quite capable as well.
With a focus on dynamics, scale, and tonal accuracy, the 2510 is an excellent component to build a system around. There is a touch of warmth in the midrange but it's a very detailed and natural sounding amplifier.
If your musical tastes lean towards jazz, classical, vocalists, and acoustic instruments — the Exposure 2510 is remarkable piece of kit that flies under the radar.
Price: £1595 (about $2100)
Learn more at ExposureHiFi.com
Croft Phono Integrated
Croft doesn't have a proper distributor in America anymore but there are a few select dealers that offer the bottom end of range including the Croft Phono Integrated.
There is nothing fancy about this aluminum box; you will not find a remote and there is no DAC or streaming module. Glenn Croft has been building his range of solid-state, tube, and hybrid products for over three decades and it's one of those odd products that just sounds so much better than other amplifiers in the same price range.
The MM phono section is the real star of the show; Croft offers three phono stage models as well that are superb from the perspective of tonal balance, pacing, and presence.
The power rating is slightly deceptive because you can safely drive a pair of Quad ESLs with this amplifier but it finds its footing with speakers from Wharfedale, Spendor, Harbeth, KEF, ProAc, and Q Acoustics.
Price: £1000
Learn more at CroftAcoustics.co.uk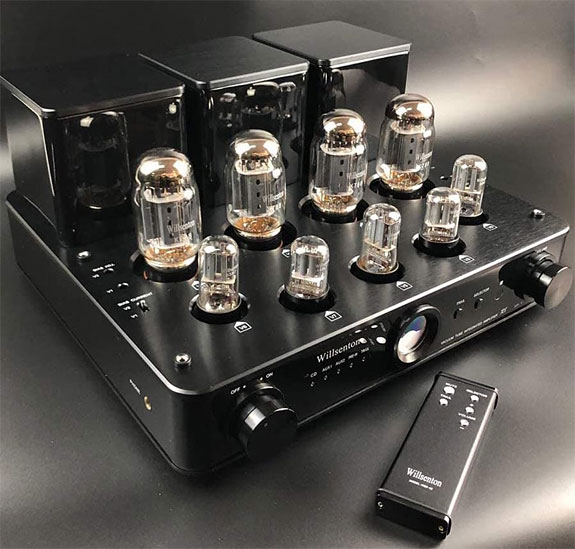 Willsenton R8
The Willsenton R8 Tube Amplifier is sold direct from China Hi-Fi. It's a beast of a thing weighing almost 30 kgs (66 lbs). It comes with standard tubes, but it goes to an entirely different level with upgraded PSVANE KT88 and CV181 tubes. It delivers a warm, rich presentation from only 45 Watts. Tarun's ProAc bookshelf loudspeakers are not the easiest load in the world but the R8 took charge and created a surprisingly wide and deep soundstage with excellent layers of detail.
Price: $1377 / £1020 / $1449 at Amazon
Learn more at Amazon.com
Check Out eCoustics
See many great reviews by eCoustics at this link.