March 2015


Exclusive Interview!
Sony NW-ZX2 Meeting At Pan Pacific Hotel In Singapore
What you need to know about Hi-Res Audio.
Plus six questions with Sony's Mr. Yoshioka about the new NW-ZX2.
Article And Interview By Steven R. Rochlin
Editor and Creative Director of Enjoy the Music.com, Steven R. Rochlin, traveled to Singapore and was the first reviewer in the world to have the ability to provide an in-depth review of Sony's Android-based NW-ZX2 portable media player, with a follow-up comparison review with the Astell&Kern AK240 appearing here). The high fidelity audio message boards have been buzzing about Sony's slender and stylish new unit for months since CES 2015; with hundreds of pages filled with questions! Since this is the company's latest, and top-of-the-line Hi-Res Audio portable player, it can play everything from low fidelity lossy compressed MP3 to the latest in high resolution music. Unlike decades old technology such as MP3, which removes clearly audible information from music, we now have the ability to enjoy music at the same resolution and audio quality as within recording studios! As every technology-aware enthusiasts and music lover knows, MP3 may be a newer technology than the early 1980's CD, yet it was obviously a step backwards in sound quality.
So why did we go backwards in sound quality and why did it take the industry so long to release Hi-Res Audio? Well, back in the days of dial-up modems (a mere 56kbs!), the birth of MP3 became popular due to our very limited Internet bandwidth connection. This was decades ago when you had to pay for Internet web browsers, Netscape costs $29 to $49 depending on if you wanted the standard 'no frills' or the Gold version that included an e-mail client. Anyone under 30 probably does not remember the days where Internet users relied on Pine mailboxes to receive their electronic mail.
MP3 was a way to reduce the file size of digitized music so it would use less bandwidth. At 56kbs it would take many, many hours to download a single album from an online source. In 1994 CompuServe was the very first company to offer a music download, which was from the Aerosmith no less! This three minutes and 14 seconds long song took users about 75 minutes to download. That's over an hour just for one MP3 song! Today, with the availability of broadband and Gigabit (1000 Mbs) speeds, we have no such limitations and can download an entire album's worth of high resolution music within a handful of minutes.
With that said, today we have the ability to enjoy the music we love in true high resolution audio. In fact this is the very first time within music's history that enthusiasts can hear songs at the exact same sound quality as the recording studio! Think of it this way, you can now come home after a long day at work, press a button on your modern music system and hear the actual studio master recording within your home. Better still, with Sony's new NW-ZX2 you can take that master tape with you in the car, for a bicycle ride, while jogging... or during a casual moment of reflection overlooking your favorite scenery.
On February 27, 2015, a special conference was held with Mr. Katsumasa Yoshioka, the gentleman who designed the Sony NW-ZX1, NW-ZX2 and their future products (NW-ZX prototype pictured above). Mr. Yoshioka gave an intimate audience an exclusive presentation describing the product build, techniques learned from pervious designs, internal parts quality, etc. As the industry's only large magazine attending this special event, we are ready to give you our exclusive first-hand information about Sony's class-leading NW-ZX2 portable media player. Also of note is that i purchased Sony's NW-ZX2 from their retail location whilst in Singapore and plan to conduct a follow up review shortly comparing to the Astell&Kern AK240 (reviewed here).
Interview
We are here with Mr. Katsumasa Yoshioka who is in charge of the design program for the Sony NW-ZX1, NW-ZX2 and upcoming products. While his official title is Electrical Design Leader and Senior Electrical Engineer for Sony's Video & Sound Business Group, he is also a very passionate music enthusiast. During a press conference at Singapore's Pan Pacific Hotel, Sony kindly provided Editor and Creative Director Steven R. Rochlin a few moments to ask some questions about their new NW-ZX2 portable media player.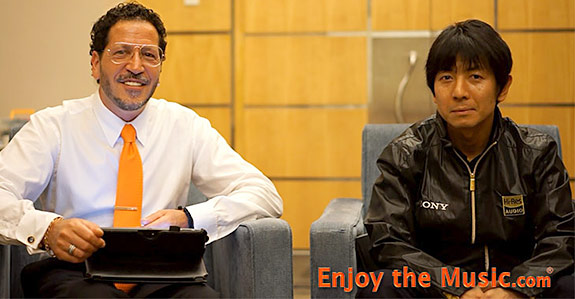 Steven R. Rochlin: Does the Sony NW-ZX2 play DSD audio files natively or does it convert them to PCM?
Mr. Katsumasa Yoshioka: It converts to PCM.
Rochlin: Can it be used as, or are there plans for, using the Sony NW-ZX2 as an outboard DAC?
Yoshioka: There are no plans at this time to have the unit being used as an external DAC.
Rochlin: Is the NE-ZX2 fully balanced from DACs to the headphone output?
Yoshioka: The four-pole headphone jack has separate signal ground, yet is not a true balanced circuitry. The separate grounds provide higher stereo separation.
Rochlin: Since European versions of the NW-ZX1 have an output volume cap (reduced maximum volume output), will the European version of the NW-ZX2 have the same volume output limitations.
Yoshioka: Different countries have different laws, so Sony uses a different volume table. If users do not want the volume output capped they should seek out version from other countries.
Rochlin: What is the headphone impedance and power output?
Yoshioka: The concept of output impedance does not matter. The output wattage is 15mW per channel @ 16 Ohms
Rochlin: When you disable the Sound Adjustment program, the output level increases dramatically. What is being done internally to then provide a dramatic output when the program is being disabled?
Yoshioka: When the system has its Sound Effect on, the system conducts volume and enhancements. If the volume is at maximum level, the system can not increase the volume more. So the Sound Adjustment reduced the output level to then provide the ability to add increases in output at certain frequencies with the equalizer.
Bonus Information
During the press conference, Sony has many slides as Mr. Yoshioka explained the development of the company's top-of-the-line NW-ZX2 portable media player. Below are photos of key slides during this presentation.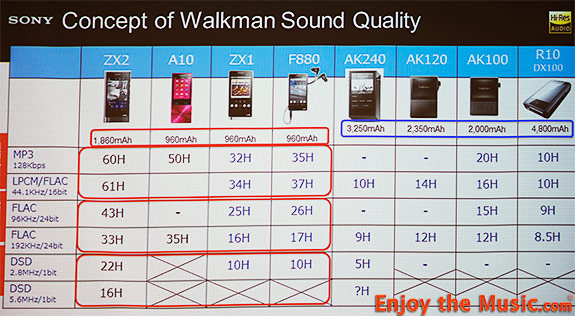 As always, in the end what really matters is that you...
Enjoy the Music (Love Daft Punk's new album? It was recorded in the new Hi-Res Audio format. Give life back to music :) ),
Steven R. Rochlin